I bought this bike blind off eBay as a damaged 1977 GS550 a couple of years ago, thanks to some late-night wines. When a mate picked it up it turned out that it had only had one owner from new with only 7,000 miles on it. It was a sad-looking thing with a buckled front wheel, seized engine and dented tank. Apparently, the guy crashed it, terrified himself and stuck it in the back of his garage for 30+ years.
We stripped the bike down and sold off what could be salvaged to get together a bit of a build budget. While we were making the plugs for the seat and tank cover out of foam the wheels were sent for rebuilding using stock sized, black rims and stainless spokes. The fairing was made from 2 or 3 other fairings we had kicking about which we cut, rejoined and filled to make the plug for the one you see here. We decided to use a '77 spare motor and carbs we had in the shop already to get it up and running while the original was rebuilt.
The frame was modified by shortening the rear rails and bracing across the back to allow the fitment of our café racer seat. We welded mounts for CBR400 NC23 rear set foot pegs and welded fairing mounts onto the headstock.  All the unused brackets and mounts were also removed. An alloy undertray was fit between the seat and the frame so a Lithium Ion battery could be positioned under the hump along with the fuse box and starter relay. I liked the look of my Ducati 749's headlight so, I installed a pair of projector-style lights behind the 'goldfish bowl' bubble that our screen manufacturer made for us.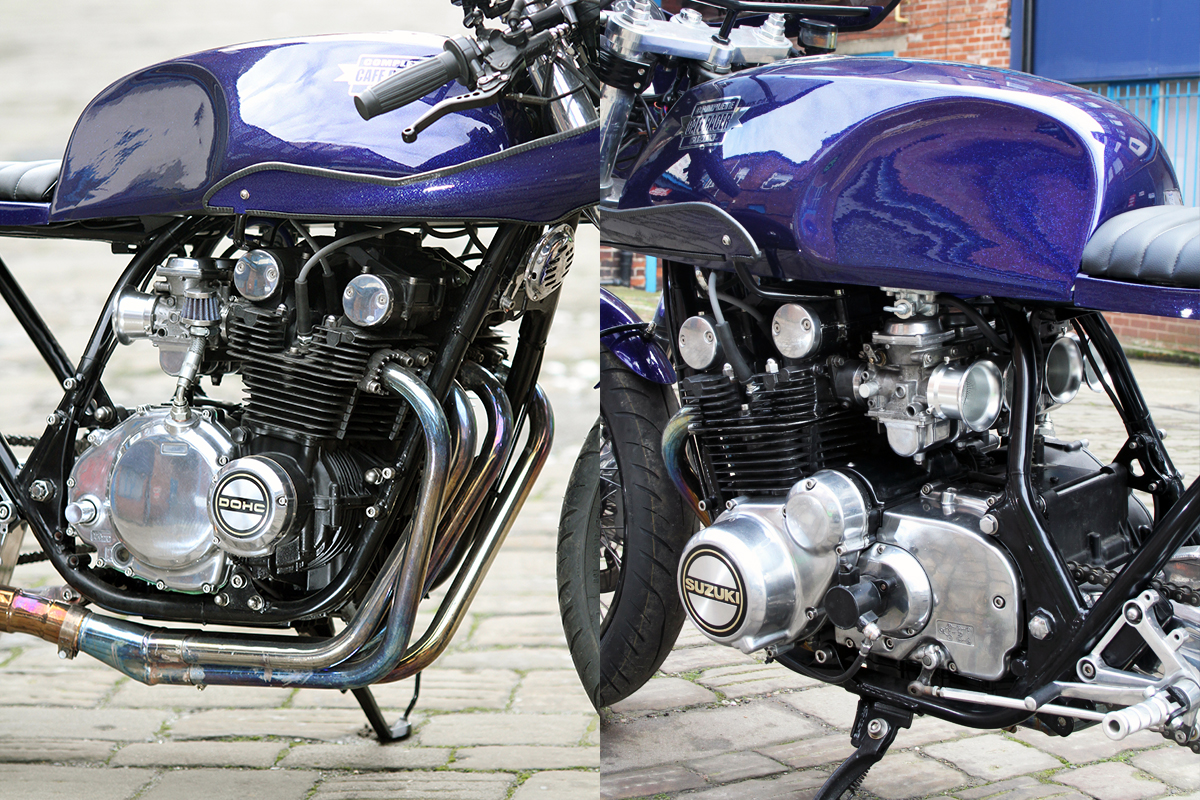 Next, all the alloy including the casings were polished by our mechanic Martin, who also runs a polishing and chroming business. We chose Ford Imperial Blue with Candy Blue and Purple Pearl over it. We originally had the frame powder coated using a chrome look so we chose a blue and purple flake paint scheme. We rode the bike through a Summer and the chrome look powder coat, which turned out a dull silver and didn't hold up well. So we had it redone in classic gloss black. Whilst the frame was being powder coated a second time, I kept thinking of little changes that could be made to improve the bike. I gave up on trying to stick to my budget and went all out.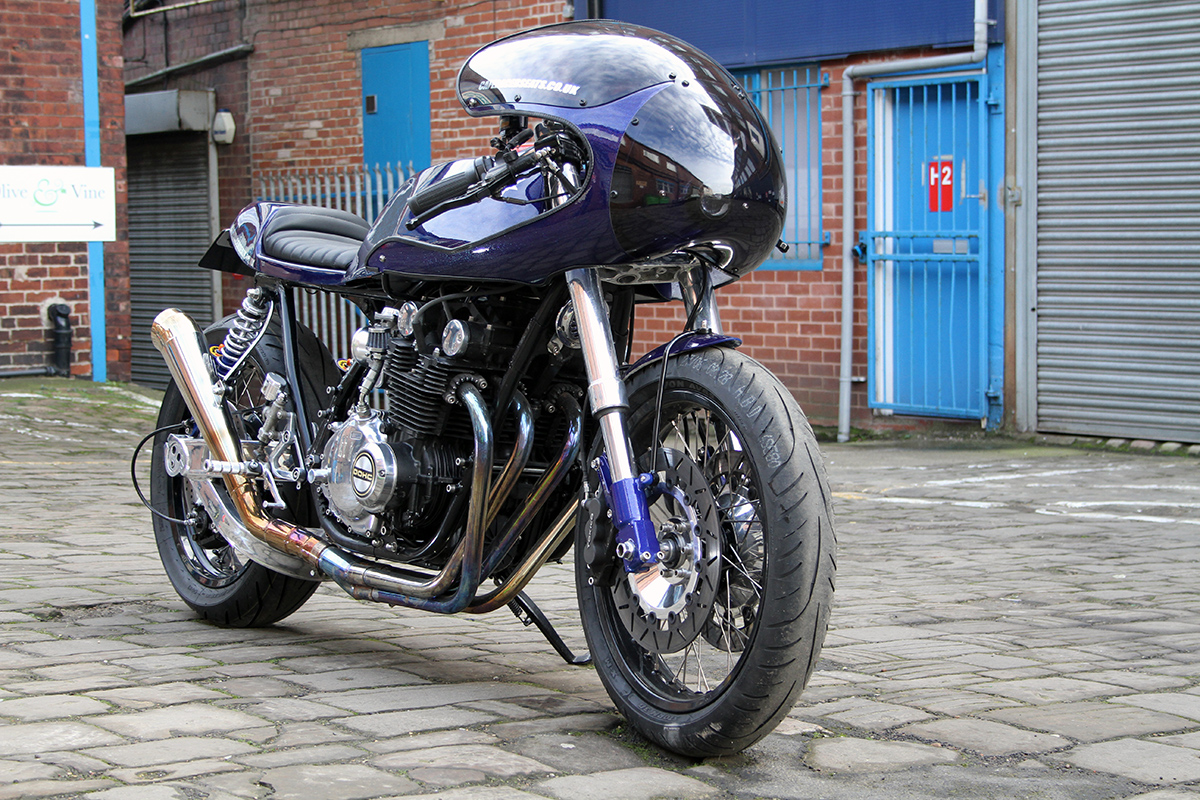 We grabbed a set of GSXR750  forks and yokes, Hayabusa 6 pot callipers and a GSX1100 alloy swing arm. The swingarm mounts were machined to take the bigger spindle and the steering stem was swapped for the rebuilt upside-down forks. The original MOTAD exhaust also had its silencer cut off and we fit our upswept Grand Prix Mk2 exhaust. We were all set to rebuild the seized engine when we came across a chain-drive GS650 with a solid engine. After some research and measuring, we decided to bore the cases out and fit the GS650 barrels, pistons and head, keeping with the GS550 cams for better torque and revs.
After fitting wider wheels we ran into problems with the offset which we corrected with custom spacers and an offset front sprocket. This all went perfectly until we tried using the clutch. The offset sprocket hit the clutch operating arm so we had to convert it to a hydraulic setup using a GSXR slave cylinder and lots of head scratching. All the brake callipers were also totally rebuilt including the ZXR400 underslung rear and we added black braided hoses.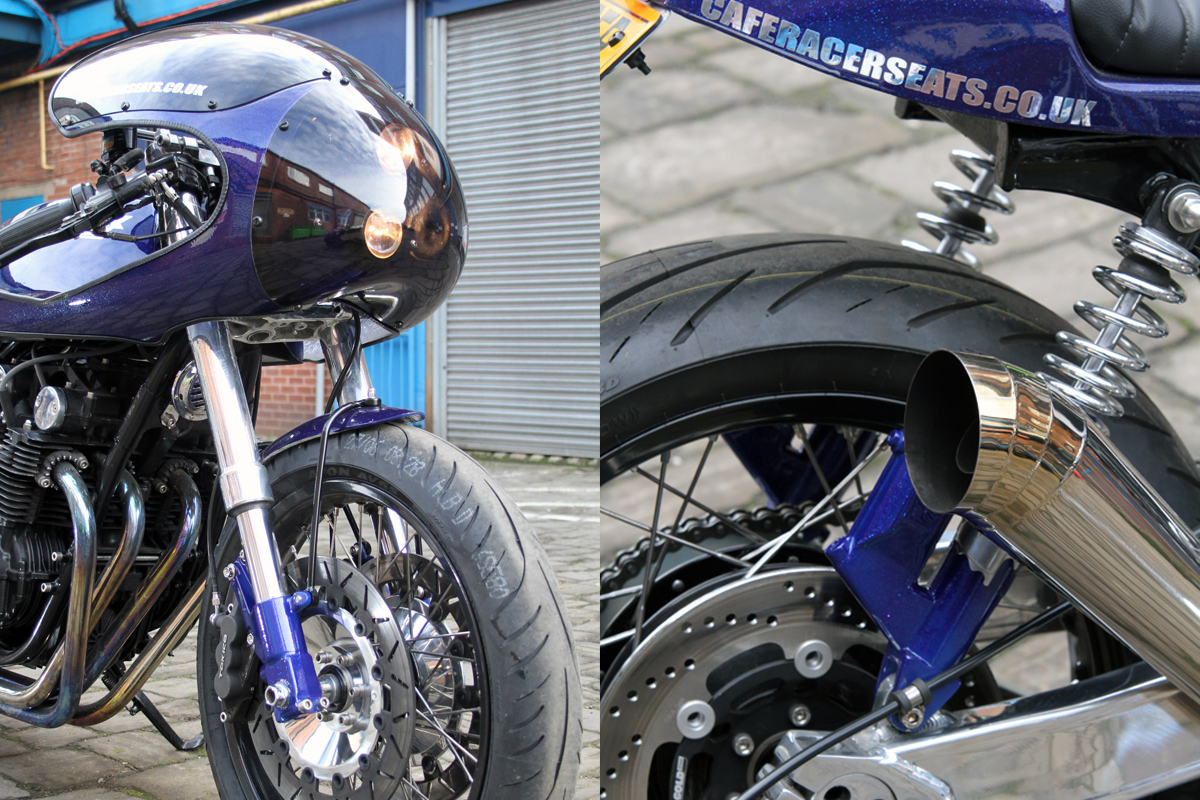 Our custom wiring loom consists of around 6 or 7 wires.  The starter is engaged using a spring-loaded ignition barrel and the low beam is wired to be on permanently. Spark is controlled by a Dyna set up and a KOSO GPS multi-function dial sits under the front fairing. After rebuilding the GS650 carbs it pulls from 2000 revs right up to 11,000 in fifth gear showing 128mph on the dyno speedo with another gear to go! Everything you see on this bike is now available in our store.
Story by Tony Garnham-Parks