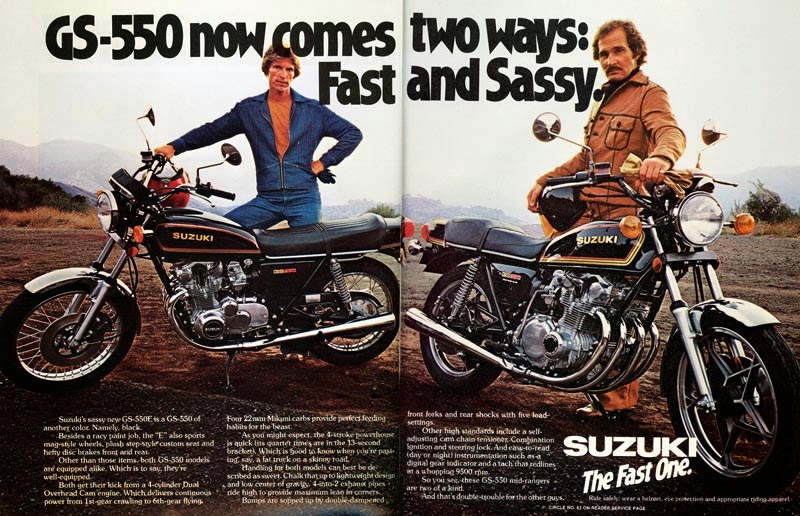 Maybe in 1980 the Suzuki GS550e's 49bhp was enough for your average sassy suburbanite, but Interstellar Motors head honcho Jody Wegman (not pictured above) wanted a little extra. Looking at similar models in Suzuki's lineup he discovered that the GS650 boasted 73 horses so he got his hands on a healthy top end from a donor bike. With the GS650 cylinders and head bolted on the engine's displacement was boosted to 673cc and to free up even more power a custom 4-into-1 exhaust and pod filters were added before the 4 carbs were finely tuned.
Handling was improved by reworking the entire suspension. New rear shocks, stiffer fork springs and internal damper valves now manage the bumps much better than the tired original parts. Stopping power upgrades came in the form of larger, dual front discs and calipers and the rear brake system was taken from the front of a GSX1100 with its underslung caliper custom mounted.
To shed a few kilos the aluminium swingarm off a 1982 GS1100 went on the rear, the fender was discarded and all the bulky rear lights were swapped out for sleek LED units.  Modern Pirelli 'Sport Demon' rubber was wrapped around the stock, cast GS rims and anodised gold clip on bars were selected to compliment their finish.
While Jody opted to retain the stock tank the entire rear end underwent some serious customisation. Similar to Triumph's Thruxton design, Jody wanted the option to take a passenger so he designed and built a removable rear cowl. With a few quick adjustments the cowl can be lifted away to reveal more of the tuck and roll seat, making way for a pillion.
While it may not fit into the "intergalactic space machine" category, I'm sure there's plenty of folks out there who'd like to cruise around the space where they live on Jody's Interstellar GS550.
Photogrpahy by Evo G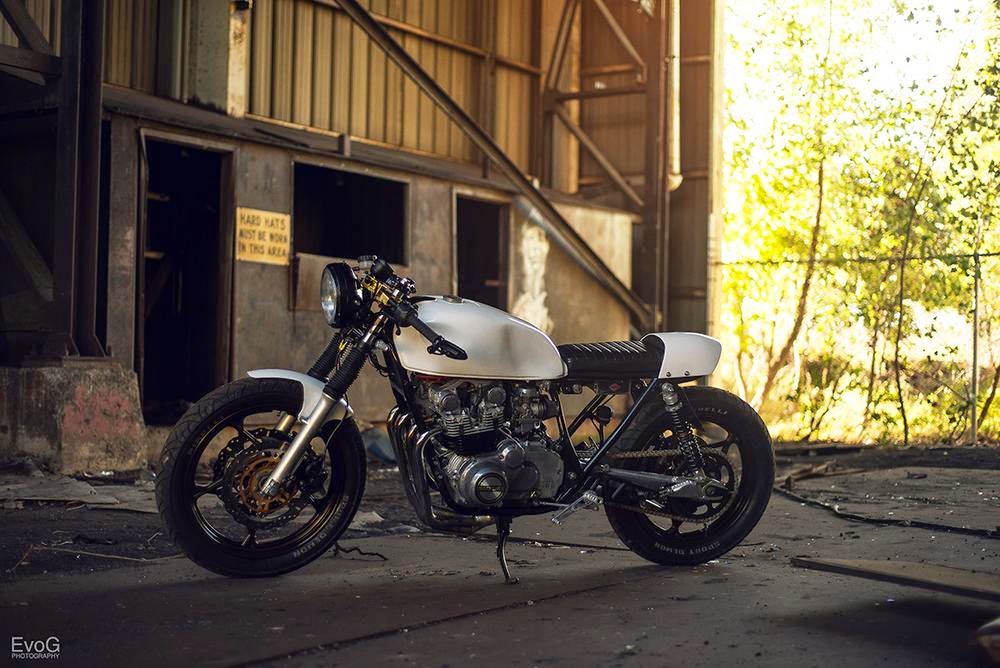 "Custom Motorcycles and Intergalactic Space Machines"
With an opening statement like that on their website, how could I possibly pass by "Interstellar Motors" without taking a closer look? What I found was a tidy GS550 Cafe Racer with some sneaky performance upgrades that transform it from an average ride to a wild one…