Back in the late sixties when everyone was saying reliable, large capacity 2 strokes we implausible, Suzuki had an ace up their sleeve. The T500 Titan proved the naysayers wrong and was hailed for its reliability and bulletproof design. Unlike many of the overzealous, smaller capacity 2 strokes from other manufacturers, the T500 was engineered as a commuter. It was an everyday motorcycle, perfectly suited for riding in normal traffic conditions without the excessive noise or smoke that was synonymous with 2 stroke engines. According to one journalist, the "Suzuki T500 was one of the most underrated motorcycles of the time" and it's that claim that will see it one day becoming a valuable collector's item.
As with all commuter motorcycles of the sixties and seventies, there are plenty of old junker T500s rusting away in sheds and barns around the world. Unfortunately, they can't all be restored back to original, so what better way to pay tribute to these iconic motorcycles than to give them a new lease on life as a custom cafe racer?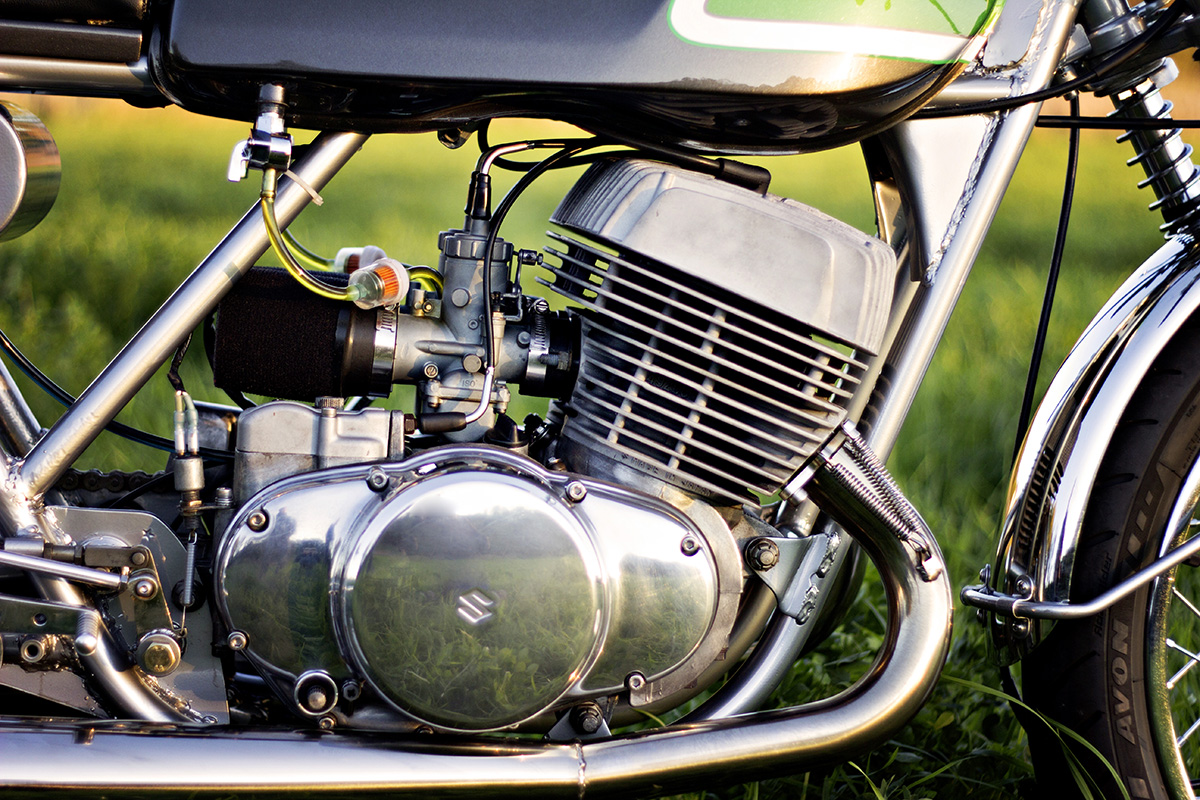 Healthcare professional Steve Baugrud has been building a custom bike a year in his spare time for almost a decade. Back in 2013, we featured his lime green Yamaha XS650 and now 3 years on he's just completed this stunning T500 from a non-running, $600 basket case that had been sitting neglected and unloved for over half its life. With the goal of creating a one-of-a-kind, 2 stroke-powered cafe racer Steve spent 8 months breathing life back into the Titan. "I trailered the bike home and had it running within 10 minutes," Steve recalls. "I then completely tore it apart. I was very excited to start this build because I have always wanted a two-stroke."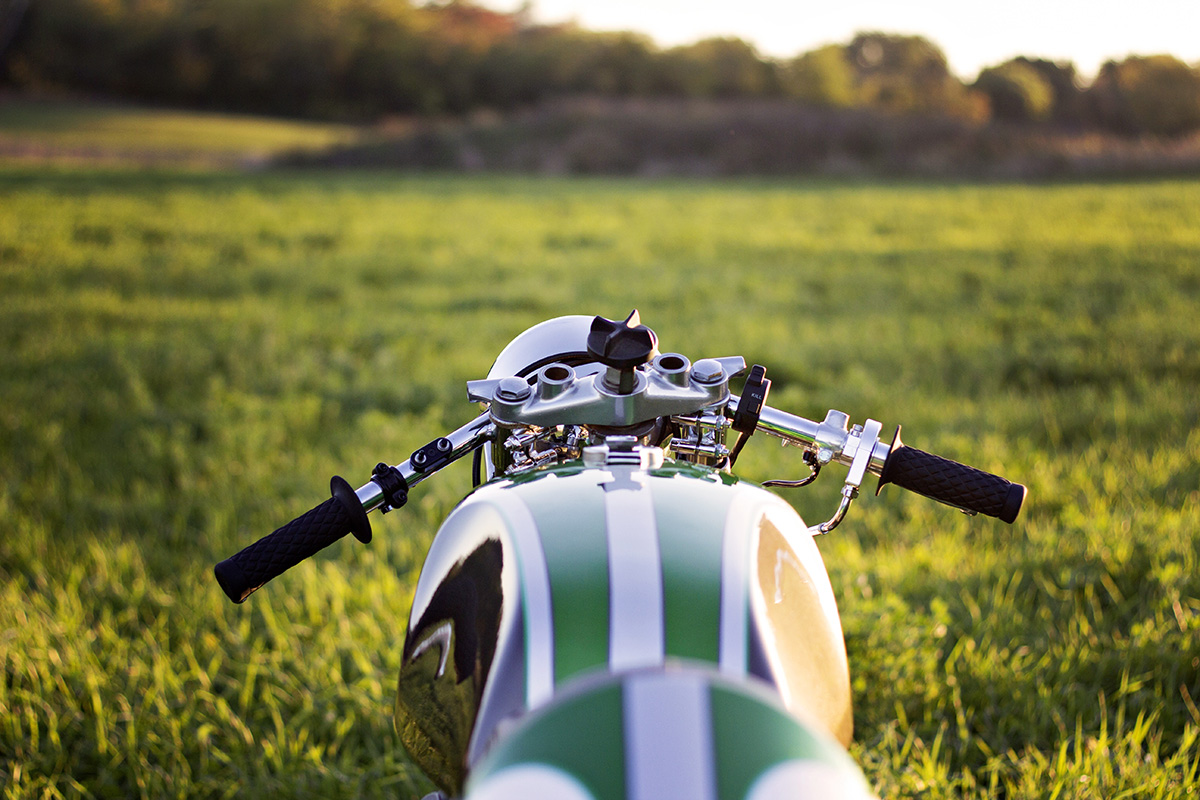 With the bike in pieces, the rebuild began with modifications to the stock frame. After removing redundant tabs two additional braces were welded in for extra rigidity and a custom-made oil tank was hung beneath the frame rails. Dissatisfied with the appearance of the stock fuel tank Steve sourced a Yamaha XS750 unit. As a permanent leakproof solution, he welded a pair of Pingel petcocks to the tank and fabricated new mounts to sit it level on the frame. For the bike's new seat Steve ordered a 'Bullitt' Fastback seat pan and cowl with custom tuck and roll stitching from Bedlam Werks
Once the frame and bodywork was finalised a new set of wheels had to be sourced to get the bike rolling again. Steve enlisted the help of Suzuki parts specialist Paul Miller who put together a custom set of rims, spokes and hubs using NOS parts and Avon Roadmaster AM26 tires. The front end was also rebuilt using tapered bearings, fresh seals and a re-chrome.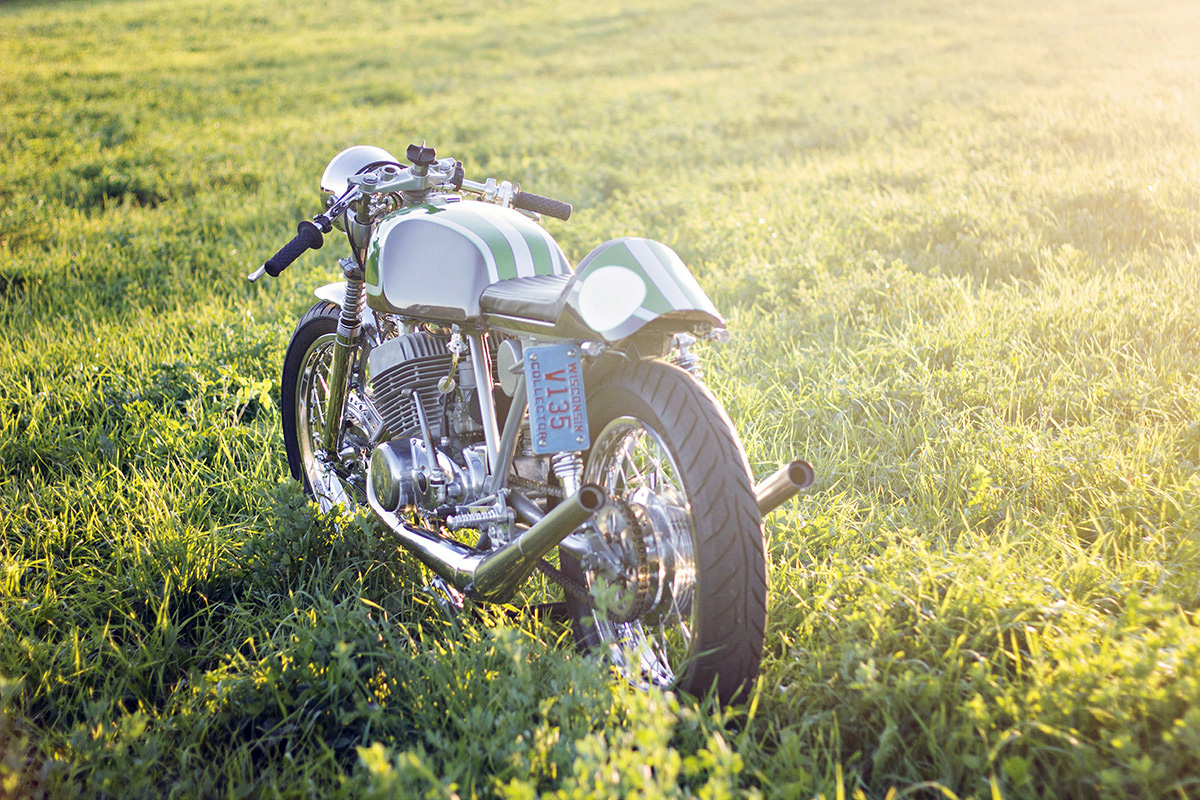 "The engine had good compression and actually ran when I got it, but it was covered in years worth of grime." says Steve. "I completely took it apart and cracked open the crankcase." With the engine in pieces, the crank and cylinders were sent to Bill Bune for a complete rebuild and rebore to accommodate new Wiseco pistons. Since it would be running like new again Steve wanted it to look just as fresh so the cases and carbs were treated to a vapour blast while he polished the cases to a mirror finish. The new stainless steel exhaust system with its upswept expansion chambers was sourced from Higgspeed.
To compliment all the work that went into getting the mechanicals running smoothly the Suzuki's electrics received a complete overhaul. German manufacturer Powerdynamo supplied a complete ignition and charging system solution featuring a magnet generator, CDI electronic ignition, coils and regulator. Steve says the battery-less system provides more than enough power to run the engine and all of the bikes lighting along with dramatically cutting down the T500's kerb weight.
"I used a capacitor to smooth out the voltage. I re-wired the entire harness for simplicity. All relays, switches, and connectors are new. For the brake lights, I went with a slick setup from High Tech Speed called the x-arc duo which uses a tiny pair of turn signals that have dual function LED lights."
Prior to re-assembly the frame, oil tank, and triple trees were sent to Hy-Tec Coatings for a fresh coat of silver powder. The tins then went to Steve's go-to paint guy, Jason LeCavalier (aka Artistimo) who finished them using his own mix of metallic charcoal and lime green candy. Jason also incorporated a generous helping of metal flake and finished all of the pinstripes and logos by hand.
Steve says that even though the finished bike features clip-on handlebars and Titan Performance rear sets it's a comfortable ride, and thanks to Suzuki's awesome engineering it's always reliable. Steve's only gripe about his T500 Titan cafe racer is how much attention it gets, but he's not getting any sympathy from me for that one.