This year is gearing up to be the year of cafe racer kits. We've already published a feature documenting a stunning new Yamaha Fazer kit from the UK and an equally impressive set up for the Royal Enfield 650 twin platform out of India. Today we have a kit from the Portuguese workshop of Cafeina Motorcycles. This time though, rather than being pigeonholed to one specific make or model it's a universal solution showcased here in the form of their own Suzuki XF650 cafe racer.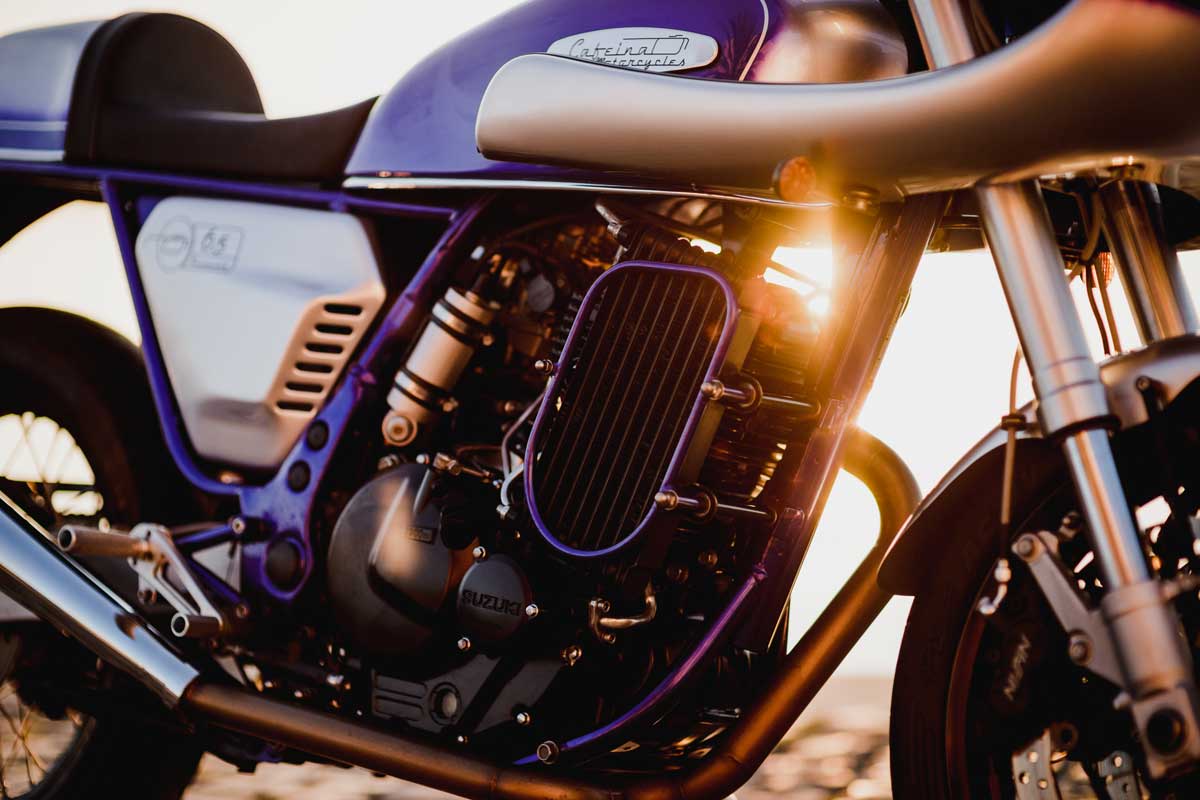 Cafeina Motorcycles founder Luis 'Tuning' Martins has a long history working with motorcycles. After doing time with a long list of manufacturers he opened his own tuning shop in Alenquer, Portugal. An interest in racing then led to the formation of his own race team and then a partnership with Suzuki as one of their dealers. In 2015 he launched Cafeina Motorcycles to grow the customisation side of his business and it's been going great guns ever since. "When we do something we are passionate about our skills develop organically, it's hard to call it work," says Luis. "Offering this passion to our friends and customers is the goal of Cafeina Motorcycles."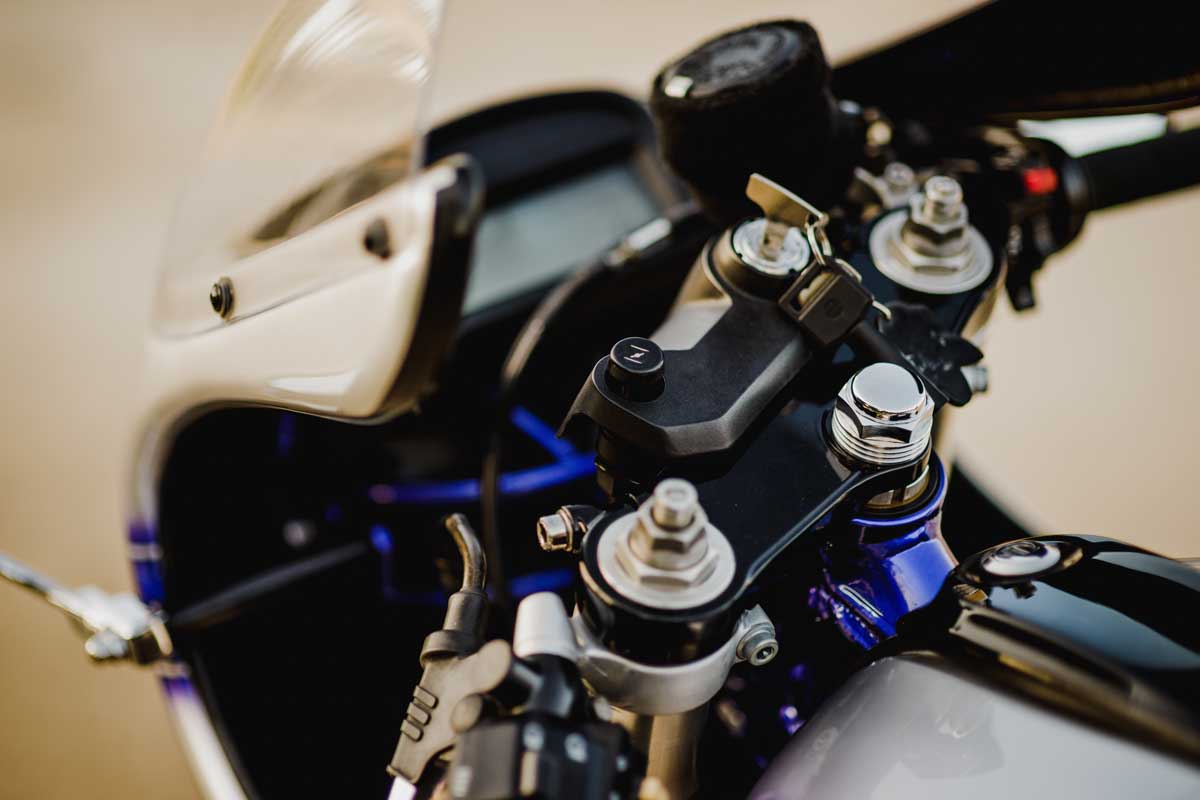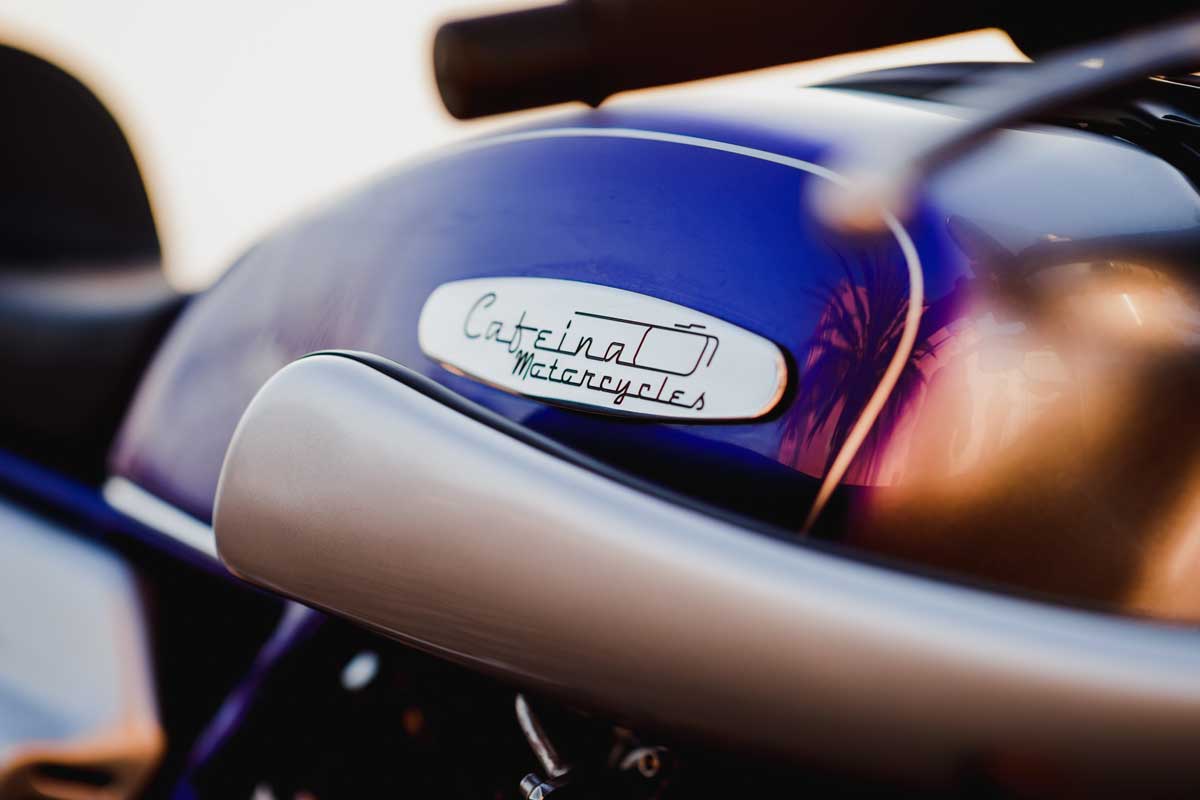 Although completing builds for customers is a key aspect of his business model, Luis acknowledges that people often want to build a cafe racer themselves. This insight became the catalyst for their own universal plug and play cafe racer kits. His latest work is labelled Cafeina 6.5 and is all about helping enthusiasts to realise their cafe racer goals. "I intended to express a timeless cafe racer style in a 'do it yourself' format." Luis says."The kit has lines inspired by Italian sports bikes of the seventies. The idea is to allow any rider the freedom to choose their base motorcycle."
With kit's such as these, the best way to demonstrate their potential is in the form of a custom build. An easy choice for such a project would have been a classic UJM such as a Honda CB or Yamaha XS, but instead, to really show off his kits universal capabilities, Luis opted for a path less travelled.
The Suzuki XF650 Freewind was a 'travel-enduro' motorcycle that leveraged the use of the companies bulletproof DR650 single-cylinder engine. Standing tall on an off-road-capable suspension and shrouded in touring style plastics it's far from what most would consider an ideal starting point for a cafe racer project. But for Luis and his team, it was the perfect testbed for their universal kit.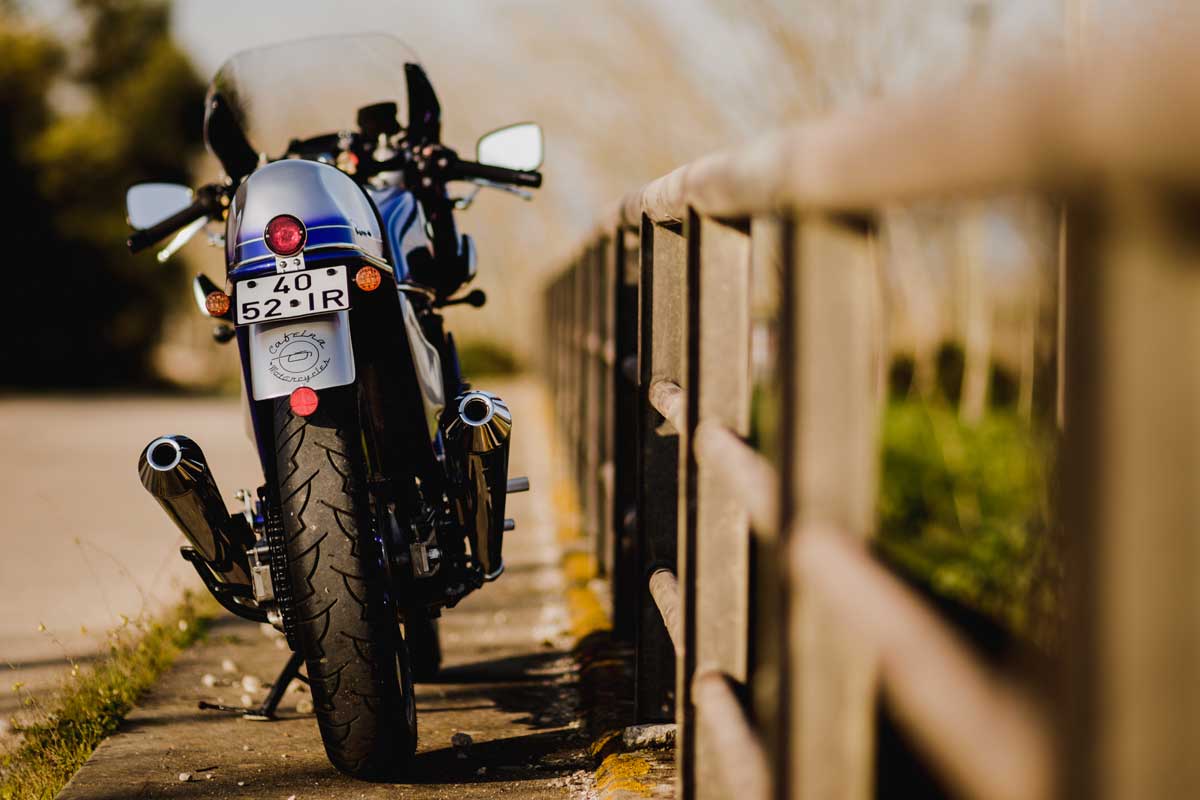 The Cafeina Motorcycles 6.5 cafe racer kit consists of a Ducati 900SS style front fairing, rear cowl, side panels and rear fender all constructed from fibreglass. It also includes a set of universal rear-set footpegs, a battery box and all the supporting hardware for mounting the bodywork. Most importantly the kit includes a weld-on subframe. The subframe is designed to be tailor-fit to a chassis once the stock subframe has been removed. The addition of the subframe was a key component in achieving an appropriate bone line for their XF650 cafe racer, but the work didn't finish there.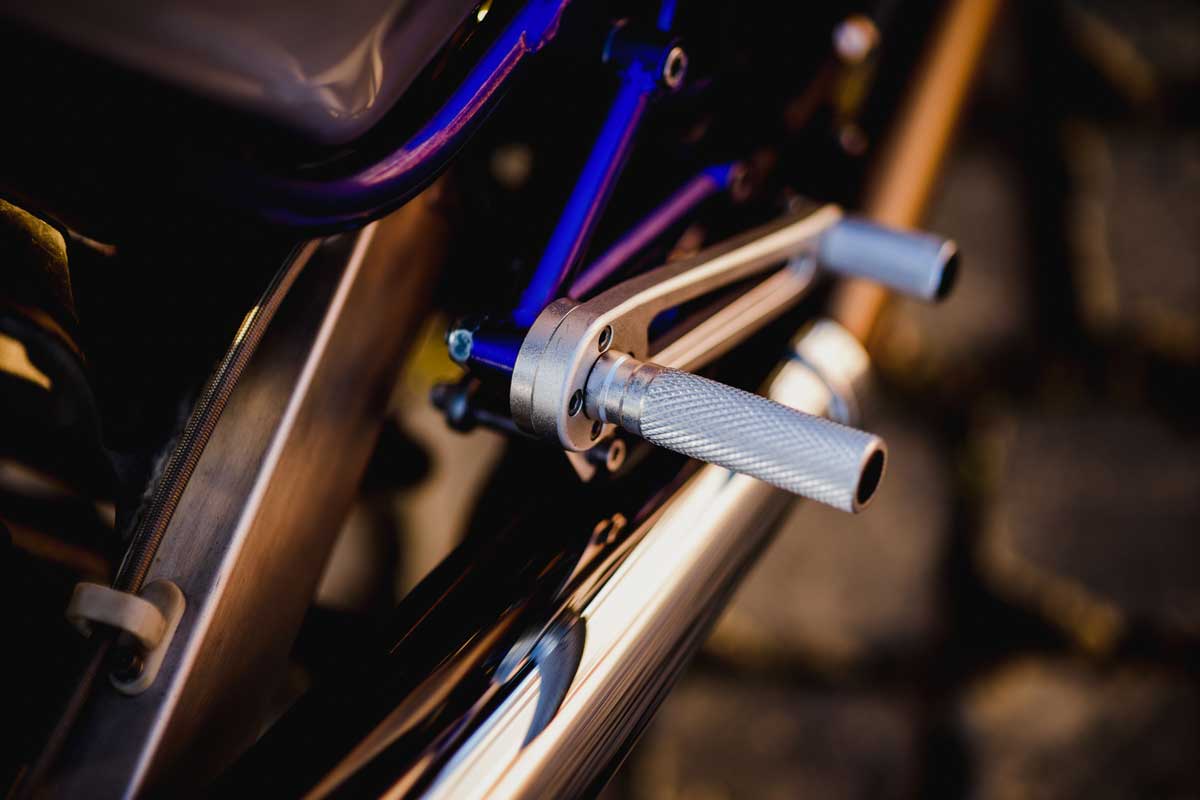 To give their Suzuki XF650 a suitable stance Cafeina retrofit a set of GSXR750 inverted forks. The original hub was then modified to allow the fitment of a 17-inch spoked rim up front. Taking advantage of the existing GSXR brake set up, Luis installed twin, CBR1000 320mm semi-floating discs.
The fuel tank is another retrofitted component hailing from a Suzuki inline 4. With a few modifications to the rear, the tank sits level on the frame and due to its capacity still offers a decent range. Adding to the bikes classic looks is a custom 1-into-2 exhaust system. Finished with aftermarket reverse style mufflers synonymous with cafe racers, Luis has mounted them using hidden hardware for a clean finish. During the visual overhaul, he also opted to relocate the oil cooler to the side of the engine adding a crash bar to prevent spills in the event of an accident.
Luis refuses to accept that any motorcycles functionality should be sacrificed in the pursuit of style. So his Suzuki bares all the equipment it needs to be both functional and legal for everyday road riding. The XF650 wears a complete set of aftermarket lighting chosen for its classic looks. To keep proportions tight a set of bar-end mirrors have been grafted to the front fairing. Appropriately proportioned front and rear fenders allow for all-weather riding and Michelin Pilot Activ rubber adds retro looks without sacrificing rideability. Finally, to make this cafe racer a tad more comfortable it wears high mount clip-on handlebars.
Cafeina's 6.5 cafe racer kit also offers the convenience of storage space. Both the side covers and tail hump can be utilised to discretely mount electronics or to function as storage compartments for personal belongings. On this bike, they function as storage space since Luis has tucked all of the wiring neatly beneath the tank.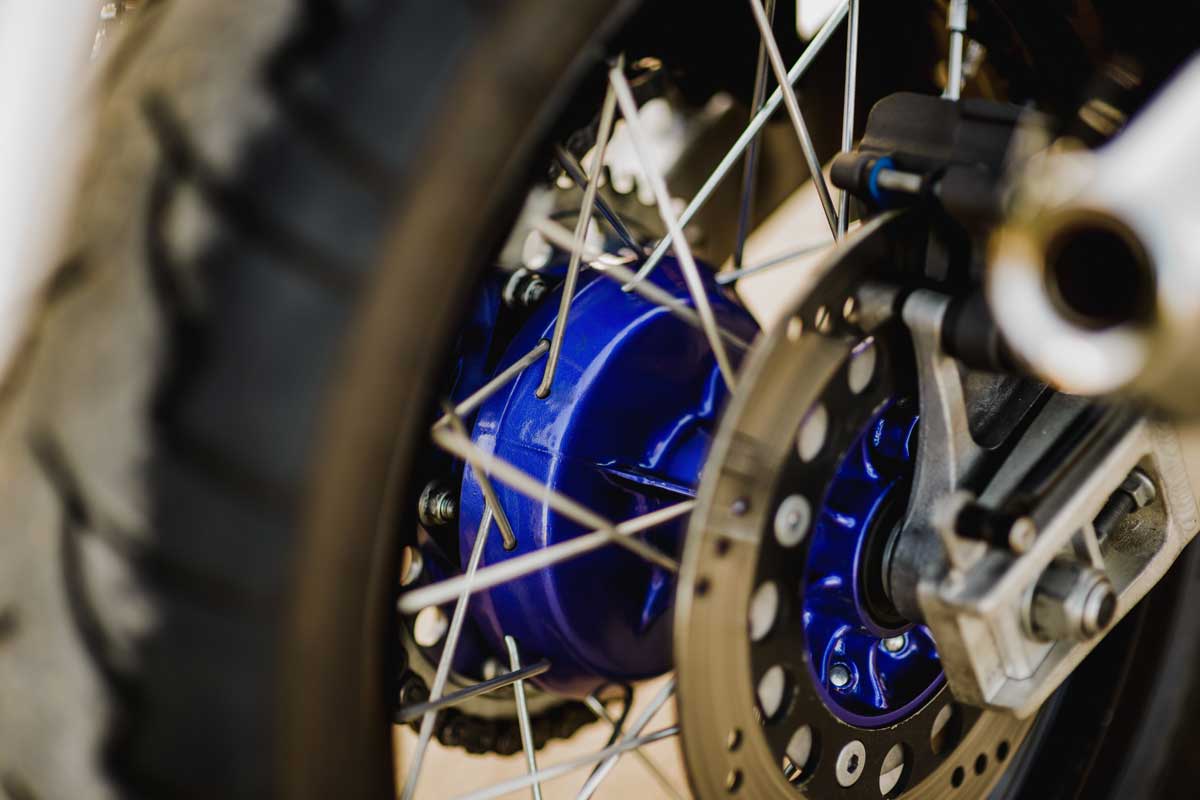 As for how his Suzuki FX650 cafe racer rides, Luis has put it to the test both on the street and the race track. "The improvements are almost incomparable from the original trail style," he says. Despite the engine being essentially stock, Luis states that it'll achieve 175km/h with relative ease and will cruise happily at 120 all day long. His parting comment about riding the bike was that "It was able to make us smile at every turn!", which is something that's sure to appeal to every rider – including this one.
For any enquiries about the Cafeina 6.5 cafe racer kits, you can contact them via their Facebook page.
Shop This Look
| | | |
| --- | --- | --- |
| Image | Product | Buy Now |
| | Bar end style mirrors | |
| | Michelin Pilot Activ tires | |
| | Retro tail lights | |
| | Classic headlights | |
| | Cafe racer turn signals | |
| | Clip-on handlebars | |