More and more motorcycle workshops are utilising advanced manufacturing technologies to realise their custom creations. 10 years ago three-dimensional computer-aided design and rapid prototyping are terms you'd never hear muttered in a workshop, but today they're quickly becoming commonplace. There is one workshop though who continues to use an ancient fabrication technique that pre-dates motorcycles themselves. It's the workshop of Spanish brothers Pablo and Carlos Delgado otherwise known as Valtoron Motorcycles.
The Delgado brothers were raised by a father who made a living as an artist. During their upbringing, he taught them many of the skills he used to create his sculptures. These included shaping clay, building moulds and sand casting. Pablo and Carlos now utilise those skills when building their motorcycles. Based in Madrid their Valtoron Motorcycles studio is half motorcycle workshop, half foundry. Here they cast one-off parts from molten aluminium to create the bodywork for their incredible bikes. It sounds like a drawn-out and complicated process compared to those modern alternatives, but this is what makes each Valtoron motorcycle so unique.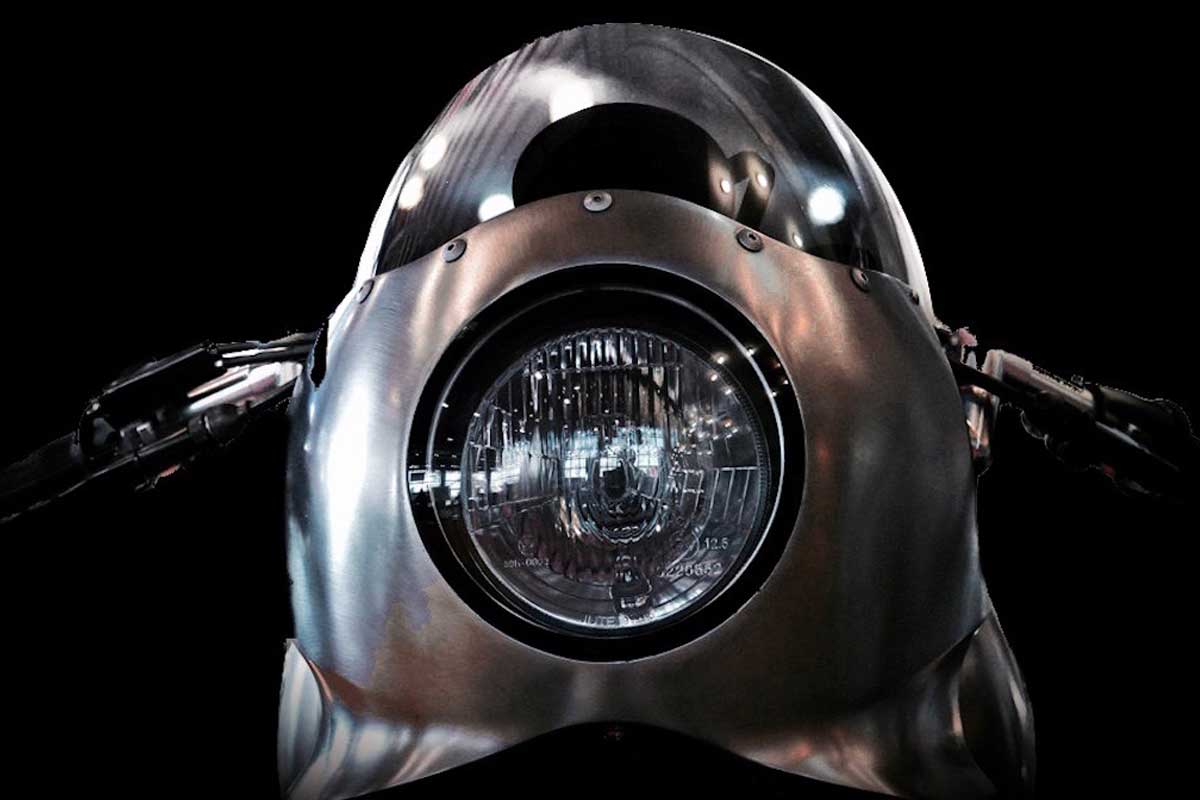 The Delgado brother's latest work is a 1977 BMW R100RS cafe racer. At first glance it looks like a fairly standard build. However, once you learn how it was made your appreciation for this bike will be tenfold.
Adding to the overall appeal of this project was Valtoron's choice of donor. The late seventies BMW R100RS was the German's attempt at creating the ultimate sports tourer. According to the motorcycling press, it was a huge success with one publication stating that the BMW R100RS was "the most radical-looking motorcycle the modern market has ever seen". It wasn't just about looks though the R100RS was wind-tunnel tested to maximise rider comfort at high speeds. The design of the fairing was so efficient that owners claimed they could arrive home dry after riding through a downpour. These factors combined with BMW's renowned bulletproof engineering reshaped the sport tourer genre and forced other manufacturers to step up their game. Of course, none of the original bodywork remains on Valtoron's BMW R100RS cafe racer. The goal here was to create a svelte machine designed with more aggressive riding in mind.
Unlike many of their other projects, the Valtoron BMW R100RS cafe racer was a collaborative effort. The Delgado brothers managed the aesthetics while Spanish airhead experts Max Boxer handled performance. After the engine received a thorough wash and sandblast the team at Max Boxer split the cases. Once inside they refreshed its internals and bumped up performance by fitting larger barrels and performance pistons. Working closely with Valtoron they then devised a custom airbox and exhaust setup which would be built from scratch at Valtoron HQ.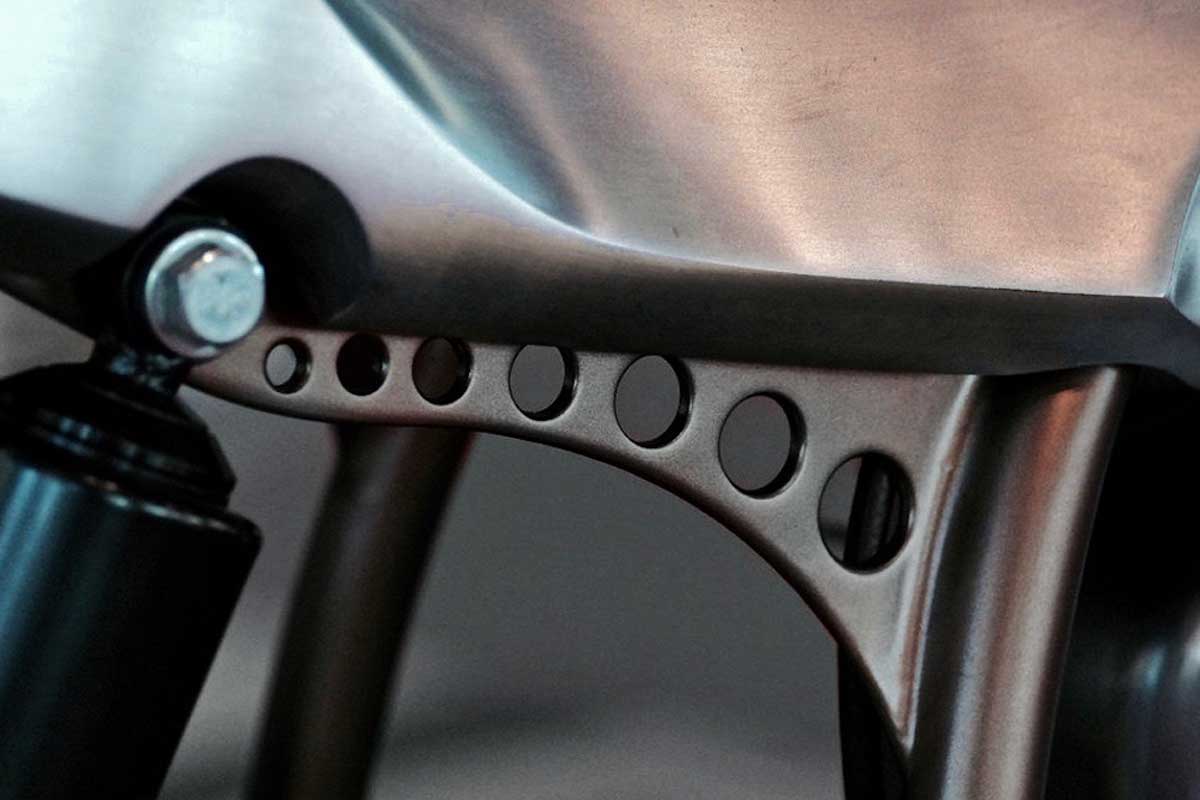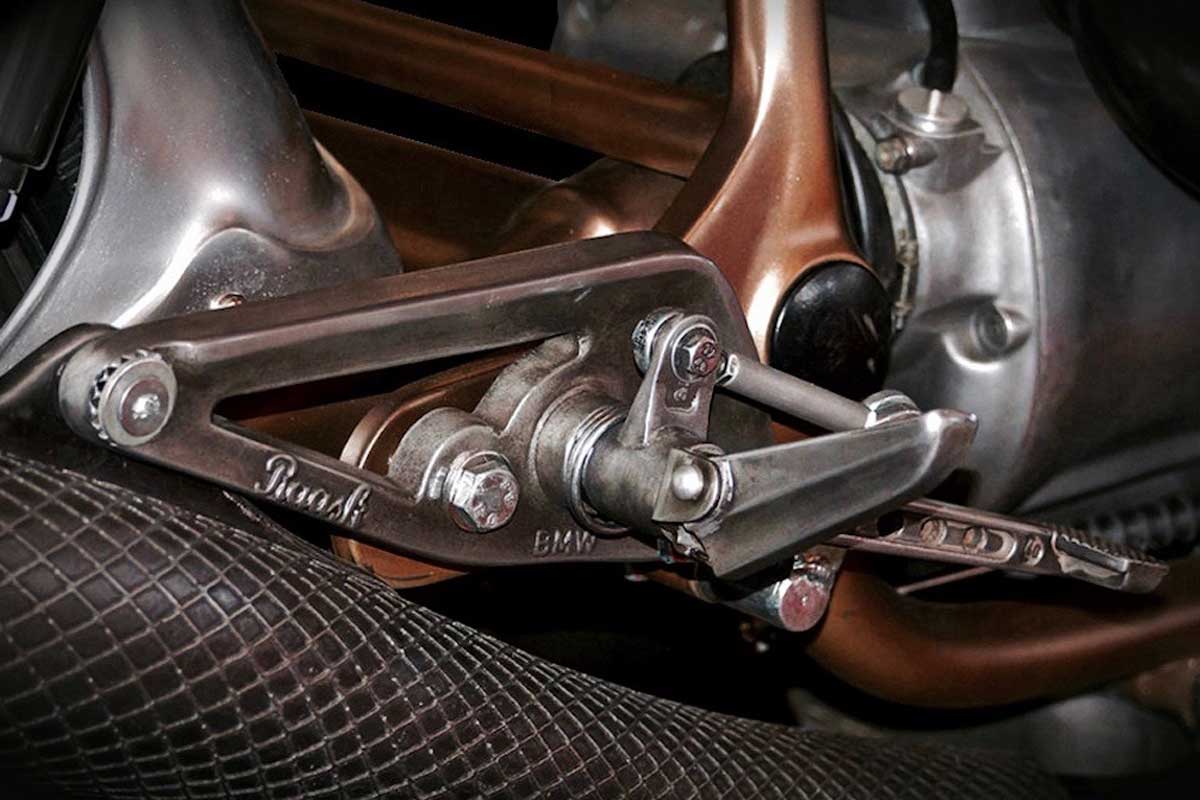 Valtoron's side of the build began with a few geometry adjustments. The bike's chassis now features a bespoke subframe. The design features bracing with trick looking speed holes and all of the welds have been smoothed. A set of vintage style Hagon shocks were installed at the rear and the standard forks are running new shortened internals. The result is a beautifully balanced cafe racer bone line. Finished in gold paint the frame is an eyecatching element of this build, but it's far from its most impressive aspect.
Pablo and Carlos began shaped the BMW's new bodywork from clay. As is customary with Valtoron's approach the tank and tail were designed to function as a single monocoque unit. Carved quite literally into the tank are knee dents that merge rider with machine. To position the bodywork low on the frame, notches in the rear accommodate the rear shock mounts. During this stage, Valtoron even shaped a clay seat to eliminate any guesswork or alignment issue later in the build. The clay bucks were then moved to the Valtoron foundry for casting. Here they poured molten aluminium into sand moulds. After chipping away the sand each hardened aluminium part was revealed.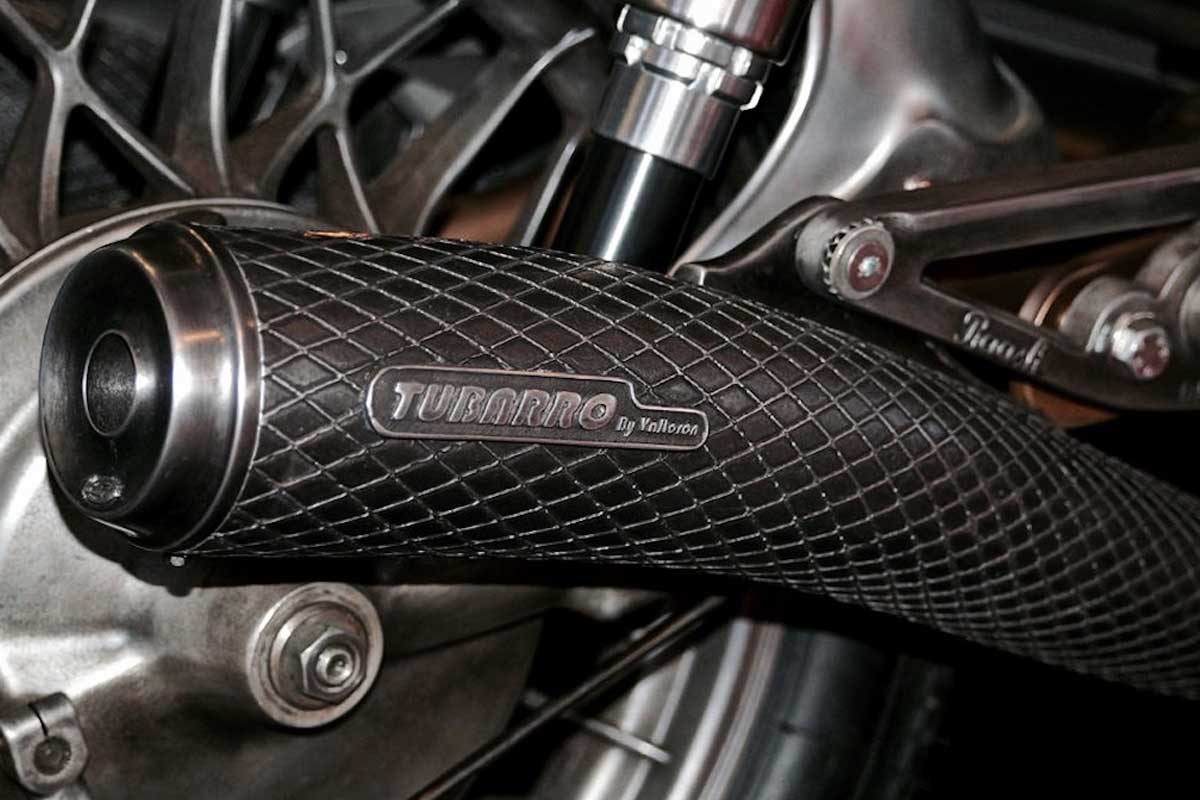 One of the byproducts of sand casting is the finish it creates on the surface of the metal. The sand creates a unique texture on the parts. The Delgado brothers then invest countless hours sanding each part until they achieve the desired finish. In some places, small imperfections in the surface remain giving the bodywork a unique character that can't be replicate with other techniques.
Along with the monocoque body, Valtoron has cast many of the BMW's other components. These include the half fairing that encloses the bike's headlight. The revised airbox and both the front and rear fenders. The one-off tank badges are cast too but from bronze to match the gold finish of the frame. For us though, it's the incredible Tubarro mufflers that are a real standout. Featuring a rhombus mesh pattern executed entirely by hand, they function exactly as they should and rank as one of the best looking mufflers we've ever seen.
To finish things off Valtoron's BMW R100RS cafe racer wears a carefully curated selection of aftermarket parts. Tomaselli clip-on handlebars sit snuggly behind the fairing and are wearing R75/5 controls and Magura grips. The racier riding position has been completed by fitting RAASK rear sets which have been stripped of their paint to follow suit with the bare aluminium theme. The ignition system is an updated electronic setup and the original wheels are wrapped in modern Continental rubber.
Valtoron state there are still a few things remaining to be done such as the remaining lighting. Despite that, this R100RS is a testament to the brother's incredible skill set. Most importantly, Rhombus 1000 is a great example of why keeping old fabrication techniques alive is of such importance.
Original source Custom Machines Spain