Jérémie, the owner of the French workshop Jerem-Motorcycles, has only been building motorcycles for 3 years part-time. Still, he somehow manages to complete 6 or 7 heavily modified motorcycles a year. Even more impressive is that he fell into the role of custom builder by chance. After completing his own Ducati 1098S 'Streetfighter' project and realising he had a knack for building custom bikes he's been juggling 2 careers, and amazingly, it seems to be working.
Jérémie's latest project demonstrates that his builds are much more than a collection of bolt-on parts. The custom '94 BMW R100 RT took around 350 hours to complete and it's a mix of retro-fit components, performance gear and bespoke bodywork.
After wanting to work on an R-series BMW for some time, Jérémie acquired this projects donor from a close friend. Nicknamed Nebula, he describes the R100 RT as a neo-retro cafe racer due to the blend of modern tech and classic styling. Similar to his other projects, this build began with little preliminary planning, "I had everything in my head," he says. "I only make sketches for small parts like the bike's tail unit."
After the initial teardown, Jérémie installed both aftermarket performance parts and higher-spec components from other donor motorcycles to realise his vision. For handling upgrades, the R100 front end has been switched with a set of BMW R9T forks running Ohlins Suspension internals. As for the back end, it's supported by an Ohlins monoshock, which was tuned specially for the bike by DIP Racing.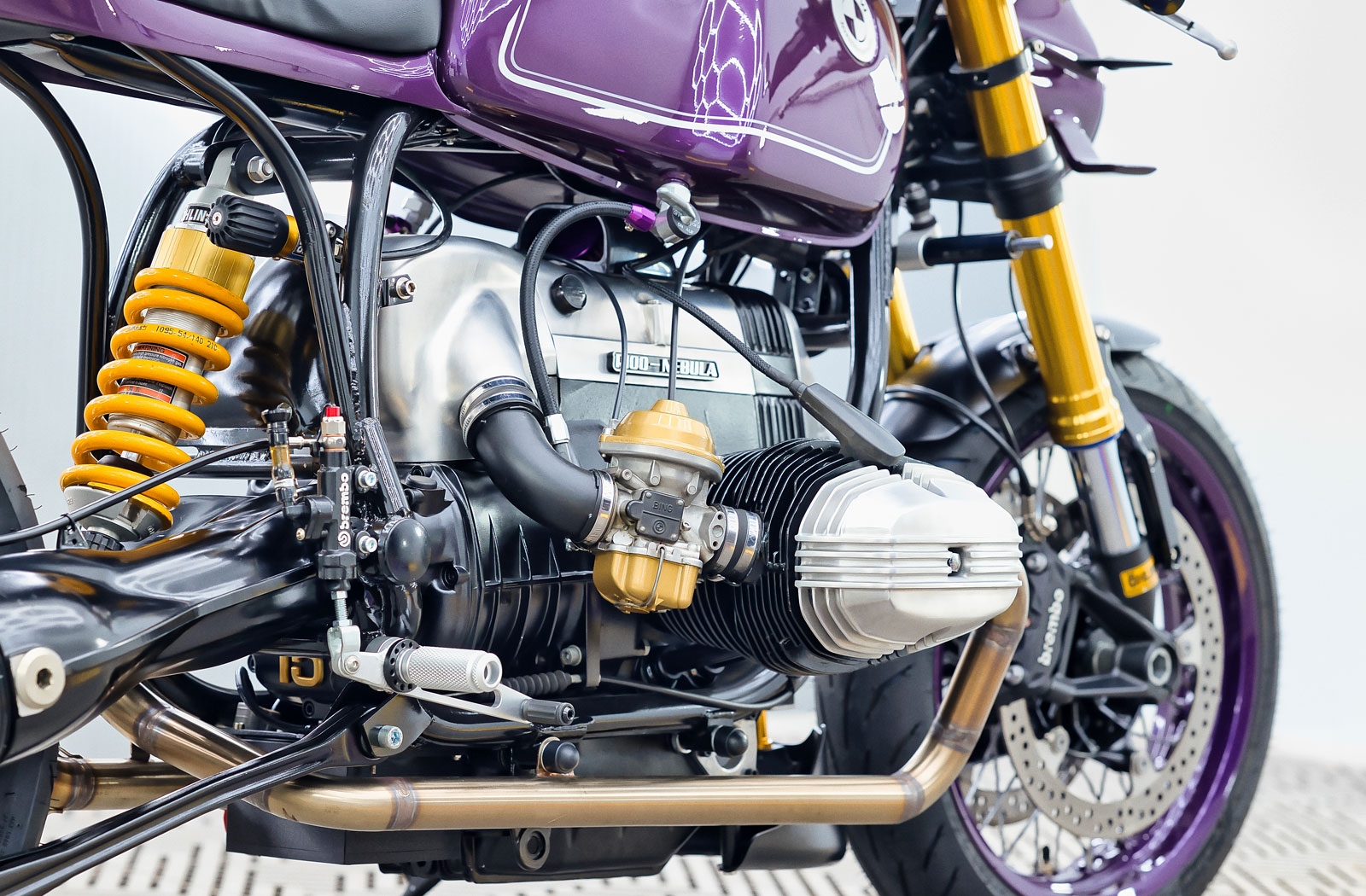 With the bike running premium suspension it made sense that the brakes should follow suit. As a result, the R100 RT is now running Brembo callipers that are hooked up to a front Nissin master cylinder and rear Brembo pump via braided, custom-made EXACT hoses. The wheels are new too and have been built using 17-inch BMW 850GS hoops which are wrapped in Dunlop's Qualifier rubber.
Next came some chassis work. First, the frame was detabbed and cleaned to remove any redundant clutter. Then subframe was removed and a custom rear hoop fitted. And finally, the swingarm reworked to allow the fitment of a beefier 160-profile tyre.
Technically Nebula is state-of-the-art thanks to an extensive electrical overhaul. Attached to the bike's Motogadget m.Unit Blue electronics controller is a completely custom wiring harness. The handlebars wear CNC machined push button switch blocks and perched above the top clamp is a striking Aeon Aria digital speedometer in a chunky aluminium housing. A Motogadget mo.Lock allows the bike to be operated without the need for a key and a lithium battery is housed in a custom box behind the engine.
All the lighting has been switched to modern LED alternatives too. Up front, you'll find an LED headlight which is flanked by Kellerman Jetstream sequential turn signals. As for the rear end, it's been completely transformed thanks to the fitment of a Shin Yo LED Bolt/XSR900 aftermarket taillight. The rear turn signals, which are Frenched into the tail unit, are custom-made from plexiglass which has been machined and then fitted with LED internals.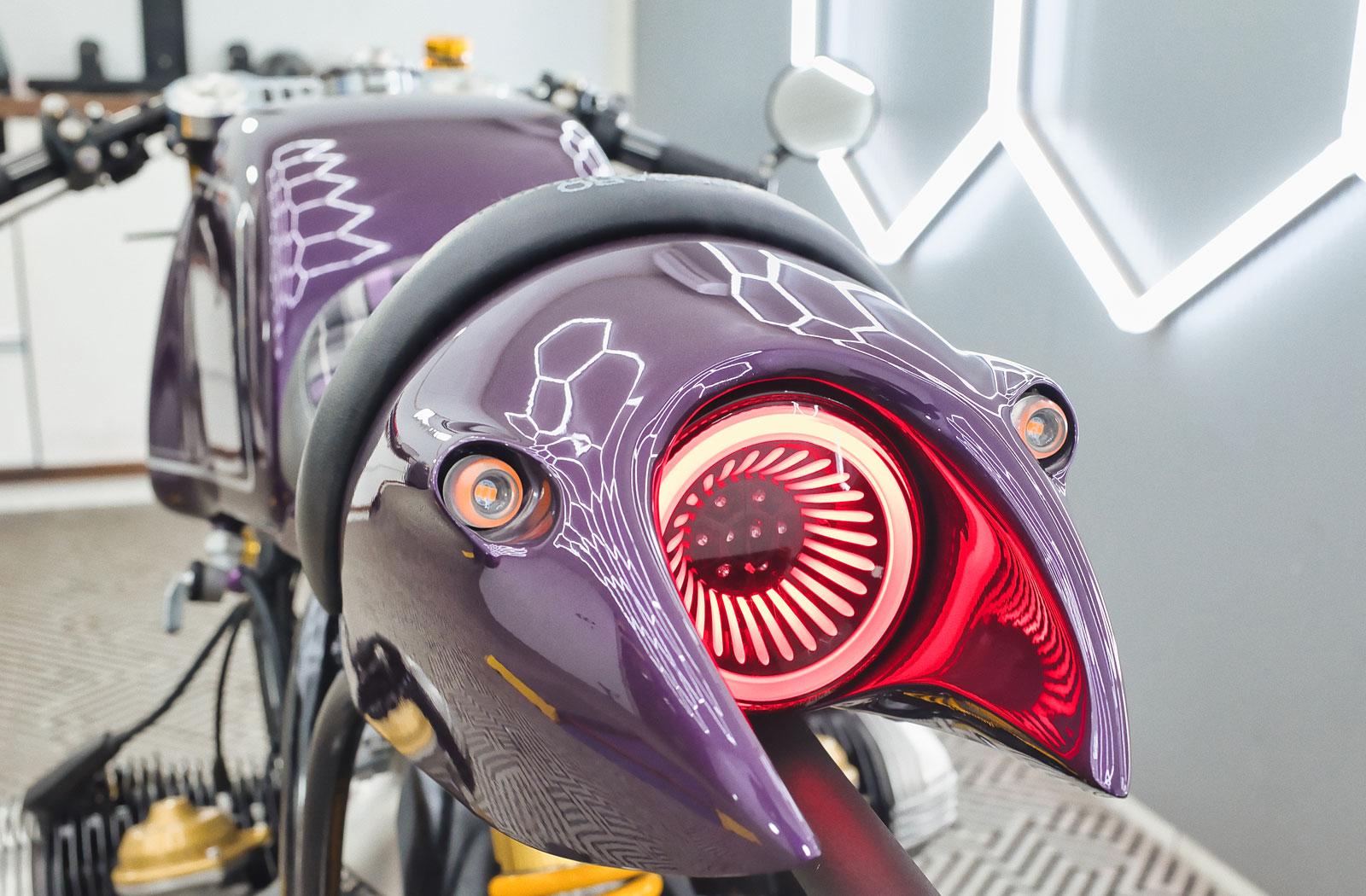 As we said, this bike is much more than a bolt-on affair, so many of these parts have been installed using custom solutions. The new forks, for instance, sit in custom-made CNC machined triple clamps by USV Racing and there's a retrofit steering damper to keep any speed wobbles at bay. The LED headlamp sits in a bespoke FRP bikini fairing that's sporting Moto GP style winglets. And the tail unit is a one-off design created specifically to house the trick Shin Yo brake light assembly.
To get the bike's lines right, Jérémie lifted the fuel tank by 4cm. A custom seat sits level on the new subframe and to keep the tail clutter free he's fabricated a custom license plate bracket. The addition of a belly pan bolsters the BMW's sporty demeanour while clip-on Highsider handlebars and rear set pegs establish the appropriate riding position.
Engine performance has not been overlooked with this Boxer receiving both an internal and external overhaul. During the rebuild, the carburettors were retuned and all new cables installed. The airbox is an aftermarket 5 series design which is fed by an air dam at the top of the motor. For performance gains, Jérémie fabricated his own 2-into-2 exhaust system and it wears a pair of Delcampo mufflers.
Details are what make or break any build and here the former certainly applies. To complete this bike Jérémie made his own Jerem Motorcycles BMW roundels from laser-cut aluminium. The fuel tank wears a classic Monza filler and the bar end mirrors are premium Highsider CNC machined alloy items.  The metallic purple paintwork, which probably won't be to everyone's taste, has been finished using classic BMW pinstriping and the seat has been upholstered using black leather and a purple plaid pattern fabric. Gold detailing on the carbs and brake master cylinder tie in nicely with the Ohlins gear while the frame and engine are finished in timeless satin black.
The finished BMW cafe racer is a sight to behold and by all accounts, it rides great too, "It is perfectly stable and precise, and it's a treat to ride. I love it and it's going to be difficult to sell" says Jérémie since this bike, like many of his other will soon be up for grabs. Any takers?