Prior to Hinckley releasing their acclaimed water-cooled Bonnevilles they'd had a great run with their air-cooled predecessors. Despite not offering the same refined level of performance as the newer models they amassed a huge global following during their time in the spotlight. Despite their popularity, the most disappointing of the air-cooled Bonnies was the Triumph Thruxton 900. Unlike its performance-focused successor, the 1200cc Thruxton R, the Thruxton 900 was little more than a styling exercise. That doesn't paint a great picture for those older Thruxtons, but rest assured there's still plenty to be gained from customising one. To show us how it's done, the team at Nova Motorcycles have just unveiled this air-cooled Thruxton cafe racer that boasts a balanced mix of awesome styling and calculated performance upgrades.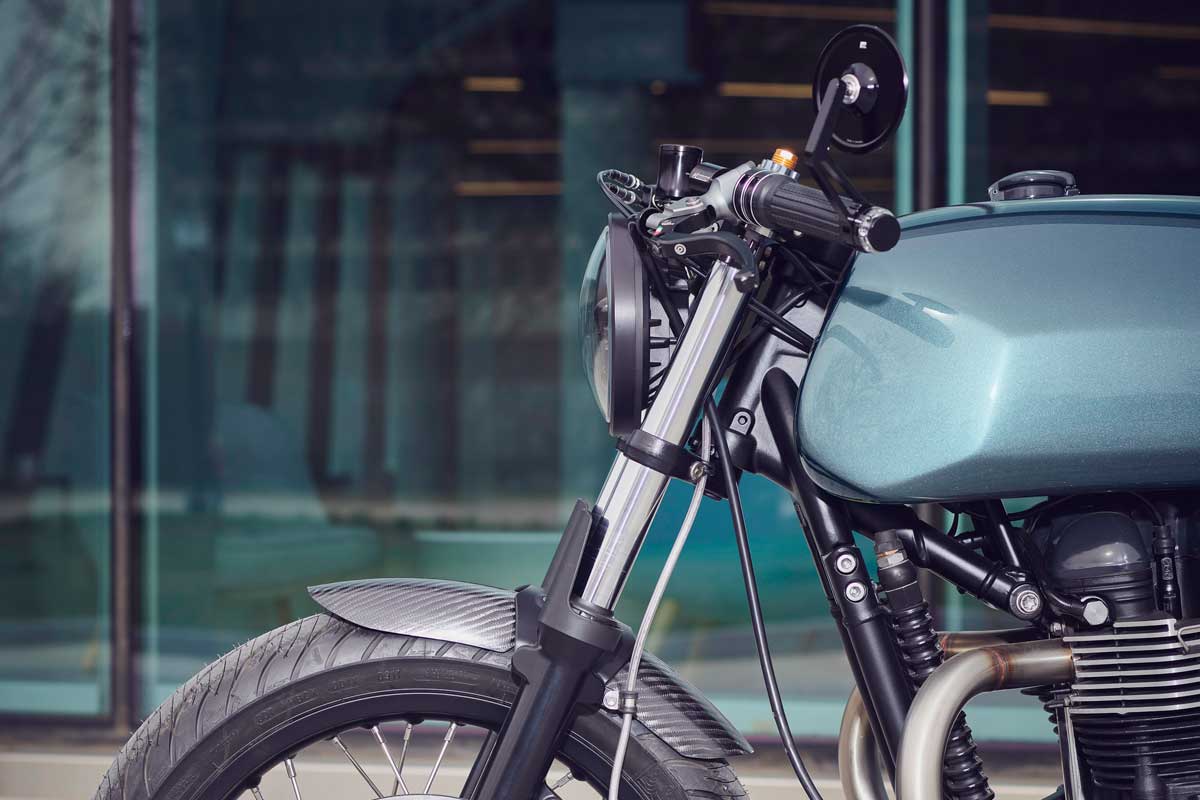 Redesigning the Triumph Thruxton 900
During the past 6 years, Nova Motorcycles has fine-tuned their approach to building bikes in order to optimise the experience for their customers. The process kicks off with the presentation of 'mood boards' and examples of where their inspiration for the concept originated. This is then presented to the client as a collage of ideas that gives insights into individual components as well as the overall design. The next stage is a visual mockup laid out in Photoshop over an image of the donor bike for the owner to approve. Nova then moves to Illustrator and CAD renders of the bespoke parts and then finally the build itself. "We try to be very thoughtful about creating bikes," says Nova co-owner Peter Chilton. "It's vital to Nova to always tie the history of motorcycles into what we build, but, at the same time, make a bike that has its own presence."
With their 2013 Triumph Thruxton 900 project, Peter and his business partner Sayre Anthony set out to create a modern interpretation of a cafe racer. "On the Thruxton, we discussed what details and looks were defined by British racing bikes at their peak," says Peter. "The 60s and 70s British race machines were very influential on our thoughts about this build. We wanted to incorporate those concepts as much as possible but still have a bike that looks modern."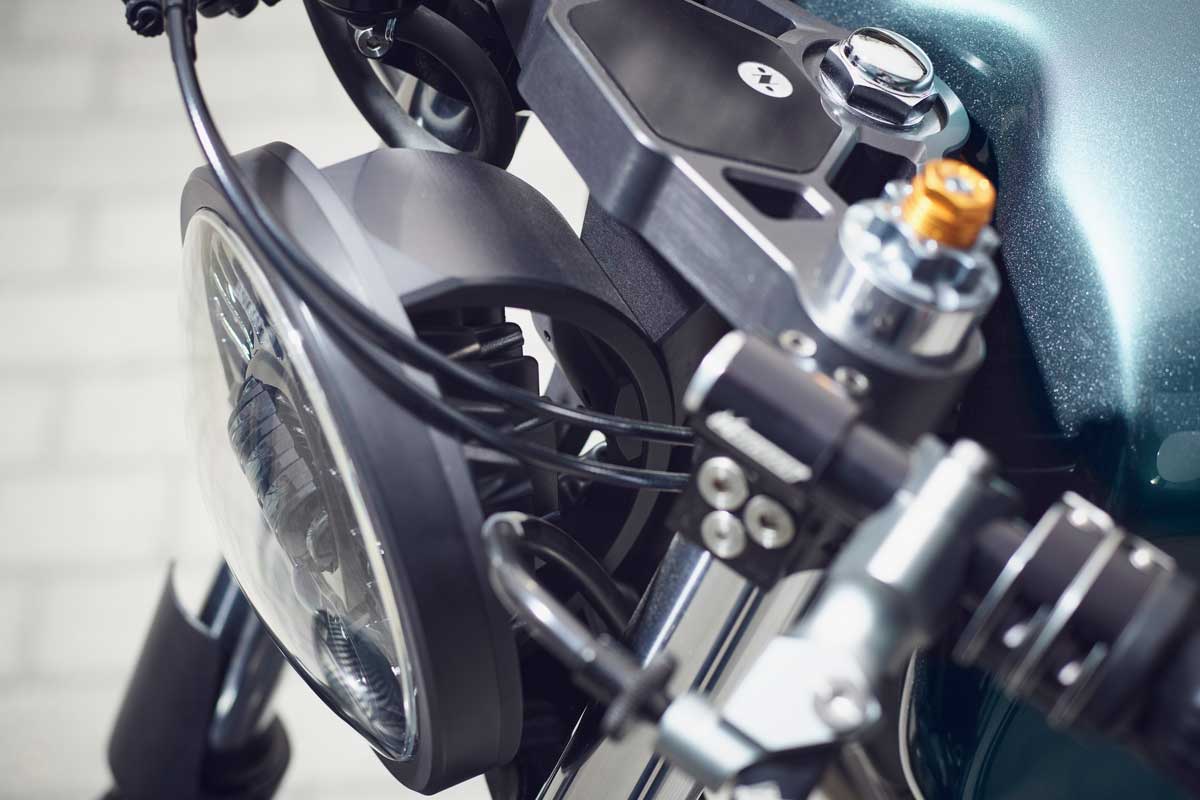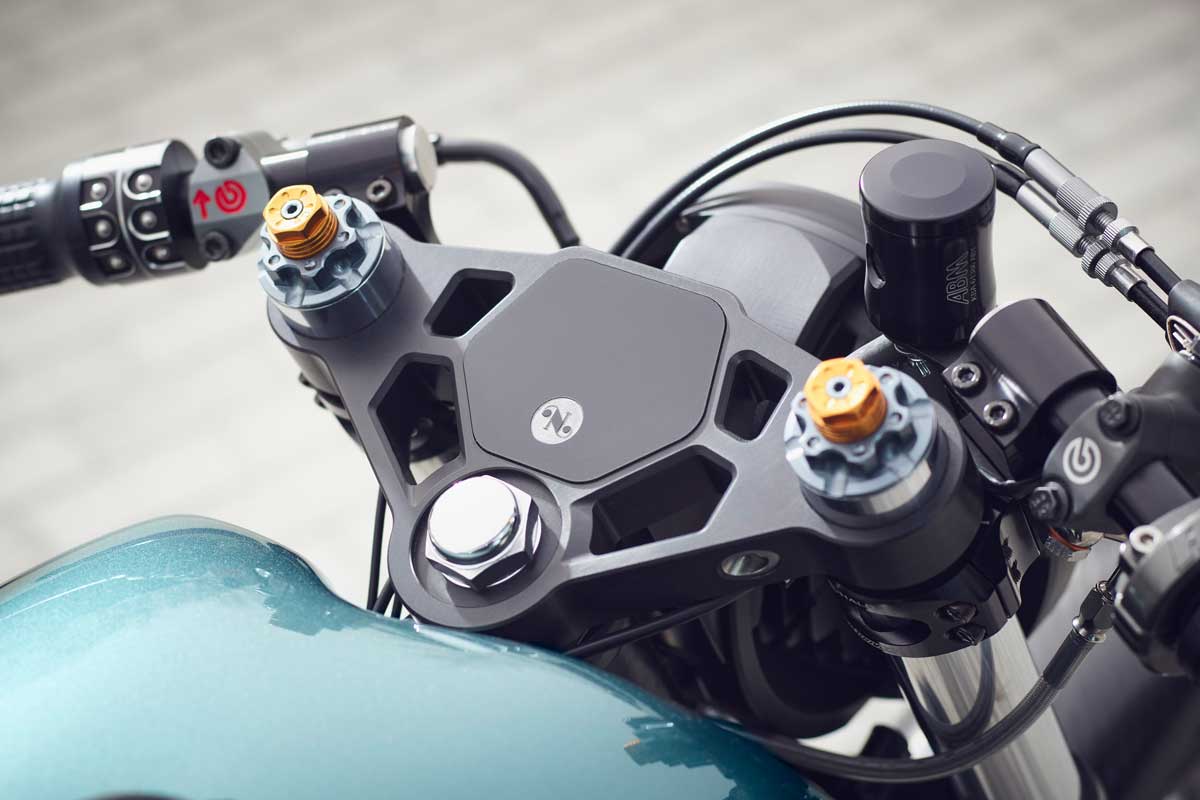 Building a bespoke Thruxton 900
The Nova Motorcycles Triumph Thruxton 900 features a long list of one-off parts created especially for this build. Amongst them are a handful of components developed in conjunction with other businesses in the Massachusetts area. Take for instance the bikes unique floating headlight design and top triple clamp. Nova delivered renders of these parts to local prototyping and fabrication firm Cofab Design who milled them at their facility. The setup hangs a Motodemic Adaptive LED headlight from a curved bracket attached to the top clamp. This leaves the fork tubes fully exposed for a beautifully clean front end. Recessed into the top clamp you'll find a black perspex panel that covers a Motogadget Motoscope Mini speedometer and indicator lights. When the bike is activated using the m-Lock keyless ignition positioned behind the tank, the speedo stealthily glows from beneath the panel. Other parts design by Nova motorcycles but executed by their partners include the Kevlar-reinforced fuel tank and seat cowl and carbon fibre front fender by bodywork expert Tannermatic. And the tan leather seat by Counterbalance Cycles.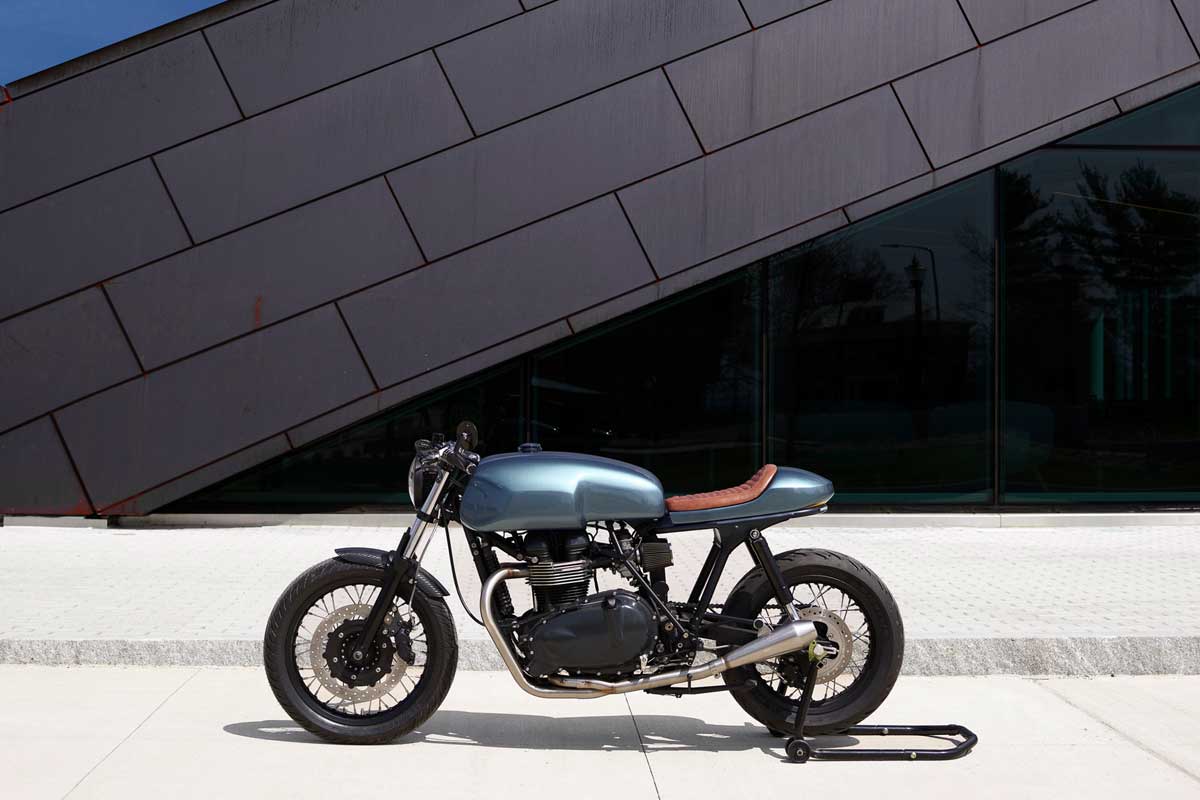 Of course, along with designing their Thruxton 900 cafe racer, Nova constructed the motorcycle in-house. Realising their vision for the bike meant fabricating more custom solutions which were completed by their skilled staff. These include the bespoke subframe with its integrated LED lighting. A custom push-button seat release that gives access to a Motogadget m-Unit Blue and the electronics of the bike. Brake lines that run internally in the modified frame and a custom hanger welded to the frame to support the new exhaust.
For items that weren't designated for fabrication Nova handpicked premium aftermarket parts from their preferred suppliers. Motogadget provided various electrical components as well as m-Grips, m-Switch controls, m-Blaze bar end indicators and a single m.View glassless bar end mirror. Driven Racing clip-on handlebars sit high on the fork stanchions and they wear LSL and Brembo levers, ABM and Brembo reservoirs and a Motion Pro REV2 throttle kit for improved responsiveness. Triumph aftermarket experts British Customs were also called on for a rear shock dress-up kit, clutch cable mount and an airbox removal solution.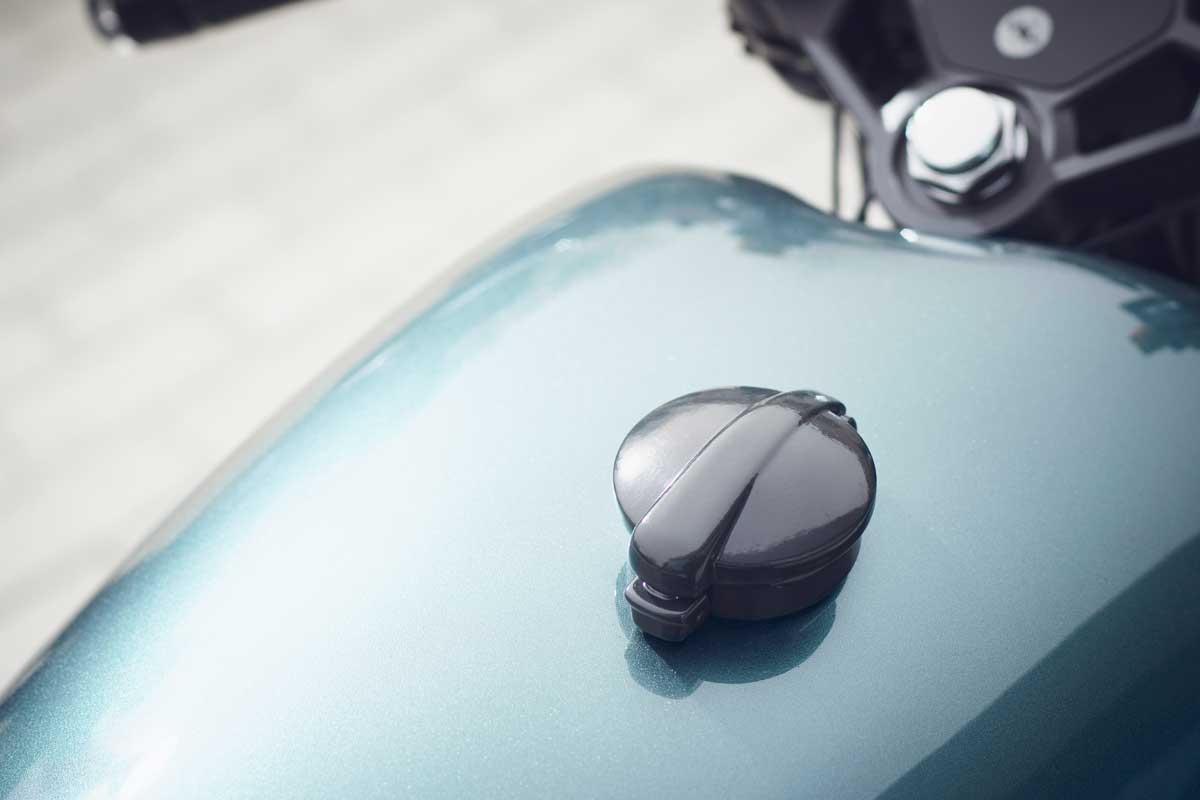 A Thruxton 900 parallel twin with more poke
As for how their Triumph Thruxton 900 would perform, the Nova team spent some time in the saddle pre-teardown to determine exactly what had to be done. "We rode the stock Thruxton and took notes on what we thought could be improved," says Peter. "But just like every build we make, it also has to be reliable, rideable, and make sense for how the owner is going to use it." This approach equated to an extensive list of changes that spanned the internals of the engine, frame modifications, brake and suspension upgrades and even the rubber the bike should roll on.
The 865cc DOHC twin now benefits from a pair of upgraded Web Cam Racing cams, a 2-into-1 British Customs low exhuast, K&N pod filters and a custom tune. Taking inspiration from the work of legendary bike-builder Colin Seeley Nova then braced and stiffened the frame using custom made bracing. The complete suspension overhaul uses an Andreani Misano Cartridge Upgrade to renovate the standard forks and a set of K-Tech Bullit 360mm shocks in the rear. Front end stopping power has been hopped up using a Brembo disc upgrade and associated hardware and, as for rubber, Nova opted for Michelin Pilot 4 tires.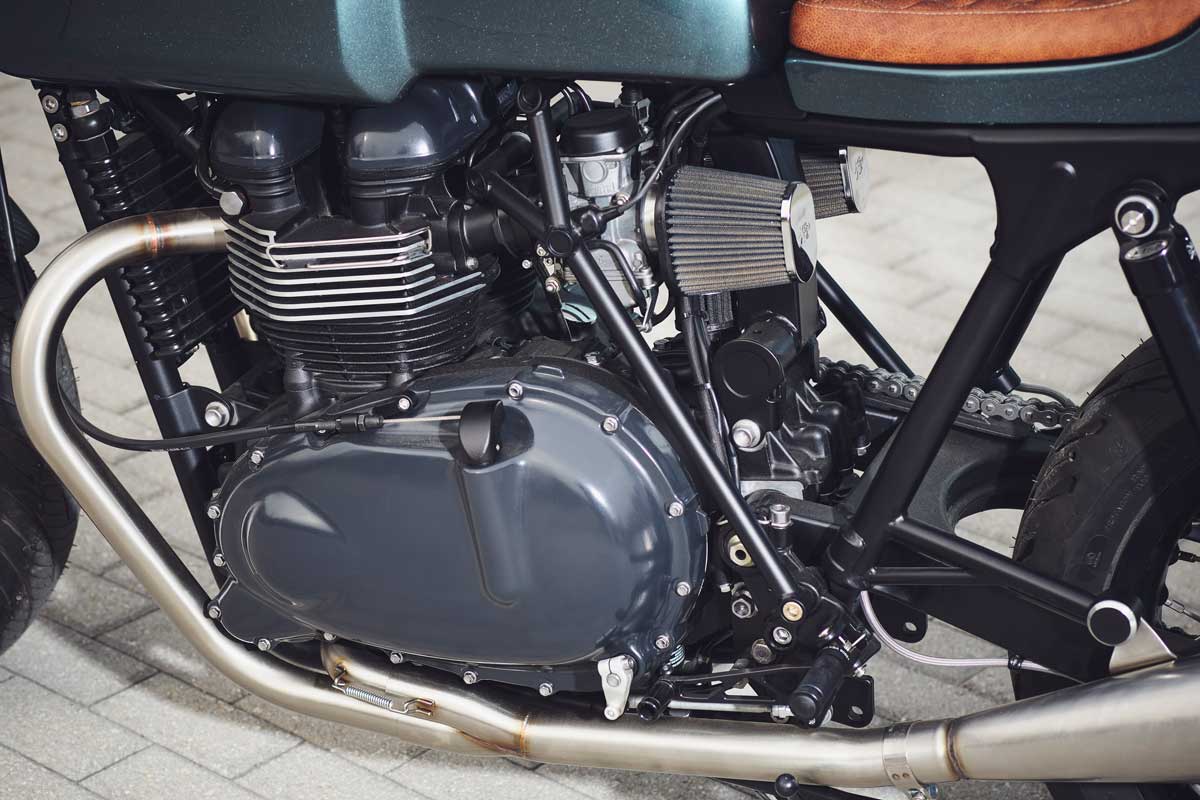 The finishing touches
There's no denying how good Nova Motorcycles Triumph Thruxton 900 cafe racer looks. Along with its perfect proportions and a balanced bone line it wears a timeless paint scheme with a modern twist. Nova has taken an iconic 115-year-old British racing green paint scheme and executed it using a metallic Allora Green with Speed yellow highlights. The rest of the bike is primarily black, including the powder-coated wheels to allow the stunning paintwork to shine. To finish it off Nova has also carefully applied a few touches of grey to draw your eye to areas of interest like the engine, custom top clamp and Monza styled filler perched on the bespoke fuel tank.
As for how this custom Triumph Thruxton 900 rides, "To be honest, I haven't ridden it yet!" Peter confesses. "We have literally just finished it. Our fabricator and mechanic Andy T. got to take the inaugural test ride about two weeks ago. He said it was awesome." We have no doubt that Andy's assessment is accurate, but Peter has promised an update once they get a chance to really put it to the test. Stay tuned!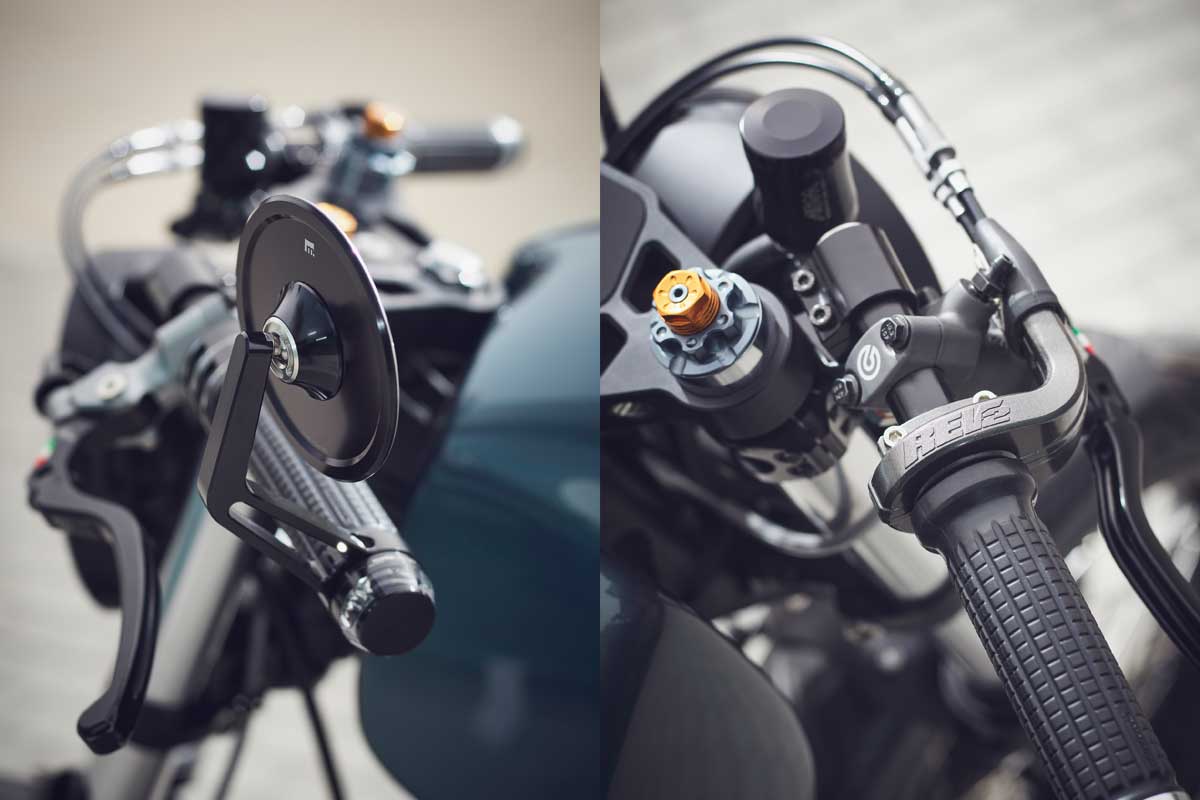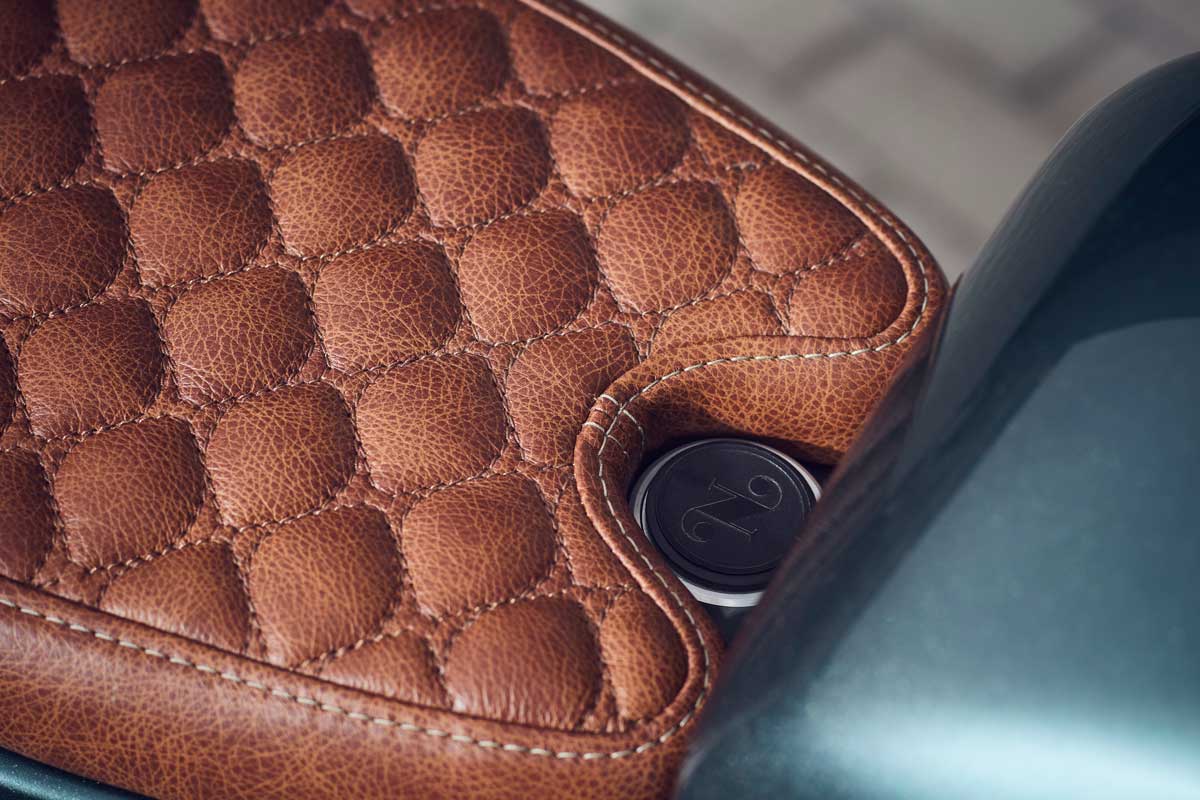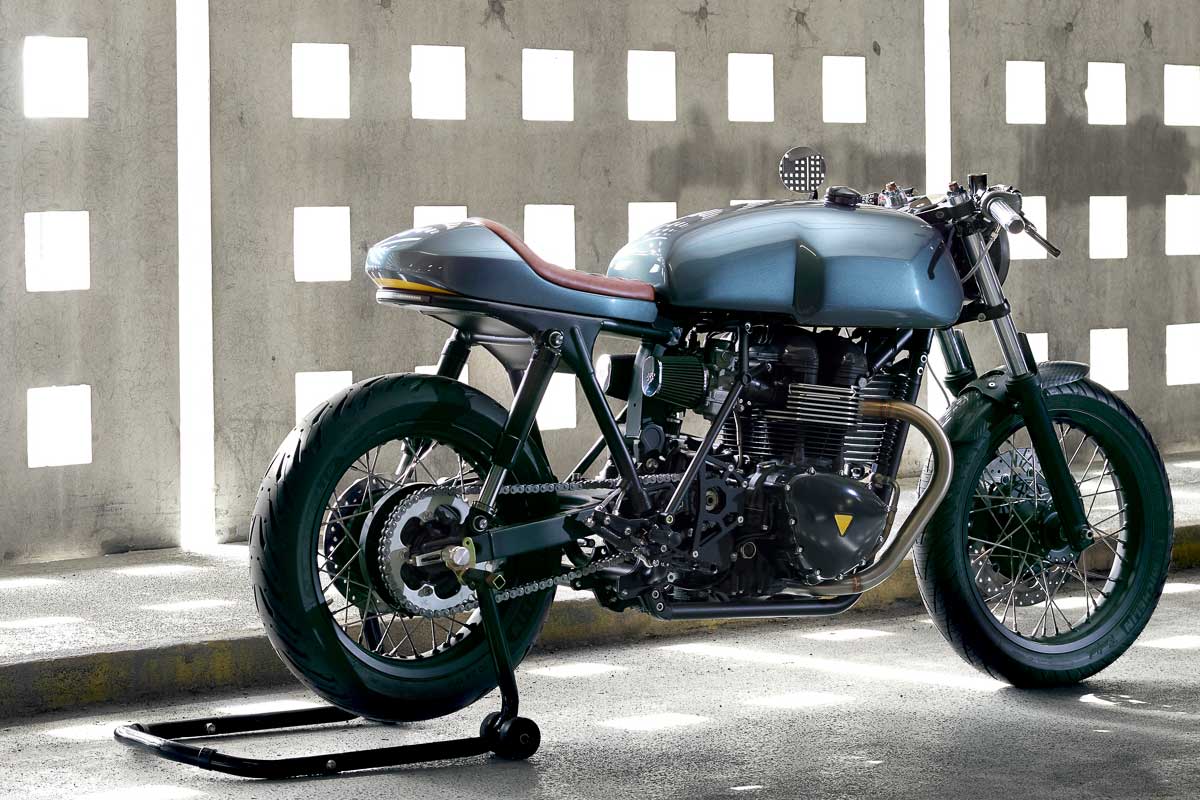 Shop This Look