From his 'Tannermatic' workshop in Hull, Massachusetts, Matt Tanner restores and fabricates composite parts. An average day at Tannermatic consists of working on projects that span the automotive, marine and architectural sectors. He's built everything from one-off carbon fibre fuel tanks to restoring 1950s sailboats and is a master of his trade. Where his real passion lies though is in building and racing motorcycles to compete in AHRMA and USCRA historic races. This motorcycle, a Honda CB175 powered race bike, is his current steed and has been stirring things up out on the track.
While many of the motorcycles I feature on these pages are built with the goal of creating something unique, Matt was driven by a desire to simply do it better. "I was inspired to construct one of these racers because of the large grids of them currently racing with AHRMA and the USCRA.," he says. "It was assembled out of a roller I got from a good friend which I combined with boxes of parts from another. It really just started as a pile of junk bits!"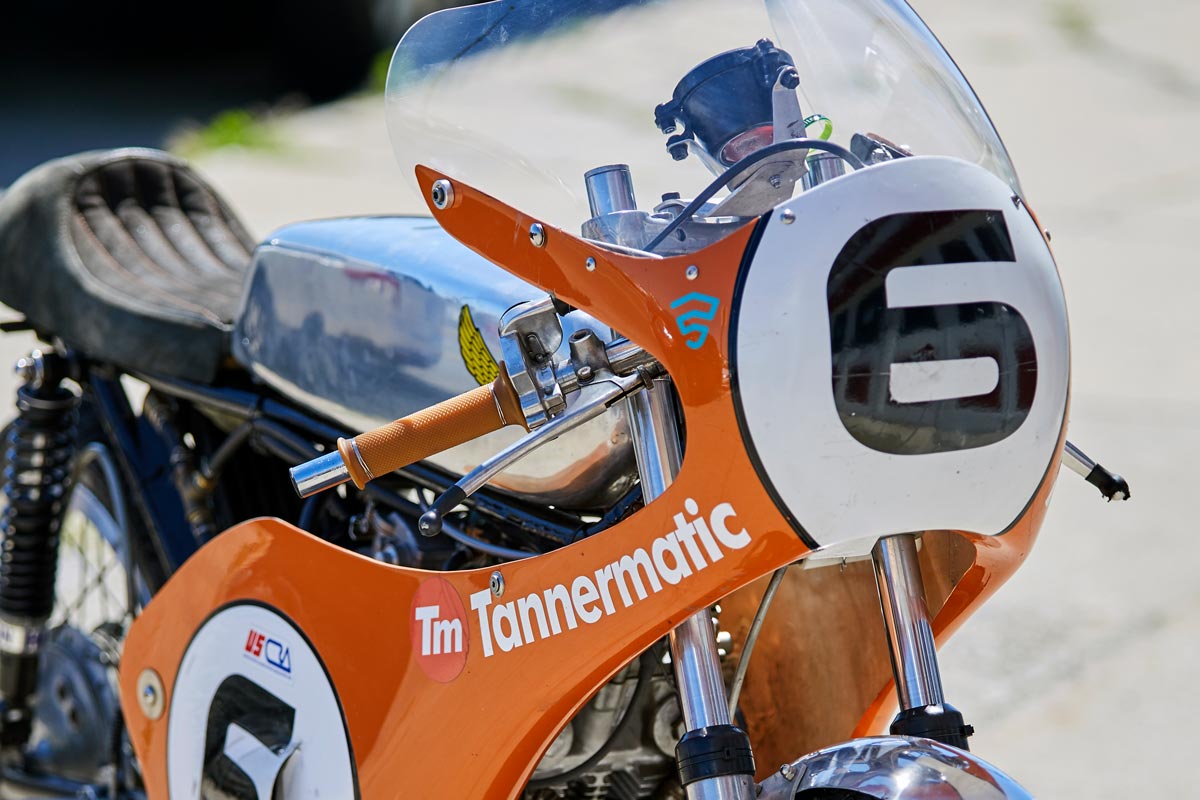 Despite having a solid starting point this was not a quick turn around project. In fact, it took several years before the Tannermatic Honda was ready to race. Matt had a very particular parts recipe in mind and sourcing all of them was a drawn-out process. He also committed to completing the majority of the build himself. And, like many people who race, had other, functional race bikes in his stable that were a constant distraction.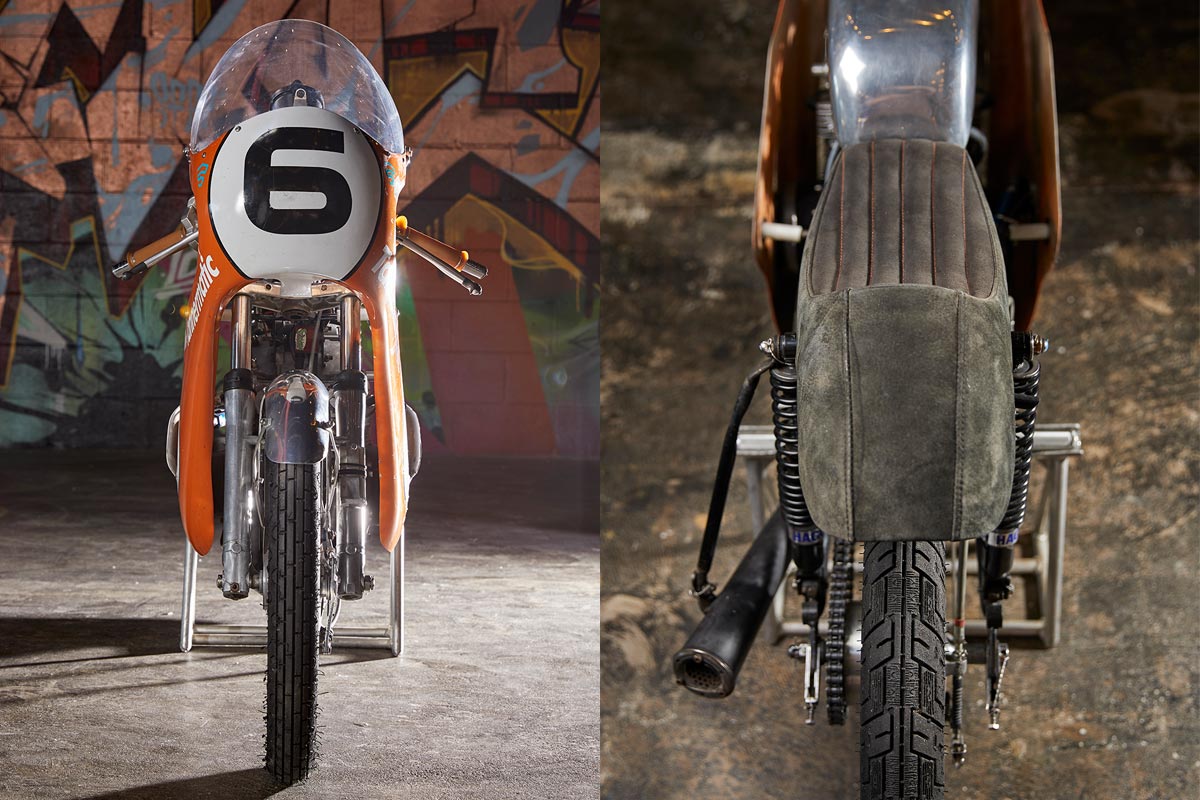 The styling of the Honda was inspired by classic motorcycles of the European Grand Prix. However, rather than just create a homage to one machine Matt built his own spin on several of those bikes. By blending his favourite features of different motorcycles he created a look of his own. "I won't settle for ordinary," he says, and as a result, the new bodywork is a mix of custom fibreglass, alloy and leather components. Matt designed a fuel tank and front fender which he had shaped from alloy by fellow fabricator, Mike Elliot. His seat was inspired by a Benelli 250 GP race bike and the fairing is a scaled-down design to suit the bikes smaller stature. As for the various brackets and mounting hardware, Matt completed them all himself.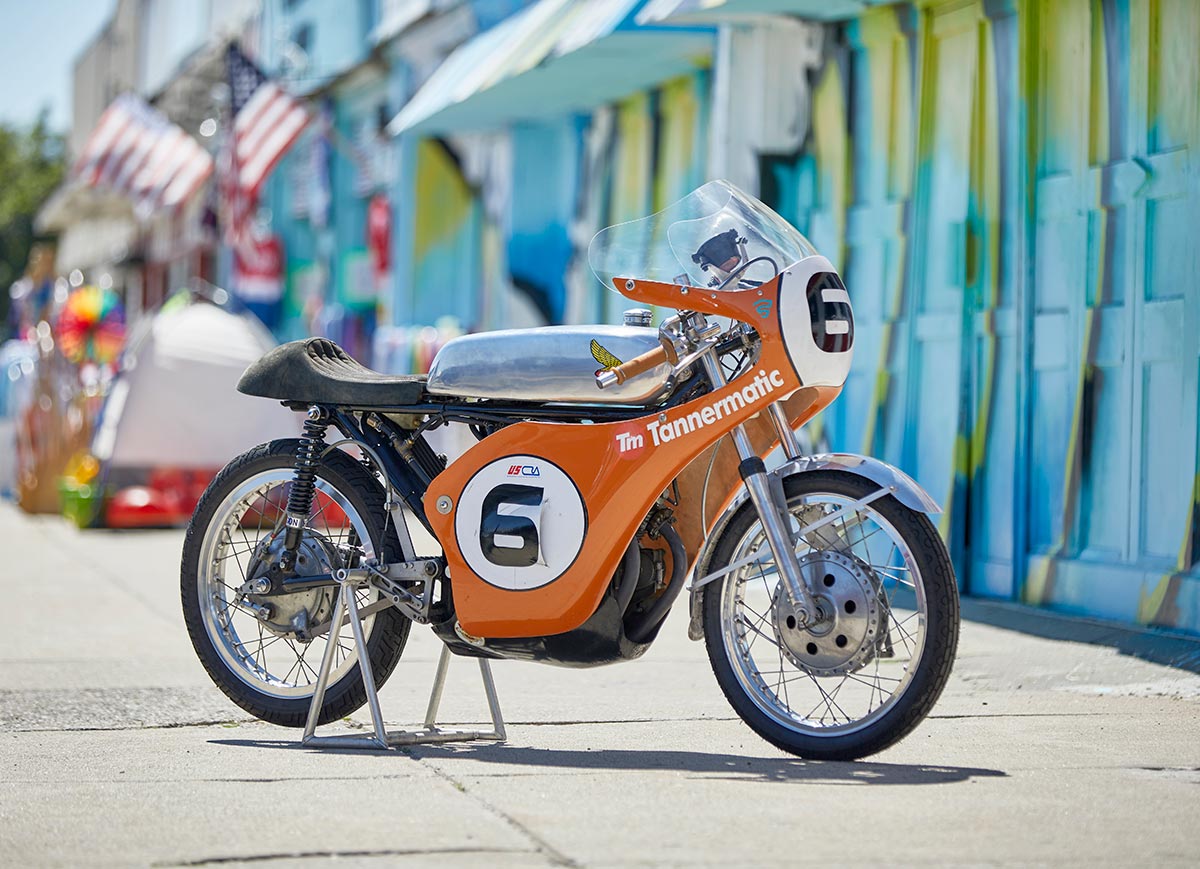 Beneath all that custom bodywork sits a 1964 CB160 frame with an extended stock swing arm. The rear wheel is running the stock hub while up front, there's a Honda 305 drum. Both hubs have been laced to shouldered Borrani alloy rims wrapped in Hidenau road racing rubber. Matt sourced NOS Marzocchi forks for the front end and mated them to the frame by machining out the triple trees. Hagon shocks manage the rear end and everything has been set up to suit his proportions.
Classic race engines tend to be a cocktail of trick parts and this bike is no exception. For the all-important engine build Matt enlisted the help of racing expert Frank Gianni. He shared his desired state of tune with Frank who reworked many of the hop-up parts that had already been sourced. "He provided a plug and play setup that performs perfectly!" Matt proclaims. "Fuel is managed by a pair of Keihin CR26 carburettors and the exhaust system is a custom 2 into 1 by John Branson."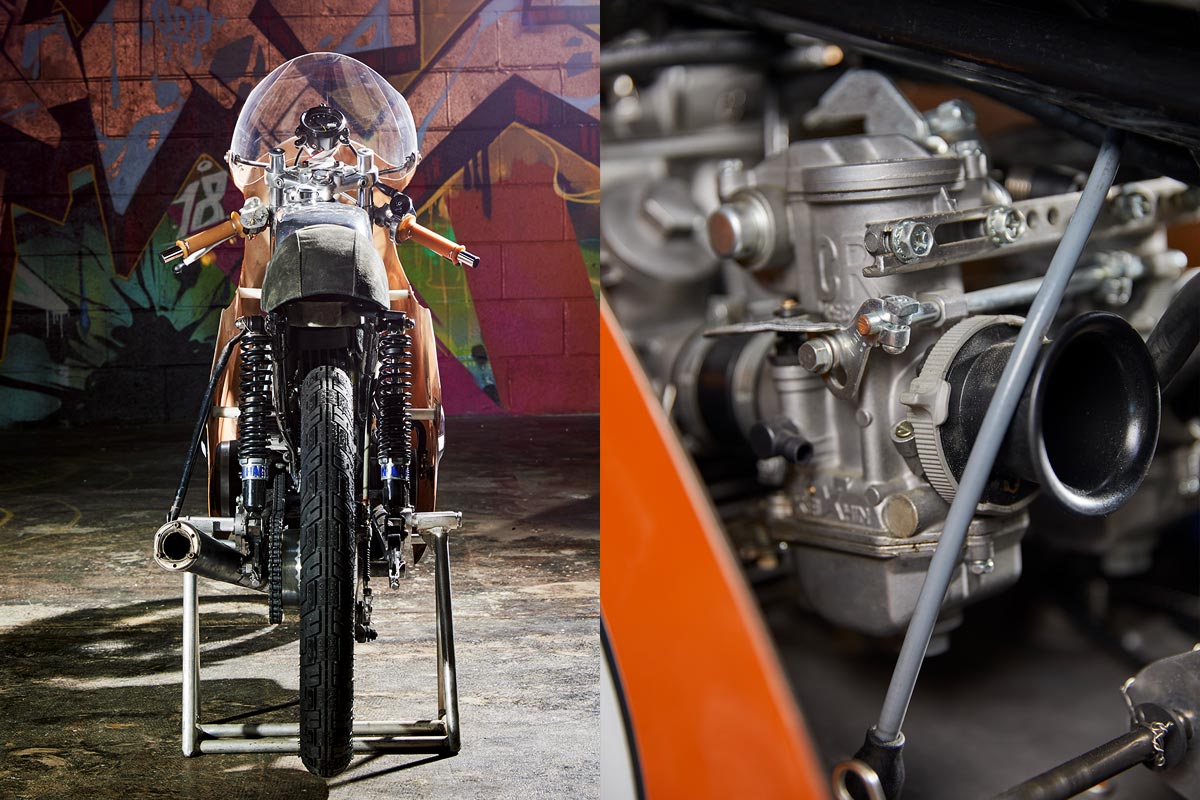 According to Matt his Honda isn't a very pretty bike (I beg to differ), but it is very competitive out on the track. Since completion, the Honda has racked up several USCRA top podium positions and does a great job of chasing down larger displacement machines. During the last AHRMA race season, Matt also finished a respectable 7th out of 20 on the Honda. A result he's very happy with considering he started at the very back of the grid. Right now the bike is being campaigned for a second season and if things go to plan I'm sure we'll be seeing an even better result from this commendable little Honda.
Photos by Ken Richardson