Trever Scales of Scales Studio is no stranger to these pages. But today, for the unveiling of his latest project, the Scales Studio Ducati 1200SS, we've done things a little differently. Trever is the first guest on our new podcast 'The RETROspective'. The interview-style series will delve into each builder's backstory along with introducing their latest custom motorcycle project. In this episode, Trever explains how his highly modified Ducati 1000SS project began and walks us through a few experiences he had creating it. You can listen to the whole interview below along with the usual build breakdown and photography.
Scales Studio Ducati 1200SS build breakdown
As Trever explains in our interview (listen to it above), this project started out as a super clean 2005 Ducati 1000SS. It was one of only 80 examples imported to the US and around half of those ended up being converted into race bikes for use in the lightweight twins classes. Built for a customer the bike took around 1400 hours to complete. Work on the project began at Trever's old workshop in Houston and was wrapped up at the new Scales Studio HQ in Miami, Florida.
The concept for the build was to transform the Ducati 1000SS into a 1970s Italian racer with modern performance. Trever took styling cues from iconic Ducati and MV Agusta race bikes and made performance improvements using transplanted parts from late-model Ducati donors.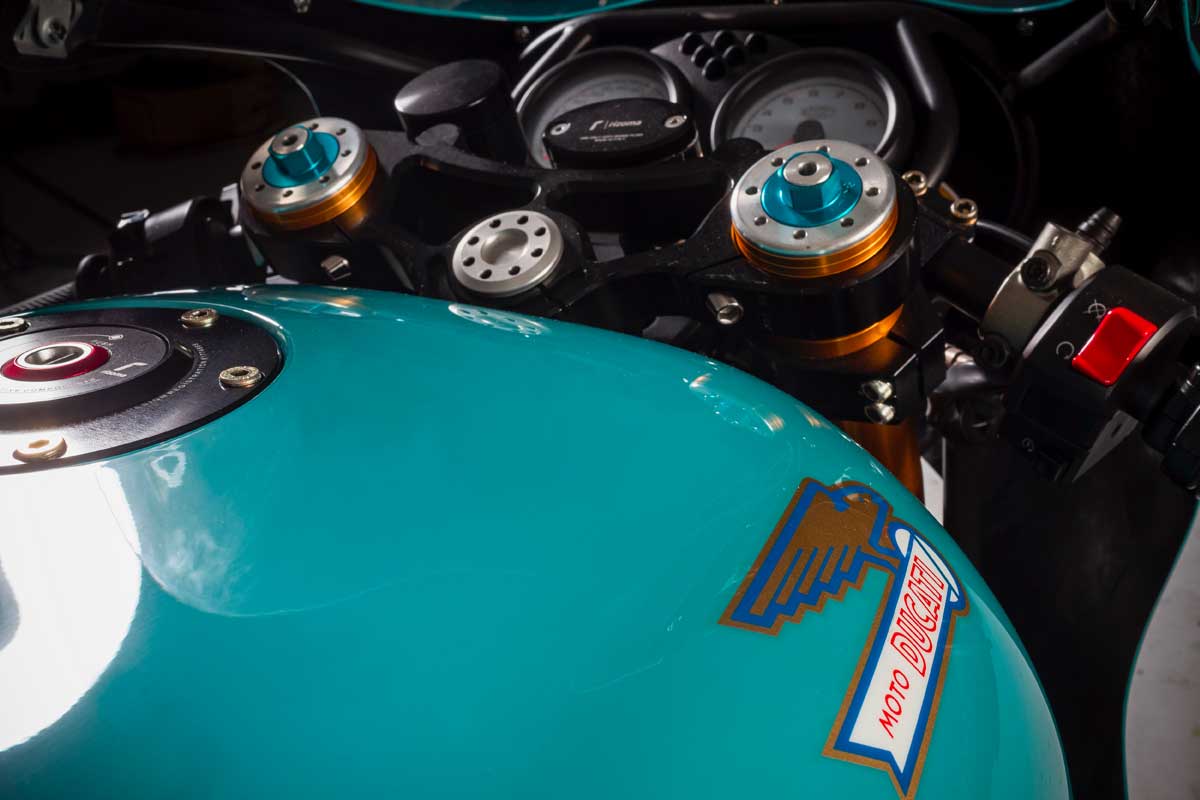 Creating the bodywork for this project was by far the most time-consuming task. Trever invested around 400 hours into it and the results speak for themselves. The MV Agusta inspired gas tank cover is running a race-style Rizoma filler cap. The cover itself is made from 4 layers of hand-formed carbon fibre and a single internal layer of Kevlar for bulletproof durability. Creating the unit involved shaping the original plug, pulling moulds and then vacuum bagging the final piece. The classic Ducati front fairing has been modified extensively with 2.5 inches trimmed from the screen and a pair of PIAA mounted into the nose. Holding it in place is a 4139 chromoly stay which Trever designed and built from scratch. Sitting on the shorter, custom rear subframe is a Sport Classic race seat that's 3 inches narrower than the Ducati 1000SS saddle. To dissipate heat from the exhaust there's an internal alloy heat shield that's been polished to a mirror finish. To finish things off Trever has shot the bodywork using PPG materials and added classic Ducati water transfer decals from Classic transfers in the UK.
Stashed away under the tank cover you'll find the bike's fuel tank and most of the electrics. This includes the coils, air temp sensor, battery and ECU. Trever also found a new home for the reg/rec to make way for an NCR oil cooler. The new suspension, braking and control package is a mix of repurposed 2008 Ducati 1098S parts and high-end aftermarket components. The gold Ohlins forks, front and rear Brembo brakes and clutch master cylinder are all of 1098S heritage. Speedymoto supplied the triple clamps for fitting the Ohlins setup and the carbon fibre shorty levers are by CRG. Rizoma reservoirs contain the brake and clutch fluids and additional steering stability is provided by an Ohlins steering damper. Ducabike rearsets complete the bikes revised riding position.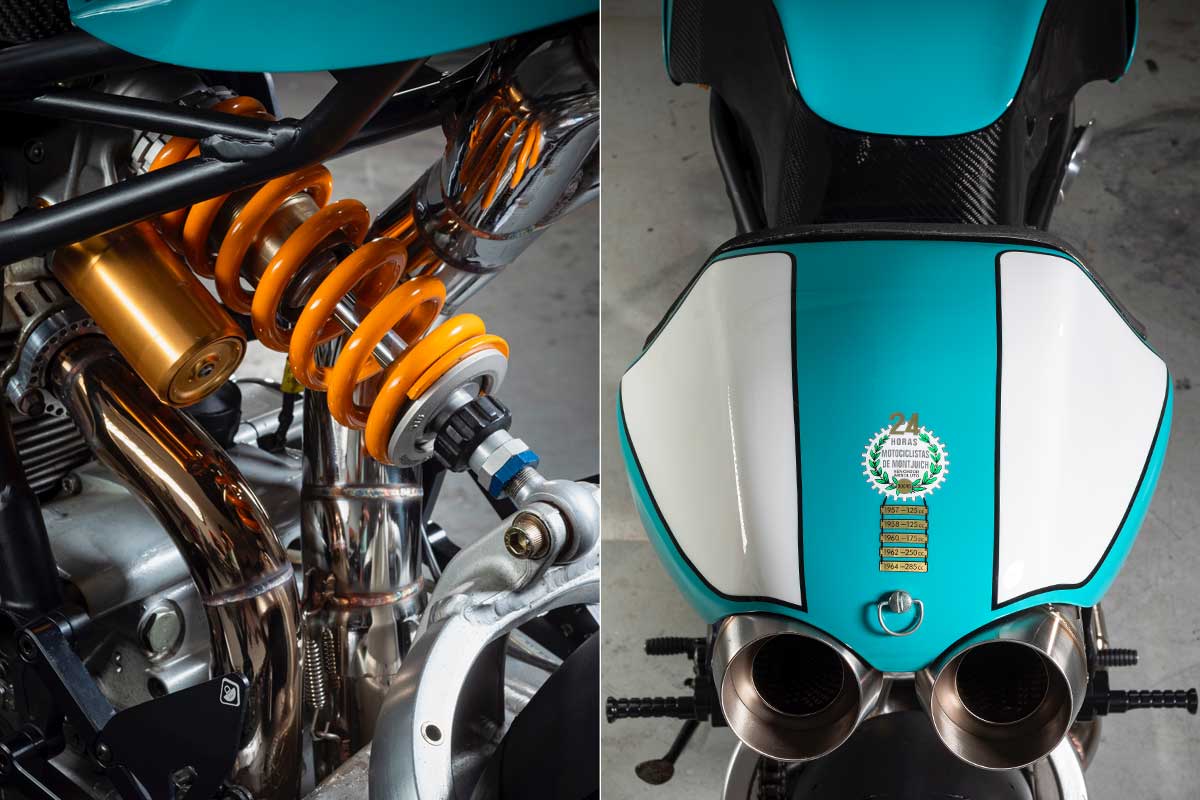 While deliberating on how much power he wanted the bike to have, Trever decided the 992cc V-twin of the Ducati 1000SS wasn't up to the task. So in its place is a heavily modified 1100cc Hyper Motard engine. Entrusted with getting the most out of the engine without sacrificing reliability was Ducshop in Atlanta. Their work involved punching capacity out to 1200cc, porting the heads, balancing the bottom end and fitting NCR race cams. Engine performance is managed via a Microtech ECU.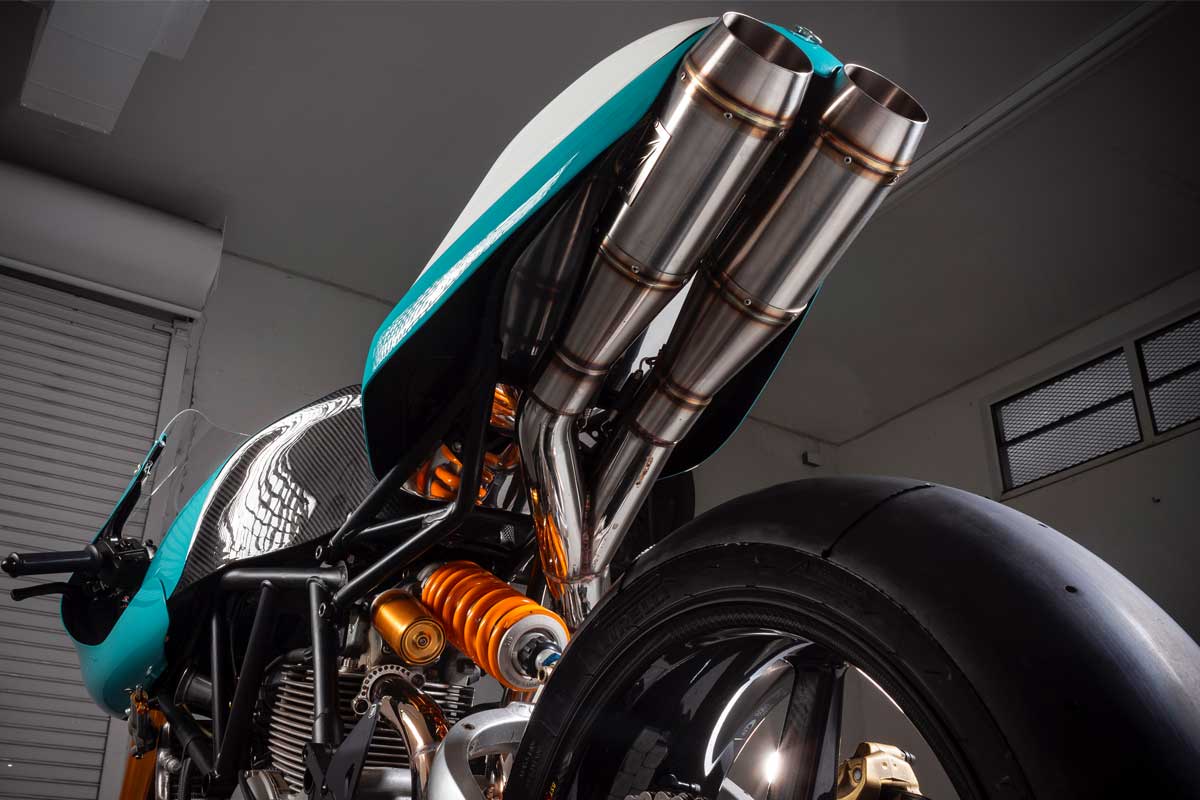 Air is drawn into the beefed-up V-twin via a trick pair of pie-cut titanium intakes wearing wide-mouthed velocity stacks. A Ducabike slipper clutch ensures the back tire won't lock up while entering corners hot and a carbon fibre clutch cover keeps things cool. As for the exhaust, the stunning 2-1-2 system has a lot more going for it than good looks alone. Trever utilised specially designed computer software to create a "truly tuned exhaust system for optimal power" which is based on the exact specifications of the modified engine. The program provided him with optimal tube diameters, exact lengths and merging point. After around 60 hours of cutting and welding, Trever then spent 20 gruelling hours wet sanding and polishing the pipework. Holding the pipes in place are Speedy Siegl exhaust collars. To get the best look, performance and sound he was after, Trever capped the system off with a pair of Competition Werks race mufflers.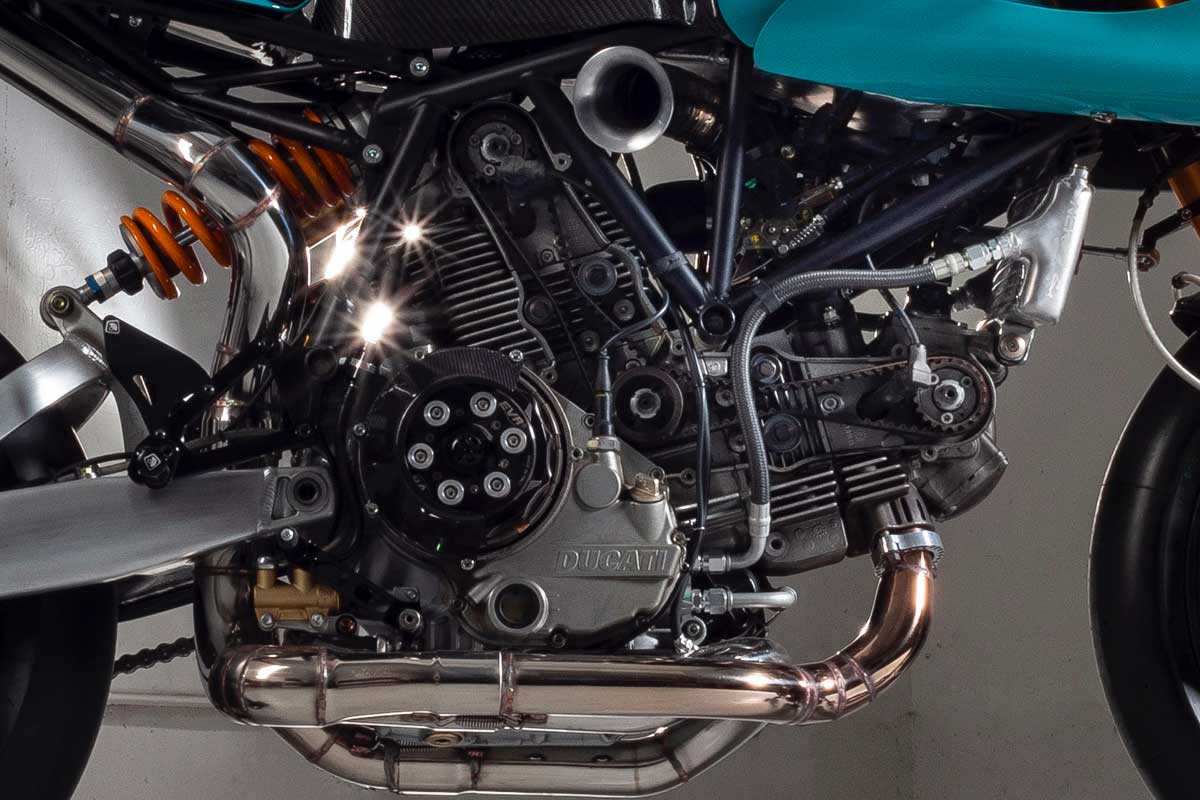 The Scales Studio Ducati 1200SS is without a doubt a thing of beauty, but as per Trever's admission in our interview, his builds go well beyond good looks alone. "Since all the changes the bike accelerates and changes direction significantly faster than before," he reports. "Every aspect of the bike is better including heavy braking."
This extensive build goes well beyond the average custom build, which is to be expected considering Trever's impressive credentials. For those interested in owning a bike like this, Scales Studio will be producing an extremely limited run of 4 Ducati 1200SS builds $105,000 USD each.