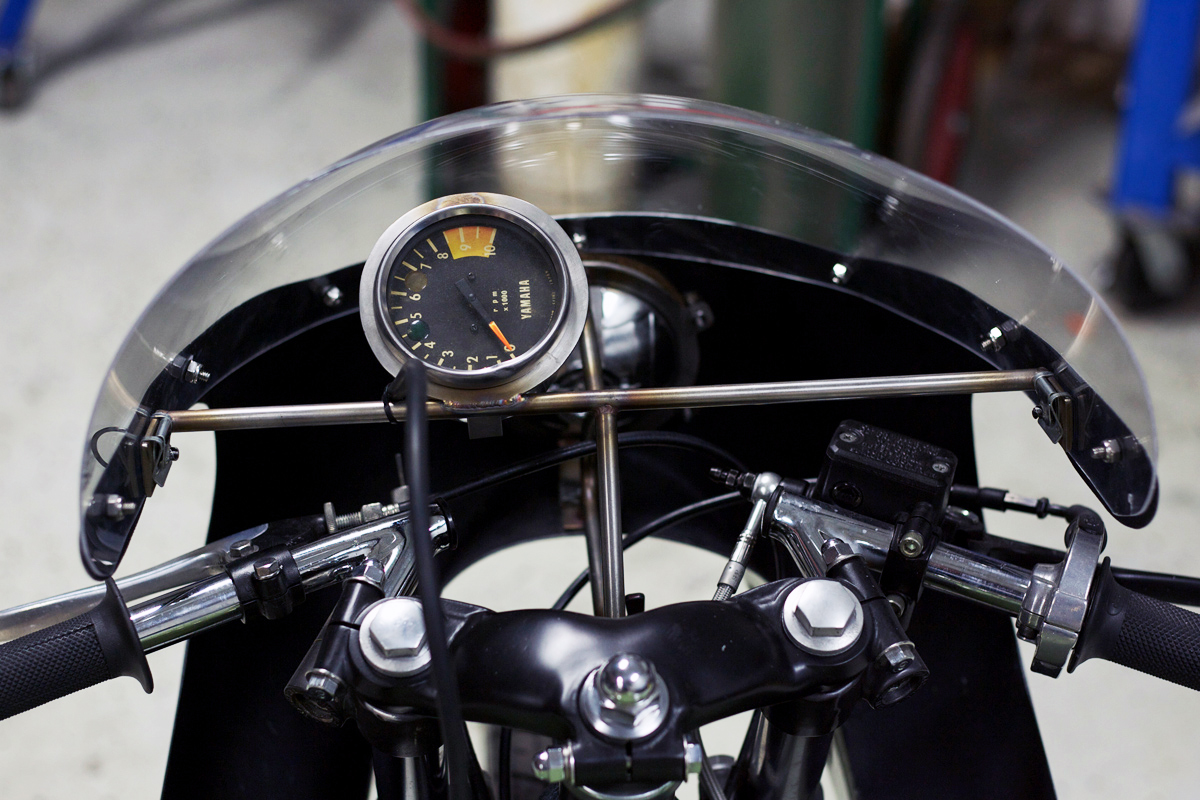 Trevers father, John Scales, was a 2 stroke road racer during the 1970s. "I heard so many stories from my Dad about the incredible fun he had on his RD350 back in the day. He cut his pistons down, had her ported out, magneto pressed off and ran factory TZ race chambers with no muffler. Just a real hell raiser." says Trever. Inspired by his father's stories of those good times Trever decided it was time to build an RD of his own.
Needing a place away from his 9 to 5 to work on the bike, Trever relocated his '74 Yamaha RD250 project to the BLiP creative workshop in Houston. Here he spent some 400 hours over 3 months piecing together a bike his Dad would be proud of… and hopefully pull a wheelie on.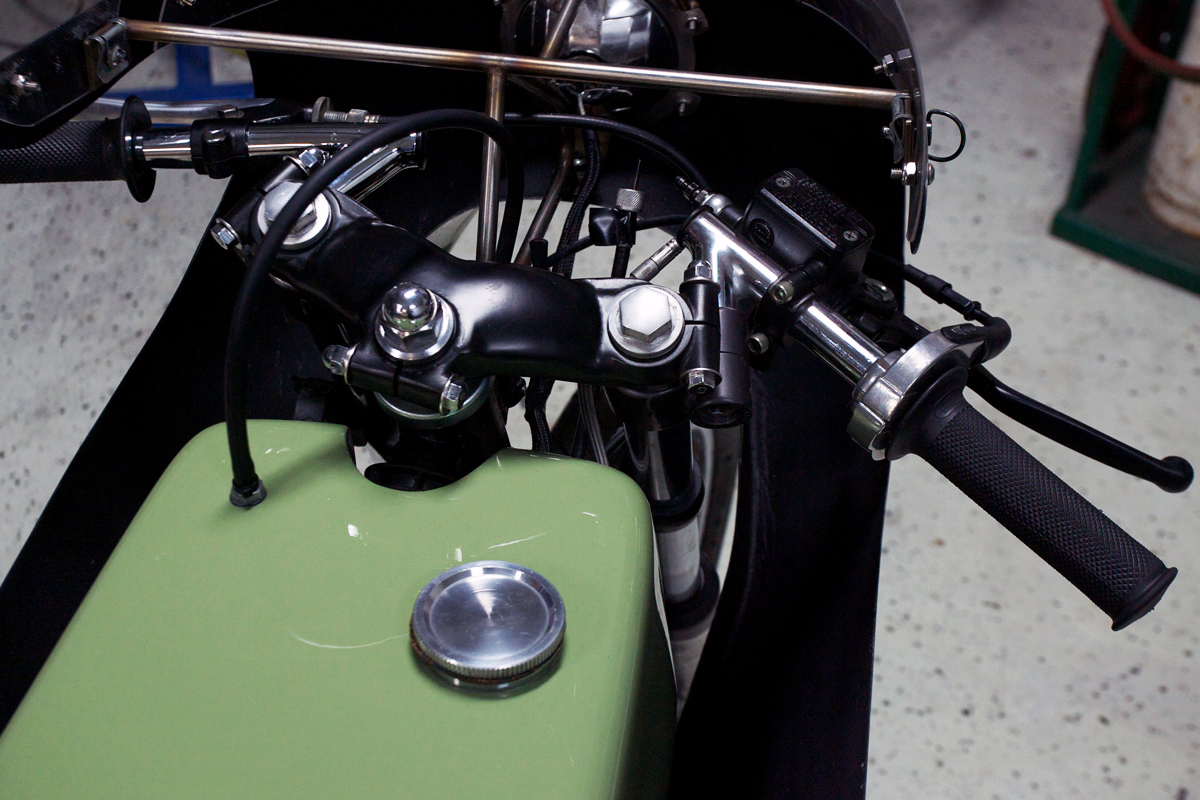 "The Benelli tank, tail and fairing choice was heavily influenced by Dave Roper's 350 Benelli Four that turns up 16k. I simply love the shape of the fairing, It's a little work of art in my book." -TS
Hoping to apply some classic racing style to the bike Trever enlisted the help of John at 'Historica' who helped source and imported the '69 Benelli fairing, tank and tail from Italy. With the aid of his workshop fabricator, Jon Willis, the pair then designed and built the fairing stay and quick release system using Ducati ZEUS fasteners.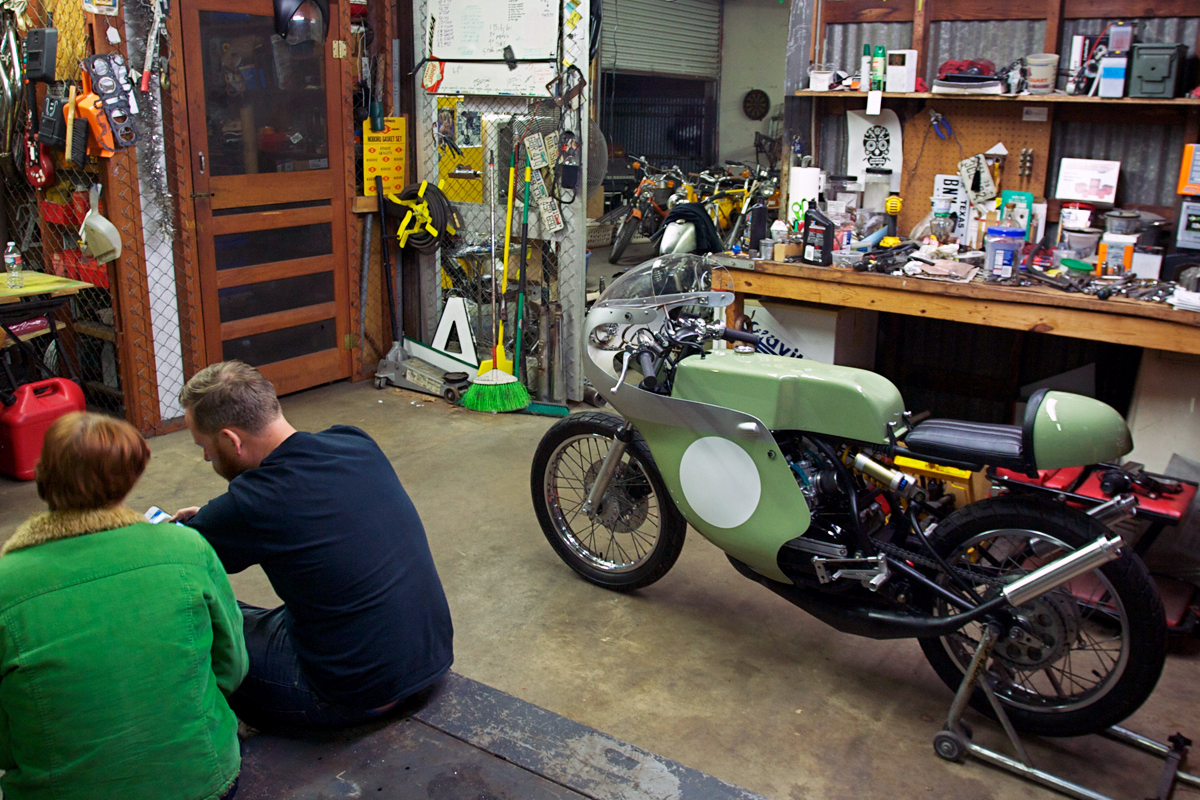 With the bodywork laid out Trever then started executing other ideas he had for the RD. In the rear he designed a monoshock setup using the Showa spring from a Ducati. The revised rear end resulted in a 3 degree revision to the steering angle making the bike "very flickable" along with helping to balance the visual bulk of the front fairing. With the spring installed a cantilever subframe was also welded in place to support the seat and tail. Up front Trever opted for an RD400 front end with Racetech internals, Tomaselli Clip-ons and a matching 1/4 turn throttle. To hold it all in place a set of custom triple clamps were then cut and shaped by hand. Moto Carrera rear sets finished off the controls and a combination of EBC (floating drilled disks, Kevlar pads) and Ducati Monster parts make up the braking system.
At age 20 Trever was responsible for porting and polishing the world's fastest 4cyl Audi so, as you can imagine, his RD250's engine performs well beyond factory spec. Internally there's been extensive re-engineering that includes a race port, trimmed pistons, a shaved head and a fully rebuilt transmission. The RD is a kick only creation so he's also installed a Power Dynamo electric ignition and charging system to ensure it won't skip a beat. On the outside the cylinders are fed by a pair of Mikuni 32mm VM carbs and the 2-into-2 exhaust system is a custom creation that ring-a-ding-dings out through a pair of Toomey mufflers.
The racing style paint scheme comprises of PPG diamond silver and a Kiwi green base coat with a hint of House of Color gold flake in the final clear coat for a bit of "glamour". According to Terver his favorite thing about the bike is the Benelli tank. The notch in the top is in the perfect spot to hold you in place during knee down cornering and adds an additional element of connectivity between the rider and the bike.
Although we haven't heard if Trever's managed to get his Dad to lift that front wheel off the ground yet, we're sure that Scales senior would appreciate this homage to his own RD racing days.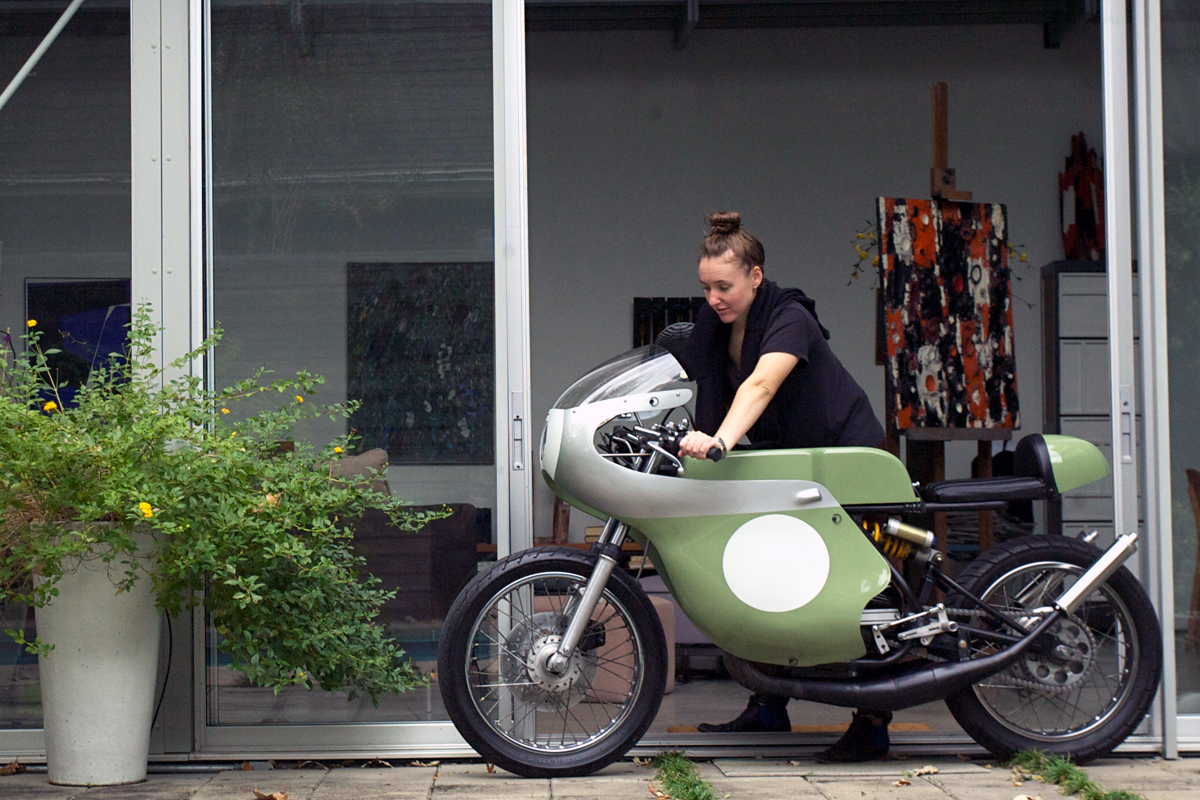 "At two years old my father took me down dirt tracks sitting on the tank of his trials bike. I'd have my feet on the head, my backside on the tank and he'd stick a piece of foam to the back of my helmet to keep my head from hitting him in the chest," recalls Trever Scales of Scales Studio in Texas. From that very early introduction to motorcycles, Trever developed a fixation with motor vehicles that lead to an illustrious career building performance motors, high-end hot rods and even overseeing the construction of show cars for luxury car manufacturer, Mercedes Benz. Although his career had consisted mainly of 4 wheeled pursuits, motorcycles were never far from reach and when the opportunity to build a new bike presented itself, it was his father that once again influenced its creation.