We have a serious soft spot for BMW cafe racers but we're also big fans of Scrambler styled Beemers. There's something about the geometry and engine layout of old airheads that gives them a utilitarian look perfectly suited to the Scrambler style. Of course, the brand's history plays a big part in this. A quick search online and you'll find photos of military BMW's shod in chunky rubber and stripped down to the bare essentials. Tom Gough from Hellraiser Garage knows exactly what I'm talking about. Their latest project, an '81 BMW R100 Scrambler, is a shining example of how well these Bavarians are suited to the Scrambler style.
Tom's a New Zealand born ex-pat who found himself in Melbourne back in 2016. After a few years away from the workshop, he teamed up with local fabricator and fellow moto-enthusiast Chris Bruce to form Hellraiser Garage. For their latest project, they helped out a regular customer by turning his unfinished project into a beefed-up BMW R100 Scrambler that looks poised to battle whatever Melbourne's busy streets throw at it.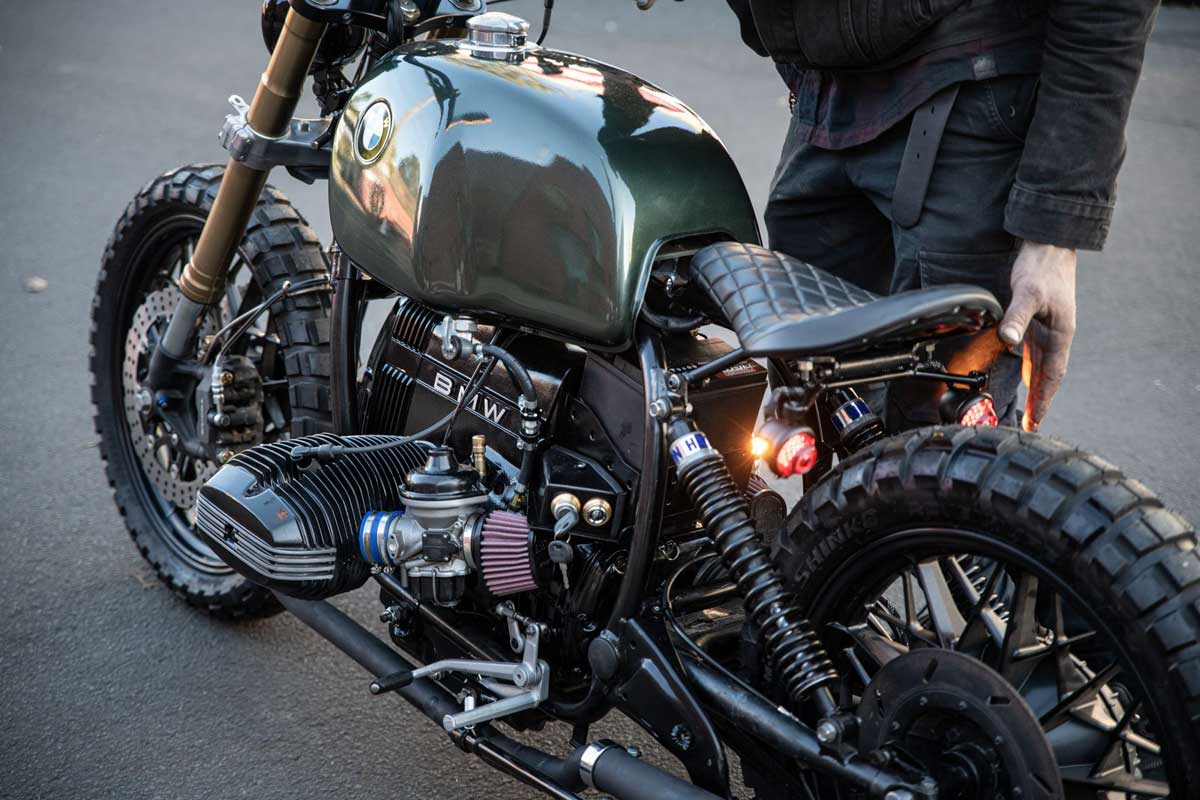 "Greg, a repeat customer of ours came to us with a half-way completed BMW R100 that hadn't been fired in several years," says Tom. "It had a tough Suzuki GSXR front end fitted and a solo seat for a stripped-down Bobber look." As with any unfinished project, the boys had much more work to do than simply bolt the last pieces in place. The bike's engine and wheels weren't attached and several parts had gone awol. Luckily Tom and Bruce specialise in fabrication so many hard to find and expensive spacers and mounting hardware was simply made from scratch.
The R100 998cc airhead arrived in pieces. After getting it back together the guys machined up some fresh engine mounts to sit it back in the chassis, adding a Rogue Motorcycles subframe to support the new saddle. Next, the boys made spacers to sit the front wheel comfortably within the GSXR forks and utilised Cognito Moto's hub adaptors to fit a pair of cross-drilled discs to the snowflake rim. Classically styled Hagon shocks were added to the rear and a set of dual-function taillights hang beneath the Biltwell solo saddle. To get the bike rolling both wheels are wrapped in Shinko's chunky E804-805 dual sport rubber.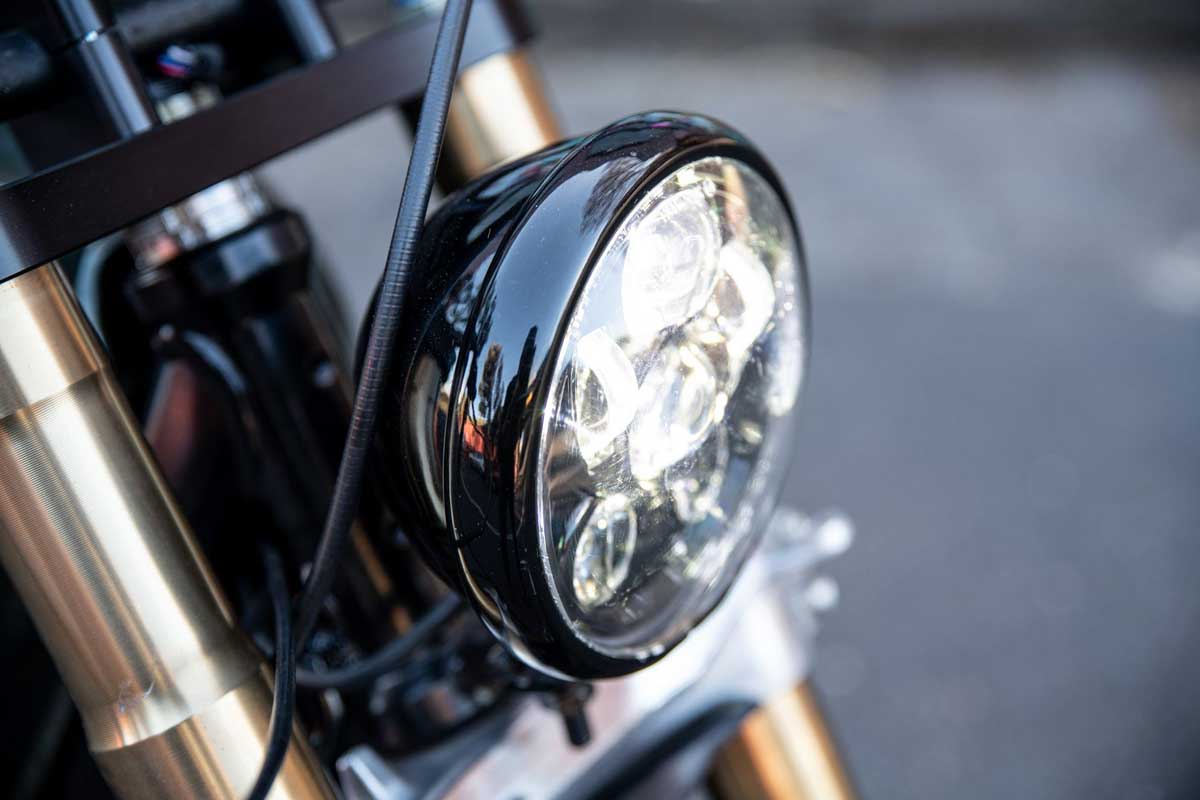 The customer insisted Hellraiser fit the bike with a huge 525CCA battery. To hold it in place they ditched the original airbox and fabricated a tray to house both it and the ignition module. Despite its behemoth proportions, the angular lines of the tray and battery look great alongside the curves of the engine. The finished look is akin to the munitions boxes seen on those wartime airheads.
"The goal with the wiring was to make the engine almost look like it is floating," says Tom. "To do this we ran the wiring through the frame & handlebars, and straight up the backbone." To update all the electrics the guys are running everything using an m-Unit from German motorcycle electrics experts Motogadget. The bike is also wearing Motogadget m-Blaze bar end indicators, a Motoscope mini speedo recessed into the handlebar clamp and modern switchgear.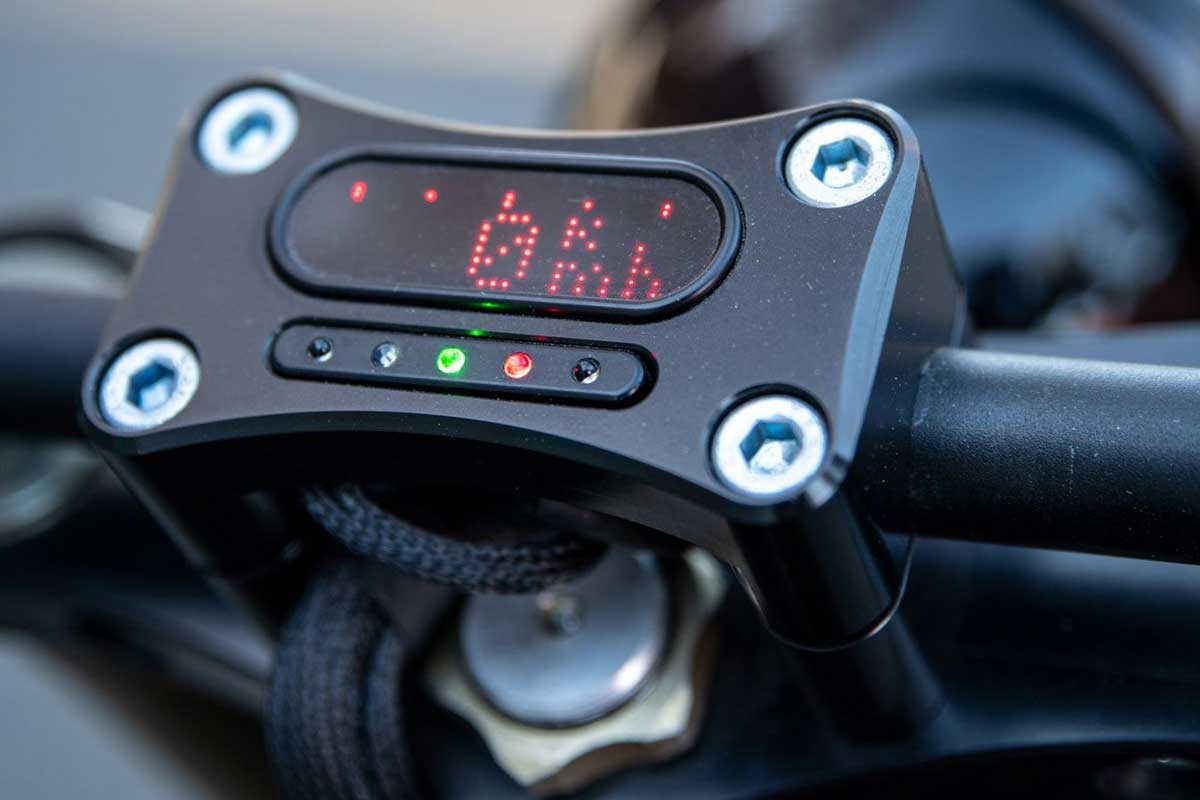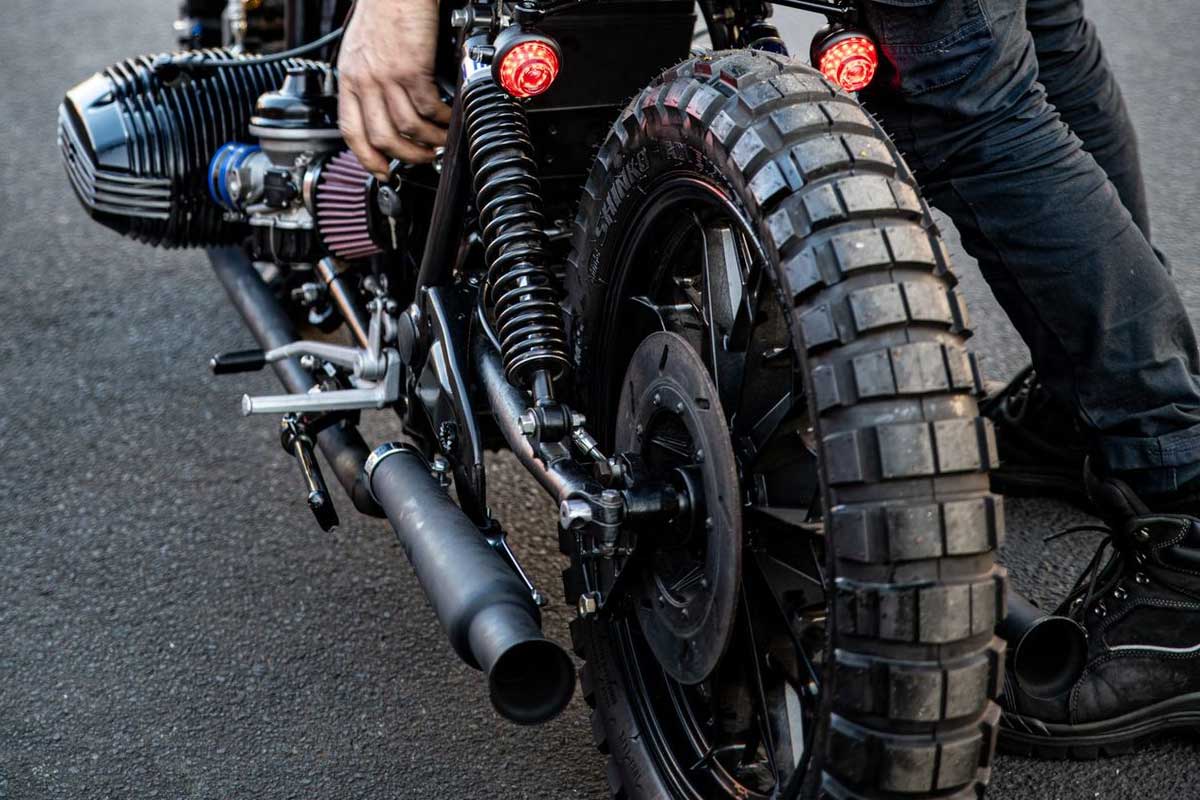 To put some spring into the R100s step DNA air filters hang off the end of each carb and the exhaust has been tweaked. Hellraiser modified the standard pipes by TIG welding stainless extensions to them. A pair of cocktail shaker mufflers complete the new look which has a timeless low and long look to it. The guys also welded oxygen sensors into the custom system to make sure the owner wouldn't be hampered by any tuning issues in the future. To finish things off the BMW R100 Scrambler wears a suitably stylish Ferrari Green war paint.
"The final product is a stripped-down, lean, torque monster," says Tom. "We are waiting for the Melbourne lockdown to be over so that we can really get the old girl singing!"
With things beginning to ease up in Australia Tom's wish is soon to become a reality. Look out Melbourne, this R100 Scrambler won't be taking any prisoners!
Photography by 50 Prime Photo