Unfortunately, dropping that kind of coin on a motorcycle isn't something most people have the luxury of doing. This was the problem faced by a customer of Sabotage Cycles in Indonesia, and a problem many of us can relate to all too well. In their home country of Indonesia, that amount of cash translates to roughly 1.4 billion Rupia, a sum that can't be acquired easily, even if you were prepared to sell both your kidneys, an arm or even a leg. So, they did the next best thing, they built their own.
The project began with the acquisition of Ducati 860 GT, a motorcycle that shared many of the same genes as the 750 Imola. The 860 features Fabio Baglioni's same 750 L-twin engine design with the addition of larger 450 sleeves to achieve the larger capacity and the same frame design that was attributed to the 750's racing successes.
Rather than constructing a bolt for bolt style replica of the Imola, Sabotage opted for a bare bones, naked, cafe racer. With no front fairing to build they focused their efforts on the Fuel tank and tail, which were painstakingly formed from sheets of raw aluminum.
Since there was no green frame Ducati's available to reference in Indonesia during their build, Sabotage searched Google for reference imagery. Using the images they sourced bucks were carved and utilized during the shaping process. The resulting fuel tank mimics classic Ducati styling while the tail is as clean and minimal as those you'd see on most race bikes of the Imola era. Meanwhile, the bike's owner focused on preparing the rest of the motorcycle for the transformation.
Working from his home garage he swapped the rear wheel for a Borani Drum brake hub and mounted a front drum from Japanese manufacturer Takasogo for a touch of classic styling. While the look of the bike was paramount improved handling was also a goal so the original twin rear shocks were replaced with a modern Sachs mono-shock mounted to a German-made swingarm. Upfront the original forks received upgraded Cerani progressive internals and the rims were wrapped in classically styled Coker Diamond rubber.
To fit the Imola styled aluminum bodywork from Sabotage Cycles the 860's frame was sent off to a local expert for massaging before being shot in Imola-esque green. An appropriate riding position was also achieved by fitting Telefax clip on bars, Tariozzi aftermarket rear-sets and Tomaselli levers and grips for a touch of Italian class.
Interestingly, one of the most unique parts on the finished bike is its headlight. Originally fitted to a Ferrari the headlamp is actually a Marchal fog lamp that was acquired especially for the build. It takes pride of place at the front of the completed bike. The finishing touch, however, was a pie cut, high mounted Imola style exhaust wearing heat shielded megaphone mufflers.
Does it get any better than that without spending 110k? We think not.
Special thanks to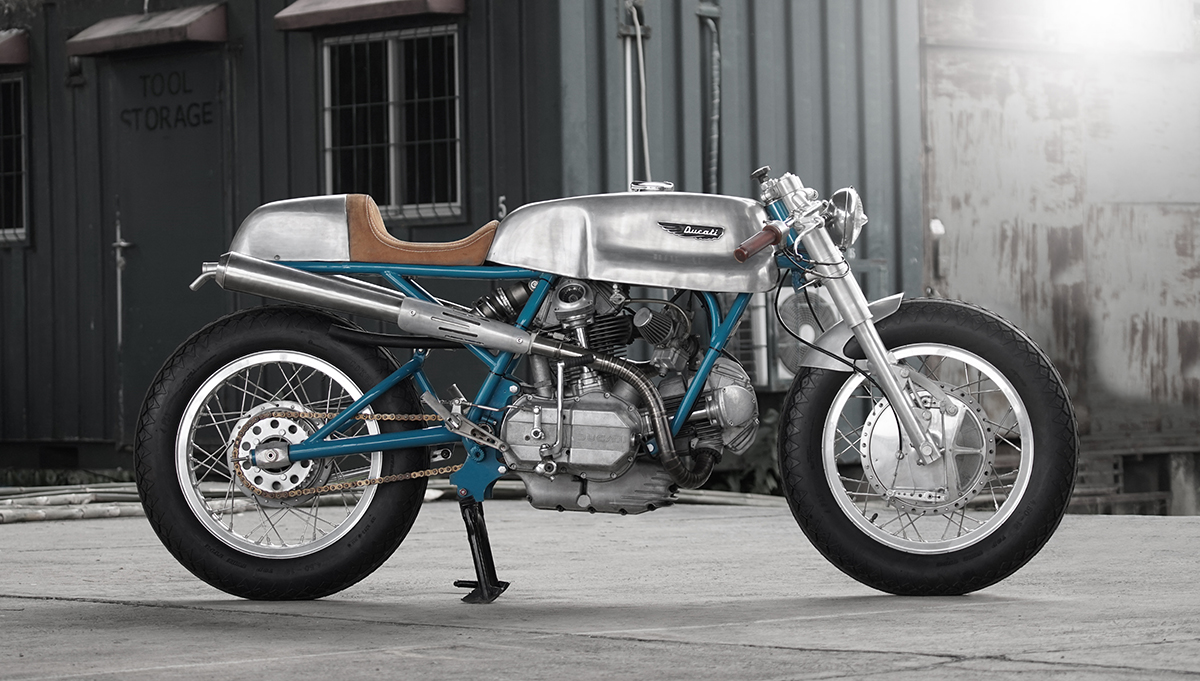 <div class="separator" style="clear: both; text-align: center;"></div>
Of all the motorcycles <a href="https://www.returnofthecaferacers.com/category/ducati-cafe-racer">Ducati</a> has created during its 67 years of production there are few that are as iconic as the green framed 750 Imola.
In 1972 Paul Smart and Bruno Spaggiari crossed the finish line riding 750cc Ducatis in successive first and second place at the Imola 200 and the world sat up and took notice. That game-changing win lead to the production of the green framed Imola 750. It was a revolutionary design for the company that featured a chassis based on a design first created by legendary frame builder Colin Seeley and their new v-twin engine. Today owning a green framed Imola 750 requires an investment of around $110,00 USD making them a sought-after, yet extremely exclusive collector's item.