Scales Studio is 2 man workshop that specialises in fabrication work and high-end paint. Based in Houston, Texas their list of recent projects include an award-winning 1970 Porsche 911 Targa in pastel blue and a 550bhp LS3 powered Porsche Cayman. Alongside their four-wheeled projects, you'll always find motorcycles in their workshop. Right now they are finishing up an extensive Ducati 1000ss conversion and are working on the first Triumph Unit construction 3TA ever built.  In today's feature, Trevor Scales walks us through their latest two-wheeled achievement, a super clean Honda cafe racer rebuild.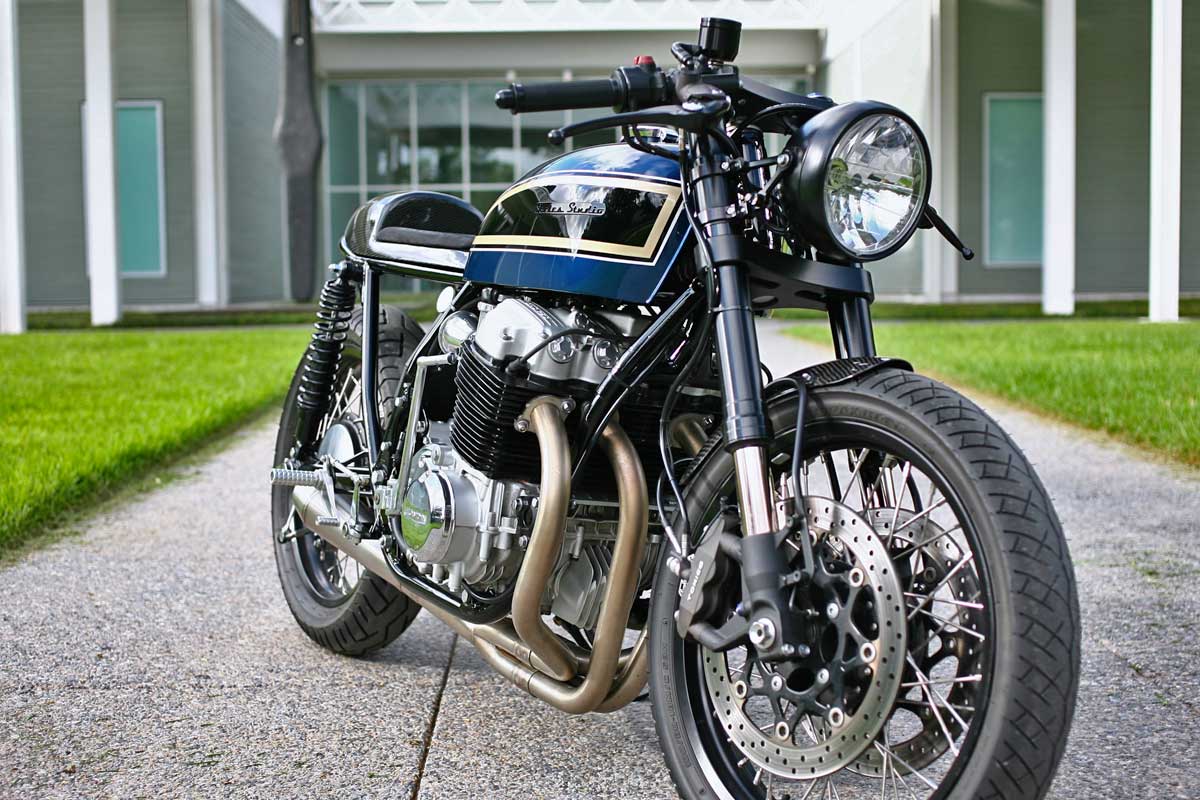 "Scales Studio is always morphing and taking on new projects. Before I opened up the shop I was building show cars with Mercedes Benz for the LA, Detroit, Shanghai, and Geneva auto shows," says Trevor. 'This 1971 Honda CB750 was built for the same customer with the Ducati 1000ss. He was supposed to ride the bike around as I built his Ducati. When he brought the bike over after purchasing, my response was, "If you spent $500 more you could get a bike that didn't need everything!'. His new Honda lacked a front brake master cylinder, had a dual chain and sprocket setup from the late 70s and all the engine covers were chromed and pitted. It was very rough, to say the least. The frame had cracks near the rear shock mounts and the list went on. The owner started to tear into the project and became a little overwhelmed with what needed to be done so it was added to our project cue.
The bike sat in the shop for about a year awaiting its turn. Once we started on the CB750, we had her finished in about 3 months, just in time for the Handbuilt Show in Austin. We pulled an all-nighter to have her there and rolled into the show after having no sleep for 36 hours; but we weren't about to show with a non-running bike. At Scales Studio we allow one part to choose the next. We don't go into builds with sketches or preconceived notions. We just strive for cleanliness, functionality and finishing deep.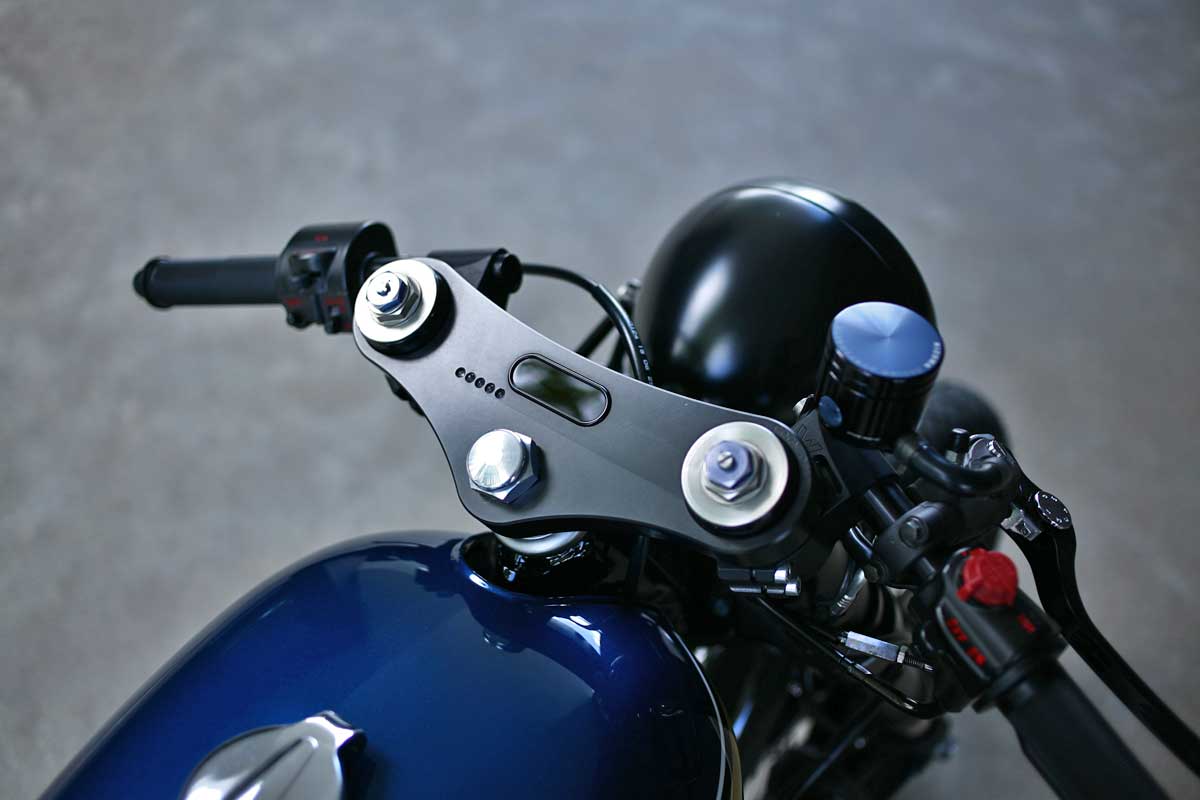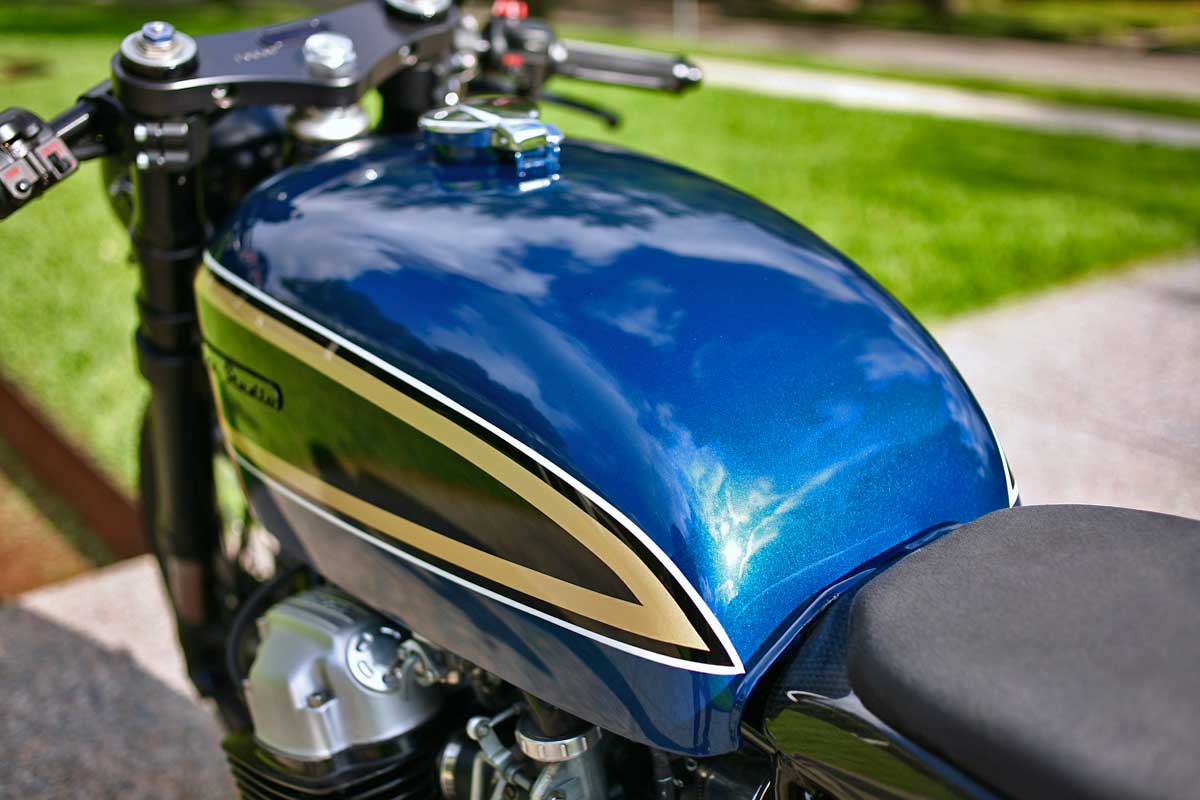 The work included the installation of front forks and dual disc brakes from a 2007 Suzuki GSXR750. The guys at Cognito Moto provided the triple clamps which have an integrated Motogadget dash. They also supplied the bike's new oil tank and front hub. Sean at The Motoworks is responsible for the universal rear-sets which we installed using custom made chromoly rear-set mounts. We de-tabbed the frame and welded on a hoop with an integrated LED taillight. The frame was shot in a PPG black base coat prior to a clear coat for a deeper finish than powder can provide. The carbon fibre seat and front fender are handmade pieces we completed in house.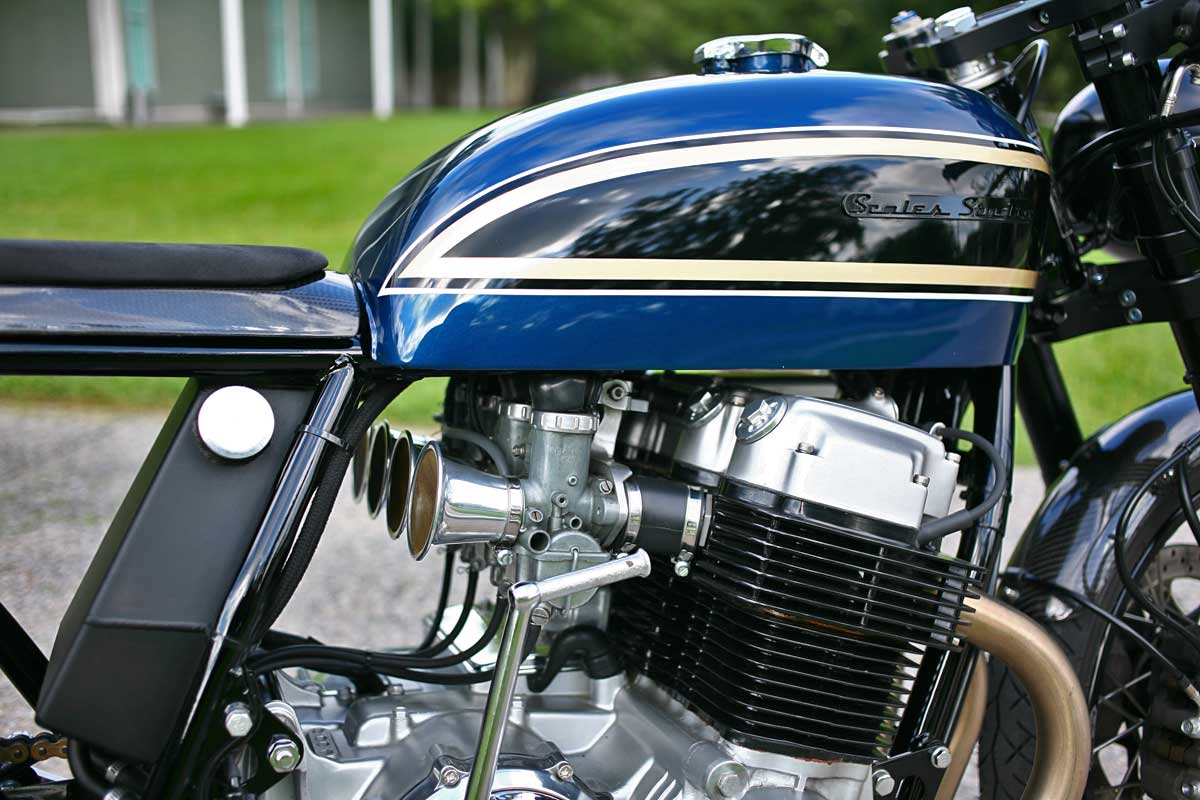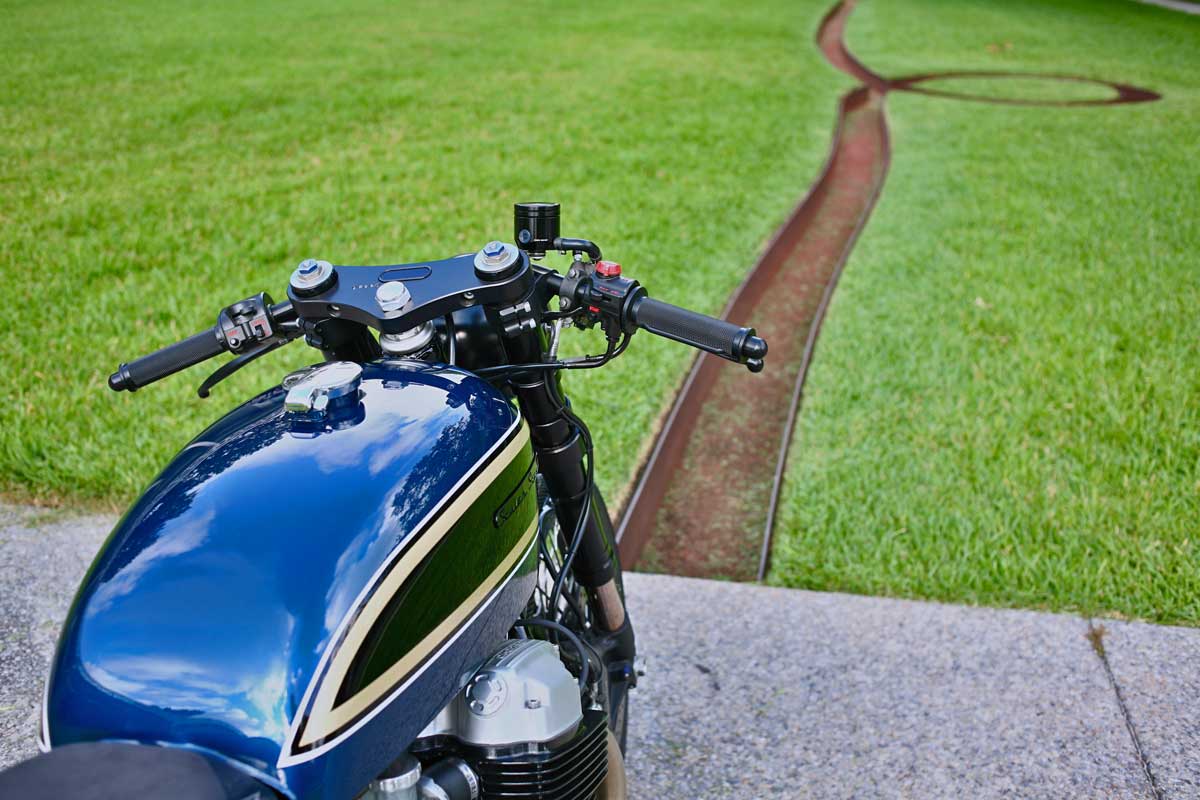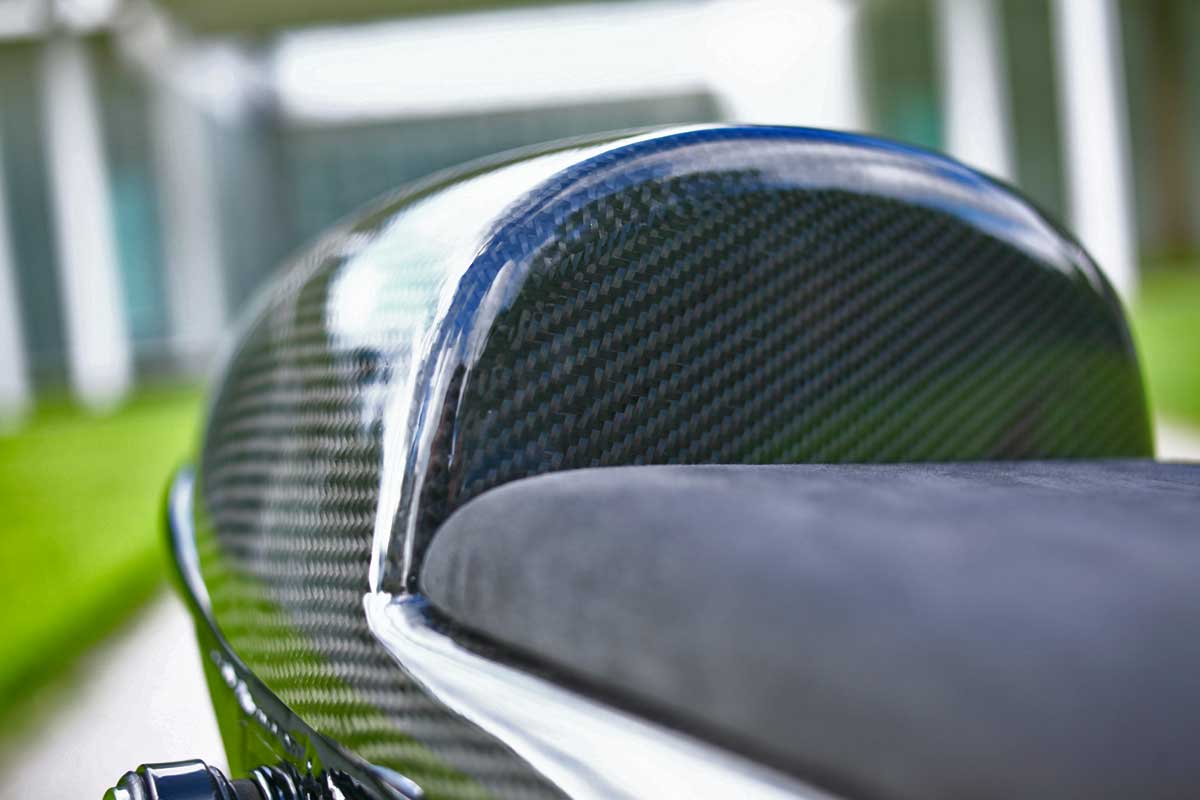 The CB750 engine had already been upgraded using a 900CC Henry Abe big bore kit. We rebuilt it with new rings, Cometic copper head gasket and added an electronic ignition. The seat pan is a handmade aluminium piece which holds a lithium battery along with the starter solenoid. Our front fender mounts are chromoly pieces that we tigged up. Carpy's Cafe Racers provided the race exhaust which we modified to fit our rear sets better. The wheels are 18″ Sun rims with Buchanan stainless spokes wrapped in Bridgestone Battle Axes.
We polished the velocity stacks and all the alloy engine pieces in house. With this bike, we kept the paint scheme similar to the factory setup. The work on the gas tank alone took about 40 hours to complete. We had to lay down 4 different colours and six coats of House of Kolor Kosmic Show clear. All that work resulted in a super deep finish.
This project was a pretty straight forward build for Scales Studio. The Honda cafe racer is now super fun to ride and sounds like an F1 car! She'll give you a good kick in the ass when you crack her open and stops way better than any CB I have ever ridden."
Story by Trevor Scales