Ask anyone who's ever tried. Running a successful custom motorcycle shop is no easy feat. Now imagine only having 2 days a week to devote to it. Tom at Purpose Built Moto has built up quite a name for his small Gold Coast garage, and he did it all while working a full-time job. Things are about to change though. Tom's just taken the leap to devote all of his time to Purpose Built Moto. So it's fitting that his latest work is his most impressive to date. Through a special collaboration with Vittoria Coffee and the Sandbar Surfers Paradise, Tom has built this Triumph Scrambler based Cafe Racer with a twist…or should I say a double shot.
"Scoring a build of this magnitude for a commercial client was pretty surreal, especially as I was just starting to gain momentum with Purpose Built Moto," says Tom. "Obviously, the guys saw something that made them believe I could deliver on such an epic project, and I'm grateful for that." This wasn't any old cafe racer build though. The brief was to create a sidecar equipped motorcycle that would be suitable for delivering cold brewed coffee at special events. To add to the complexity of the build Tom also decided that the sidecar should be easily removable so the bike could be ridden and enjoyed on its own. This also meant that when on its own, the motorcycle should perform as any cafe racer should.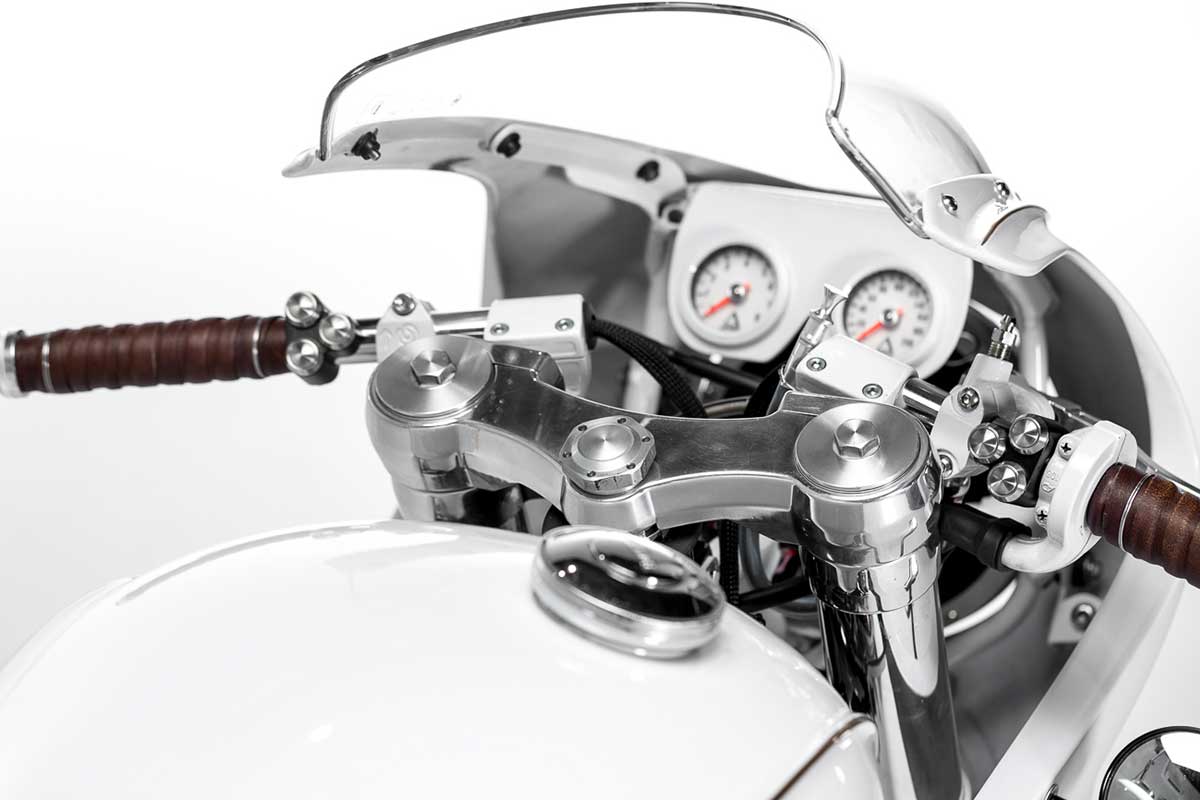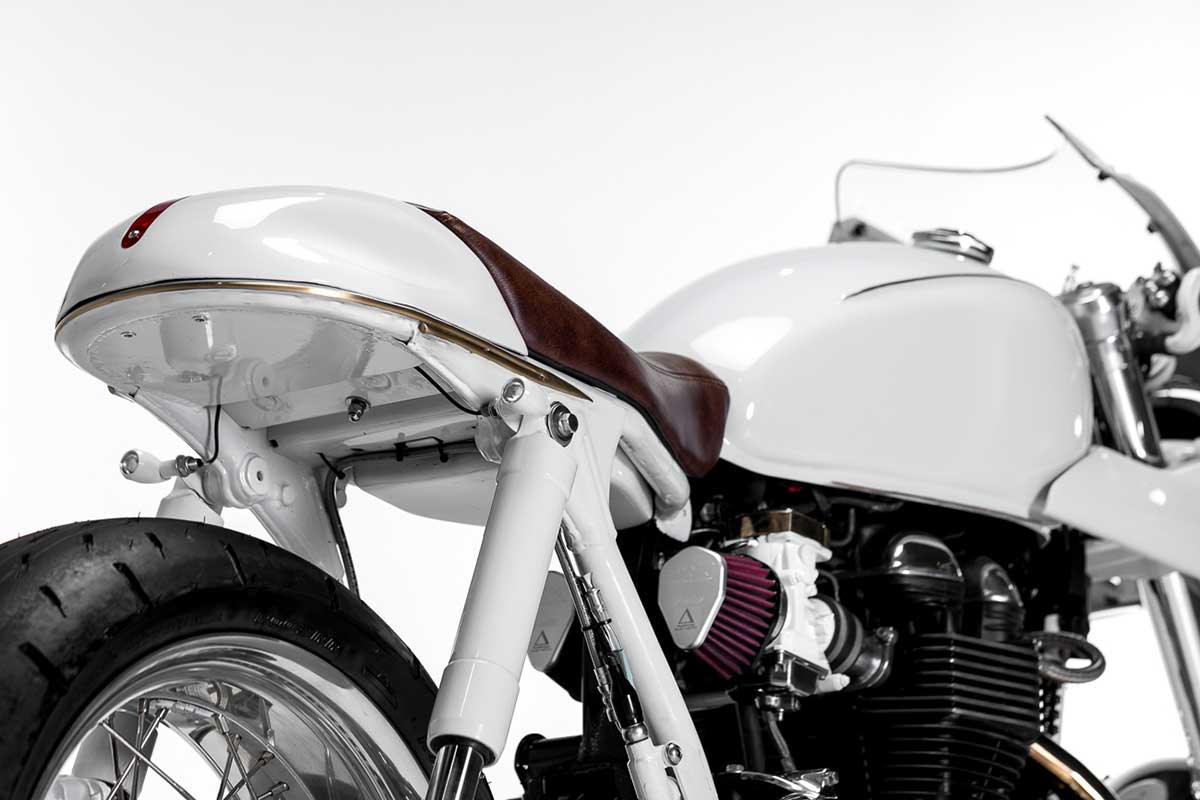 Before Tom's 2009 Triumph Scrambler donor had even arrived, he'd sourced an USD front end that suited his needs. Repurposed from a Tiger 800, the forks came complete with a hub, bottom triple clamp and twin disc brake set up. Once the bike was in the shop the front end was quickly swapped out and front fender stays fabricated so clearances for some rims could be determined. "They wanted the wheels wide, really wide. So I dropped the front and rear diameters to 17 inches." says Tom. "This allowed me to fit a 3.00 on the front, and a 5.50 rear which I laced up and wrapped in Shinko Stealth 003 rubber." To clear the sidewall of the tyre Tom then added some offset to the front and rear sprocket using custom spacers. He then balanced things out by lowering the forks and installing 20mm taller K-tech Bullit Shocks in the rear.
Satisfied with the bikes new stance the Triumph Scrambler was completely torn down. The old harness, airbox, exhaust and rear brake master were all discarded to open up ample usable space in the frame. A custom triple clamp was then fitted along with clip-on bars and rearsets to spearhead the Triumph's cafe racer conversion. 

For more of a race-bred aesthetic, Tom opted for a 2016 Thruxton fairing up front. A 7" Flashpoint classic LED headlight was added for superior lighting and a set of custom mounted gauges were tucked into the cockpit. The clip-on bars are decked out with a Frando master cylinder, Purpose Built Moto's own 3 button switches, and a set of Speed of Cheese bar end indicators.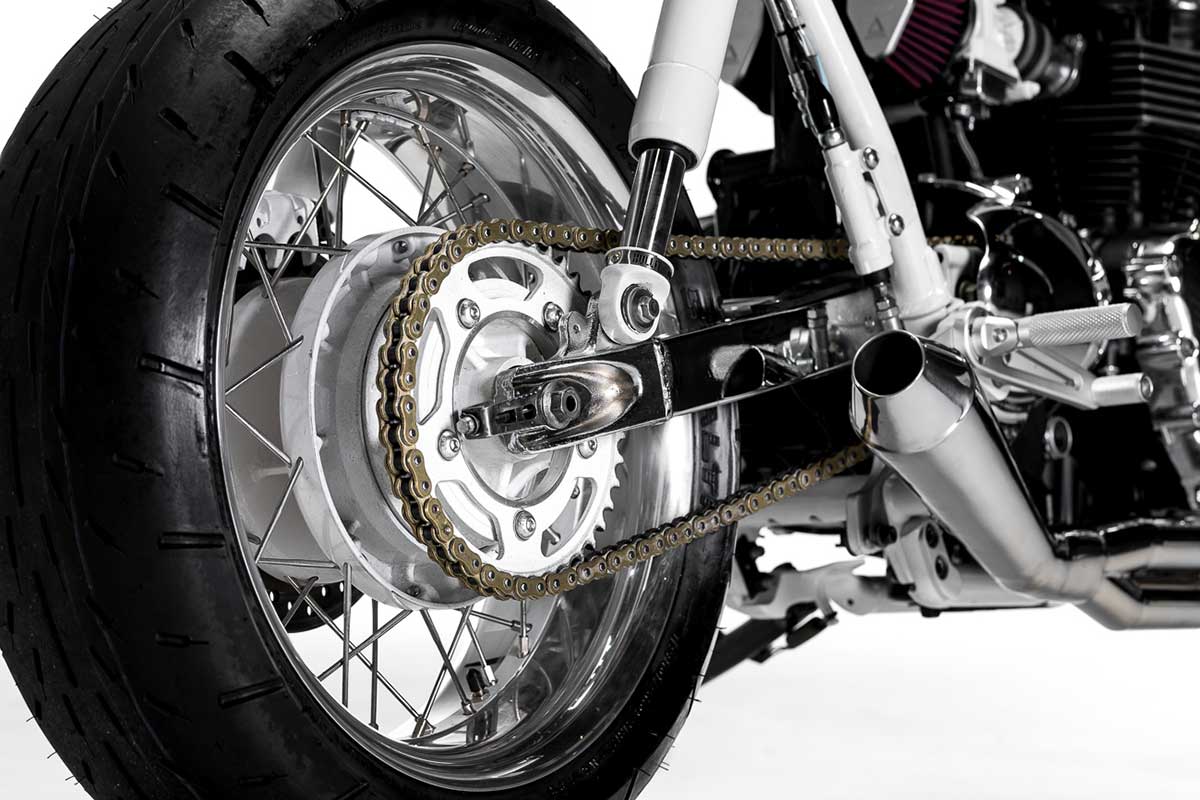 The fabrication work on the Triumph included the construction of a one-off tail. The subframe was hooped short and kept wide to sit nicely over the wide rear tyre before Tom began the shaping work. "Shaping a tail correctly is always important," he says. "With the bike mocked up, I generally sit a lump of foam on the hoop, throw on a mix of my favourite soul music then cut, file and sand until I've got the perfect plug to fibreglass over." During his groovy sanding session, Tom made allowances for a vertically mounted,  LED tail light. The finished unit uses 2 super bright LED strips which are mounted behind a piece of hand-shaped ruby red perspex. While he was in the mood Tom also shaped a saddle from foam to complete the silhouette of his Triumph cafe racer.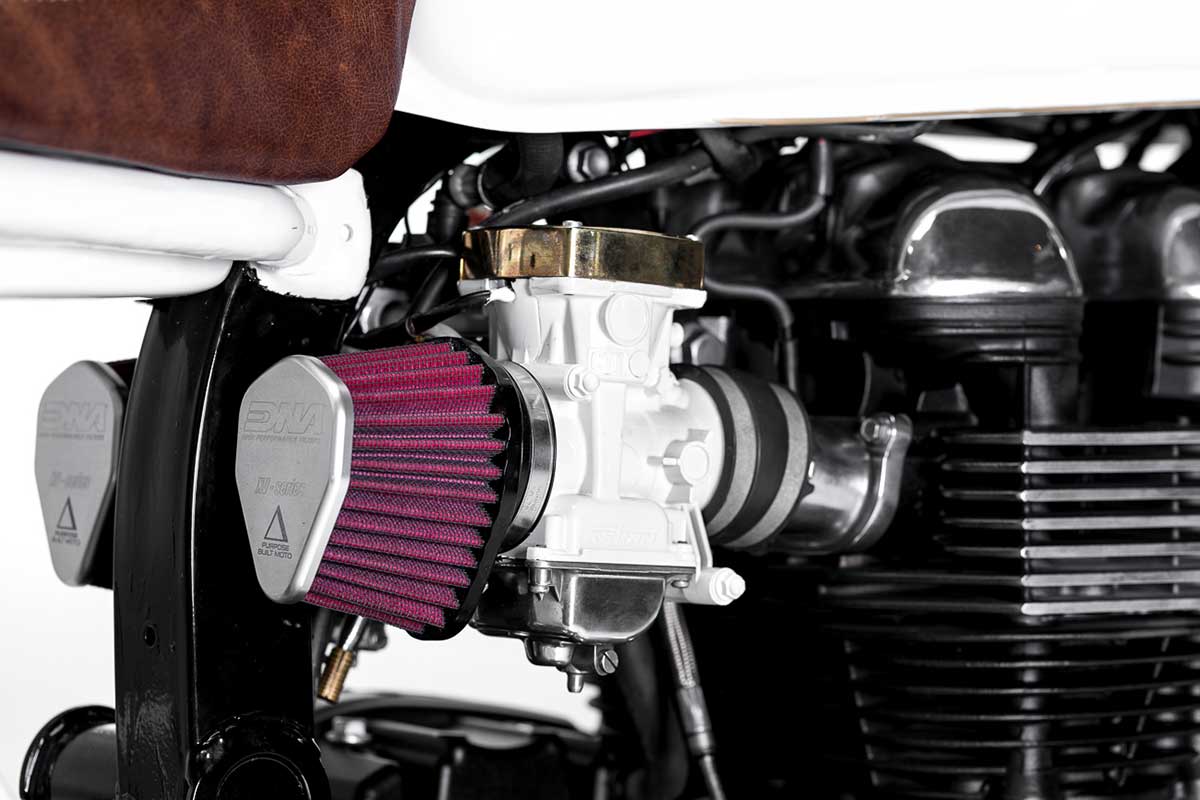 For the Triumph's exhaust, Tom wanted to make a statement, so rather than going for an off-the-shelf solution, he opted to build one himself. The finished system snakes around the oil cooler and cases before merging into one collector pipe. It's finished off with a Torpedo style muffler that sounds, by all accounts, amazing. Adding to the long list of one-off parts, DNA performance made some custom XV series filters for the triumph with the PBM delta lasered on to the caps.
Taking inspiration from the chopper scene, the Triumph wears inlaid brass embellishments. Using 6mm brass rod Tom annealed and hand shaped each of the brass details onto the frame, sidecar and fuel tank. "They were either welded or epoxied in place, then moulded in with body filler. All up I probably spent 4 solid days doing the brass work!" Tom explains. To make the entire bike pop it's been covered in piercing arctic white. The rims, forks, fender, triple clamps and rocker case have all been freshly polished too.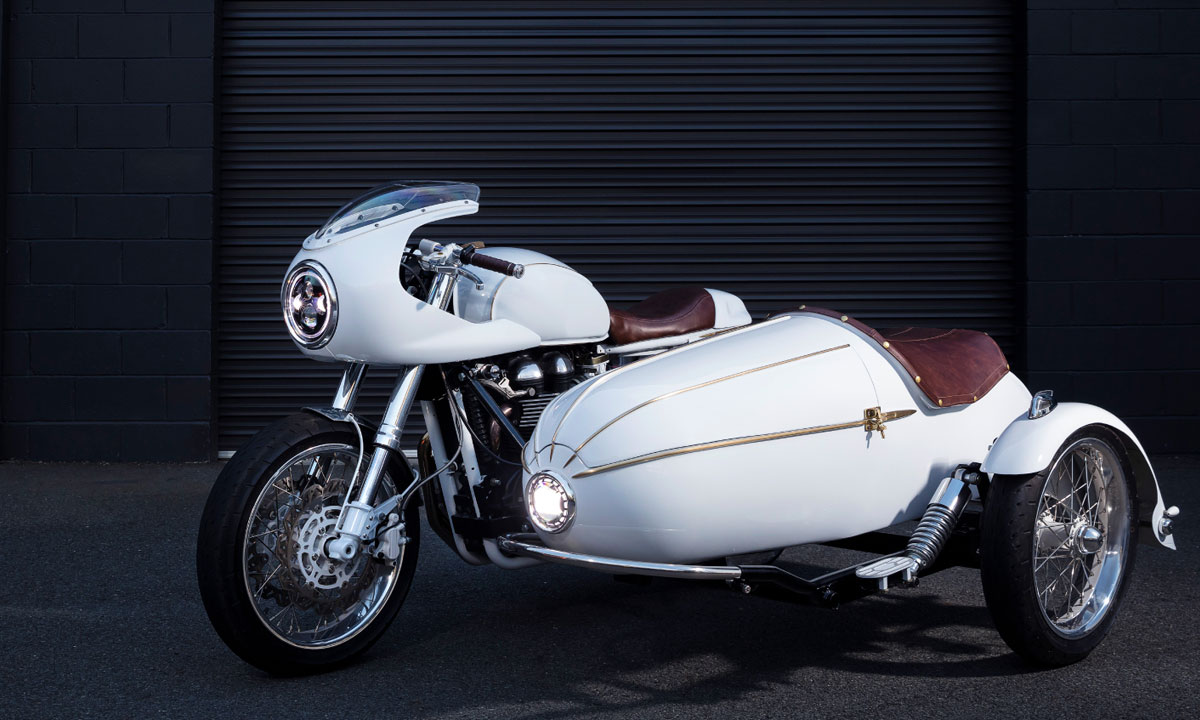 "I had a feeling that I was creating something pretty special, at least by my own standards," Tom admits. "Not because I think it's the best custom Triumph Scrambler out there, but because the bike and sidecar match exactly what I had imagined when I started out."
It comes as no surprise to me that both Vittoria and Sandbar are very happy with the outcome. The feedback from this build is what gave Tom the confidence to go full time with Purpose Built Moto and it's easy to see why. "It could fail in spectacular fashion, but I'm comfortable enough to see that through now and put my everything into any other projects that come my way."
For details on the sidecar element of this build check out the feature over on Bike Exif.