Tom Gilroy and his Purpose Built Moto workshop on Australia's Gold Coast have risen through the ranks to become one of the country's top custom shops. The Purpose Built Moto online store offers a raft of premium aftermarket accessories that Tom developed in-house. Along with building bespoke motorcycles, he offers everything from servicing to performance upgrades, fabrication and mild custom work. Purpose Built's latest crowning achievement is a CB550-based Honda cafe racer and similar to their past projects it's a rolling work of art.
"From the outset, our vision was to deliver our client Scott a motorcycle that would stop traffic," says Tom. "This bike has been crafted to create a feeling of nostalgia."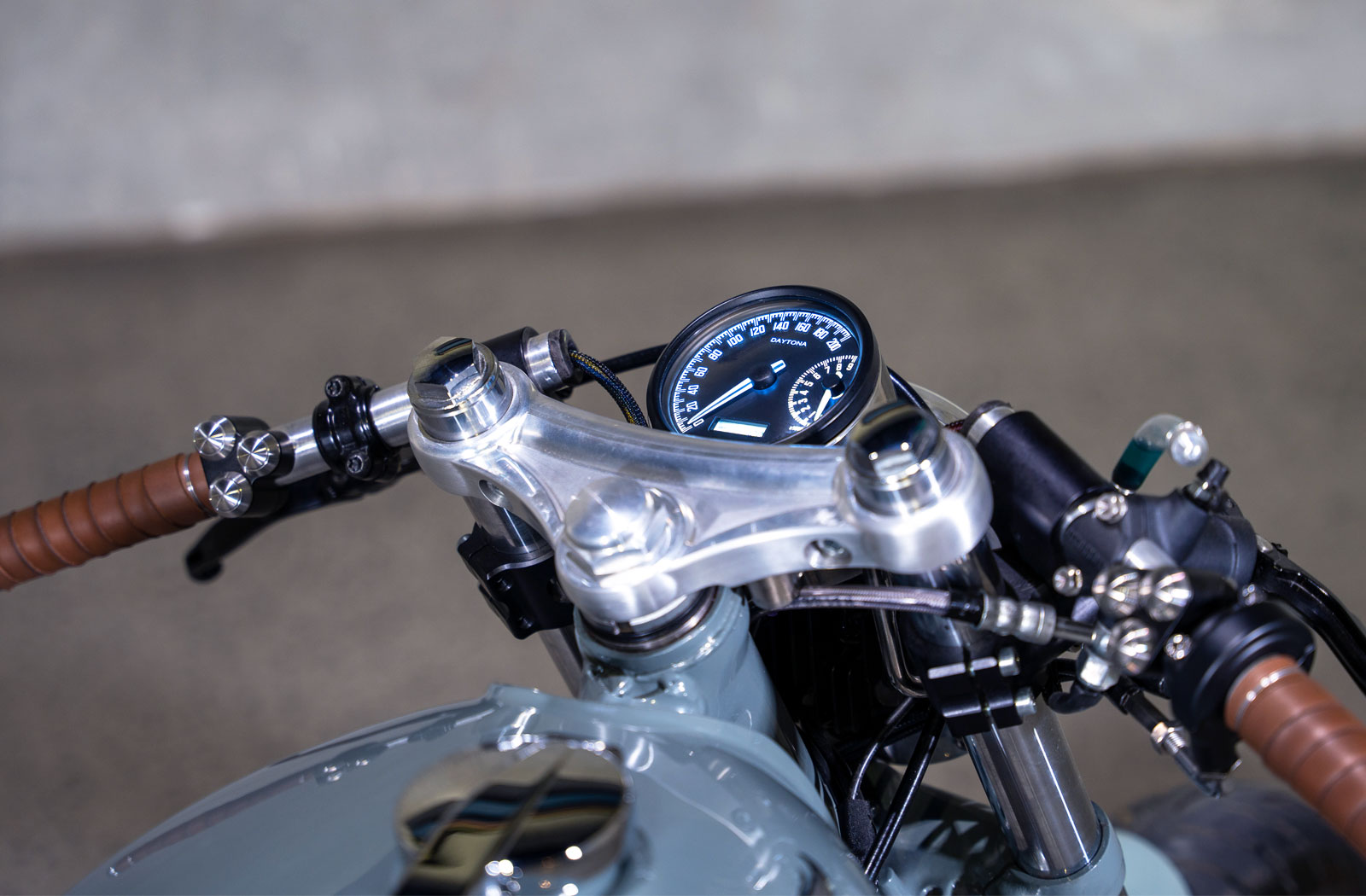 Purpose Built Moto's success as a custom motorcycle workshop can be attributed to Tom's steadfast approach to building bikes and this CB550 is no exception. "I always bang on about the reliability of our motorcycles but I truly believe that is one of the most important aspects of a custom build," he explains. "Clients come to us because they want beautiful motorcycles, but a motorcycle they can ride. So when we build a motorcycle as much effort goes into making sure our rider can hit the starter and go, as into creating the look our clients are after."
A key ingredient of every cafe racer is simplicity. Personified by the words of legendary Lotus design engineer Colin Chapman, it's a "Simplify. Then add lightness," approach. So after the Purpose Built Moto team reduced the CB550 to its essential components, they looked for ways to keep it as lean as possible while it was built back up.
Starting with the frame the stock rear has been trimmed away to allow the fitment of a tightly proportioned, upswept hoop with integrated LED lighting. At the request of their client, the bike had to be able to accommodate a pillion. To satisfy his request without detracting from the overall look, Purpose Built has fabricated a bench-style seat and covered the rear half using a removable wasp's tail cowl. The cowl can be quickly and easily detached to make way for a passenger or mounted for a more streamlined cafe racer aesthetic.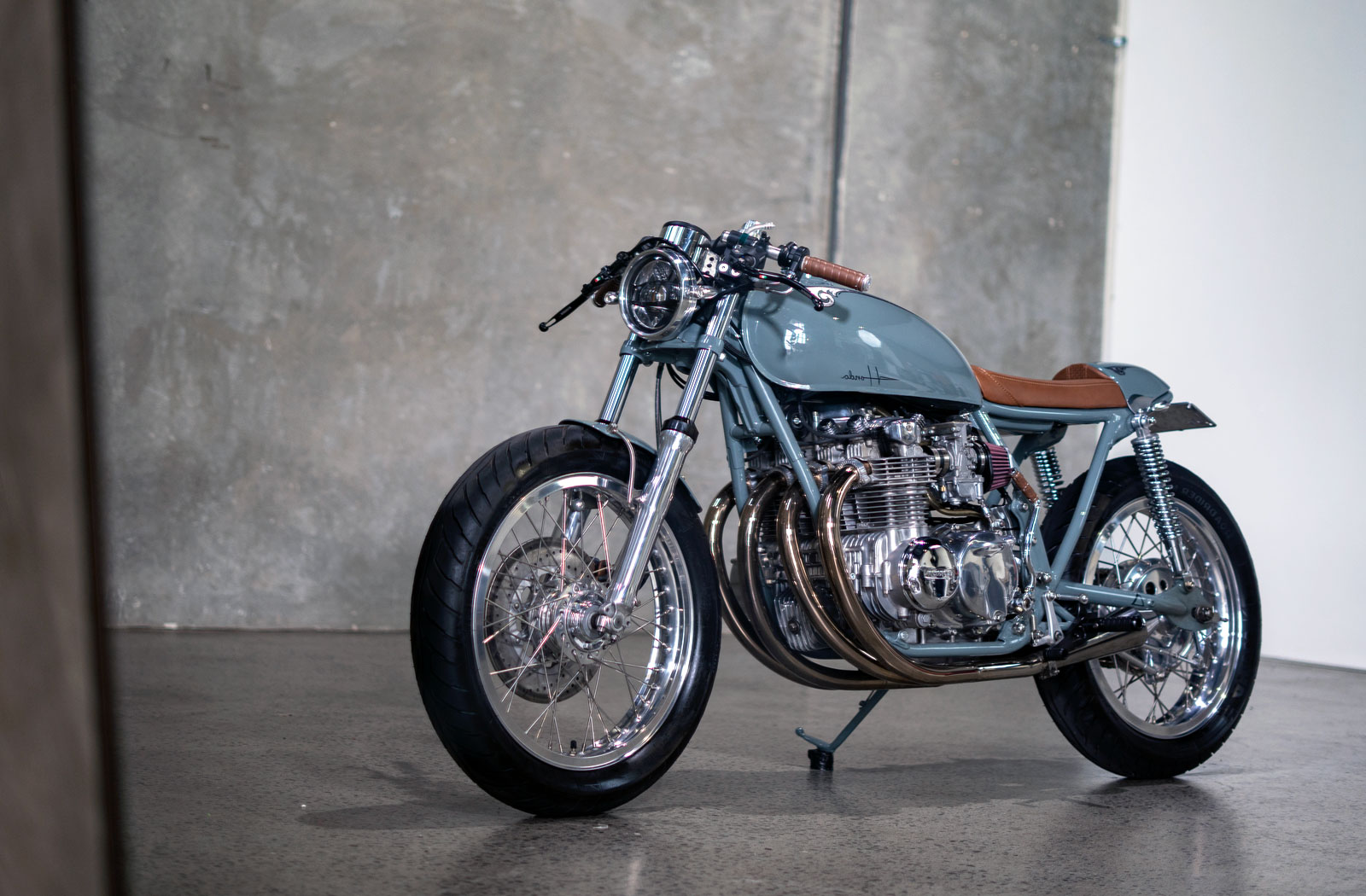 Since this cafe racer was destined to be naked there was little more to add in the way of bodywork. The bike's fuel tank is the standard CB550 unit. For a clean finish, the Honda badges have been removed, and evidence of their mounting points erased. Using one of their own DIY fender kits, Purpose Built covered the front wheel with a short fender. Meanwhile, in the rear, the license plate doubles as the other fender.
Completing the bodywork transformation is an understated paint scheme with a few vintage-inspired embellishments. With the help of their go-to paintshop Livin Loco, the Hondas tinware and frame have been given a coat of vintage grey. A hand-laid pinstripe spelling out Honda adorns the fuel tank along with white gold leaf filigree graphics that extend back onto the removable rear cowl.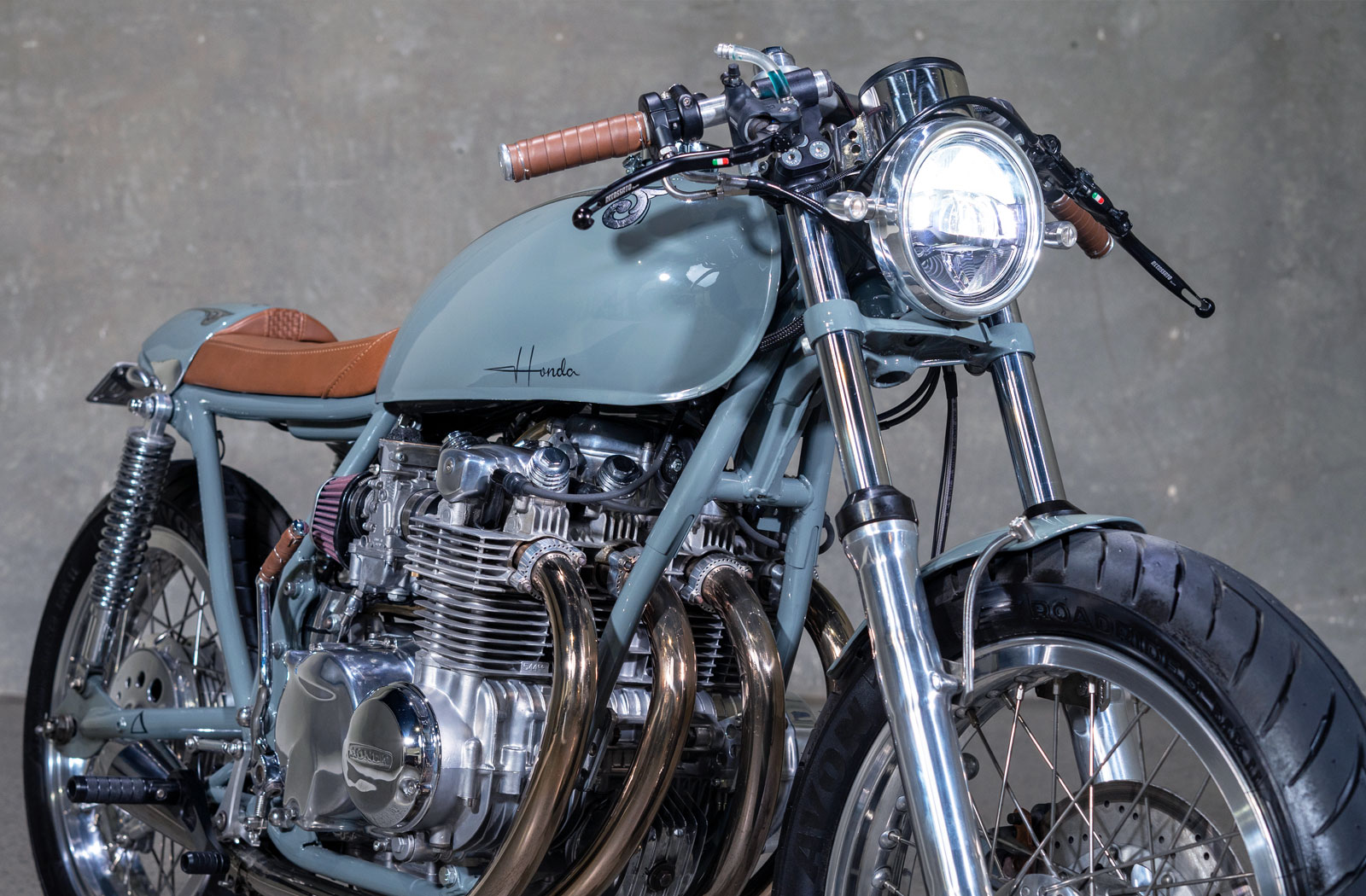 In keeping with the sparse theme, this CB550's cockpit is strikingly simple. A single gauge from Daytona Japan takes pride of place between a set of clip-on bars and behind the custom alloy top clamp. Beneath it, sits an LED headlight in a classic chrome surround which is flanked by a set of Purpose Built's own Hollow Tip turn signals. The new bars are adorned with Purpose Built push button levers with concealed wiring and the grips are wrapped in tan leather to match the new saddle. The rear end has also been kept exceptionally clean thanks to the integrated dual-function LED lighting in the frame hoop and a minimalistic license plate holder.
Performance upgrades for this project come in the form of a front brake upgrade using a Suzuki SV650 caliper, a fresh disc, and levers by Accossato Racing. The wheels are a custom recipe of 18-inch valanced polished alloy rims, the CB550;s refurbished hubs, and Avon classic performance rubber. "I went with 18" wheels because I find it improves the handling of these bikes nicely," says Tom. "But it doesn't remove the classic styling."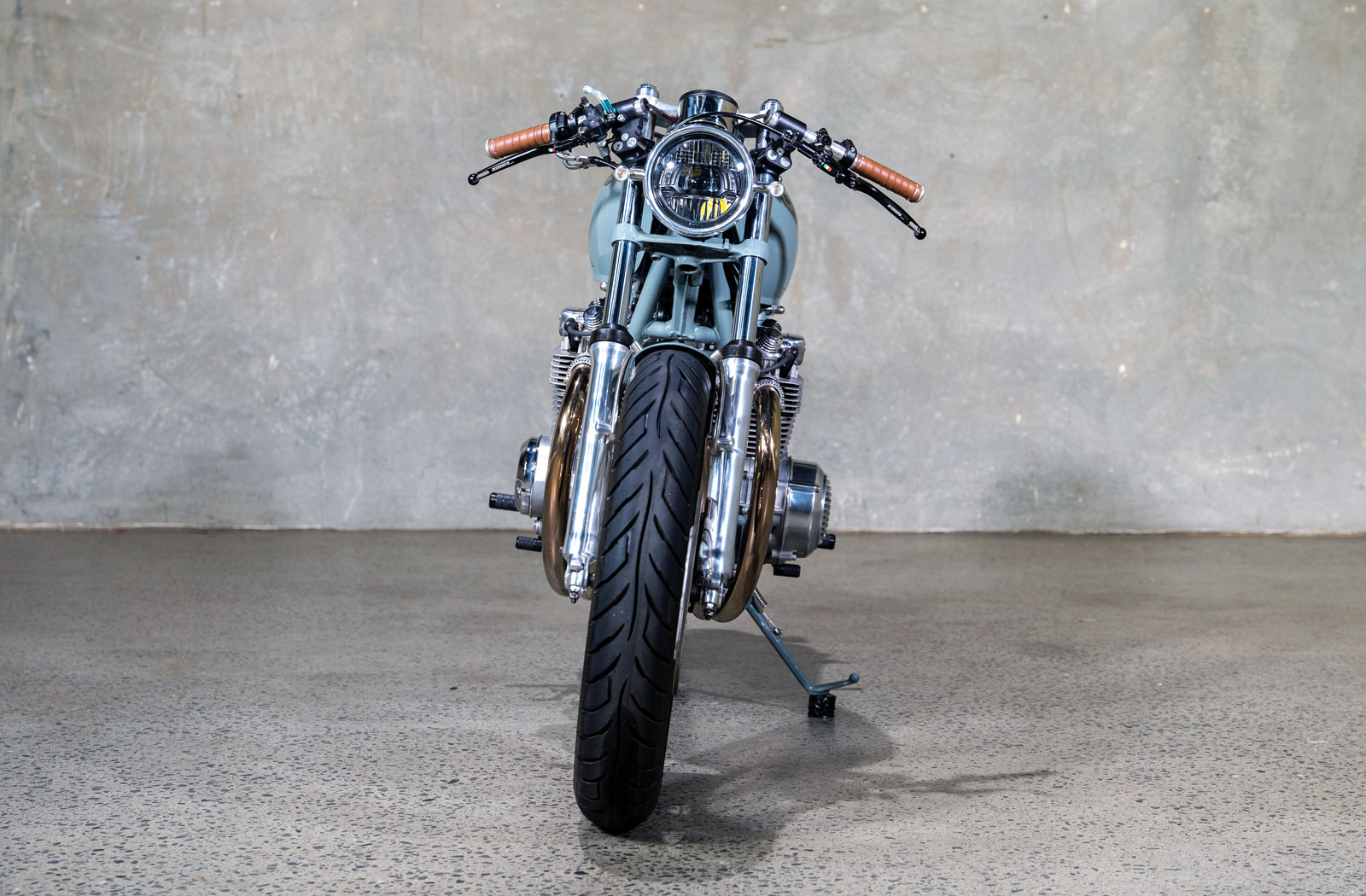 When the Honda arrived at Purpose Built HQ it hadn't run for years so a complete rebuild was crucial. Along with replacing all of the engine's consumable parts it's now sporting a Dynatek ignition, hi-comp pistons, a ported and polished head, and a bank of Mikuni RS carburetors. Scott's previous ride was a Ducati Monster so Tom and his team wanted to ensure the CB550 could deliver him an equally exhilarating experience. After the engine overhaul and fitment of a custom stainless 4-into-2 exhaust, the Honda didn't disappoint.
Complementing the engine's internal upgrades is an extensive exterior clean. All the cases have been polished to a mirror shine and there are new tappet covers and fresh chrome wherever required.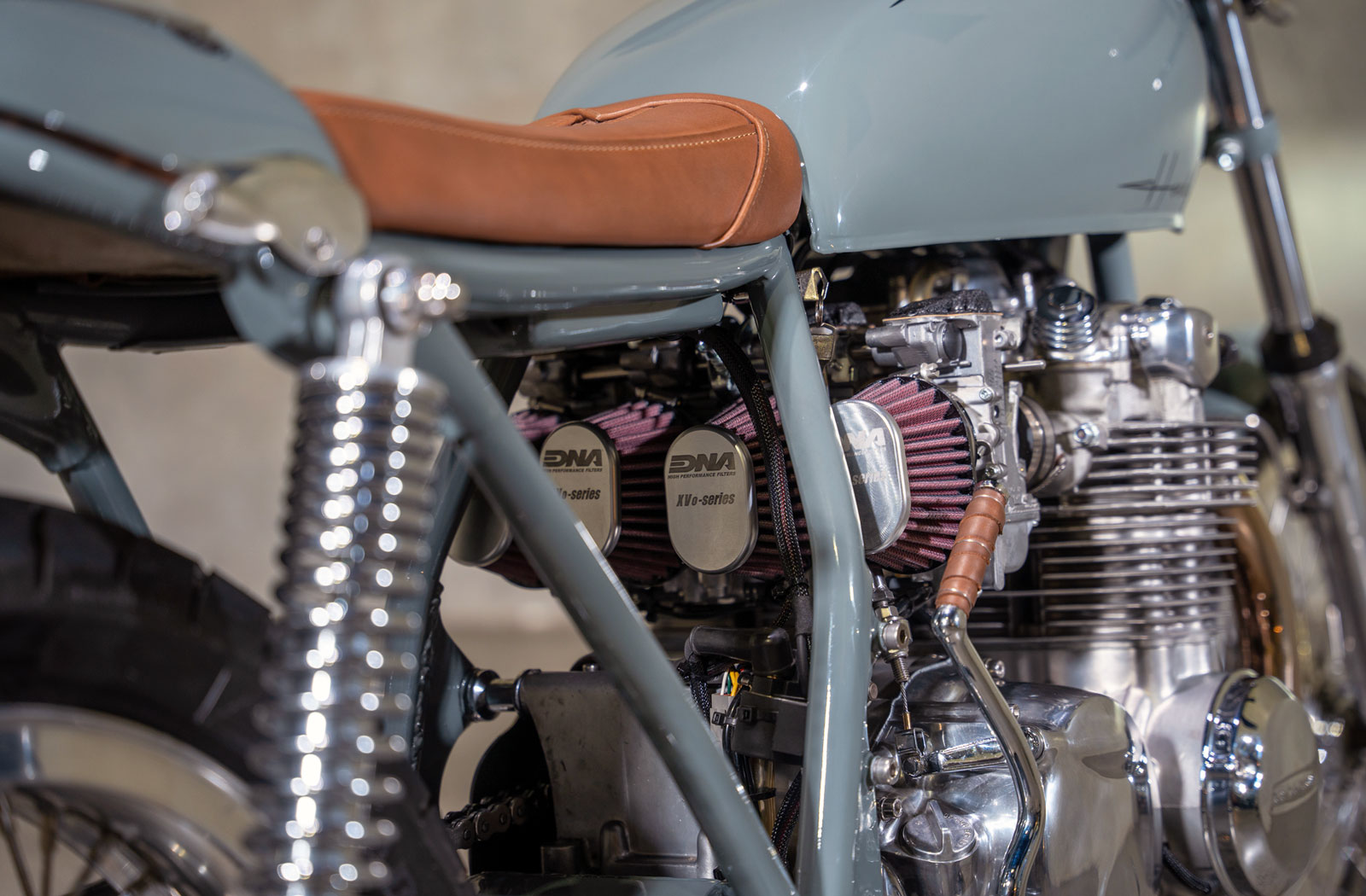 "With all the elements in place, we put this bike through its paces on one of the most rigorous and fun-filled test rides I've ever done'" Tom recalls. "We traveled all over the Gold Coast shooting video for a build series with Shannons Insurance. Along the way, we worked out a few kinks which ensured that Scott would have the time of his life upon picking up his essentially brand-new 1973 Honda CB550."
If you want to watch this build unfold check out the Shannons Insurance Dream Bike Build YouTube series where Tom walks through each stage of this extensive project.