Dave Skogerson is a nostalgist. He believes that the motorcycles made by today's manufacturers have numbed the experience of riding, and we couldn't agree more. While some technology like ABS and traction control have greatly improved safety, we could easily do without cruise control, selectable riding modes and Bluetooth connectivity. Dave's way of tackling the issue is to stick to the classics; like his latest project bike, a Honda CB550 cafe racer.
"I've been building custom cars and motorcycles since I could drive," says Dave. "I just have a thing for vintage machines… simple and unapologetic."
Dave's CB550 cafe racer started out as the basic restoration of an ageing and forgotten motorcycle. Being a custom junkie things soon snowballed and the restoration turned into a tasteful customisation. "I tried to create the quintessential Café Racer. Simple yet effective. Unassuming yet gets the job done. Nothing that doesn't need to be there. Reliable and of course… built to ride!" he says.
Models from Honda's early CB series have become synonymous with cafe racer culture. An early model CB750 in cafe trim is still considered by many to be the epitome of a Japanese cafe racer. But by comparison, converting a CB550 could result in an all-around better result.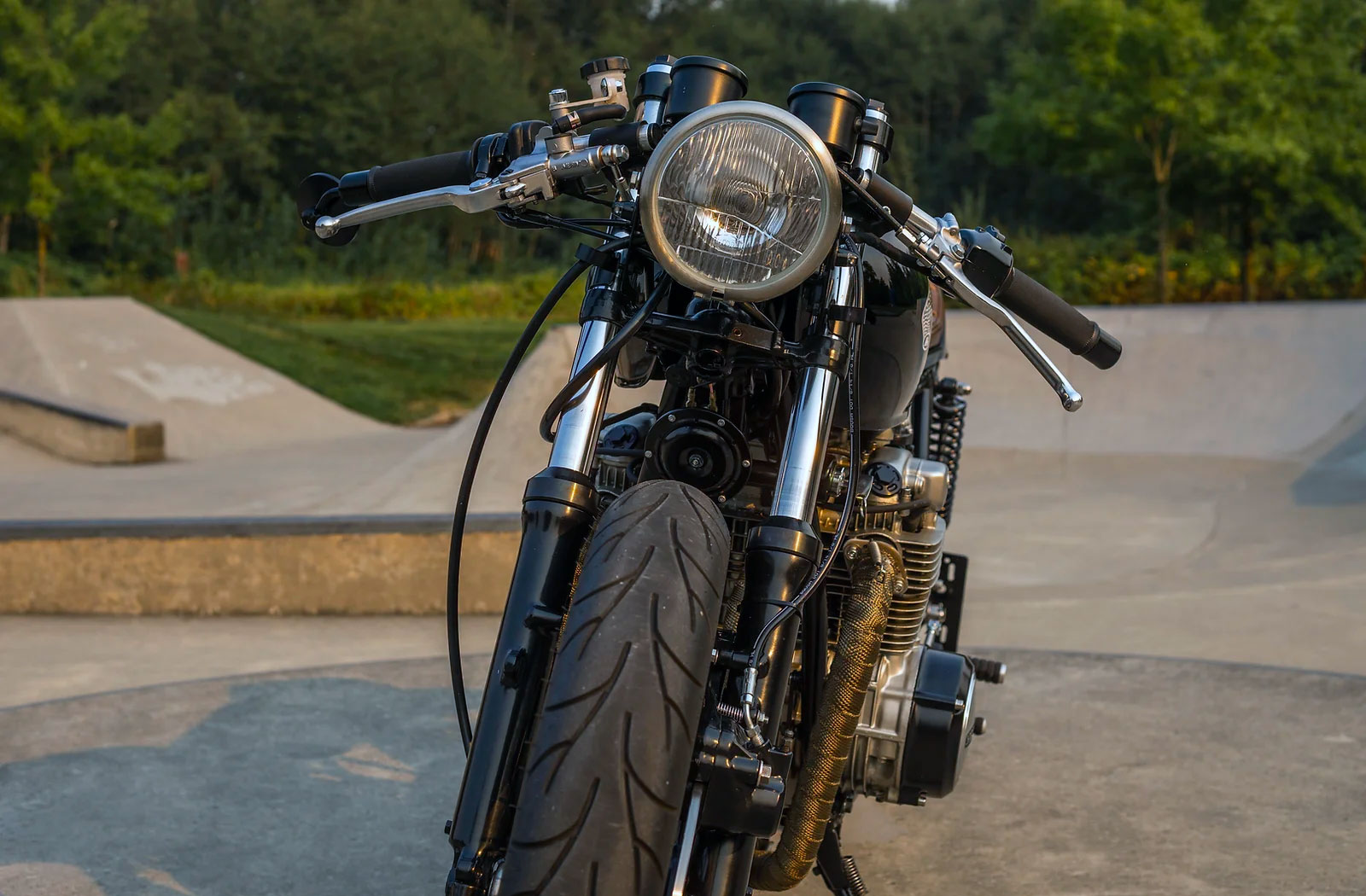 While the CB550 lacks some of the CB750s power (50hp vs 68hp), it makes up for it in other ways. For starters, the 550 weighs almost 50 pounds less than the 750. The drop in weight and an improved frame design translate to more agile handling. The 550 also uses a wet-sump lubrication system as opposed to the 750s dry setup. There's no real performance benefit between the 2, but when you're building a cafe racer the wet design dispenses with the need for a separate oil tank which gives you more options when it comes to relocating electrics. Well aware of these benefits, Dave did his utmost to take advantage of them during this build.
To make up for the 550's power deficiency, Dave's CB has undergone some engine work. Internally the head of the inline-four has been ported and polished and any worn components replaced with OEM equipment. The bulk of the additional power, however, is the result of fueling, intake and exhaust upgrades. At the intake, the rebuilt and re-jetted carbs breathe freely through a set of chrome velocity stacks. At the exhaust end, a MotoGP Werks set of stainless 4-into-1 derestrict things while a Yoshi race replica silencer allows the engine to really sing. And according to Dave, all this work has paid off. "This thing sounds like a 600 and pulls to 9000 RPM in every gear!" And finally, to handle the additional power, he's added a Barnett clutch kit which guarantees smooth steadfast shifts.
Replacing the wiring on a motorcycle that's over 40 years old is a no-brainer and Dave hasn't overlooked the fact. His bike is now running a custom-made harness. Power comes via a lightweight Shorai lithium battery while the spark is supplied by a Dyna Coils Dyna Ignition system. To manage the electrical systems everything is hooked up to a Motogadget m.Unit ECU.
To step up the handling, Dave has also given the CB550's suspension and brakes an overhaul. Changes to the front end include the installation of Hagon race springs and some shortening of the fork tubes to level out the stance. The classic rear shocks are Hagon items too and Dave's complemented the changes with tapered steering head bearings and bronze swingarm bushings. The stock wheels have also been rebuilt using new bearings, spokes and fresh Continental ContiGo! rubber. Rounding things out are a few improvements to the brake system. A Nissin master cylinder now manages the front brakes and the disc has been cross-drilled. A stainless brake line completes the front-end setup while the rear drum simply received a rebuild. The result is a ride that according to Dave is "Stable on the straights. Well composed in the corners. And has riding geometry that will keep you comfortable for hours."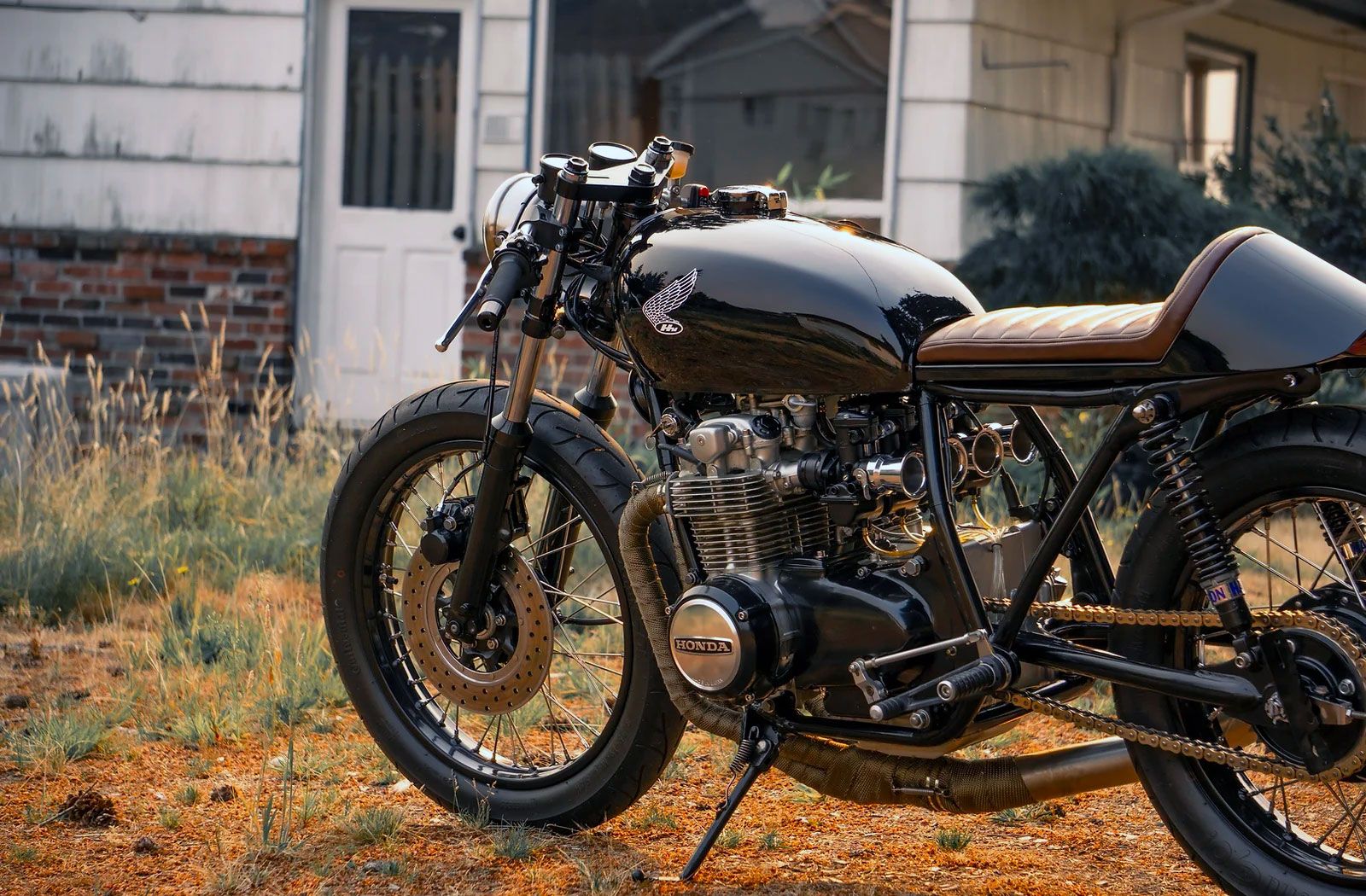 To achieve the look he was after, Dave retained the stock 550 fuel tank, but most everything else went in the scrap bin. In keeping with his cafe racer theme the bike now wears a Bedlam Werks aluminium wasps tail rear end and seat pan, and the seat has been custom upholstered. To reduce things to the bare minimum both the front and rear fenders have been removed, along with the side panels, airbox and the bike's chunky factory lighting. The new lighting arrangement uses a 5 3/4 inch incandescent headlight, tiny Motogadget m.Blaze pin turn signals front and rear and a cat's eye style aftermarket tail lamp.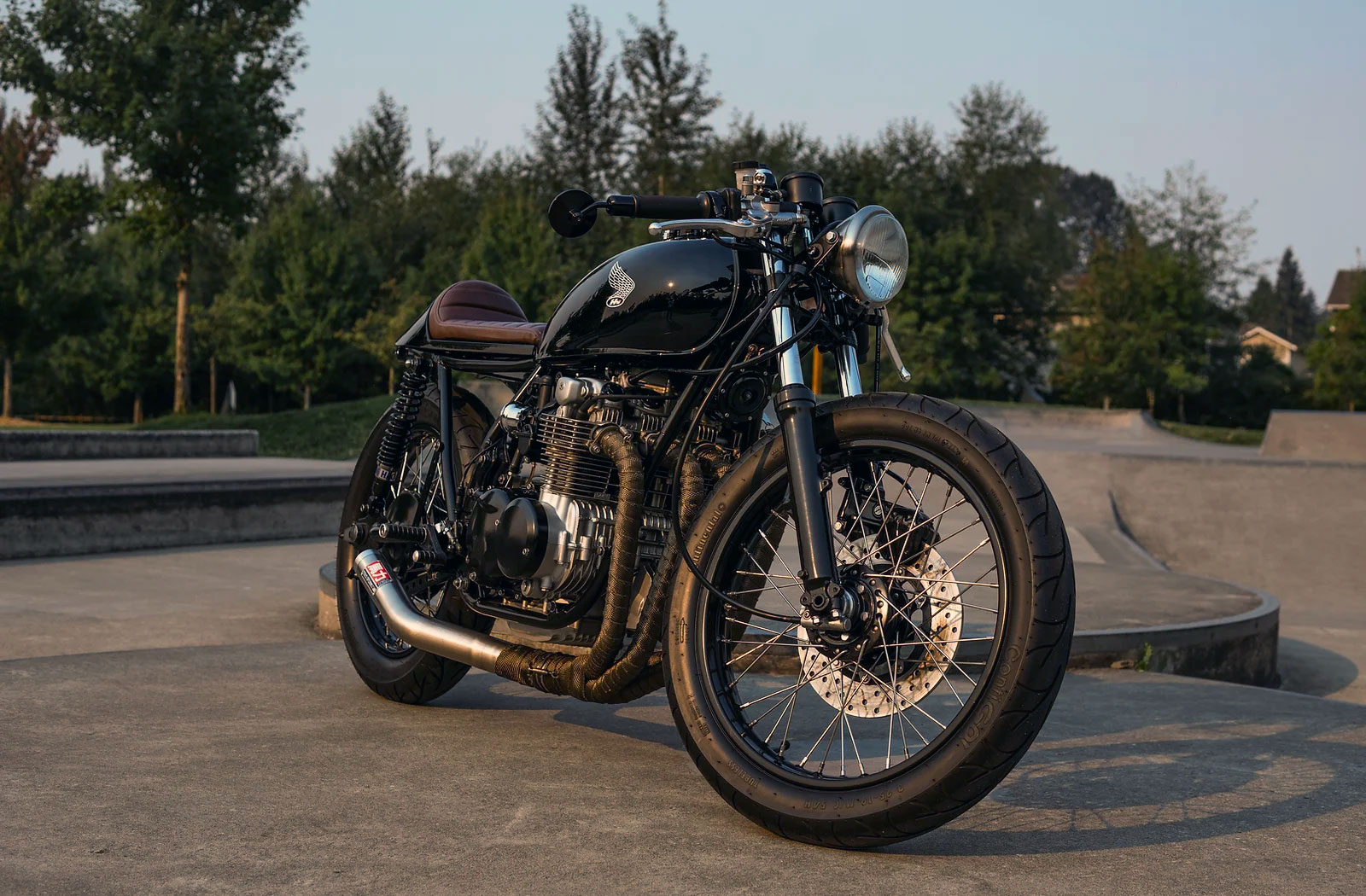 Dave's, "Nothing that doesn't need to be there" approach to this build resulted in him shedding weight from wherever possible. During the tear down the frame was detabbed to dispense with any redundant fixtures. The top clamp swapped for a lightweight aluminium alternative and the chunky gauge assembly with aftermarket dials. Woodcraft clip-ons take the place of the steel bars and they wear Avon grips and new switchgear. To complete the weight-saving changes and the cafe racer riding position he's fit Tarozzi alloy rear set footpegs.
When it came to choosing a colour for this CB550 Dave stuck with a classic black-on-black scheme. The classic Honda winged tank decals, brown leather seat and gold chain complete this CB's timeless good looks. Thanks to Dave's work with Honda it's easy to see why classic rides like this will never go out of style.