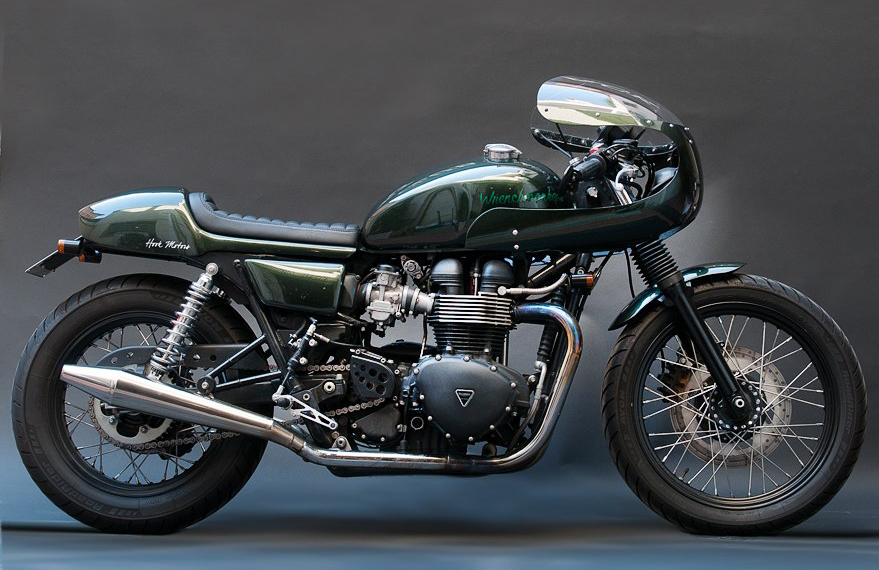 Since 2011 Bologna, Italy has been home to Hook Motors, a "lifestyle store" aimed at those who appreciate passion, elegance and vintage motorcycles. Hook offers its customers access to a refined shopping atmosphere where they can find "stylish daywear garments, luxury accessories, fine art, specialized books, and above all, hip motorbikes". What exactly is a "hip" motorbike you ask? Well by definition 'hip' means cooler than cool and looking through their showroom you'll find plenty of bikes that fit the bill. There's an immaculate '47 Knucklehead, a one of a kind YABSA (Yamaha XS650 motor in a BSA frame), a custom Honda NX650 modified by the Hook team and this lovely Triumph T100 Bonneville custom built for Hook by the Wrenchmonkees.

Currently for sale in the Hook showroom for €15,500 the custom T100 goes by the name of Monkee Hook and was built back in 2011 for the opening of the Hook store. The Monkee Hook started out life as a black 2009 T100 Triumph Bonneville which was stripped back, redesigned and rebuilt at the Wrenchmonkees workshop in Denmark.
A set of slimmer side covers were designed and fabricated to allow for the mounting of a set of LSL rear-sets and their associated components. A Ducati style front fairing was added, complete with a WM headlight and low profile indicators. Stock handlebars have been replaced with clip-ons sporting Beston style grips and the rear shocks upgraded to Bitubos. The tail is another WM original part moulded to the frame with a custom made seat pad and WM stop light. The whole bike has then been finished in a British Racing Green scheme with WM and Hook hand rendered livery.
"Vintage motorcycle, cafe racers, speed, passion, elegance, and the appreciation of originality are our values and we wish to reconquer the essence of a time when metal sheets were hand shaped to create exclusive motorbike parts and when beauty was found in the crafting of simple, elegant details."