Triumph seems to have created the ultimate Scrambler. They've gone a step further than everyone else and built a fully capable, off-road-ready motorcycle worthy of carrying the Scrambler name. After missing the Australian press launch of the Triumph Scrambler 1200 I was looking for the right opportunity to give one a proper test. When a friend contacted me about riding up to a motorcycle show in outback New South Wales I took it as a sign. A few days later I collected a top of the range Scrambler 1200 XE from Triumph's warehouse with two weeks grace to put it through its paces.
I had mixed emotions about missing the press launch. Triumph was hell-bent on proving their Scrambler 1200 had the cajones to tackle serious terrain. To do this they let the motorcycling press loose at an off-road training facility. While this definitely sounded like a great time to some, it's not the type of riding I typically partake in. I'm a road rider and it's rare that I'd find myself riding on anything more extreme than an unsealed road. This may make me sound like the wrong person to be reviewing this bike, but my guess is that most potential Scrambler 1200 owners will be in the same boat.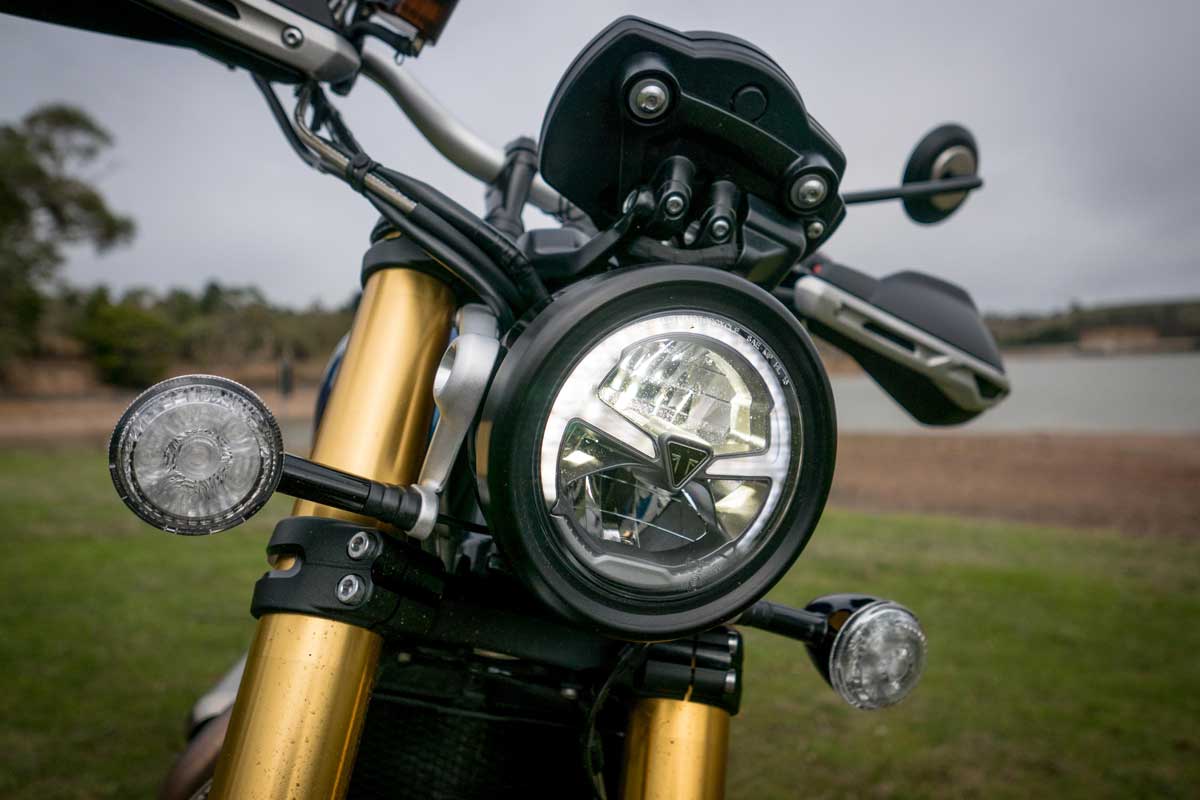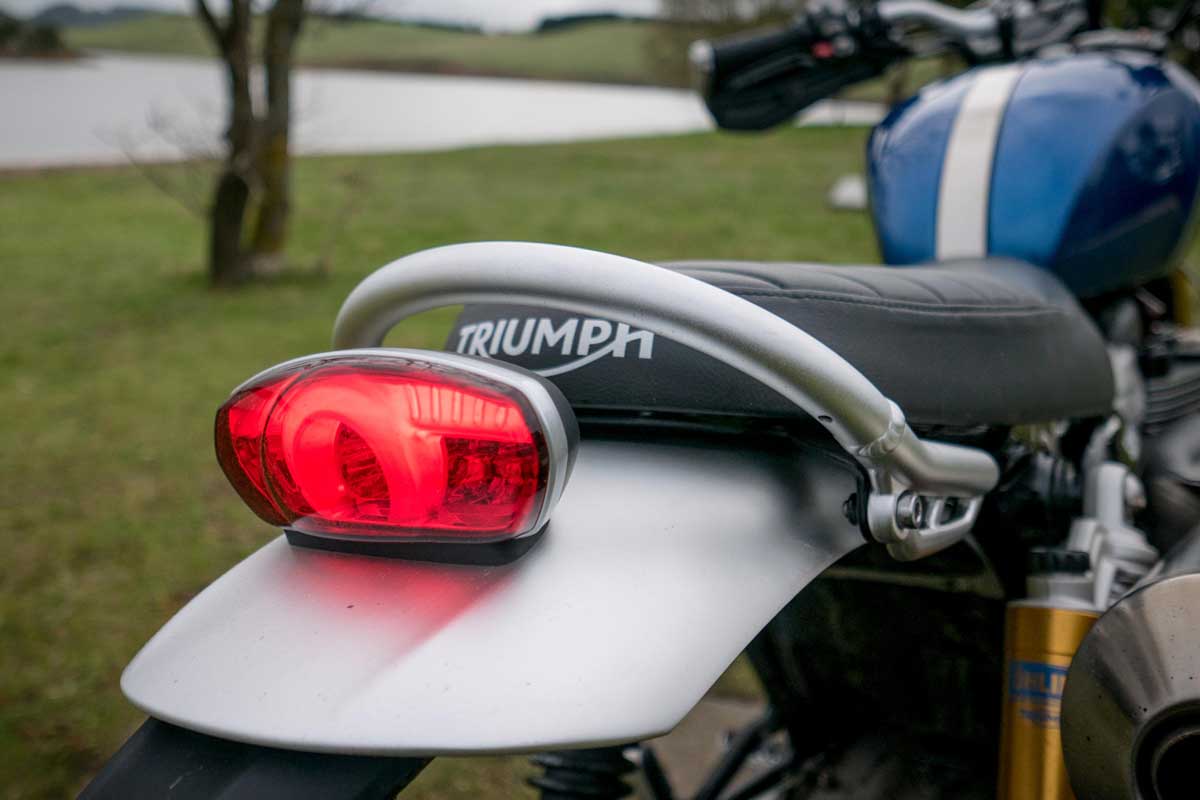 Triumph Scrambler 1200 Specifications
The Triumph Scrambler 1200 is yet another addition to the ever-growing Triumph Modern Classics range. This, of course, means it was designed using the same heritage style guide as the latest Bonnevilles, Street Twin and Thruxton. The Scrambler gets a classic teardrop fuel tank with a Monza style filler, spoked wheels, retro-styled lighting and a classic paint and badge combination. The result is a stunning looking machine that manages to balance its retro looks with modern running gear seamlessly; and judging by my time on the Scrambler, it seems the general public approves. On more than one occasion I received enthusiastic endorsements from other commuters while cruising around town on the cobalt blue XE.
The Triumph Scrambler 1200 comes in 2 flavours, the "standard" XC model and the more "extreme" XE. The XC is the more classic looking of the pair and comes in either green or black with a brown saddle. Its bodywork is mostly black with a spattering of the machined aluminium components we're accustomed to seeing on these Modern Classics. The Scramblers engine is a retuned version of the same 1200cc twin you'll find in the Triumph Thruxton and Bobber. It generates 89 bhp and 81 Nm of torque. The wheel combination consists of a 21-inch front and 17 inch rear and Triumph has wrapped them in Metzeler's dual-sport Tourance rubber. The front end is a 45mm Showa item and the rear is managed by a pair of 200 mm fully adjustable Ohlins shocks. Braking comes from a complete Brembo set up with twin-discs up front and switchable ABS. As you'd expect with a Scrambler the bike stands tall. The seat height on the XC is 33-inches (84mm) and it tips the scales at a touch over 450 lbs (205 kg).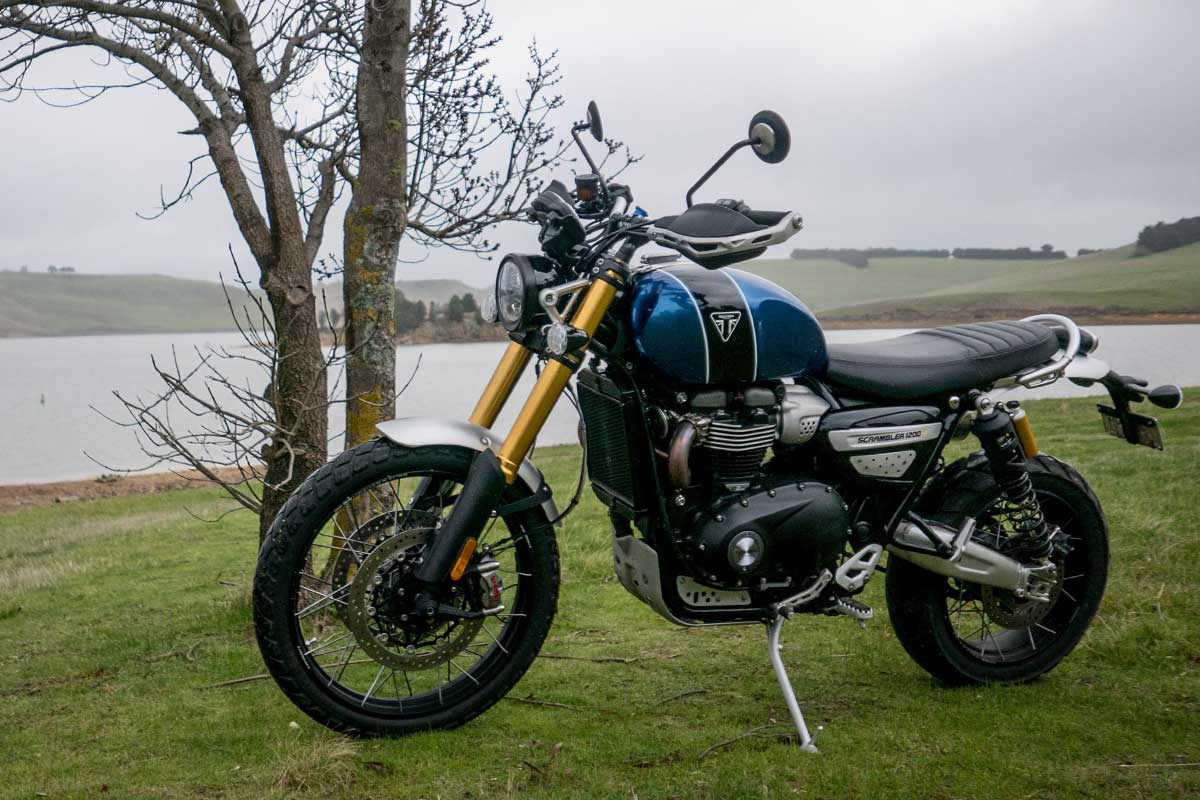 The Triumph Scrambler 1200 XE differs from the XC mainly in its off-road readiness. For starters, the XE gets a taller, fully adjustable 47mm Showa front end that provides 50mm of additional travel. Things are taller in the rear too with 250 mm piggyback reservoir Ohlins shocks. The extra suspension height pushes the seat up to 34 inches (870 mm) and increases the XE's ground clearance. Since Triumph are pitching this as a capable dual-purpose motorcycle they've added a few accessories such as brush guards around the levers and an additional, dedicated off-road riding mode.
When it comes to technology both of the Triumph Scrambler 1200 models are feature-packed. For starters, you get a keyless ignition and a very fancy TFT digital dash that's loaded with options. Once the screen is active you have 2 different themes to choose from, a more classic Quartz speedometer layout or the modern tachometer focused Chronos. Each theme differs slightly in how it displays information on the screen. Buttons on the switch blocks allow you to adjust the screen theme, change between different riding modes and alter the bike's electronically controlled settings.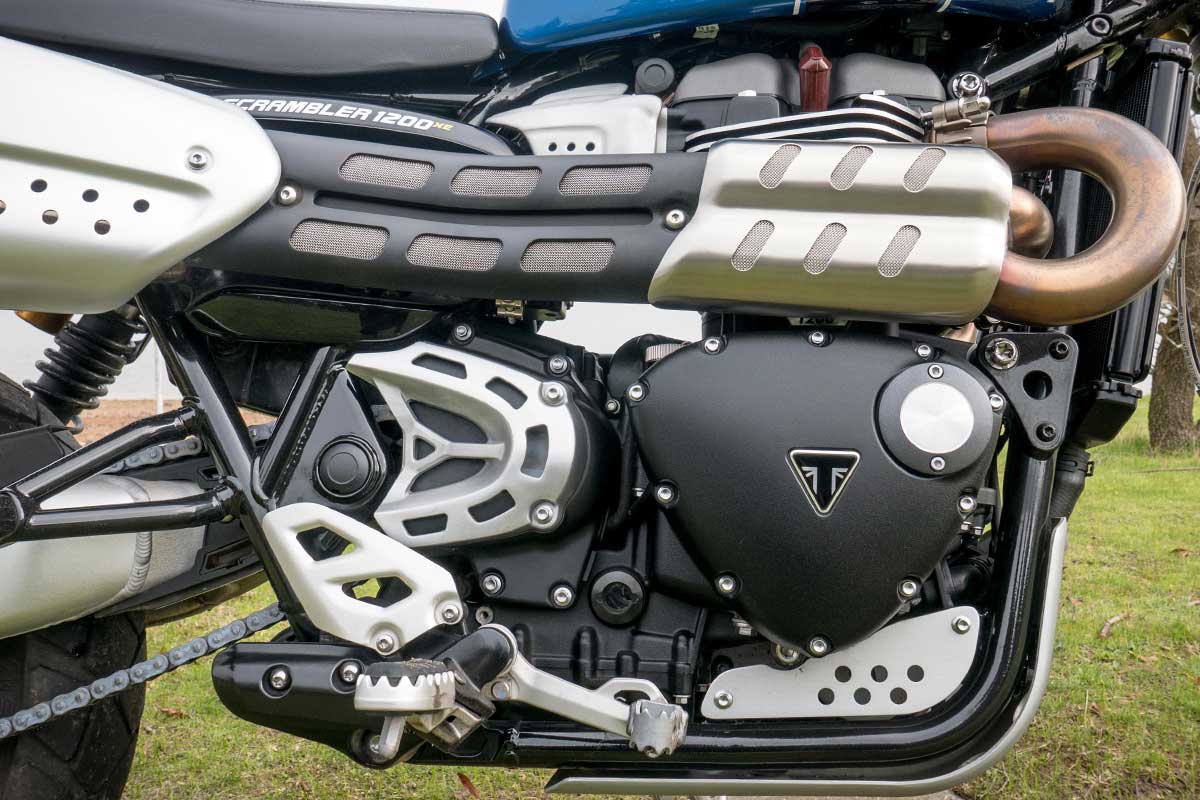 The Triumph Scrambler 1200 features 5 different riding modes that have pre-defined settings. You also have the option of creating your preferred setup by adjusting the throttle response, ABS and traction control to your liking. The XE comes with an additional 'Off-road Pro' setting to quickly switch off anything that may hinder you while on the dirt such as traction control and ABS. Other settings allow you to alter how the indicators work (self-cancelling or standard), edit trip meters, set up service interval notifications, modify the shift indicator, change the units of display and even enter your name so you get a nice welcome message when you fire it up.
Triumph has also added several "ride-enhancing" features to the Scrambler 1200. These include Advanced Cornering ABS and traction control, a torque-assist clutch, ride-by-wire throttle, cruise control and heated handgrips (not all models). It's an incredibly long list of tech features that really add to the Scramblers impressive offering. At the end of the day though what counts most is what it's like to ride.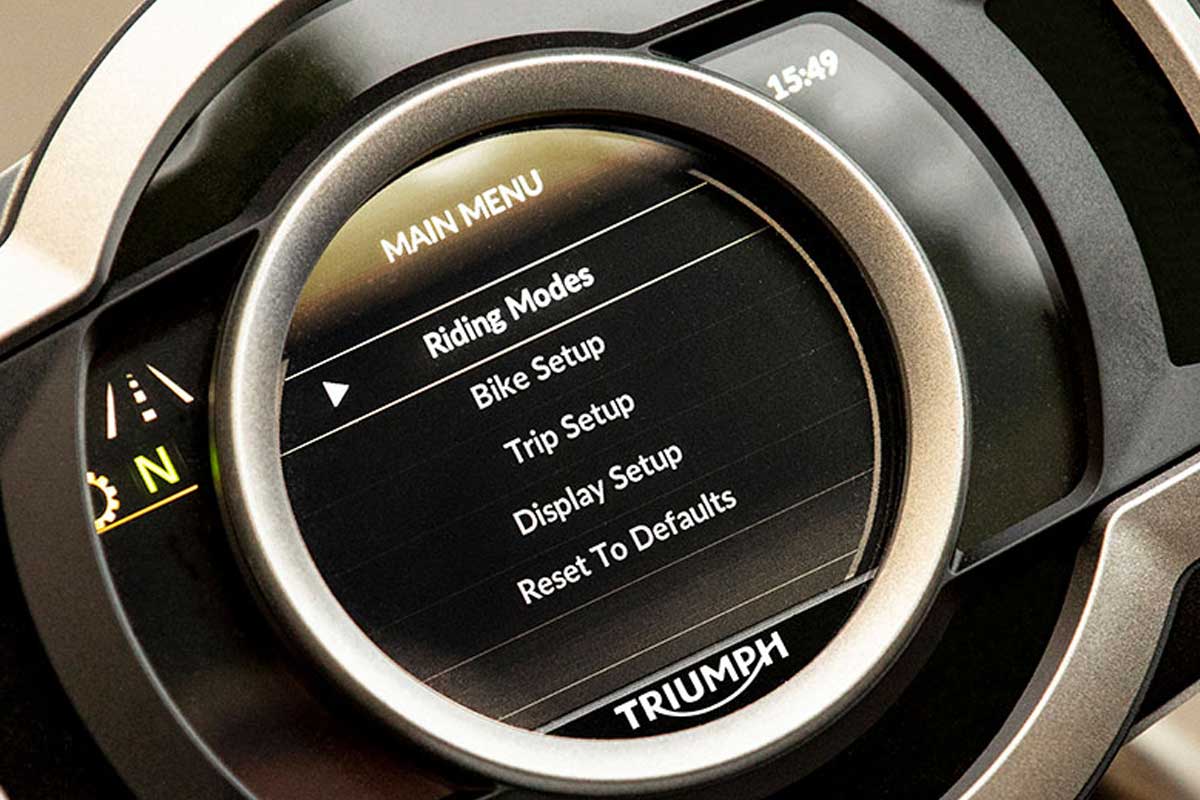 Scrambling around town…
During your first few days of Scrambler ownership be prepared to spend a lot of time fiddling with the dash. There's a hell of a lot of information you can adjust and it can be a little distracting as you search for your preferred arrangement. Thankfully the controls are fairly intuitive and despite the huge amount of information on screen, the interface is really well laid out.
I'm a touch under 6 feet tall and the taller XE made me feel short. Anyone under 5'8″ may struggle with getting a foot properly planted. I have to admit riding motorcycles this tall can feel a bit ominous for the inexperienced. Leaning over a bike of this stature is unnerving, but rest assured you're in good hands on the Scrambler. The bulk of the bikes hefty 450 pounds sits down low so it feels very well planted in the corners. The dual-sport Metzelers also proved very capable with most of my riding taking place on wet roads. As you'd expect the Brembo brakes do a stellar job of slowing things down and I only experienced the ABS come in to play when I deliberately engaged it. I started out with the Scrambler in Rain mode to limit the chance of wheel slip. I soon switched to the less restrictive sport mode because even though there's loads of grunt the engine never delivers it in an unpredictable fashion.
Lane splitting the Scrambler was another interesting experience. The wide handlebars and sheer size of the bike had me thinking I'd be stuck in traffic rather than taking my usual route down the middle. This definitely wasn't the case. What I found was that the bars sat well above most cars rearview mirrors so I could filter at a steady pace with ease. The increased height was also a welcome change as it allows you to get a good view of what potential risks lay ahead. The bike's engine is easy to control at low speeds and being up so high means motorists are generally more aware of your presence.
I'm no off-road expert so I don't have any insights into how capable the Triumph Scrambler 1200 is in the dirt. Other journalists have already touched on this and by all accounts, it is indeed up to the challenge. The most dirt the Scrambler XE saw while I was in the saddle was a few unsealed rural roads and, unsurprisingly, it handled them without a problem. My only gripe would be that the rear fender didn't perform as well as I'd expected. I was surprised to find my backpack and the rear of the seat spattered with mud.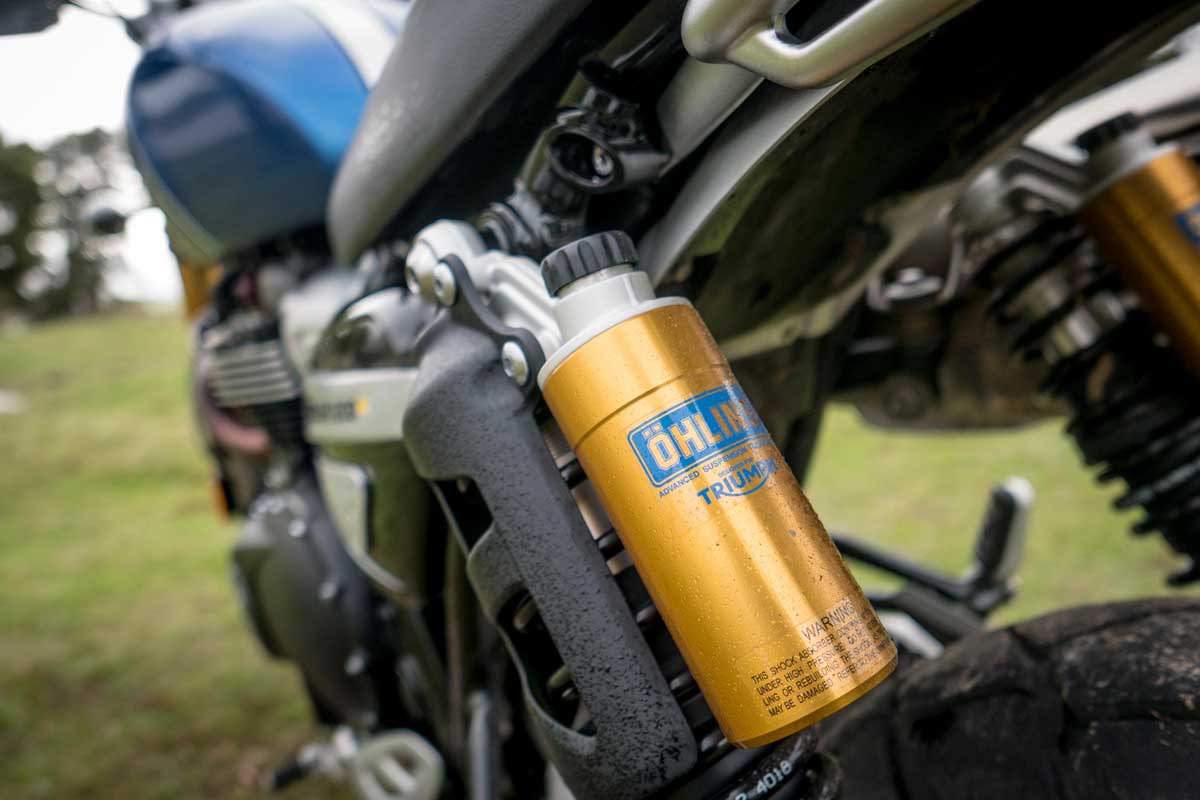 By the time the show came around, I'd already spent about 400 km in the saddle of the Scrambler. We had a big day of riding ahead of us. The plan was to leave first thing in the morning, drive up across the border to the show, spend lunch there then head back and make it home by the evening. We set off at 6 am in the morning and made it home by 7 pm that night. It was the longest single day of riding I'd done in a while. Of all the bikes I've reviewed in recent years I'm glad it was the Scrambler I had that day.
A full tank of fuel was good for 350km on country roads. That's fine for highway riding, but you'd probably want more for a serious off-road adventurer. With the 6-speed gearbox and 1200cc engine, the Scrambler ate up the miles with ease and there's plenty of power left at freeway speeds to overtake slower traffic. As for comfort, the fully optioned XE had both cruise control and heated handgrips which drastically reduced fatigue on my hands. Sure a windscreen would have been nice to cut back on buffeting, but everything else about the bike made it ideal for this kind of journey. The most surprising thing I found was how comfortable the Scramblers seat was. Sitting so upright obviously helps, but riding that long without feeling any discomfort in my derrière was a welcome change. This could also be attributed to the bikes suspension which delivered a consistently smooth ride the entire journey.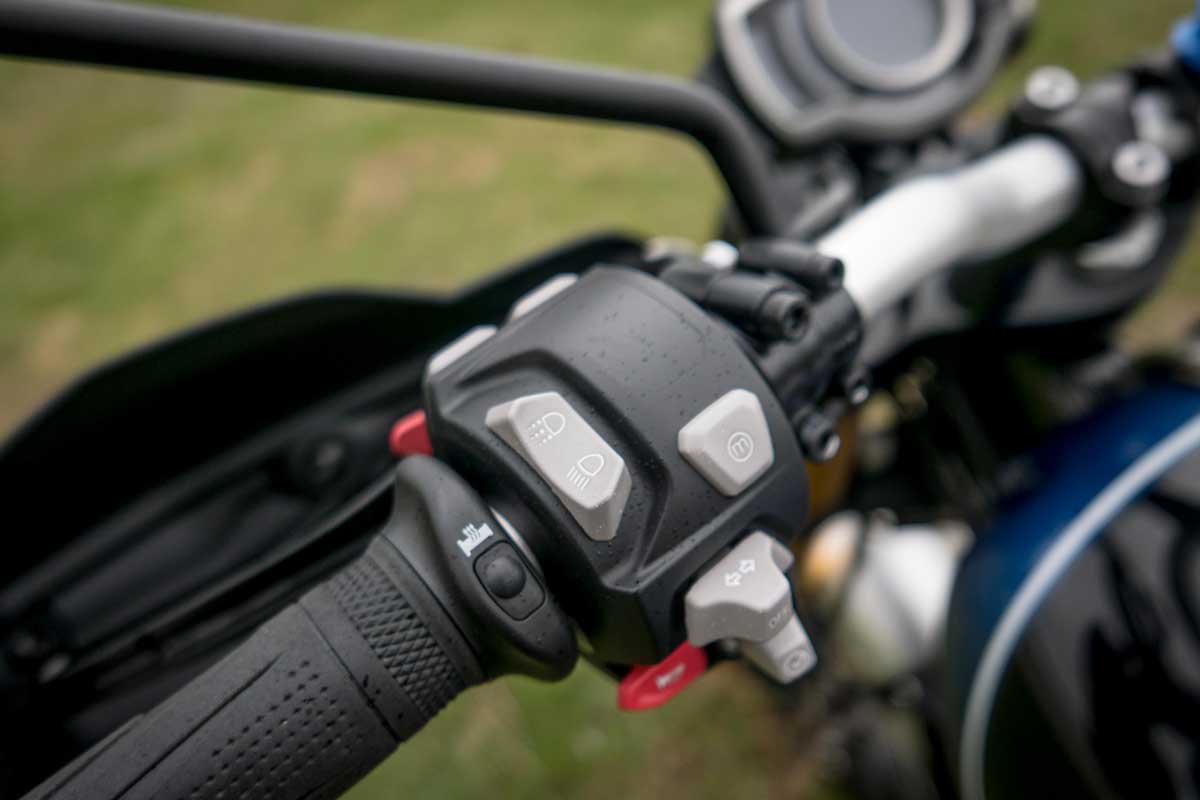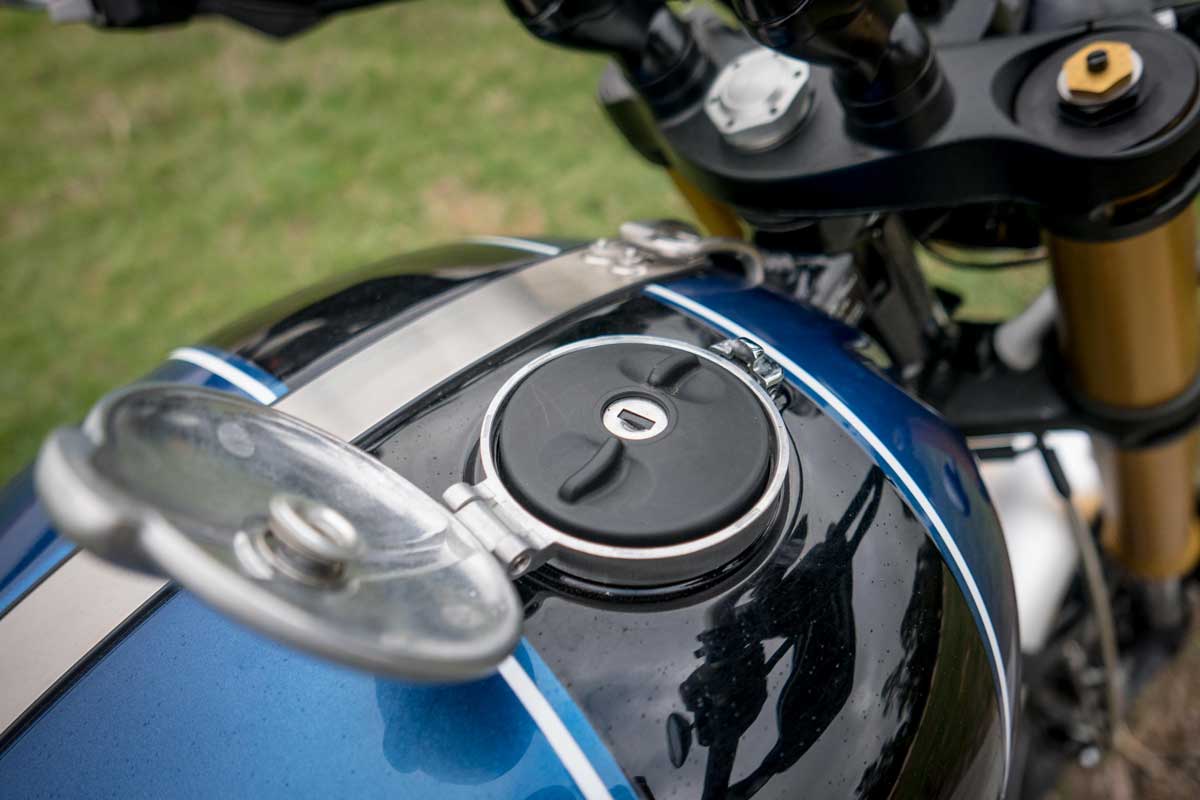 Summing up the Scrambler 1200
Triumph set out to prove a point with this motorcycle. They wanted it to be the king of the hill. Not however in the dual-purpose adventure category – they did that with the Tiger. With this bike, they wanted to show us, and their competitors, that a Scrambler, by definition, represents an ability to confidently go off-road. So while other manufacturers have focused on getting the Scrambler styling right, Triumph has backed it up proficient performance and it's yet another brilliantly built bike from the Brits.
But let's be frank. How many owners of this $15,400 USD ($22,000 AUD), 205kg modern classic are going to be taking it off-road? In my opinion, not very many. Sure it's capable. As I already mentioned it is without a doubt the most capable motorcycle to currently wear the Scrambler name. But I don't believe this is the motorcycle any accomplished off-road rider would choose for their next cross-continent adventure. There are many other bikes, including a few in Triumph's range that are better equipped for such riding. Instead, the Scrambler 1200 will be owned by those who appreciate a genuine, premium product. They will be the kind of rider that likes to know they have the option to go off-road if they ever get the urge. This means most of their time on the Triumph Scrambler 1200 will be similar to my own and I can guarantee they'll be loving every minute.