It's been 3 years since the release of Triumph's water-cooled Bonneville range. Amongst the first of the new Modern Classics to hit showroom floors was the Street Twin. Powered by a 900cc version of the updated parallel twin, it was the entry-level option in the all-new range. At the time of its release, the Street Twin was a direct competitor to motorcycles like the Harley-Davidson Sportster 883, Ducati Scrambler and Moto Guzzi V7. In my opinion, the Street Twin was definitely the pick of the bunch. As it turns out the motorcycling public thought so too. In fact, the Street Twin was so popular it has outsold every other model in the Triumph Modern Classic range. I thoroughly enjoyed riding the 2016 Street Twin so I was eager to test out the updated 2019 model. Lucky me the folks at Triumph Australia were generous enough to lend me two of them. First up was the new Street Twin promptly followed by the updated Street Scrambler.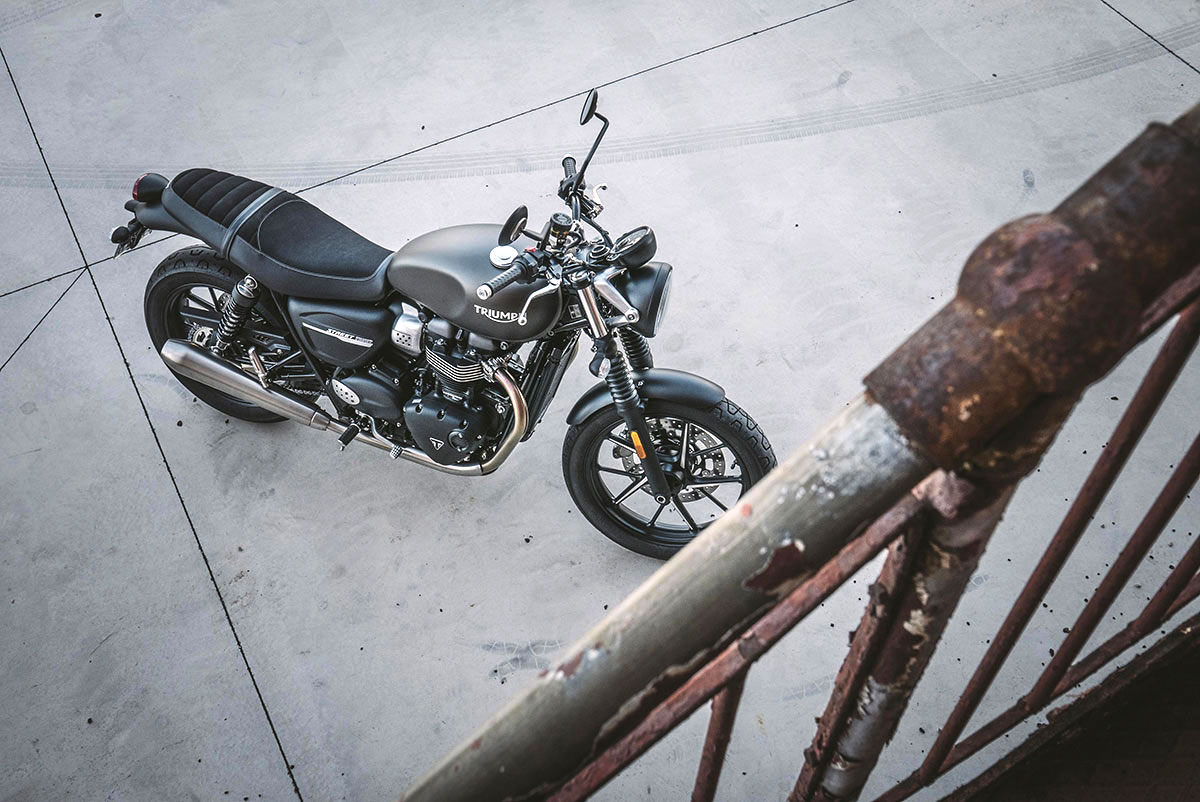 Riding the two new bikes back to back was the perfect way to get a really good feel for the differences between these two models. It also meant I would be riding around on brand new Triumph's for a whole month as opposed to the two days of riding we usually do on a press launch. There are a lot of similarities between these two models, but before we touch on those let's take a look at some of the updates Triumph has made to each bike.
The first thing I'm happy to report about these updated models is that Triumph certainly hasn't eased off on their quality control. The Triumph brand represents a premium product and the value for money is instantly evident when you cast your eye over them. The Modern Classics are all meticulously finished. From the spotless paintwork right down to how cables and wiring are routed and concealed. These bikes ooze quality. What's most impressive about this is that this level of quality is consistent across the range from this base model Street Twin, right through to the top of the range Thruxton R.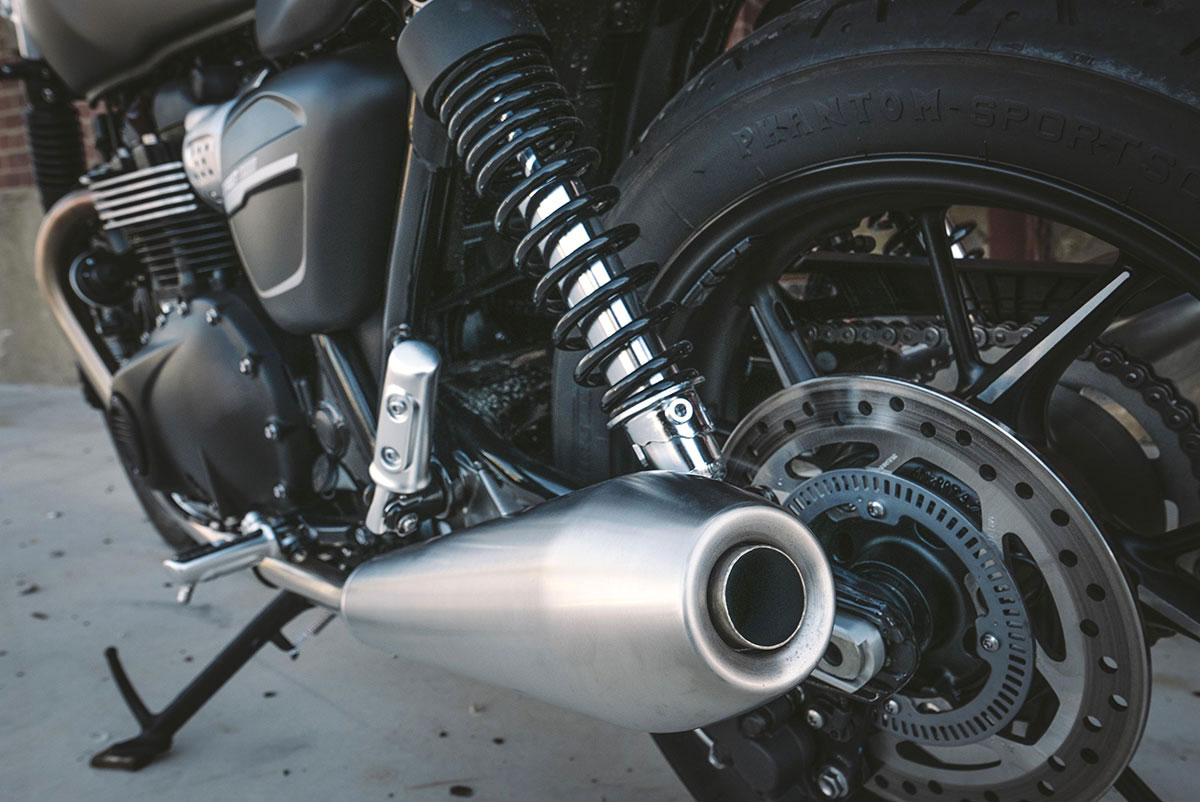 The 2019 Triumph Street Twin
"Triumph's single biggest selling modern classic"
As far as styling goes not a lot has changed with the 2019 revision of Triumph Street Twin. The bike retains its classic good looks, blacked out engine and twin reverse megaphone mufflers. Looking at the cockpit though you'll spy an updated, slicker looking speedo and the bikes mid-section appears slimmer thanks to redesigned side covers. There are now more black bits rather than silver and the rear fender has been pulled in to tighten proportions. The most noticeable change is to the wheels which are now sharper looking cast alloy items with shaved and polished details.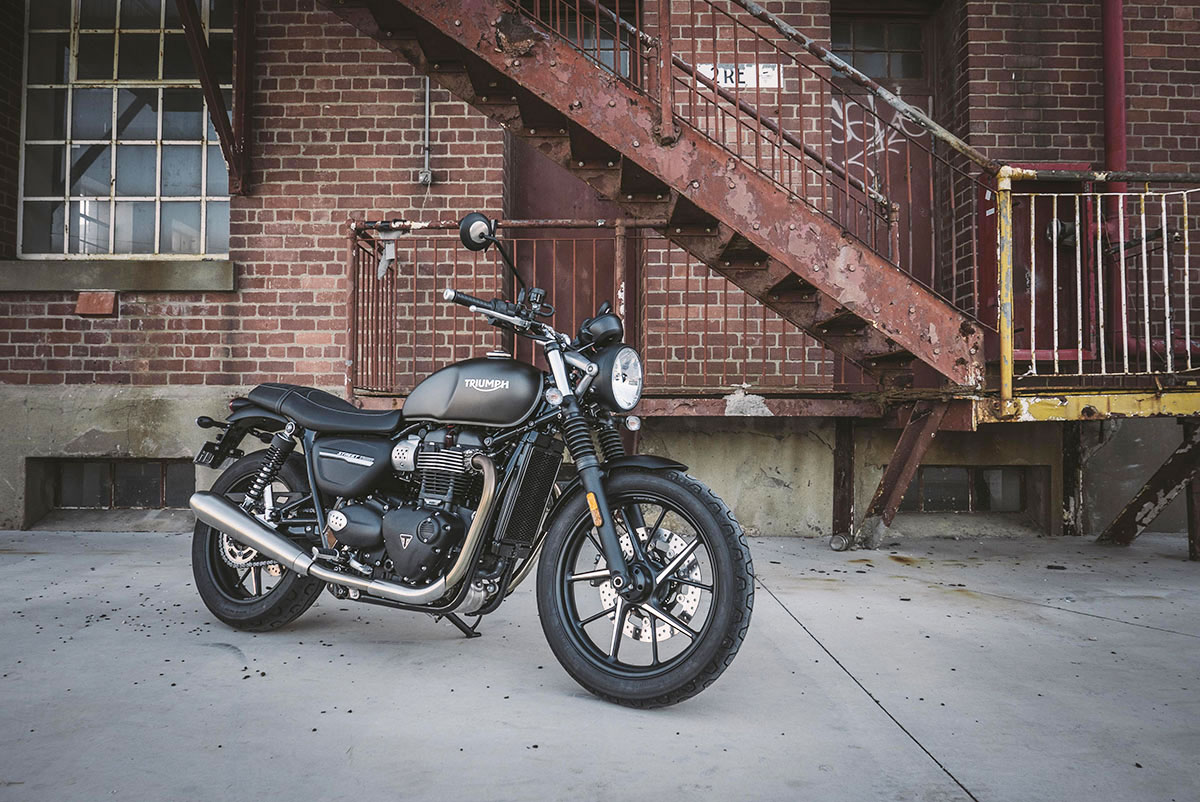 So if the 2019 Street Twin looks so similar to the old one, why the updated model? In this instance, it's all about performance. Triumph has obviously been listening to what their riders have been saying and they've responded with some marked improvements. First off they've given the Street Twin a decent power hike. With a new power figure of 64bhp it's an impressive increase of 18% over the outgoing model. The engine also revs more freely due to lightened internals so you'll get much more out of the bikes 80Nm of torque.
Triumph has also stepped things up in the Street Twins handling department. The addition of a Brembo front brake adds premium stopping power. Revised fork internals deal with the bumps more capably and they've added switchable riding modes (rain and road) similar to those found on premium models in the modern classics range. As you'd expect traction control and ABS still come as standard and service intervals remain at an impressive 16,000kms.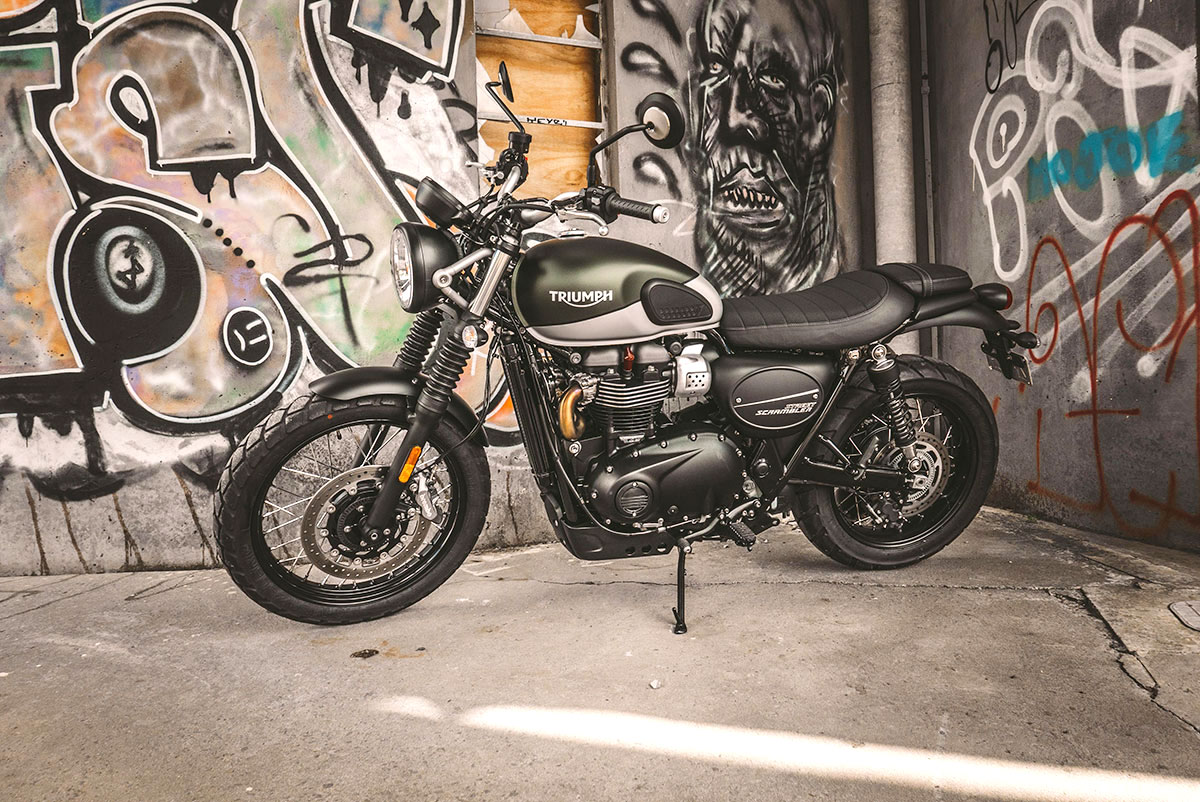 The 2019 Triumph Street Scrambler
"An unparalleled heritage, that can be traced back to the early 1960s"
If you like the Scrambler look you've come to the right place. In my humble opinion, of all the Scramblers on the market, the Triumph Street Scrambler looks the best. This is because Triumph has basically recreated a bike from their iconic past. Back in the 60s models like the TR6C were sought after because of their great performance and good looks. So rather than recreating the wheel Triumph simply repurposed it. The Street Scrambler wears a classic high mount twin exhaust, rolls on spoked wheels, has rubber knee pads on the tank, beefy foot pegs and wide handlebars. It's not a new formula, but it's one that definitely works.
What design changes have Triumph made to the 2019 Street Scrambler? According to them, the forks are wider apart, but without having an old one to compare it to I'm unsure by how much. Apparently, this gives the bike a more Scramblerish Scrambler vibe (yes, I made that word up). They also report that the seat has been slightly redesigned with an adventure-oriented finish, whatever that means, and the logos have been given a "contemporary" overhaul.
As with the Street Twin, the 2019 Street Scrambler benefits from an equal increase in power. It boasts the same Brembo brake and fork upgrades, features different riding modes and everything else mentioned above.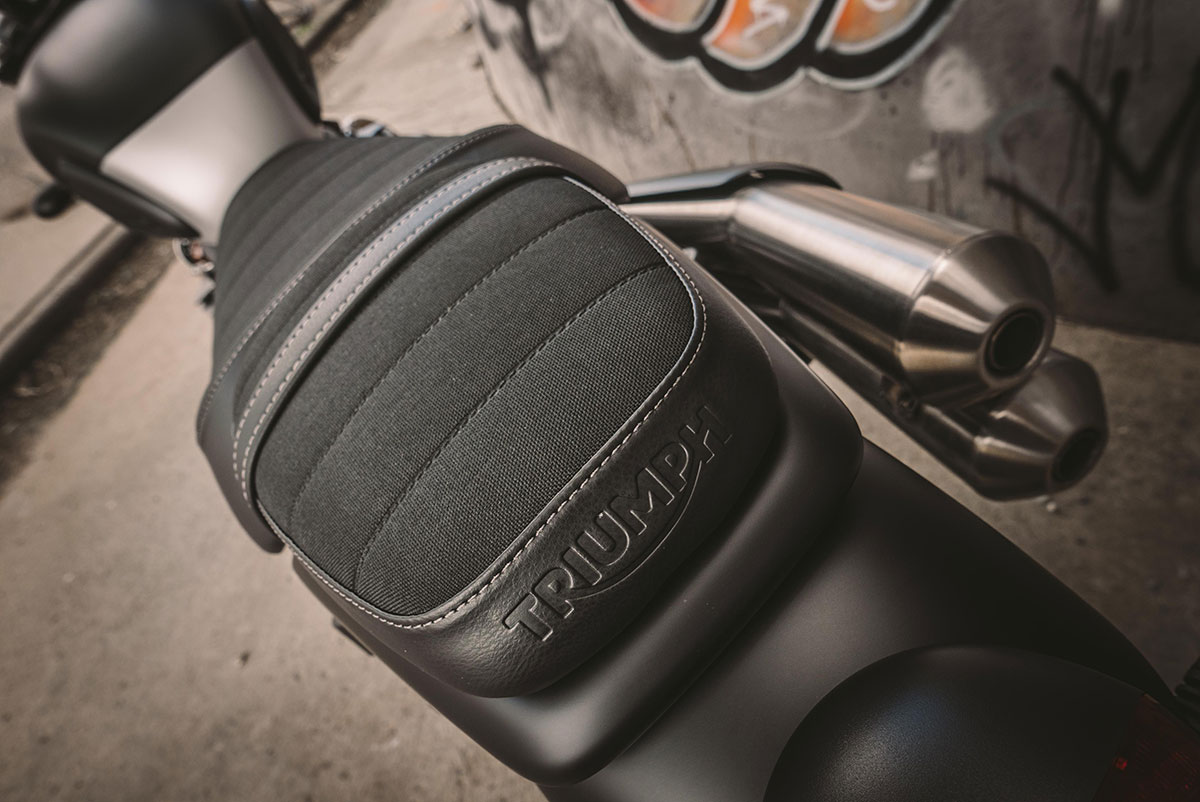 Spot the difference
Aside from the obvious variations in styling, on paper, these two bikes are almost identical. So preference comes down to styling more than anything else. However, there are a few small differences worth noting.
Triumph understand that Street Scrambler buyers may actually want to enjoy a bit of light off-roading. As such the Street Scrambler wears dual purpose Metzeler Tourance tyres. The bike also sports a larger, more off-road capable 19-inch front wheel and wears wider and taller hendlebars. Another useful feature unique to the Scrambler is an additional riding mode. With the push of a button, riders can switch the bike into an off-road setting. When it's activated both the traction control and ABS are disabled and the throttle response is reduced to make managing all that torque much easier on loose surfaces. So even though the Street Scrambler 900 isn't going to be as capable off-road as say the new Scrambler 1200, it can tackle dirt with a decent level of confidence.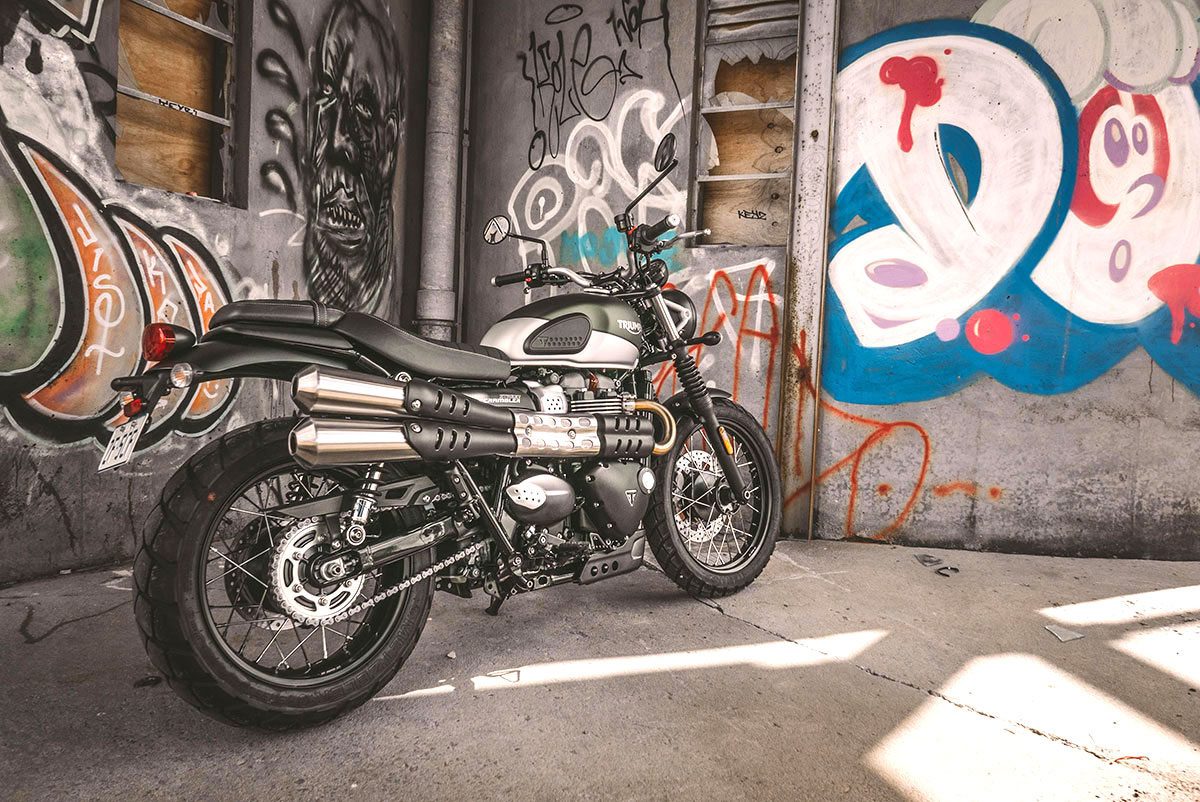 Riding the 2019 Triumph Street Twin & Scrambler
When I threw my leg over the 2019 Triumph Street Twin everything felt the same as I remembered. It had the same low seat height, comfortable upright riding position and lovely throaty exhaust note. Then, just as I was beginning to wonder why I was test riding the same bike all over again, the Street Twin revealed its big surprise.
Ten additional horsepower may not sound like much, but when peak torque comes into play sooner and for much longer it makes one hell of a difference. Off the line, the Street Twin pulls hard and doesn't show any sign of easing off while still within legal speed limits. This was a surprise to both me and a Mustang driver who assumed he'd get the jump on me from a set of lights (Professional driver on a closed course. Do not attempt!). Sure the Street Twin may not have the top end of the Thruxton R, but there's nothing entry-level about this bikes performance.
After a day or two of riding the Street Twin, I'd developed a tendency to cruise in a gear that placed the engine at around 3000rpm. This positions you right on the edge of torquey twin bliss. What that means is that if you want to overtake a car simply give your wrist a quick rotate and it'll soon be in your mirrors.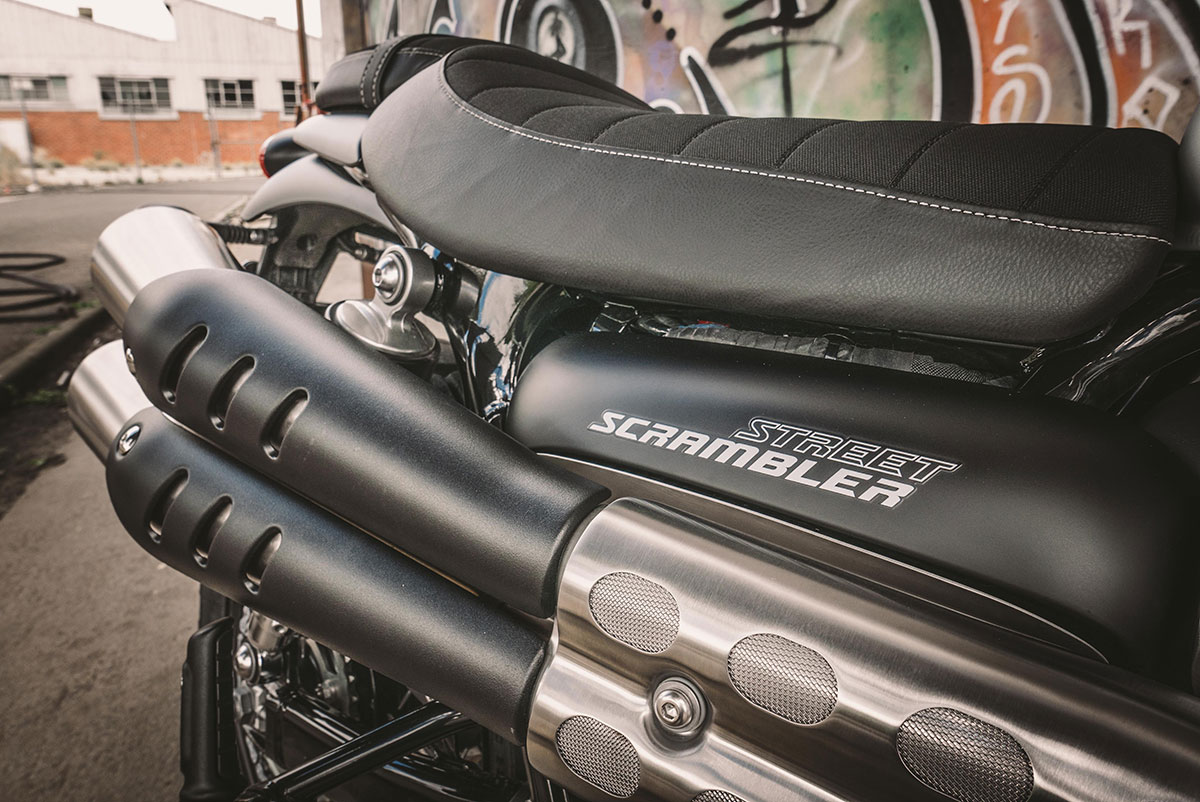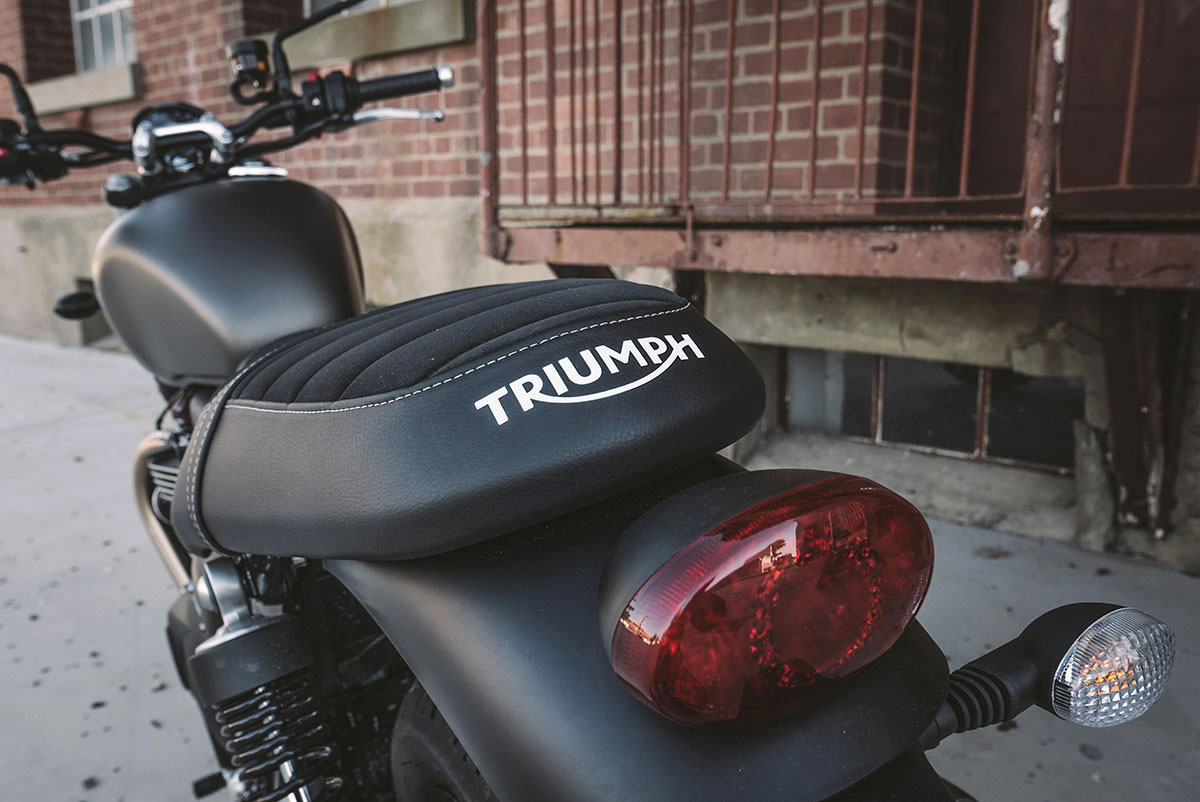 The bikes handling improvements were another pleasant surprise. The move to a Brembo front calliper adds more than ample stopping power to the Street Twin and the revised forks are smooth as silk. The clutch is now torque assisted so two finger changes are a cinch and I didn't experience any low rev ride by wire quirks. Around the city is where most Street Twins will spend their lives and that is where this bike performs at its best. The Street Twin's low seat height and engine tune are perfect for urban riding conditions, but the thing that impressed me the most was rather unexpected. The Street Twin's seat is incredibly comfortable. At a guess, I'd say that Triumph has moved away from foam rubber and now stuff their saddles with baby duck down. Yes, it's comfortable. So comfortable in fact that I forgot how uncomfortable motorcycle seats can be. It wasn't until I got home from my longest haul on the Street Twin (around 3 hours) that I got off and realised something wasn't right. I wasn't waddling like one of those featherless baby ducks and boy was it a welcome change.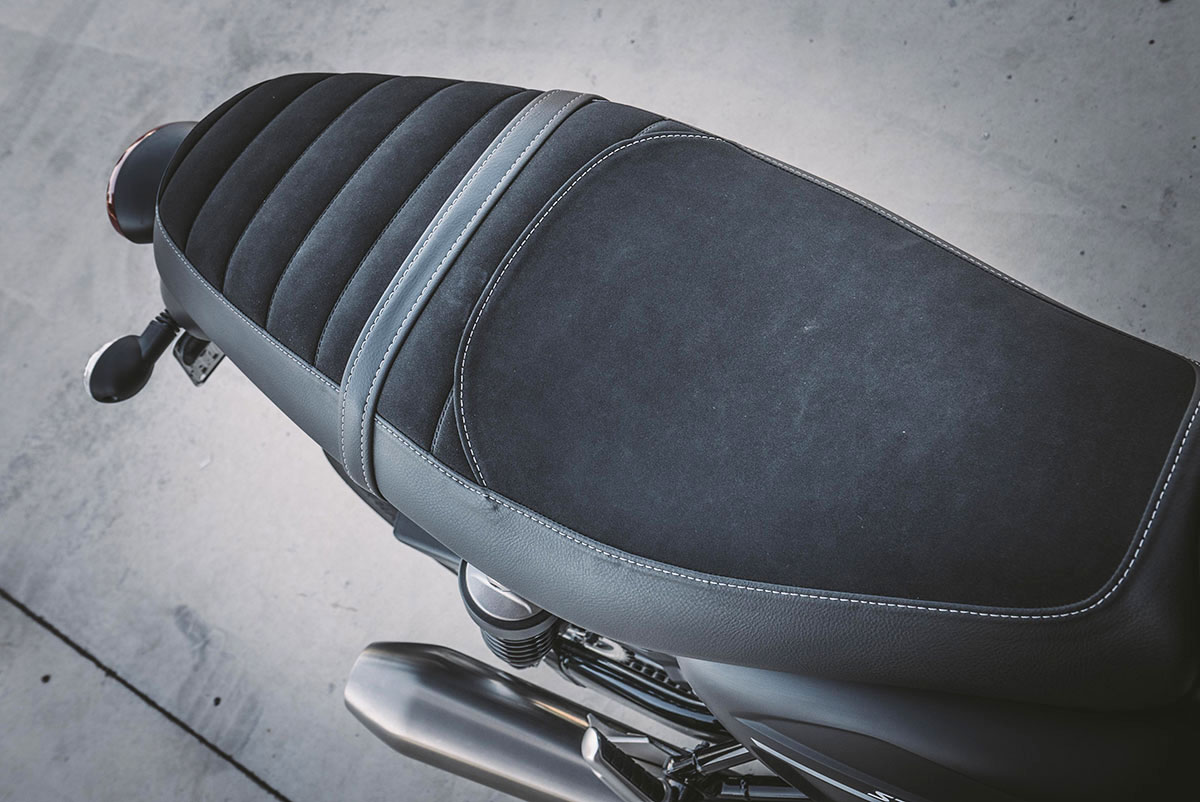 When my two weeks with the Street Twin came to an end I swapped the keys for those of a brand new Street Scrambler. Unsurprisingly the Scrambler delivered an equally pleasurable riding experience. It took a while for me to build up trust in the enduro rubber and adjust to how different the bike turned in, but then it was all smiles once again. I did, however, notice a slight difference in power delivery. Off the line, the Street Scrambler didn't seem to pull as hard as the Street Twin. According to the Scramblers spec sheet, it also has slightly worse fuel economy so I suspect it runs a different tune, but I was unable to confirm that.
After a few days of riding the Scrambler, I decided to head out of town to visit a friend in the country. I plotted a route that avoided highways and consisted of plenty of bends. What I didn't realise was that my chosen route featured a rather long stretch of unsealed limestone covered road. When I hit the limestone the Scramblers traction control and ABS had no idea what to do. I had no other option than to pull over and adjust the bikes riding mode. On the Street Twin I would have had to perform a series of button presses to disable the traction control and ABS, but on the Scrambler the push of a single button put the bike in off-road mode. With no restrictive technology holding me back I took full advantage of the loose surface. I arrived at my destination looking like I'd been flour bombed and was all the more happier for it.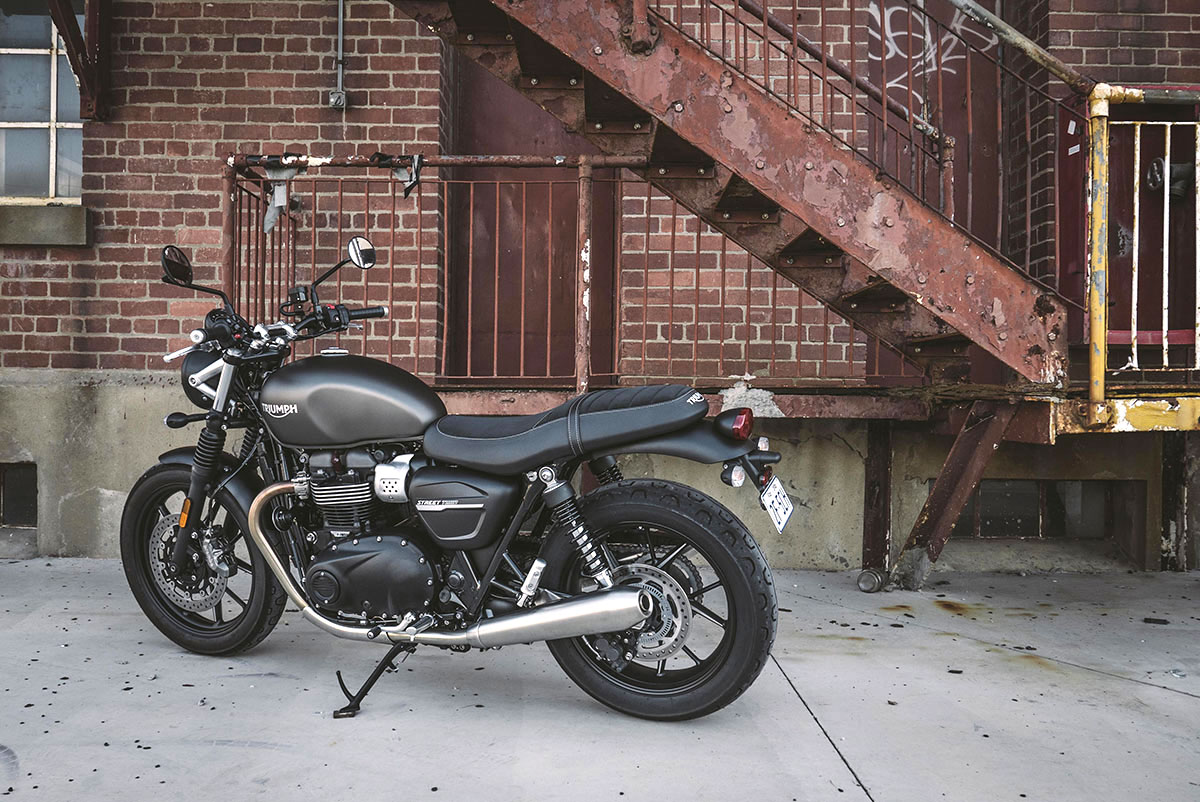 The final verdict
I've realised that so far this review makes these two bikes sound pretty bloody good. That's because they are pretty bloody good. Thankfully I did manage to find a few niggly things to whine about. Firstly the Triumph Street Twin has a very low seat height. In some ways this makes it feel like a beginners bike which will make it appeal less to older or larger riders. Also, like so many other bikes the USB charging plug lives under the seat where there's no storage space. That renders it useless unless you're happy to run a cord out from under the seat.
As for the Triumph Street Scrambler, the 2 piece seat is a great idea if you want to install the optional rack. Unfortunately removing and installing the front half of the seat is hampered by the placement of the rear section. I was also disappointed to discover that the Scramblers engine bash plate is made of plastic. This means it can deflect a few small rocks, but you can forget about it handling any hard knocks.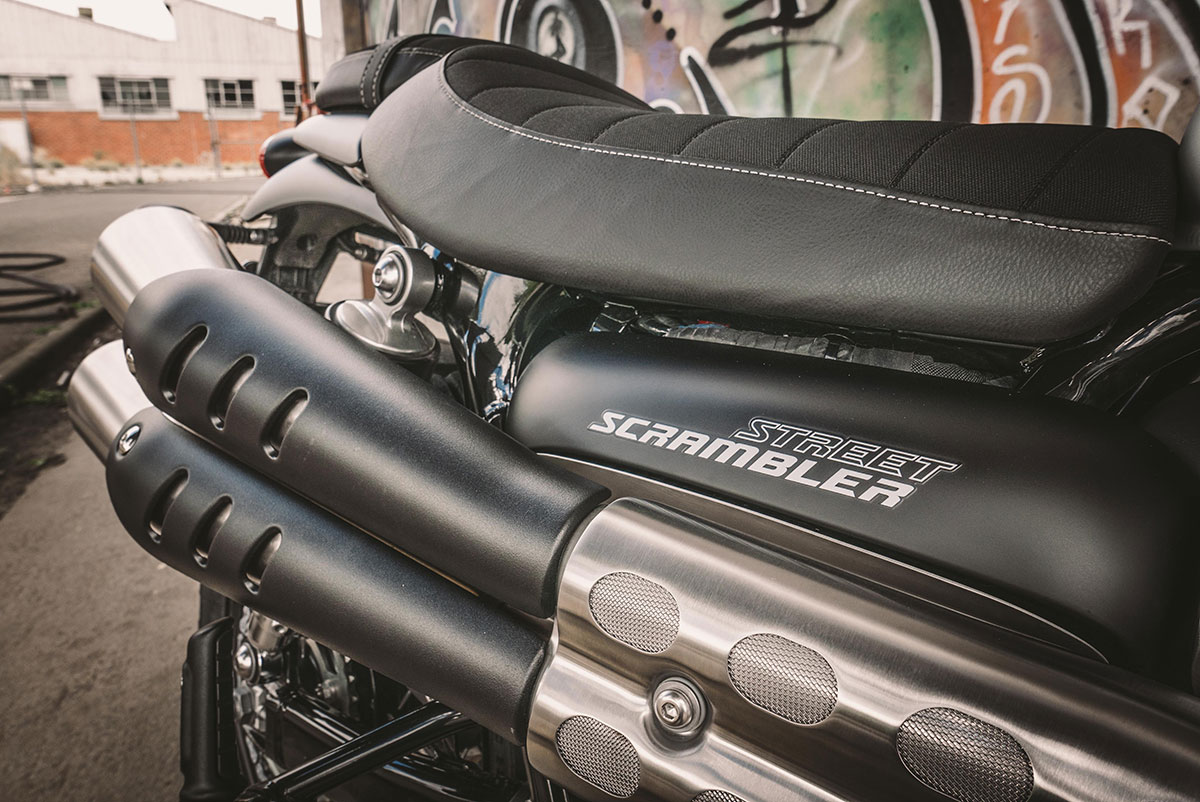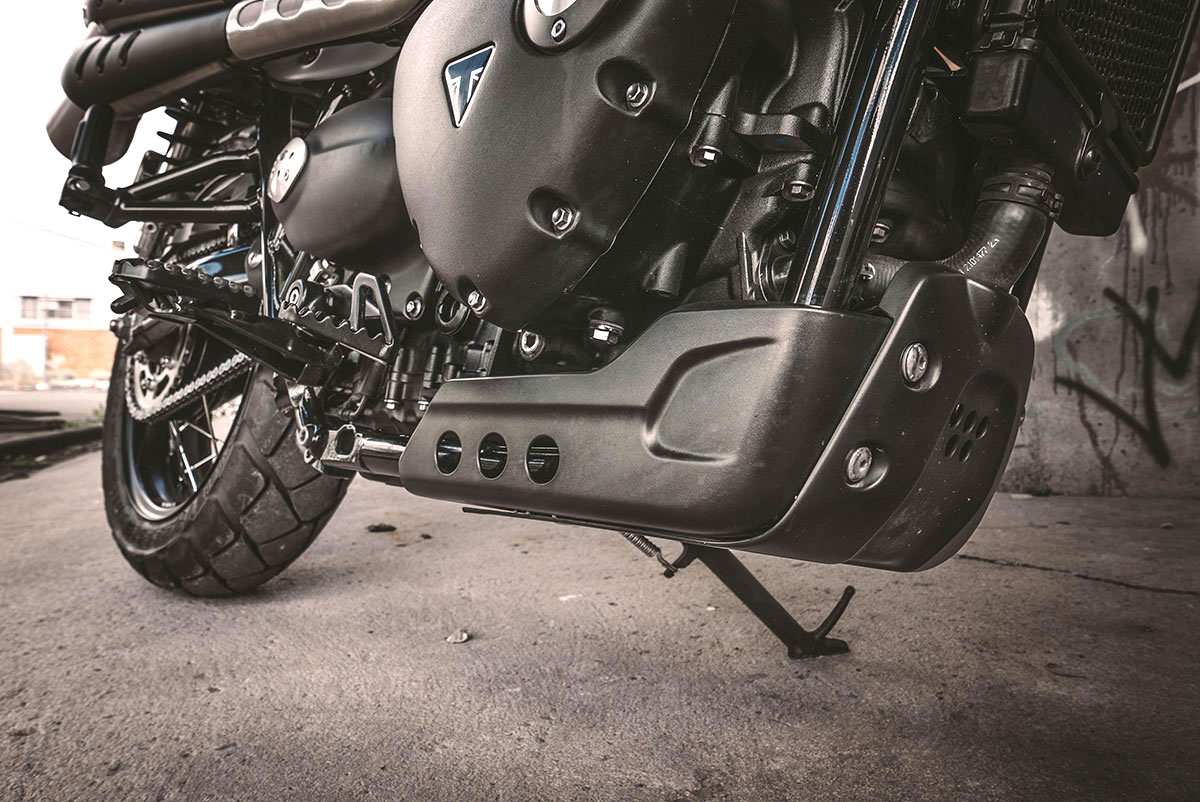 After every ride review, I ask myself one very important question. Would I buy one? In the case of these two bikes, I'd have to say yes. Thanks to the revisions and upgrades made to the 2019 models they no longer feel like an entry-level Bonneville. Sure, these two bikes may be the most affordable models in Triumph's modern classic range, but I'm certain they won't leave anyone feeling underwhelmed.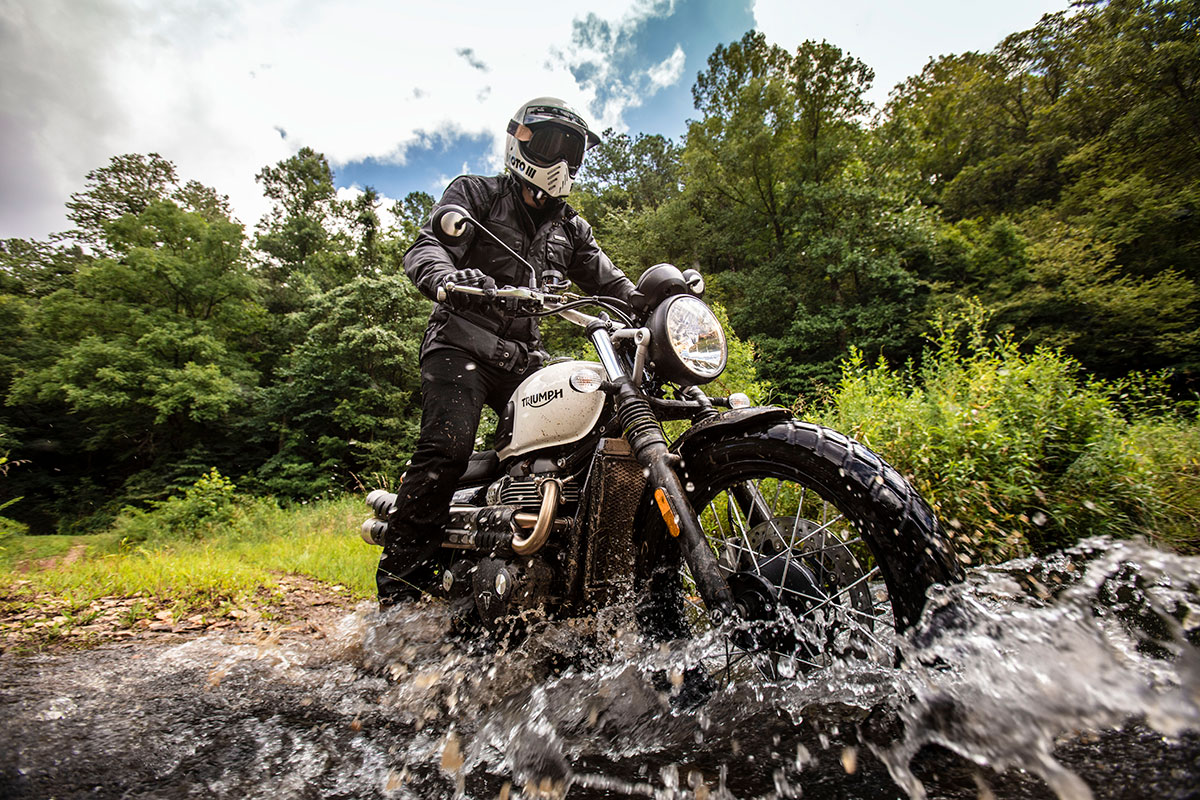 Yet another water-cooled Bonneville Twin