The Crane project was a chance for Ton-up Garage to once again build a bike with off-road influences, like the Gold Digger, but this time using a 2007 Triumph Scrambler. The goal of this bike was to create an off-road aesthetic but to have perfect handling on sealed roads. In the front, we fit 43mm inverted forks and on the rear, adjustable shocks with gas reservoirs. A new front end as made for the bike including yokes and clamps to suit the new suspension. On the wheels, we used Continental TKC 80 tires as they have a nice look but also good handling.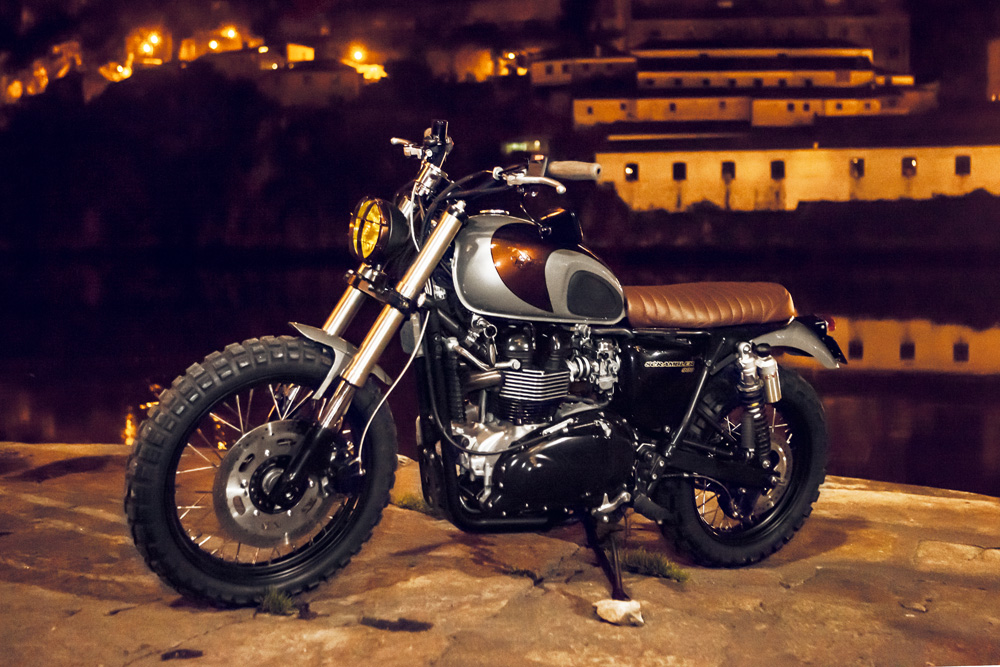 "Why 'The Crane'? It's the  owner's nickname since he was a teenager is Crane, because he's a tall guy and he also wanted a tall bike, so the name was carried across."


The stock lights were swapped with a grilled headlight on the front, mini Lucas taillight and small black indicators and the stock instrument cluster was replaced with small gauges. Engine cases were painted black, we fit an LSL sprocket cover and painted the tank in silver and brown tones and the mudguards were painted silver to match. Wheel rims were black powder coated and we also painted the original handlebar to black. Brown coke handlebar grips match the scheme on the tank and we cut and welded the frame on the back and fitted our handmade leather brown seat (available for sale at Ton-up Garage).
We designed and handmade the exhaust, with a heat shield that matches the exhaust and hides a layer of exhaust wrap that runs underneath. This exhaust has an amazing twin off-road sound and it's also available for sale at Ton-up Garage.
Once the Crane (the bike) was built, Crane (the owner) showed up at our workshop and he said: "This is the most beautiful bike you've ever built and the most beautiful I've ever seen", so we felt: "Job's done!!!"
It's been a while since I've featured a bike from the Portuguese workshop of Ton-Up Garage. Since I featured their Gold Digger Kawasaki W650 I've seen their builds pop up on Bike Exif and several of the big custom blogs which is a testament to the quality of their work. Their latest custom bike is a Triumph Scrambler named 'The Crane' and Pedro of Ton Up Garage gave me the full breakdown of how it came together…