On March 15 2021 Moto Guzzi celebrated its centenary. One hundred years in operation is no mean feat for any company. Especially since that meant surviving through the Great Depression, World War II and countless other challenges along the way. This is especially impressive for a company operating in the turbulent world of motorcycle manufacturing. However, seemingly against all odds, the Italian marque has endured.
Moto Guzzi has done much more than simply survive though. During those 100 years, it racked up and an admirable 14 World Championship titles, developed many innovative motorcycling technologies and produced well over 130,000 handbuilt motorcycles; and it was all done out of their iconic Moto Guzzi factory on the shores of Lake Como in Mandello del Lario.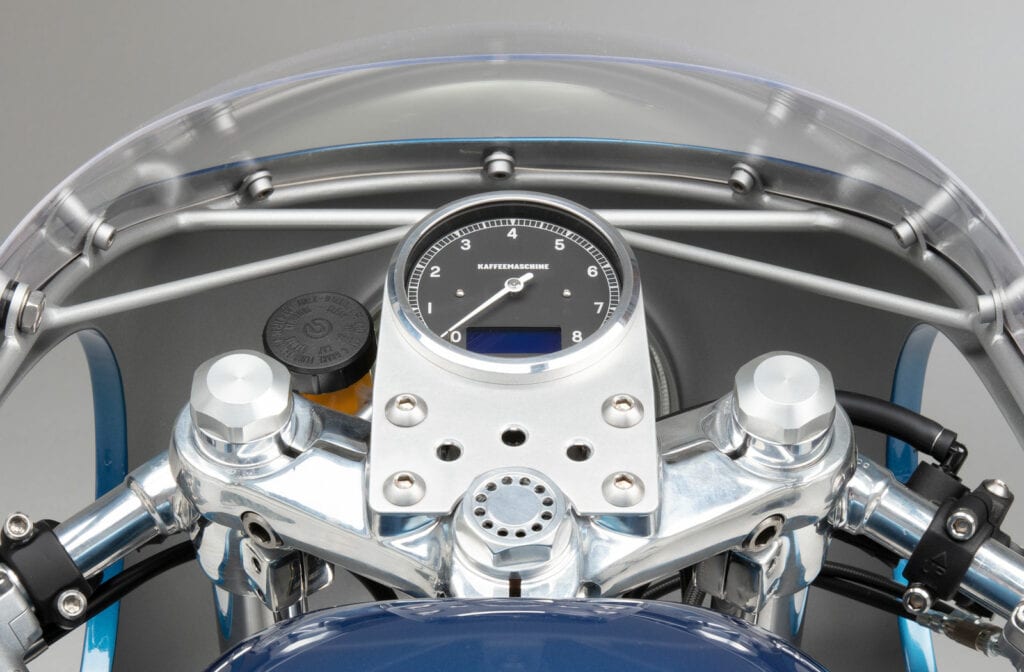 One man who appreciates the Moto Guzzi marque more than most is Axel Budde of the German workshop Kaffeemaschine Motorcycles. Kaffeemaschine works exclusively on machines baring the spread-winged eagle and they've become rather good at it. And by rather good we mean easily one of the best on the planet. Kaffeemaschine's custom Moto Guzzi creations are rolling works of art and during their creation, they leave no stone unturned.
Over the years Axel and his team have developed an unmistakable style that complements the Moto Guzzi style like peanut butter complements jam. Their latest build is no exception. Based on a 1983 Moto Guzzi Le Mans 3 the cafe racer styled 'KM33' is the epitome of Kaffeemaschine refinement.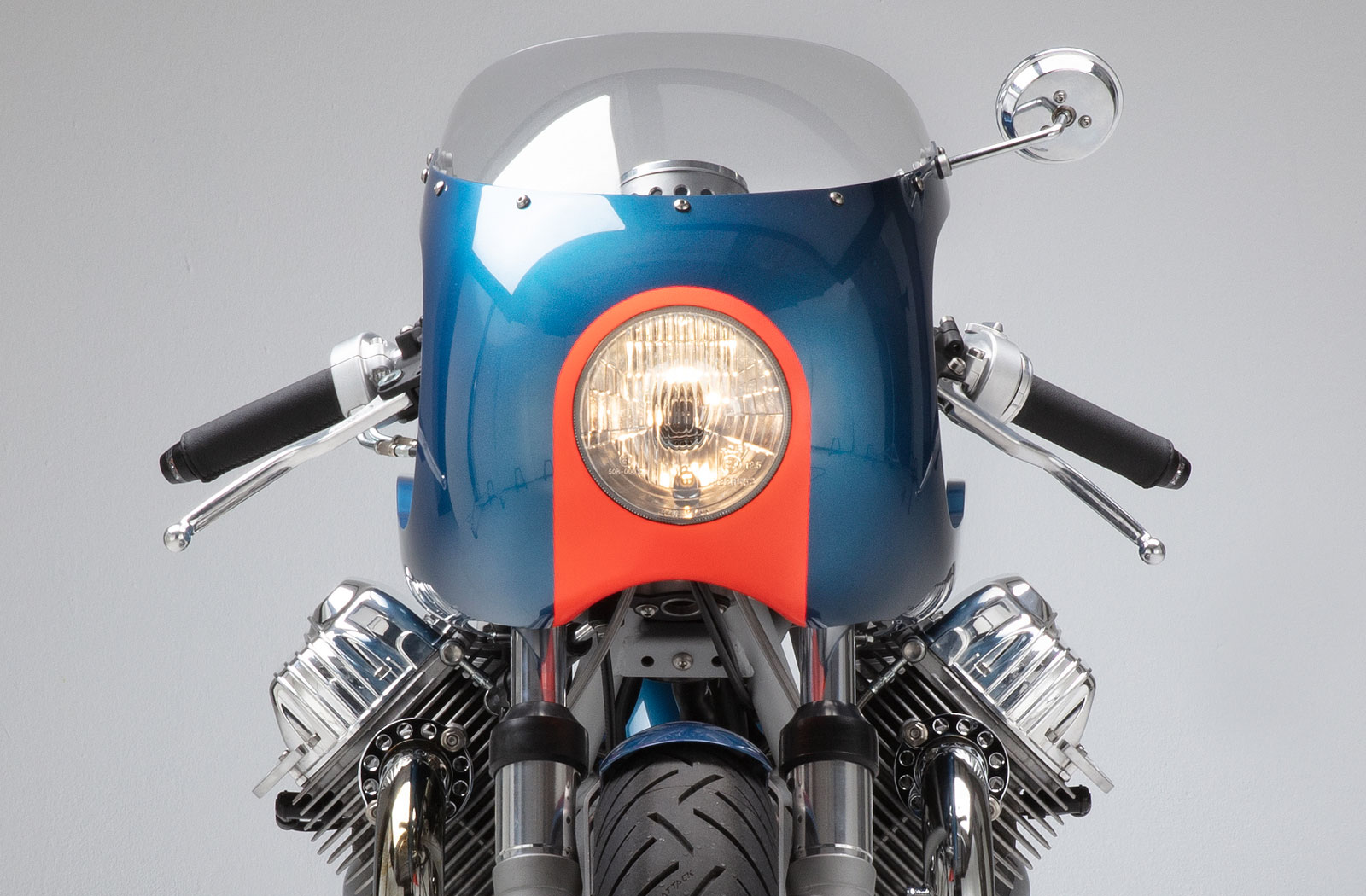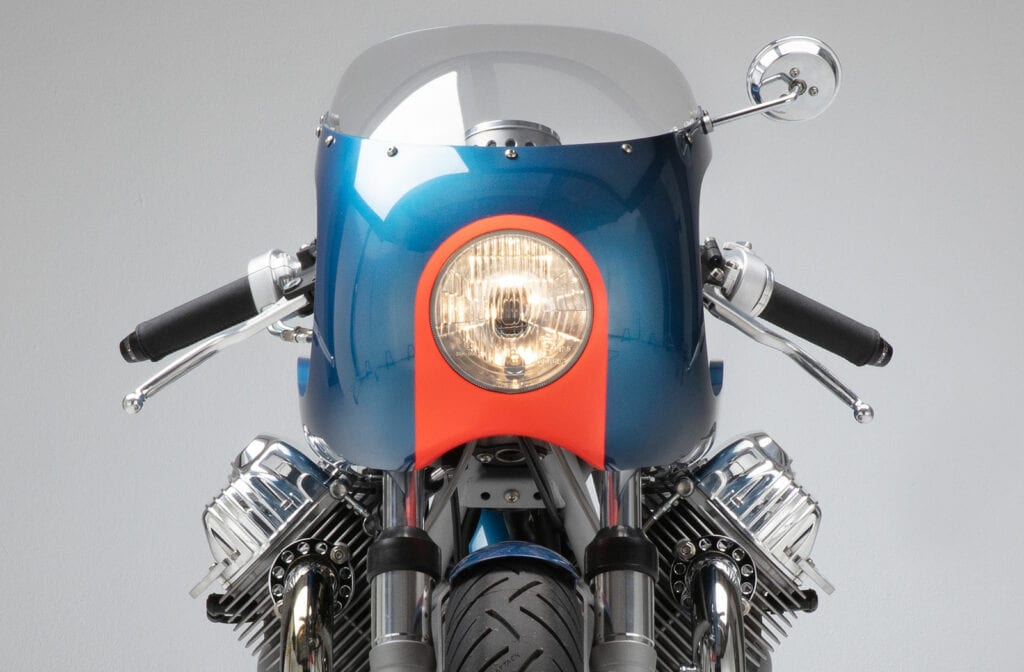 KM33 was a personal project for Axel. Although ultimately destined for sale, projects such as this help to expand the Kaffeemaschine offering through the development of new KM parts or fine-tuning existing ones. "The basic idea here was to combine the best parts and engine Kaffeemaschine can build to create a classic cafe racer with modern updates," says Axle.
But before any new parts could be installed, the Le Mans 3 frame and engine had to be brought up to Kaffeemaschine's impeccable standard.
After undergoing a complete teardown the bike was parted out into its primary components. The engine went up on the bench to undergo an extensive rebuild. Along with fresh internals and consumables, the Le Mans 3 v-twin received a bump in performance. Internally you'll find a 1000cc piston kit with matching rods, modified intakes and valves and a Kaffeemaschine performance cam. There's also a perfectly balanced crank and a lightened and balanced clutch and flywheel. For a more reliable spark, the ignition has also been converted to an electronic setup.
Axel has combined these changes with a set of 36mm Dellorto carburettors which breathe through KM velocity stacks and one of their own stainless steel 2-into-2 exhaust systems.
The engine has also been dressed with a spattering of Kaffeemaschine accessories. The list includes a pair of KM branded polished valve covers, a machined KM oil screw set, KM generator cover and cylinder head crash protection.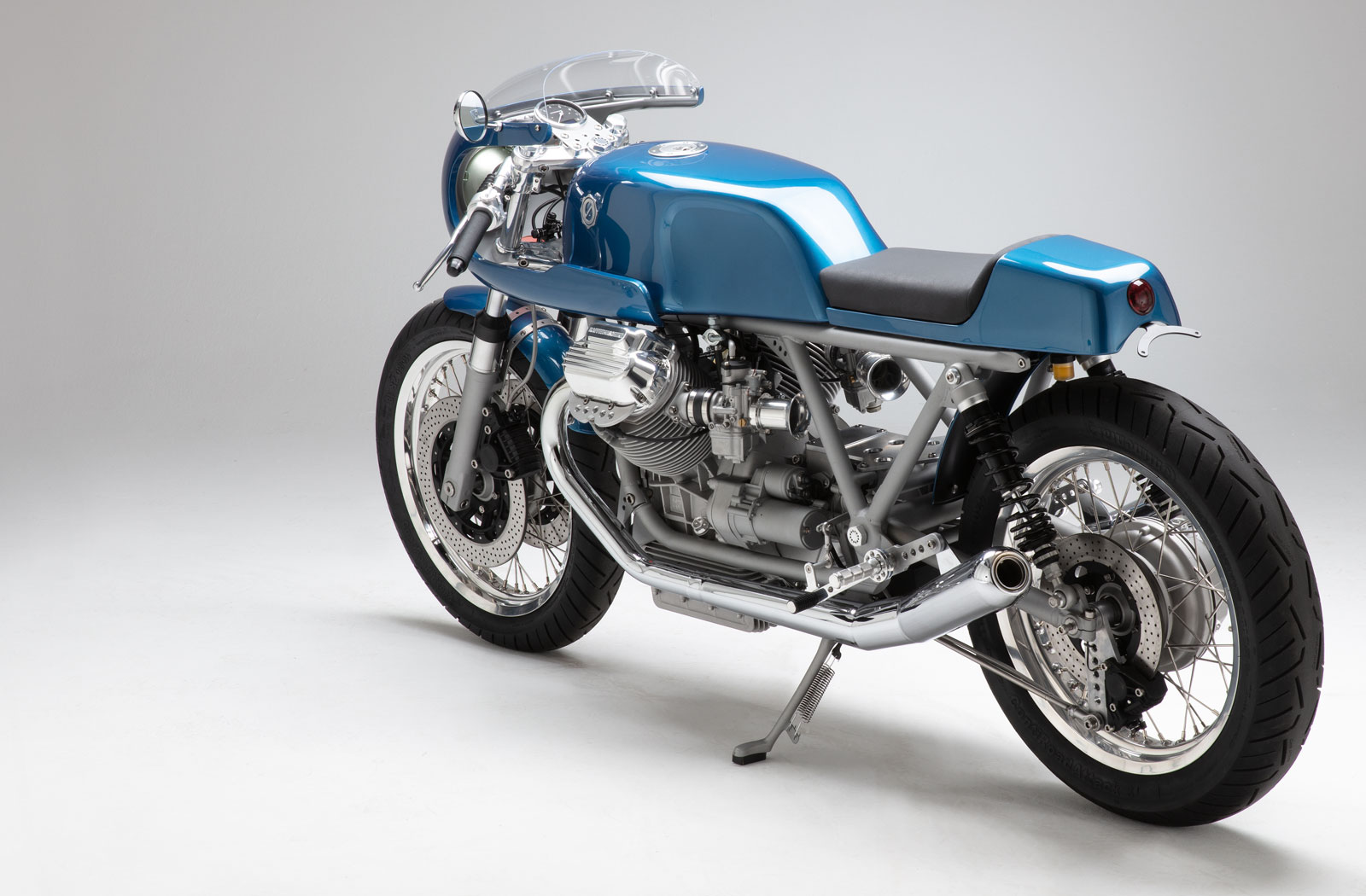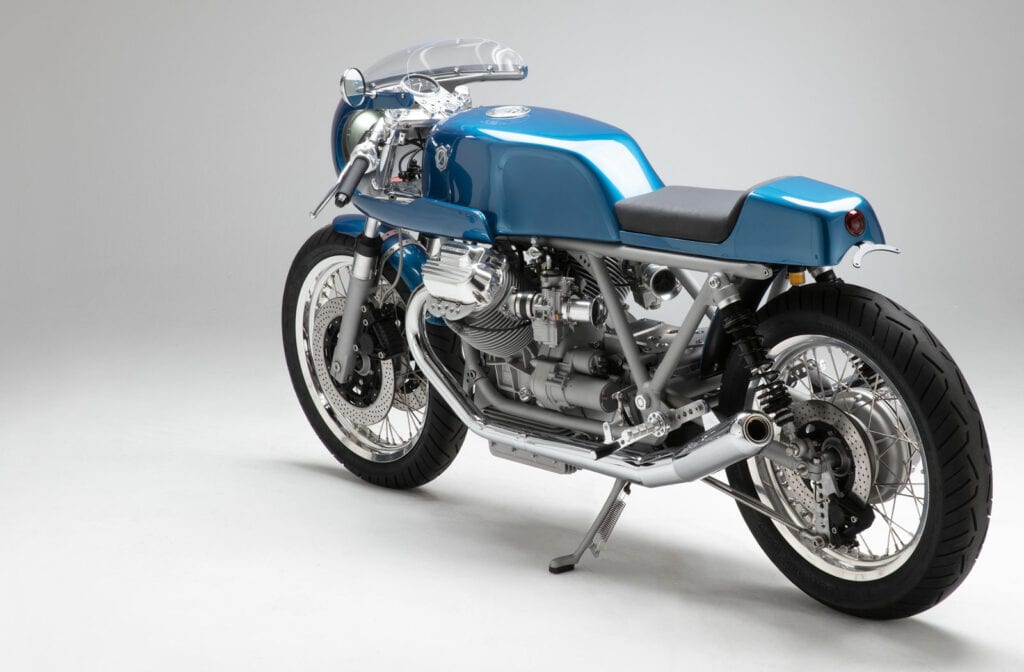 As to be expected the work on the chassis was no less extensive. After stripping away the almost 40-year-old paint any redundant brackets were dispensed with and the welds meticulously tidied. To shed off a few pounds the bike's centre stand has been dispensed with and the original side stand moved rearward for practicality.
Modifications have also been made to the rear of the frame to tighten things up a bit. The arms of the subframe are now several inches shorter, but the change isn't easy to spot. This is thanks to Kaffeemachines technique of crimping the ends of the frame tubes similar to how it was done at the Mandello factory. 'Attention to detail' is Axel's middle name.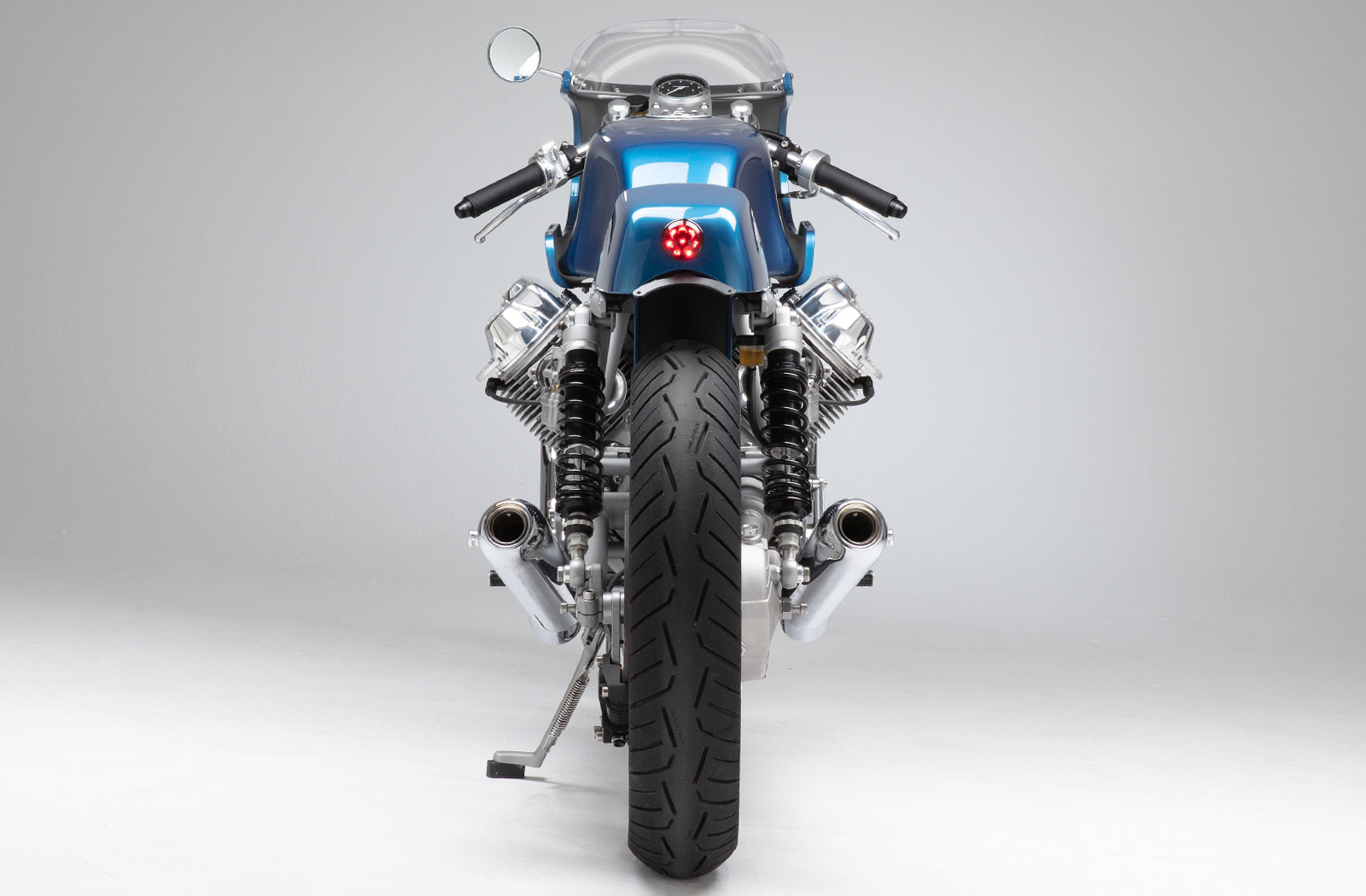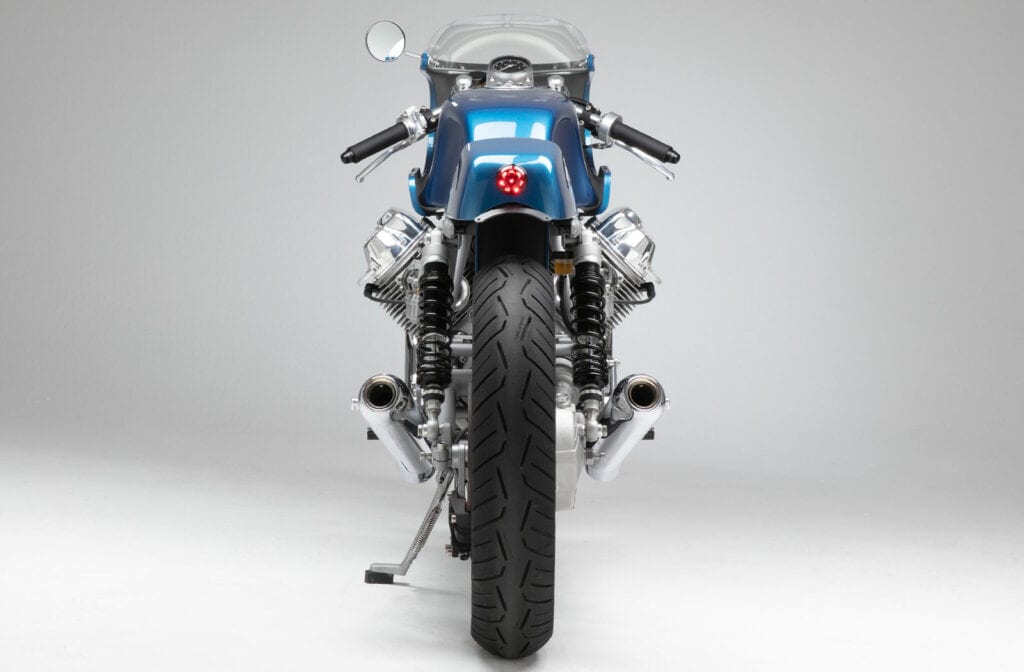 As the bike started going back together the angular 80s bodywork of the Le Mans 3 was replaced by classic smooth lines. Although the Kaffeemaschine bodywork may look like something developed in the 1970s, it's constructed from thoroughly modern materials. Beneath the paint, you'll find a mix of lightweight and strong carbon and Kevlar fibres.
For a flawless fit and finish the new fairing, fuel tank and tail unit have mounted without any visible hardware and they combine to create a beautifully balanced cafe racer bone line. A simple leather-clad saddle keeps things looking clean while the milled alloy filler cap adds a touch of modern racing style.
Additional performance upgrades come in the form of a new braking system designed using Axel's extensive knowledge of Guzzi handling. It features a combination of modern pumps, fresh discs, stainless hoses and a rear torque support. The suspension is modified too using modern dampers and a set of classic Wilbers shocks. Alloy rims laced with stainless spokes contribute to a significant reduction in unsprung weight, and they're wrapped in purposeful Conti Road Attack rubber.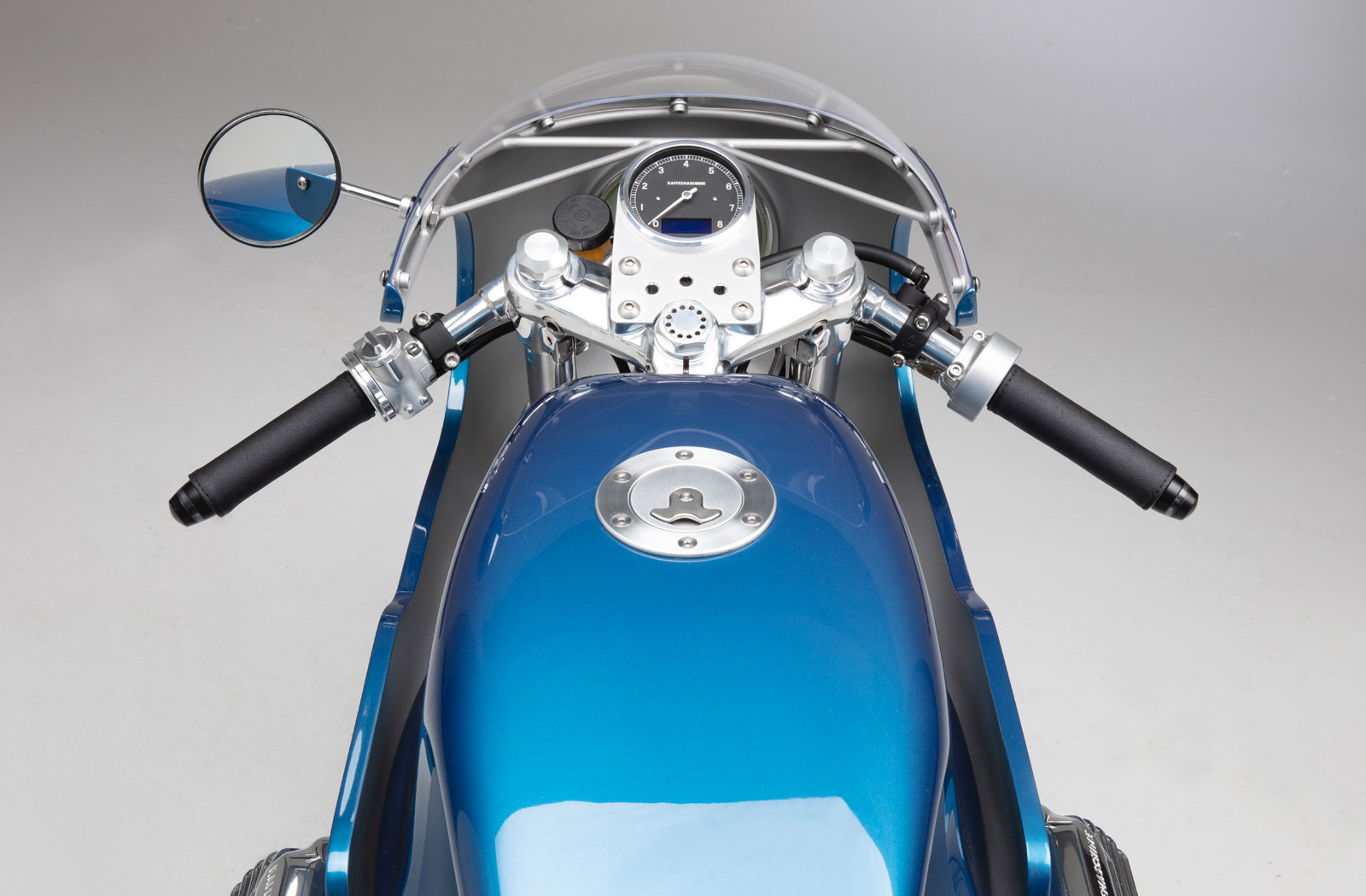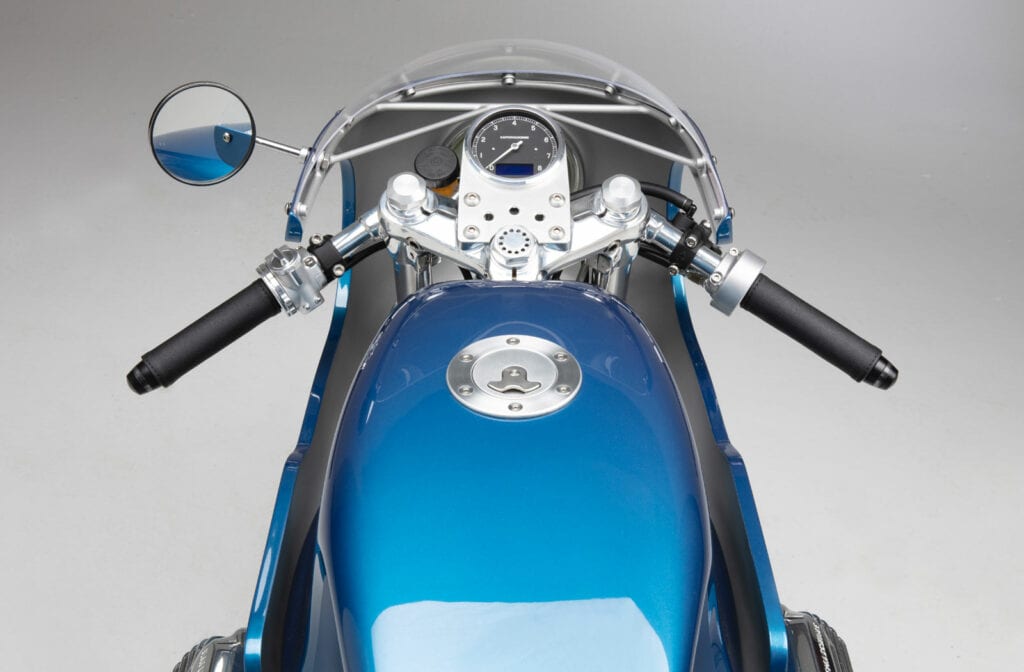 In keeping with the bikes cafe racer styling, the seating position has been revised using clip-on handlebars and rear-set footpegs. The wiring is all new too and it powers a bespoke Motogadget gauge sitting in a machined KM housing, bar end indicators and a retro LED tail lamp.
All of this makes for one hell of a good looking motorcycle, but KM33 is one of those builds where the closer you get the more impressive it becomes. Close inspection reveals a seemingly endless number of tiny details such as all stainless fasteners and custom made alloy details and bracketry. There's also a fine balance of painted vs polished components that draw attention to areas that deserve the most.
The icing on the cake if of course the metallic blue paint of the bodywork and its vibrant orange nose stripe. "I always wanted to use the signal orange paint on a fairing, as the Le Mans 1 did originally in 1976." says Axel, and it certainly makes a statement. As for whether this bike has the performance to back up its sportier new look Kaffeemaschine has confirmed our suspicions. Now weighing an impressive 24kg lighter than stock and producing 86 bhp there's no question this Moto Guzzi Le Mans 3 is streets ahead of the rest.
KM33 is currently for sale here.