In the world of custom motorcycles, one builder who has become synonymous with great-looking Moto Guzzi's is Axel Budde. At his KaffeeMaschine workshop in Hamburg, Germany, Axel has amassed a portfolio of gorgeous custom Guzzi's that are enough to make any motorcycle lovers heart race. Using examples of the Italian manufacturer's most iconic motorcycles Axel applies a svelte design approach that strips away unnecessary clutter to leave only the beautiful, bare essentials. His style is undeniably influenced by the cafe racer movement of the fifties, which he applies using handmade alloy bodywork and the best in aftermarket add-ons. Today we take a closer look at one of the newest additions to his collection, the V7 Sport based KaffeeMaschine 18.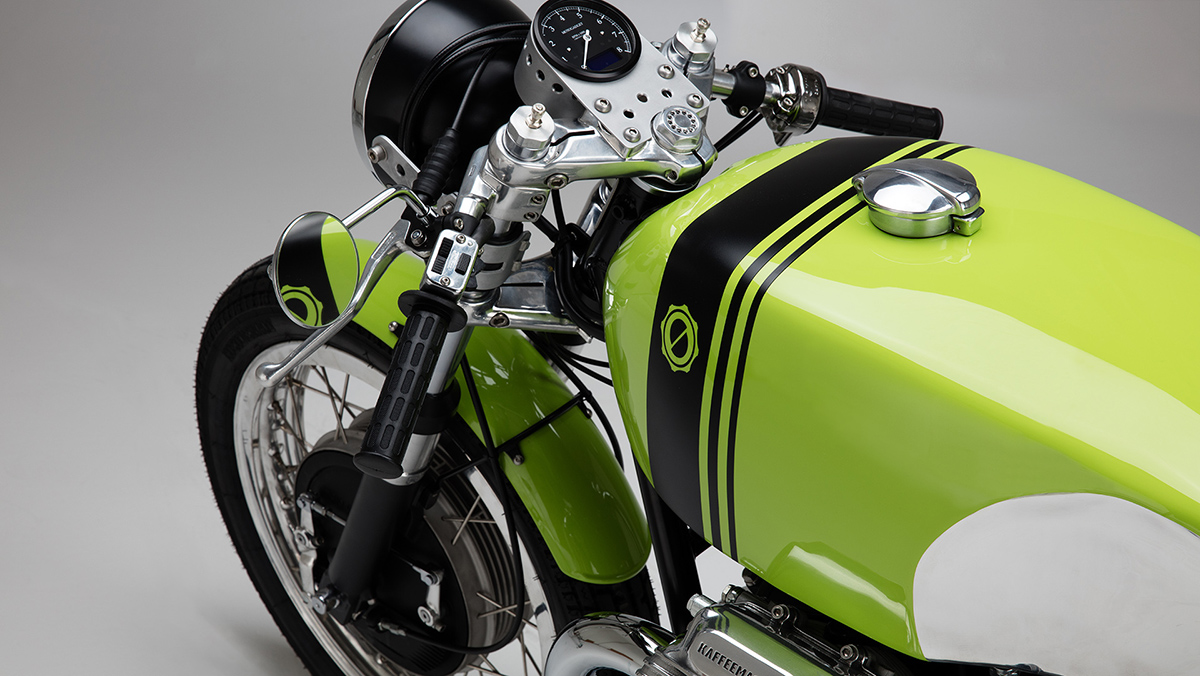 "I built the bike for a Swedish client, who brought the V7 Sport to me in parts," says Axel. "Thank god, because I wouldn't want to take an original V7 Sport as a donor bike for a custom build!" This is an interesting insight into Axel's attitude towards building customs. Recognizing the importance of unmolested classics is just as important as knowing when to modifying them and there's a fine line between choosing to do one or the other. Thankfully in this instance customisation was the best option.
As Axel hinted at, the V7 Sport is definitely an important bike in Moto Guzzi's history. It was the manufacturer's factory-built cafe racer and was produced for 4 short years between 1971 and 1974. Sporting clip-on bars, a low seat height, tuned engine and revised frame it was received incredibly well by the motorcycle press and the public, and ultimately lead to the development of the revered Le Mans series. It was also an incredibly good looking bike. Aside from suffering the usual downsides in 1970's design such as an overly chunky seat and bulbous indicators, everything about the bike looked good, but that doesn't mean there wasn't any room for improvement.
Axel began the build of the KM18 by overhauling the Guzzi's trademark, longitudinally-mounted v-twin engine. When the V7 Sport was first released its engine used a revised design that utilised a more powerful and more compact layout. At 748cc it was a touch smaller than its previous incarnation (as used in the V7 Special), but thanks to lightened internals and bigger carbs it produced more power, peaking out at around 52bhp.
To squeeze even more grunt out of the motor Axel swapped the original heads for a set of 1000cc twin spark units. Internally he also fitted a lighter clutch, electronic ignition, race cam and balanced crank along with making a few revisions to the transmission and rear drive. Then to free up the flow of gases he constructed a stainless steel exhaust system from scratch. With the changes to the internals of the engine and everything dialled in Axel says it's now good for 80bhp, which when combined with the huge reduction in weight (227kg down to 187kg) make this a much sportier Sport than Guzzi ever envisaged.
Axel also had a few ideas for improving the frame of the bike. After a good clean and detab he modified the frames bottom tubes to allow the fitment of a set of custom made foot controls to improve the riding position. Rather than reworking the stock linkages, he designed a cable system to actuate the brake drum and declutter the rear end.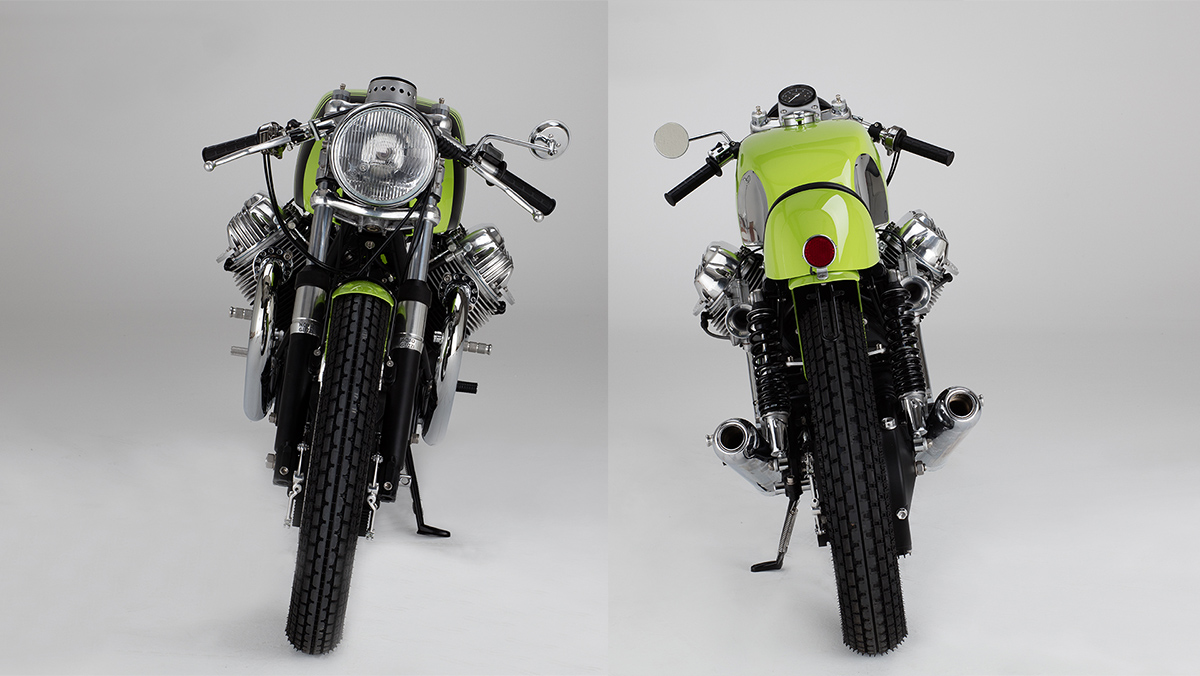 Motogadget provided a Chronoclassic gauge, which Axel mounted to the top clamp using a custom made bracket, and wired it into his bespoke harness. The 6v taillight was then converted to run LED lighting. Handling upgrades on the bike include modern dampers in the original forks and a set of Ikon rear shocks. The rebuilt wheels are a combination of stainless spokes, Morad rims, and grippy Hidenau rubber.
As for the bodywork, it was all hand built in aluminium at the KaffeeMaschine workshop. Fenders were reduced in size without detracting from their intended purpose and his new tank and tail design embody classic cafe racer styling. Other KM components include Axel's typical gamut of alloy parts together with the trick, KaffeeMaschine branded engine covers. Finally, when it came to painting the bike Axel saw it fit to pay homage to Guzzi's original lemon green scheme. Not being the biggest fan of the original tint he sourced a vintage Ford green that better suited his personal taste.
As for whether this bike would have been better off being restored back to its original state, I will let you all be the judge, but I can say quite confidently that we'd prefer this beauty over an original any day.