There are few skills in custom motorcycle building as important as an eye for detail. This is because observers can easily inspect almost every component of a motorcycle. From the engine to the wheels, levers, cables and every inch of bodywork – It can all be scrutinized while simply standing beside it. So if you want to make a real impression, you need to be nothing short of a perfectionist.
One builder who has well and truly proven his eye for detail is a cut above the rest is Axel Budde of Kaffeemaschine Motorcycles. Axel also happens to be a Guzzista of the highest order. So if you've got an old Moto Guzzi that you want transformed into a near-perfect translation of an Italian cafe racer, he is most definitely your man.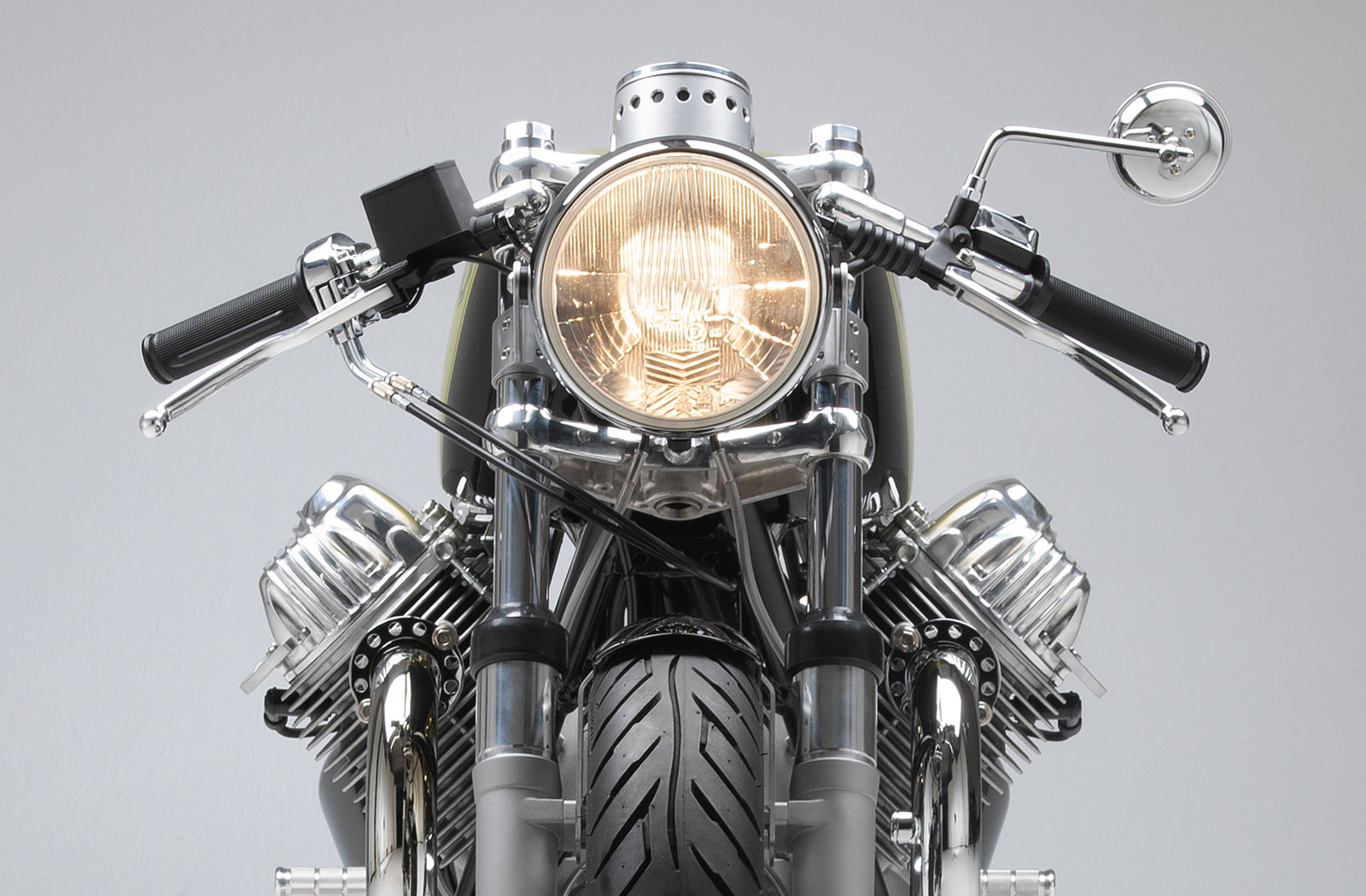 Axel's latest inimitable v-twin was commissioned by a Swiss enthusiast with a penchant for modified Italian machines. His garage already played host to a collection of custom 105 series Alfa Romeos and wanted to add a Kaffeemaschine Moto Guzzi cafe racer to the collection.
"He bought an original '76 Moto Guzzi 850T3 and brought it to us for our transformation," says Axel and after seeing the owner's car collection he knew the pair were on the same page. The customer wanted a bike built using Axel's trademark style using the T3 as a donor. It had to look vintage, lightweight, and period-correct and should have suitable performance to back its appearance.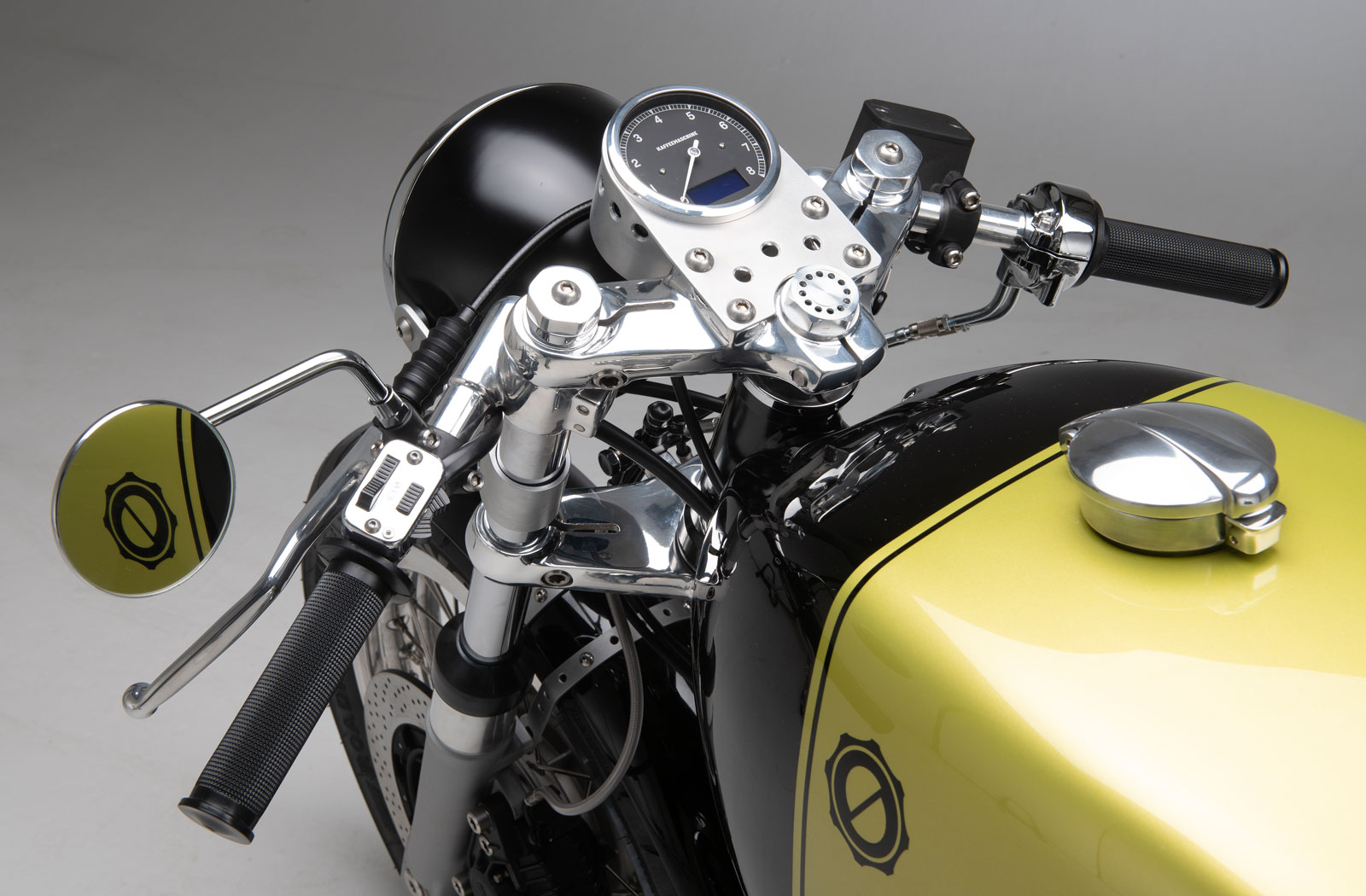 Using his tried and tested formula Axel modified the Guzzi's frame in preparation for the bike's transformation. Starting at the rear he shaped a new subframe suitable for supporting a Kaffeemaschine wasp's tail leather saddle. This was also the space he allotted for electrical components from Motogadget and a lightweight, compact battery.
Additional, modifications were made to the chassis to set it up to accept a bespoke fuel tank. The Kaffeemaschine tank used here is the classic cafe racer affair. To establish the quintessential cafe racer bone line, the bottom of the tank sits flat on the frame rails and is perfectly aligned with the new seat. Handshaped from aluminium the rear of the tank features knee dents that have been left unpainted to showcase its aluminium construction. And sitting proudly atop the unit is a classic Monza style filler.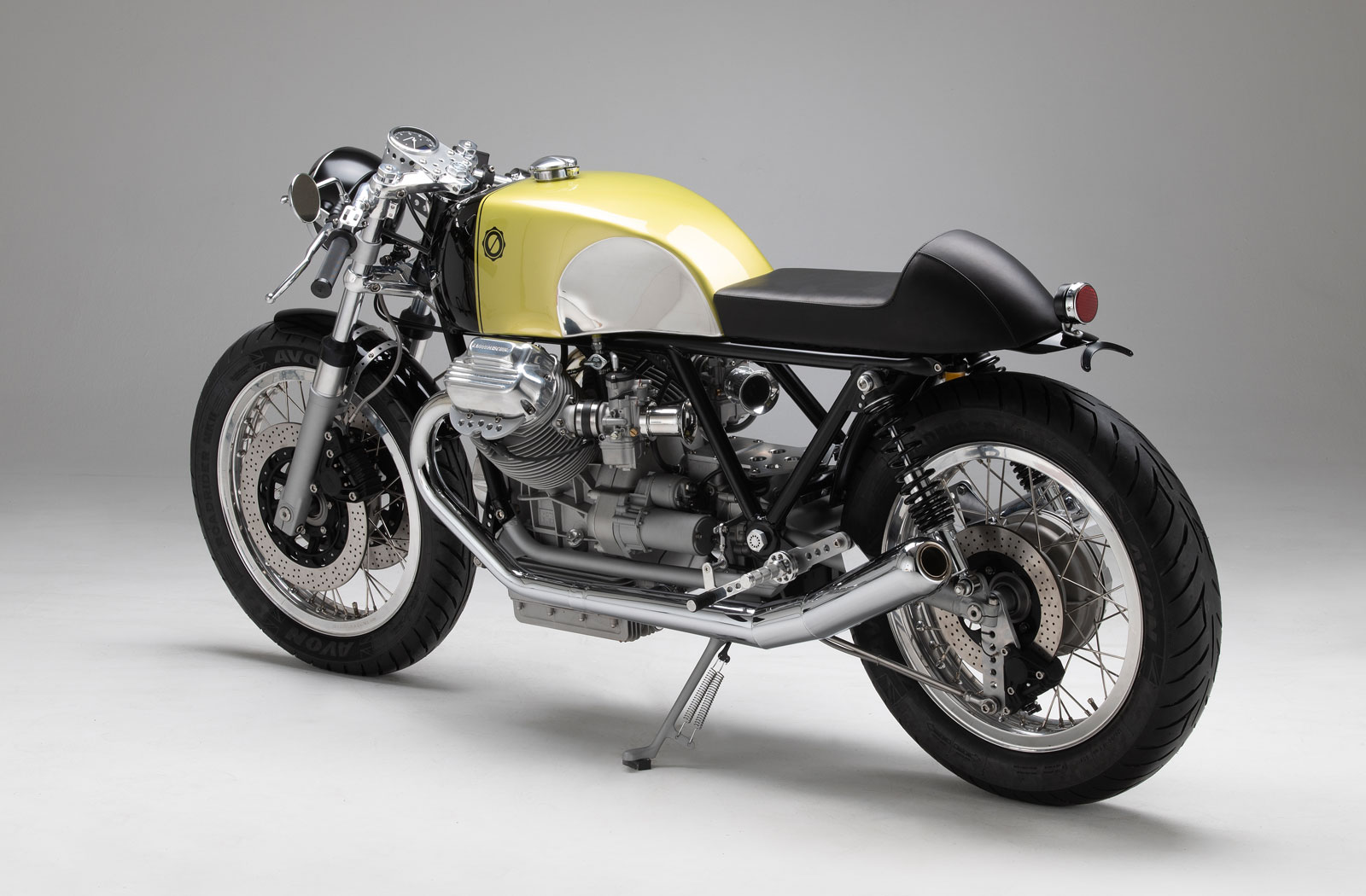 Another key aspect of getting this Guzzi's cafe racer stance just right was the treatment of suspension. For this Axel installed a set of retro look Ikon shocks in the rear. At the front, you'll find the original T3 forks but they now feature all-new dampers and tubes. Along with levelling out the bikes stance, these changes are a significant improvement over the 1970s components.
Axel also satisfied his customer's performance requests with a complete overhaul of the T3 840cc 90-degree v-twin.
Internally the engine has had a comprehensive overhaul. The new internal components include a Kaffeemaschine camshaft, Carillo rods, Le Man's pistons, bigger valves and a lightened flywheel. Axel has also ported the intakes to improve airflow and increased their diameter to accept a set of 36mm Dellortos PHF carburettors. Gear changes benefit from a revised transmission and power delivery had been improved thanks to a rebuilt rear-drive. Completing the power upgrades is a chromed stainless steel Kaffeemaschine twin exhaust. According to Axel, "it's good for 86-90hp" which is about a 25% increase from stock. Combine that with a new dry weight of 178kg (vs 220kg stock) and there's no doubt this Italian can muoviti velocemente.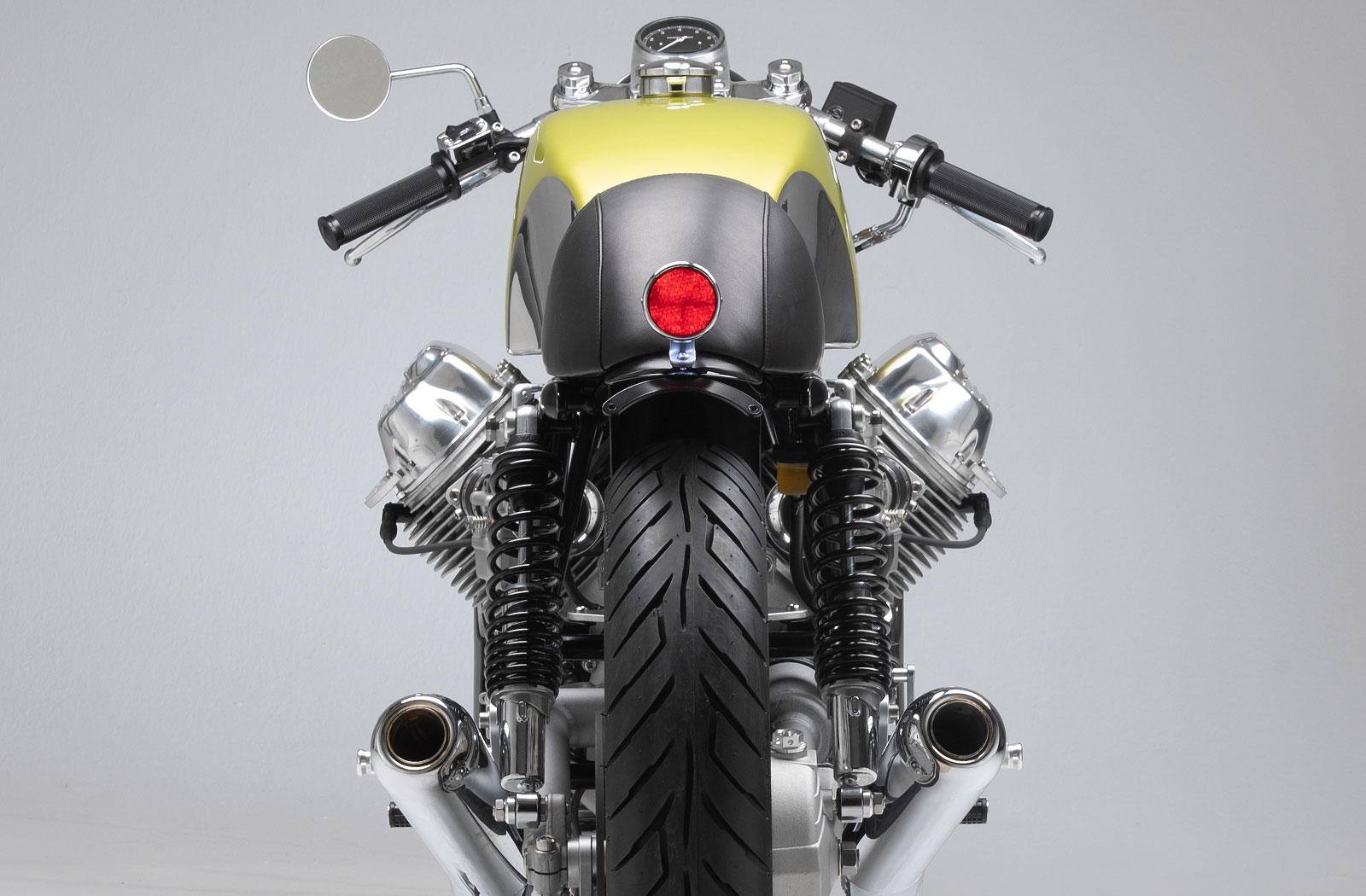 Completing the changes in the T3's running gear are a matching set of Morad shouldered alloy rims laced to modified hubs via stainless spokes. Classic Avon rubber provides all the grip while stopping power has been assigned to Brembo callipers, Le Man's discs, stainless hoses and modern pumps.
As I already explained Axel has an incredible eye for detail and this T3 is no exception. Every aspect of the Guzzi from the top clamp to the side stand has had a fastidious facelift. And every iota of alloy has been polished to a mirror finish.
Axel also shows us with this build his excellent understanding of aesthetics with a few subtle yet incredibly effective touches. Topping our list of favourite details are the bottom rungs of the frame which he's finished using the same paint as the engine. This allows them to blend in so as to not detract from the stunning exhaust system. Close inspection also reveals a Kaffeemaschine logo on the Motogadget Chronoclassic gauge which had been specially customised for this application. He's also used a comprehensive range of his own Kaffeemaschine alloy add-ons to step things up.
The best outcome of this Moto Guzzi 850 T3 cafe racer however is Axel's opinion of how it turned out.
"I enjoyed test riding it because it reflects the style of motorcycles I was building at the beginning of Kaffeemaschine," he says. "A really reduced, flat, fast cafe racer – an archetype for myself."