If you call yourself a Moto Guzzi fan then you'll be well aware of the work of Kaffeemaschine's Axel Budde. With a background in precision driving for film and TV, Axel takes the performance of his motorcycles very seriously. So as you'd expect there's no room for excess on his builds. That certainly hasn't stopped him from creating a jaw-dropping portfolio of good looking Moto Guzzi cafe racers though. Axel's builds are easily some of the best in the business and his latest Le Mans 3 cafe racer follows suit.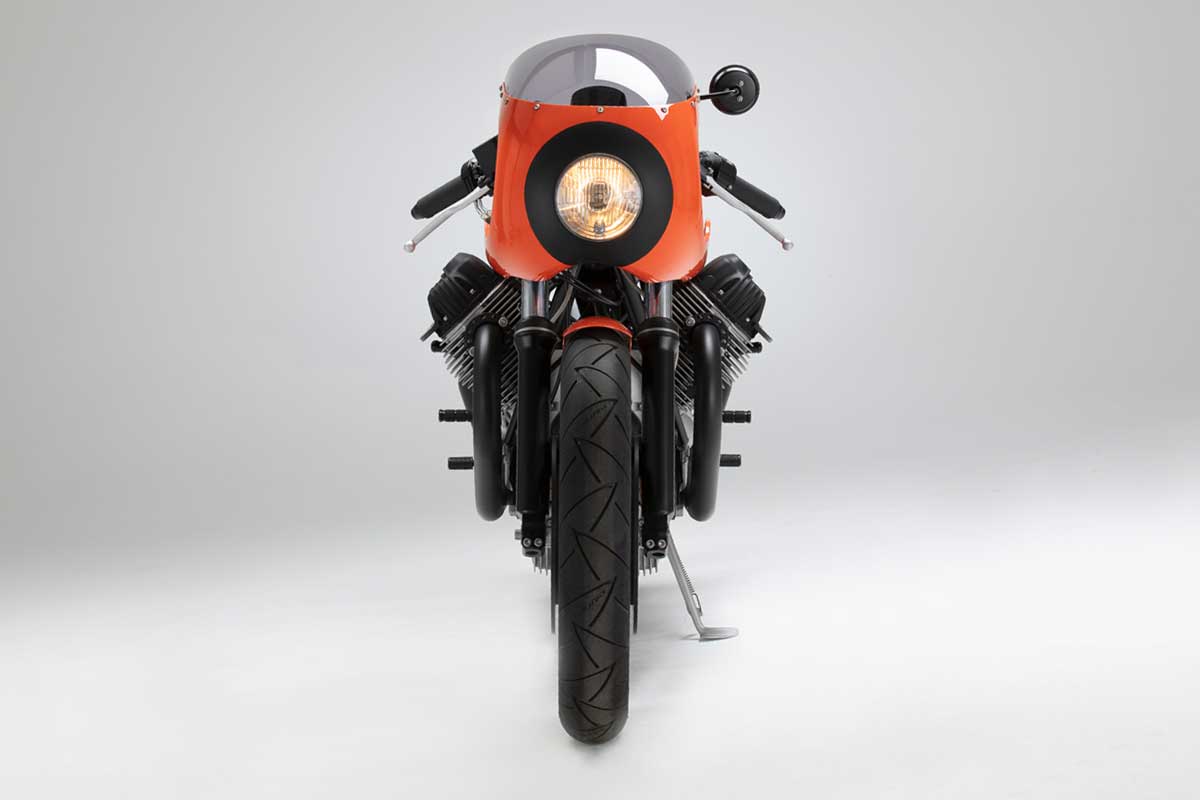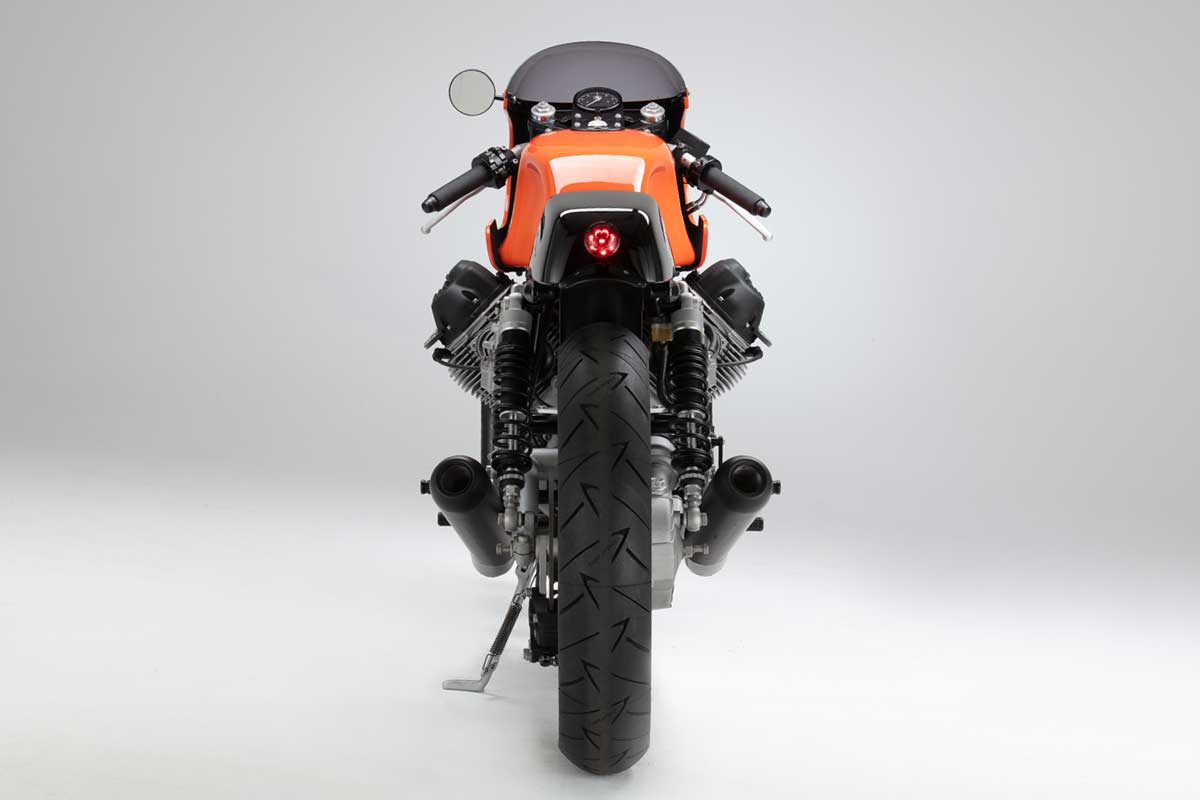 The Kaffeemaschine 'Maschine 25' was built on a 1984 Moto Guzzi Le Mans 3 platform. As a personal project rather than a client request, Axel had the freedom to do as he wished; so this bike was an experiment of sorts. Instead of going for a period-correct approach Axel decided to add a modern twist. But he's done it without veering from his unmistakable Kaffeemaschine 1970s racer aesthetic. "I wanted brilliant suspension and a powerful engine, without losing the classic look," says Axel, and there's no denying that's exactly what he's achieved.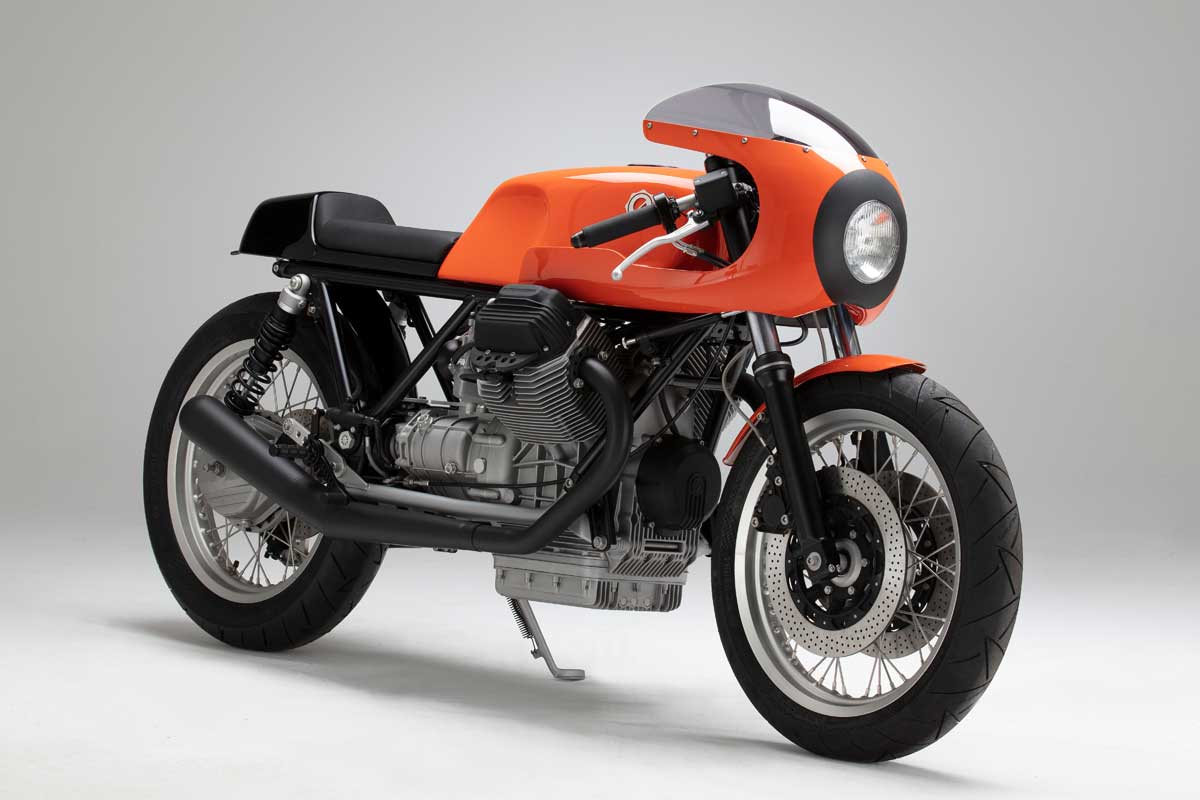 One of the biggest challenges faced during the build of KM25 was fitting a set of Yamaha R6 forks. Axel overcame the issue with the help of modified BMW triple trees and a custom steering stem. Further modification then had to be made to the forks themselves. Alex has tweaked then both internally and externally to achieve the correct stance and to allow fitment of the wheels and brakes he had nominated for this build. To round out the suspension package there's a set of Australian made Wilbers shocks in the rear. Axel has rebuilt them too so they look right at home on his Le Mans 3 cafe racer.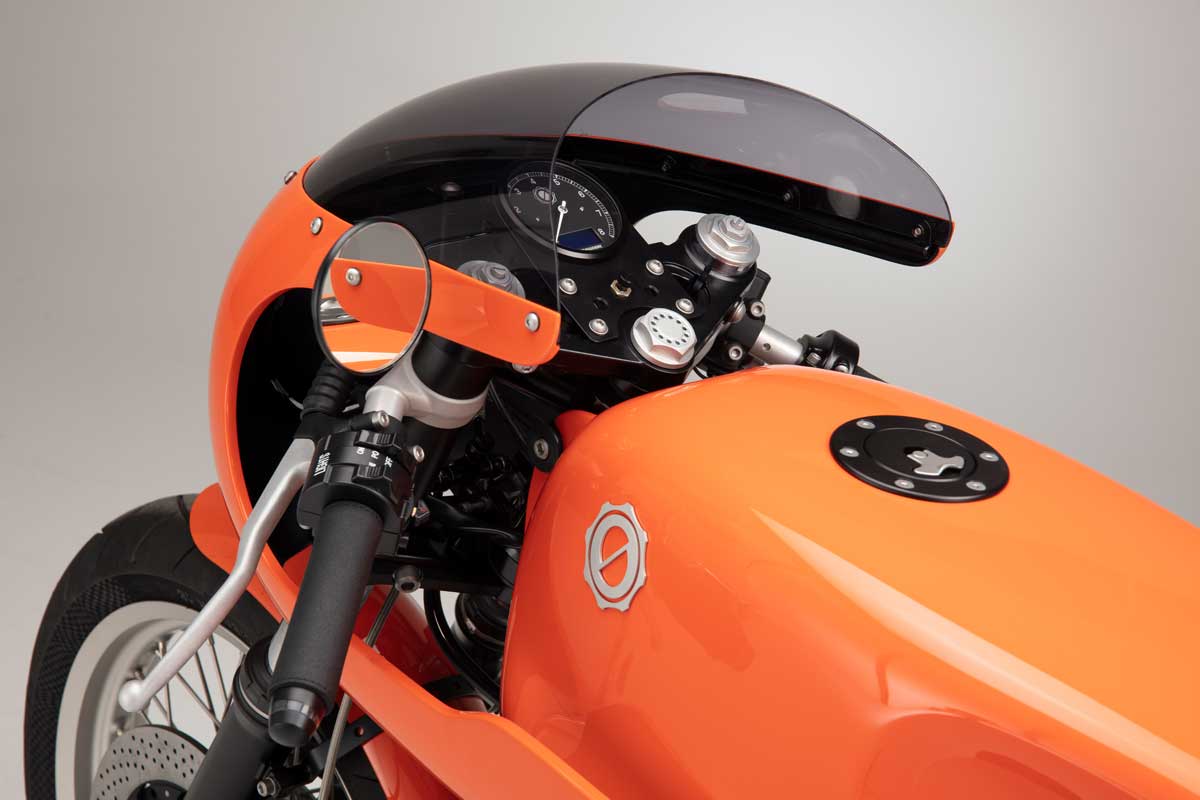 A '70s inspired racer wouldn't be complete without spoked wheels. Axel's swapped out the Le Man's cast items with San Remo rims laced to modified hubs. The stainless spokes were blasted to match the finish of the engine and the rims themselves galvanized. A custom axel mounts the front wheel to the R6 forks and stopping power is provided by a trio of classic Brembo brakes.
There's no faulting the lines of this Le Mans 3 cafe racer. Axel cleaned and modified the frame to tighten its proportions and remove any excess. He also added bracing for rigidity and incorporated the engine breather into the frame tubes by welding in a labyrinth system of his own design. The bikes striking orange and black bodywork is 100% Kaffeemaschine made. The Magni inspired tank is one of his own units constructed from Kevlar Aramid. The tail, fairing and fender are custom made too. Accompanying them is a whole range of specially fabricated stainless and alloy components. Items such as the rear sets and their mounting hardware were either glazed or chromed black and every nut and bolt has been either made on a lathe or blasted to achieve the right look.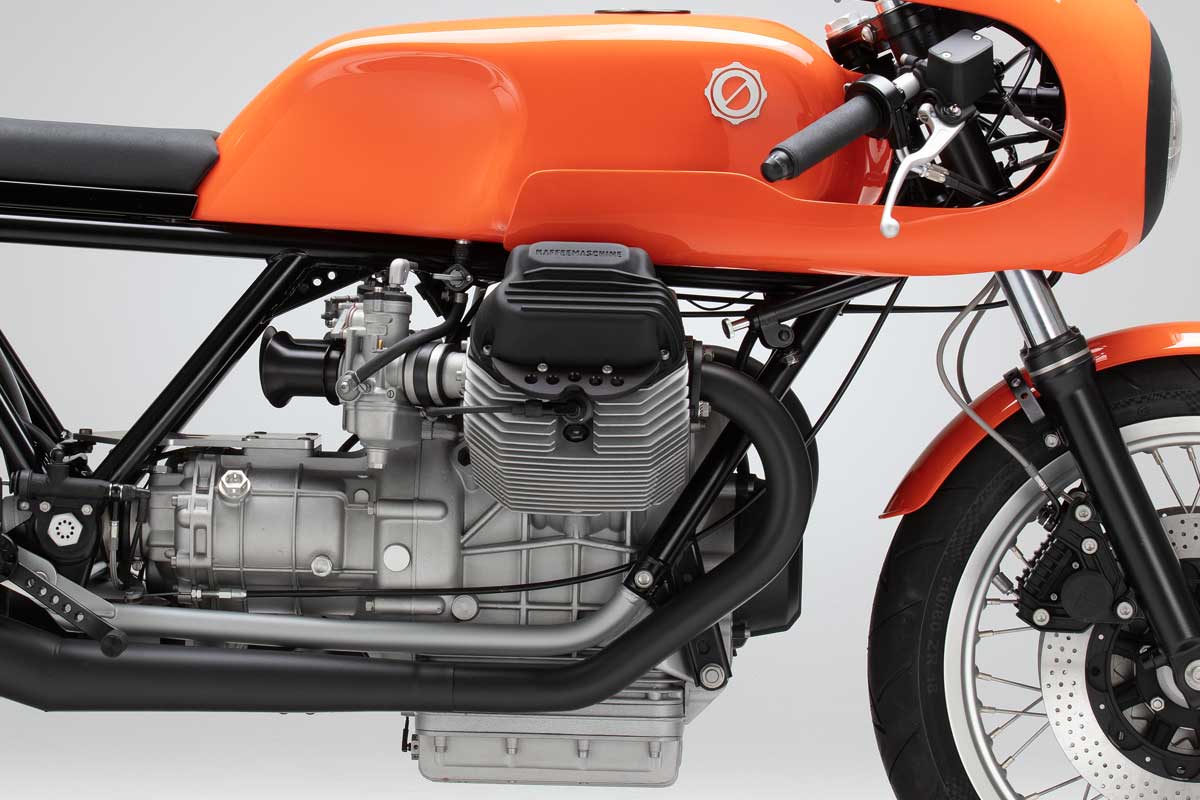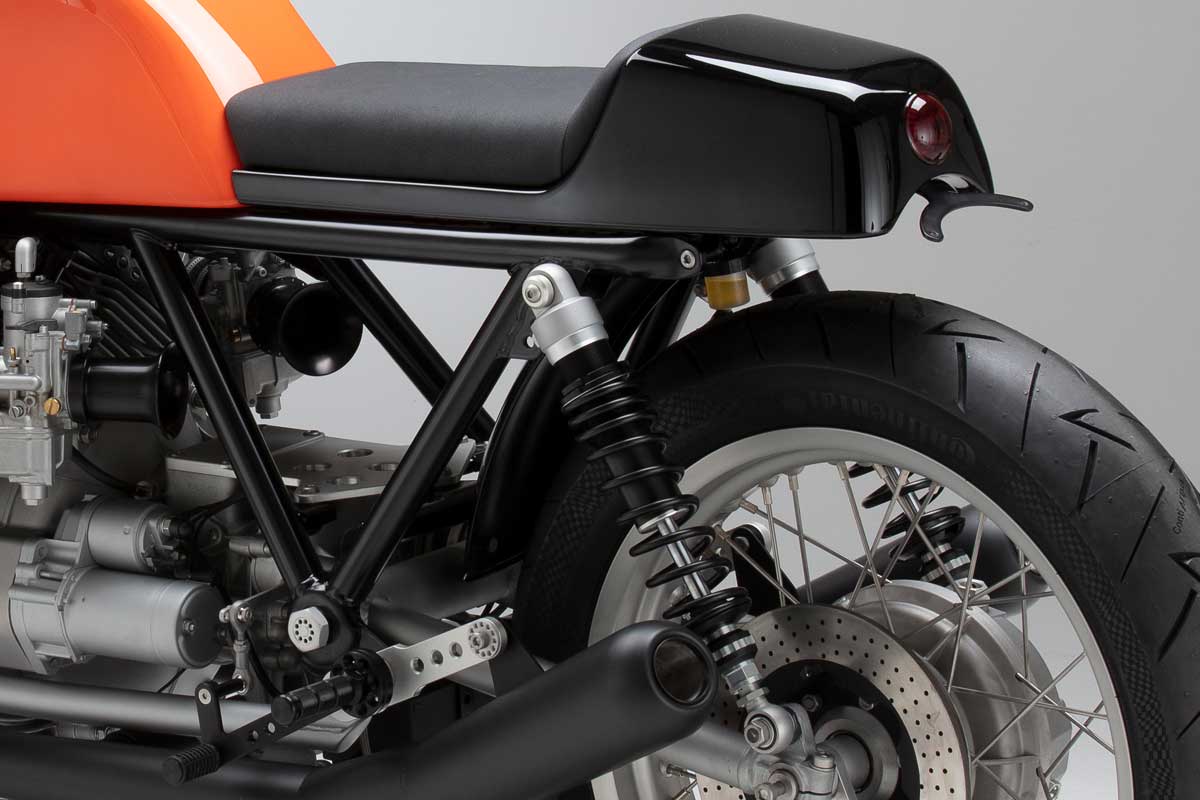 The bikes electrical system and engine are where you'll find the rest of the modern components. A minimal wiring loom is hooked up to a modern generator and Li-Ion battery. The bar end indicators are from Kellermann and the dash features a Motogadget Chronoclassic fitted with a Kaffeemaschine fascia. The 1000cc v-twin has been treated to fresh pistons and sleeves, the crank and clutch have been balanced to reduce the mass of the flywheel. Feeding each cylinder are 30mm Dellorto carbs which have been rejetted to suit the bikes new tune. Power delivery to the rear has also been optimised by overhauling the transmission and rear drive.
The finished result is an 80bhp engine in a 177kg package. That's a huge 30kg drop in weight. Axel says the changes have made a sufficient improvement in performance; "Especially for a torquey dinosaur engine like this!" When Moto Guzzi developed the Le Mans series they took all their race learnings to create a performance-focused road-going ride. Now thanks to the work of Kaffeemaschine this Le Mans 3 cafe racer is up to 21st-century spec and would look right at home at any vintage race meet.