If you're into Hot Rods and Choppers one of the best shows on the planet to attend is without a doubt the Mooneyes Yokohama Hot Rod & Custom Show. The Japanese are known for their incredible craftsmanship and the Mooneyes Show is where you'll witness evidence of this in the form of jaw-droppingly good custom cars and motorcycles. Another great thing about the show is that it's not all just Choppers. No matter what style of motorcycle you're into you'll find something that'll pander to your taste at Yokohama.
It'll come as no surprise that choppers are not my primary area of interest. Despite this, I've attended the Mooneyes show several times and even had the pleasure of being a special guest and judge. During my visits to the Mooneyes show I've met a lot of talented builders. Among them is Shiro Nakajima who owns and operates the workshop 46 Works.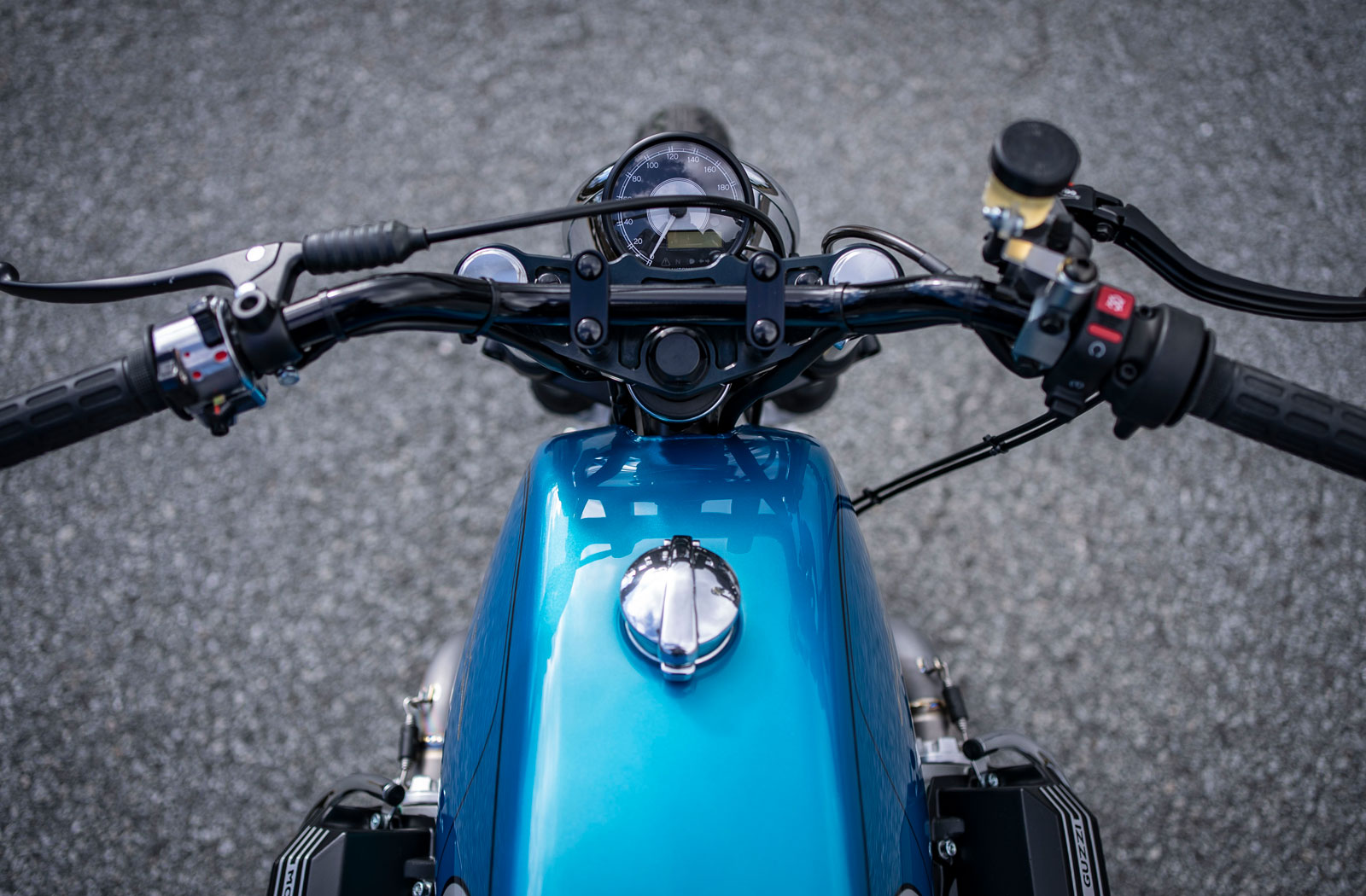 When I had the opportunity to select a Return of the Cafe Racers pick of the show at Mooneyes 2018 it was a 46 Works BMW R100RS Cafe Racer that took home the trophy.  Although it lacked the ostentatious glitz and glamour of many of the other custom builds at the show that year, the 46 Works BMW was a work of art. It was a showcase of Shiro's extensive knowledge of European motorcycles and his ability to elevate both their appearance and performance to a whole new level.
At this year's Mooneyes show Shiro was there again but this time rather than a project based on a German donor he'd opted for something Italian.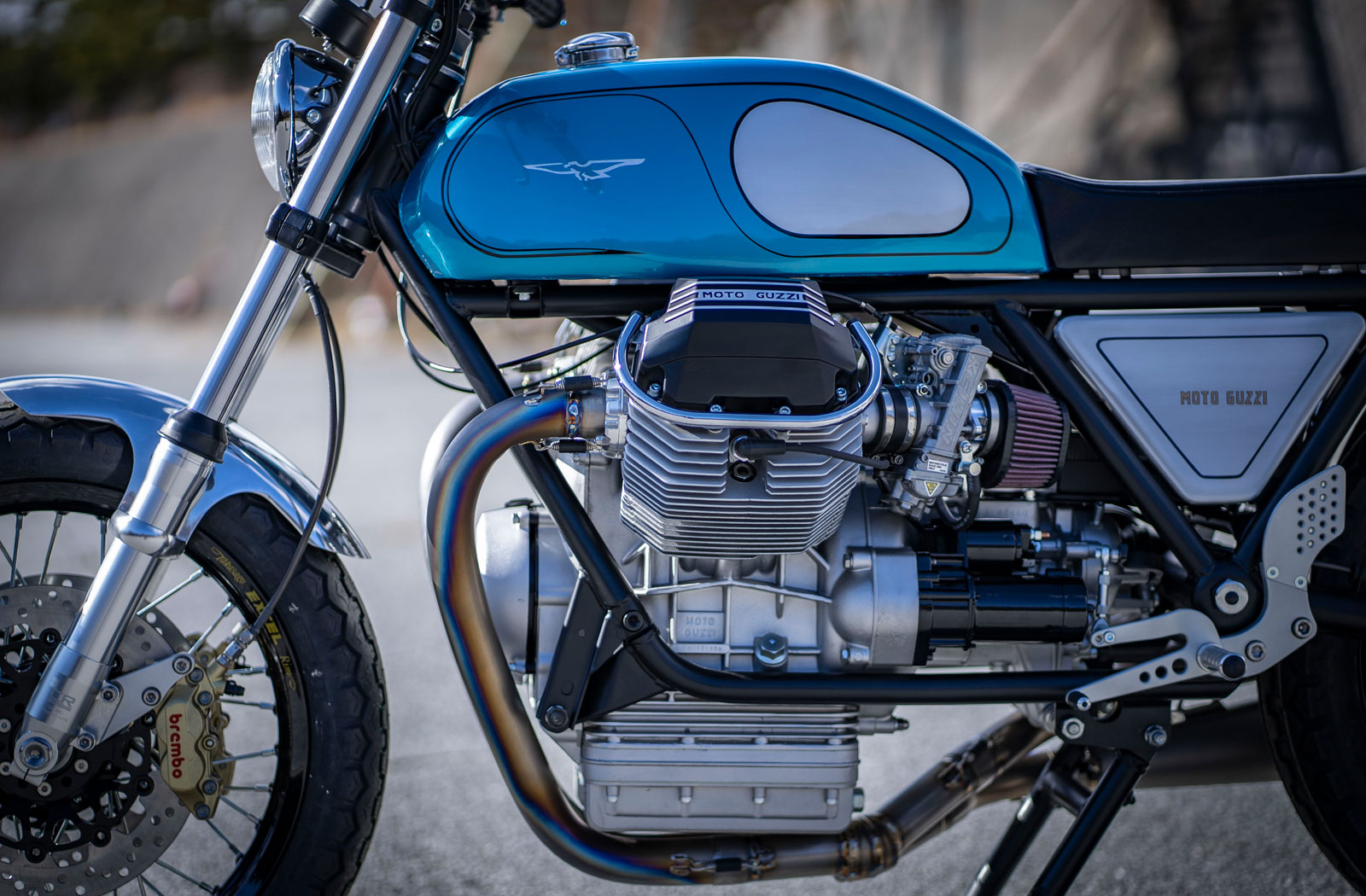 "I love Moto Guzzi engines, but I'm not too fond of their weight, size and poor manoeuvrability," says Shiro. "I prefer to make a Moto Guzzi that is light, easy to handle, and has excellent handling in order to appreciate its engine fully."
Shiro's latest Moto Guzzi project shows that the proof is in the Purin. Based on an '87 Le Mans 1000 his custom creation dispels with all of the Guzzi's shortcomings to create a lean, capable and undoubtedly fun-to-ride roadster.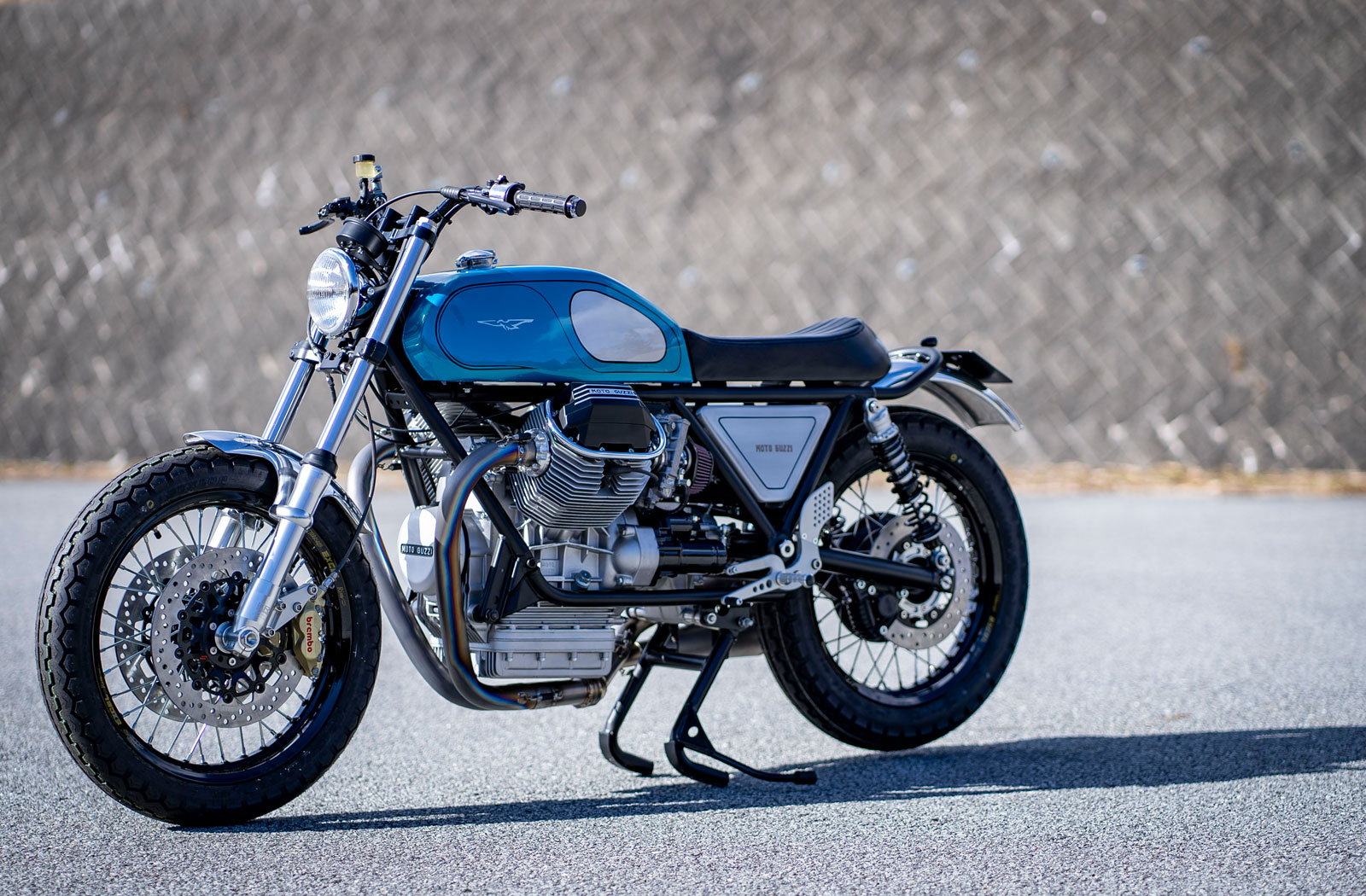 Shiro took delivery of the Guzzi from a customer looking for a "fast and comfortable" ride; a motorcycle that would feel right at home on the busy streets of Tokyo or snaking its way up and down the Irohazaka winding roads. The first step in achieving this was to completely overhaul the Le Man's handling, starting with its suspension.
The bike's front end is now propped up by a set of CR Suspension replica Ceriani forks. Shiro mated the forks to repurposed triple clamps using a custom-made stem which sits within the custom shortened neck of the frame. The forks have also been rebuilt by Shiro to his liking and the length reduced to suit the Guzzi's new stance. In the rear, he opted for classically styled Ohlins STX 36 twin shocks that look the part and provide significant performance improvements.
To complement the new suspension arrangement the bike now rolls on all-new wheels too. The matching 18-inch hoops are made up of Excel rims wrapped in Dunlop Roadmaster TT100 GP laced to modified, restored hubs. Following suit is an all-new brake set-up. Using custom-made spacers, adapters and mounts that Shiro machined in his workshop he's added a twin front brake system featuring Sunstar discs, Brembo 4 pot callipers and a Brembo master cylinder.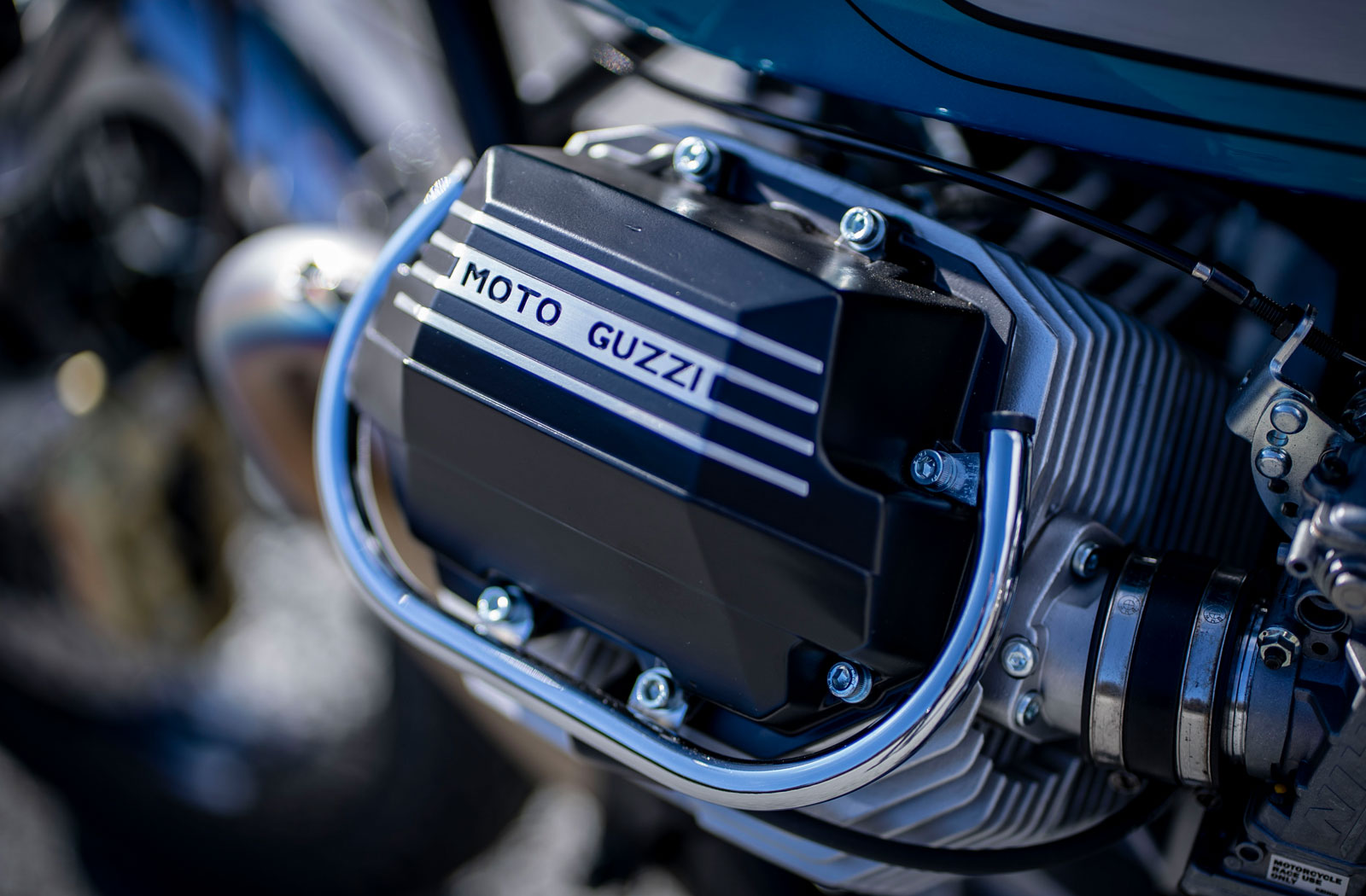 The 948cc v-twin powering this Le Mans has also been given an overhaul, and by overhaul, we mean a complete rebuild from top to bottom. Shiro once again performed all the work himself using his extensive knowledge of these engines to create a more powerful and bulletproof reliable powerplant.
During the rebuild, he blasted the engine's cases to give them a factory fresh finish. Internally he's installed new pistons, valves, bolts, bearings and gaskets and the electrics have been given an upgrade using a Dyna ignition and Enduralast alternator. To bump up the engine's power figure, the stock carbs have been removed to make way for beefy Keihin FCR 39 flat slide carbs wearing K&N filters. Then at the exhaust end of the combustion cycle, you'll find a set of hand-bent 2-into-1-into-2 titanium headers that have been capped off using 46 Works custom-made mufflers.
When Moto Guzzi released the late eighties Le Mans 1000 they'd gone to town with the plastics. You won't find any of that on Shiro's bike though. After stripping away the plastic fairings and stock fuel tank he removed all superfluous brackets and removed any proof of their existence from the frame. During this stage, he also cut away the original tail hoop and installed his own upswept alternative.
The new fuel tank is a one-off item which Shiro handmade from sheet aluminium himself. "Handcrafting an aluminium tank without making a mock-up is difficult every time," he explains, but he's clearly done an outstanding job with this one. Behind the new tank sits a custom seat with an alloy pan that's sitting on specially-made brackets welded to the frame rails. To finish things off Shiro sent his seat pan to be upholstered by Razzle Dazzle and the tank to Stupid Crown for painting.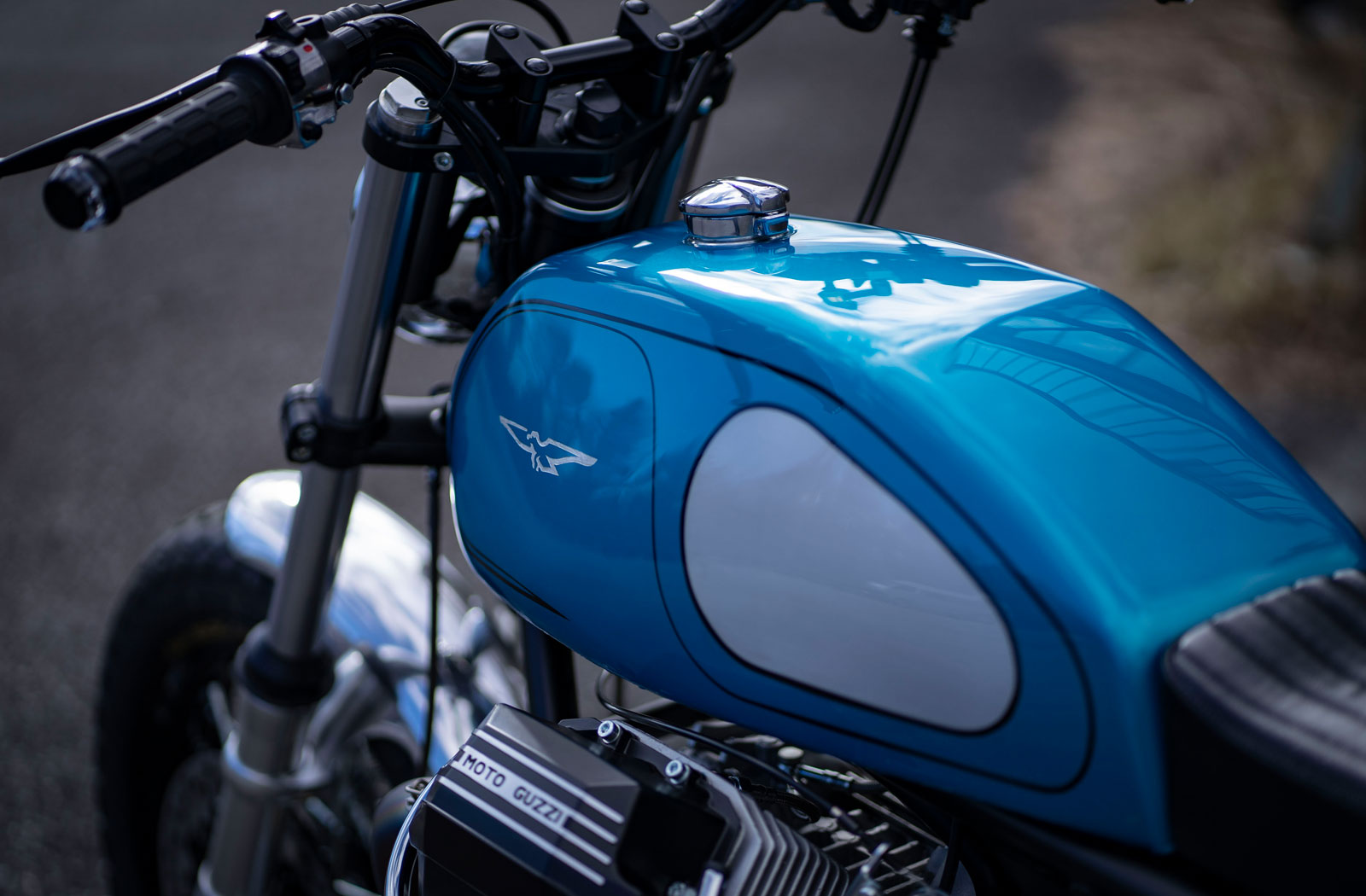 Although this bike took only 3 months to make Shiro says a lot of time when into planning it. Along with everything already mentioned the bike is covered in custom-made components. From the aluminium fenders to the footrests and exhaust flanges Shiro made each one at his well-equipped workshop. Infact there isn't a lot here that Shiro didn't make himself. Aside from things like the Daytona speedo, Motogadget turn signals, levers, headlight and switchgear, almost everything that's non-standard was designed and built by the man himself.
Along with satisfying his customer's request Shiro's goal with this project was to present it to the public at the 2022 Mooneyes Show. His intention was never to create a show-worthy motorcycle though. His goal was to build a motorcycle made to be ridden and enjoyed. Despite this, Shiro went home with the Mooneyes 'Cool Award' which we're sure you'll agree is very befitting.
Shiro is truly a master of his chosen profession. If you'd like to see the build process of the 46 Works Le Mans Roadster or other samples of his fabrication skills be sure to visit the 46Works Youtube channel.