About three years ago I was visiting my friend Joel at his shop, Custom Bike Electrics in Willeton, Western Australia. Joel was hunched over a sickly Harris Kawasaki Magnum while talking to its owner. Naturally, I took the chance to have a good stickybeak around the shop. A low, lean Moto Guzzi V7 Sport in full race trim immediately caught my attention. Me, being partial to a nice Guzzi (understatement of the year), I noticed a few details that were definitely not standard equipment. In fact, it seemed only the frame, engine and gearbox appeared as the factory intended. The bike was complete but in a sad state of disrepair. I chatted about it briefly with Joel and that was the end of the encounter.
Years went by and the bike faded from my memory. Then, like a phoenix rising from the ashes, that very special Moto Guzzi was reborn. Mr Joe Albertini – a fellow Guzzisti with one of the most impressive Moto Guzzi collections I've seen, was the owner of the bike that stopped me in my tracks all those years ago. He had imported the 1972 Moto Guzzi V7 Sport into Australia from America. Prior to that, the V7 had been living in Florida and before that, it was raced all over Europe.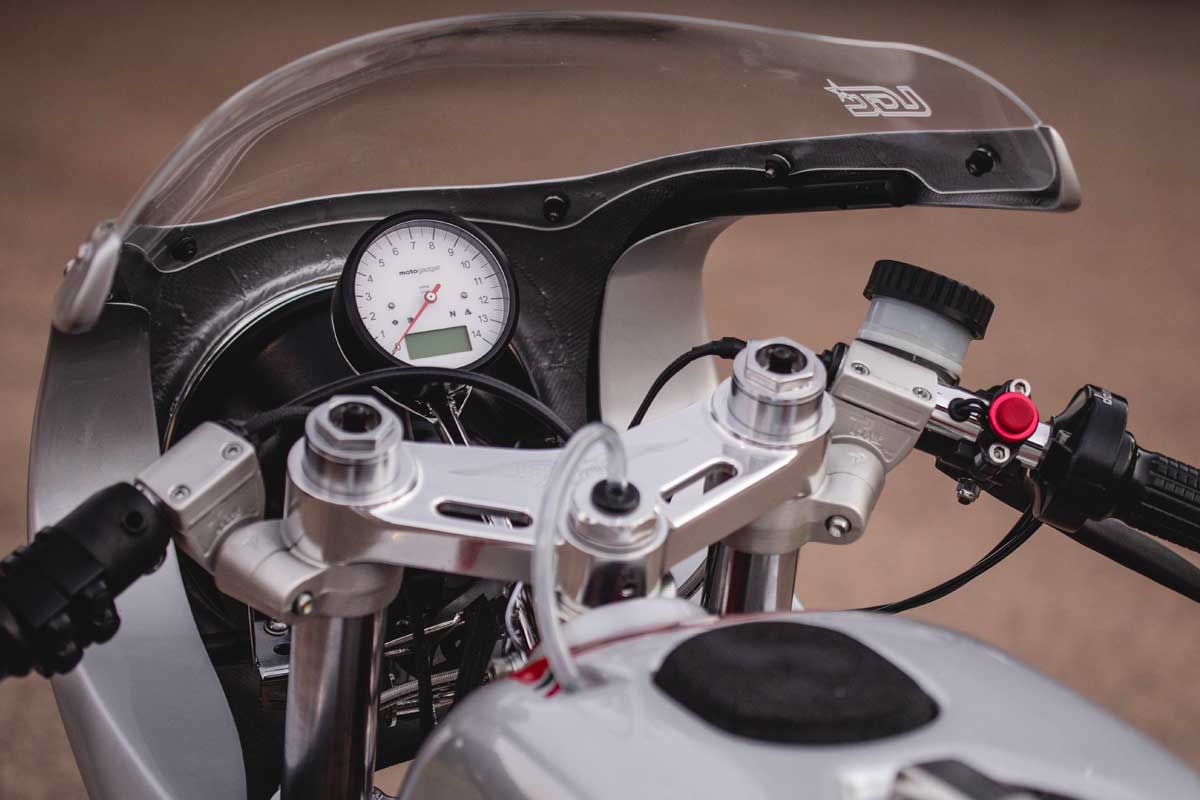 Straight out of the shipping container the Guzzi was already sporting extensive modifications. These included the Astralite racing wheels, custom mono-shock setup and 2-1 single-sided exhaust system that remain on the bike today. But this was a purebred racing machine with no lights, no indicators and certainly no licence plate. It was also adorned with a single racing seat, a fibreglass tank and a bikini fairing. The tank remained but Joe decided to change a few other things up with the help of my mate Joel.
"When the bike first turned up at my workshop I wasn't expecting what I saw. It was a classic looking race bike with plenty of history and wear and tear," recalls Joel. "From then on I knew this was a special project and I was more than willing to take it on. A couple of days went by and my brain was overwhelmed with ideas, I couldn't wait to get started."
While I'm sure some would have simply added lighting to the race trim, Joe had a different idea in mind. Over the next few years, the entire bike was rebuilt from the ground up. Not a single nut or bolt went untouched throughout the process with the list modifications lengthy and the people involved, many.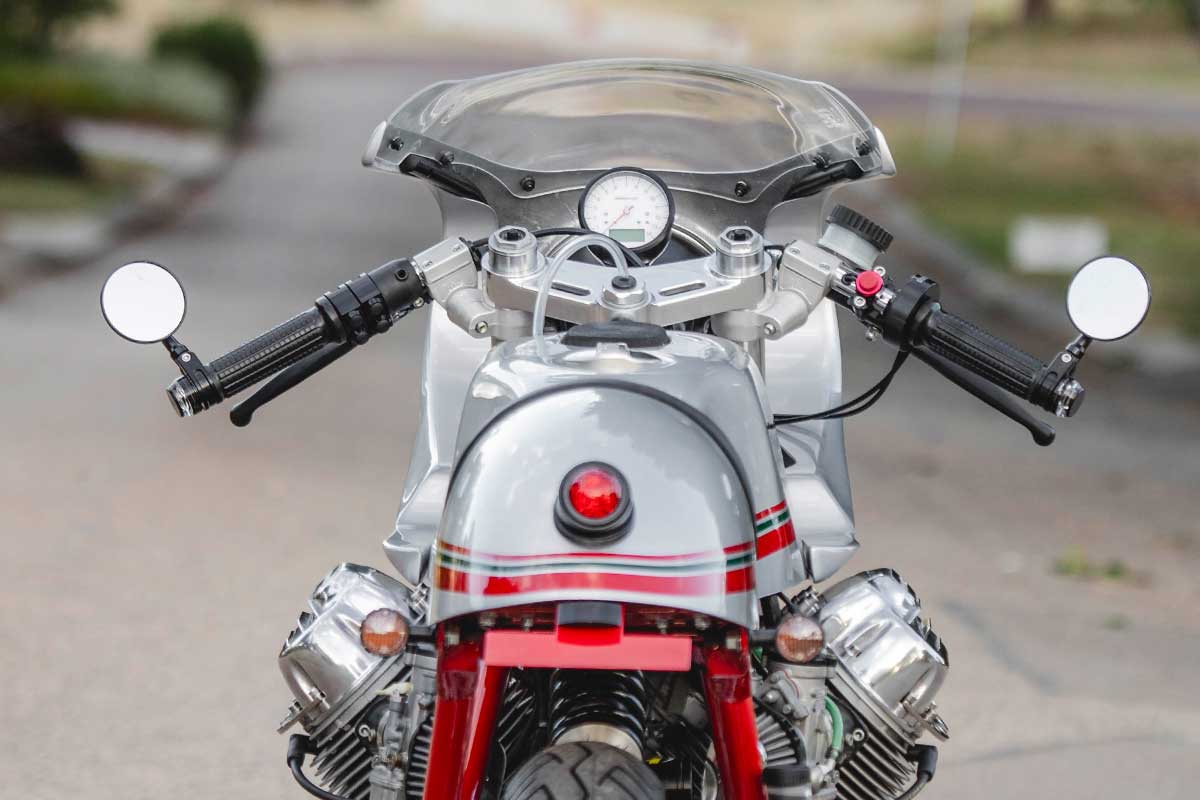 Starting up front is a Stucchi Luigi fairing, lifted from their line of accessories for the modern small block Moto Guzzi V7. It fit the fibreglass tank width perfectly. So Aled at Resto Welding Services modified the fairings brackets to adapt it to the 1972 frame. While Aled was there he also fabricated the bracket for the Motogadget Classic speedometer. Joel sourced a seat cowling from Ricambi Weiss and Aled helped out again, adapting the seat to the frame. Aled's work on the bike also includes the electrics box, mounting the stainless front fender and countless other bracketry.
Joe's Moto Guzzi V7 Sport is now running custom CNC top and bottom fork clamps, designed and built by Clyde at Bravo Resources. The Astralite wheels the bike came with were straightened and refreshed by Alliance Rim Repairs. They are now wrapped in fresh rubber, courtesy of local Perth motorcycling legends Tyres for Bikes. The brakes were rebuilt, new calliper mounts were made and stainless braided brake lines boost reliability, braking power and feel.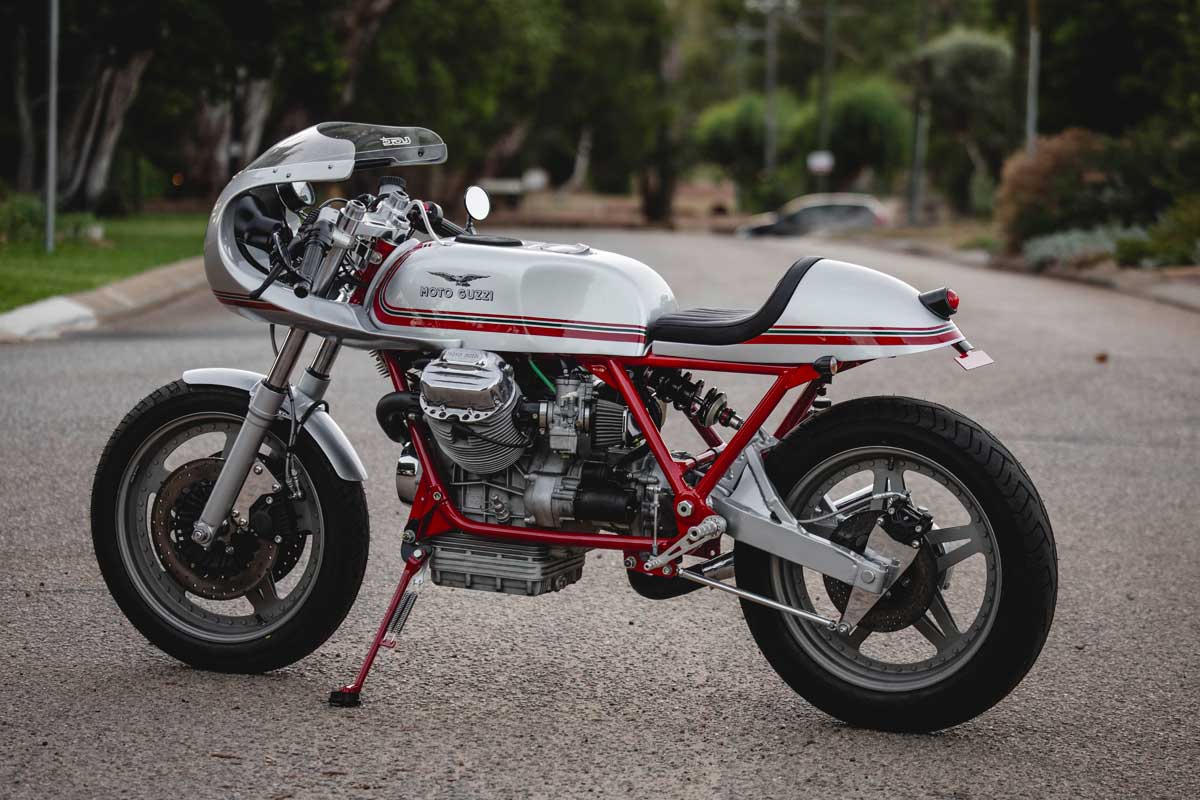 At this point, I'll draw attention to the elephant in the room – that swingarm. Almost every Tonti-framed motorcycle Moto Guzzi ever produced featured a twin shock swingarm. The swingarm on this bike, however, is definitely not a factory item and unfortunately, there isn't a lot of information about it. Made at some point in the V7's previous life, this aluminium mono-shock setup is more than likely a complete one-off. What is very clear though is that it looks incredible and it too received some tweaking during the build.
A new YSS remote reservoir rear shock was bought and sent over to fellow Return of the Cafe Racers featured builder Johnny Maclean. Johnny fabricated and welded braces to the swingarm for the lower shock mount and then sent it over to Simon at Wheel Gleam. Simon took the sharp edges off the rectangular swingarm and polished the calliper mounts and triple clamps.
A Western Australian Moto Guzzi build wouldn't be complete without a healthy dollop of help from Mario and Mark at Thunderbikes. Joe swung by Joel's shop, picked up the Moto Guzzi V7 Sport and hauled it over to Mario's Bassendean workshop. Since the V7 had previously led a hard life as a race bike it was treated to a full engine and gearbox overhaul. You'll be happy to hear that Joe decided to keep all the engine upgrades from its previous life – lightened flywheel, lightweight pistons and twin spark plug cylinder heads. The engine is also bored out to 1000cc so it is (quite literally) still a race bike at heart.
While the engine was away the rest of the bike was pulled apart. The frame, swingarm, forks and brakes were sent to Ryan at Custom Modifications. Ryan mixed and laid down that stunning red and silver paint and he also painted the wheels. The forks were rebuilt, bushings and bearings replaced and myriad spacers were fabricated.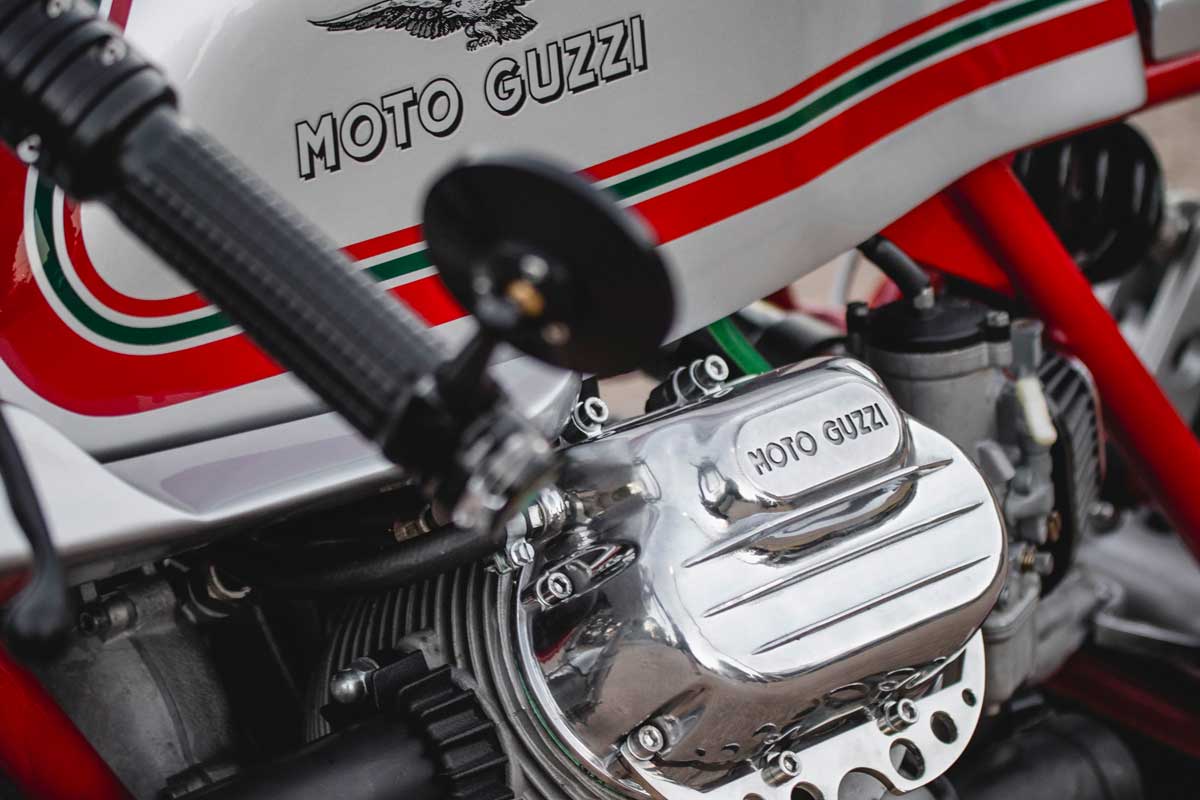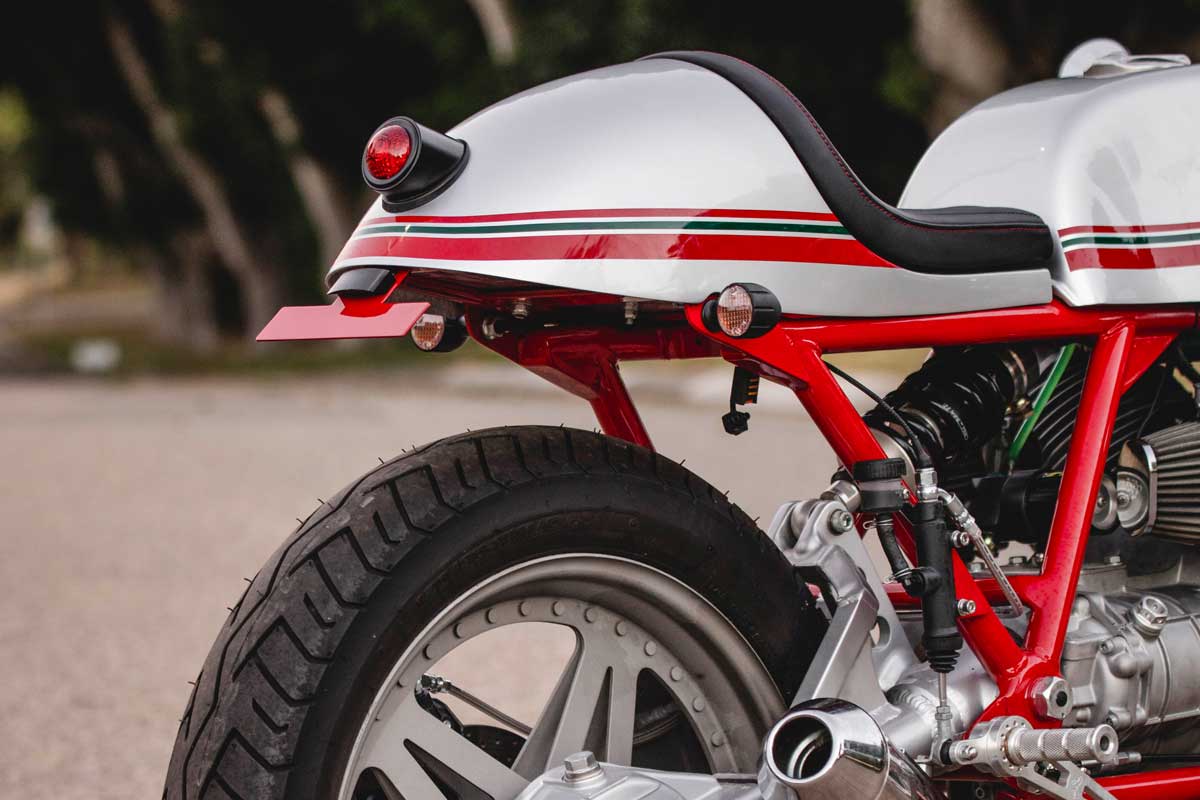 With the paint done the fresh engine and gearbox were married to the frame. Thanks to CIC Ceramics in Welshpool the newly ceramic coated exhaust system was bolted in and capped off with an MCS reverse cone muffler. Lighting was installed and wired in by Joel along with a new stator, Dynatek Ignition, coils and a new starter motor. Everything is now running through a suite of Motogadget components, including an m-Unit with an m-Lock keyless ignition.
The end was finally in reach. Peter Ellery, another local Perth bike builder was called in. Peter fabricated an aluminium battery carrier and a mount for the rear shock reservoir. He also fine-tuned and adjusted the fuel tank and front fairing to make them fit just right.
Tony Wong, a local designer and long time friend of Joe is the man behind the excellent colour scheme. Simon at Motorcycle Panel and Paint brought Tony's ideas to life, laying down the silver basecoat and red stripes on the rear cowl, tank and fairing. Lorenzo Poli was brought in for the upholstery and as always, his work speaks for itself. The leather seat with contrasting red stitching compliments the V7 perfectly.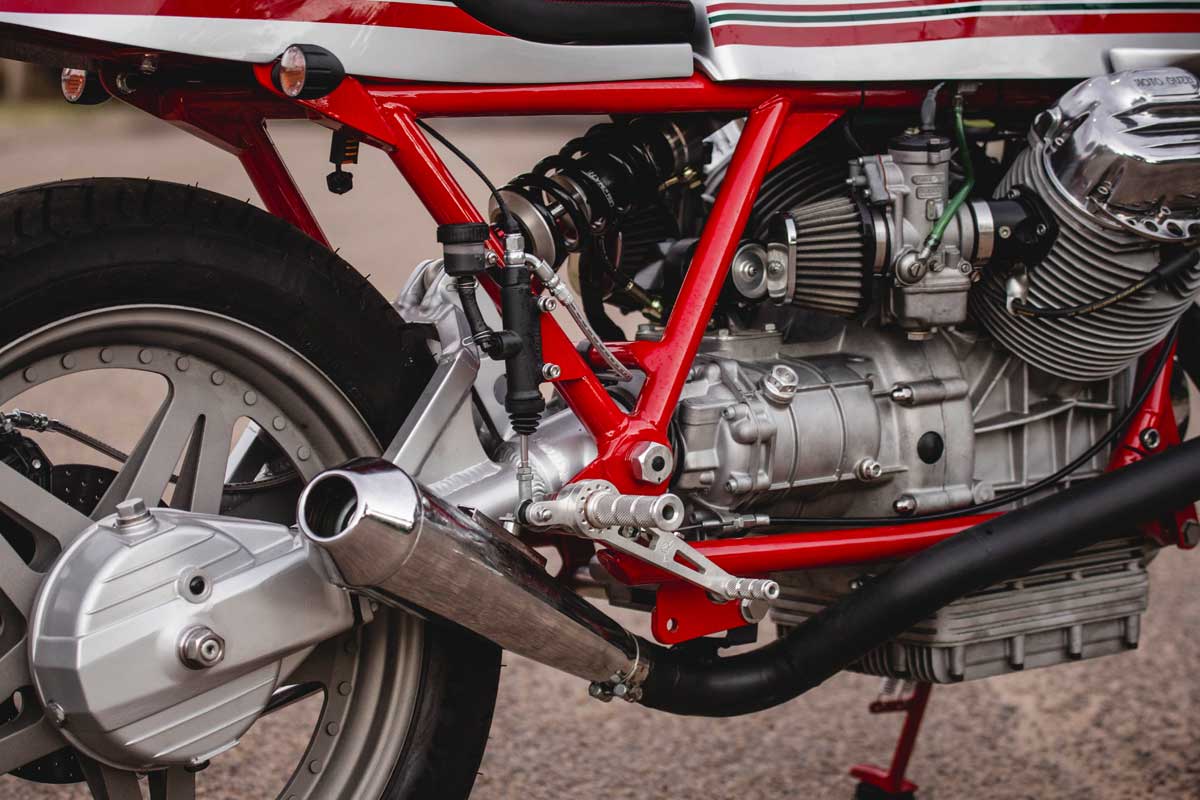 With what is essentially a brand new Moto Guzzi V7 Sport race bike, I asked Joe if he was happy with the result. His closing remark is perhaps the perfect epilogue to this epic saga…
"I am more than happy with the bike. All the work that has been put into it from so many people has made the whole project a journey of faith. It has been an incredible experience. From the initial purchase to its arrival and my love at first sight, my very vague initial concept and now to the finished product.
I am just one of many that have changed and moulded this bike over the years. Knowing the bike has changed to suit each owner, spanning over several countries and numerous decades is humbling. It is one of a kind but I am only a single part of this bike's incredible journey.
The bike runs fantastic. It still has that distinctive old school Guzzi feel with it's side to side rocking and planted feel. It is the 16th Moto Guzzi I have owned but it still maintains a feel unique to itself. It has gone through a considerable transformation from when it first arrived but it has managed to lose none of its pedigree racing feel. It is meant for long winding roads at full noise. A cafe racer, possibly. However, once you swing a leg over it the need of caffeination goes out the window. The bike itself is the wake-up call.
I cannot thank all the people who have contributed to helping me achieve this dream enough. It has turned out better than I ever imagined. Am I happy with the finished bike? A one-off Moto Guzzi that looks great and rides fantastic – absolutely."
Story and photography by Ben Pilatti
Shop This Look
| | | |
| --- | --- | --- |
| Image | Product | Buy Now |
| | Motogadget m-Unit | |
| | Aftermarket suspension | |
| | Motogadget keyless ignition | |
| | Motogadget bar end indicators | |
| | Cafe Racer mufflers | |
| | Bar end mirrors | |
| | Clip-on handlebars | |