It's been some time since we heard from Sacha Lakic and his team at Blacktrack Motors. After the completion of their Harley Davidson based Blacktrack BT-03, Sacha sidestepped away from motorcycles to focus on a four-wheeled project, his own personal Porsche 911. But now he's back in the 2 wheeled game to add yet another cafe racer styled limited-edition motorcycle to the Blacktrack portfolio.
The Blacktrack BT-05 Cento is the first Moto Guzzi based addition to the brand's stable. Like their other motorcycles, the BT-05 will be produced in very limited numbers for a select few customers to enjoy. In total there will be 10 BT-05 Cento's built. Each will have a paint scheme and name inspired by famous racetracks like Le Mans Red, Monaco Black and Silverstone Green.
'Since the inception of Blacktrack Motors, building a cafe racer around a big Moto Guzzi V-twin engine was at the top of my list,' says Sacha. 'I love this brand, and this engine, for many reasons."
The engine Sacha is referring to is that of the Moto Guzzi Griso 1200 – an 1151cc air-cooled 8 valve longitudinal v-twin that's good for around 110 bhp. In this instance, however, Blacktrack has increased the capacity of the engine to a stonking 1382cc. Further improvements in performance have then been achieved through the fitment of a custom carbon fibre airbox and hi-flow filter and a bespoke 2-into-1 titanium exhaust system and GCorse muffler by Zard.
The increase in capacity and revised tune has bumped the output of the v-twin up to 136 bhp and 144 Nm of torque. To make that increase in power even more significant – the previous weight of 225kg that the engine had to haul has been reduced to a mere 175kg. But in order to achieve that, they've built the entire rest of this motorcycle from scratch.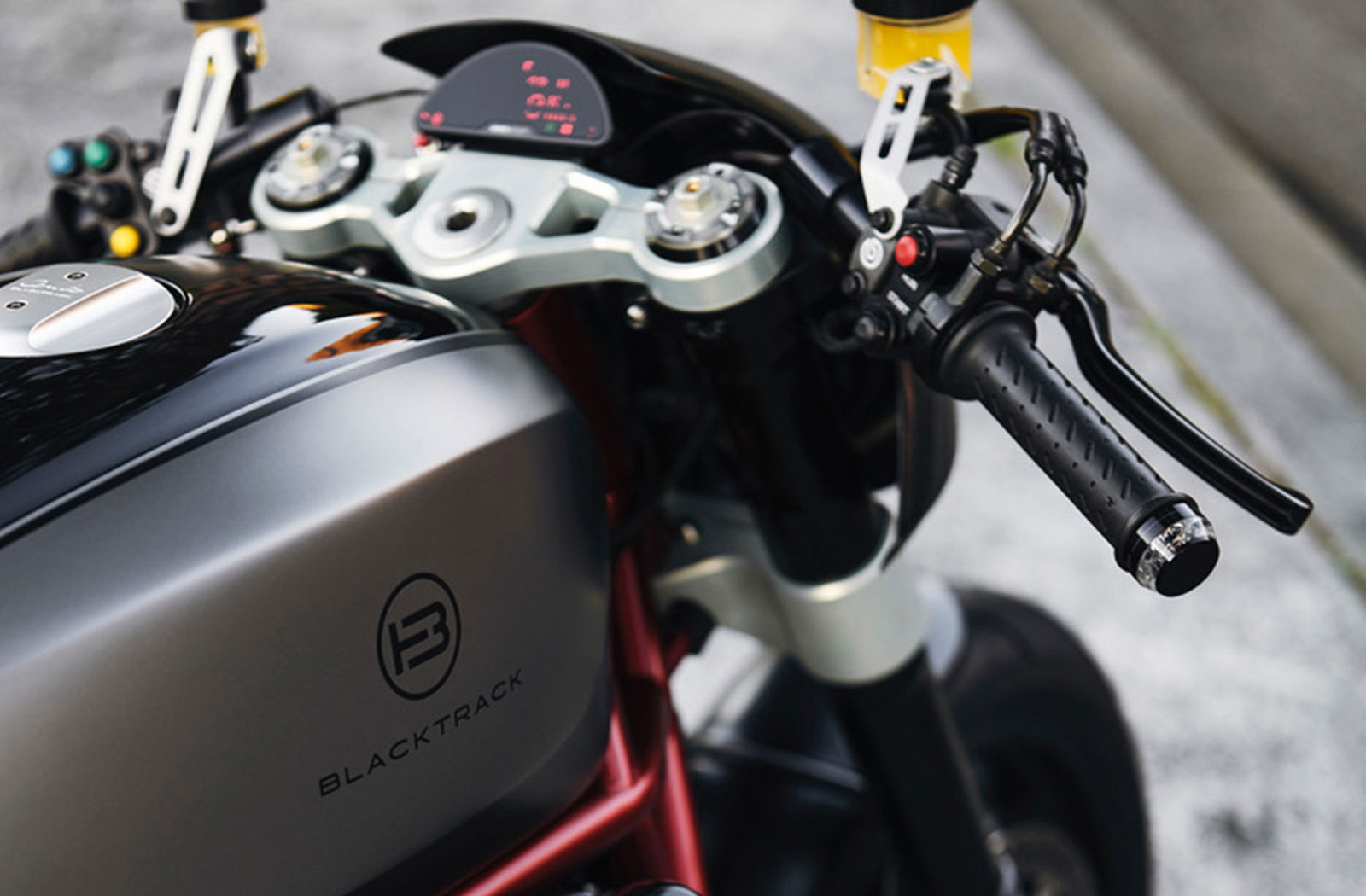 "Stripping down a stock Moto Guzzi and simply creating a new style wasn't enough," explains Sacha. "With the BT-05 we went one step further by making it completely track-oriented. All components are selected with these goals in mind: achieving as low a weight as possible, increasing power and torque figures, and making the BT-05 an absolute thrill to ride."
During his research for suitable components, Sacha discovered the work of Guareschi Moto. Managed by brothers Vittoriano and Gianfranco Gaureschi in northern Italy, their workshop provides a wide range of Moto Guzzi focused services. Along with 50 years of experience in Moto Guzzi sales, servicing and restoration the Gaureschi family have extensive racing experience. As a result, they also build racing frames designed especially to house Moto Guzzi engines.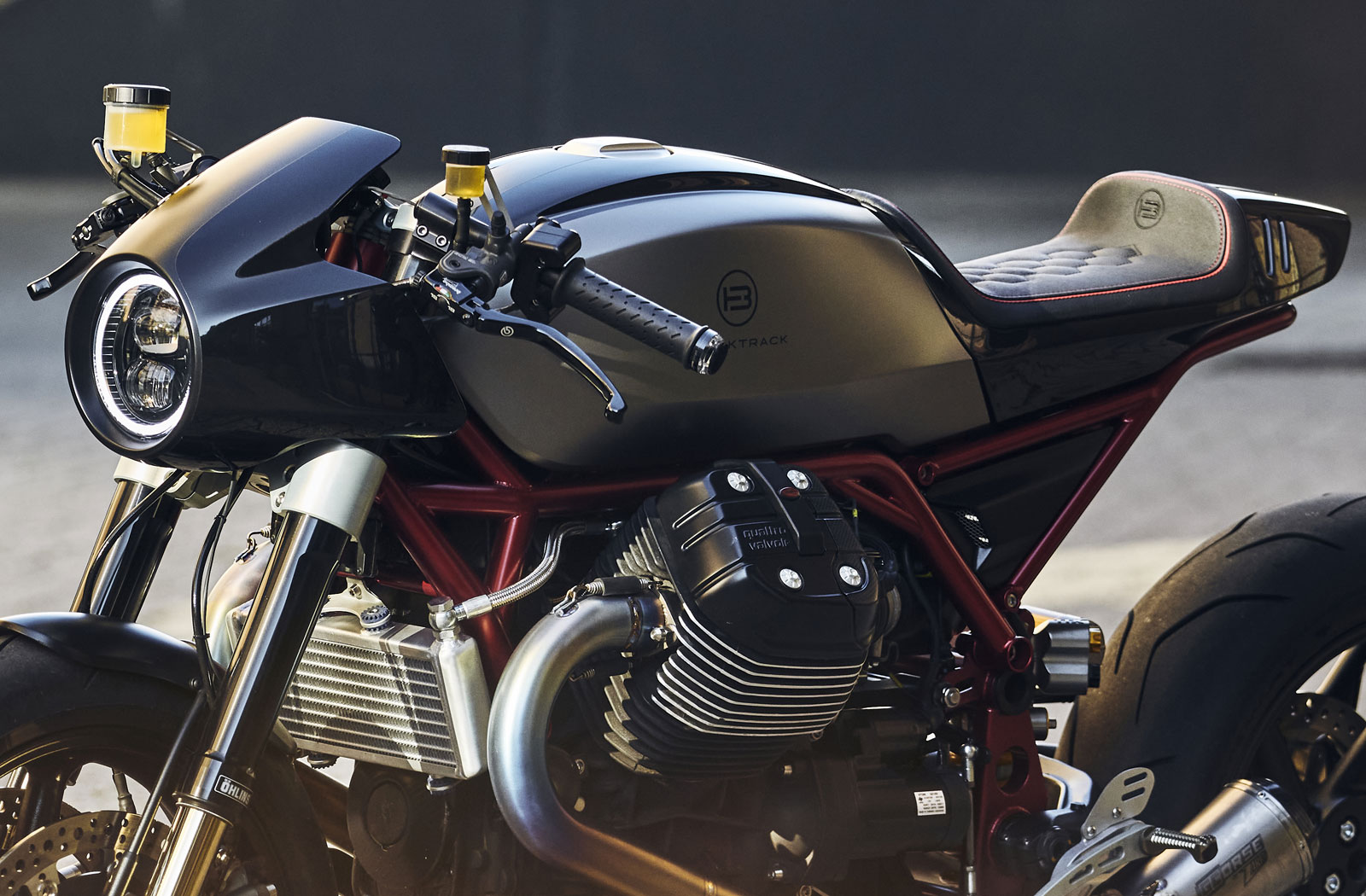 "Drawing on their collective experiences, Guareschi Moto has developed a frame for Moto Guzzi's big block twin that can only be described as an absolute track weapon," says Sacha. "And it's this frame that Blacktrack chose for the BT-05 CENTO."
Working with the Gaureschi brothers Blacktrack developed a bespoke version of their big block frame for the BT-05. The tubular steel design is a vast improvement over the Griso's factory chassis and the entire assembly tips the scales at a mere 12.4kg.
As is customary with Blacktrack projects, Sacha designed the bodywork of the BT-05 himself. For the Cento, which was named in honour of Moto Guzzi's 100 year anniversary, it was only fitting that the design be inspired by one of the brands most memorable machines.
"Inspiration on this project comes from arguably the most iconic Moto Guzzi sportbike of all time: the mid-70s Moto Guzzi 850 Le Mans," he says. "But the BT-05 CENTO isn't designed to be a modern-day replica of the Le Mans. Rather, it taps into the spirit of the Le Mans, resulting in a track-focussed machine, with the look of a café racer that's been put into overdrive."
Sacha's design has been realised by the Blacktrack team in carbon fibre and fibreglass composites. The tightly proportioned tank and tail sit perched over the huge heads of the v-twin to allow both the engine and frame to shine. The styling is minimalistic and purposely angular to emphasise the bikes aggressive attitude.
The tank itself is a cover that sits over a 12-litre fuel cell. The seat only has room for one and the rear cowl is deliberately sharp to create the feeling of speed. A small front cowl encompasses the headlight to tie everything together.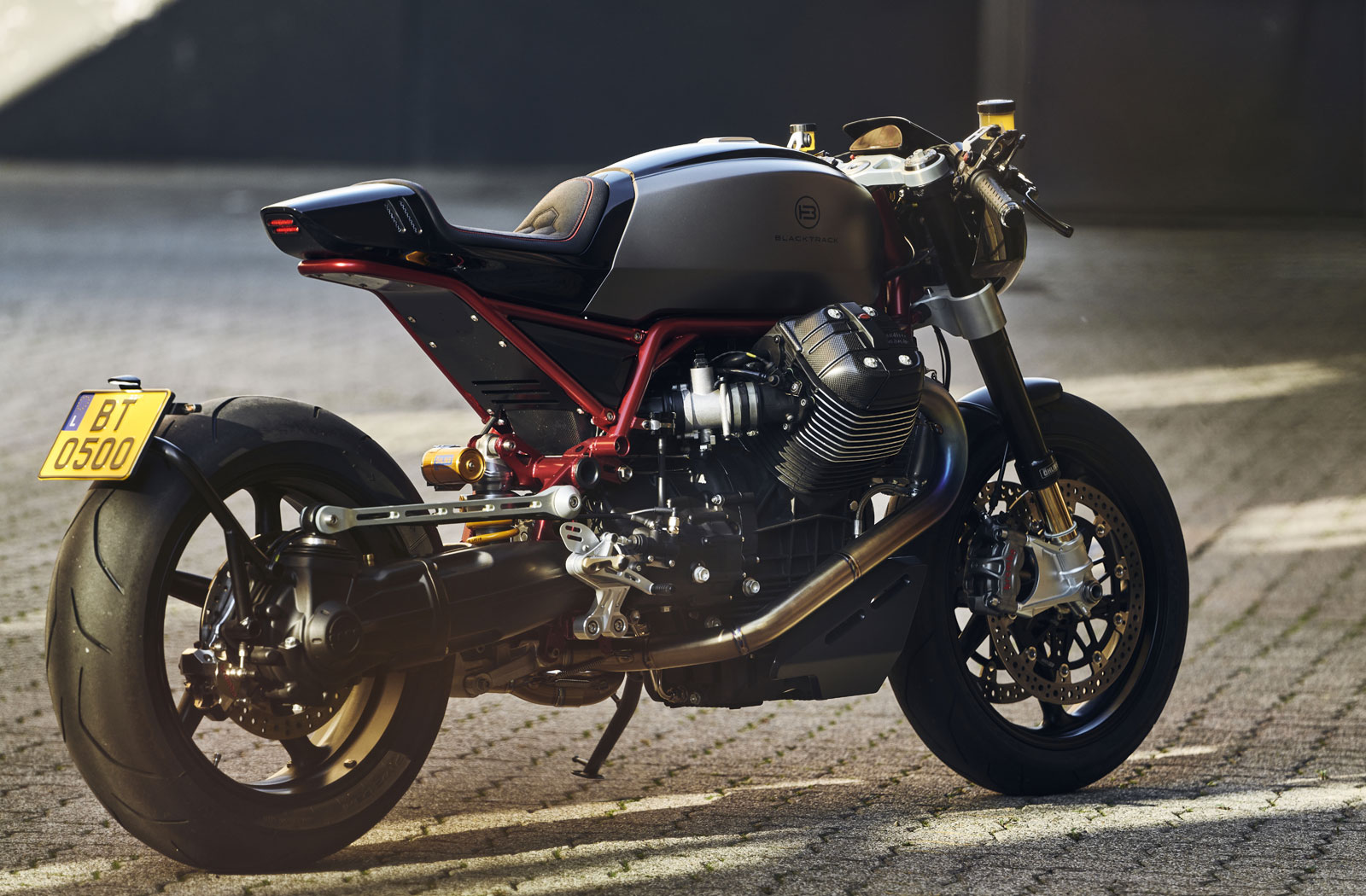 Blacktrack has also kitted Cento out with a selection of custom components. For this bike, they have designed bespoke triple clamps, footpegs and the brace for the shaft drive. These were all CNC machined by some of their trusted build partners using 3D models developed in house.
As for "off the shelf" components, the BT-05 is wearing an alloy racing oil cooler and front and rear fully adjustable suspension by Öhlins. The wheels are magnesium items by Marvic which have been wrapped in Michelin Power RS rubber. The bike also wears premium Brembo brake components both front and rear, CNC racing switches, a Motogadget MotoScope Pro gauge and a keyless ignition system.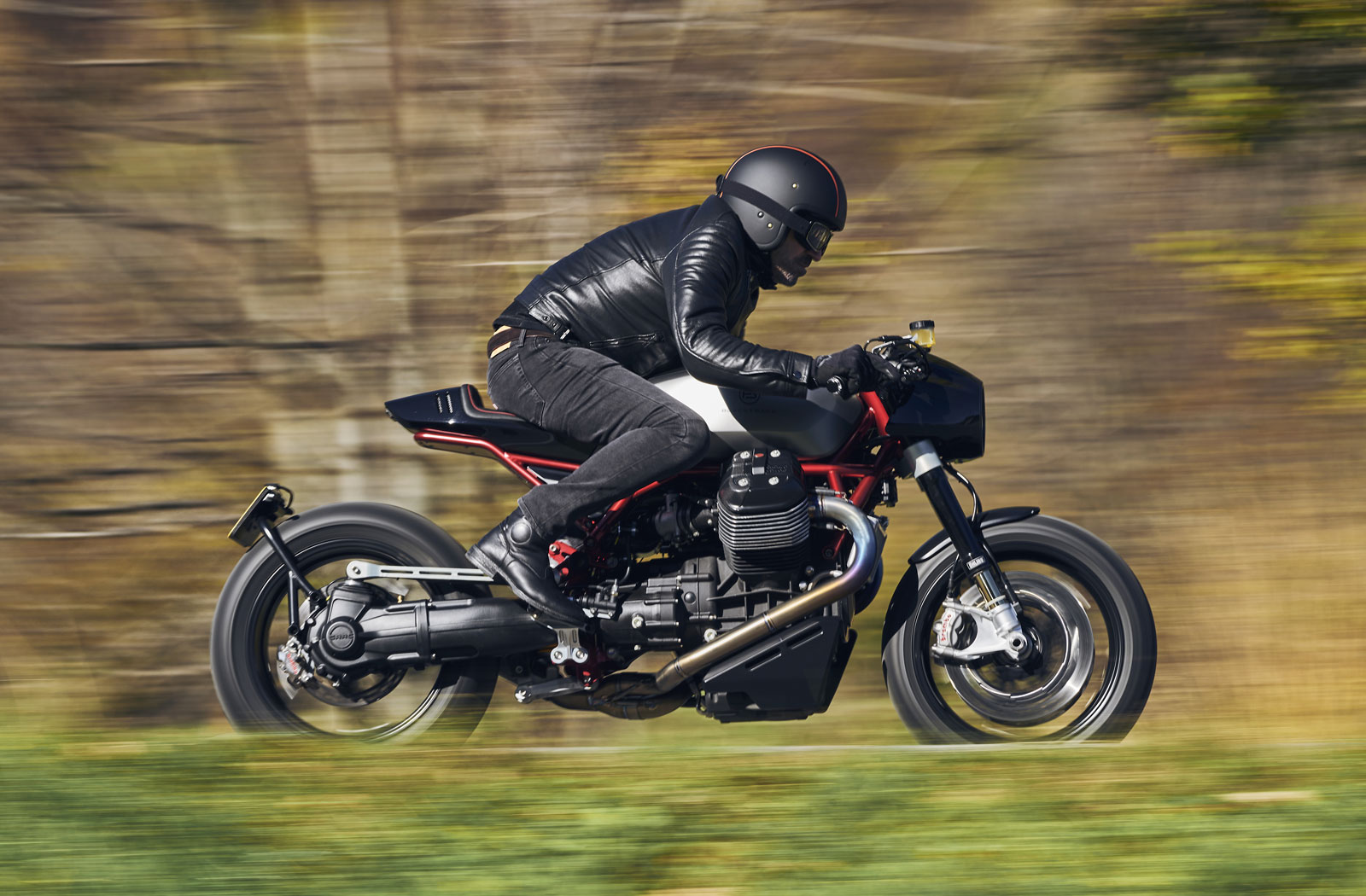 Each Cento order Blacktrack receives will take around 12 months to complete. During the build, everything on the bike is made from scratch and the customer is given several options to tailor the bike to their needs.
When designing the BT-05 Sacha set out to build a bike specifically for the track, but customers can add additional orders additional equipment to equip the Cento for use on the street. With only 10 units available and pretty much everything built from scratch, it will come as no surprise owning a Blacktrack BT-05 Cento doesn't come cheap. For now, we'll just have to dream about owning a bike like this and be exceedingly jealous of those who can!