It's been a while since we've heard from the visionary French designer Sacha Lakic and his Blacktrack Motors workshop. That doesn't mean he's been sitting on his hands though. Along with running the Blacktrack workshop Sacha manages his own architecture, furniture, and automotive design firm in Luxenbourg, but building motorcycles is always at the forefront of his mind.
A few years ago Blacktrack Motors developed a limited-run approach with their creations, producing each BT model in limited quantities. Past donors for Blacktrack bikes include the Moto Guzzi Griso, Honda CX500, Triumph Thruxton R, and Harley Davidson Fat Bob. For his latest series project, the BT-06 Indian Scout, Sacha teamed up with the French luxury watchmaker Bell & Ross to create a unique cafe racer and a matching timepiece.
Working with a custom motorcycle builder isn't a new concept for Bell & Ross. In 2011 they teamed up with John Shaw of the UK workshop Shaw Speed and Custom. Together they created the AMD Bike Building Championship winning Harley Davidson Softail 'Nescafe Racer'. In 2014 they did it again and built a motorcycle inspired by the world's first jet fighter, a Harley v-twin powered land speed racer called the B-Rocket. Now, almost a decade on, they continue that tradition with Blacktrack Motors to create this contemporary cafe racer.
"The Blacktrack BT-06 embodies the spirit of collaboration between Bell & Ross and Blacktrack," says Sacha. "The watch and the motorcycle were simultaneously designed, drawing inspiration from each other to create two exceptional items."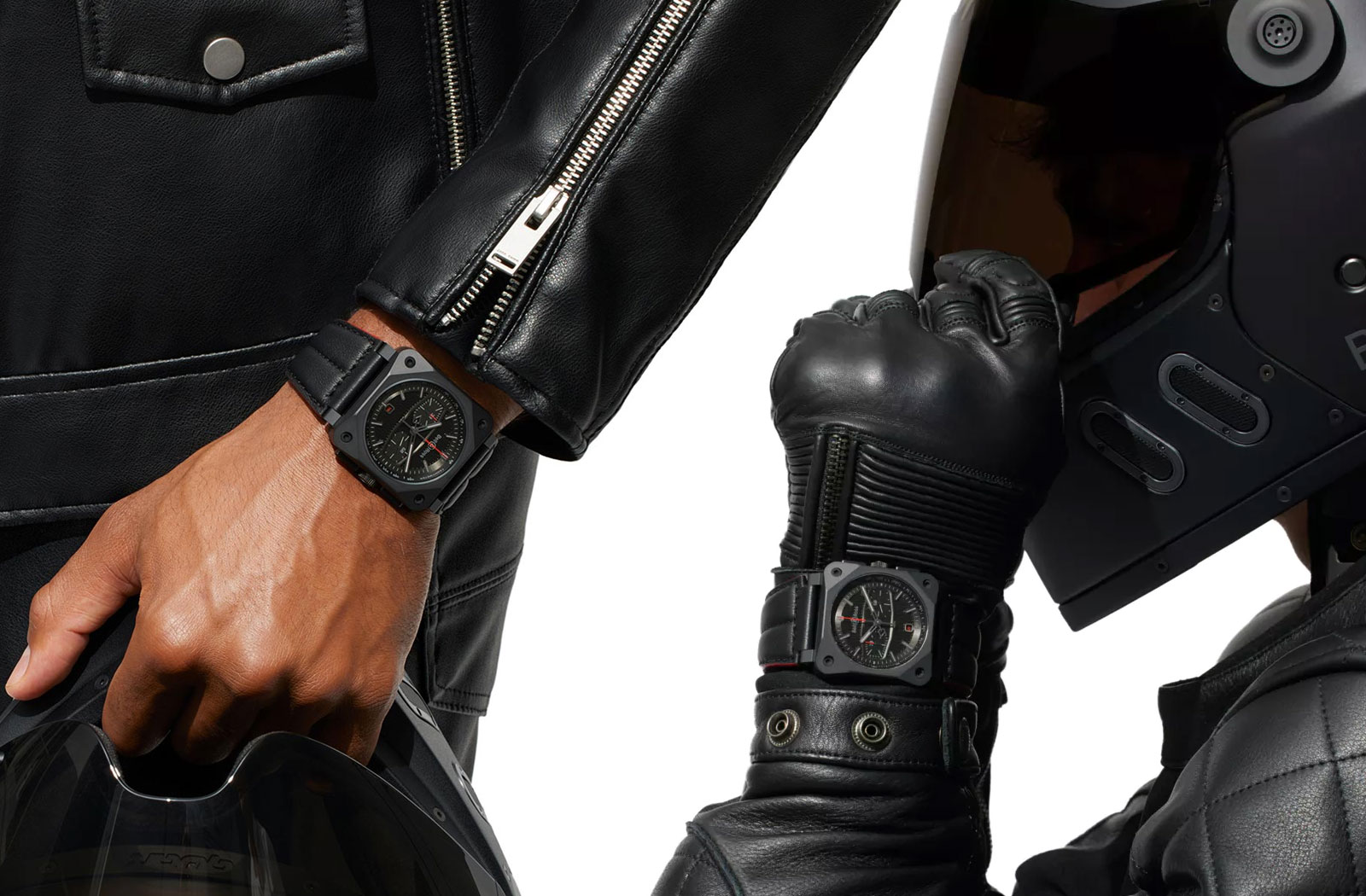 The Bell & Ross BR 03-94 Blacktrack wristwatch
Bell and Ross designed and developed the BR 03-94 Blacktrack wristwatch and its accompanying motorcycle alongside Sacha Lakic. The chronograph-style watch features a self-winding mechanical movement with a 42-hour power reserve. Two smaller chronograph faces on either side of the main dial function as a 30-minute timer and seconds hand while the larger second hand on the dial performs stopwatch duties.
"The Bell & Ross BR 03-94 BLACKTRACK chronograph, inspired by the BT-06 cafe racer envisioned in collaboration with designer Sacha Lakic, draws upon the technical design of stealth aircraft. The watch was designed and developed simultaneously with the motorcycle, each inspiring the other, creating a harmonious fusion between the two."
Bell & Ross has always drawn inspiration from aviation and military design when creating their timepieces. The BR 03-94 Blacktrack follows suit with its square 42mm matte black ceramic case which is famously styled after aircraft instrumentation. On this model, Bell & Ross have added chiseled edges that resemble the look of stealth aircraft. A sapphire crystal covers the watch face and uses a mix of black and grey tones with red highlights.
Direct design influences from Sacha can be seen on the watch in the form of red details, which were inspired by classic motorcycle gauges. Used sparingly on the watch face they increase the legibility of key information such as the date, seconds, and stopwatch hand. Other moto-inspired influences include the watch's strap made from calfskin and features quilted stitching similar to that seen on some motorcycle seats. A red coating on the strap edges ties everything together. Bell & Ross has also honored Sacha's involvement in the project by cleverly incorporating the Blacktrack emblem into the design. Both the minute and second hands feature uniquely shaped ends which when they cross over one another form the B-shaped Blacktrack logo.
The Bell & Ross BR 03-94 Blacktrack retails for 6,990 Euros and is limited to 500 pieces.

The Blacktrack BT-06 Indian Scout
Blacktrack Motors has a penchant for building cafe racers and Sacha's latest creation follows suit but with a futuristic twist. Built around an Indian Scout platform, the BT-06 was developed using a similar design approach to the BR 03-94 Blacktrack wristwatch. Finished in angular all-black bodywork, it borrows styling cues from stealth military aircraft.
"The BT-06 boasts a futuristic design inspired by the high-tech realm of aircraft like the Lockheed Martin F-117 and the DNA of Bell & Ross watches," says Sacha. "Its seamless contours and sharp lines capture the perfect fusion of art and engineering. This café racer redefines motorcycle aesthetics, embodying avant-garde design and innovation, resulting in a unique visual experience."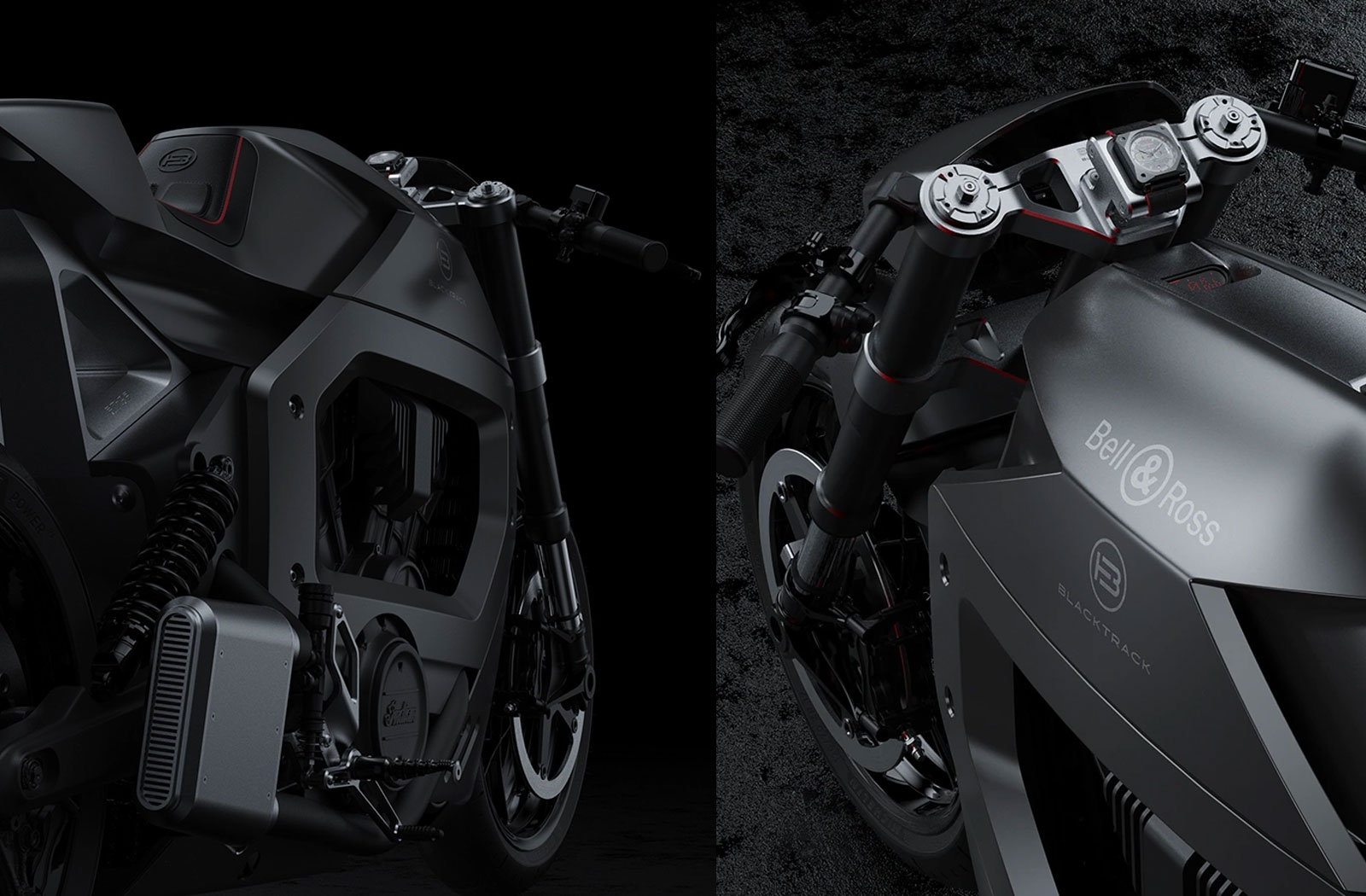 Aside from BT-06's Indian Scout 1133cc v-twin engine, there are very few original components remaining on the bike. To create his vision for this Indian Sacha stripped the Scout down and began the transformation with some chassis work. The Scount now features a bespoke CNC-milled alloy subframe. There's also an entirely new front-end built using premium blacked-out components from Ohlins and a custom-made CNC triple clamp assembly. The rear end is also sporting Ohlins suspension and the wheels are ultra-premium Rotobox carbon fiber items wearing bespoke Blacktrack branded brake equipment from Beringer. Clip-on handlebars and rear set pegs transform the Scout's stance from a laidback highway cruiser to an aggressive cafe racer.
The bodywork of the Blacktrack BT-06 is hard-edged and angular like that of the Lockheed Martin F-117 which inspired its design. Forming an exoskeleton around the Indian v-twin is a set of side covers that wear the same 4 bolt design as the watch case. The fuel tank is low and sleek with hard-edged cut-outs and is a monocoque structure that also forms the seat and wasp tail style tail unit. Many of the panel's edges are chiseled to once again tie the motorcycle back to the watch, or vice versa, and everything has been finished in a similar matte black paint scheme with understated red highlights. Akin to the watch case an angular belly pan squares off the bike's profile and the custom headlight fairing houses a projector-style headlamp within a grille that's identical in shape to the watch's chronograph display.
Similar to the past collaborative projects Bell & Ross has undertaken, this motorcycle also comes with a mounting plate for a BR 03-94 BLACKTRACK timepiece atop the triple clamp. Instrumentation has been relocated to the front of the fuel tank where you'll find a red-on-black Motogadget Motoscope Mini digital gauge.
Blacktrack hasn't given any hints as to how much a BT-06 will set you back, but judging by the price of the watch and their previous series bikes, you'll likely need deep pockets to make it your own.
BLACKTRACK MOTORS  /  BELL & ROSS