Peak Design's first products were focused on accessories for photographers. Since then their catalogue has expanded to cover phone accessories and a wide range of bags and luggage. A while back I got my hands on one of their phone cases and several smart accessories including their anti-vibration handlebar mount for motorcyclists and it's a product I continue to use daily. So with such a good initial brand experience, I decided to give one of their Travel Backpacks a try.
The Peak Design range of Travel Backpacks is aimed at everyone from photographers to motorcyclists. The bags come in several different size options which are designed for different types of travel, or more specifically periods of travel. At the larger end of Peak's Travel Backpack range, you'll find the 45L Backpack or 65L Duffelpack. These 2 sizes are better suited for longer trips of around a week. While at the smaller end, you'll find the 30L Travel Backpack which is good for 2 or 3-day hauls or simply as an everyday carry companion. I opted for the 30L since I like backpacks I can comfortably carry on my back or strap to my motorcycle's seat while I ride.

Similar to the Peak Design Everyday Case for smartphones, the Travel Backpack is finished in 100% recycled Nylon canvas. You're given the choice of either a black, blue, or sage green finish. As my phone case has proven, this material is hardwearing and stays surprisingly clean despite the rigors I've subjected it to. The bulk of the backpack's shell is 400D ripstop nylon while the base is made from extra tough 600D. The backpack's appearance is modern with a clean, uncluttered finish devoid of any obvious pockets or openings on the front.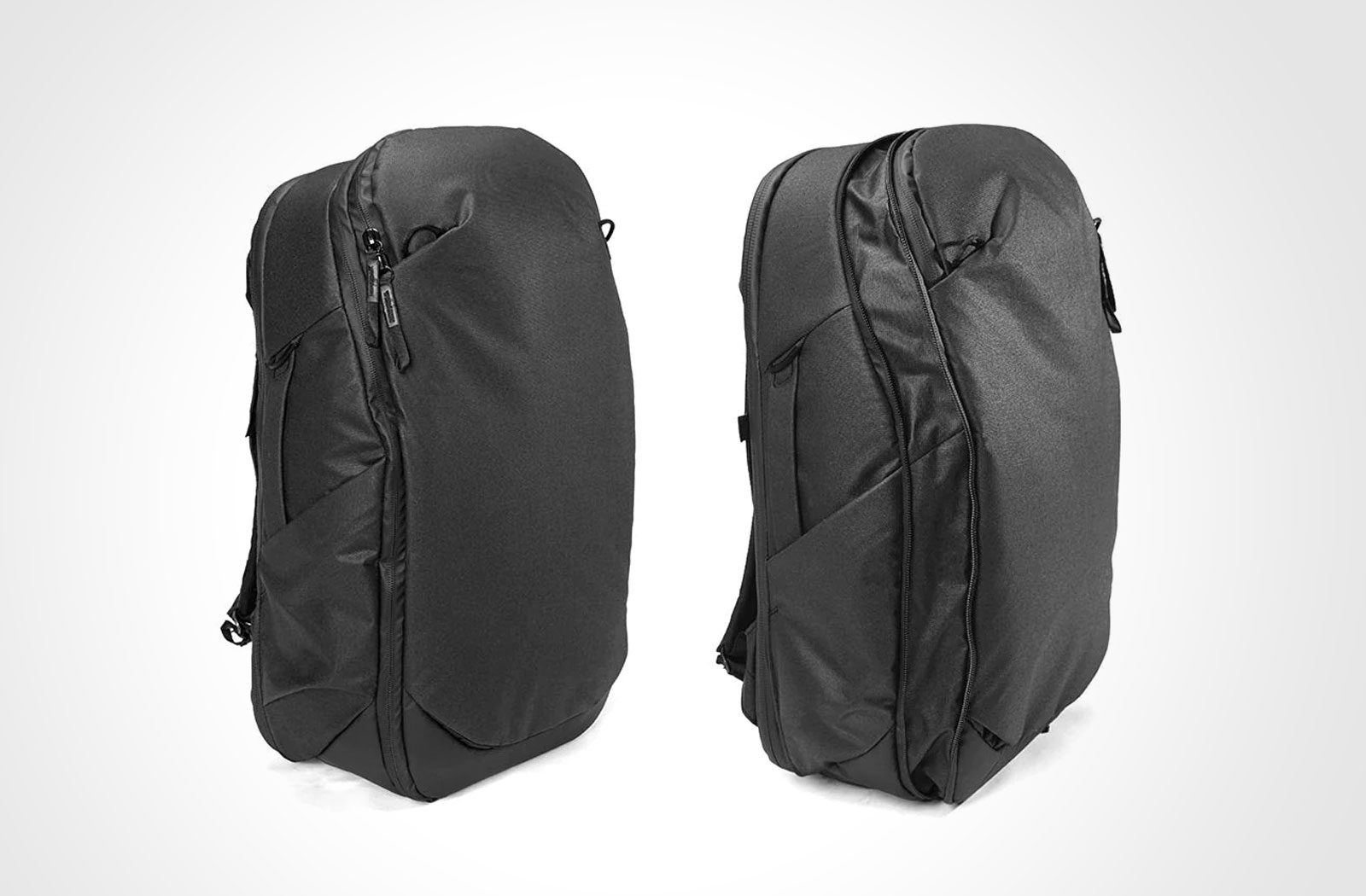 If you're carrying the 30L Travel Backpack, you can do so in several different ways. First and foremost are the padded shoulder straps. Each strap features a swivel at the top that allows them to move freely. This helps them to locate themselves on your shoulders in the best possible position. The straps come with plenty of slack so they can be adjusted to suit your size or carrying preference and there's a stowable sternum strap that can be used to reduce fatigue. The shoulder straps themselves can also be stashed away behind panels on the back when they aren't required. If you want to carry this bag in your hand there are handles on all 4 sides. This lets you choose the most appropriate one based on weight distribution. For airport convenience, there's also a luggage handle pass-through on the rear, so it's pretty much got all the bases covered.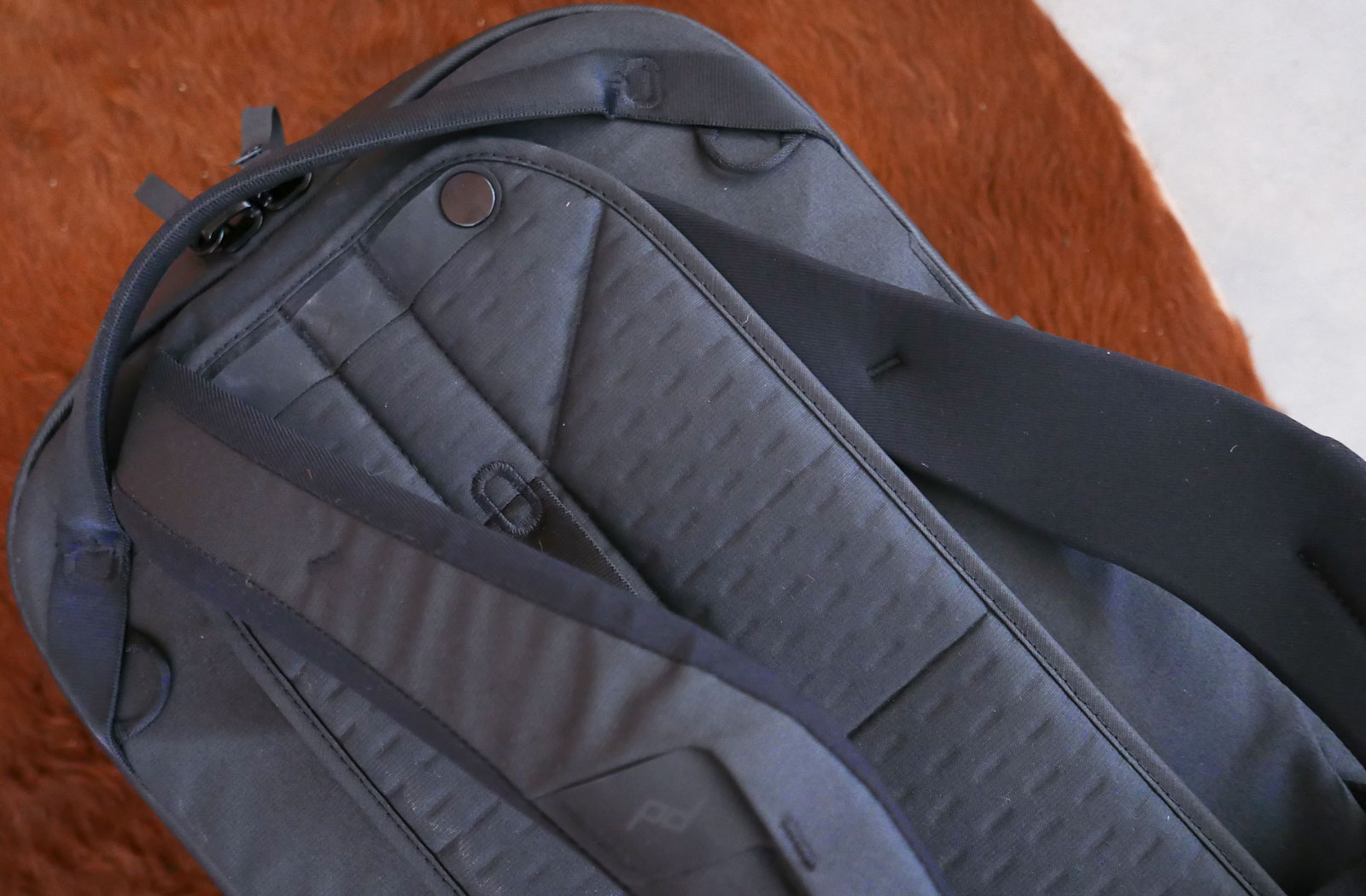 To access the backpack's different storage features there are 3 weatherproof zips. One on the top gives you access to a "weatherproof quick access pocket", another allows access to the main compartment and the other opens an expansion pocket which can be used to go between either a 24L or 33L configuration. You'll also find 2 expanding pockets on the sides for water bottles or other gear, cord hook hoops for securing external items using a set of included straps, and a luggage tag pocket.
The Travel Backpack has 2 compartments that each feature a range of storage solutions. The first is the weatherproof quick-access pocket which is located at the top front of the pack. Inside the waterproof zipper, you'll find padded compartments designed to hold and care for precious items such as headphones, wallets, electrical cables, sunglasses, battery packs, etc.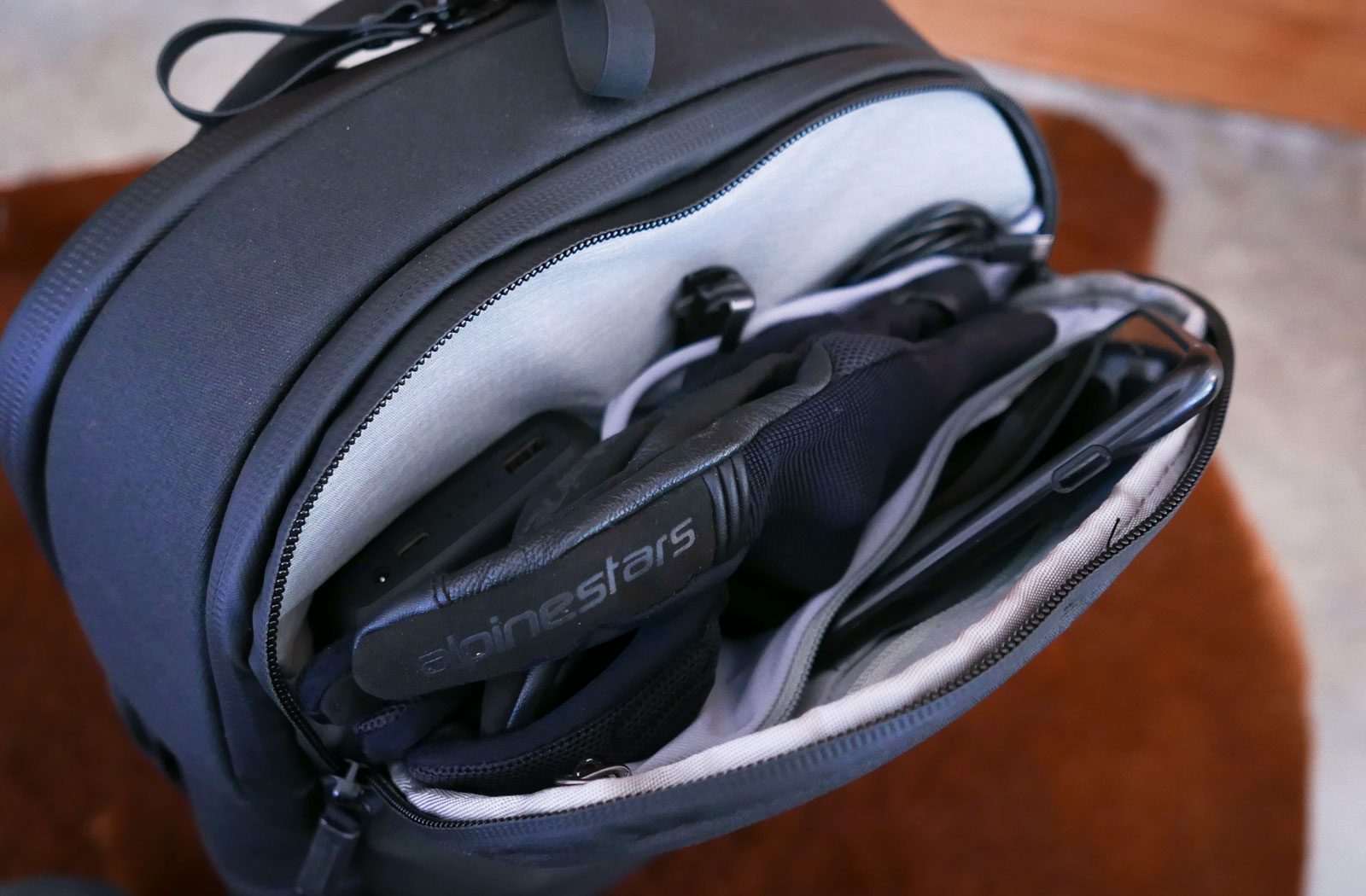 The second compartment is the main compartment. Interestingly this is accessed by opening a waterproof zip that runs almost the full circumference of the back edge of the backpack. It's an unusual concept for a backpack which takes a bit of getting used to, but there's no denying the convenience of getting full access to everything inside the pack in one go. The main compartment is essentially one big void, similar to a suitcase, with 4 mesh pockets (1 on each side and 2 on the back), and a padded sleeve for holding a laptop in the back panel of the pack. The space inside the main compartment is sufficient enough for a long weekend's worth of clothing, including an additional pair of shoes or flip-flops.
A smart add-on accessory to this backpack, and Peak's other luggage solutions, is their Packing Cubes. These are essentially zippered bags designed to help you organize your gear into separate, easily removable packages. Like the backpack, they expand to suit your needs and they come in a range of different sizes.
When I started using the Travel Backpack it quickly became evident how comfortable the pack is to wear. All of the points where the bag makes contact with your body are padded. Infact the whole pack is padded which also helps to keep it rigid when it isn't full of gear. On the bike, the straps do a good job of spreading out the load, especially with the sternum strap in place. But when the pack was full I still opted to strap it to my seat. This was made easier thanks to the handles on all 4 sides of the Travel Backpack and the cinch points for the external carry straps, but I wouldn't rely on them alone as a securing system.
One thing to be mindful of with this backpack is that it isn't 100% waterproof. Peak Design states that it is "weatherproof" which I would translate as capable of withstanding moderate rainfall. But it will not withstand a prolonged heavy downpour or the force of rain hitting it at 60mph for an extended period of time. You can purchase a rain fly for the 45L Travel Backpack which would work in most cases, but if it's strapped to your bike or on your back I'd still avoid overly wet conditions since it isn't a 360-degree coverage solution.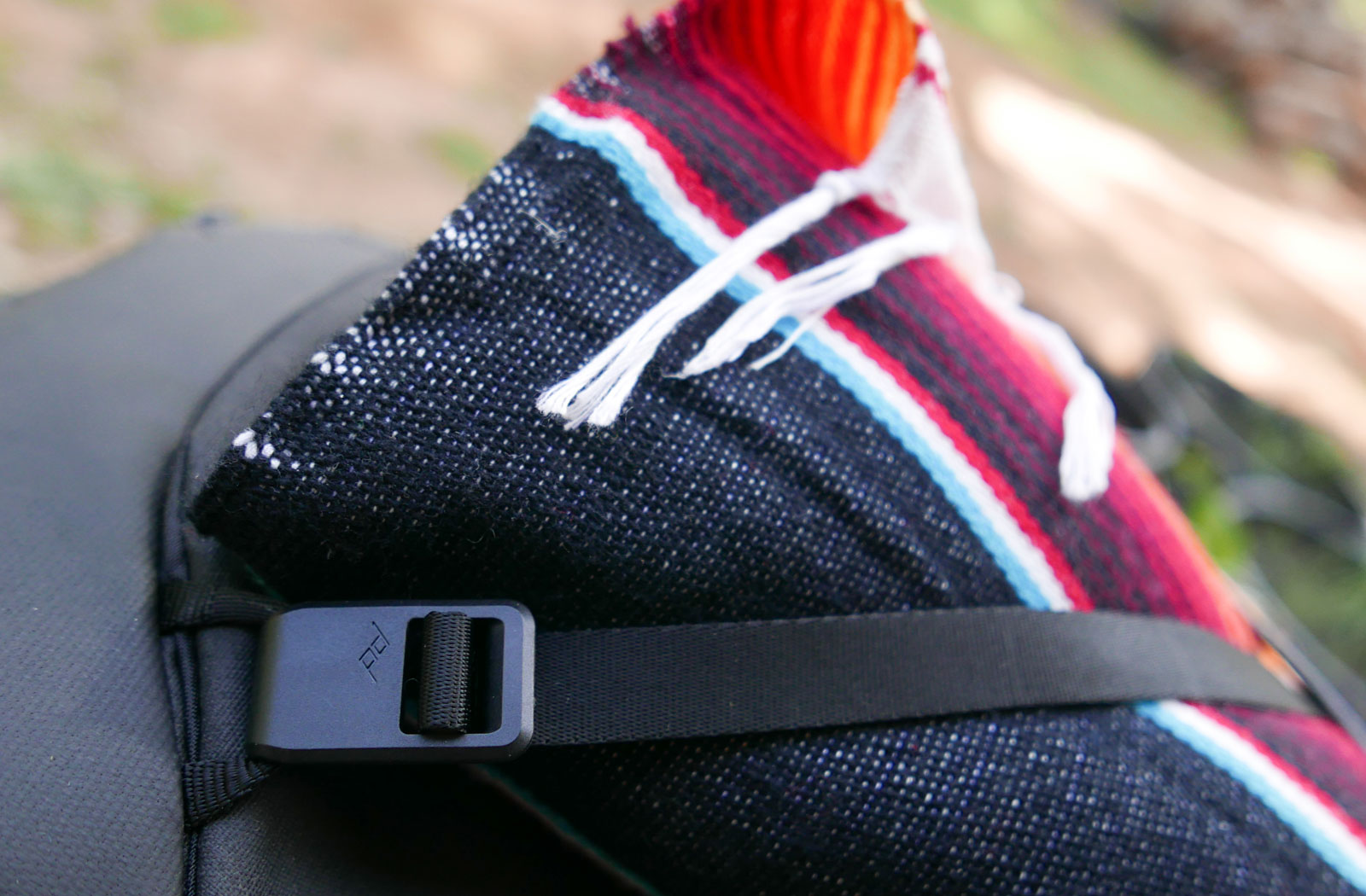 So far my Peak Design 30L Travel Backpack has accompanied me on a bunch of road trips and a short international jaunt. It works very well as cabin baggage and is within the allowed airline dimensions in either its compact or expanded states. It's a great-looking backpack that wears well and is packed with useful features. The optional packing cubes are a must-have simply due to the convenience they provide. Like all of their products Peak Design backs this product with a lifetime guarantee and it is both 100% carbon neutral and fair trade certified.