Every year my family struggles to find me the right Christmas gifts. They know I'm obsessed with motorcycles but have no idea what style of bikes I'm into, what riding gear I like to wear or even what motorcycles I actually own. So despite my obvious obsession with two wheels I usually end up with random, unrelated gifts. To help prevent other motorcyclists from suffering the same fate we've curated this special list of suggestions. If you're shopping for a motorcyclist, our Ultimate Gifts for Motorcyclists Guide is here to help.
To make things easier we've broken everything up into these 5 motorcycle-related categories.
---
Motorcycling Accessories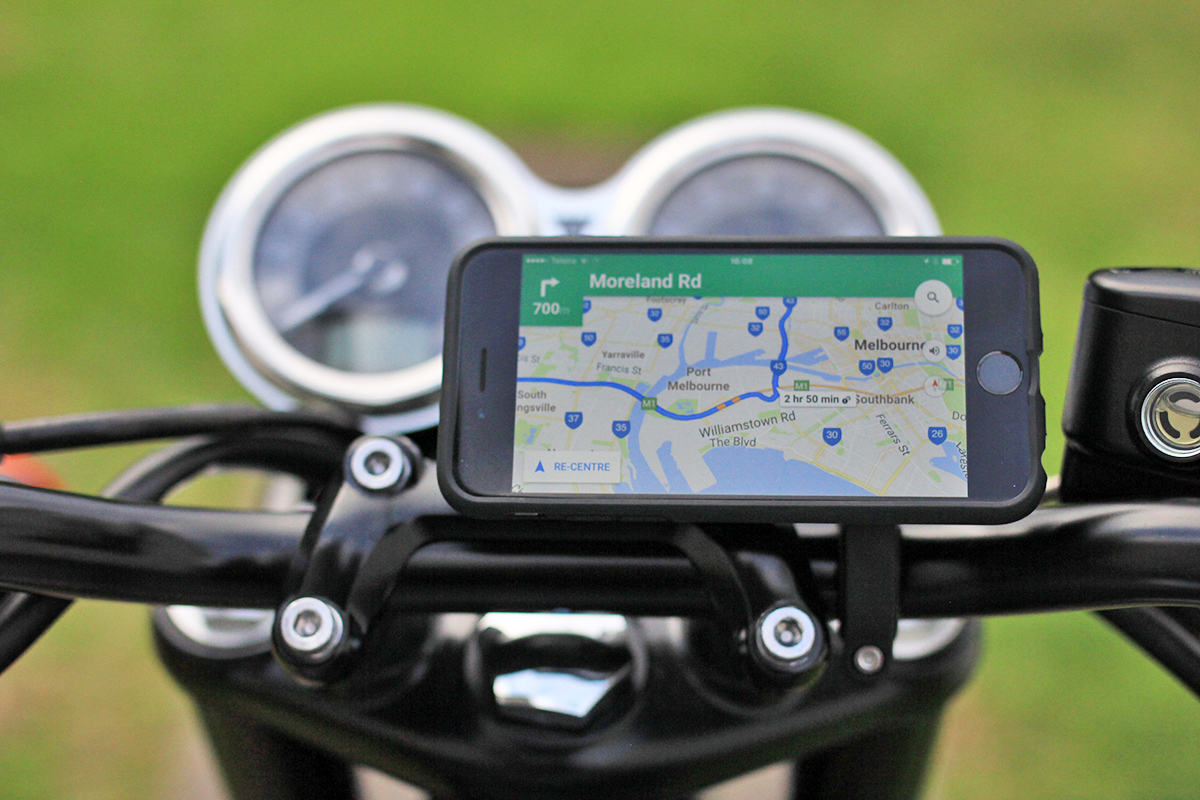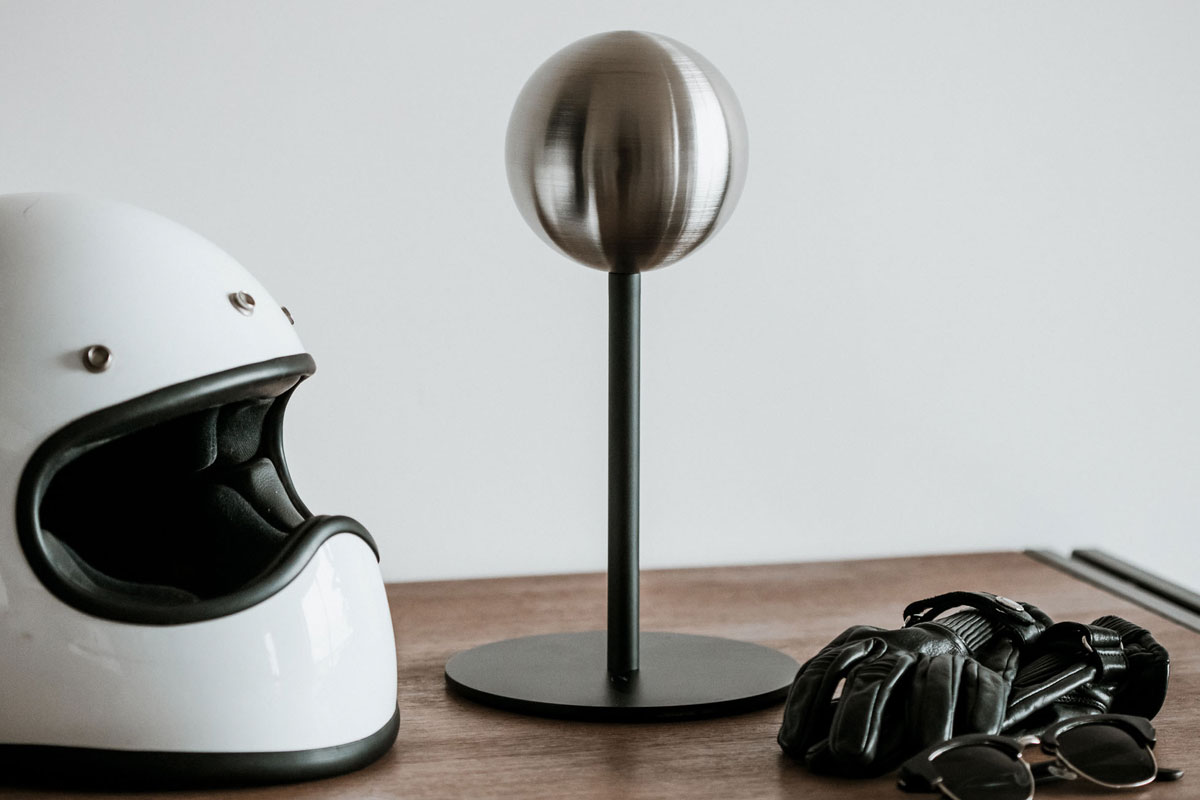 Quadlock moto kit – from $44.90 USD
Whether they're a city commuter or adventure rider, getting lost on a motorcycle can be a real drag. Phone case experts Quadlock (pictured above left) have been producing quality phone cases for years now and has a range of specially designed products for motorcyclists. Their cases are built tough to protect your phone and use a specially designed locking system to attach to a wide range of useful mounts. First, purchase the correct phone case then add one of their convenient motorcycle mounting systems. Best of all once you own a Quadlock case you can use it to attach to any of the other mounts in their range.  AVAILABLE HERE >
Halley Accessories Helmet Stand – from $132 USD
Like other motorcyclists, I consider my helmet one of my most prized possessions. That's why it's important to have a safe place to store it. Halley Accessories took both of those points into consideration when creating their range of helmet stands (pictured above right) and racks.
The Halley helmet stand offers a great storage solution for motorcycle helmets. Each stand in their range has been designed with stability and protection in mind. They're constructed from sturdy, laser-cut materials including a striking brushed stainless steel ball that supports the helmet. What's great about these stands is that they also look amazing without a helmet on them. Thanks to their contemporary styling house guests will likely assume it's a cool piece of modern art.  AVAILABLE HERE >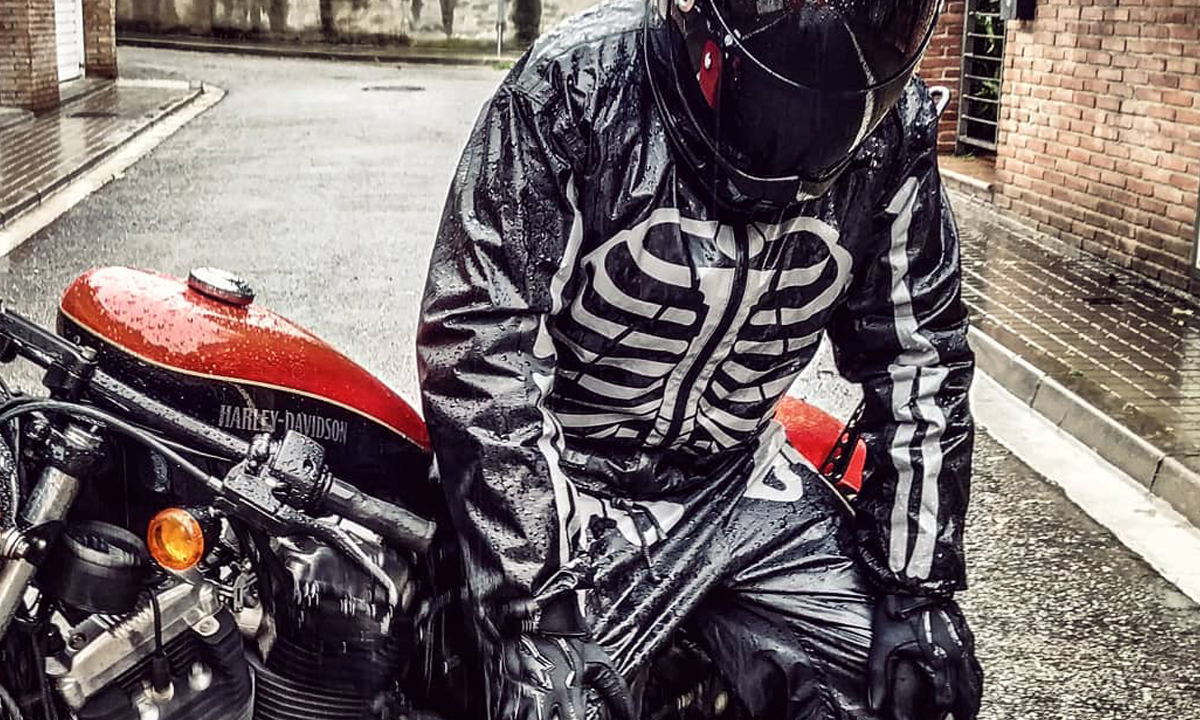 Motorcyclist Rain Suits – from $59.99+ USD
No one likes getting caught in the rain on their motorcycle. Having a rain suit handy can mean the difference between making it to your destination dry and warm or spending the day in soggy underwear. This rain suit from Fuel Motorcycles adds a fun twist to a utilitarian design. The 'Day of the Dead' rain suit features a reflective skeleton print on the front and Fuel Motorcycles branding on the back. It looks great and ensures the wearer can be seen by other motorists in inclement weather. If you're shopping for a motorcyclist who likes to ride all year round a rain suit is an ideal gift.  MORE RAINSUITS >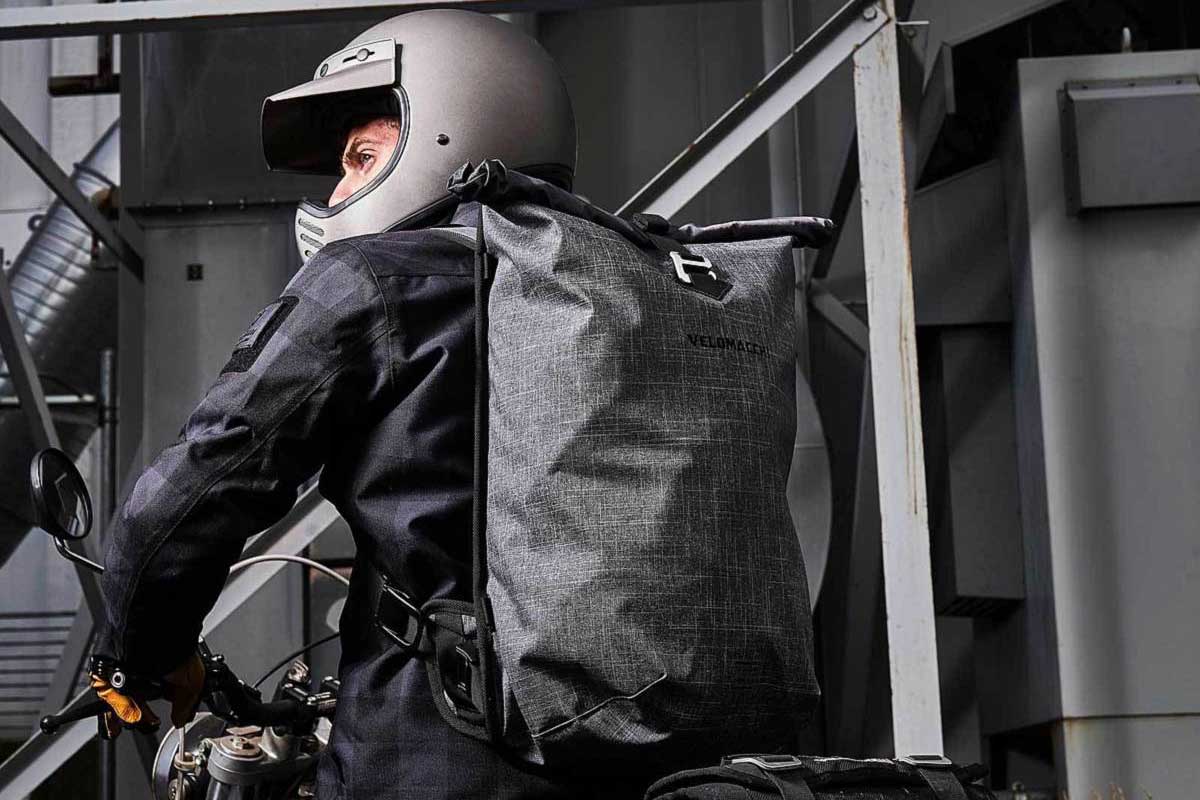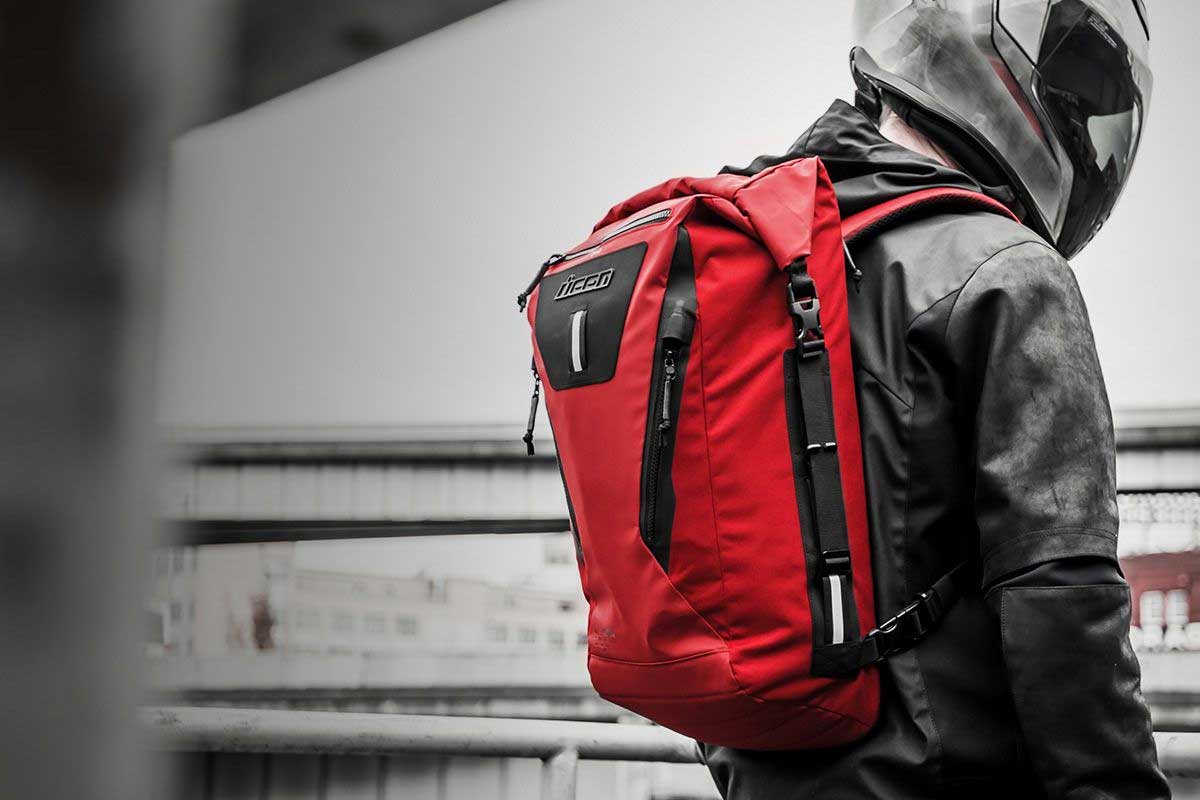 Motorcycle Backpacks – from $35 USD
With very little storage space available a good backpack is a must-have for any rider. But not just any old backpack will do. Motorcyclists have specific needs when it comes to carrying their belongings with them. Comfort, durability, and weatherproofing are essential attributes of any good motorcycle luggage. Thankfully there are brands who specialize in making backpacks that offer all that, and much more.
These two backpacks, the 35L Velomacchi Giro Backpack (above left / $149 USD) and the 20L Icon 1000 Dreadnaught Backpack (above right / $135 USD), are made specifically for riders. Each one is weatherproof and utilizes a roll-top style closure to keep water out. They both feature magnetic chest harness closures for convenience and are built tough to withstand constant exposure to the elements. These two backpacks also contain pockets specially designed to carry laptops and hydration bladders making them ideal for both commuters and weekend adventurers.
There are, of course, many other motorcycle backpacks out there to choose from. You'll find a wide selection ranging from $35 up to $500+ USD here >
---
Motorcycle Themed Apparel
If the thought of buying someone riding gear like a helmet or gloves is too much to fathom, check out these motorcycle lifestyle brands. They offer everything from moto themed t-shirts to coffee mugs so motorcyclists can show off their love for bikes even when they aren't riding.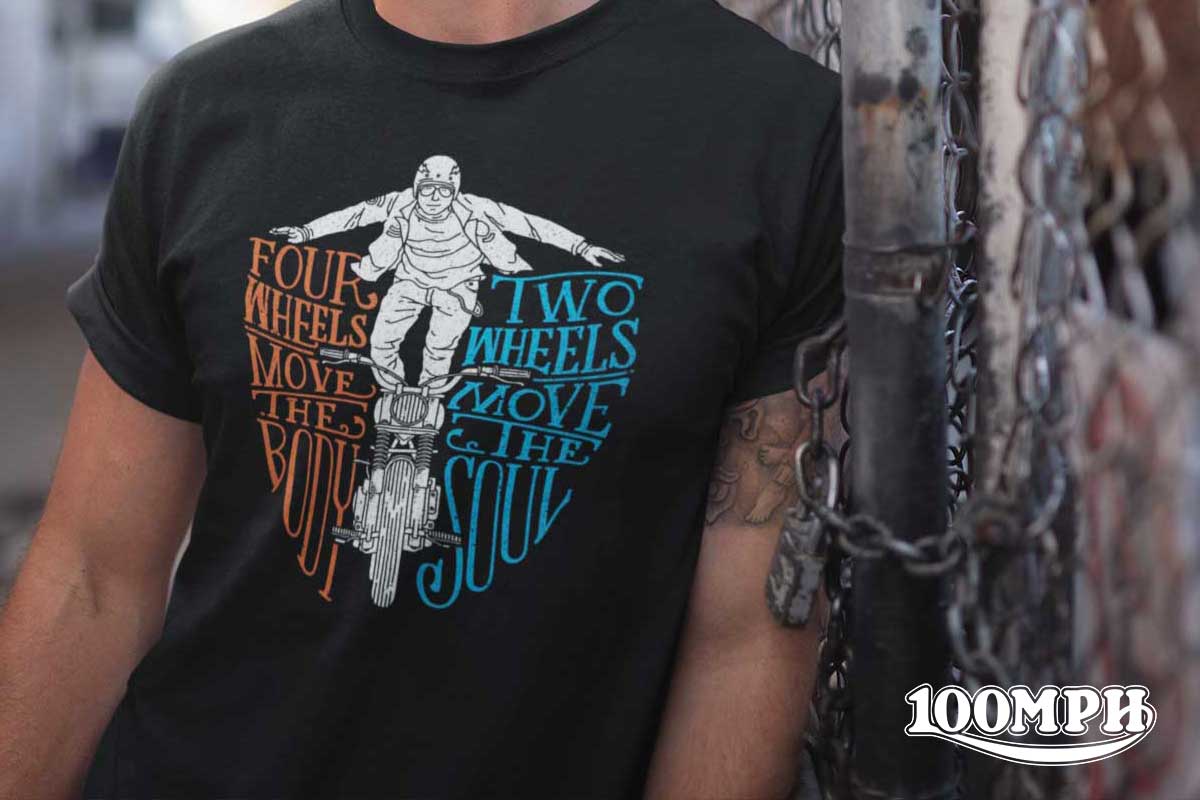 100MPH
The 100MPH store is a great place to find apparel that celebrates life on two wheels. They offer a wide, affordable range of bike-themed t-shirts, sweatshirts, hoodies, and caps. There's also a selection of cool jacket pins and accessories to stuff stockings with.  Browse the store >
Deus Ex Machina
Chances are you've already seen people wearing apparel from Deus. The Sydney born company has roots in the custom motorcycle scene and became somewhat of a global phenomenon. These days they are also closely aligned with surf culture. Their streetwear range is huge and updated often.  Browse the store >
Huckberry
If you're looking for a gift that isn't 100% bike focused but will still appeal to riders try the Huckberry store. They offer a great range of products for modern, style-conscious urban or out of town adventurers. The Huckberry catalog is jam-packed with useful everyday carry items such as pocket knives, camping tools and clothing from bespoke brands that specialize in high quality, highly functional products.  Browse the store >
---
Motorcycle Books & Magazines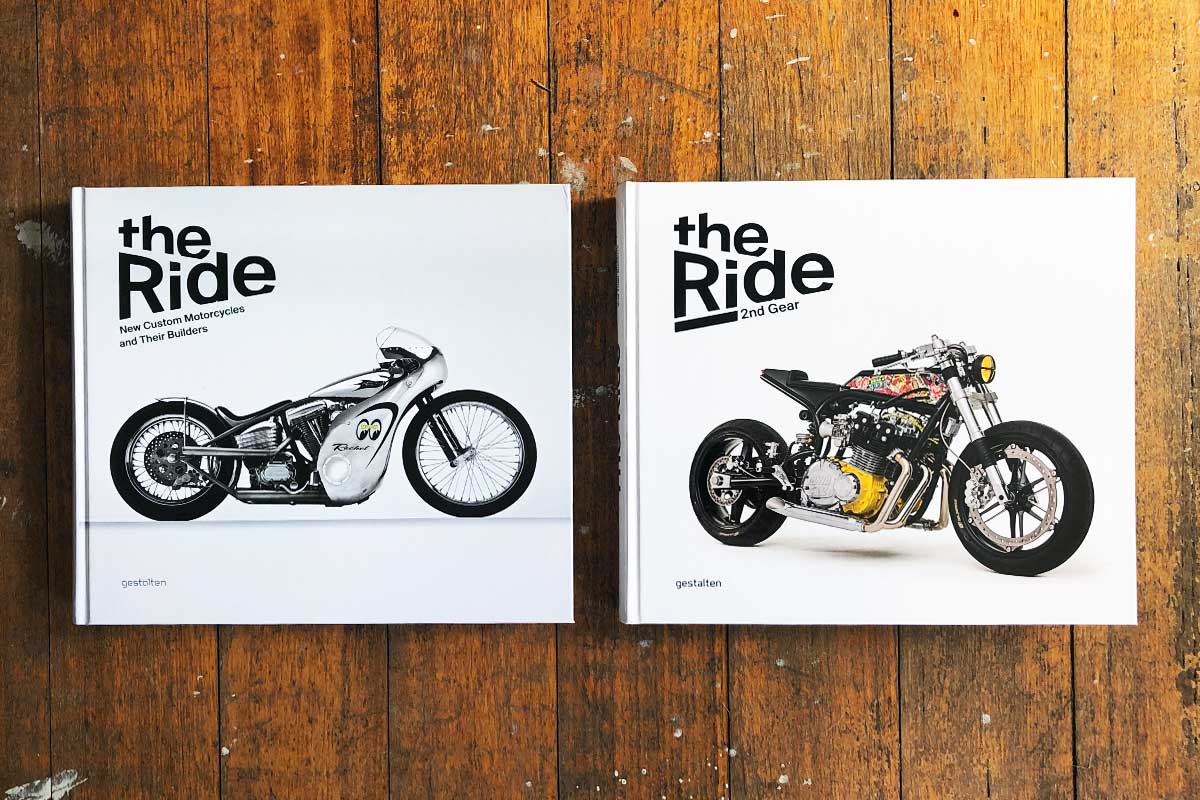 The Ride & The Ride 2nd Gear – from $35.99 USD
Created by Chris Hunter of BikeExif fame, The Ride & The Ride 2nd Gear are the ultimate coffee table books for any custom motorcycle aficionado. Each edition features more than 300 'new wave' custom-built motorcycles from the world's top builders. The full color, hardcover books contain detailed breakdowns of each motorcycle, stunning photography and interviews with the builders.
If you're shopping for someone who is planning their own custom project or just likes looking at shiny things that roll on two wheels, these 2 quality publications won't disappoint.  AVAILABLE HERE >
Zen and the Art of Motorcycle Maintenance – $17 USD paperback
"Zen and the Art of Motorcycle Maintenance should in no way be associated with that great body of factual information relating to orthodox Zen Buddhist practice. It's not very factual on motorcycles, either." – Author, Robert M. Pirsig.
Robert M. Pirsig's 1974 Zen and the Art of Motorcycle Maintenance has sold an astonishing 5 million copies worldwide and held a place on best-selling book lists for decades. The story follows a father (Pirsig) and his son as they complete a 17-day journey across the USA on his Honda CB77. Delivered through a first-person narrative the story is of a man's personal and philosophical journey that questions how one should live a life. Although Zen and the Art of Motorcycle maintenance could be filed under philosophy it's an entertaining read for anyone, motorcycle lover or not.  AVAILABLE HERE >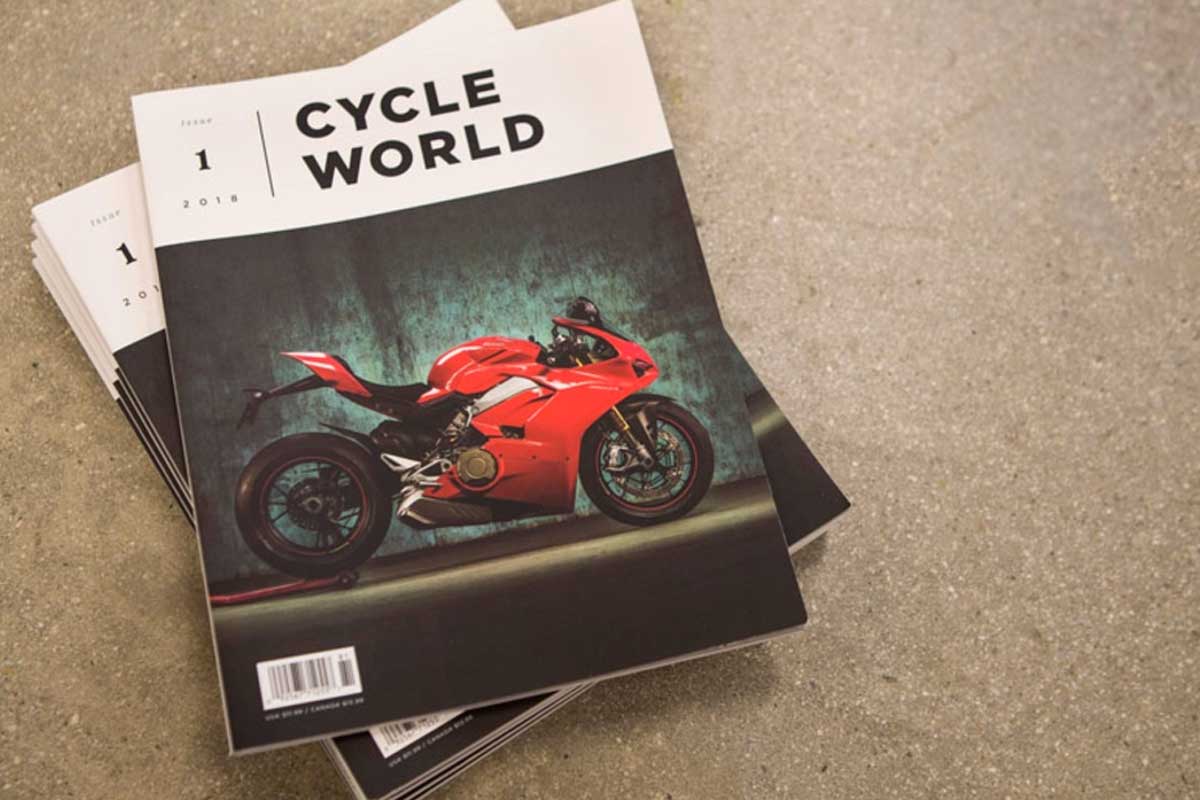 Motorcycle Magazine Subscriptions
Subscriptions to motorcycle magazines are great gifts for motorcyclists. Nothing beats a quality mag packed with great content that you can enjoy without racking up any additional screen time. Simply pay once and the mags will appear on their doorstep each time a new issue is published. There are countless publications to choose from, but these are a few that we'd definitely recommend.
Cycle World – $20 USD 4 issues: Arguably one of the most authoritative motorcycle magazines in the United States. Cycle World has been in the moto-journalism game since 1962. They employ some of the most knowledgable motorcycle riders/writers in the world and publish stories covering all types of motorcycles, accessories and riding gear.  Subscribe here >
Iron & Air – $9.95 USD per quarter: Iron & Air magazine is a by-product of the new wave custom motorcycle scene. Described as a global motorcycle/adventure/fuel-culture lifestyle publication, it's amassed a huge international following thanks to great editorial and stunning imagery. Each issue contains around 114 pages and is printed on high-quality stock. This is one magazine you won't find in toilet cubicles.  Subscribe here >
Classic Bike – $134 USD for 12 issues: If your loved one is the nostalgic type who prefers classics over plastic then grab them a subscription to Bauer Media's Classic Bike. Aimed at the home mechanic each Classic Bike issue contains inspirational stories from the past, restoration features designed to inspire and in-depth technical articles.  Subscribe here >
---
Motorcycle Riding Experiences
Himalayan Heroes / Adventure of a Lifetime – from $2890 USD
Image the thrill of riding a motorcycle on some of the world's highest roads, weaving along glacier-fed rivers and camping in the shadow of the world's highest mountain. The Himalayan Heroes offer this exact experience on their 7 day 'Quest for Everest' tour. Other tours on offer include two-wheeled adventures through Pakistan, Mongolia, Nepal, and India. All Himalayan Heroes tours include meals, a low kilometer Royal Enfield motorcycle, fuel, accommodation, English speaking guide, and some transfers. All your gift receiver will need to do is pack their riding gear, book some insurance and a flight to the starting point. An experience like this is quite possibly one of the best gifts for motorcyclists that money can buy.  BOOK HERE >
Motorcycle hire – from $84 USD per day + insurance
Hiring a motorcycle is a great way to add a special experience to an already planned holiday. You'll find motorcycle rental businesses in most major cities around the world. All they usually require is a valid license or international driver's license and that the driver is at least 21 years of age. If you're buying a gift for a rider in or heading to the United States a great motorcycle hire company to check out is Eagle Rider.
Rider training course – approx $250 USD
In our opinion, every motorcyclist should make an effort to improve their riding skills. Not only are rider training courses a good way to skill up, but they're also a lot of fun too. There are motorcycle training courses for just about every skill level or riding discipline. The ones that involve taking your own motorcycle out on a track are particularly rewarding. Some manufacturers like Honda offer special training courses for their customers so be sure to check them out too.
---
Other Gifts for Motorcyclists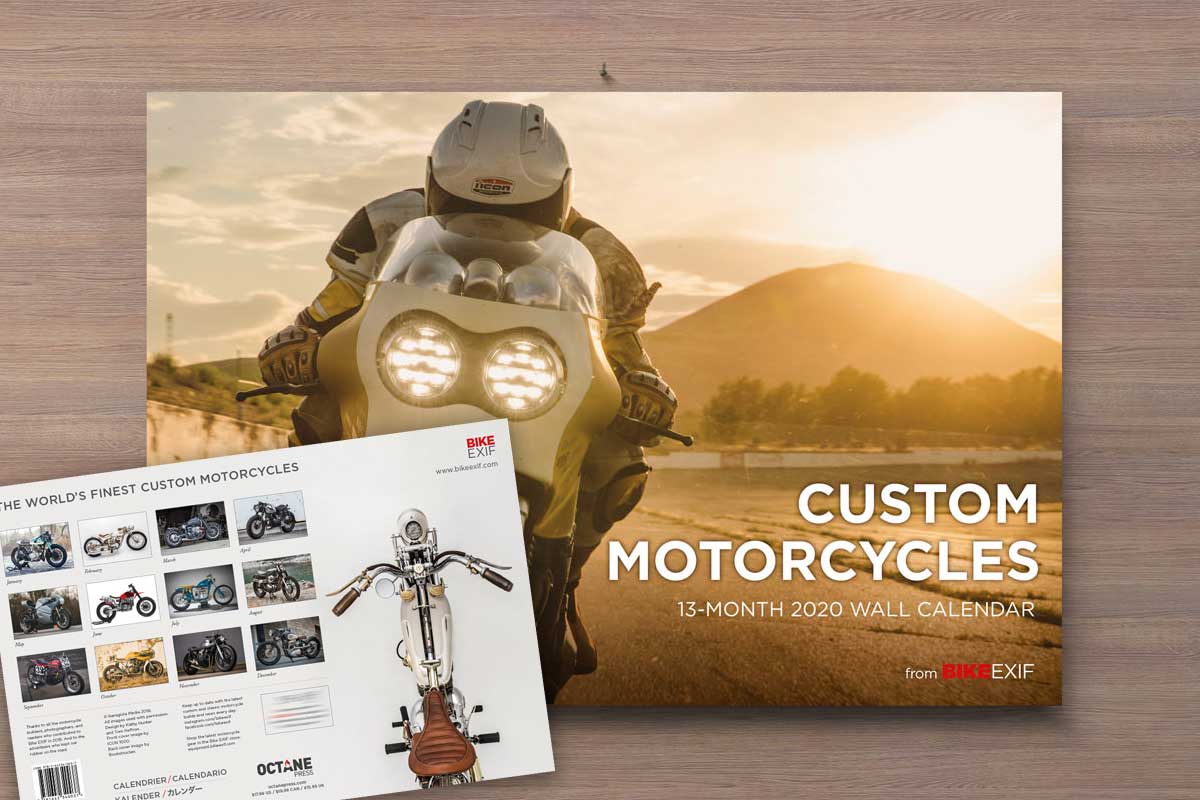 BikeExif 2020 Calendar – $17.99 USD
With 2020 right around the corner now is the time to buy someone a new calendar. The BikeExif calendar showcases 13 of the best looking custom motorcycles that have graced the pages of the Exif website. Each month features a glorious full color, high-quality photograph of a custom motorcycle and details of the build. Printed on 128gsm art paper it measures 17 x 11.3 inches and features a laminated art card cover.  AVAILABLE HERE >
Oil in the Blood Documentary – Rent $4.99USD / Buy $14.99
"Oil in the Blood' is a documentary feature film on the contemporary custom motorcycle culture. It's not a film about motorcycles, it's a film about motorcycle people."
Oil in the Blood is the work of filmmaker and self-confessed motorcycle addict Gareth Roberts. Filmed over 4 years it documents the growth of the current custom motorcycle scene through interviews with hundreds of bike builders, riders and enthusiasts from around the world. Featuring footage from some of the world's biggest custom bike events it's a 2 hour and 4-minute journey every motorcycle enthusiast will enjoy.  AVAILABLE HERE >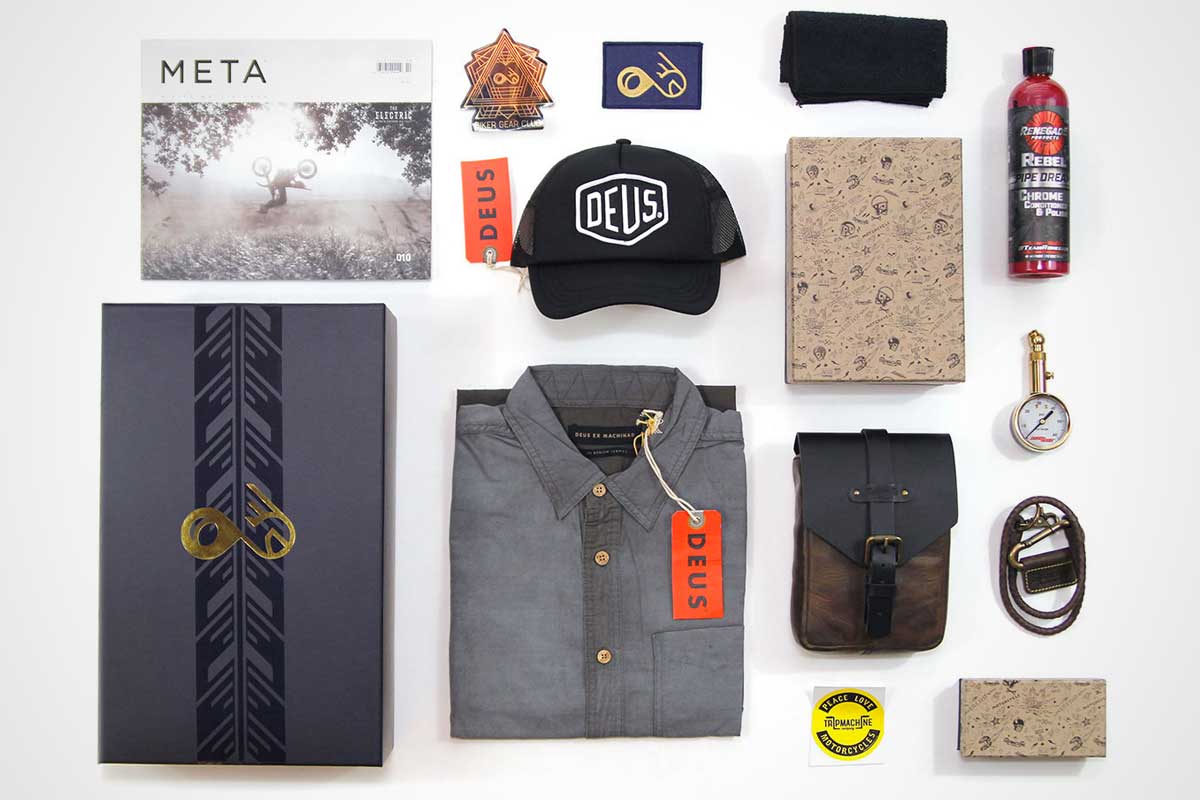 Biker Gear Club – from $69 USD a month
If you're totally stuck for ideas then a Biker Gear Club box is a great solution. Their subscription service sends out monthly or quarterly curated boxes of motorcycle related gear. All you need to do is select the type of box you'd like (based on the type of motorcycle ridden), enter a few size measurements and they'll do the rest. Each box contains a collection of different items including things like apparel, tools, magazines, stickers and other motorcycle related accessories.  SUBSCRIBE HERE >
Revzilla Gift Vouchers – from $25 USD
One of the most difficult gifts to buy a motorcyclist is riding gear. For starters, you'll need to know some rather unusual measurements like their head circumference or palm width. Then you'd better research what type of motorcycle they like to ride i.e. cruiser, tourer, cafe racer, scrambler, etc. And don't forget to consider where, when and how they tend to ride their motorcycle. If all that sounds a bit much then why not get them a voucher for one of the internet's biggest riding gear retailers, Revzilla. Sure a gift card may not seem like a very heartfelt gift, but trust me, this is one present any motorcyclist would love to receive.  AVAILABLE HERE >
– – – – – – – – – – – – – – – – – – – – – –
That wraps up our ultimate gifts for motorcyclists guide. If you landed here searching for gifts we're sure whoever you're buying for is going to love getting one of these. If you're a motorcyclist who wants to get better gifts this Christmas we suggest subtly sharing this article with your loved ones and enjoy a Christmas filled with great moto gifts.
None of these suggestions appeal to you?  Why not check out our Riding Gear reviews for more of the best looking, best-made motorcycle gear on the market.