To bring in the new year our friends at 100MPH have just released a new range of moto-inspired t-shirts for riders. Each unique design was created in collaboration with illustrators who specialise in automotive designs and share our passion for two wheels.  As with all their garments, each 100MPH design is printed on a 100% combed and ring-spun 4.2 oz cotton t-shirt and are available exclusively from the 100MPH store.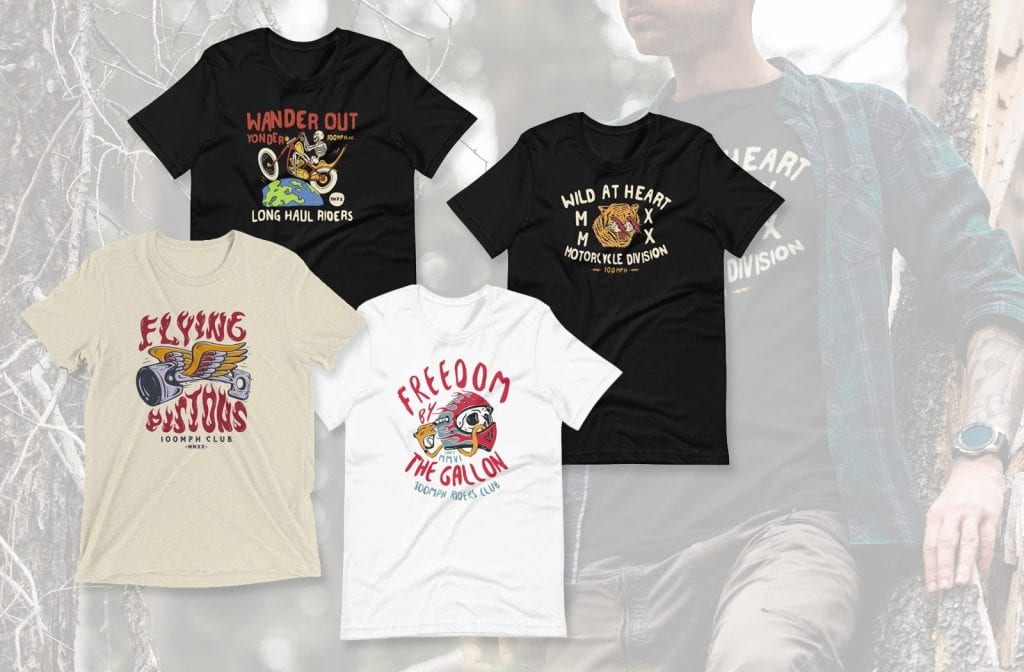 The new 100mph range includes 4 slick designs that'll up your wardrobes cool factor tenfold. If you're a member of the iron butt association or love to explore the world on two wheels the 'Wander Out Yonder' tee is just right for you. The 'Freedom by the Gallon' tee sums up what riding motorcycles is all about. Then there's the 'Flying Pistons Club' and 'Wild at Heart' tees featuring iconic imagery from motorcycle culture.
Along with a huge selection of motorcycle tees the 100MPH store now also features a wide range of designs for car enthusiasts. The new range of car t-shirts includes iconic vehicles across a range of categories such as Hot Rods, Supercars, Muscle Cars and Icon Cars. Browse the car t-shirt range here.
Right now 100MPH is also offering free shipping on all orders over $50. If you're obsessed with high powered fossil-fueled machines grab yourself some of the latest 100MPH gear here.