These are the Oxford Kickback Air motorcycle boots inspired by hi-top style sneakers. These purposeful casually styled riding boots feature targeted perforated panels, leather upper construction, a reinforced heel box and an anti-slip multi-density sole.
Riding gear and motorcycle accessory brand Oxford was founded in Oxfordshire, UK in 1973. Almost half a century later their products are still designed in Oxfordshire by their in-house team of passionate riders and designers. The Kickback Air boots form part of Oxford's range of urban ride wear. This streetwear-styled motorcyclist footwear looks great from the outside and features the very best of the brand's latest safety tech on the inside.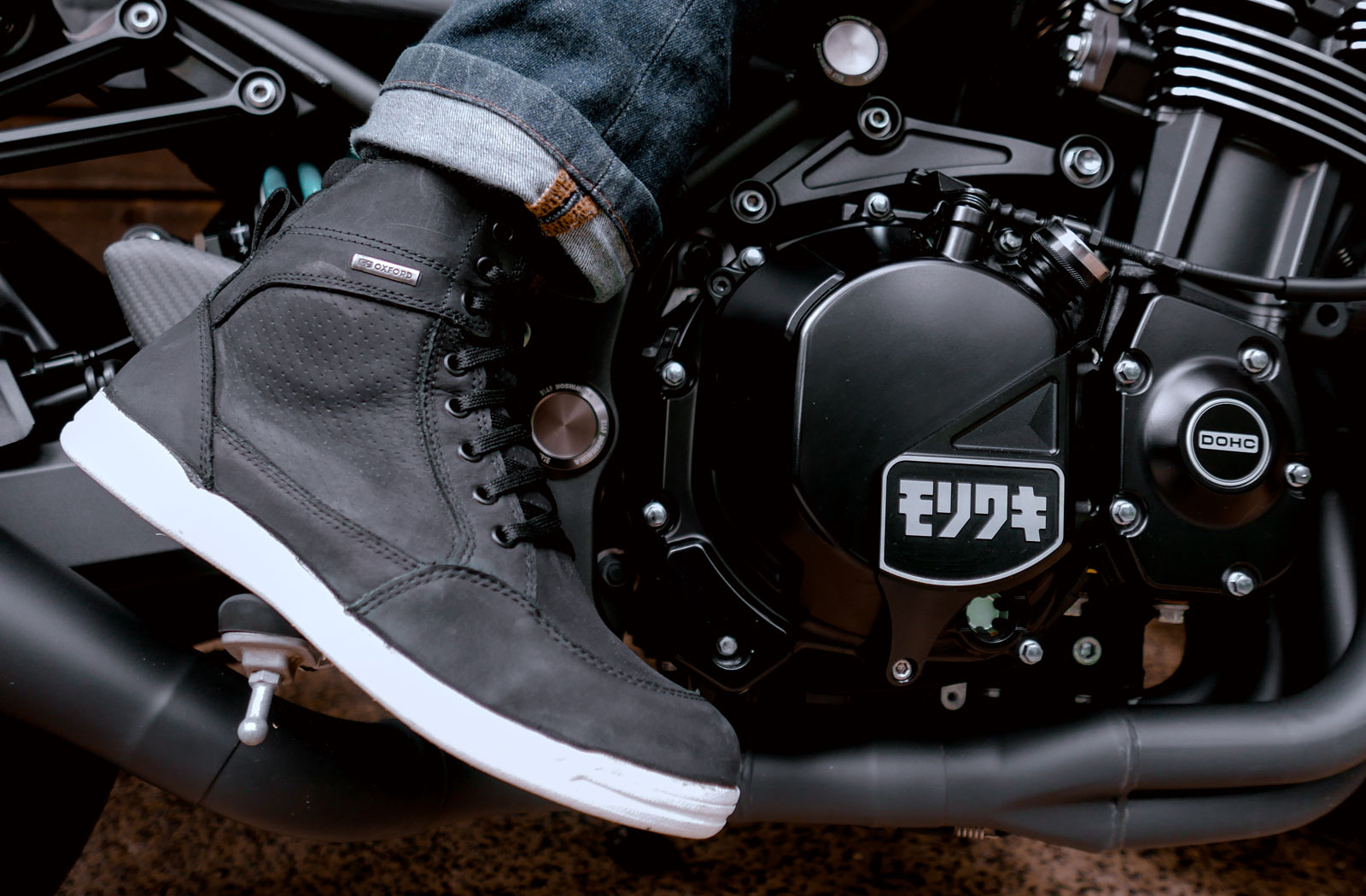 First impressions count with this style of urban riding apparel and the Kickback Air boots score highly. Equally appropriate for off the bike as on it these boots blend into any casual occasion. Whether you're having a meal at your parent's place or a night out with mates there's nothing that'll give away the fact that you're still wearing your riding gear. Depending on your preference the boots are available in either a matte black or chocolate brown finish with matching nylon laces and stylish white soles.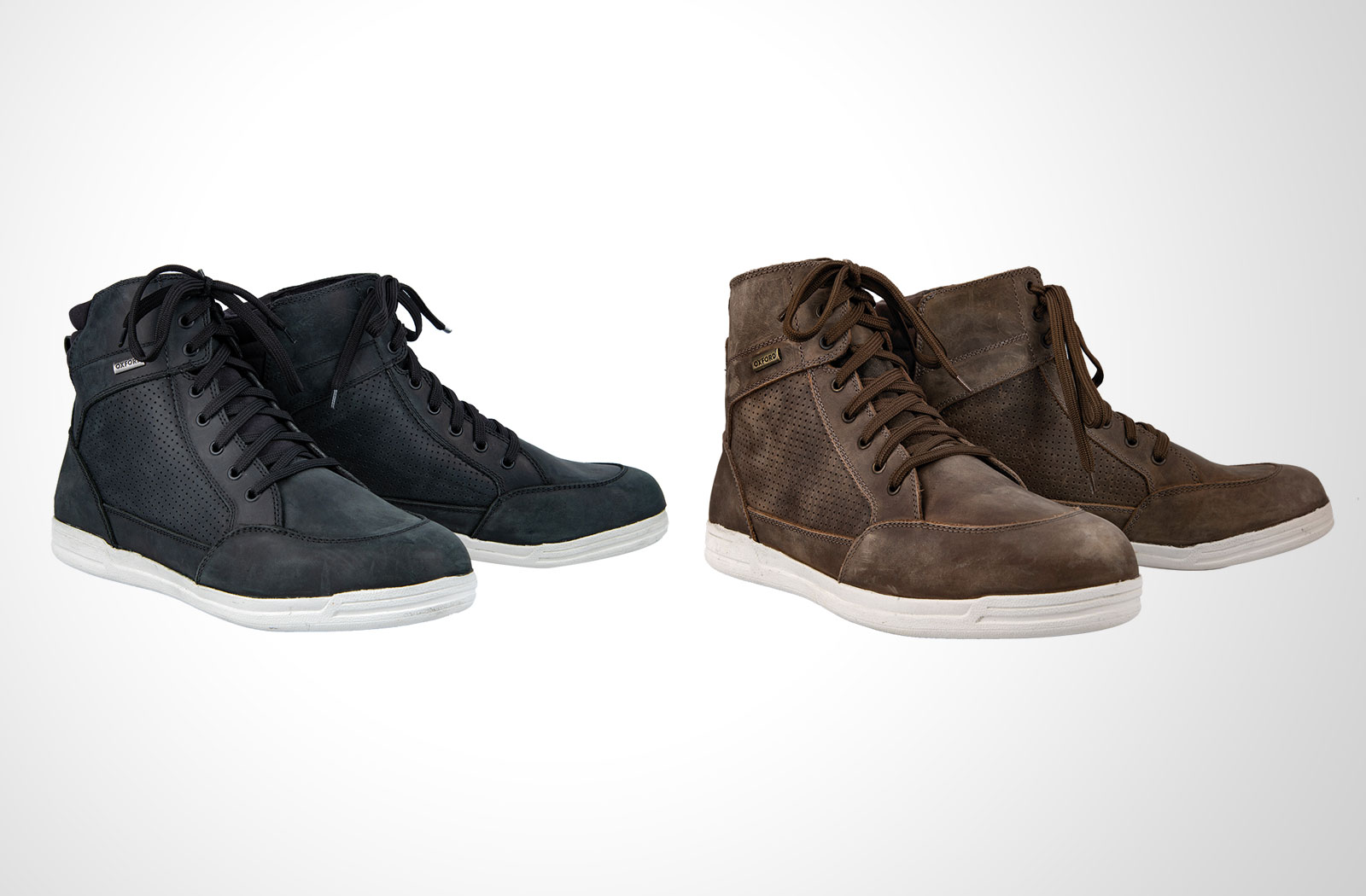 The Oxford Kickback Air boots are constructed using a full leather upper. For added comfort, the tongue of the boot is padded as is the high flex accordion style panel at the back of each ankle. Fitting the boots is done traditionally using the laces rather than a side entry zipper. I've been spoilt with side entry zips on my riding boots for some time now, so this feels a little clumsy, but that's a first world problem rather than an actual drawback. To make fitting the Kickback's that little bit easier Oxford has included a puller loop at the rear of each boot.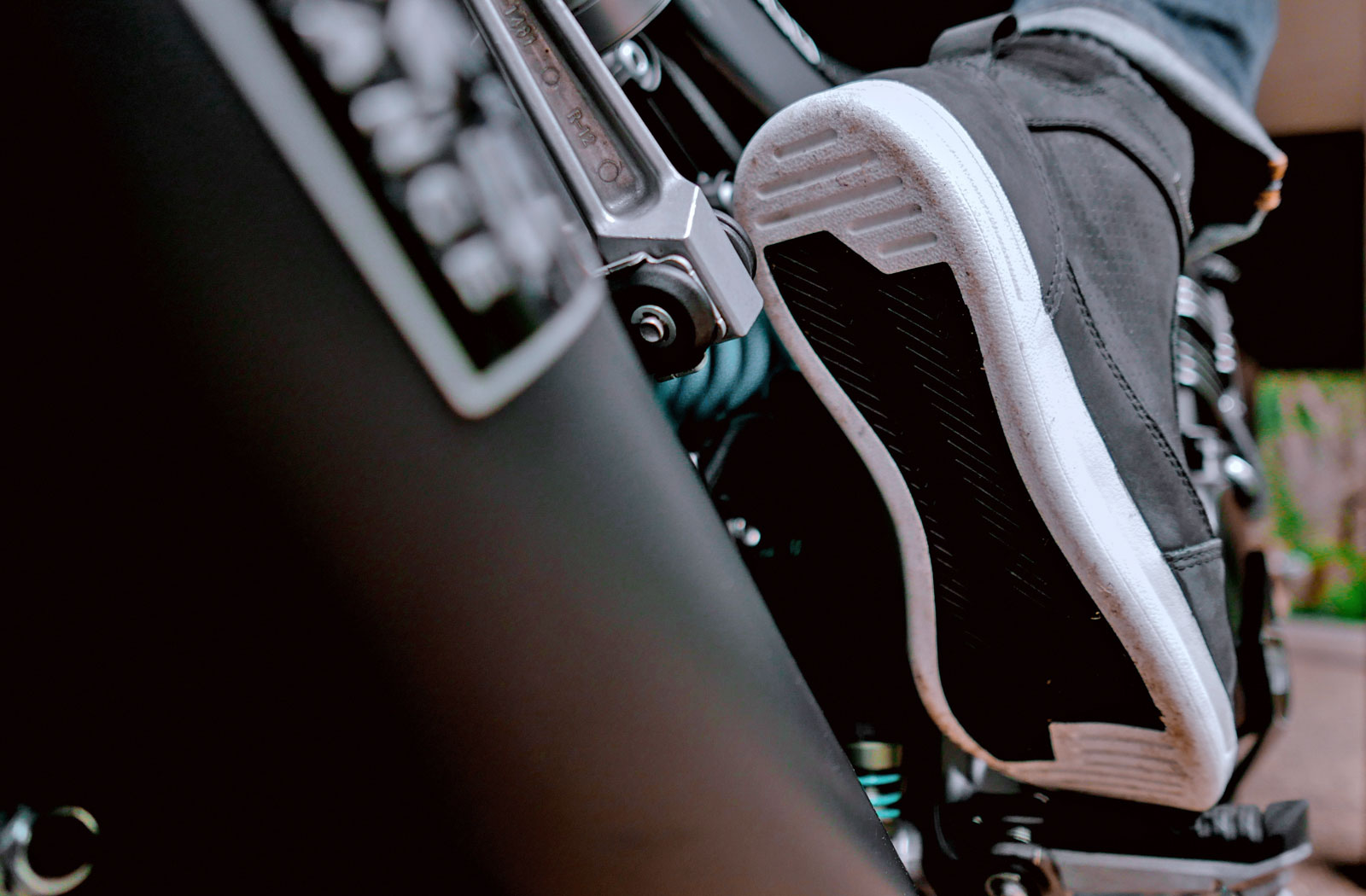 Oxford has released the Kickback boots in 2 season-appropriate styles. The Kickback Air boots are for warmer season riding while the Kickback WP boots are the waterproof, cooler season variant.
To help keep your feet cool during the peak of summer the Oxford Kickback Air boots feature perforated panels. Located on the outer and inner sides of the heels they allow just the right amount of airflow to keep your feet cool and dry in the hottest conditions. Along with the cooling benefits of these boots they are also very comfortable. The inner sole provides ample padding for all-day wear and the presence of the armour hasn't caused me any discomfort.
As you should expect from any item of riding gear, the Oxford Kickback Air boots contain multiple safety features that have gained them a CE safety rating. The heel of each Kickback boot contains a reinforced heel cup. Ankle protection is provided in the form of malleolus pucks on both the inner and outer sides. Another nice addition to these boots is a multi-density, anti-slip sole. Along with providing surefooted stability on all urban surfaces, the sole contains an anti-twist mid-sole shank for additional peace of mind.
Knowing these boots are backed by Oxford's long history of producing riding gear and the company's quality guarantee makes them an attractive offering. For me, it's the look of these stylish motorcycling boots that appeals most.
Available here: White's Powersports