Most riding gear has one primary objective; to protect your body in the event of an accident. While that is obviously a very good thing, what about trying to prevent an accident from happening in the first place? One Swedish brand is doing just that with their range of protective riding gear and they go by the name of Lazyrolling.
The 'Armored' by Lazyrolling range of ridging gear is exactly the kind of gear we love. It combines street style with premium safety features. That means no sacrificing your skin for the sake of style. The range consists of several styles of seasonal motorcycle jackets and riding jeans, but it's the Armored Reflective motorcycle jackets and hoodies which take their offering to a whole nother level.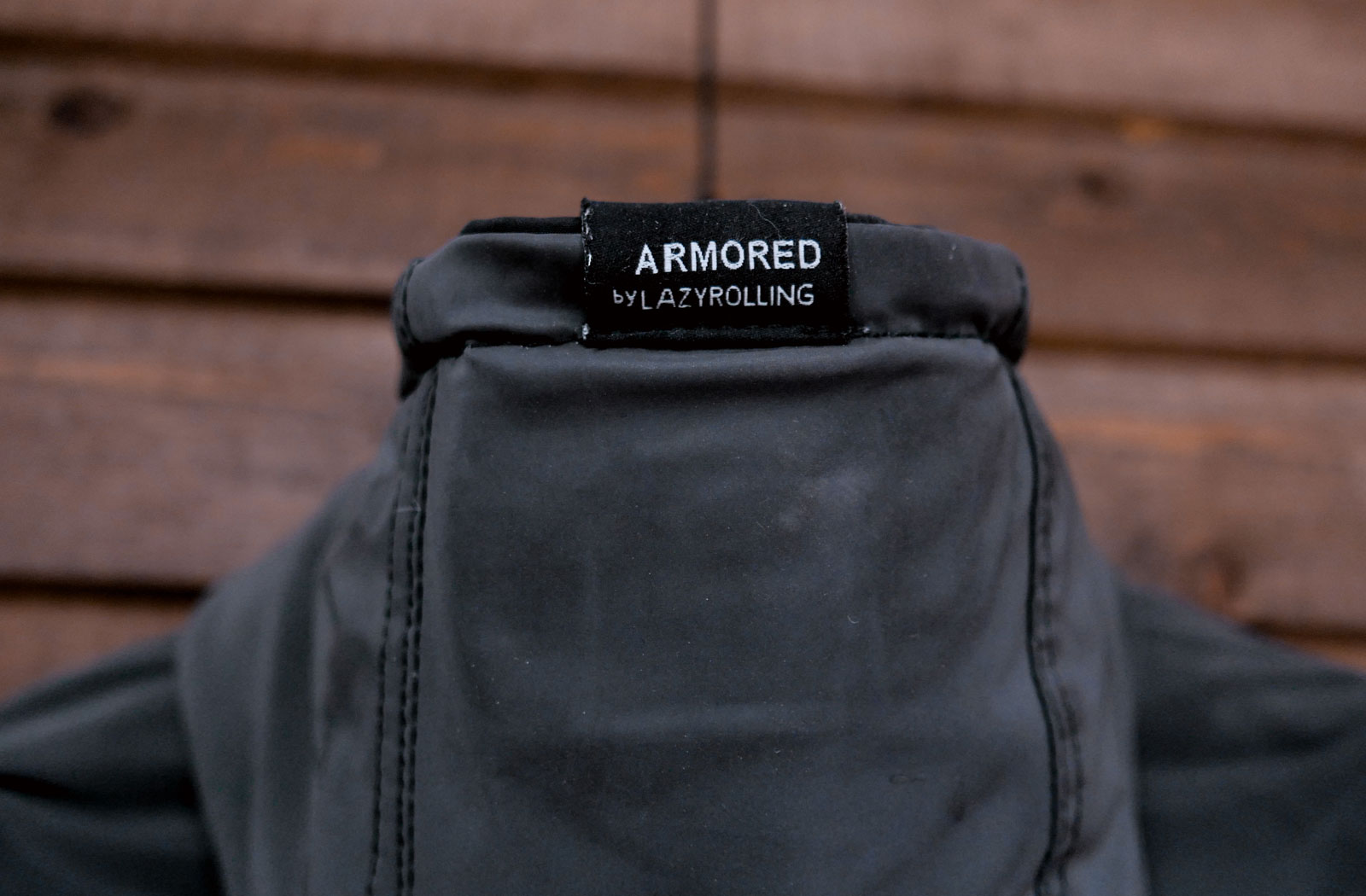 The Armored Black On Black Reflective Jacket is CE-certified as an EN 17092-4:2020 Class A garment. This means it packs all the protection we've come to expect from our everyday riding attire. The key to achieving this rating was the addition of an all-encompassing DuPont Kevlar liner. The liner covers the entire torso, front and back, as well as the full length of each sleeve.
When purchasing the jacket on the Lazyrolling website you're given the option to add armour to the purchase and boost its protective attributes even further. The Reflective Jacket starts at $249 USD and you have 4 different armour options to choose from. These range from Level 1 pads up to Heavy Duty Level 2 items which range from $15 up to $80. The armour installation process is a pretty standard affair with pockets featuring velcro closures on the elbows, shoulders and back.
For the purpose of this review, we acquired an 'Armored Black On Black Reflective Jacket'. As the name suggests the jacket is entirely black. Now that doesn't sound all that safe compared to say, hi-vis yellow, but this jacket has a very clever trick up its sleeve – and along its chest and back.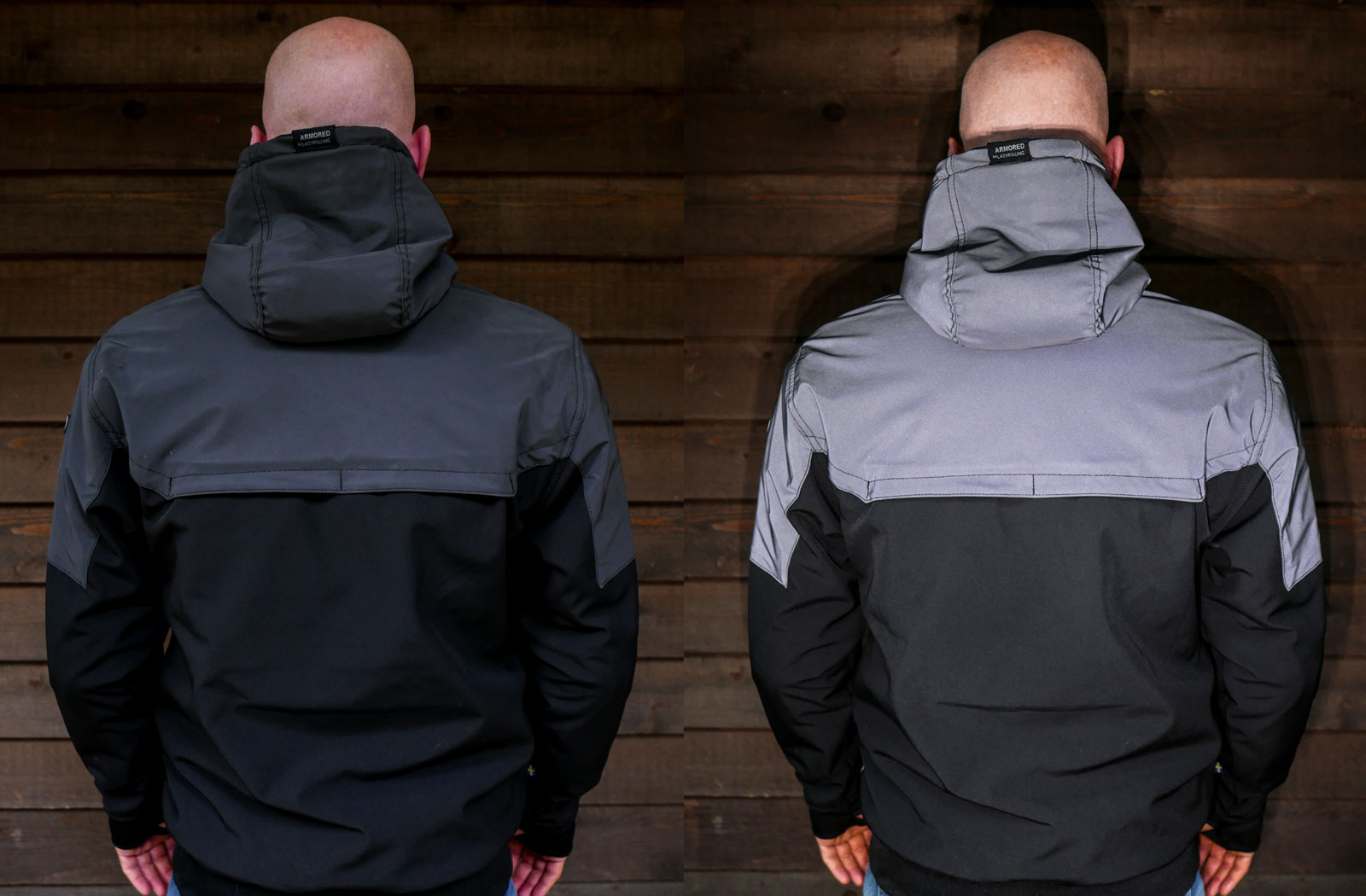 Lazyrolling has covered the entire top half of this jacket using a highly reflective material. In daylight, the material has an almost velvet black appearance but if you shine a light at it, or a pair of headlights, it shines right back. This makes you pretty much unmissable in low-light traffic where riders are even more at risk.
It's important to note that Lazyrolling also do a grey version of this jacket which reflects 30% brighter than the black. This option may appeal more to riders who ride regularly ride in low light/visibility conditions or want the added daytime visibility that the lighter material offers.
I'm 5′ 11″ and weigh 83kg and generally consider myself a medium. When selecting an Armored jacket I went with a large based on their sizing chart and the fit was spot on.
The Armored Reflective Jacket has a relaxed slim fit. It fits snug on the arms and upper torso and has a bit of room to move around the waist.  The jacket sits close enough to the body to keep you insulated and I have found the sleeve length to be ideal for my frame. The cuffs and bottom hem are elasticated which provides a good barrier against the wind. The sleeves also feature a gaiter design so they can tuck into gloves with your thumbs working as anchor points. The jacket is also rather long which helps with warmth but be prepared for it to bunch up a bit.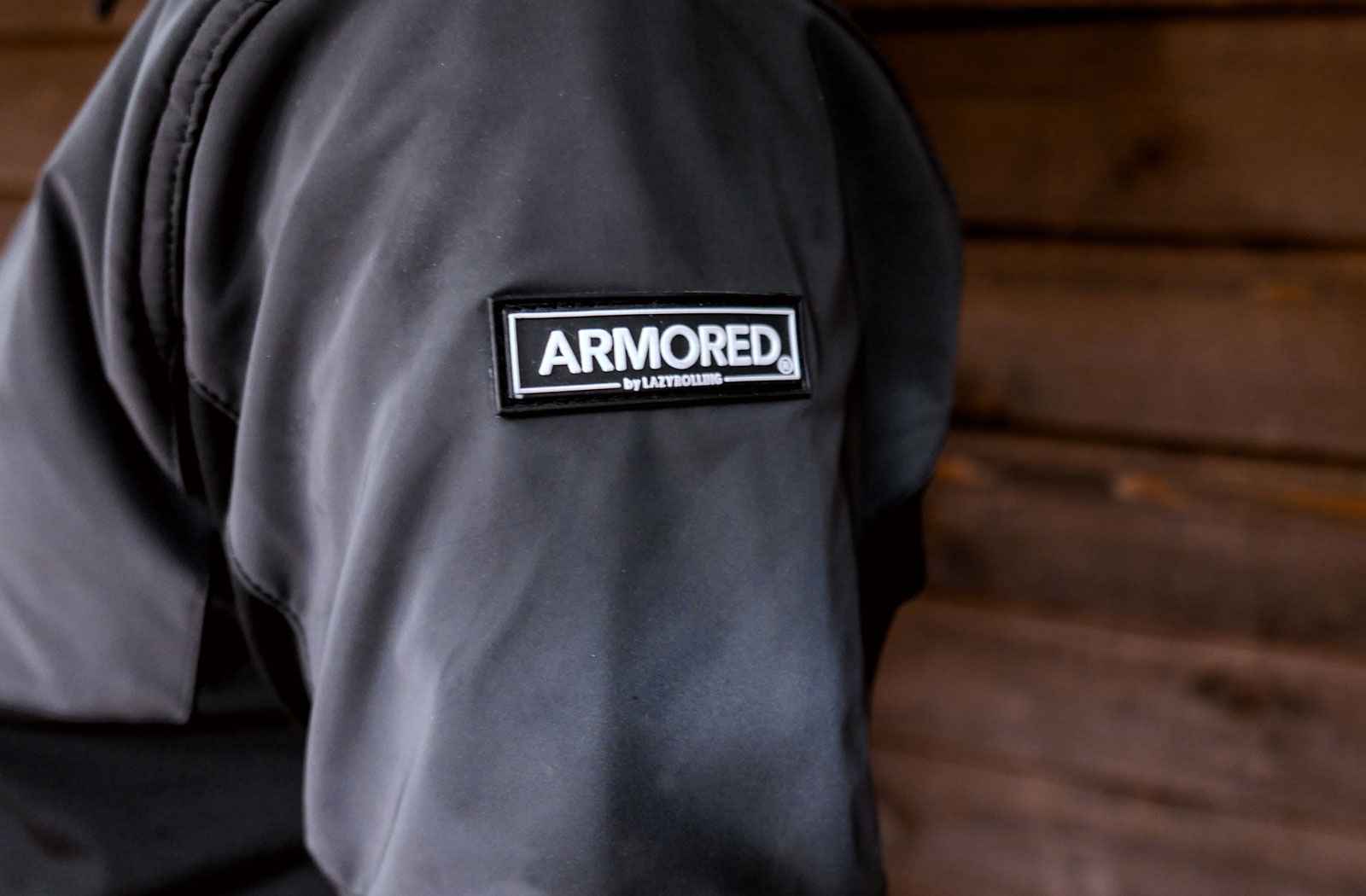 Designed for use during the cooler seasons this jacket features a softshell 100% polyester outer that is both water-resistant and windproof. The material also has a fleece-like internal finish that is designed to stave off the cold and assist with moisture wicking. Despite its ability to block out the wind, the outer shell is breathable and I haven't found sweat build-up to be an issue. However, when it does get warmer there are zippered armpit vents and vents on the back to help cool things down.
Between you and the Kevlar sits a mesh liner which houses the armour. I have found the mesh to be a bit scratchy on the arms when wearing a t-shirt, but not so much that it made for an unpleasant experience. My biggest gripe about this jacket would have to be the hood's drawcords. Personally, I have never found pullcords to be useful, and on motorcycle jackets, they're just plain annoying. The cords on this jacket seem much longer than necessary and tended to flay about occasionally whipping my helmet as I rode. The ends of the cords are finished in rubber, but if one was to catch your neck at 100mph you'd certainly feel it. The simple fix here was to remove them altogether, which suits me just fine. The hood itself isn't overly large so it fits comfortably without the need for adjustment.
For storage convenience, the Armored Reflective Jacket features 2 external waist pockets and 2 internal chest pockets. All of the pockets close using zips and the internal pockets have been made waterproof for storing smart devices or valuables. Hoods are often a point of contention when it comes to motorcycle jackets. This one does indeed come with a hood, but it's smaller than most I have tested. During my rides, the hood hasn't caused a lot of noticeable drag. Lazyrolling has also made the collar tall and loose so I have never felt like I'm being choked by it. Another thing worth mentioning is that all of the internal seams are overlocked for added strength and durability.
One of the more unusual safety features of this jacket is that it is equipped with RECCO technology. This is the same technology that Ski brands use in their gear. This technology was originally designed to help rescue helicopters find skiers buried after an avalanche. These days however the technology is being adopted by outdoor brands since most rescue helicopters have adopted the technology. I don't see myself needing it anytime soon on my street bike, but if you're the kind of rider who likes to venture off the beaten track the Lazyrolling Armored Reflective Jacket could be an ideal choice for you too.
Available from: Lazyrolling