The Enginehawk Predator isn't strictly a hoodie, nor can you call it a jacket. It's a waist-length, water-resistant, hooded, pull-over garment without a front opening. Technically speaking, the Enginehawk Predator is an anorak.
If you've never heard this term in a clothing context, that's understandable. According to Google's Ngram Viewer, the word has seen a decline over the past decade. Despite this, it's the perfect way to describe the Predator. Thanks to Enginehawk perhaps the term may see an increase over the next few years. For familiarities sake, I will refer to the Predator as a jacket from here, rather than an anorak.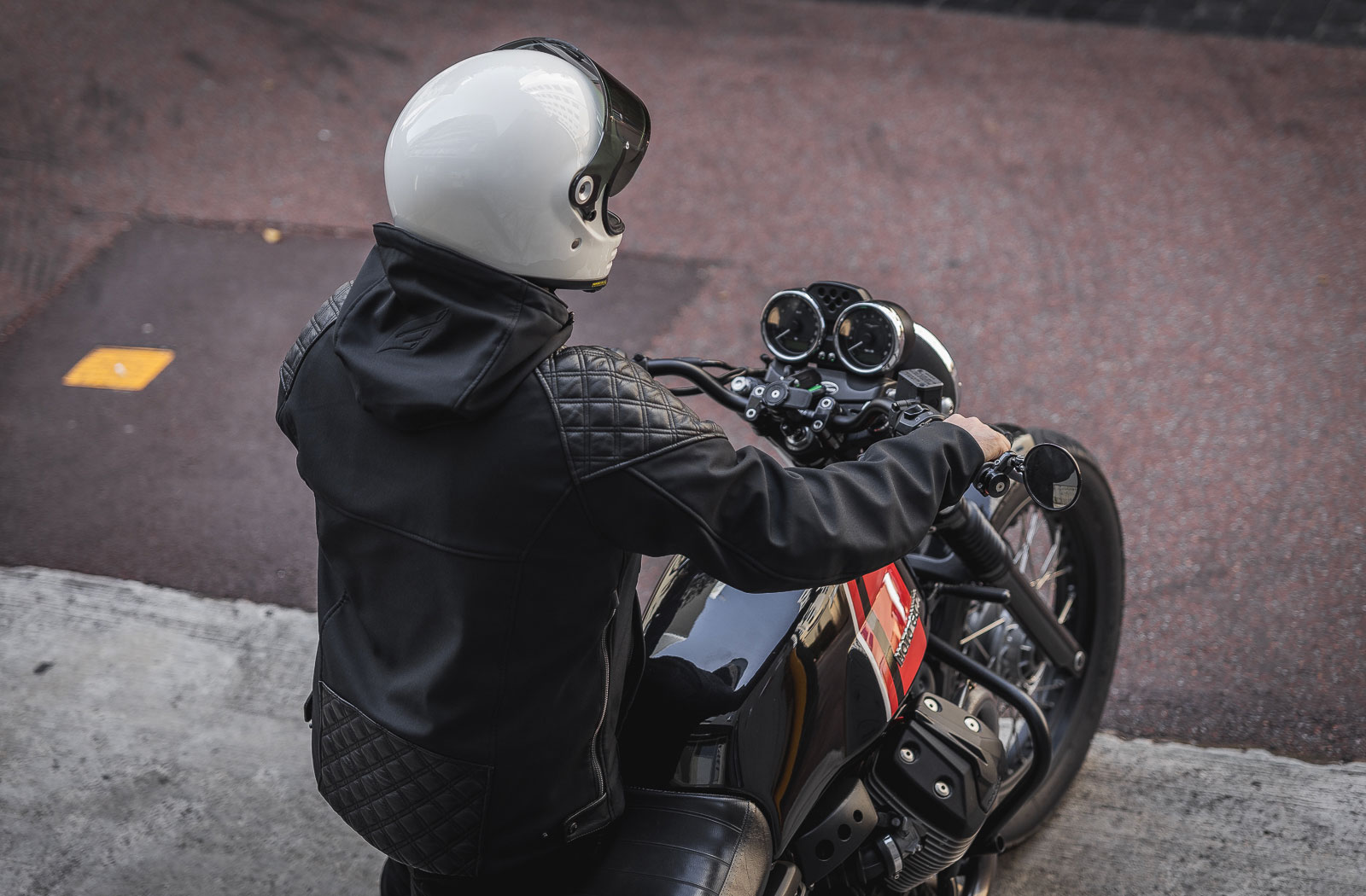 The Predator is one of the more unique items of motorcycle gear I've had the pleasure of testing and yes, spoiler alert, I like it. This surprised me because tall, muscular, slightly dangerous-looking models are splashed over the Enginehawk website and socials. This suggests two things – firstly, their target audience is not me in any way. Secondly, their target audience spends more time in the gym than riding their motorcycles. Even so, the Predator was intriguing enough to catch my eye so I had to try it. Visually, I think it's a great looking jacket but it does have one functional flaw which I'll get into later.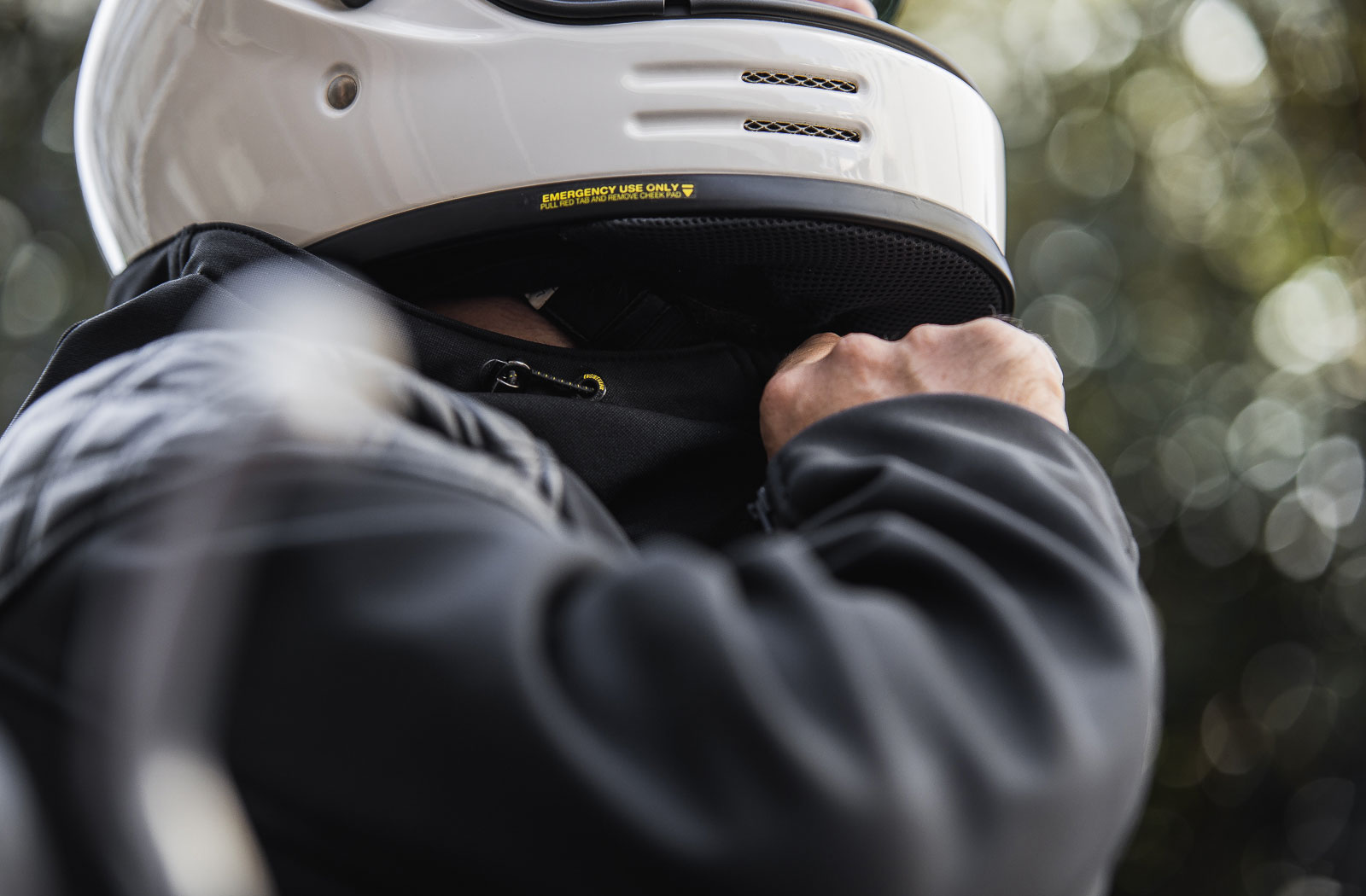 Firstly, unboxing the Predator is fantastic. The packaging is bold, meticulous and is very much an experience. If you can overcome the need to keep the beautifully designed box, the packaging is paper and cardboard so it can all go in the recycling bin.
Out of the box, it's immediately apparent the Enginehawk designers have a background in the fashion industry. I appreciate attention to detail and the Predator delivers in spades. In a colour scheme that Henry Ford would be proud of, the blacked-out Predator cuts an aggressive silhouette but closer inspection reveals subtle details. There is a gel-injected, embossed EH logo on the left chest and yellow Enginehawk lettering on the right drawstring eyelet. There is another embossed logo on the left arm and the slick hanger loop looks like a motorcycle chain.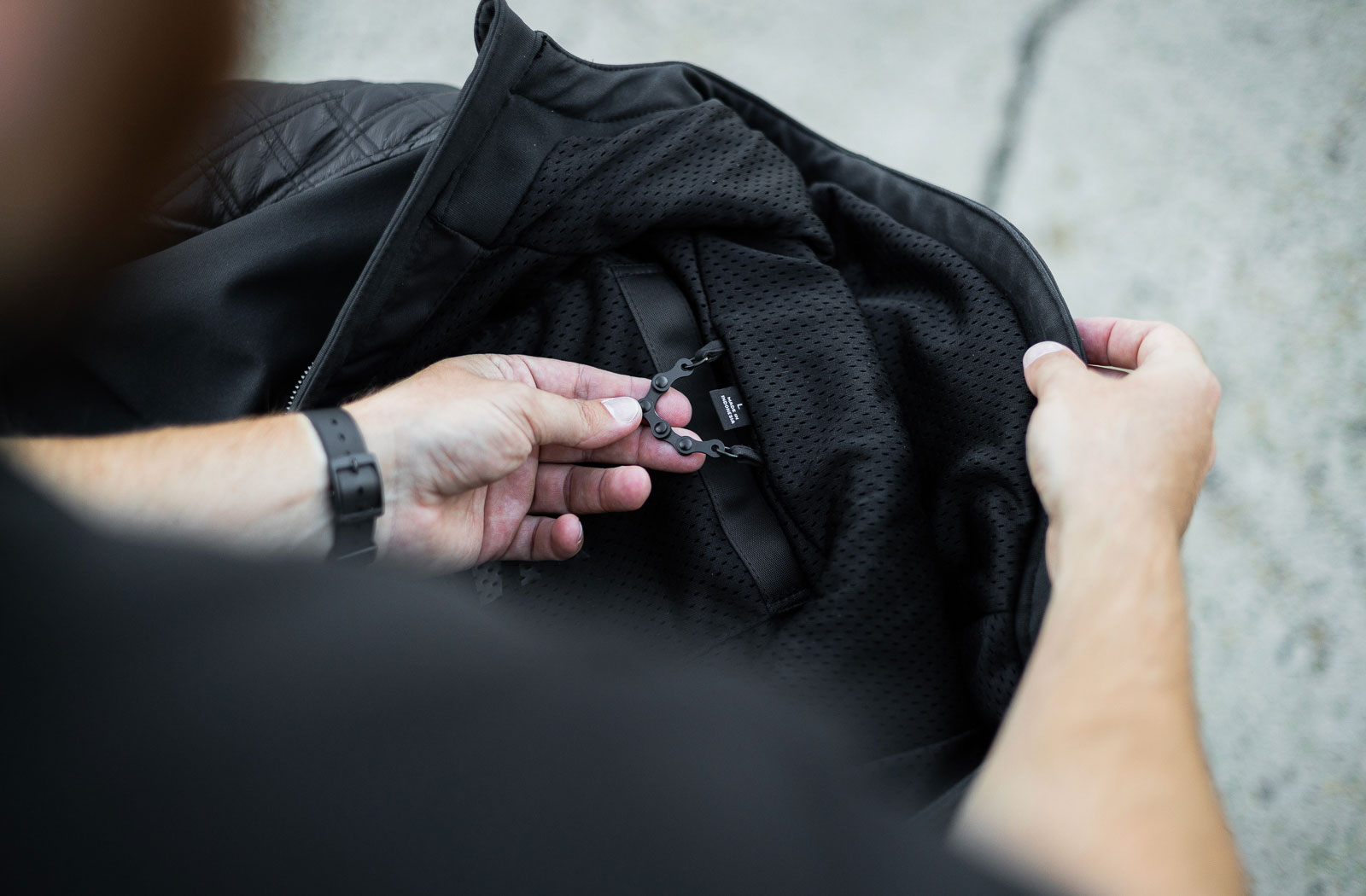 The hood can be securely fastened by way of a sturdy press stud on the back of the jacket. This is to make sure it doesn't flap around when you're riding. Not only does it serve a great function but it also allows the hood to lay flat when you're not wearing it. Trust fashion designers to come up with that.
My favourite component is the black, quilted leather at the shoulders and lower back. The full-grain leather is soft, flexible and would hopefully offer a modicum of protection over the nylon/spandex fabric. However, it's not all about the slide as included with the Predator is a full suite of CE-approved armour. The CE approved SAS-TEC Triple Flex Level 1 armour at the shoulders, elbows and back are so flexible and comfortable that you will be hard-pressed to notice them at all. Enginehawk states the Predator will accept SAS-TEC level 2 armour but I found the standard to be perfect and thankfully I haven't had to test my preference.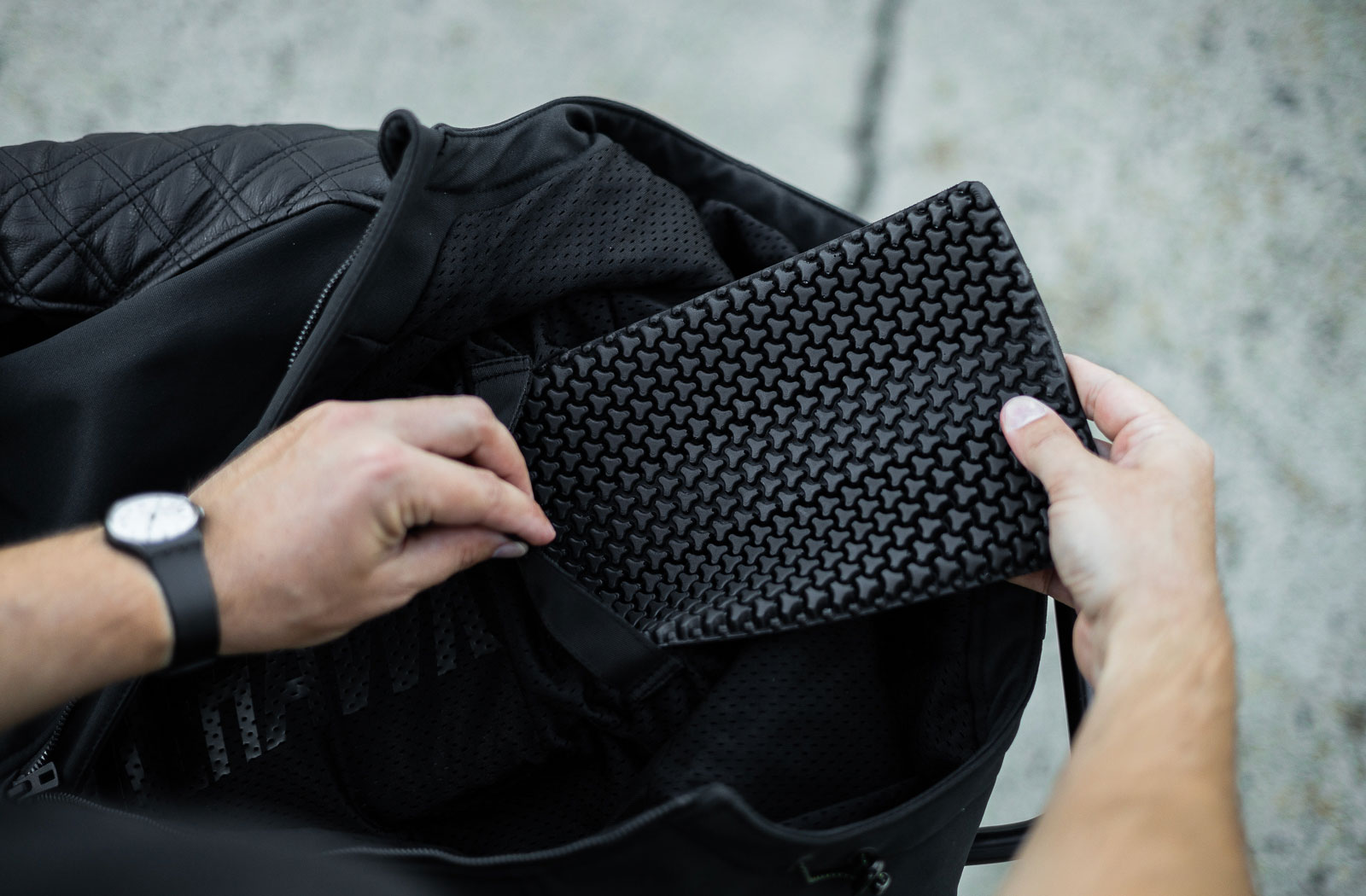 The raglan style sleeves of the Predator are slightly pre-curved, further adding to the comfort factor. For those who aren't familiar with the "raglan" term, it essentially means that the sleeve extends up to the collar, rather than ending at the shoulder. This design increases the range of motion and as a bonus the armour to sit flat against the shoulder.
I found the sleeves to be the perfect length, especially when riding. My arms are certainly not the longest so taller riders will need to check the fitment guide before buying. The overall length of the jacket is also perfect for me so once again, measure twice, buy once if you are tall.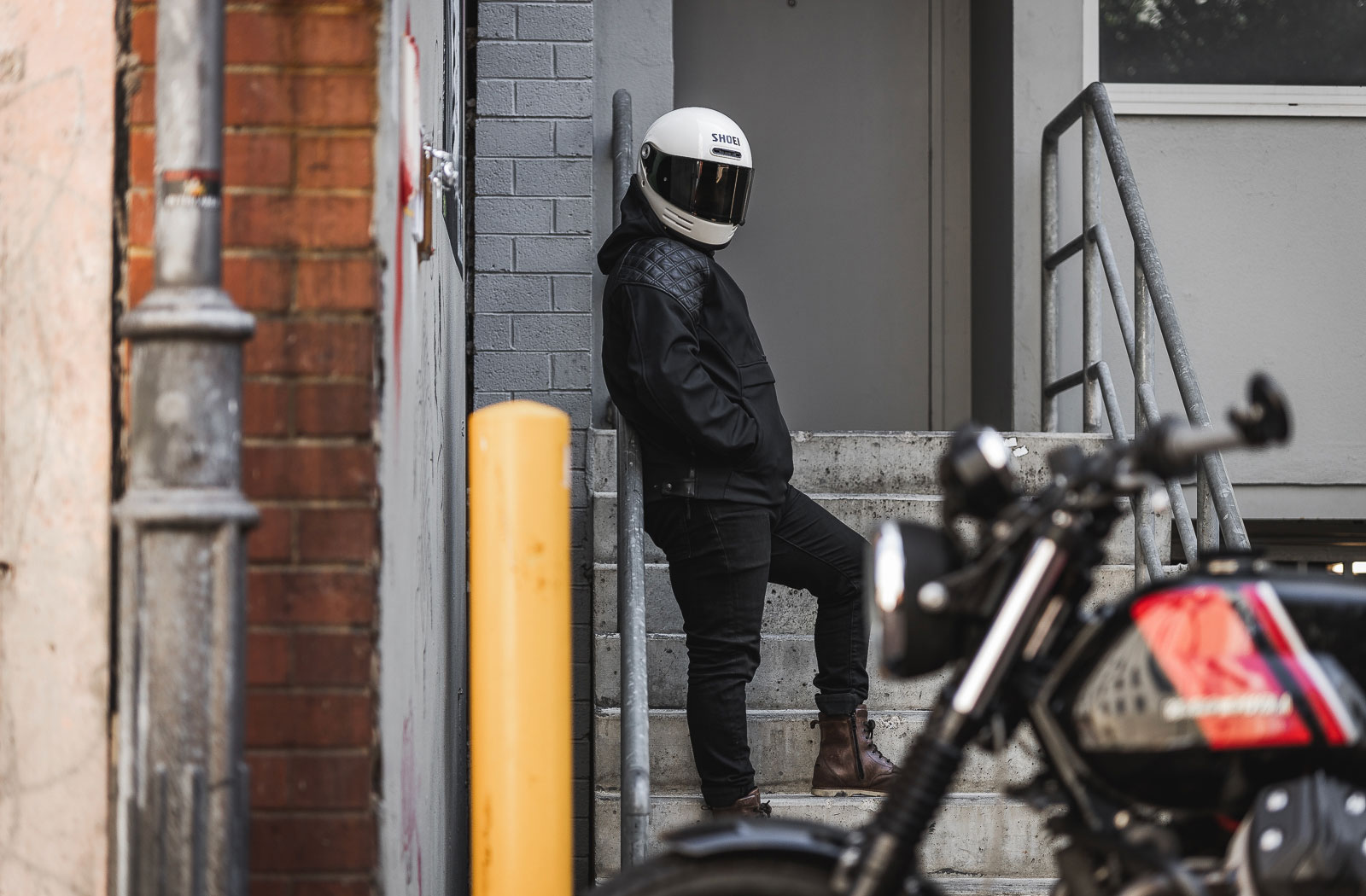 Moving downwards, there are two very long adjustment zippers on either side of the jacket. Stretching from the base to (almost) the armpit. There is a good reason they are so long and we'll get into that below. There are also size adjusters around the waist for a more customised fit and zippers at the end of each sleeve.
At the front of the Predator is what I affectionately refer to as the "kangaroo pouch" (I'm an Aussie after all!). The half-zipper on the chest only extends down to just below the mid-sternum and below this is a cavernous, zippered front pocket. This pocket is immensely convenient for storing phones, wallets, face masks or even small dogs. I used the front pocket for storage countless times, especially when running errands. For all the aesthetic tough-guy marketing, the Predator is the perfect companion for a quick pop to the shops.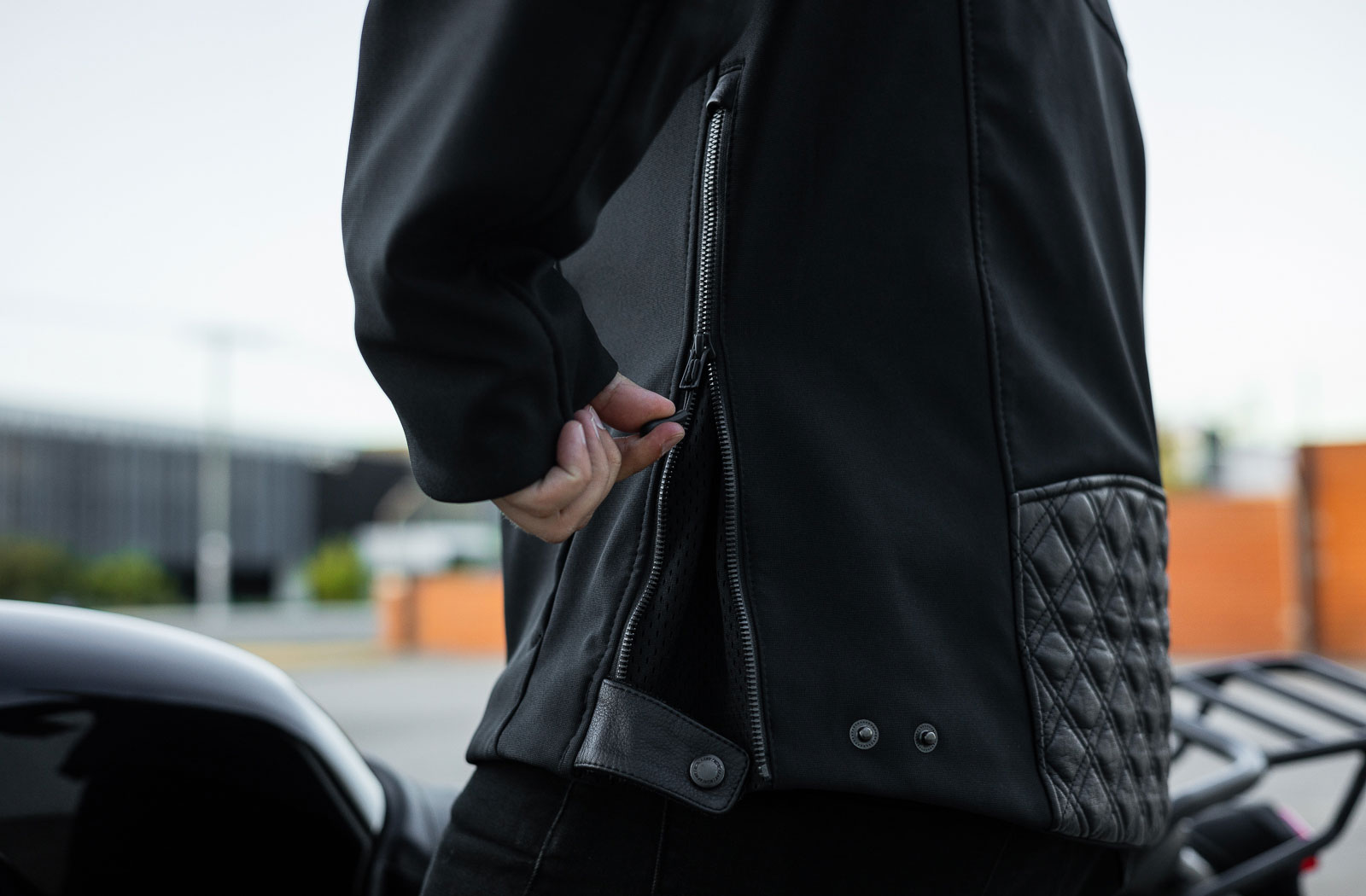 The Predator yields another design advantage – there is no zip to get bunched up around your waist while riding. I'm a jacket, jeans and boots kind of rider and I've never ridden in a hoodie but I can see why people do. The zip can't get bunched up around your waist because there is no zip. Enginehawk, if you've done this on purpose you're all brilliant and you deserve medals. This one small ergonomic victory makes the Predator the most comfortable riding jacket I've ever worn.
Speaking of ergonomics, there is one drawback to this design – it's a pull-over. Picture this scene: You pull up at your local bar and heads turn because you're a badass (and they're definitely not looking at the helmet imprint on your forehead). You saunter in and take a seat. Now, you have to remove the Predator but to do so requires a process about as graceful as a reverse birth. It's heavy, armoured and less stretchy than a normal hoodie so it's akin to a straitjacket when you want to take it off. The long zips on either side of the jacket are there to make it easier but it's still an awkward undertaking. This would have to be the major downfall of this particular design. So unless you've rigged up a Wallace & Gromit-style clothing machine to help you get the Predator on, prepare for some struggles.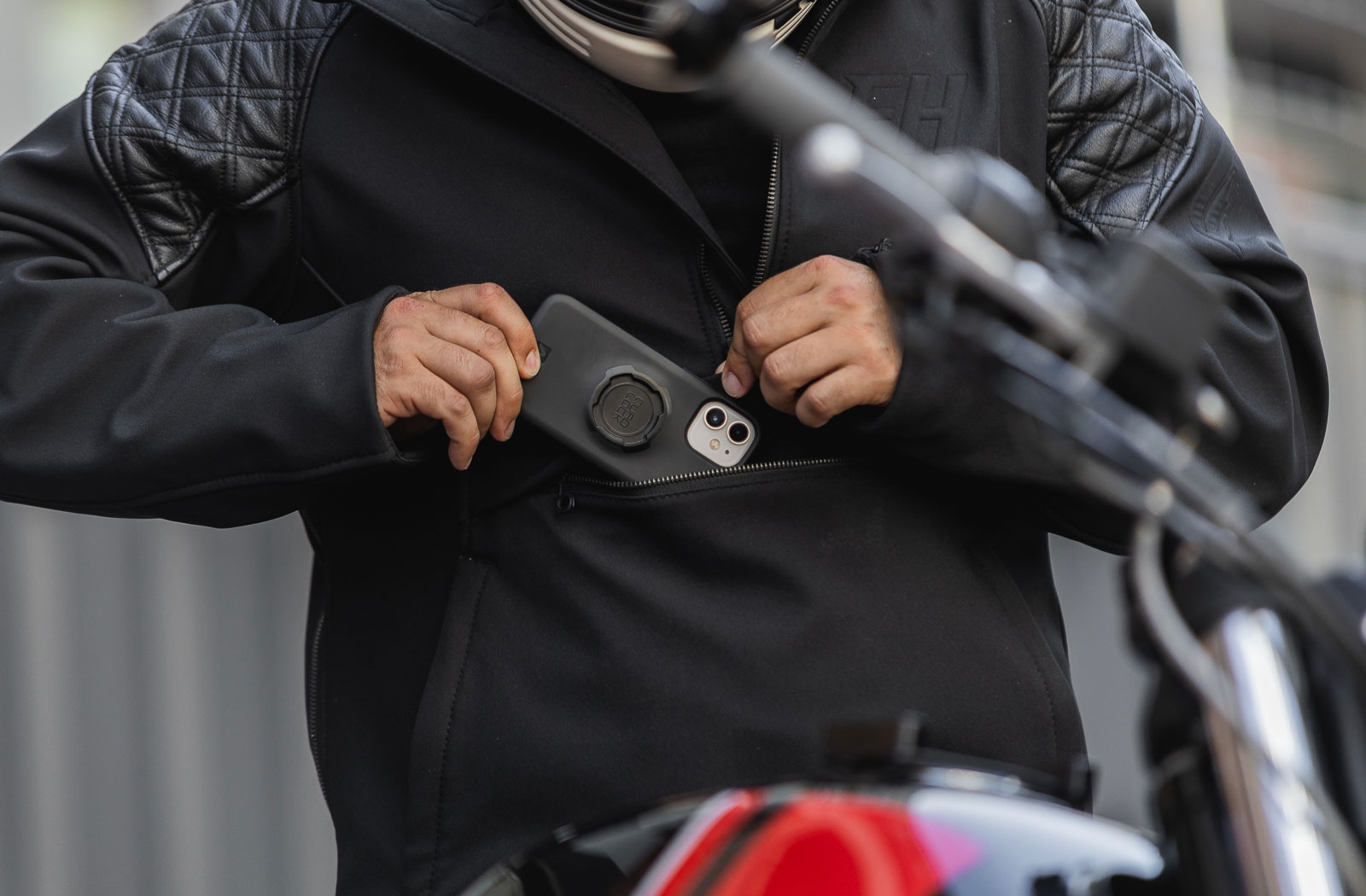 So, is the comfort of the half zip worth the ergonomic pain of the ingress and egress? If you are precious about your carefully curated biker attitude, then no. If you don't care, wriggling around to take it off, then yes. A thousand times, yes. After 2,000km I'm yet to master the technique, even though I've had plenty of practice. This struggle aside, I think the Predator is worthy of your consideration.
I found myself reaching for this jacket more than the others in my wardrobe (especially in the colder months) so that can only mean good things. It's also proof that winters in Western Australia are milder than most places on earth. The Predator is the perfect mid-way point between my winter and summer jackets. The soft, water-resistant outer shell is very effective at blocking the wind, the kangaroo pouch is convenient and again, the comfort level is incredible. Every zip (except the main zip) is mesh-backed so opening them when the sun comes out allows air to flow through the jacket.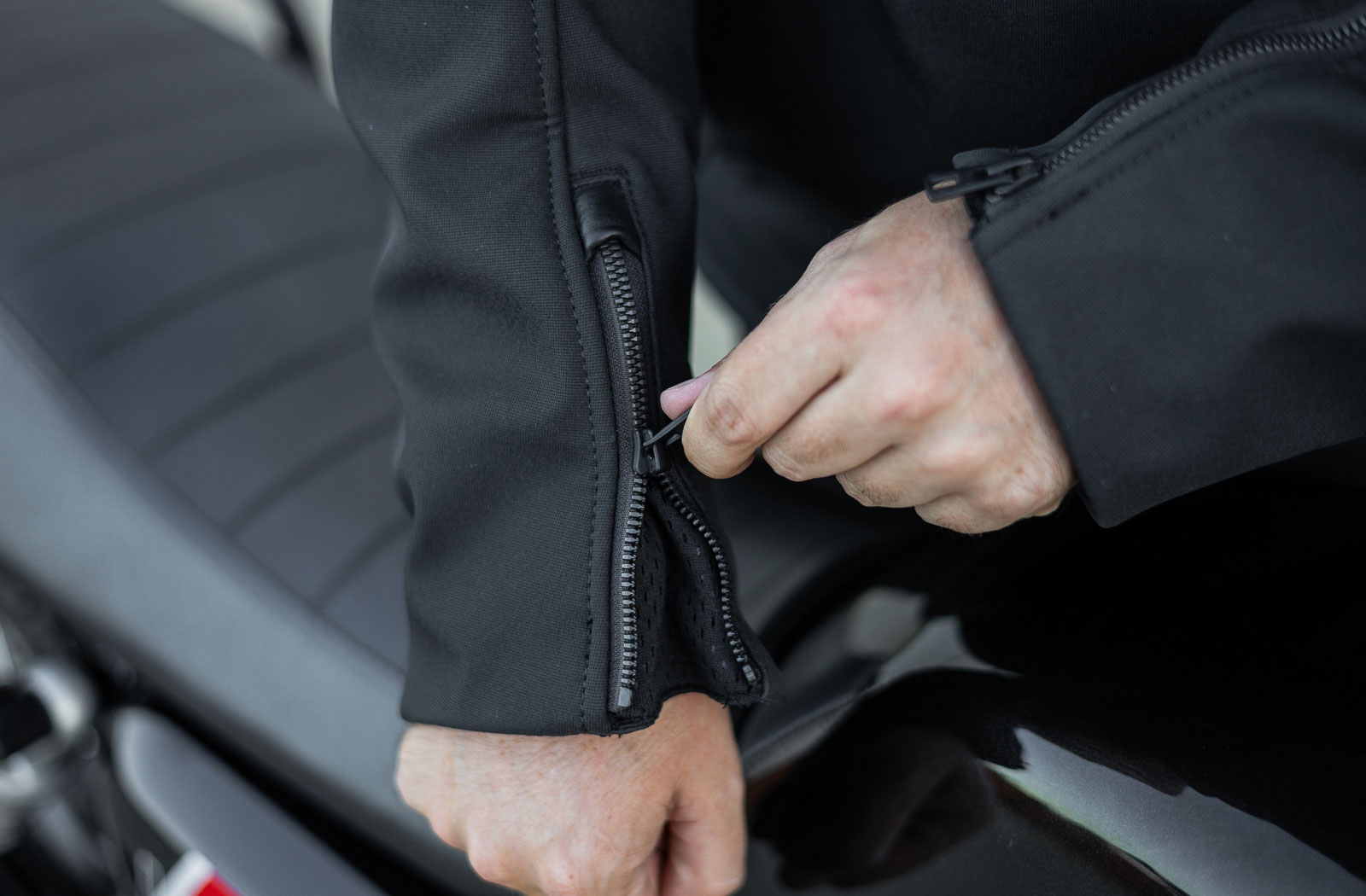 I chose a size large but I could have squeezed into a medium. On one particularly cold ride, I was able to wear an extra layer underneath so I was glad for the extra room. The extra room contributed to the casual, non-motorcycling feel of the jacket, which is a big plus, and something I'll expand on shortly. There are also 2 press studs on either side of the jacket so you can tailor the fit accordingly.
I had more than one comment on how different it looks but if the Enginehawk Predator is wrong, then I don't want to be right. It's comfortable, fully armoured and it looks great. The $600AUD price tag is a bit steep, especially when you only get three bits of leather. A lot of effort and research has been put into the design and details of the garment, and it shows. This makes the high price tag a little more bearable.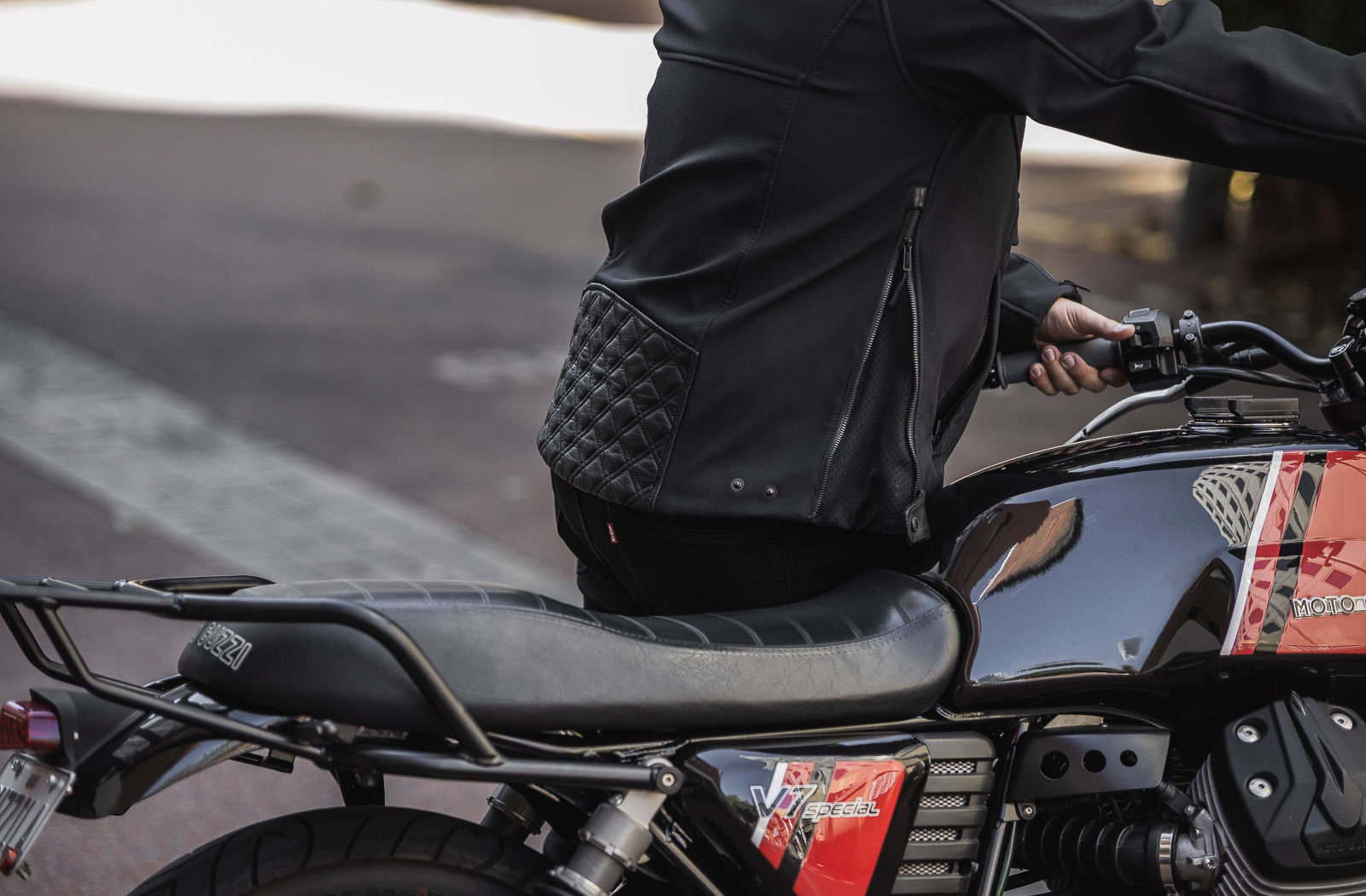 It is the height of summer here in Australia so the Predator is now safely tucked away in my wardrobe as I struggled to wear it above 28ºC. It's in fine company alongside brands like Roland Sand and Rev'It. It gave me pause when I realised that, and for good reason. Enginehawk is a relatively new brand to the motorcycle game. If they can release a product so good that it can hold its own and share space on a rack with major brands like RSD and Rev'It, that says something. It would be like Metallica releasing their self-titled album a month after forming.
The Predator is so far removed from what I usually consider motorcycle apparel to be that it has changed the way I look at my other jackets. Don't get me wrong, leather is timeless and in terms of safety and abrasion resistance, still the best. However, it's 2022 and fabric technology has come a long way. Not everybody (in Australia, at least) wants to sweat it out in summer or be left wearing a soggy, heavy mess in winter. It's the Predator that has opened my mind up to other materials. In fact, I've worn my leather jacket once in the last six months and that was only because it was a requirement at the track day I attended.
So Enginehawk, please keep doing what you are doing. You've changed my mind and will no doubt change countless more.
Photos courtesy of Harley Loffler.