Lithuanian brand Pando Moto has quickly become a force to be reckoned with in the world of motorcycle riding gear. From humble beginnings when their range was limited to a couple pairs of riding jeans, they now offer a comprehensive collection of protective gear that continues to grow with each new season.
One of the latest additions to the Pando Moto range is the Onyx Black 01 leather motorcycle gloves. The Onyx Black 01 are a short cuff, all leather glove. They are ventilated making them ideal for warmer riding conditions and feature integrated armour.
The Onyx Black 01 gloves are constructed from 0.8mm cowhide leather which is soft and supple yet still offers reassuring levels of abrasion resistance. For added strength, all of the gloves seams are double stitched. Pando Moto has also added an additional layer of suede leather to each palm and the inside of the index finger and thumb for added strength and grip. The gloves are secured in place using an adjustable velcro fastener on the wrist.
Comfort isn't an issue in these gloves. Like many motorcycle jackets, they are built pre-curved which helps with preventing fatigue. Accordion-style panels at the back of each wrist and elasticated fabric between the fingers provide excellent freedom of movement. The gloves also fit true to size but I have found the main opening a bit on the small side. This has made getting them on a bit slower. But once these gloves are on they fit, pardon the pun, like a glove. I have thankfully noticed the opening is stretching with use which is helping to cure this issue.
Pando Moto has designed the Onyx Black 01 as warmer weather riding gear. They are of course a short cuff design which helps, but all of the leather used in their construction is also perforated. This feature allows plenty of cooling air to reach your skin which will be a welcome feature this coming summer should it be anywhere near as hot as our last one.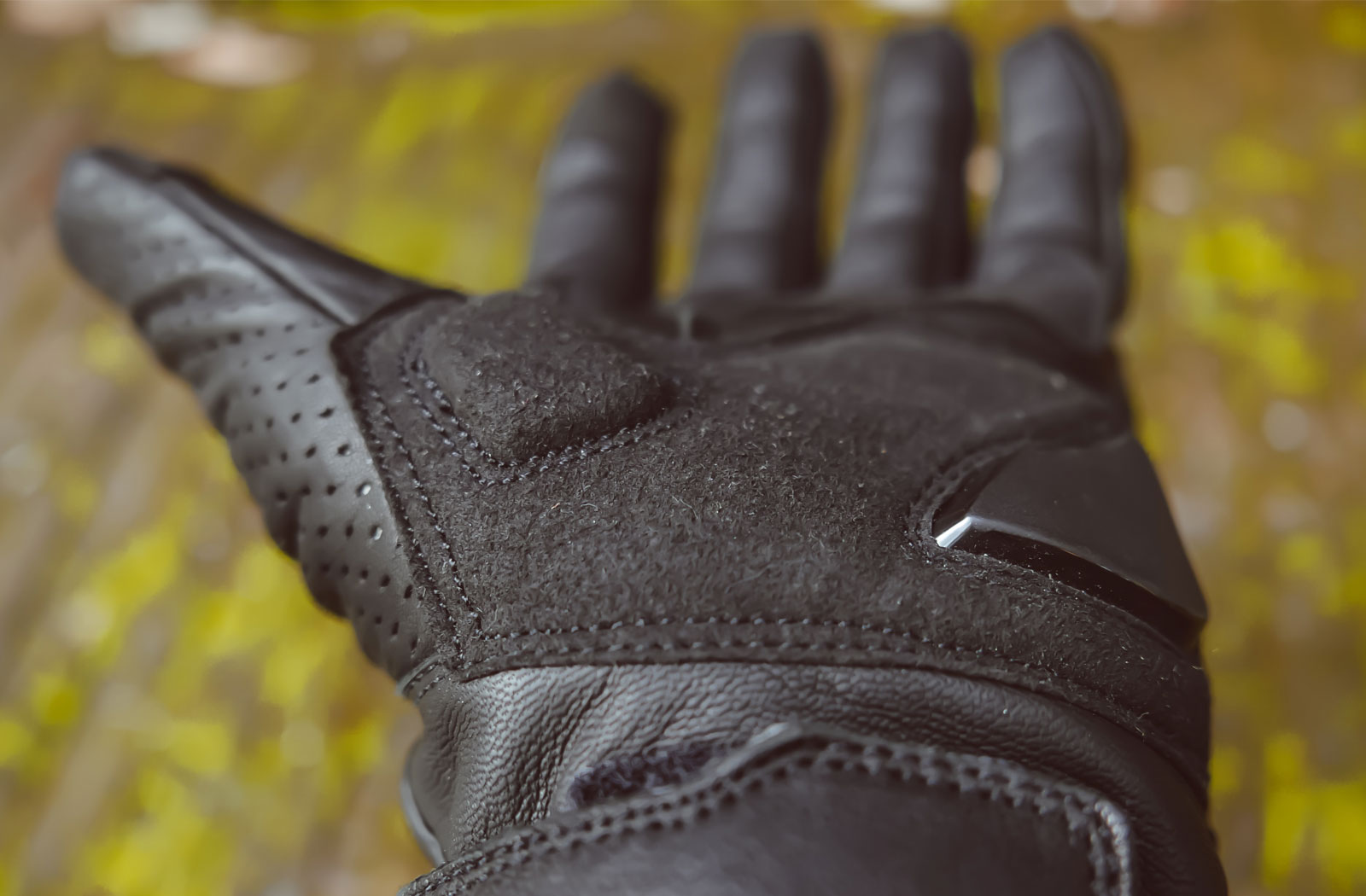 Along with the use of leather, Pando Moto has added impact protection into the design of the Onyx Black 01 gloves. Along the top of each finger are raised, pill-shaped details that contain padding. Protecting your knuckles against hard knocks is a TPU armour which offers enough flex to not be uncomfortable. There is also an additional TPU panel at the base of the thumb on the palm that cushions your hands where they sits on the grips.
An additional safety feature of these gloves is a PU slider panel on a high-impact region of the palm. This is made from the same material used on the knees of race suits which will help your hands to slide during an accident. It's a smart feature that adds an always welcome additional layer of safety without detracting from the glove's timeless visual appeal.
The Pando Moto Onyx Black 01 gloves come in a single matte black leather finish. Sizes range from XS to XXL and branding is limited to a subtle embossed Pando logo on the wrist. As is now the norm with most modern gloves  they feature a touchscreen-compatible tip on each index finger.
The Onyx Black 01 gloves are yet another quality product from our Lithuanian friends. They let you stay cool while looking cool and all without sacrificing your safety. In my book that's a job well done.
Available from: Pando Moto  /  Revzilla