Almost all of my 20+ years of riding have been done alone. Sounds pretty sad doesn't it? But that doesn't mean I don't have any friends. I've been on countless group rides, but I've never had a comms device that allowed me to communicate with other riders. Don't get me wrong. I really enjoy being alone with my thoughts while being serenaded by the symphony of my motorcycle's engine. But when you're in a group ride situation, communicating with others has some real benefits.
In recent years, I have accompanied a group of mates on several 4-day trips around Western Australia. All the other riders in the group use Sena Comms systems to stay in touch during the rides. After watching them interact out on the road and hearing them recounting conversation highlights from a ride, I developed a nasty case of FOMO. So with another trip fast approaching I finally decided it was time to get a Sena of my own.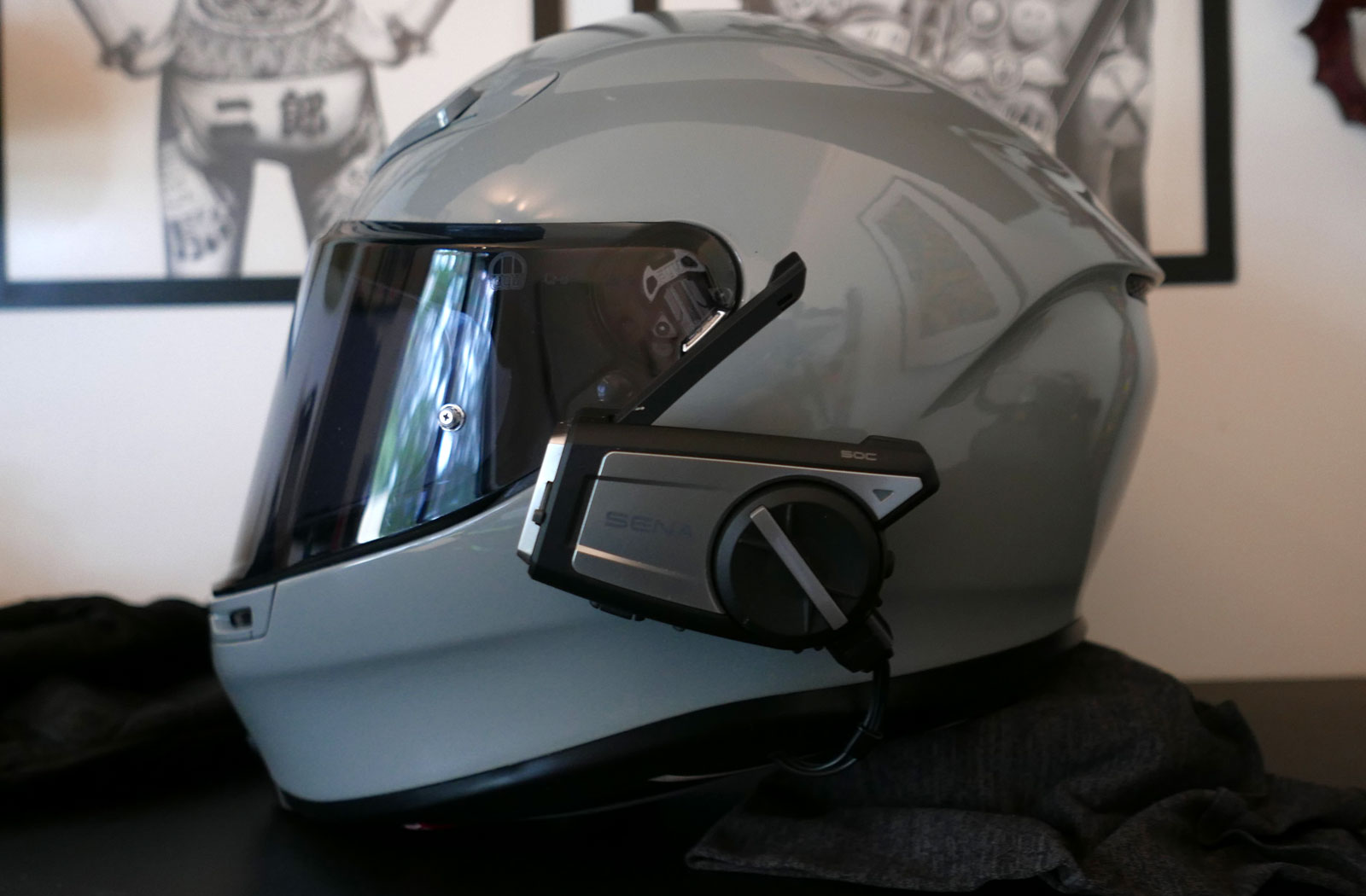 Sena 50C price and features
After checking out the brand's latest product offering I opted for the top-of-the-range Sena 50C. As such it retails for $549 USD and on top of the features you'll find on their standard units, the 50C features an inbuilt 4K camera.
The 50C utilizes both Mesh and Bluetooth technology to connect you to other riders. Mesh is Sena's own wireless networking technology and it offers far superior performance to Bluetooth in regard to range. According to Sena, it will allow riders to converse at up to 8km apart. It does this by sharing a signal across all of the connected riders at distances of up to 1.6km apart. In the Open Mesh setting the unit can connect to a "near-limitless" number of other riders, which doesn't sound all that appealing to me, but is impressive, to say the least.
Sound quality is one of Sena's top priorities. So, to provide a product up to their exacting standard, they've teamed up with Harman Kardon for the unit's speakers and microphone. Operating the 50C can be done via buttons on the housing of the unit or using Sena's own voice command system. The unit will also connect to your phone and allow the use of Siri or Google's virtual assistant. This means you can also use your phone's maps for directions or play your favorite music playlists on Spotify.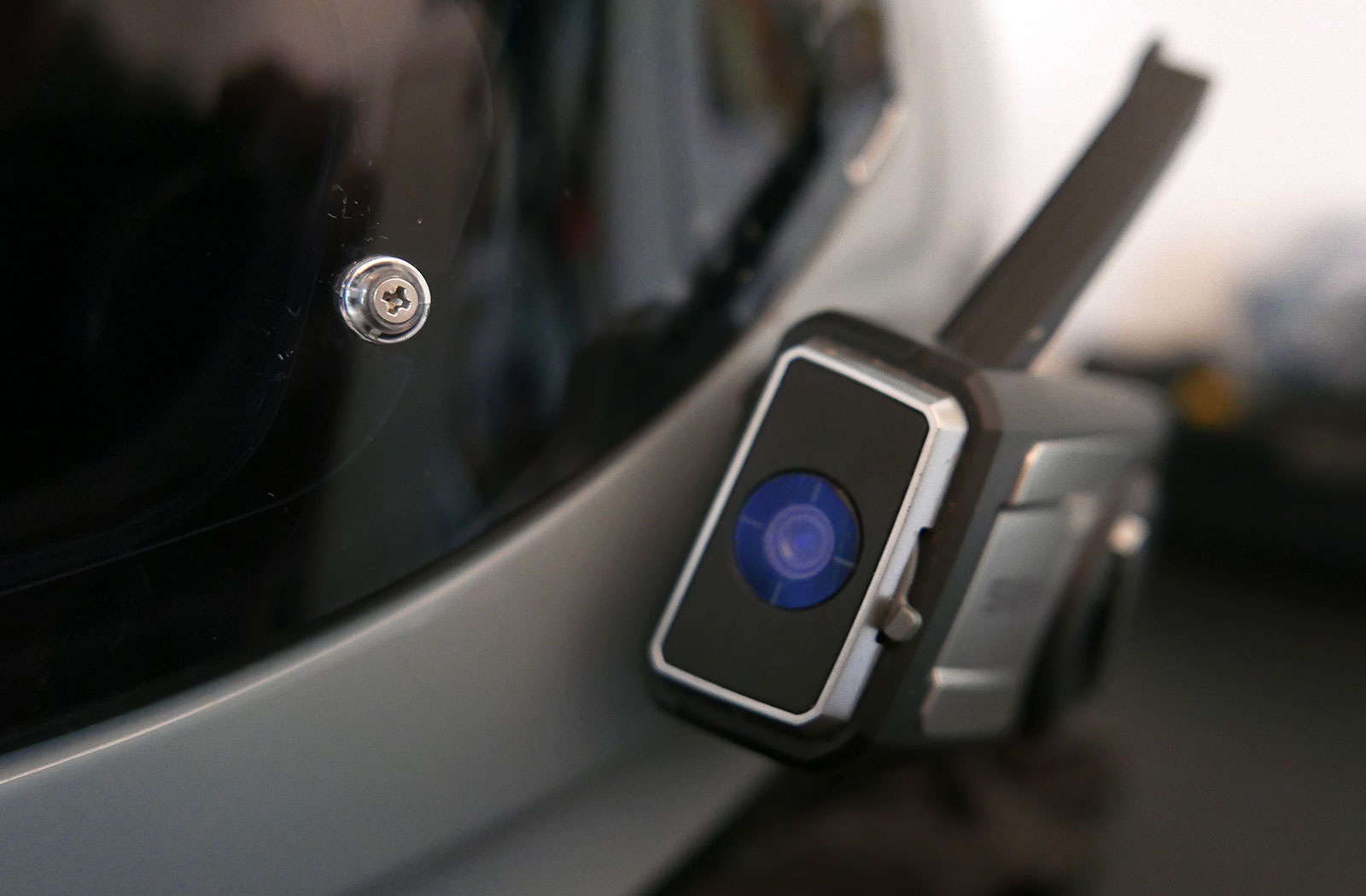 The unique feature of the 50C is its integrated camera. Built into the front of the unit which mounts to the side of the helmet, it can capture ultra-HD 4K video at 30fps. You can record video in several different modes and qualities and it has inbuilt stabilization to improve video quality. The camera is also capable of capturing single, burst, or stop motion 12Mp still images.
Sena 50C Install and setup
Inside the Sena 50C packaging, you'll find the main unit, several mounting plates, 2 different microphones, the speakers and their associated cables, a charging cable, and a Wi-Fi adapter for updating the unit's firmware. You also get some paperwork in the form of a Wi-Fi adapter quick start guide, a 50C quick start guide, and some legal/warranty info.
I consider myself tech-savvy and handy with tools, but setting up the 50C was no walk in the park. Surprisingly the unit doesn't come with an in-depth user manual. Instead, you'll have to download one from their website, but they don't tell you that anywhere on the quick start guide. Considering how extensive the unit's feature list is, I was baffled by this. Thankfully once I'd got my hands on the digital user manual the installation was pretty straightforward.
Installing the unit on a helmet is fiddly, but if you get it right the first time you'll never have to do it again. Helmets with speaker recesses like my AGV K6 are best suited, but not essential.
To get the speakers and microphone installed you'll need to remove your helmet's liner, add some velcro mounting pads, and find the best route to run the cables from the speakers and mic back to the unit. Positioning the mic is pretty important. I tried to place it as central as possible while avoiding the vent openings in the chin bar as they could introduce unwanted wind noise. I first opted for the wired mic but later swapped it for the included boom mic and I will explain why later.
Mounting the actual Sena 50C unit takes some trial and error. This is due to the fact that, unlike their other comms solutions, you are also trying to position it for the best video angle. The shape of my helmet made this difficult. The AGV K6 has aerodynamic channels along the sides which affected how the unit sat. After several attempts, I went with the fixed position 3M mounted bracket to sit the camera higher and get the right angle. A smoother shell helmet would have been much less problematic.
Once the unit is fully charged and properly mounted you download the Sena apps to complete the setup. With the 50C you need 2 apps. One for comms and one for the camera. Why they can't integrate it all into 1 app beats me, but hey, you can have everything you want. Out of the box, the unit is likely to need a firmware update and in my experience, this process is best done using the desktop software. After the update, you can sync the unit with the apps using the straightforward prompts. Once you've finished connecting the 50C unit to your phone it will conveniently reconnect whenever you power it on.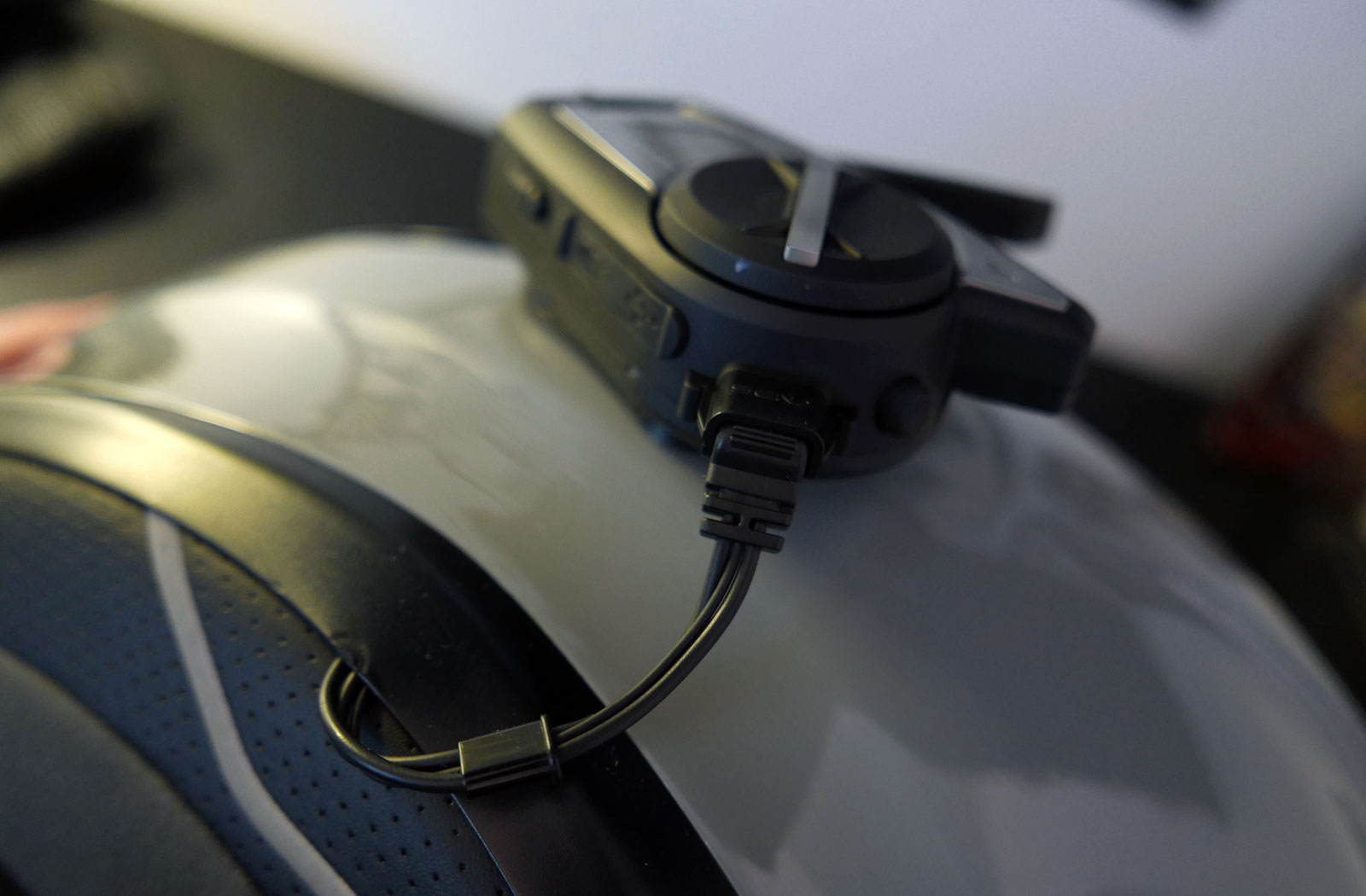 Sena 50C Real World Test Results
After receiving the Sena 50C it was some time before I got to test out its comms abilities. So instead I spent time getting used to its other functions.
The Sena 50C has a few buttons on the exterior and a large rotating jog dial. The buttons can be used to perform top-level functions like turning on Mesh, activating and operating the camera, and managing phone calls.  The jog dial's primary function is to adjust the volume of the speakers. It can also be used to perform a long list of functions depending on what else you're currently doing like answering or rejecting calls, pairing with devices, and various comms-related tasks. Having to take a hand off the bars to fiddle with small buttons is something I'm sure most riders would prefer to avoid and Sena has managed this by creating their own voice assistant system. Most of the commands begin by stating 'Hey Sena' and there are around 25 to learn. A short list of frequently used commands can be found in the app under Audio settings. I have found that I mainly use the prompts relating to shooting photos and videos. For other tasks, I revert to Siri commands which work very well through the 50C mic.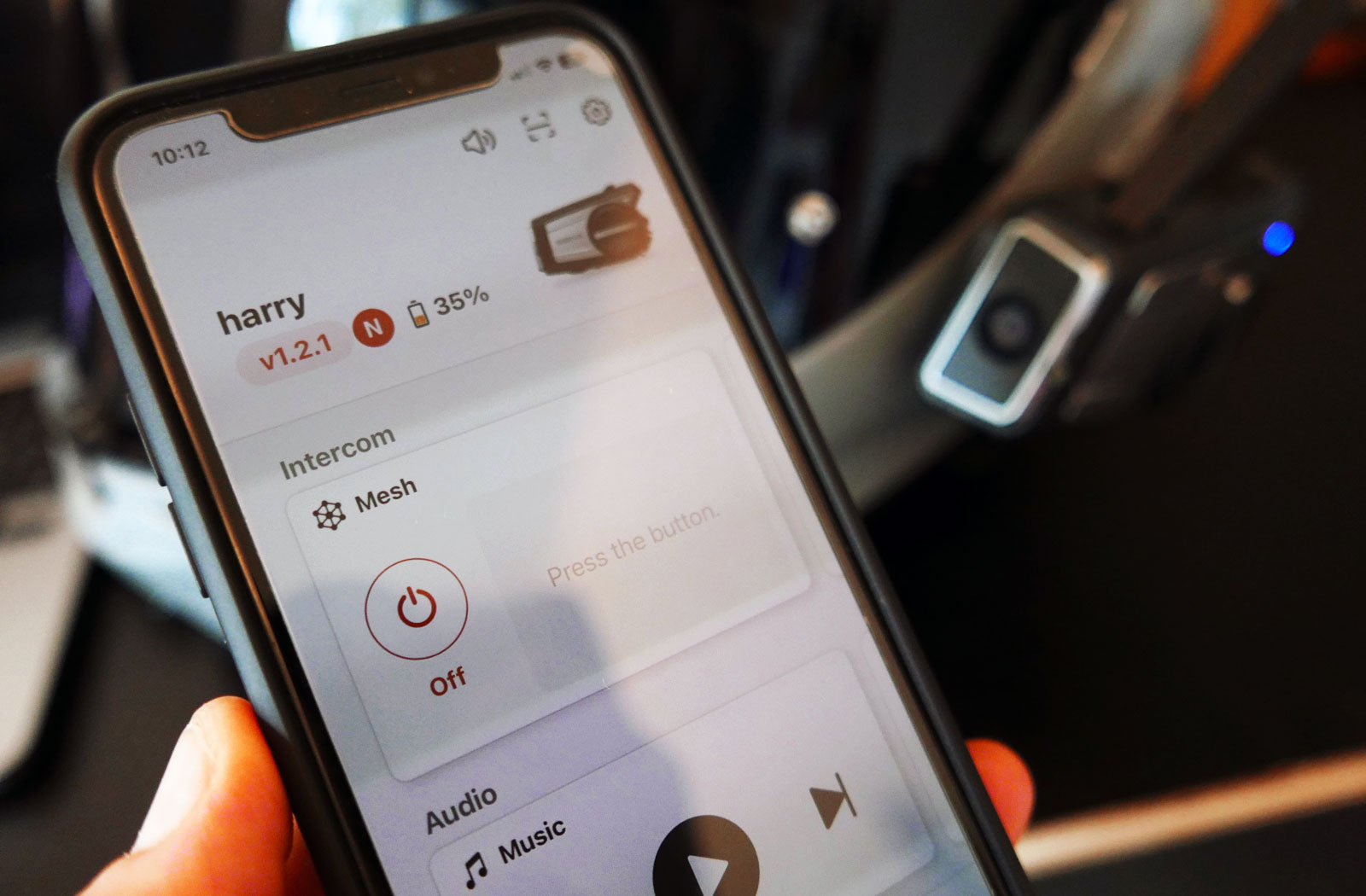 Listening to music is something I like to do to relieve the boredom on my 3.5-hour commute to the city. I'd usually use in-ear headphones which can become rather uncomfortable and cumbersome. The 50C speakers dispense with this issue and to say I have been impressed by the sound they produce would be an understatement. The music through the speakers is crisp and there's a decent range of sound. The Sena app allows you to choose from a few predefined equalizer settings. I went with the 'Music Enhanced' setting for lower mid-range. The volume I use depends on the speed I'm traveling and whether I'm wearing earplugs. At urban speeds, 50% volume is more than enough but at 60+ mph I pump the volume up to 1 click below max.
Phone calls with the 50C are also great. I've had people on the other end of a conversation surprised when I tell them I'm riding because the mic deals with noise so well. You can answer or ignore calls by stating either of those words and your music will pause when the call starts. The sound during a call isn't anywhere near as good as when playing music and is a bit tinny, but at higher speeds, this tends to help with legibility. From my research, this may be more of an issue with my iPhone than the Sena 50C.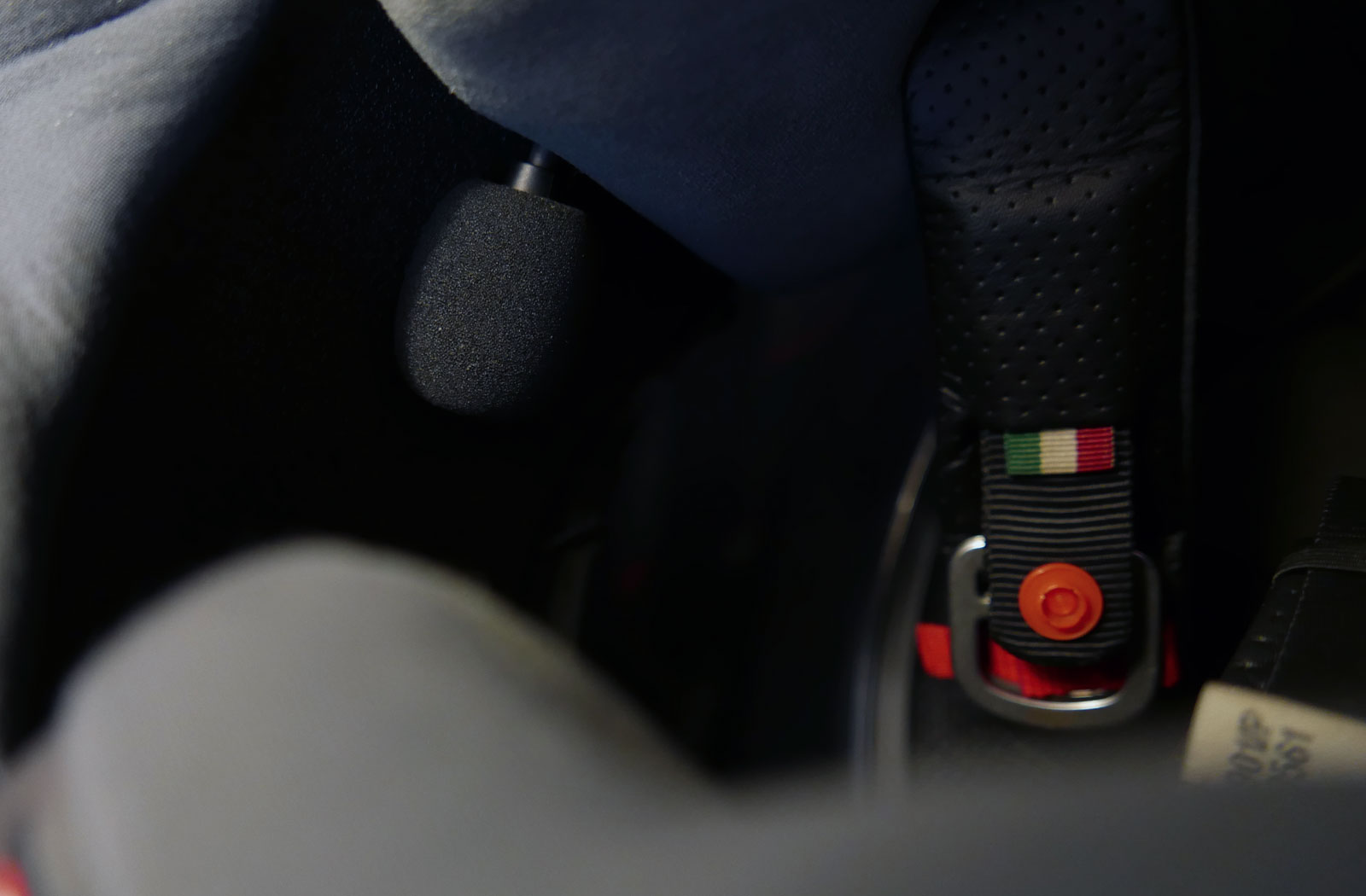 As I mentioned I'm now running the boom mic in my helmet. This was due to the wired mic making noise on my first Sena group ride experience. I think this was due to the design of my helmet rather than the mic itself, but the boom has dispensed with the problem. The only issue with the boom is that it's large. So in helmets with snug chin bars (like mine), it takes a bit of trial and error to find a position where it doesn't touch your lips. At most speeds, voice commands and communicating with other riders over mesh have worked very well. Your speed and wind conditions will affect performance, but it's generally not until you surpass 60 mph that you may need to repeat a command.
When I finally got the chance to use the 50C for comms I was riding in a group of 4. On my fellow riders' advice, we connected using the Group Mesh option and set it to a non-default channel to avoid accidentally connecting to other riders on the road. After the initial setup, reconnecting to the group after a fuel stop was pleasantly easy. A single press of the mesh button on the top of the unit or a "Hey Sena, Mesh On" voice command is all it took. Once you're on the go talking to other riders is no different to a dinner conversation. The mic picks up speech incredibly well and conversations feel very natural with no delays or cutting out when more than one person talks at once. Aside from the great company, my favorite thing about having comms on a group ride is the ability to alert one another of potential dangers such as road debris or dodgy drivers.
In terms of range, I've found that the terrain you are riding through has a big effect on how well the Sena performs. If you get left behind in some hills you could lose contact in under a kilometer. But if you and the other riders are evenly spread out, the Mesh does a great job and you can still talk to riders who are out of view. On a wide open road, Sena's claimed range of 8km may be possible, but realistically that won't happen often. I almost always ride with smaller groups and it's rare for any one rider to be out of view for long. In that scenario, you're pretty much guaranteed to always remain connected. The full list of comms options offered by the 50C is huge, and to be honest I'm unlikely to use a lot of them. Other riders may find them of use, but for me, my current method has worked exceptionally well.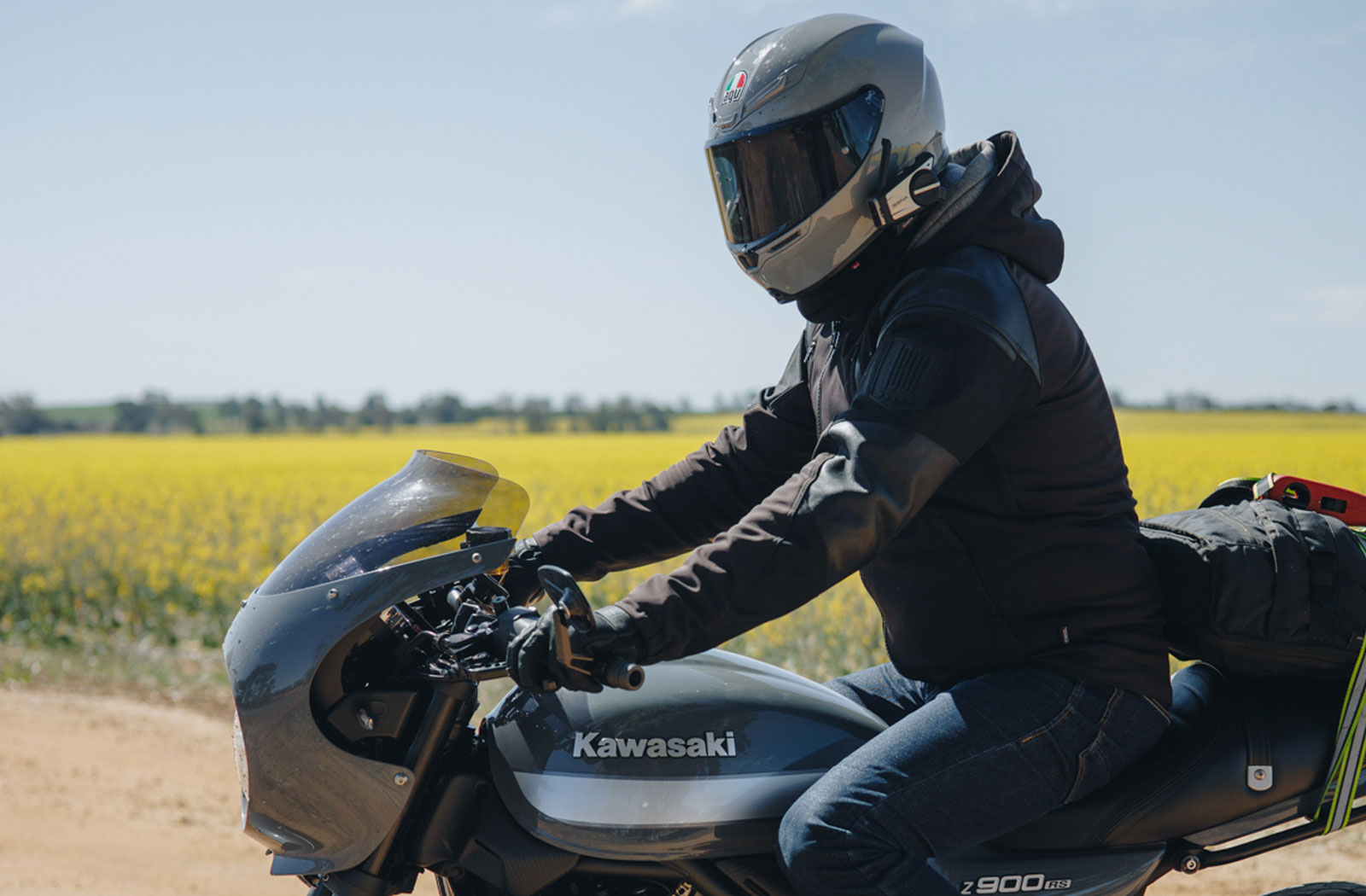 Shooting video with the 50C has been the most challenging part of using it. Getting the angle of the mounting plate right was the first challenge. What looks like a good angle doesn't always translate well once you're on the go. I have found that I actually needed to angle the camera a lot higher than expected to capture a nice frame. The camera lens on the 50C has a slider alongside it that can be used to rotate the lens to get a level horizon. One of the brackets also allows you to adjust the tilt angle of the whole unit, but as I stated I had to go with a permanent fixed location due to the design of my helmet. It'd be great if all the brackets allowed you to tilt, but now that I have it right I won't need to adjust it again.
As for video quality, the 4K camera does a solid job. It's not quite GoPro quality in terms of how it deals with high-contrast lighting and image stabilization, but with a bit of post-editing, it scrubs up nicely. You can opt for the unit to record the audio coming through your speakers, or just allow it to capture your voice and ambient noise which is my preferred option. The camera can shoot at up to Ultra 4K (30FPS) and 12MP stills. Depending on your memory card you can capture up to 4GB of video in one recording and you can shoot in several modes. The modes include standard shooting, timelapse video which captures a series of timed stills and strings them together as a video, and loop mode which shoots 3-minute back-to-back clips the same way a dash cam would.
The battery life of my Sena 50C has been impressive. On one ride I used mesh and sporadically shot video for most of a 5 hour journey. Shooting video has a noticeable effect on battery life, but on a full charge, you could easily shoot for a couple of hours without running it flat. Playing music also doesn't seem to have a dramatic effect on battery life and I've seen more than 4 hours of play time out of one charge.
The 50C comes with Sena's standard 3-year warranty and the brand is renowned for dealing with any issues in a fair and timely fashion. I'd have no hesitation recommending the 50C to anyone looking for an all-in-one video, audio, and comms solution. However, if the $549 USD price tag is a bit too rich for you, Sena also offers some other great helmet comms options. They sell packs for rider/pillion solutions and even make a range of comms and camera-enabled smart helmets.
Available from: Sena / Revzilla