In today's high-tech world, a basic cell phone is almost non-existent, often being a legacy option offered for those that simply want a mobile phone. Smartphones, devices that carry more power and technology in the palm of your hand than most computers just five years ago, are the new standard. These devices, on which you might even be reading this very article, are mobile internet, gaming, texting, messaging, video conferencing, GPS-capable devices that are core to the "always-online" view of modern society.
Smartphones are also extremely useful for motorcyclists when used appropriately. Speedometer failed? A GPS speedometer app can work for you in a pinch. Traveling somewhere in town you don't know very well? GPS-enabled map programs, often baked into the operating system, are there to give you turn-by-turn directions, able to connect to Bluetooth headsets in helmets to even give audio directions. Have a smart-app-enabled motorcycle? Track your mileage, maintenance intervals, current bike status, and more on your smartphone.
With motorcycles, however, you do need to keep both hands free to control the bike. It is for this reason that many companies are offering mounting solutions that let you keep your smartphone in view, or within range of a quick flick of the eyes, on your handlebars. If we listed every single mounting solution out there, this article would be about the length of a paperback novel, so instead, we are going to list what are, objectively, the best smartphone mounts, and why they are so good.
The Budget Mount: RAM Mounts X-Grip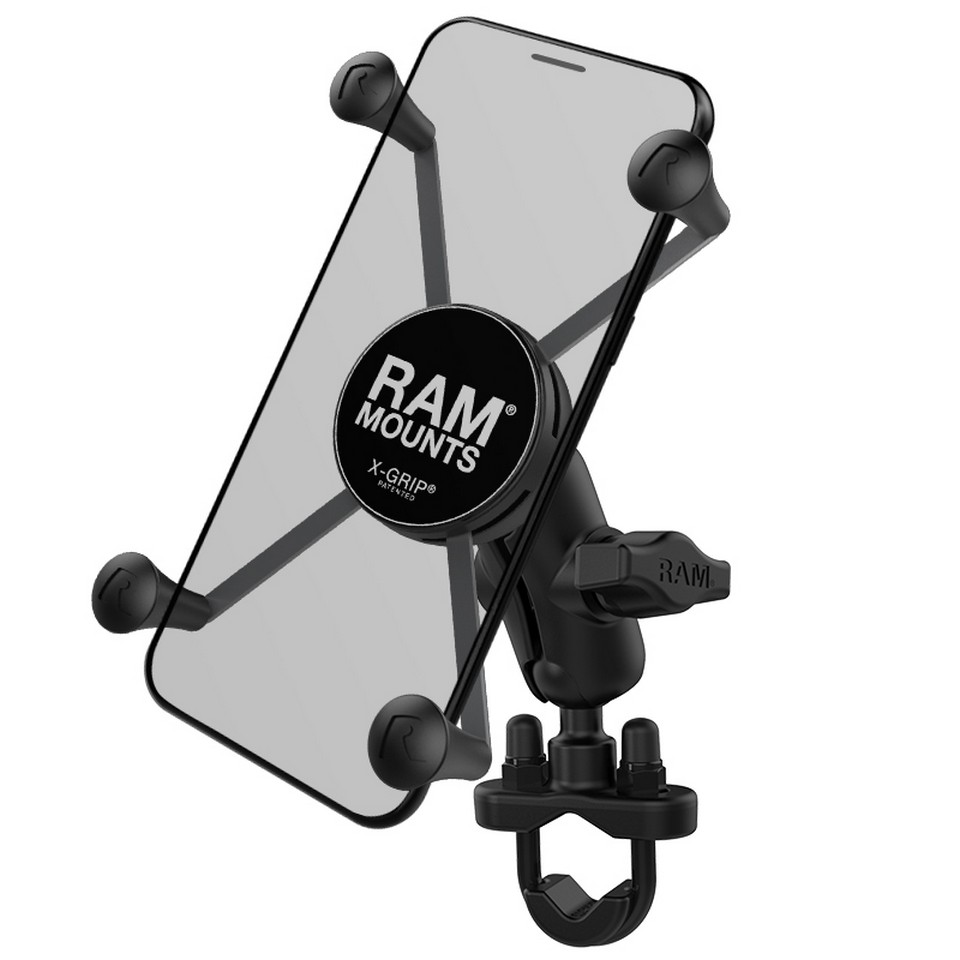 Possibly the most purchased motorcycle handlebar mount out there, the RAM Mounts X-Grip mount is quite literally what its name describes. Two arms on top of each other, held closed with a tight spring, are pried apart enough for you to place your phone in between the rubberized grips, and surface tension keeps your phone in place. With a lot of other options for phone mounts able to travel well North of $100, having a mounting system that can be as inexpensive as $50 to $60 gives those on a budget some leeway.
It should be noted, however, that while the X-Grip mount does a good job of gripping a smartphone, it is designed to be used in conjunction with a rubberized tender that slips over the outer corners of your phone. Thankfully, these tenders are often less than $5 apiece, and most reputable motorcycle gear shops will carry RAM mounts and tenders alike.
Remember, you do get what you pay for with smartphone mounts, and over time the spring tension on the arms may slack off as metal fatigue sets in. RAM Mounts do carry a lifetime warranty, as long as the mount is used appropriately as per the instructions, but are also budget-friendly enough that if you were to somehow break your mount, it is not too expensive to simply pick up a new one.
Buy it here:
The Budget Plus Mount: RAM Mounts QuickGrip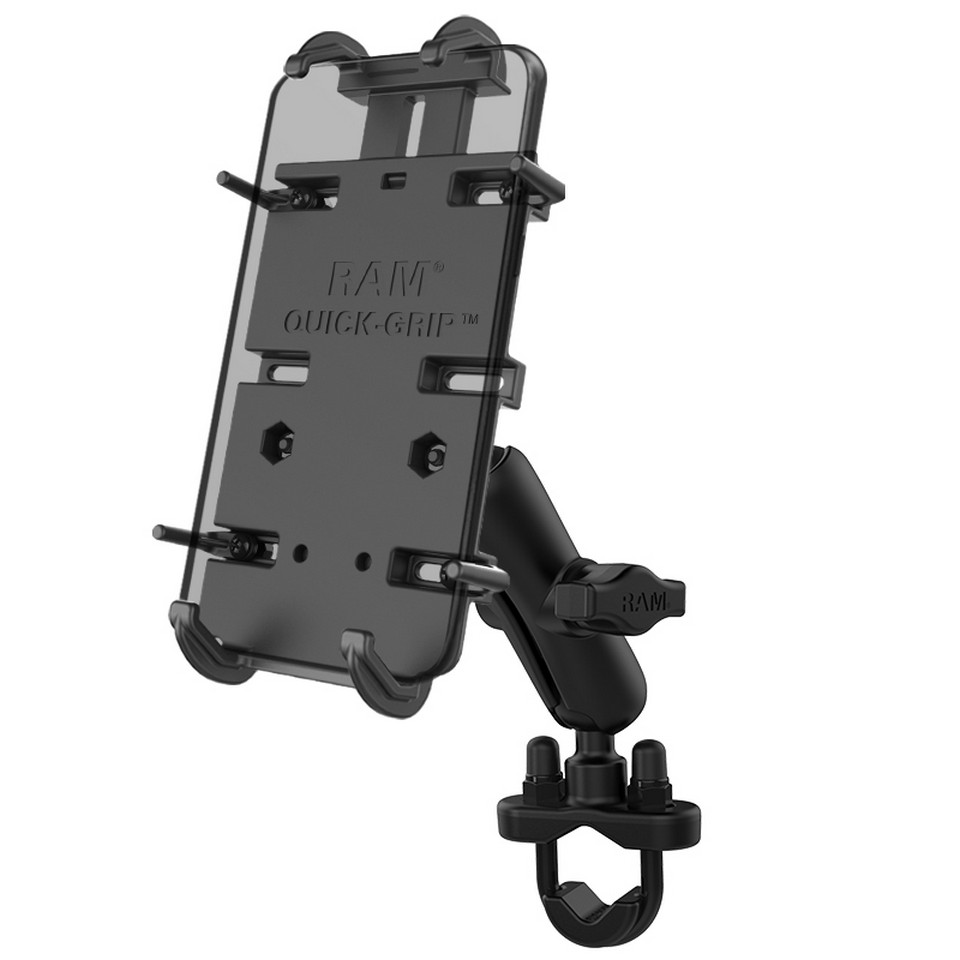 Okay, by budget plus we really mean only a dollar more. If you have already invested money into a good quality ballistic drop case like a, well, Ballistic Case, OtterBox, Poetic, or other, and you want something that is deep enough to grab the often thick exteriors of these cases, the RAM Mounts QuickGrip is the best budget answer.
It may not look like much in pictures, but the QuickGrip is made with a marine-grade aluminum backplate and high-strength composites for the arms. If you doubt the capabilities of high-strength composites, quickly go check what your helmet shell is made of. This mount uses the same type of spring tension that the X-Grip does but in a much more linear fashion.
The "bottom" fingers of the mount are fixed and wide apart, allowing for attachment of any size charging cable. To insert your phone, you pull up on the top two fingers, and the grips to the sides will also slide out at the same time. Place your smartphone into the mount, release the top two fingers, and your phone in its heavy-duty case is secured.
Buy it here:
The Adventure Riders' Mount: Givi S957B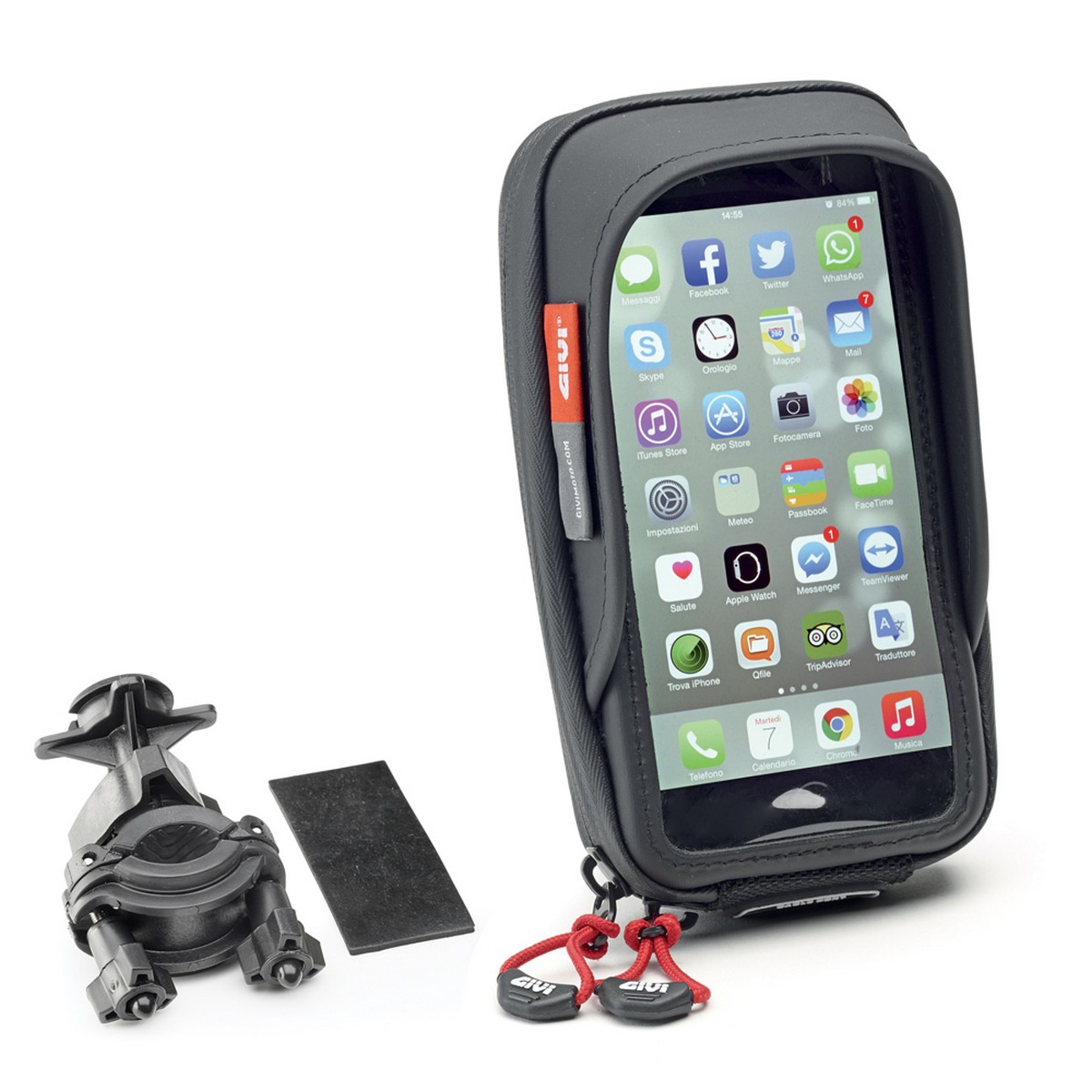 Givi is already well known to most ADV riders, mostly from their excellent pannier and luggage options that many adventure bikes are just waiting to have slung over their rear mount points. This phone mount is not as open or as whatever-model-you-may-have as other options on the market, but what the Givi S957B kit does have is rough riding in mind.
Firstly, the mount is fitted to a finger-lock quick release, essentially making it a mount-plus-case design. If you need to take your phone with you up a small pathway to get a better view to orient with your maps, simply press the quick release, and off you go. The "case" also comes with a sunshade, as Givi is expecting direct sunlight to be shining down on you. In the case it's raining, the sunshade also doubles as a rain deflector.
The S957B mount kit also comes with a rain sleeve you can drop over the entire thing in case you decide that riding in monsoon conditions is your idea of a good time. Other adventure specific features are a multitude of optional mounts that fit everything from a triple tree to a behind-the-windscreen accessories bar a la Honda CB500X, as well as the "Case" having a tie-down system that wraps around your handlebars so in the case the mount is jarred loose, it won't fall onto the rocks under your tires.
Buy it here:
The Touring Riders' Friend: QuadLock Mount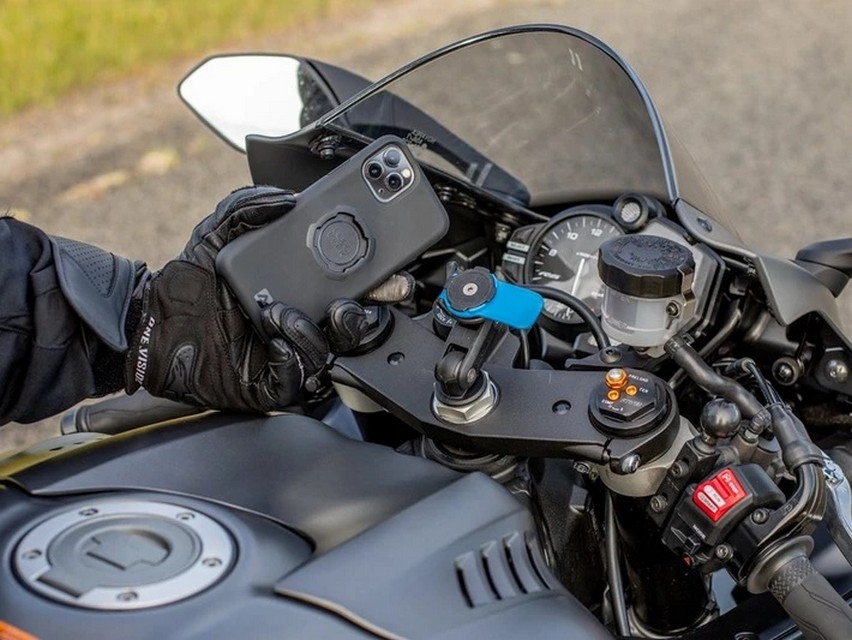 QuadLock is a bit of a strange beast. While there are three types of mounts you can buy, namely a handlebar mount, a fork stem mount, and a mirror stem mount, all are topped with the same four-fingered circle with a push tab that looks about as sturdy as a wet noodle in a rainstorm. However, its simplicity is also its strength.
The meat of the mount is in the case. QuadLock makes cases for all recent and current iPhone, Samsung, Google Pixel, and Huawei phones, and even has a universal adhesive mount if you don't have one of those brands or have a good case with a flat back you want to use with the mount. All of these cases have a female socket on the back that fits over the four-fingered male socket on the mount itself.
To mount your phone, you quite literally line your phone up at an angle over the male socket, push down, and rotate to either a vertical or horizontal orientation. The female socket has slight lips at the edges of its fingers, and a very reassuring click means your phone is secure. There are also a variety of accessories for the mount, from a vibration damper, wireless charging head, or, if you are away from your bike for a while, a finger grip or tilt stand that fits into the socket on the back of the case.
The only downfall of the QuadLock is that while cases and mounts come as kits, all the accessories are extra, and some of them can be quite pricey for what they offer. The vibration damper is almost a must at $20, and the wireless charging head, for Qi charging enabled devices, is up there at about $50. There is even an all-weather charging mount at $75 for the adventure riders.
Buy it here:
The Best: ROKFORM Mounts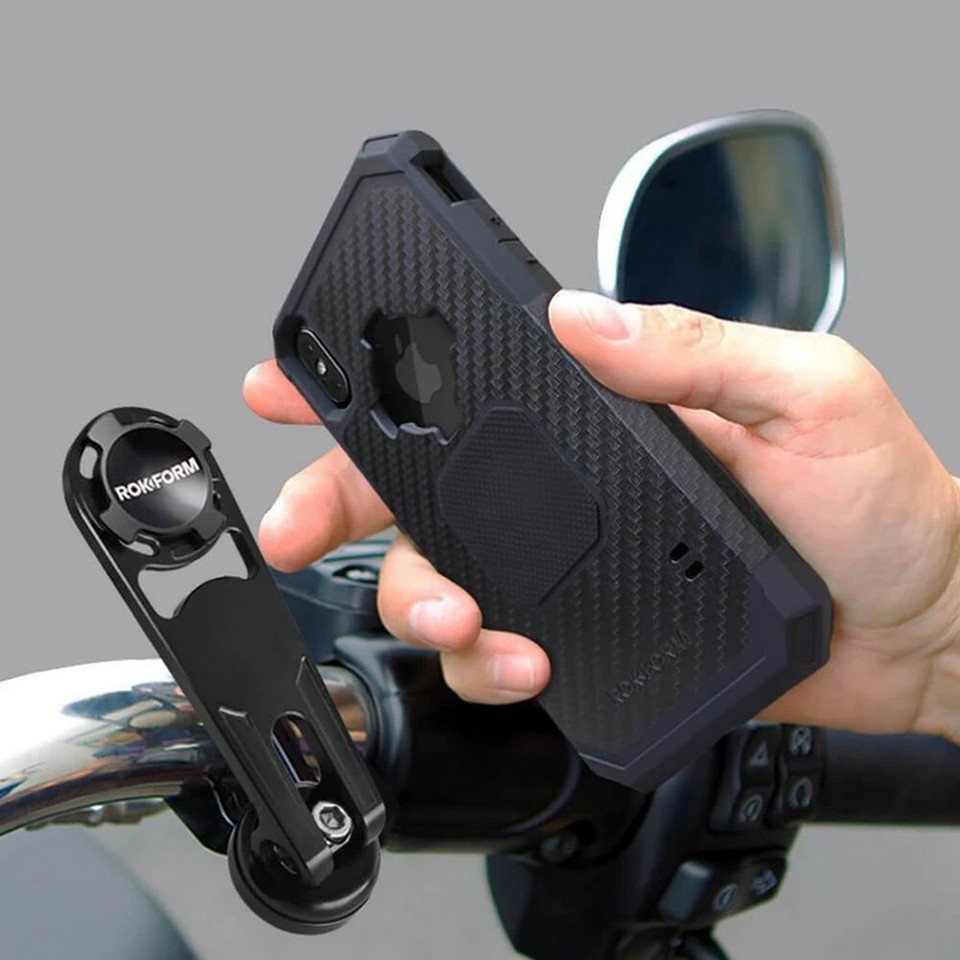 ROKFORM Mounts are expensive, no ifs, ands, or buts about it. However, the proof really is in how they are built, how they work, and what they are made of. With a variety of mounting options, including bar mounts, perch mounts, and even a fork stem mount, all of the Pro series mounts for motorcycle use are made of CNC machined 6061 T6 aerospace-grade aluminum. In other words, they are made to take a beating and not even show a scratch.
While the mounting system looks remarkably like a QuadLock, and does in fact use the same idea, ROKFORM took it a step further. Each case and mount has a large area below the finger locking mechanism that holds a magnet. This means that when you twist the case onto the mount, the fingers hold the phone on, and the magnet holds it secure.
This magnet on the case is also very useful, as it will stick to almost any metal surface. Need to look at a manual while adjusting something on the side of your bike? Stick the mount to any exposed frame member on your bike. Checking through an inventory on your shelf? Stick the case to the steel framing of the shelves to leave your hands free. Unlike the QuadLock case, the female mounting socket lies flat, so there is no bump on the back of the case. The only caveat is that you shouldn't put your credit/debit cards in the same pocket as the case!
Buy it here: