Ewan McGregor and Charley Boorman are at it again with their epic cross-continental motorcycle adventures. This time in the new series 'Long Way Up' they travel from Ushuaia, Argentina at the southernmost tip of South America to Los Angeles in the United States. During the trip which they completed in 2019, they covered 13,000 miles over 100 days passing through 13 countries and they did it all riding Harley Davidson Livewire electric motorcycles. Those who've seen the series would have picked up on the fact that the pair are also kitted out in gear from the UK riding apparel specialist Belstaff. As you'd expect Belstaff is now offering identical jackets to those worn by the pair as special edition Long Way Up gear.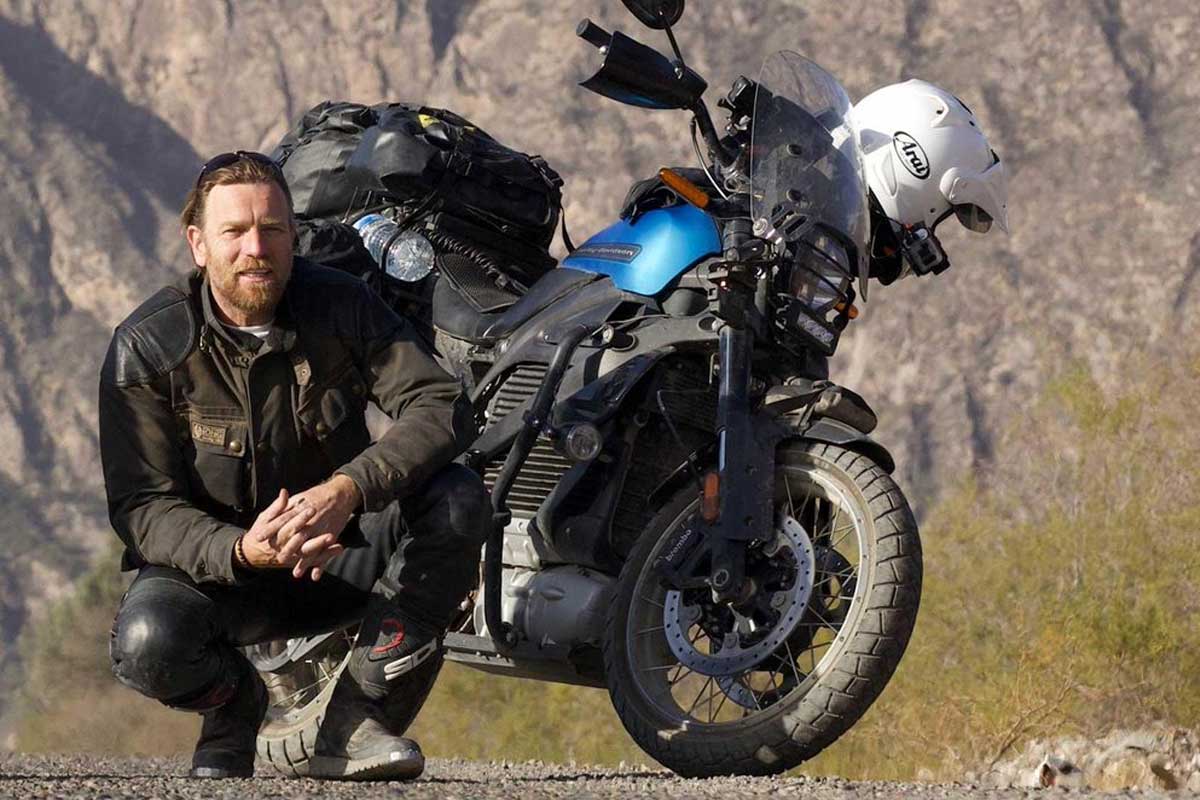 Ewan McGregor's Long Way Up Jacket
For his Long Way Up adventure, Ewan McGregor chose Belstaff's timeless waxed cotton trials jacket as the foundation for his moto-adventure outfit. Working closely alongside Belstaff McGregor co-created the aptly named 'Belstaff McGregor Pro Vintage Jacket'. The special edition jacket features a hardwearing Halley Stevenson 12oz cotton outer. Impregnated with wax using Belstaffs own tried and tested process the cotton offers excellent levels of water resistance. To take the jacket's water-repelling performance to a whole new level, the McGregor Pro Vintage Jacket also utilises an inner waterproof membrane with watertight sealed seams. There's also an interior rain gutter behind the main opening and all of the pockets are water-resistant too.
Contrasting panels of leather cover the elbows and shoulders of the McGregor Pro Vintage Jacket for added abrasion resistance. Under the surface, Belstaff's added ventilated D30 impact armour at the elbows and shoulders to secure a CE Level 1 safety rating and there's space at the rear for optional armour. Awareness is arguably the best form of protection so to ensure other motorists can see you coming the jacket's reversible belt features a reflective coating on one side. The McGregor Pro Vintage Jacket also includes a corduroy lined collar and cuffs for comfort, vintage look burnished hardware and a unique McGregor clan tartan liner.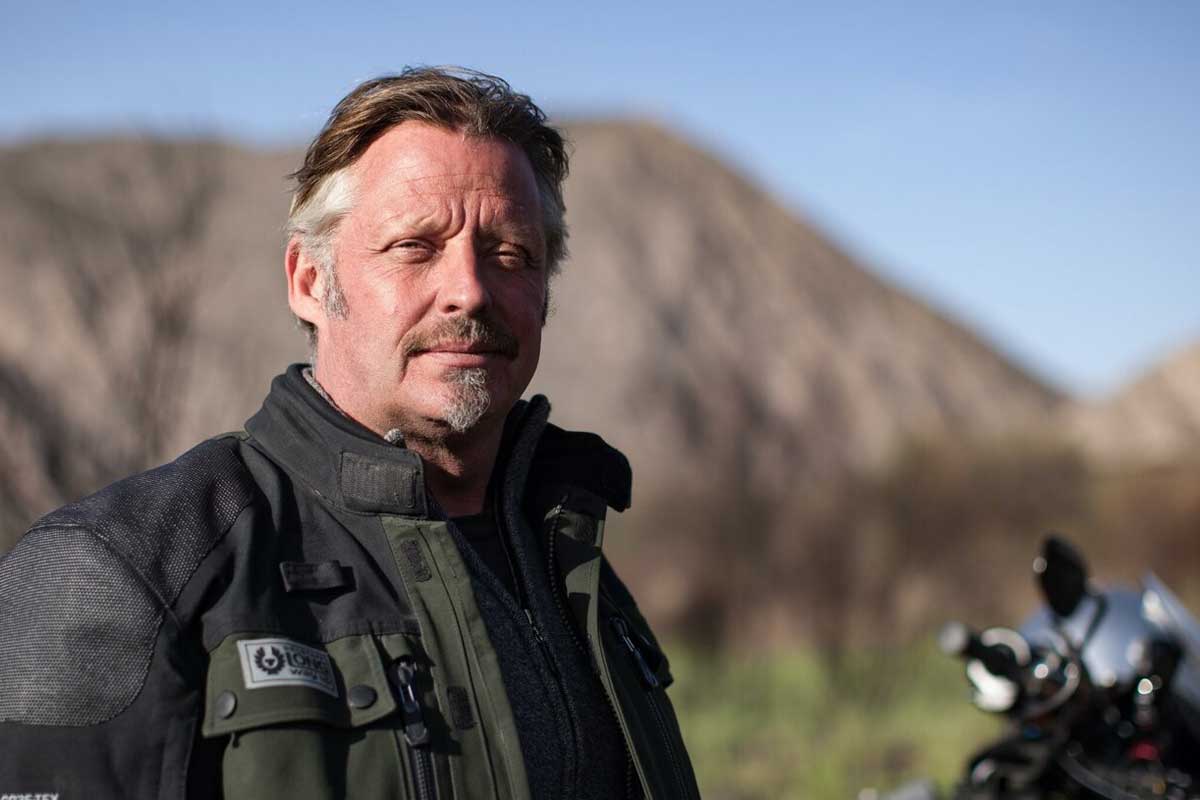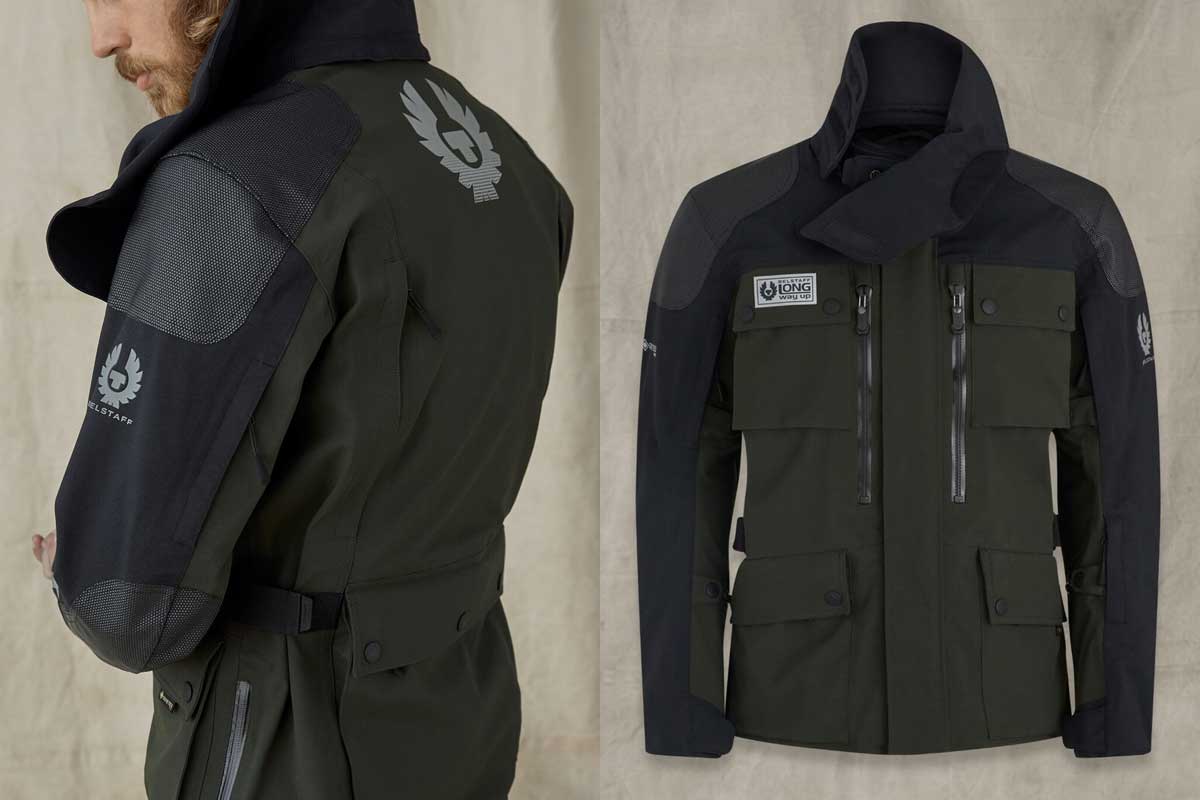 Charley Boorman's Long Way Up Jacket
In contrast to Ewan's traditional approach, Charley Boorman opted for a jacket boasting the latest in Belstaff's motorcycle jacket technology. The result was the Belstaff Long Way Up Gore-Tex Jacket. Designed to cope with all four seasons the jacket features a breathable Gor-Tex outer shell created using a Tri-Layer Pro laminate process. This has resulted in guaranteed waterproof, windproof, and breathable protection. For added comfort in cold and wet conditions, an included storm collar can be installed. Additionally, all of the jacket's pockets and zippers are waterproof too. When temperatures rise and sweat begins to build the Belstaff Long Way Up Gore-Tex Jacket continues to deliver optimum comfort. Intake vents on the chest and biceps can be opened to let the cooling breeze. Vents in the rear at the triceps and back then allow warm air to be expelled for comprehensive cooling.
As for rider comfort, this premium jacket excels in all areas. An antibacterial mesh lining keeps things fresh while wicking moisture away. A neoprene lining on the collar reduces chaffing while adjusters on the sleeves, waist and hips let you fine-tune the fit. Belstaff has also included an adjustable kidney belt and a rear pocket that can accommodate a camel pouch. A retaining loop on the shoulder can then be utilised for fastening a drinking hose so you can stay hydrated on the go. A plethora of internal and external pockets including a zippered security pocket keep all of your essential items within reach.
When it comes to safety the Belstaff Long Way Up Gore-Tex Jacket boasts CE level 2 ventilated D30 impact armour at the elbows, shoulders, chest and back which are all included in the purchase price. Added abrasion resistance comes in the form of Belstaff's Superfabric at shoulders and elbows. As for making sure you're seen, the jacket's prominent Belstaff and Long Way Up branding are reflective.