We applaud moto brands that continually step up their game. One such brand that earned our kudos a long time ago is Biltwell Inc. Since 2006 Biltwell has been producing no-nonsense parts, accessories and motorcycle riding gear at very affordable prices.
Over the last decade, Biltwell has expanded their CE certified riding gear range and they kicked things off with some very cool helmets. Their open face Bonanza, retro look Gringo S and aggressively angular Lanesplitter helmets all proved a huge success. Today Biltwell also produces a range of riding gloves and they've just introduced a new member to the family, the CE certified Biltwell Bridgeport Gloves.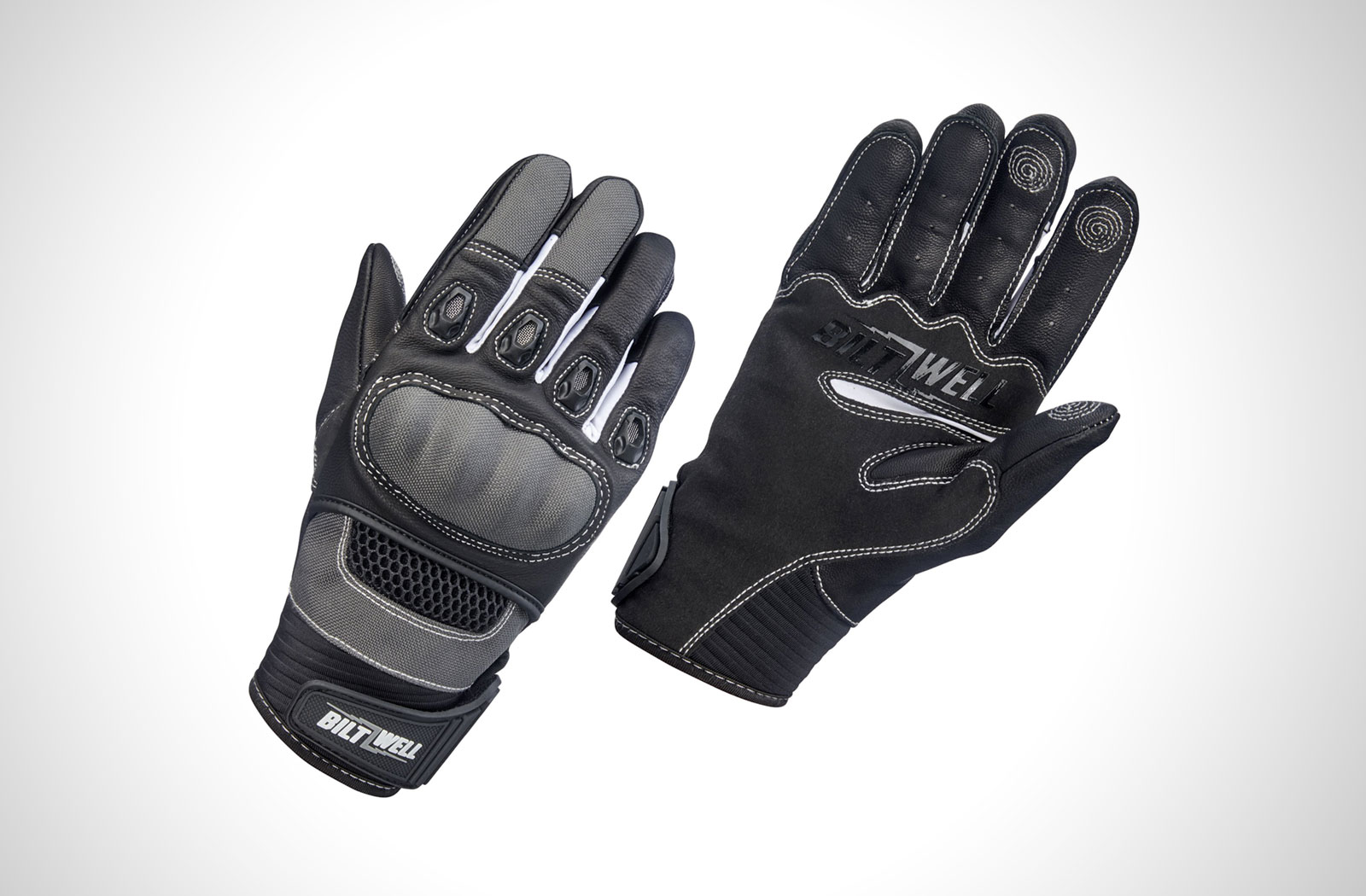 Similar to other motorcycling gloves in the Biltwell range the Bridgeport Gloves offer CE-certified safety for both on and off-road riding. This has been achieved through the use of tough goat leather in high-stress areas and abrasion-resistant synthetic leather on the palms. They've also integrated ballistic nylon knuckle and finger armour to stave off any hard knocks.
Unlike the other gloves in the Biltwell range, the Bridgeport features more modern, sports bike styling. The look is emphasised by external finger armour, mesh-covered panels and prominent knuckle guards.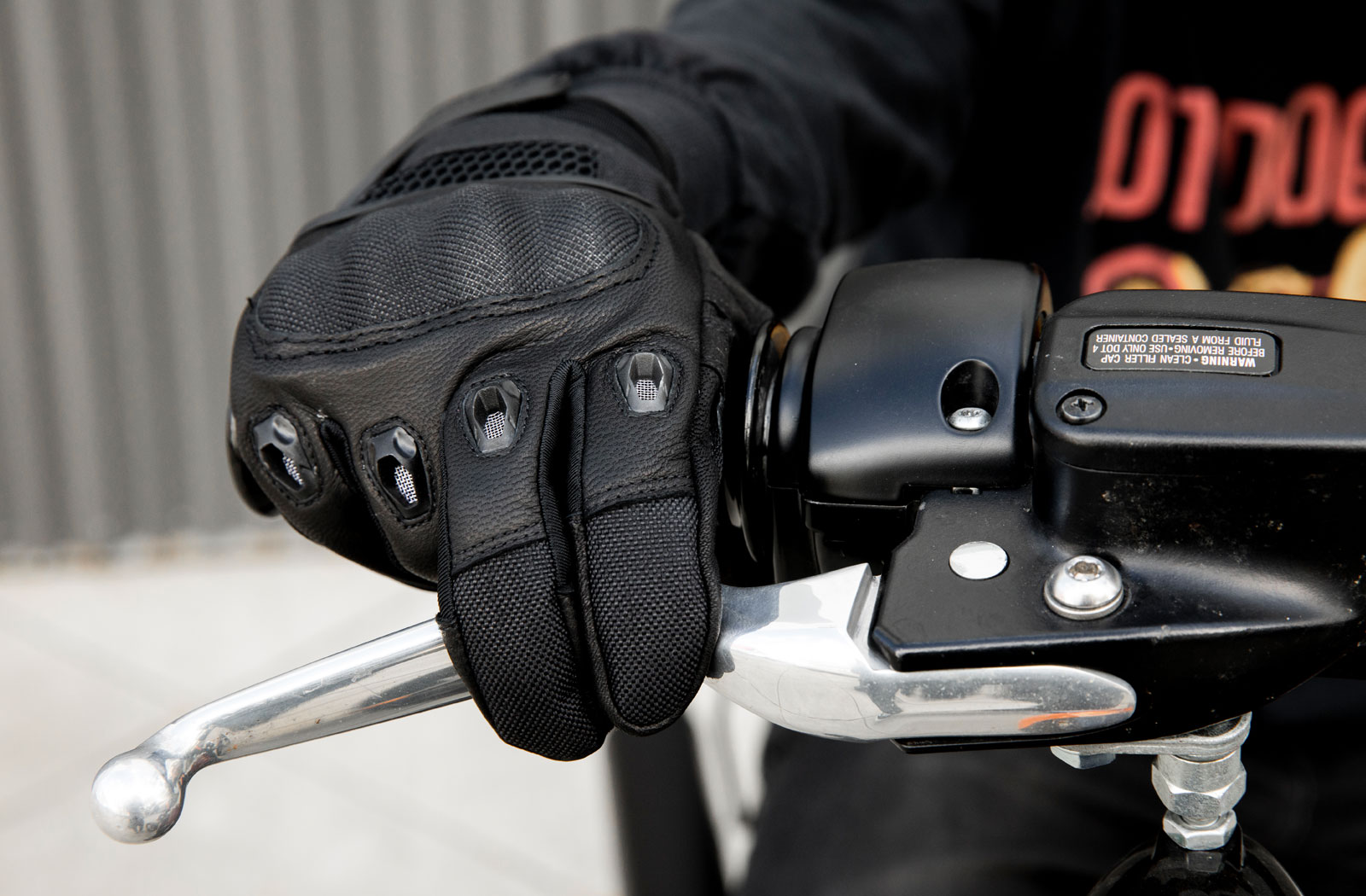 Biltwell offers the Bridgeport gloves in 5 colourways including all black, red/black/, chocolate/black, grey/black and tan/black.  Contrast stitching and finger gussets on the multi-coloured versions add to the Bridgeport's visual impact. The coloured variants also received a colour matched Biltwell logo on the wrist closure.
The black version of the Bridgeport gloves maintains a stygian theme throughout with the exception of the white spiral stitching on each touchscreen compatible fingertip.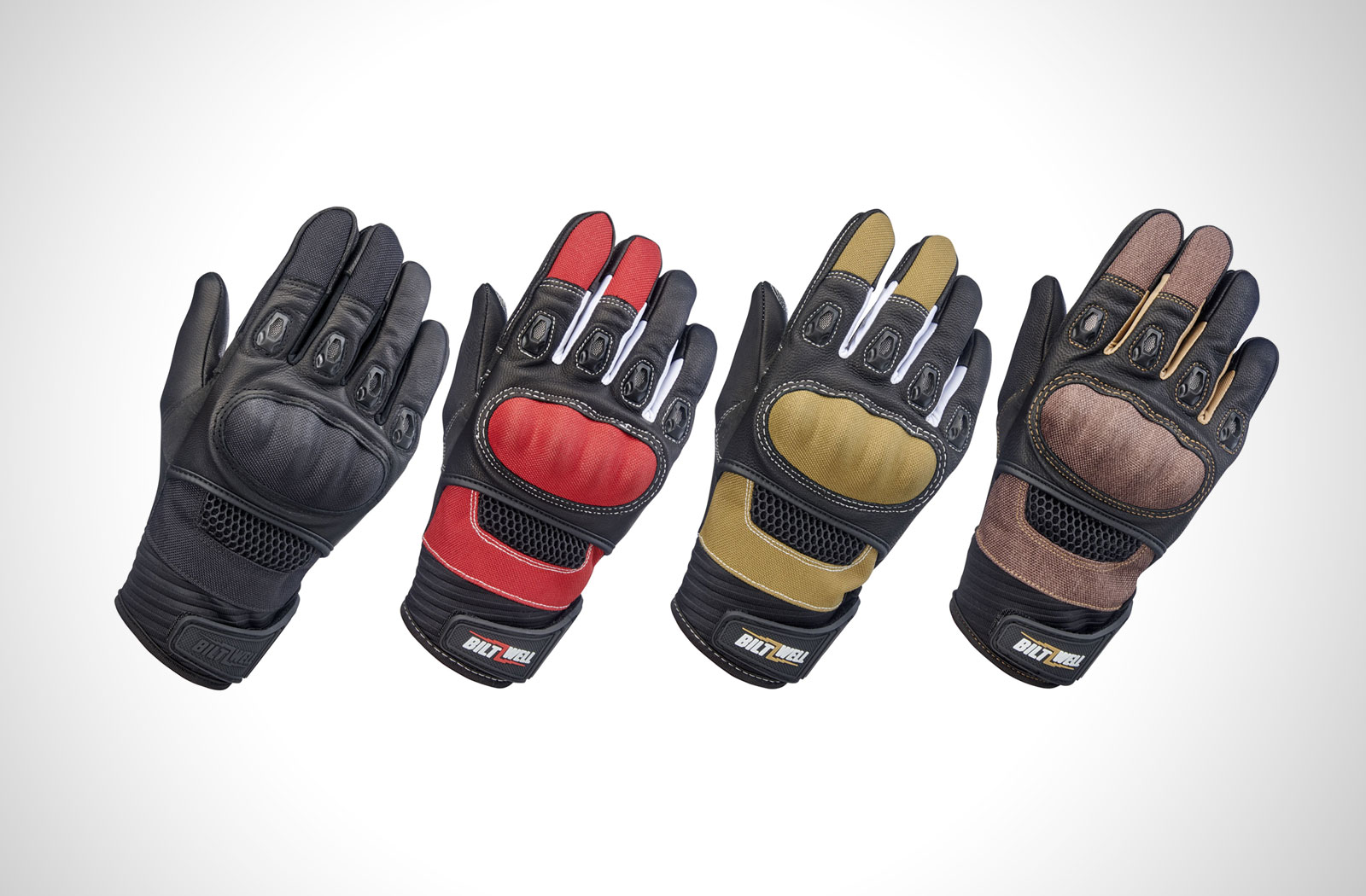 Looking good and being safe are 2 product features we definitely regard highly. But if it ain't comfortable – all that goes out the window. Thankfully Biltwell has paid special attention to the comfort levels of the Bridgeport gloves.
For starters, the faux leather palms are anatomical so they fit like a second skin. A Lycra flex panel just beneath the knuckles on the palm then helps to free up movement. Around the wrist closure, you'll find 3D moulded Lycra and foam for comfort and 2-way stretch for an improved fit. The wrist closure itself is adjustable and made from flexible TPR for additional impact protection. And finally beneath the hard knuckle armour is a padded comfort layer.
The Biltwell Bridgeport Gloves retail for $99.95 and come in sizes XS through to 2XL.
Available from: Revzilla / Biltwell Inc.