Before we take a closer look at the new Merlin Outlaw Explorer Smock we first need to understand what a smock actually is.
Traditionally a smock is a garment worn to protect the clothing beneath from being damaged or dirtied. In the UK during the 18th century, they were worn by shepherds and fishermen due to their hardwearing nature and ease of cleaning. They are also commonly associated with painters and artists who use them to prevent paint from staining their clothes. Smocks generally have long sleeves, utilise a pullover design and fit loosely so they can be worn over other clothing. So by definition, this latest riding gear offering from Merlin isn't a jacket or a hoodie, it's a smock.
Why does the definition of this garment matter? Because it has a significant impact on how it functions.
Traditionally motorcycle jackets are secured using a large entry zipper down the middle of the torso, but that's not the case with the Merlin Outlaw Explorer Smock. Instead, it has no front entry so to get it on and off you need to pull it over your head.
The idea of having to pull a motorcycle jacket on and off over your head may not appeal to some. So to make the process easier Merlin has integrated a short zip on the neck and gusseted zips on the torso. But it should also be noted that there are times when a smock may be superior. Take, for instance, in wet weather.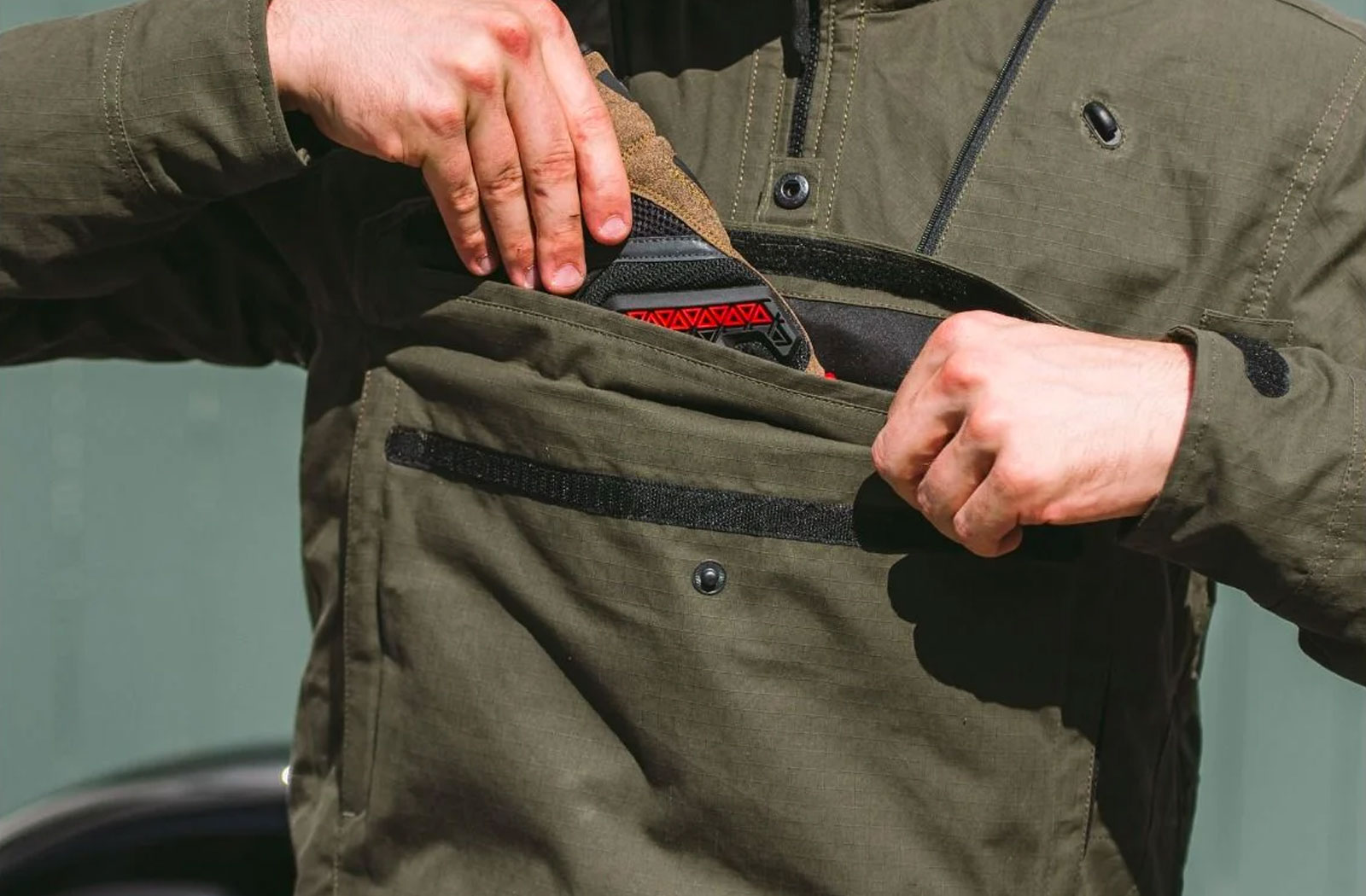 The lack of a large entry opening at the front of the Outlaw Explorer Smock means it's much harder for water to make its way inside. To further bolster the smock's waterproof abilities Merlin has constructed it using a Halley Stevensons soft tumbled ripstop material which has been treated using a water repellent coating. Beneath the abrasion-resistant ripstop, they've then added a layer of Texland Humax which is a waterproof and breathable membrane. All of this amounts to a highly protective barrier that'll keep your body dry during a heavy downpour.
It isn't just the way this gear is fitted that makes it unique though. Merlin has also integrated a hood into the design which is removable. This allows you to decide when it may be convenient or not to have one available. The Outlaw Explorer Smock also features a unique storage 'pouch'. Rather than 2 or 3 smaller pockets, Merlin has added a large storage pouch to the front of the design and by large we mean huge. The pouch is so big it could house a laptop, not that we'd recommend that, but there's plenty of room in there for whatever you may urbwant to stash.
In regard to styling, the Outlaw Explorer Smock comes in either a black or army green finish. The cut and design details give it the look of a classic jacket which has been further enhanced by the ripstop material's pre-worn look. On the inside, you'll find a 100% organic cotton liner and the collar of the jacket uses a double fold-back design making it suitable for summer riding too.
All good riding gear pays close consideration to safety. The Outlaw Explorer Smock aims to keep you safe by combining the abrasion resistance of the ripstop outer with 5 pieces of D30 armour (included in the price) for the elbows, shoulders and back. For 360 degree protection, Merlin has also included a pocket for optional chest armour and a Euro-hoop strap and jacket-jean zipper. All of this combined has earned it a Level A safety certification.
Available from: Urban Rider RRP $350 USD