Every so often you come across a product that's so good you find it hard to part with it, even after it's passed its use-by date. This is how I felt about my beloved Gianni Falco 'Aviator' leather motorcycle boots. During their years of dedicated service, we covered thousands of miles of road together. They withstood exposure to the elements, heavy rainfall, road grime and plenty of scuff and scratches. I wore them often, even was a ride wasn't planned, and took good care of them right up until I decided they were looking a little too rough for the office. That didn't stop me from continuing to use them though.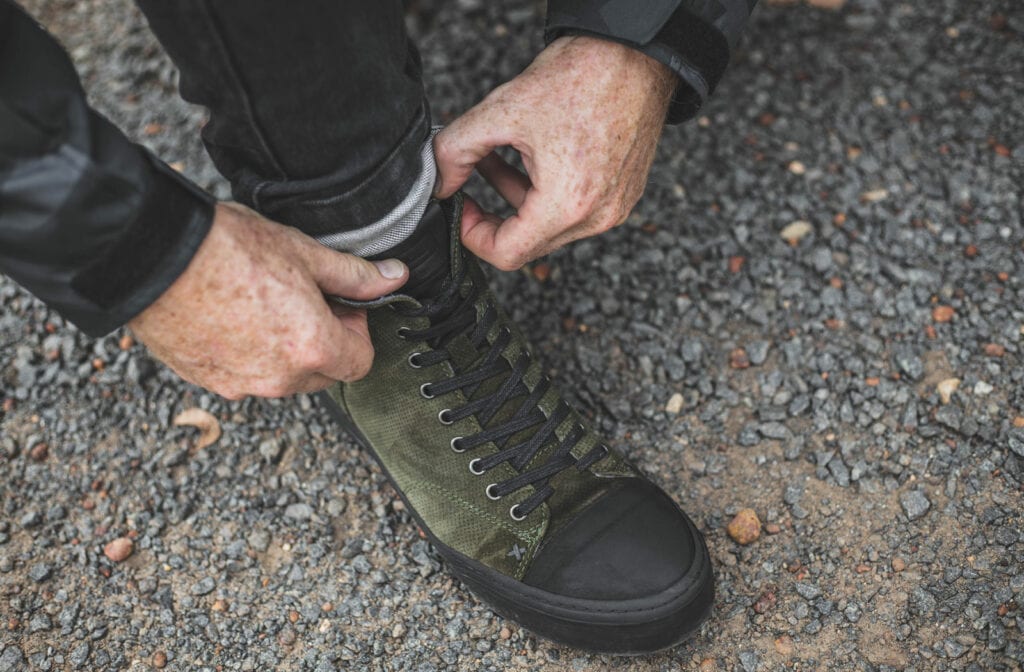 After we bought a block of land I used the Aviators as workboots while clearing trees to make way for our house. The Aviators kept my feet dry and protected just as they always had. Despite their dishevelled appearance I continue to use them. In fact, I'm wearing them right now while wiring this article.
When the time came to replace my Aviators I had 2 choices. Either simply buy another pair or go for something new. Thankfully the team at Falco made that decision easy for me when they offered me something to try rom their latest range.
After accepting the offer I waited with bated breath for the mystery boots to arrive. It wasn't long before a package turned up with a new pair of Falco Lennox boots inside. Falco offers a wide range of motorcycle footwear for all types of riders and riding conditions. The Aviators are a member of their Heritage Classic collection, but the Falco Lennox fall into the Urban Ride range.
The Falco Lennox are a hi-top trainer styled boot. They're aimed at urban commuters looking for footwear suitable for on and off the bike. The Lennox boots are available in 7 different colourways (5 for men 2 for women) and the version I received were Army Green.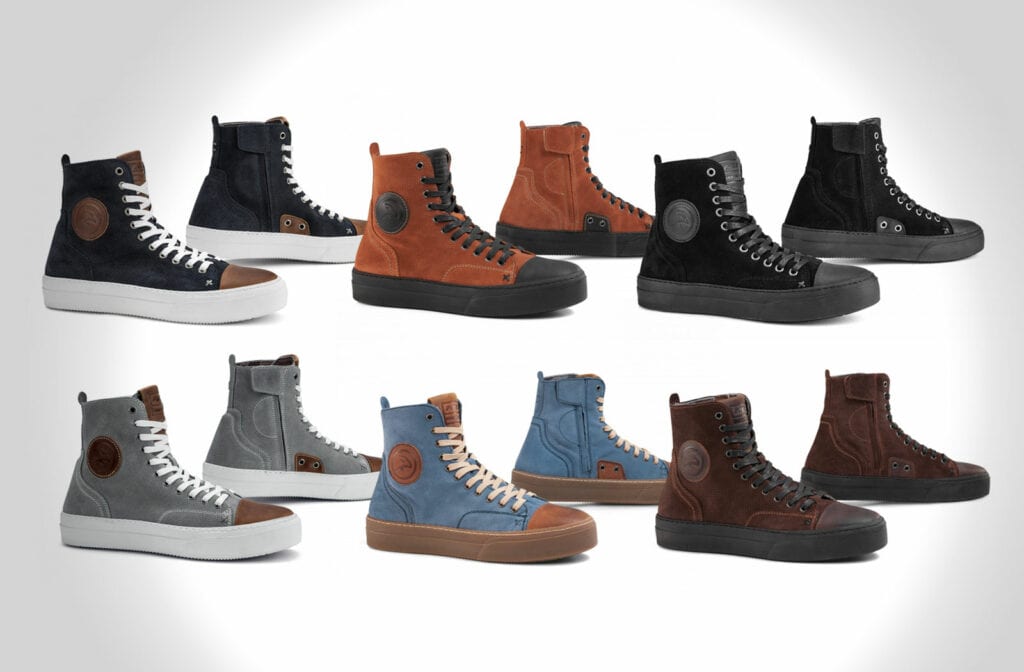 First impressions are important and the Lennox boots would certainly have piqued my interest if I'd seen them in a store. The Army Green is particularly eye-catching thanks to the suede style finish of the exterior, the black rubber sole, top cap and laces and their camo print liner.
Around town, these boots make the perfect addition to casual streetwear, even if you aren't planning a ride. They look great with jeans and, in my opinion, are smart enough for most off the clock occasions. If you like a rolled cuff the hi-top does a good job of keeping your ankles covered and the laces can be easily stashed out of sight. The popularity of this style of boot can be attributed to the Converse Chuck Taylor All Star, but here you'll find much sturdier materials better suited to their designated task.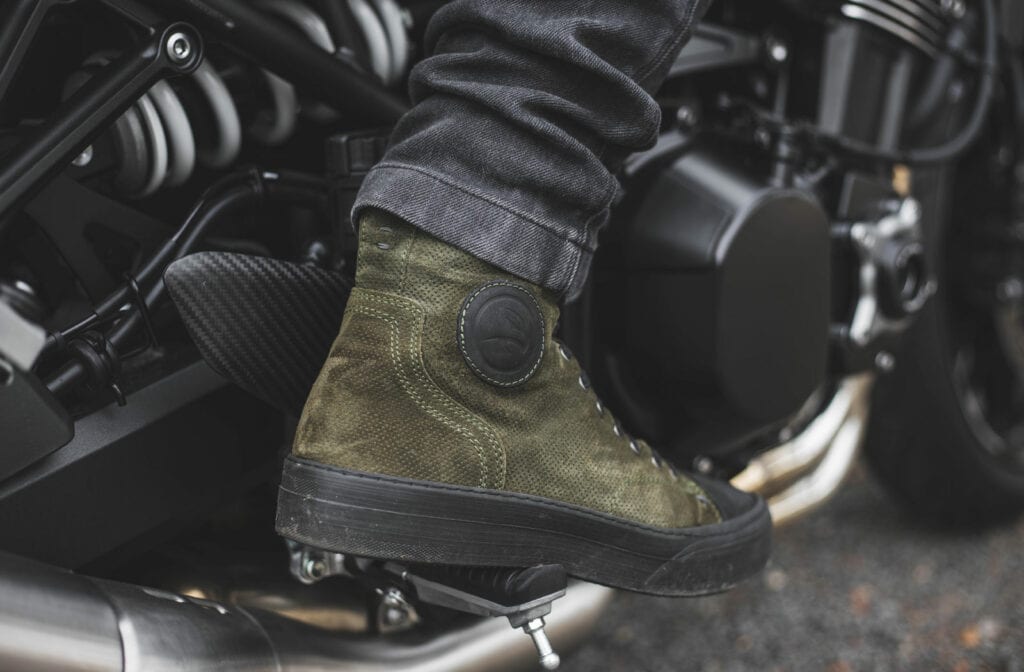 As for exactly what their designated use is, Falco refers to the Lennox as a technical riding shoe. With this classification comes a series of considered material choices and features that warrant them being sold as motorcycle appropriate footwear.
The exterior of the Lennox boots are made from full-grain oil-treated leather providing durability and light water resistance. The boots sole is rubber and features a chevron style tread designed to offer exceptional grip in all conditions. The rubber toe caps work as both a grippy surface for gear changes and a hardwearing finish. Falco has also included an Air Tech liner on the inside of the boot for improved cooling in warmer conditions.
Additional safety comes in the form of an extra-thick footboard, ABS malleolus ankle armour inserts on each side of the boot and reinforced toe and heel cups.
Like most riding boots it took a while for my Lennox boots to break in. This was most evident when walking due to the stiff footboard and reinforced heel. However, now that they've worn in they fit and feel like any of my sneakers. One thing that did surprise me at first about the boots was how difficult they were to get on and off.
The Lennox feature both laces and a side entry zipper – both of which I had to use for the first couple of weeks to get them on and off. When the zipper is done up the boots sit snug on the ankles. So snug I couldn't imagine these boots coming off in an accident. But eventually, the body of the boot loosened up. I can now leave the laces permanently done up and fit them using just the side zipper which is very convenient. Falco has also added a velcro tab to the top of the zipper which helps keep it secured and prevent any chance of it scratching my ride.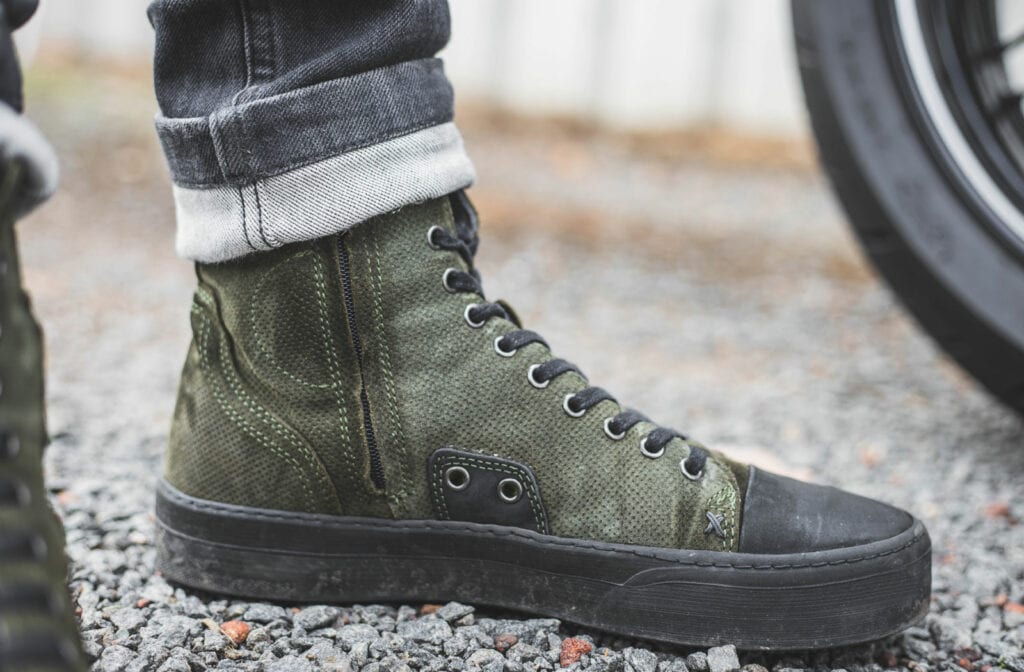 After a month of use, my experience of the Falco Lennox boots is a positive one. I've clocked up hundreds of miles with them in cool to very hot conditions and the Air Tech innersole has delivered well on its promise. They may not be quite as durable or as waterproof as my beloved Aviators, but I will certainly be getting plenty of use out of these great looking boots.
Photography by Regular Moto