Thanks to temperate weather conditions through the more heavily populated southern regions, Australia is an idyllic place for motorcycling. The land down under is also blessed with countless long windy roads that feel like they've been built specifically for motorcyclists. As a result, there are around 2.2 million registered riders in Australia, which is a decent percentage for a country with a total population of only 26 million. As you'd expect this has led to the birth of many Australian riding gear brands. Amongst them is Queensland-based Akin Moto. 
We've been fans of Akin's riding gear for quite some time thanks to its purposeful construction and slick styling. As the southern hemisphere moves into its warmer seasons Akin has released a few new additions to their range which warrant a closer look…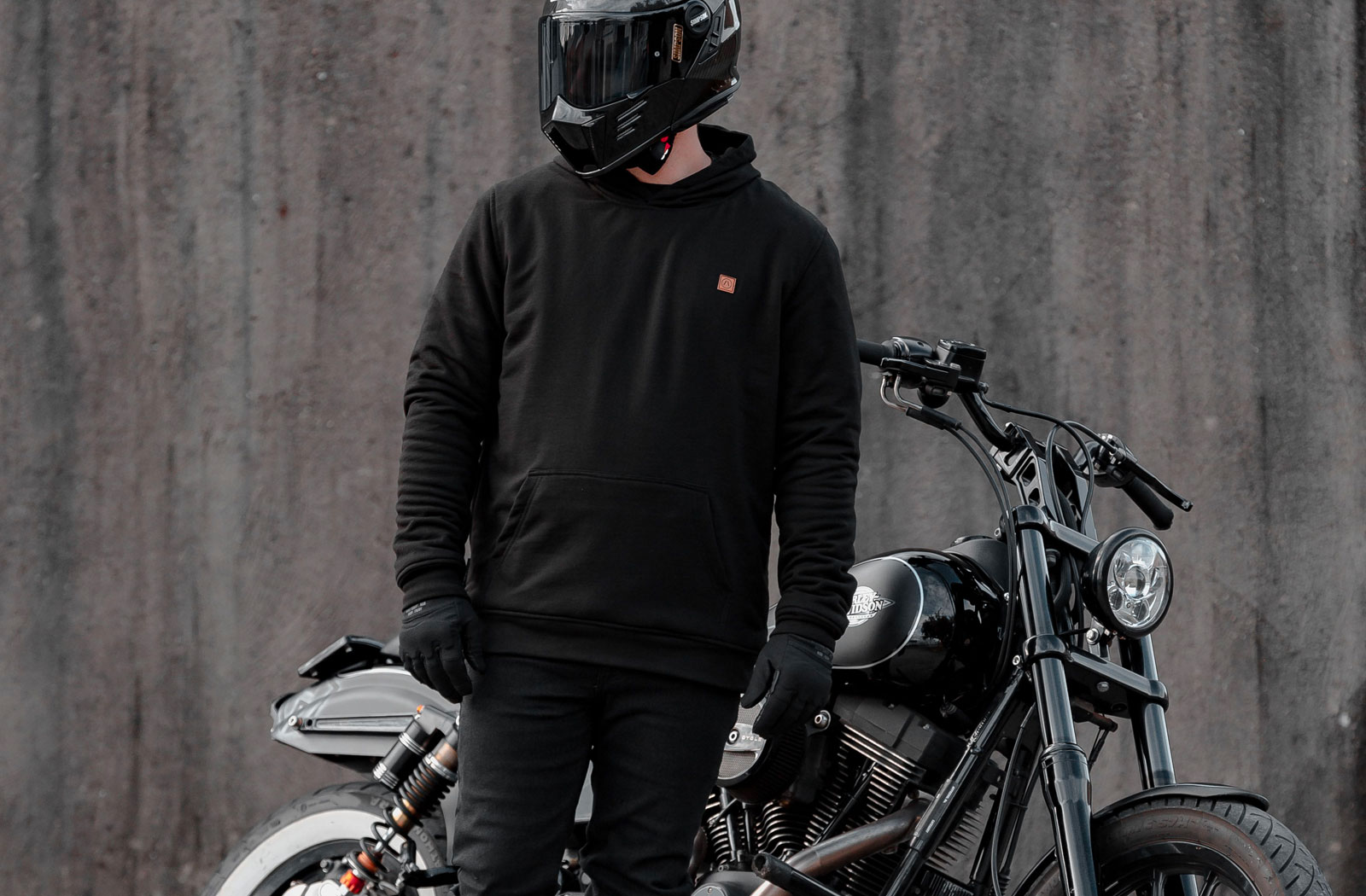 Akin Moto Defender Motorcycle Hoodie
Hooded sweatshirts aren't what most would consider ideal riding apparel. Akin Moto has turned that notion on its head with the new Defender Motorcycle Hoodie.
Fully lined with a genuine DuPont Kevlar hoodie, the Defender is built to withstand the rigors of a slide down the asphalt. To then step the protection up another level, internal pockets allow the fitment of a Forcefield Isolator 2 back armor and Sas-Tec Tripleflex Air armor on the shoulders and elbows (sold separately).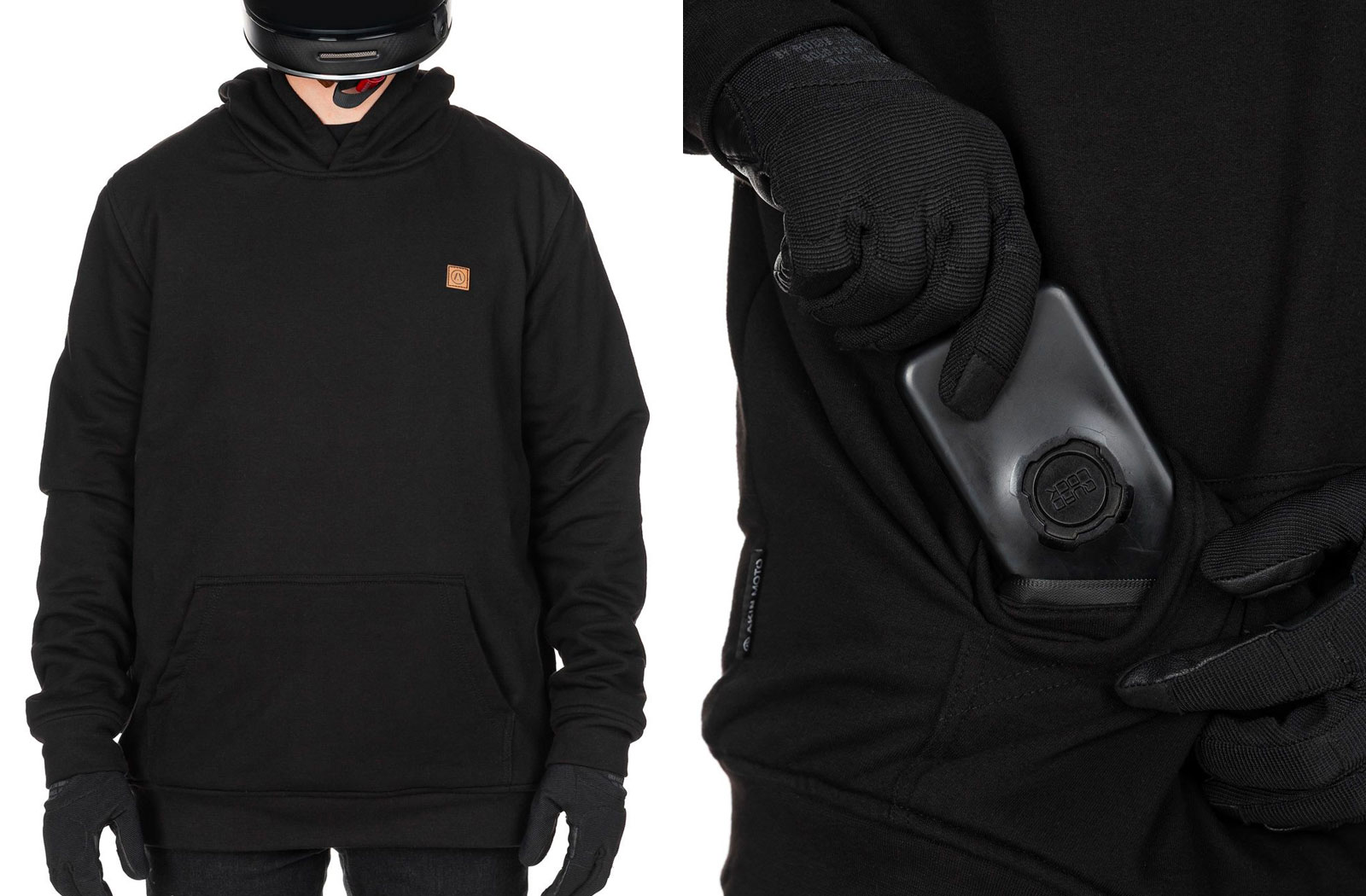 Along with keeping your skin safe the Defender hoodie maximizes comfort thanks to a heavy fleece outer shell, a Coolmax breathable inner weave, and a premium mesh liner. To help keep your digits warm when you're off the bike there's a pouch pocket at the front and the Defenders hood can of course be put to good use once the helmet comes off.
Available in Akin's favorite colorway of black, the branding on this hoodie is limited to a small embossed leather emblem on the chest and an embroidered label on one side of the waist. For riding convenience, the Defender Motorcycle Hoodie also features a hidden water-resistant pocket inside the front pouch for stashing your valuables.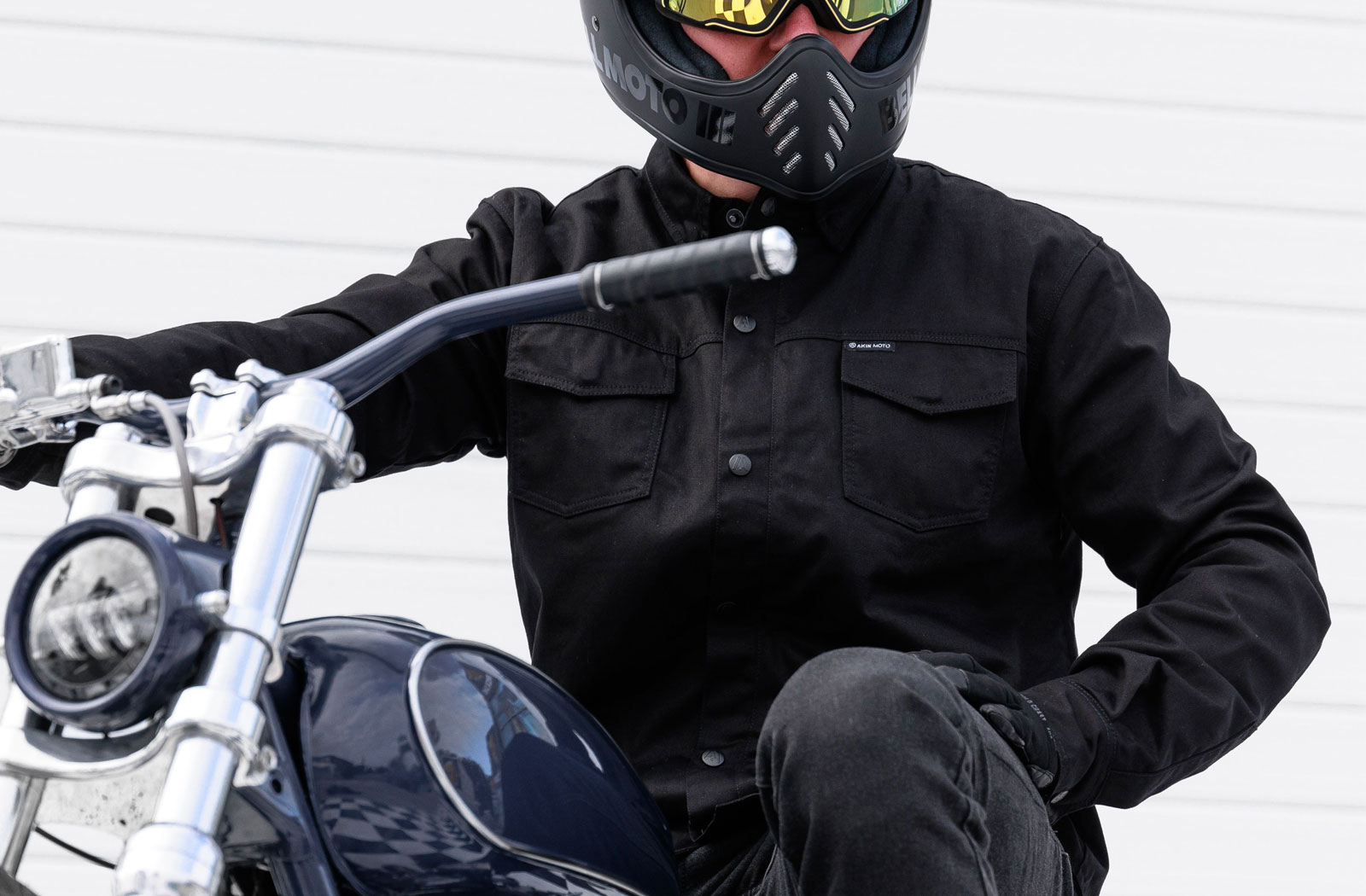 Akin Moto Blackhawk Riding Shirt
Another addition to Akin's range of casually styled riding gear is the new Blackhawk Riding Shirt. Despite its inconspicuous streetwear styling, similar to the Defender Motorcycle Hoodie, the Blackhawk Riding Shirt boasts safety features designed to keep you safe out on the road.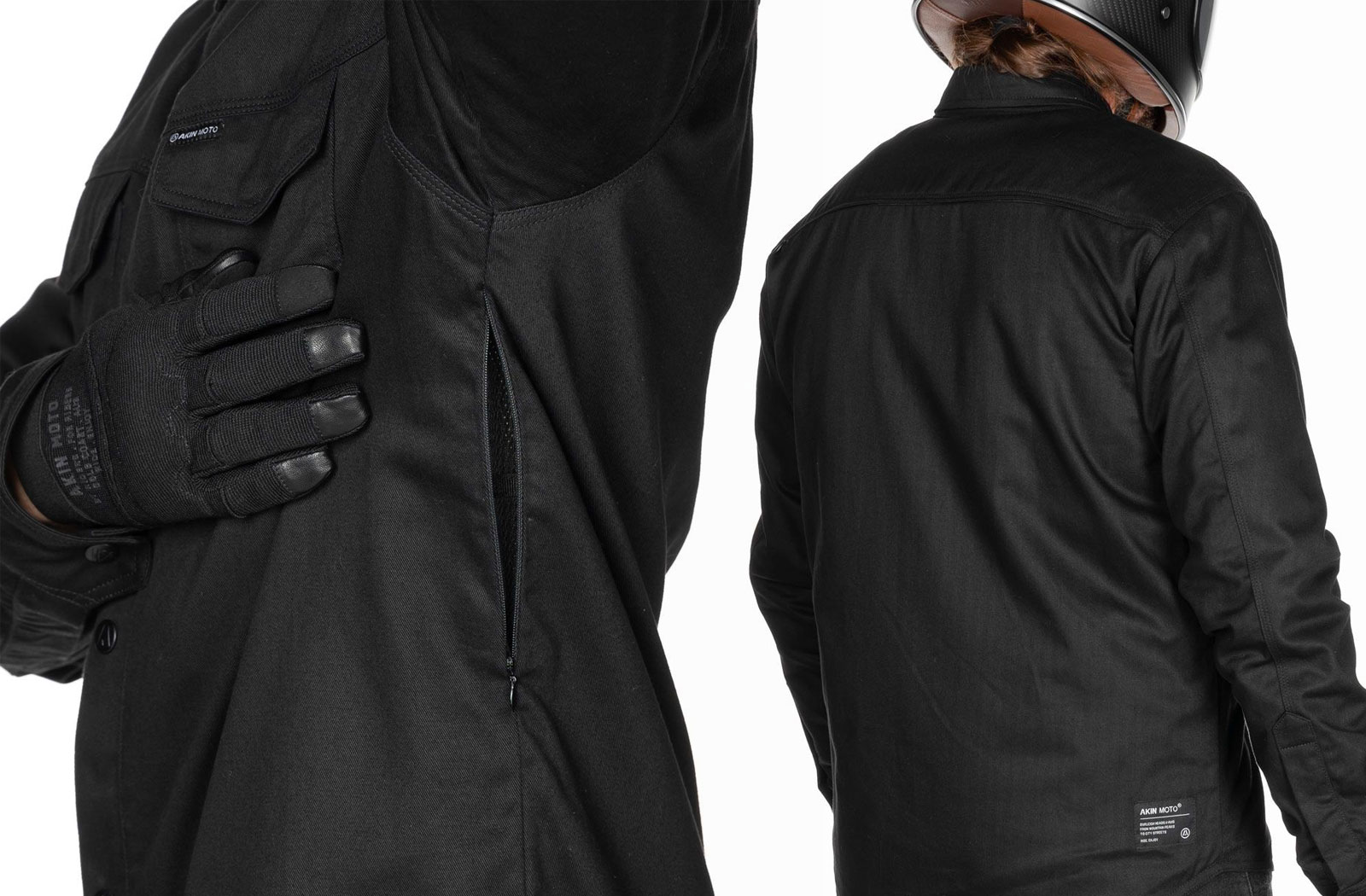 The Blackhawk Riding Shirt boasts a highly abrasion and burst-resistant DuPont Kevlar liner. To reduce the build-up of heat Akin has added Coolmax into the liner's weave. With the added airflow from concealed SmartVent openings in the armpits and back, this is an ideal garment for warmer climates where regular riding gear can become stifling.
For those wanting more protection, the Basehawk riding shirt is also armor-compatible. You'll need to buy it separately, but the Blackhawk can accommodate Forcefield Isolator 2 back armor and Sas-Tec Tripleflex Air armor in the shoulders and elbows.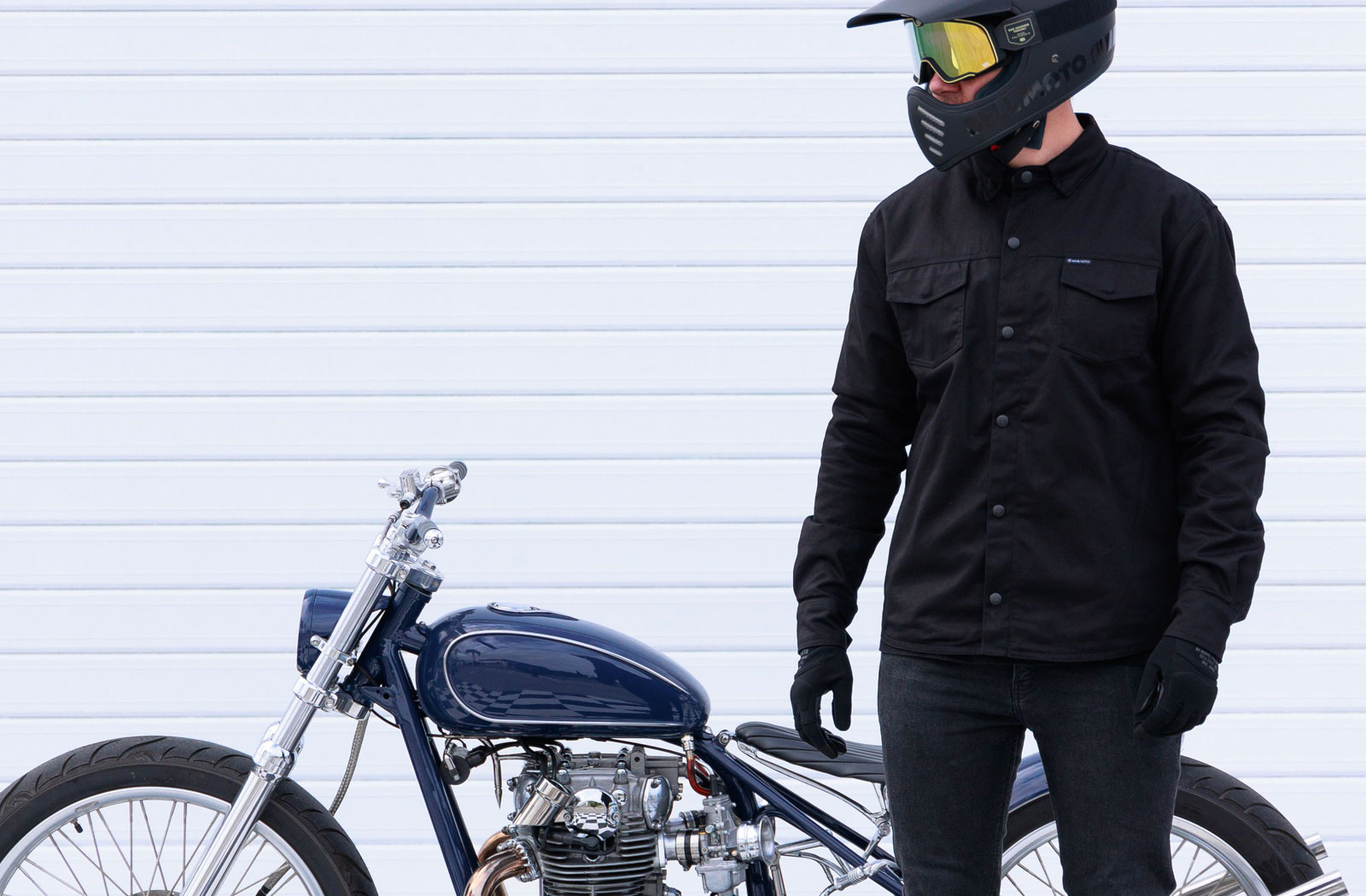 As for styling this Blackhawk boasts a classic work shirt cut that's loose enough to allow plenty of movement while riding. It comes in a timeless black colorway and will look good on just about any style of ride. Other smart moto-oriented features include a snap-down collar to prevent it from whipping your neck at speed, internal pockets for stashing your EDC essentials, and long-cut sleeves to keep your wrists covered while riding. Akin has also conveniently designed all of the Blackhawk Riding Shirts fasteners to be glove-friendly.
Akin Moto Alpha ADV Collection
In Akin Moto's own words, "The Alpha ADV Collection is made for riders who want the function of traditional Adventure Motorcycle Gear, but without the 'goofy' old school look," and that's precisely what they've achieved here.
As the name implies, the Alpha Motorcycle Jacket 4.0 is the fourth version of Akin's highly praised textile riding jacket. Now available in either all-black or white and black colorways, the Alpha 4.0 will have any rider, on the road or dirt, cutting a fine figure.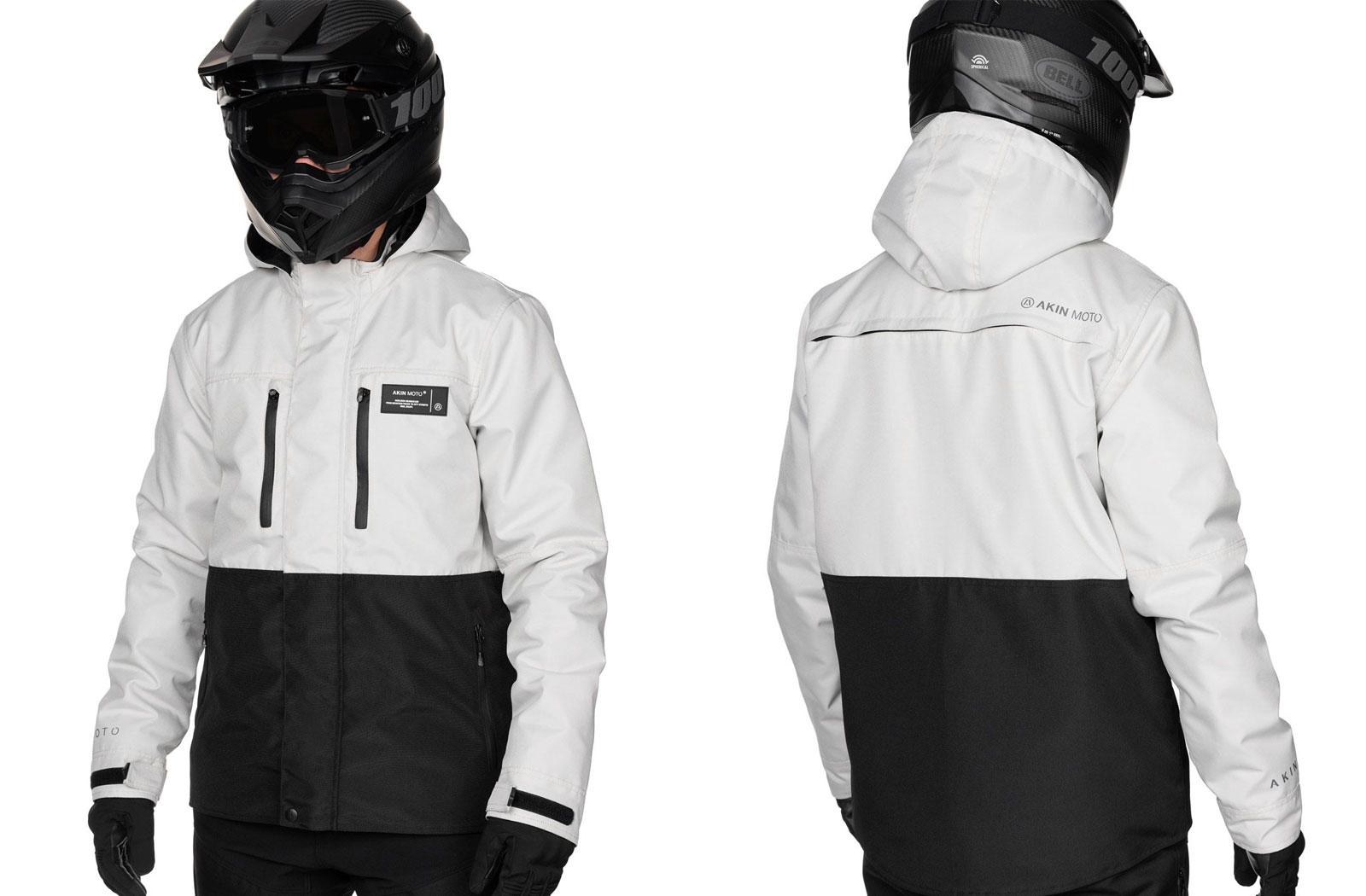 The Alpha Motorcycle Jacket 4.0 is packed with smart features that make it excellent value for money. These include a sturdy Protective Maxtex 600 D outer shell that offers steadfast abrasion resistance. Inside you'll find space for optional armour in the back, shoulders, and elbows. The jacket boasts a seamed construction throughout and comes with a Humax breathable internal membrane. The main zipper features a storm flap and YKK Aquaguard zippers all around make it 360-degree waterproof. A Smartvent system featuring 5 openings helps to dissipate heat in Summer while in winter a removable thermal lining will keep you warm.  Reflective logos bolster the jacket's safety offering and the hood is secured in place by a magnetic stay.
The Alpha 4.0 jacket also offers superior comfort to the previous models thanks to a revised fit and comfort-lined collar, cuffs, and hand warmer pockets.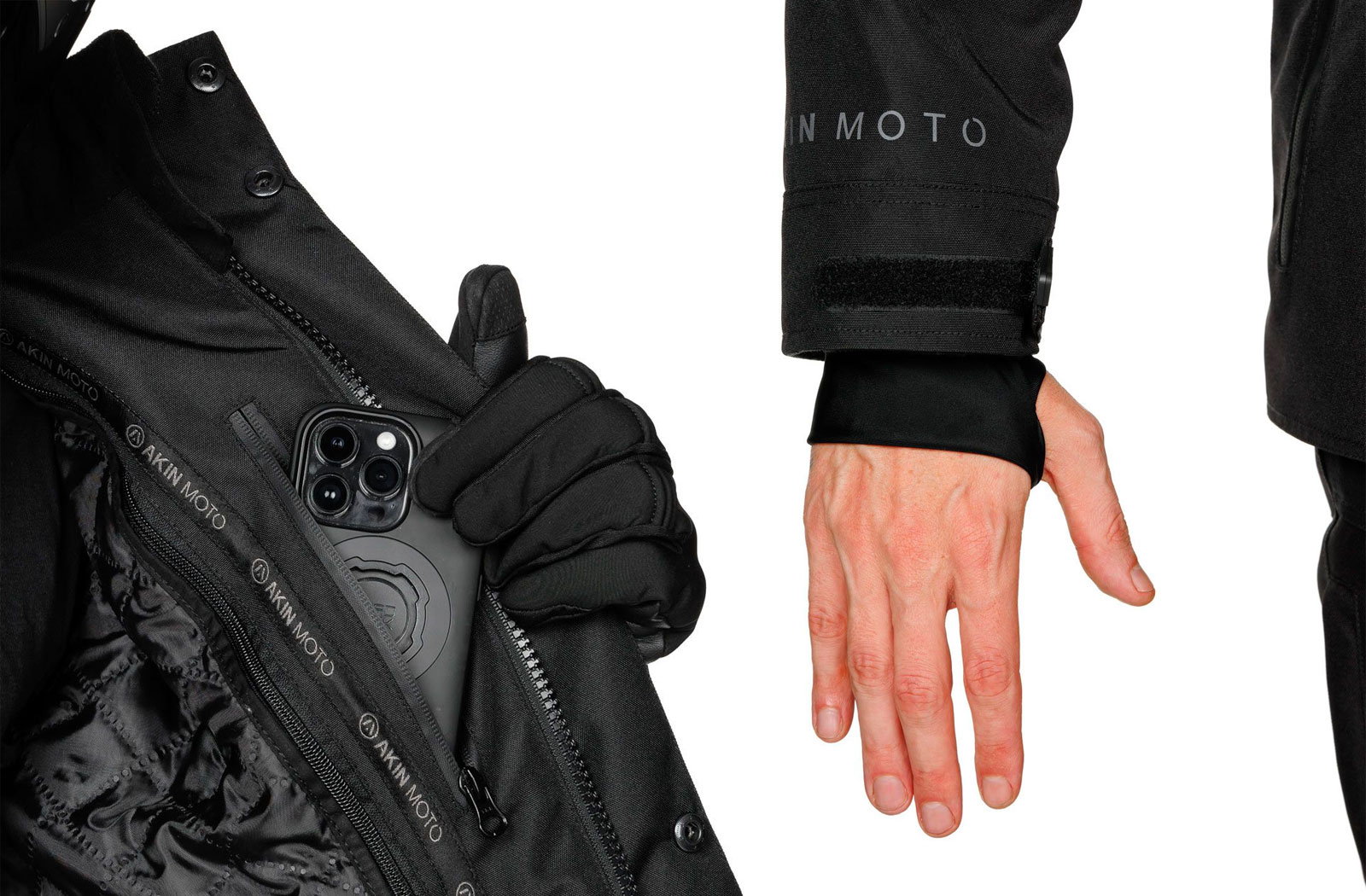 The new Alpha Motorcycle Pants are, at their core, ADV riding gear, but thanks to their waterproof design are an appealing offering for all-weather riders. Similar to the Alpha 4.0 jacket, the Alpha Pants are constructed from highly abrasion-resistant Poly Maxtex 600 D nylon. Waterproofing is provided by an internal Humax membrane which is also highly breathable to minimize the buildup of sweat, and all of the seams are sealed. For added safety, the Alpha Pants can also accept optional knee and hip armor.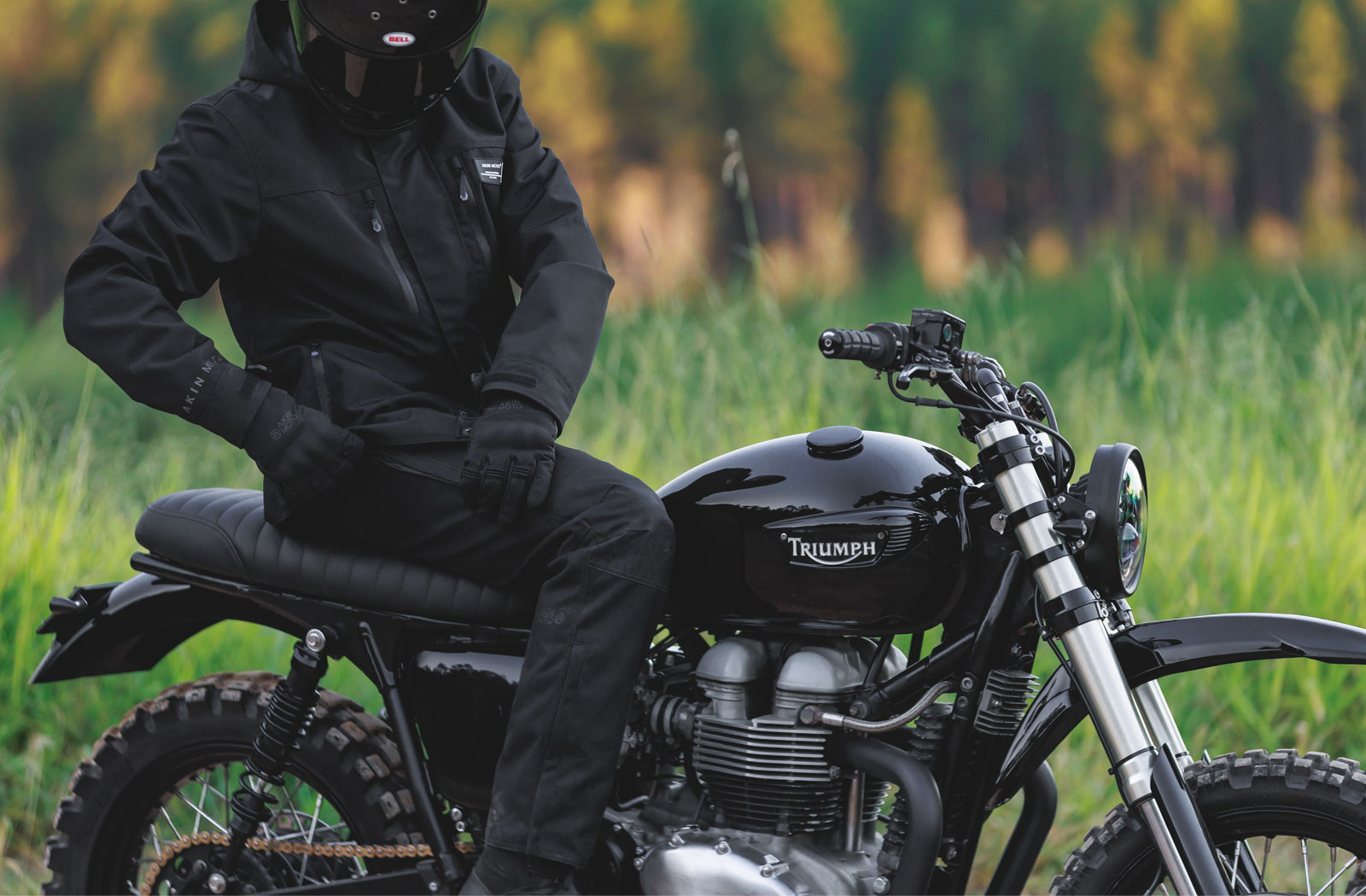 Similar to the Alpha Jacket the Alpha Pants are 4-season compatible. This is thanks to an internal removable thermal liner for winter and ventilation pockets for warmer months. The pants secure using a waterproof zippered fly with a button at the waist and the fit can be adjusted using velcro straps on each hip. To increase comfort while riding Akin has also equipped the Alpha Pants with accordion-style stretch panels at the rear.