EngineHawk is the newest company on the motorcycle gear market, launching in Q2 of 2021, with a mission statement of making gear that eschews the easy, normal path, and develop gear that the slightly rebellious would like to wear. Seeing as the company was born out of a desire to find gear that matched a Ruroc helmet, and not being able to find any that truly fit, offerings on hand definitely are on the wilder side of the market.
They also don't have a particular mission statement, apart from "Helping save lives and make people as passionate about motorcycling as we are," as much as they have a manifesto. In this manifesto, which you can download here, they lay out the rules that all their gear must abide by, including an unflinching stance on safety, a dedication to the community of riders, and a love for all things with two wheels, no matter the style of bike. In fact, they are so deep into their safety message that they say outright, "if we wouldn't slide in it, we won't let you ride in it."
Partnerships With The Biggest Names
It can be said that if anything, EngineHawk has balls. Instead of starting out like many gear companies do with a few less expensive items, a few mid-level items, and one or two top tier items, they jumped straight off the ten meter board into the deep end of the pool. However, this isn't to say that they didn't take some swimming lessons first.
Instead of doing everything in house, EngineHawk reached out and formed strong partnerships with some of the best in the business. SAS-TEC provides all the non-Newtonian flexible armor (SAS-TEC Triple Flex) for the elbows, shoulders, and back. Often recognized as some of the best armor on the market, this shows that there is serious intent behind the statement of keeping riders safe. You don't go to the front of the line unless you are uncompromising.

Another major partner is KIDO Industrial Company, Ltd, out of South Korea. The common rider may not know this, but it is highly likely that unless your gear literally has a tag or stamp on it saying "Made in the USA," it was probably made in a KIDO factory. Long the choice of the biggest brands in the world, EngineHawk joins companies such as Dainese, Alpinestars, Rev'it, KLIM, and even Harley Davidson in having their high-end gear manufactured by the best.
EngineHawk is also dedicated to longevity, with all the full-grain hides for their leather jackets coming from sustainable sources. The synthetic textiles in their gear are produced in a manner that uses the least amount of chemical waste, and if chemical use can be avoided altogether, that path is taken, even if it makes the product harder to manufacture.
Not Your Mother's Typical Motorcycle Gear
So, what is it that really sets EngineHawk apart? We know they are dedicated to being rebellious but strict on safety, and that they've partnered with some of the best companies in the world for protection and manufacturing, but what really sets them apart?
The best way to answer that question is to look at their lineup of jackets. While there are one or two "classic" jackets available, the rest are designed in a way to resemble the working man's style of clothing. Blue collar designs, either emulating a denim shirt, a classic double pocket button up, or the construction workers warm layering style with a hoodie under a jacket. In other words, these are styles that are not common in the forward looking jacket market, where big mesh panels, stretch zones, and high-tech airflow materials are king.
Simply put: These are designs for the common man to both look good and stay protected.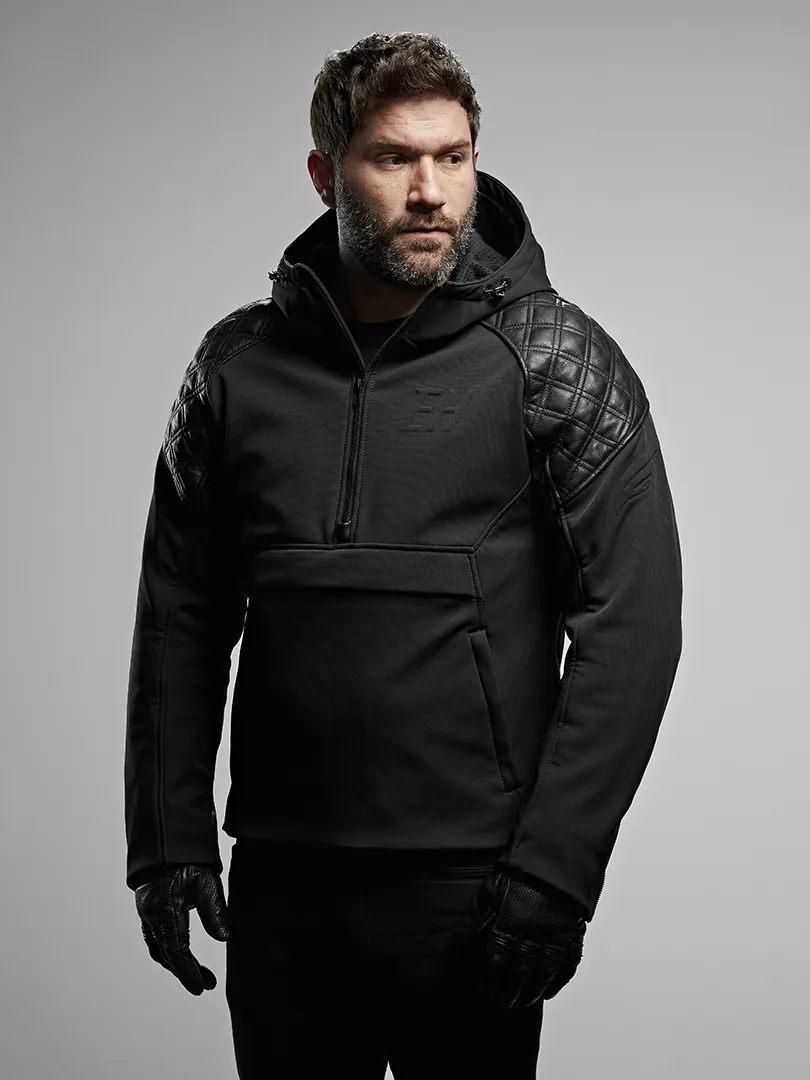 Probably one of the best bits of gear to exemplify this design path is the Predator, pictured above. It may look, for all intents and purposes, like your average hoodie, but look closer. That is heat resistant, abrasion-resistant nylon interwoven with spandex for a fully adjustable fit no matter your size, with a half zip that even if it gets yanked to the base, will still keep the jacket fully in place. Diamond stitched full-grain leather covers the shoulders. The arms are only slightly pre-bent, just enough for the SAS-TEC level 1 armor to be fitted.
And, of course, there is a hood for when it's cold and windy when you arrive. Take off your helmet, pull up your hood, the job's done. There is also diamond-stitched full-grain leather at the seat, and the entire back panel is slightly longer than the front, to prevent that always-unnerving feeling of the back of the jacket riding up your spine. The hood itself has a button snap cleverly hidden to connect to the upper back of the jacket, to prevent it from flapping around while riding.
This is why EngineHawk is not your mother's typical riding gear. It's been designed, tested, reworked, and finalized for the common rider to have a piece of gear that is comfortable, keeps them safe, and most of all doesn't feel like it's been made by the lowest bidder. This is high-quality gear, with intelligent safety and comfort considerations, at a price point that the average rider should be able to afford when they want the best gear they can get.
The Return Of The Classic Motorcycle Jacket
Another piece of showcase gear is the .50 CAL cafe jacket. As EngineHawk themselves say, "Fashion stole the classic motorcycle jacket. We're stealing it back." Motorcycle jackets from the 1960's were designed to look mean, look rough, look ready to break a few speed laws while bombing down the highways and motorways between cafe stops. This is the aesthetic of the .50 CAL, and it is dead on.
The best thing about the .50 CAL is that it doesn't compromise. You want a secure zip and neck snap? How about full YCC locking zippers and not one, but two button snaps at the neck. Are you a bulkier gentleman? The shoulders and upper back realize that fitness is part of riding a bike, and have accordion stretch zones to fit your wider stance comfortably inside. Want it to be streamlined in look, but tight fitting for safety? Size adjusters at the waist are hidden inside the jacket, keeping the classic rough-n-mean exterior look.
This isn't to say that safety isn't a priority here either. Full SAS-TEC level 1 in the elbows, level 2 in the shoulders and back, and a 100% polyester lining to hold it in place, hard sewn into the leather shell. This is a serious jacket, designed to take serious falls and slides and keep you safe. No expense was spared in making it one of the best retro-cafe jackets on the market.
On a more personal note, it's nice to see that EngineHawk has also realized that big and tall riders do exist. The extra large and beyond sizing is generous in allowing wider shoulders, wider chests, and wider waists to fit into the jacket, and sizes up the SAS-TEC armor appropriately as well. It's been quite difficult to find proper big and tall gear for quite a while, and having a company realize we exist and we also deserve to have full, high-end protective gear is quite a nice feeling!
To learn more about Enginehawk and its collection of apparel, check out the Enginehawk website.