I sink a lot of time and money into buying the right motorcycle helmet. And I don't know about you, but the thought of leaving it sitting on my bike, whether it's locked to it or not, is not all that appealing. Conversely, carrying my helmet around in my hand while I go about my daily business isn't an ideal scenario either. As it turns out, I'm not the only one who yearned for a solution to this problem.
The Expedition 36L Motorcyclist Backpack is Rock Ready Engineering's answer to portable helmet storage and safety. RRE is run by a team of friends who started out building and customising motorcycles together. Using the skills they developed building bikes they transitioned to the design and manufacture of products specifically for motorcyclists. Previous achievements include the development of a clever Enduro 'Tool Pad' that combines the functionality of a handlebar crash pad with the convenience of a quick access toolkit. With their latest project, the Expedition 36L, they have their sights set on stirring things up in the motorcycle luggage market.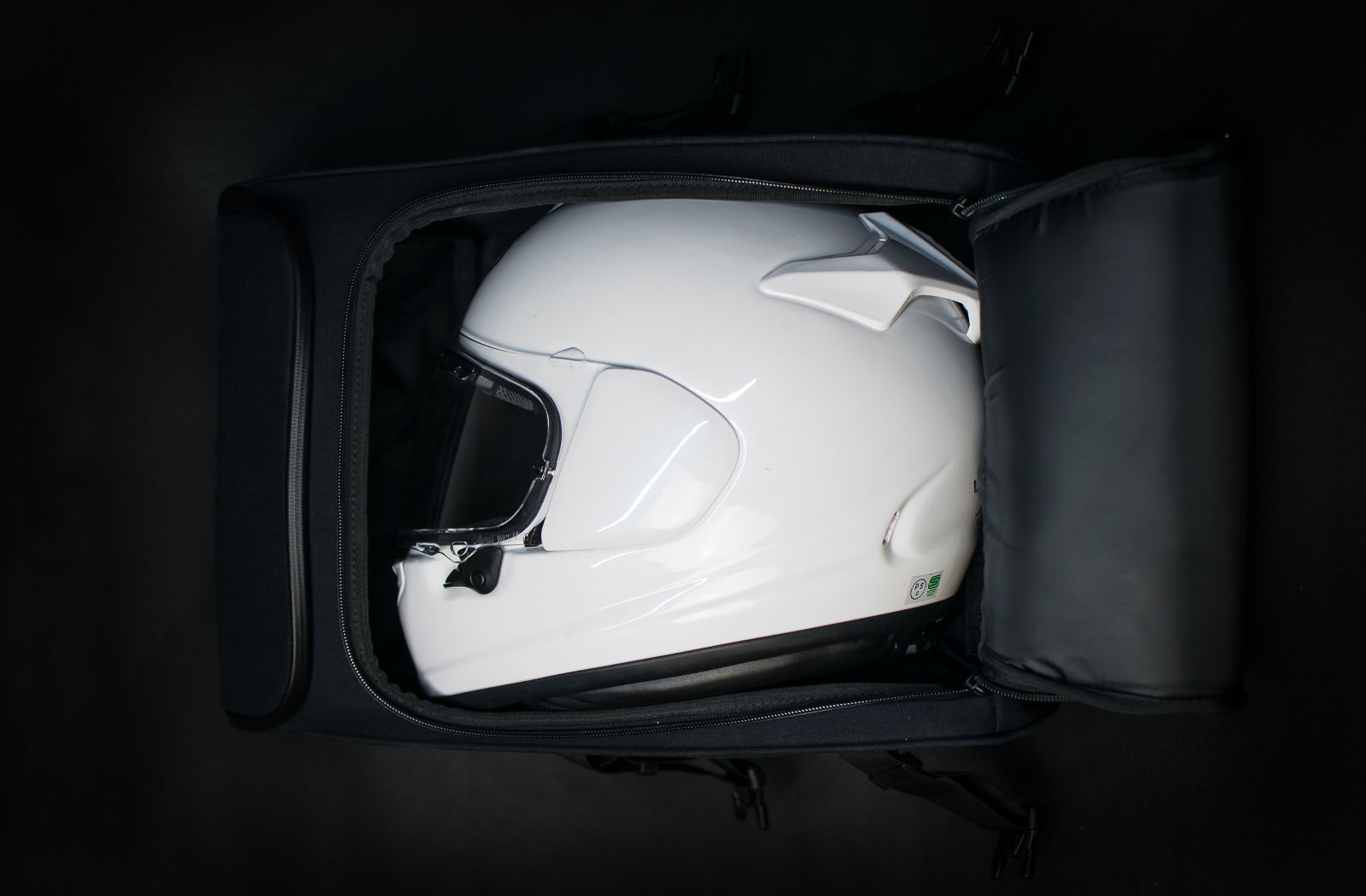 As defined by its name the Expedition 36L features a 36 litre storage capacity which is well suited to the average motorcycle commuters daily needs. The user-oriented design features a range of convenient storage compartments that allow you to store different items according to their size, how accessible you want them and how protected they need to be.
At the top of the bag are 2 quick access pockets for storing EDC items such as your sunglasses, wallet or compact wet weather gear. Built into the rear of the bag is a padded, side access pocket that functions as a safe place to store a laptop. Inside the large front access pocket you'll find an integrated roll up mesh organiser for stashing smaller items and enough space to accommodate enough gear for a weekend away. Where the true genius lies in this design however is that the main compartment will also accommodate a full face helmet. This of course leaves your hands free to do whatever you need to do once you've stepped away from your motorcycle.
When developing the Expedition 36L the RRE team wanted to create a luggage system that was flexible, adaptable and convenient for the everyday rider. RRE have achieved this by incorporating a range of smart technical features into their design. Built tough to withstand the rigours of daily use the bag is constructed from a mix of 600D water resistant nylon and the same rugged CSM material used on military watercraft. Then to keep your belongings dry the Expedition 36L boasts both a waterproof lining and waterproof zippers.
Additionally the Expedition 36L can function as both motorcycle luggage and a backpack. Using an included mounting system the bag can be easily attached to the rear of a motorcycle. This gives  the rider complete freedom of movement and avoids the fatigue associated with carrying a backpack while riding. Once off the bike a set of padded shoulder straps can then be removed from an integrated pocket so the Expedition 36L can be worn as a backpack.
Whether you're on a quick commute or a weekend adventure the Expedition 36L will strive to satisfy your needs. If you're willing to give it a try, Rock Ready Engineering are running a crowdfunding campaign to produce the first run of Expedition 36L bags on Kickstarter. Their goal is to then expand the range with several different versions including a low cost solution for riders in less developed parts of the world. Early bird pledgers can secure an Expedition 36L for only $125 but these are limited so you'll need to act quick.
For more details visit Rock Ready Engineering.