Andromeda Moto Neowise Jacket Review Summary
Review Summary
The Neowise Jacket from Andromeda Moto sets out to prove that textile café racer style jackets can be just as durable, functional, and badass as their leather counterparts. It offers phenomenal impact and abrasion resistance, thanks to the materials used in its construction and the SAS-TEC level 2 protectors included in the shoulders, elbows, and back. It also features a sleek, aggressive appearance and offers surprisingly good value for money. My advice? Snag it now before Andromeda Moto realizes what a killer product they've made and raises the price.
Materials & Build-Quality
Pros
SAS-TEC level 2 protectors included in key impact zones
Made from highly abrasion-resistant materials
Excellent value for money
Looks really cool
Cons
Fit not adjustable
Sizing is slightly boxy
No venting in the body
Neowise Jacket Image Gallery
I love jackets, and I love motorcycling. I was also raised vegetarian. So when forward-thinking Spanish gear brand Andromeda Moto contacted me about reviewing the Neowise Jacket—a futuristic café racer style riding jacket made from innovative non-leather textiles, I jumped at the chance (we're always looking to add a great product to our expansive list of textile motorcycle jacket reviews).
The Neowise Jacket looks a lot like leather from a distance, and performs better than a solid amount of leather riding jackets I've come across. It's also more cost-effective. I'd recommend a couple of minor adjustments for the next version, including a vent or two and a way to adjust the fit—but make no mistake; this is an excellent cafe style jacket that will hit the mark for many riders, especially those with café racers or sport cruisers.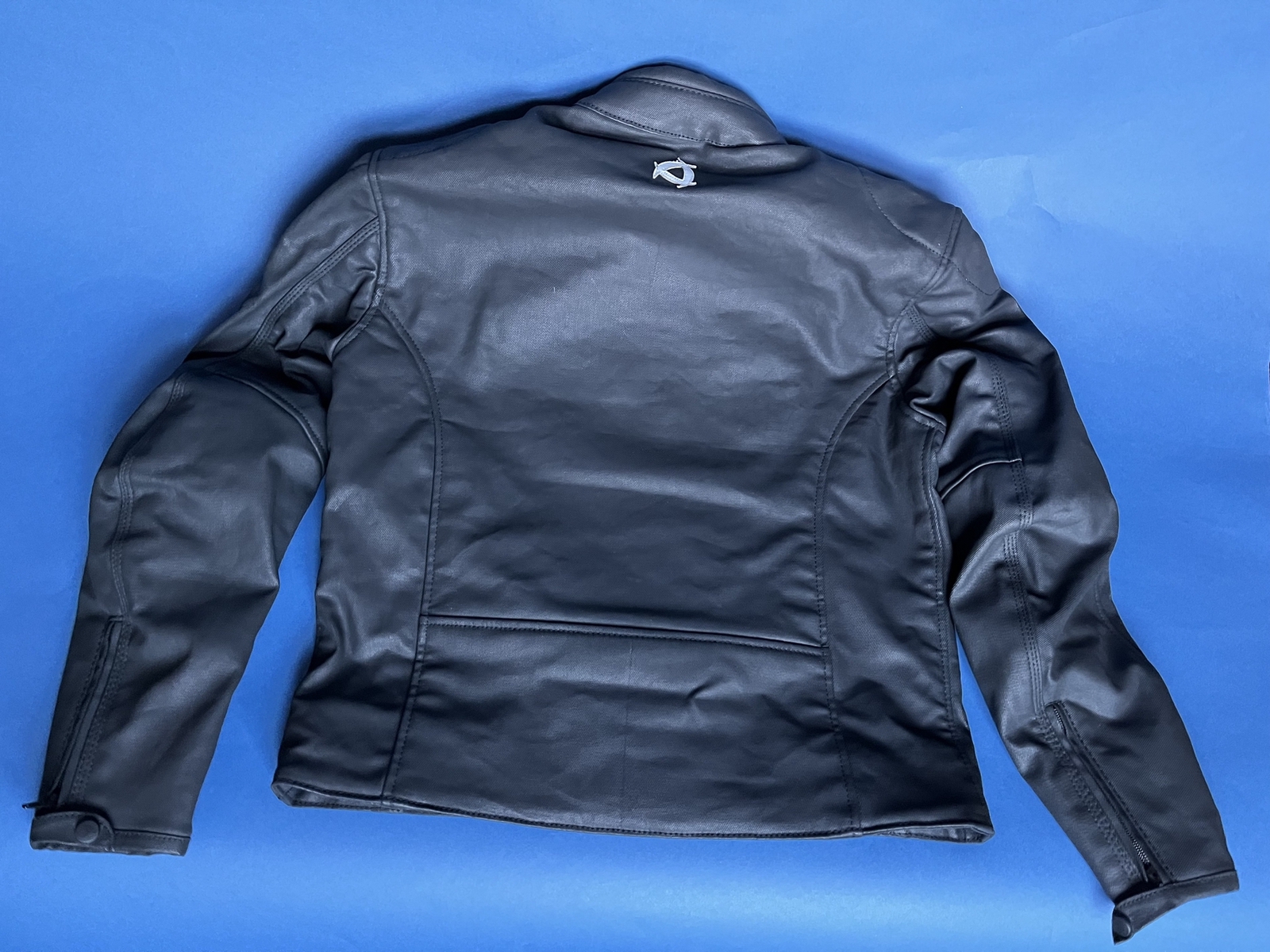 About Andromeda Moto
Andromeda Moto is based in Spain, and they're deeply committed to two things: sustainability and kickass motorcycle gear.
All Andromeda products are entirely vegan—no leather or other animal products are used anywhere in their designs. Their shipments are also DHL GoGreen certified, in an effort to neutralize emissions and reduce their carbon footprint.
As for the gear itself, Andromeda focuses on minimalist designs with streamlined profiles and materials made from comfortable, high-strength textiles. The Neowise Jacket is proof that they're succeeding at this mission.
Neowise Jacket Design
We chat design and style as part of our motorcycle jacket reviews, but this area can be subjective (so keep that in mind).
For a café racer jacket with no leather in it, the Neowise Jacket looks very slick. The cut is essentially retro, while the detailing has a more futuristic edge to it.
It's a bit of a creative risk, but I think it pays off. What could easily have been a confusing, pick-a-lane-already design instead ends up paying homage to its roots in classic leather riding jackets while also announcing its intention to move boldly forward into new territory. That also seems to be in keeping with Andromeda Moto's values, making this an appropriate flagship product for them.
This probably isn't a jacket for your uncle who rides a Fat Boy and thinks Sons of Anarchy is the greatest TV show ever made, but there's a whole different kind of badassery at work here—this jacket makes me feel like an animé villain, and I like it.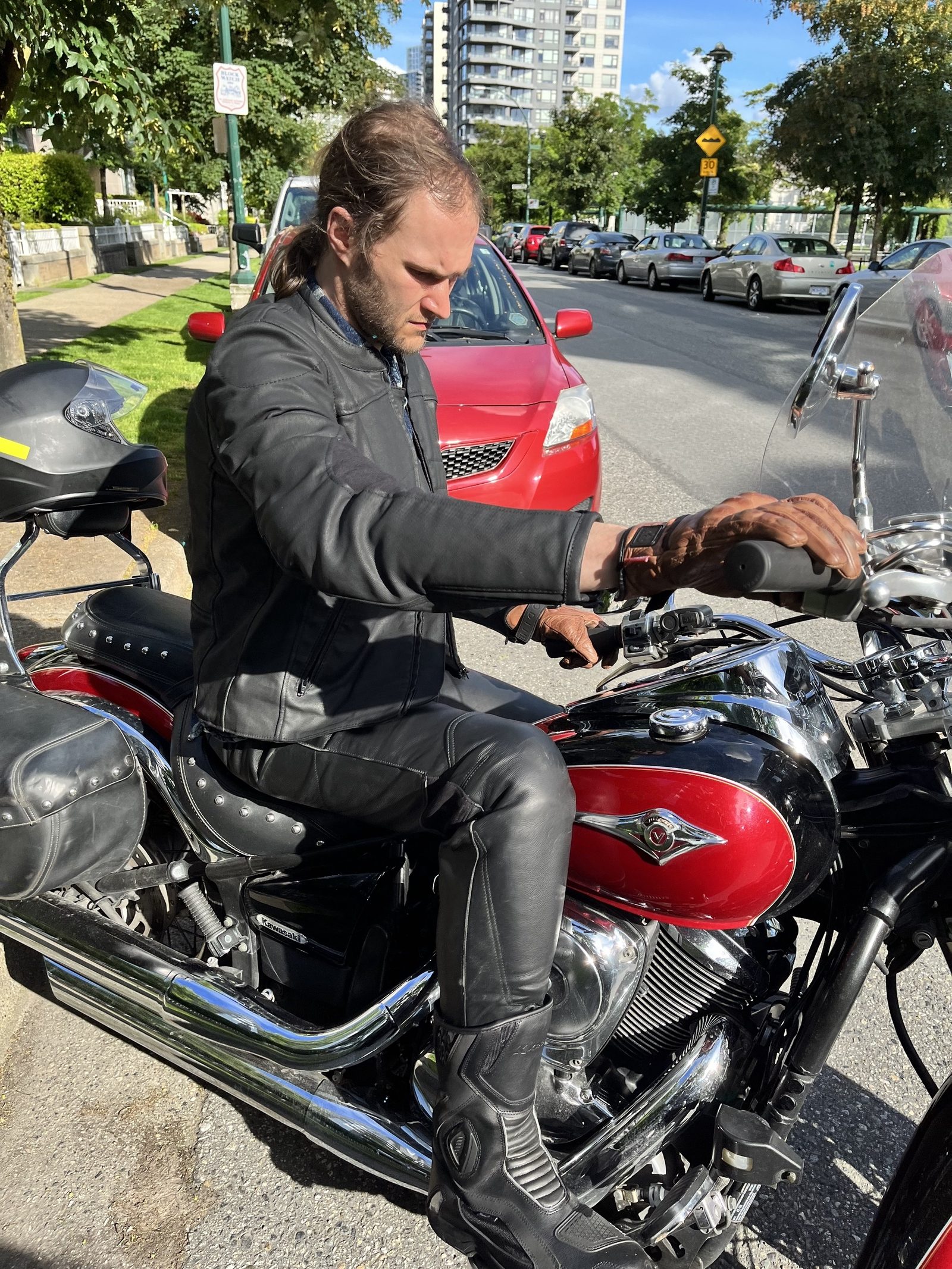 The one piece of advice I'd give Andromeda here is to add a vent or two. The fabric, while lighter and more breathable than leather, is still black after all—so it can get pretty hot while riding in warmer conditions. Andromeda Moto's website says the jacket is suitable for wearing in temperatures from 41–86 °F (5°–30 °C), but riding through a June day in Vancouver, BC (which is around 20 °C in direct sunlight) already had me sweating a little afterwards. A vent under each arm would be an easy way to add more comfort without compromising the jacket's look.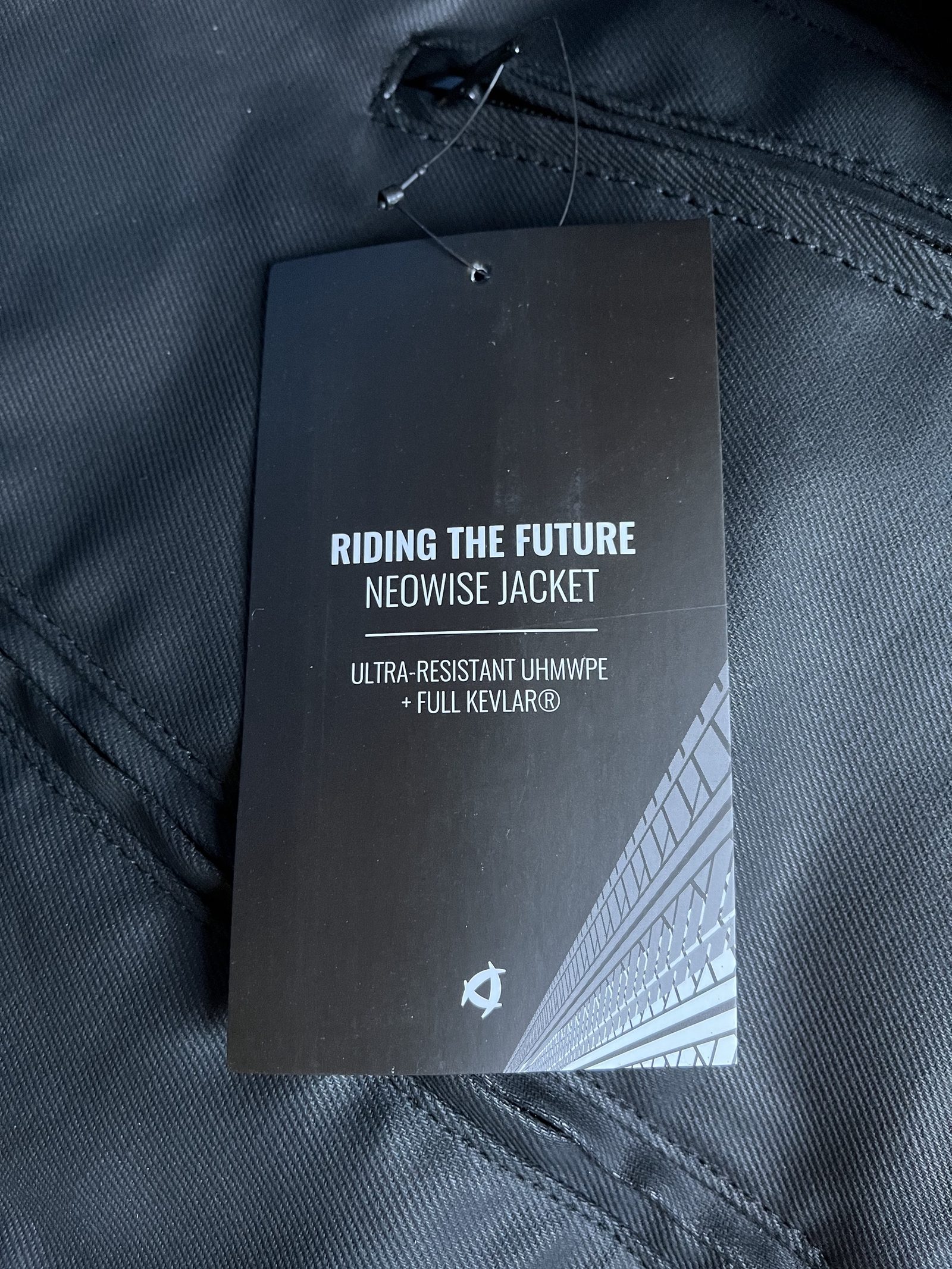 Neowise Jacket Materials & Build Quality
Here's where the Neowise Jacket really shines. Andromeda Moto obviously knew that pitching a non-leather jacket to retro-obsessed café racer riders was going to be something of a challenge, so they brought their A-game and invested in some of the most ferocious fabrics available.
Most of the jacket's outer layer is made from UHMWPE, a synthetic polymer that's often used in marine, aerospace, and medical applications. Basically, you can find this stuff in everything from winch ropes in shipyards to space suits and spine implants. That's because it has better abrasion resistance than carbon steel (up to 15 times as much in certain forms) and a comparable friction coefficient to teflon. Translation? It slides easily and is super f*cking hard to tear.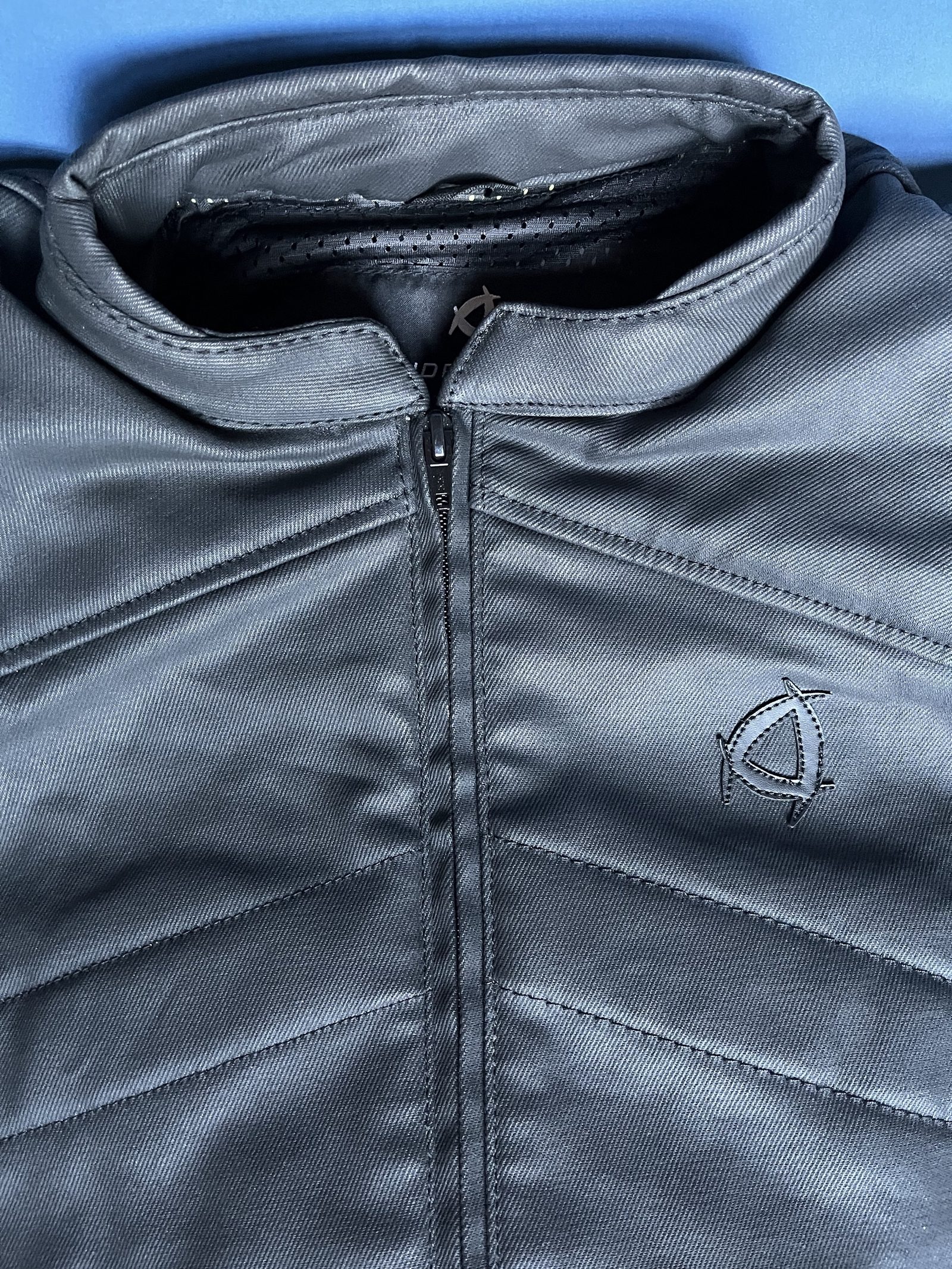 Andromeda isn't the first motorcycle gear company to use UHMWPE in their designs. But you've probably seen it more often referred to as Dyneema, which has been used in sporting equipment of many kinds since the 1960s. It's been used in everything from climbing equipment to fencing and parachuting gear, due to its strength and durability in a wide variety of environmental conditions.
UHMWPE has a low moisture-absorption rate as well, which makes the Neowise Jacket effectively water-resistant—I've worn it through long rides in pouring rain while keeping the clothes beneath bone-dry.
There are some concerns about using UHMWPE for motorcycle gear—some studies cite its low melting point relative to fabrics like Kevlar, giving rise to worries that the heat produced while sliding across a paved surface could be enough to melt a jacket made from the stuff. But Andromeda has stayed one step ahead here by including a full Kevlar inner lining inside the Neowise Jacket. Smart move.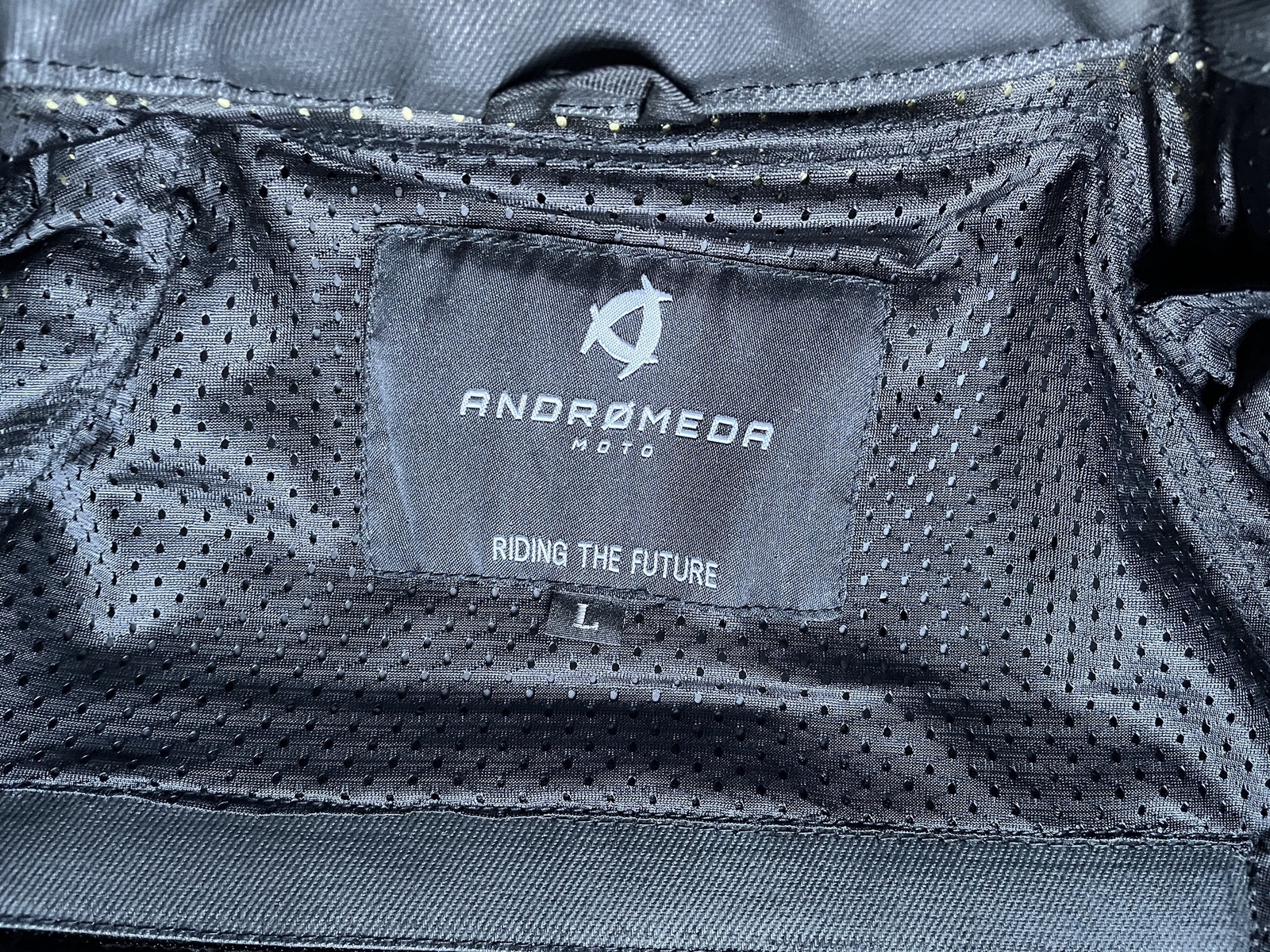 The inside of each arm on the Neowise Jacket is made from Schoeller Keprotec—a textile originally developed for use in motorcycle racing. It's not as strong as UHMWPE, but it's still hard to tear and weather-resistant. It's also more flexible, which makes bending your arms at the elbows much easier than if UHMWPE had been used for the entirety of each sleeve. And since you're more likely to fall on the outside of your arms than the insides, this doesn't feel like a compromise on safety, either.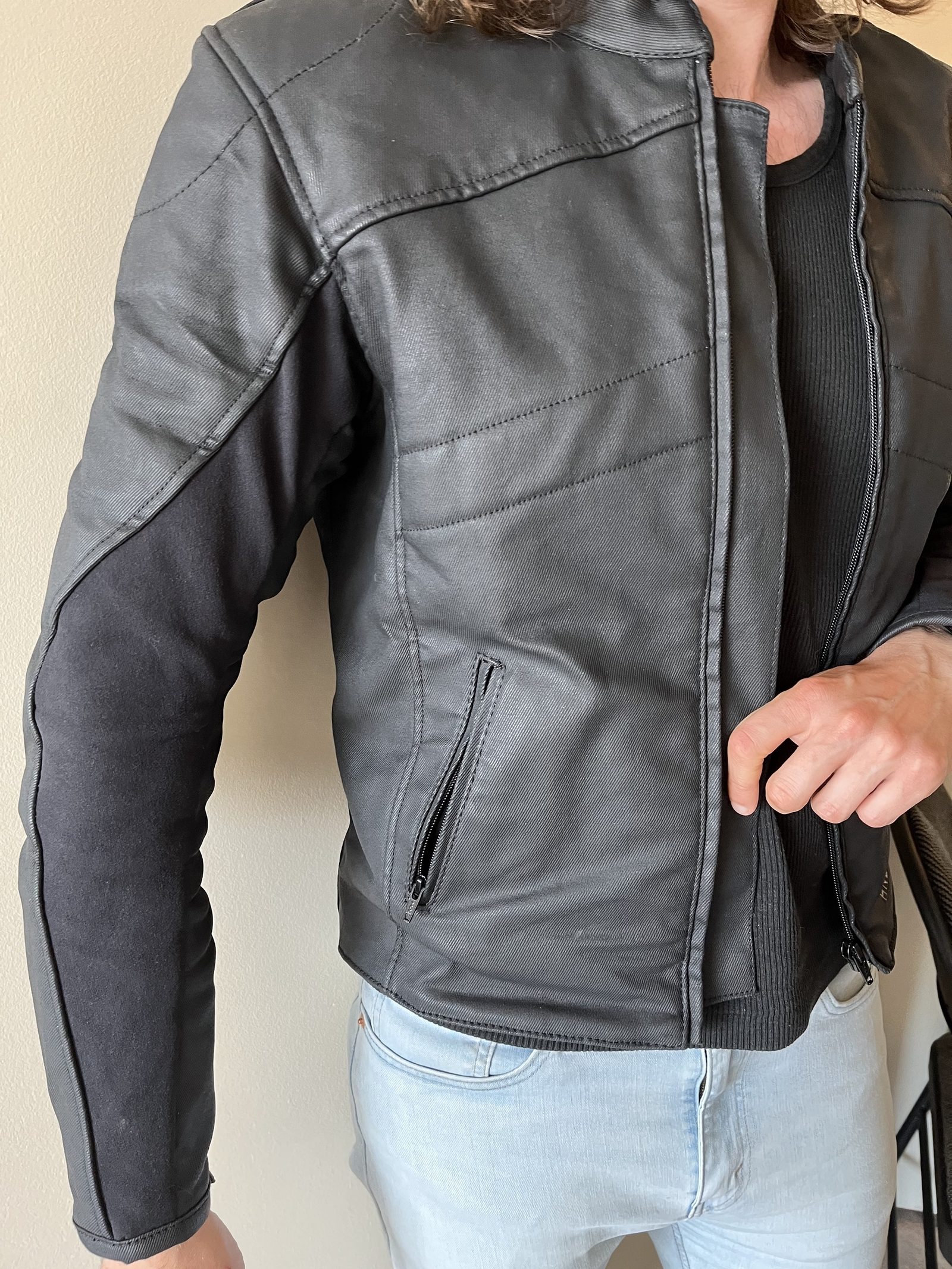 What I'm getting at here is that Andromeda Moto put a ton of thought into A) choosing the materials for the Neowise Jacket, and B) how to incorporate those materials into the design for maximum protection and comfort. They built this product with a ton of love, and it shows.
Neowise Jacket Sizing & Fit
My biggest complaints about the Neowise Jacket have to do with the way it fits. I need to offer a little context here: it's hard to find jackets that fit me perfectly. I'm 6'3", 180 pounds, and lean with long arms—if I ever had a personal shopper, they'd spend all their time on the phone with whoever did the costumes for Slender Man.
I had high hopes for the Neowise Jacket, due to its streamlined appearance—but the sizing chart on the company's website didn't give any measurements for the length of the arms or torso, so I had to order based on circumference alone.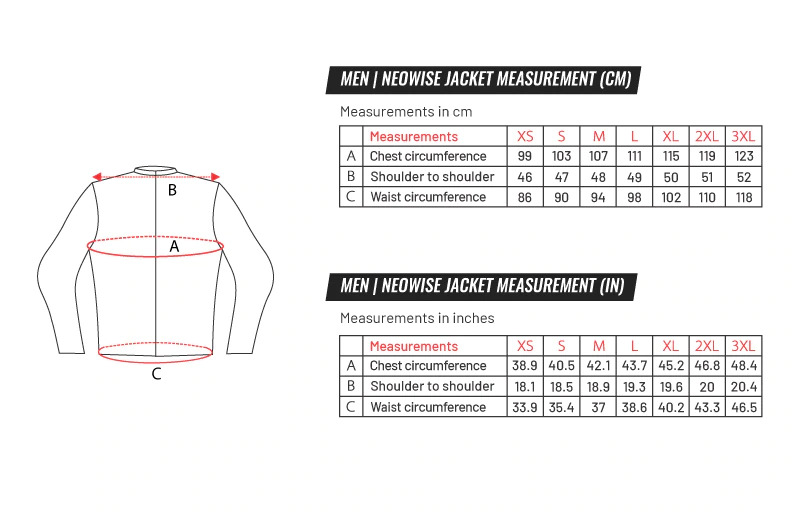 When the jacket came, I was mildly disappointed to discover that the torso and sleeves both felt somewhat short—the sleeves, in particular, were short enough to leave an inch or two between the ends of both and the edges of my short-cuff gloves. Exchanging the jacket for a size up wouldn't have helped either, since that would have made it too boxy in the body.
I can solve that issue by wearing gauntlet gloves, but it's a problem Andromeda Moto could have avoided entirely by adding a strap that lets you tighten the body of the jacket. Then gumby-looking guys like me could simply order larger sizes to accommodate our gangly bodies and adjust them ourselves.
Neowise Jacket Protection
No complaints here. I've already spoken to the merits of UHMWPE, Kevlar, and Schoeller Keprotec, so it should suffice to say that this jacket should do a pretty bangin' job of keeping itself (and your skin) together if you accidentally end up street-surfing.
I do want to talk about the SAS-TEC armor that comes with the jacket, though, because it's awesome. Lots of good-quality textile jackets are content to put CE-rated level 1 pads in the elbows and shoulders, but Andromeda Moto goes the extra mile with level 2 inserts comparable to the D30 armor found in many more expensive products and adds a back protector as well.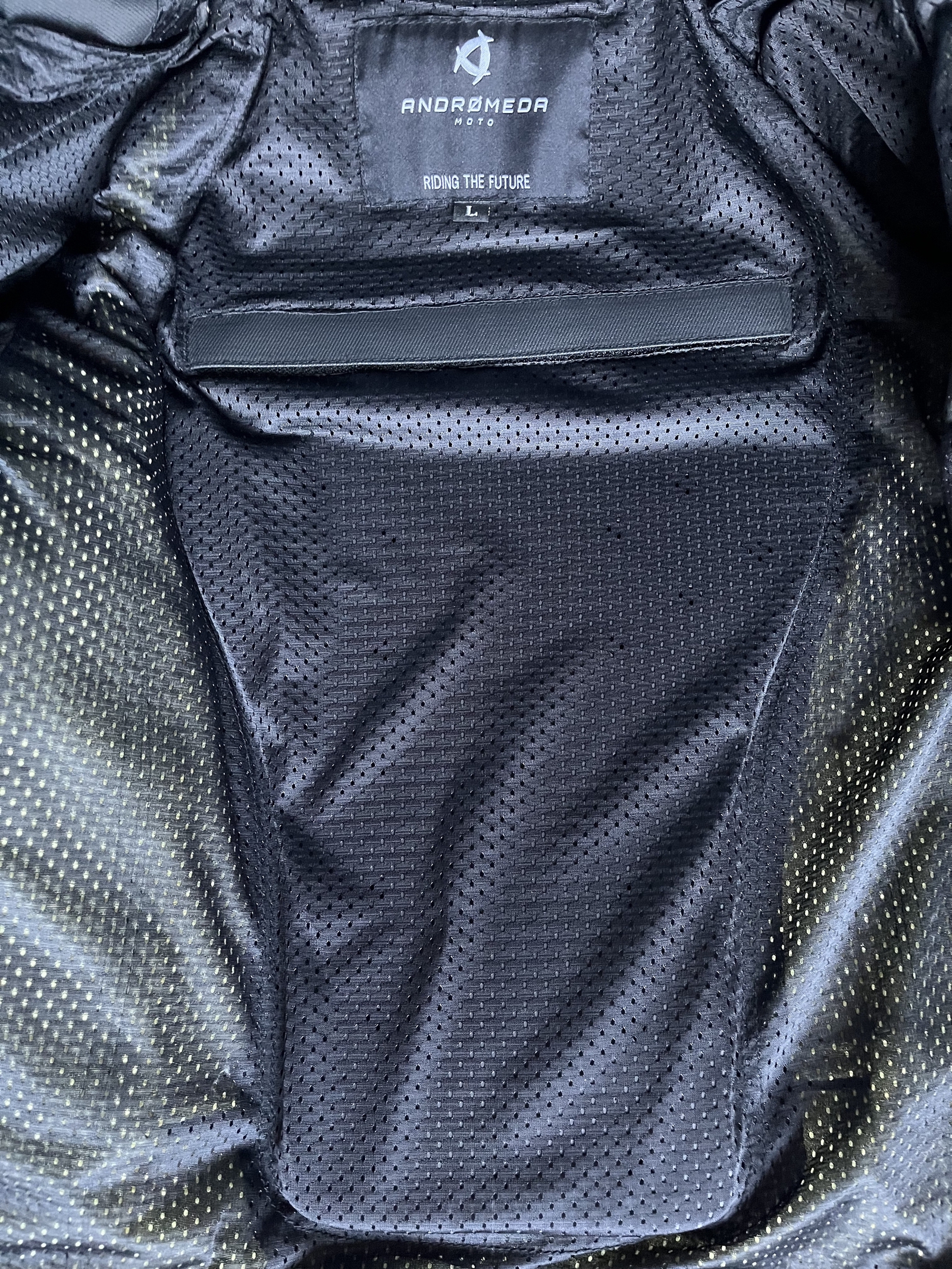 Full disclosure: I have not fallen off my bike in this thing, but I actually trust it more than my Schott One Star Perfecto 613—which is made from steerhide and costs roughly $900 USD. I doubt the UHMWPE layer of the Neowise would be quite as abrasion-resistant, but the Kevlar underneath and the armor throughout give me more peace of mind overall.
Neowise Jacket Value for Money
That brings us to the cost of the Neowise Jacket, and whether or not it's justified. This jacket sells direct from the manufacturer for 397 Euros, which is around $415 USD.
That makes the Neowise less than half the price of my Schott jacket, which offers incredible abrasion resistance but doesn't have any armor at all. I have taken a spill in my Perfecto before—and let me tell you, while the steerhide does a great job of protecting your skin in a slide, I felt the lack of armor keenly upon impact with the ground.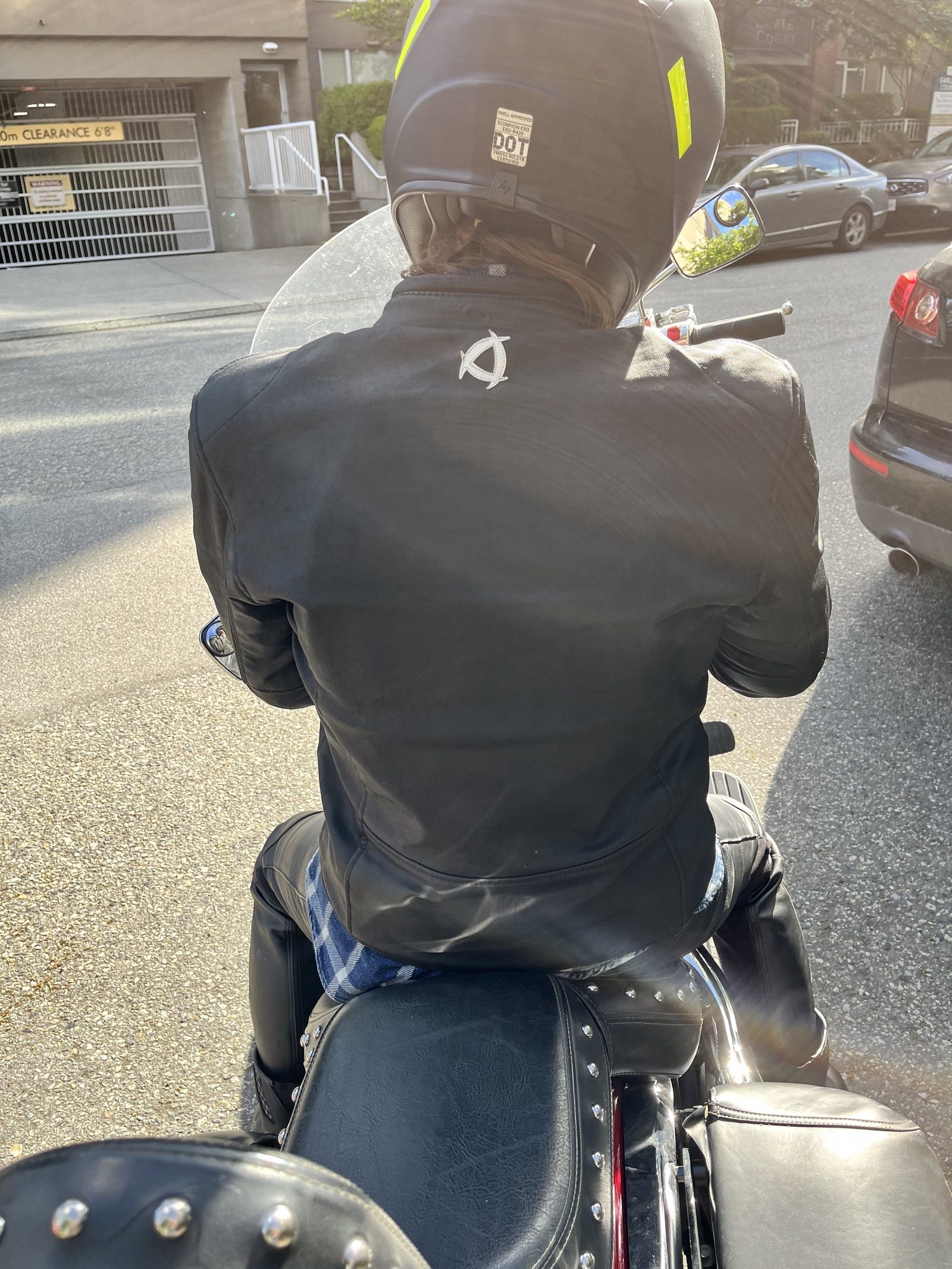 No, Andromeda Moto doesn't have the same century-long history and world-famous branding that Schott does—but they do have a gorgeous, feature-rich product that offers equal or better protection at less than half the cost. If they keep cranking out products like this, they might be just as big a hundred years from now.
Final Thoughts on the Neowise Jacket
Andromeda Moto set ambitious targets for themselves with the Neowise Jacket, and they succeed on nearly all fronts. For less than the cost of most decent leather riding jackets, the Neowise Jacket offers robust protection in a great-looking package.
Yes, you might have a few sizing issues if you run on the stretchier side, but a pair of gauntlet gloves should be enough to make up for the jacket's slightly short sleeves—and some high-waisted riding pants should ensure there's no embarrassing crack—er, I mean, gap—between the bottom of the jacket and your beltline. If Andromeda adds a way to adjust the fit on their next version of the Neowise, I'll recommend that vertically-gifted riders buy it one size up.
So there you have it—a cost-effective textile riding jacket that does an admirable job of matching the technical and aesthetic merits of most leather café racer style garments. Now, who wants to street race through Neo-Tokyo with me?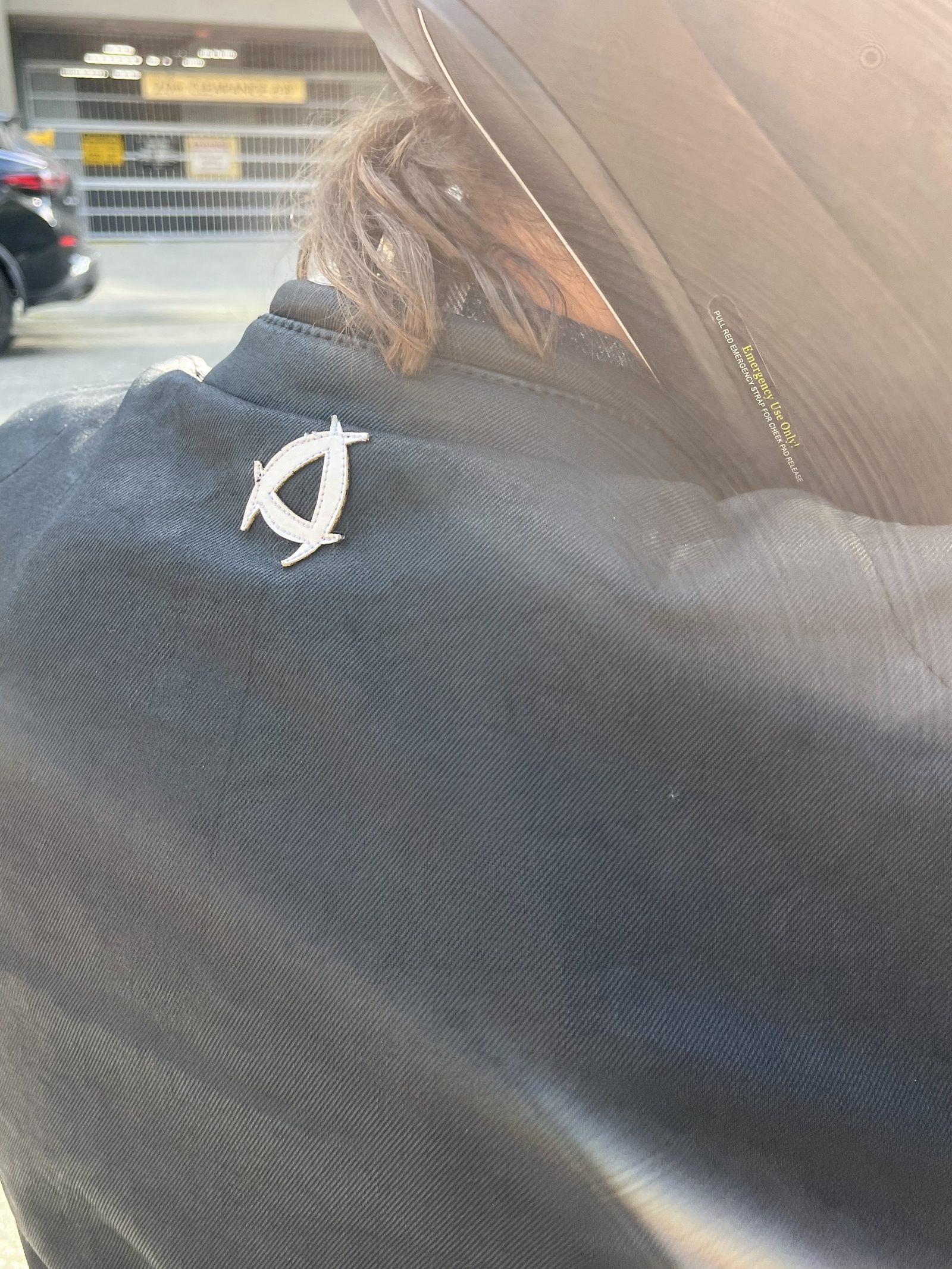 Specs
Manufacturer: Andromeda Moto
Price: €397.00
Colors: Black
Sizes: XS–XXL
Review Date: June 2022
Important Links / Where to Buy