A good set of motorcycle luggage will literally go a long way. Whether you're looking for a storage solution for your daily commute or something that'll carry all your gear on your next camping trip, there are a plethora of options available for motorcyclists.
We've all seen those plastic and aluminium hard luggage cases that adventure riders opt for. They are undoubtedly excellent at the job they were designed to do, but as far as looks are concerned, they're plain awful. So what are your options if you're chasing motorcycle luggage that won't ruin the look of your beloved bike? Today we're taking a look at 4 motorcycle luggage brands that regard form as highly as function.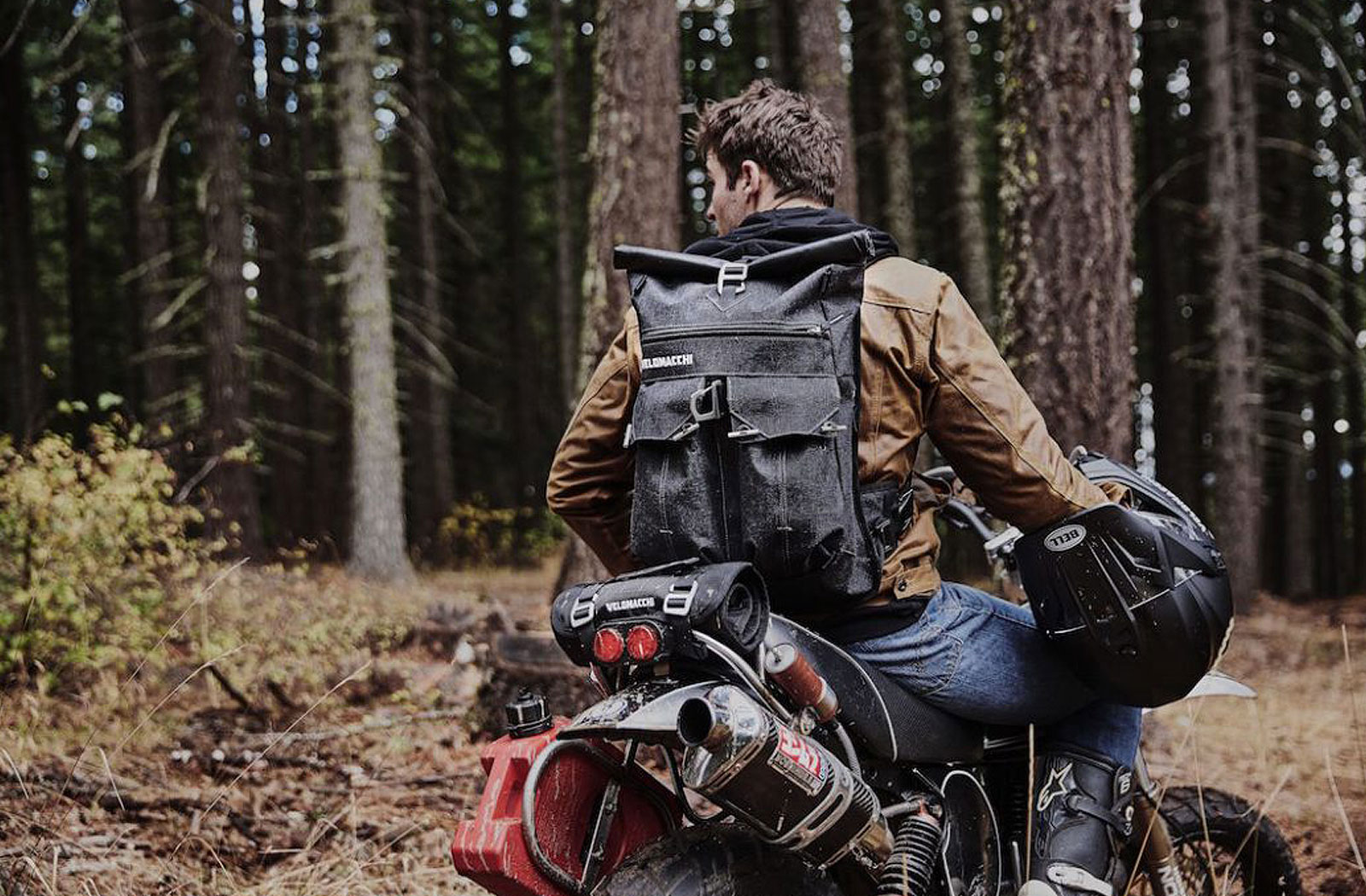 Velomacchi motorcycle luggage
In the world of motorcycle luggage, Velomacchi is a fairly new player to the game. This doesn't make them any less capable of creating excellent gear though. Their team has more than 15 years of experience designing products for global brands and it's evident in their own range of motorcycle luggage and accessories.
Velomacchi burst onto the bike scene back in 2014 with their roll-top 28L Speedway backpack. That bag was very well received thanks to its unique look and a spate of smart design features that make it appealing to riders.
One stand out feature of the Velomacchi Speedway Backpack is how it secures. The bag features wide shoulder straps that secure at the sternum using a hands-free coupler. As you draw the 2 halves of the coupler together internal magnets snap them together to securely attach the "harness" in place. To detach the coupler you simply twist a machined aluminium dial on the harness front and the straps release. All this can be easily done without the removal of riding gloves.
To ensure a great fit in any riding position Velomacchi has also created a 3 point rotating harness system. This includes the sternum coupler which can rotate freely and 2 rotating fasteners just below the shoulders. Other features that make this backpack noteworthy include a magnetic closure on the roll-top main compartment,  a panel on the sternum for mounting an action camera, a clearly identifiable emergency info pocket, a watertight main compartment and quick access pockets, tie-down points for mounting the bag to your motorcycle and an aluminium helmet clip.
Along with the Speedway Backpack, Velomacchi offers a range of other motorcycle luggage options and several add-on accessories (tool roll, laptop sleeves, etc). The bulk of their luggage range is designed to be carried comfortably on the body in the form of backpacks but they can all be mounted to a motorcycle using tiedown straps – which they also happen to offer.
The largest bag in the Velomacchi range, the 50L Speedway Duffel Pack, is a 'hybrid' duffel bag that has regular duffel carry straps as well as shoulder straps. At the opposite end of the range is a 25L tail bag that can be mounted to a motorcycle seat and offers enough storage to hold an adventure-style motorcycle helmet. They also have their own range of riding gloves and regular apparel too.
All of the Velomacchi motorcycle luggage has a contemporary look to it.  The bags come in stealthy shades of grey and black with contrasting stitching and embroidered details. For superior tear and abrasion resistance, all of the bags are made from high tenacity nylon. Any panels that sit against the body use ballistic fabrics for extra rider protection and they all feature watertight main compartments for four-season compatibility.
Available from – Velomacchi / Revzilla

Biltwell Inc motorcycle luggage
Biltwell is a name that's become synonymous with the Harley scene. The US brand started out making Harley aftermarket parts that dispensed with the gaudy flames and eagle imagery that was so popular in the early nineties. They then moved on to riding gear and more recently their own range of EXFIL motorcycle luggage.
Because of Biltwell's close ties to the chopper scene, their bags are tailored towards that audience, but they are also a great solution for all kinds of riders. Finished in primarily black or army green the bags have a utilitarian, military look about them. In keeping with this look, each Biltwell bag features rugged chunky fasteners and purposeful features that bolster each one's practicality.
The Biltwell EXFIL 48 is the brand's go-to motorcyclist backpack solution. The backpack offers 34 litres of storage space (or up to 48 12-ounce beer cans). It's ideal for daily commutes but also offers enough storage for a weekend getaway. One of this bag's stand out features is its ability to be mounted to a motorcycle without additional straps or hardware. The compression straps that form part of the bags basic design can be reversed to wrap around a sissy bar or seat to secure it in place.
The EXFIL 48 has 1 main and 2 secondary, independently accessible storage compartments. The outer shell of the bag is constructed from tough UV treated 1680 ballistic polyester and the lower section is PVC coated for impervious waterproofing. There are 6 heavy-duty lashing points for securing other items and padded shoulder straps for carrying comfort. Inside the main compartment, you'll find a padded laptop pocket and there are outer storage compartments for incidentals and a dedicated tool pouch.
Other bags in the Biltwell motorcycle luggage range include their universal saddlebags that secure under the seat of your motorcycle. They also have a 100% water and dustproof roll-top solution called the EXFIL 65 and several other larger backpacks and smaller utility bags.
Available from – Biltwell Inc. / Revzilla

Urban Rider X Trip Machine Company luggage
If you're a motorcyclist living in the UK you'll undoubtedly already know all about Urban Rider. The UK retailer and online seller is the country's top, one-stop destination for the best looking, top performing motorcycle riding gear and accessories. Over the past few years, Urban Rider has teamed up with a few select brands to produce co-branded gear. One such collaboration has resulted in their own range of motorcycle luggage which has been produced by the leather artisans at Trip Machine.
The Urban Rider X Trip Machine motorcycle luggage is based on styles already found in Trip Machine's existing catalogue. To create something unique the crew at Urban Rider has added their own styling twist. They've been collaborating in this way for the past few years and this year they've added a new material to the range in the form of waxed canvas.
Waxed canvas is one of the oldest materials associated with motorcycling. In the early 1930s, it was commonly worn by both racers and commuters because of its weatherproof qualities. The waxing process impregnates the canvas to create a waterproof barrier. The material is less commonly used these days because it's been superseded by tech fabrics, but when properly maintained waxed canvas is an extremely competent weather barrier.
Thanks to the use of waxed canvas the Urban Rider x Trip Machine luggage is some of the most classic looking luggage on the market right now. Every waxed canvas bag is different because the wax on the material forms unique creases and marks over time. Each bags main body is constructed from heavy-duty waxed cotton that's been coated on both sides for superior waterproofing. Inside the bag, you'll find brightly coloured soft lycra liners that keep your valuable safe and make them easy to find. These bags also feature leather in higher wear regions for added strength and protection. Specially designed straps and fasteners also allow them to be mounted to your motorcycle.
The Urban Rider x Trip Machine motorcycle luggage range comes in either black or classic brown waxed cotton and matching leather. They featured brushed, vintage look hardware, come with additional mounting hardware and are constructed entirely by hand. The range includes a 20-litre backpack, panniers, and a magnetically mounted tank bag to name a few.
Available from – Urban Rider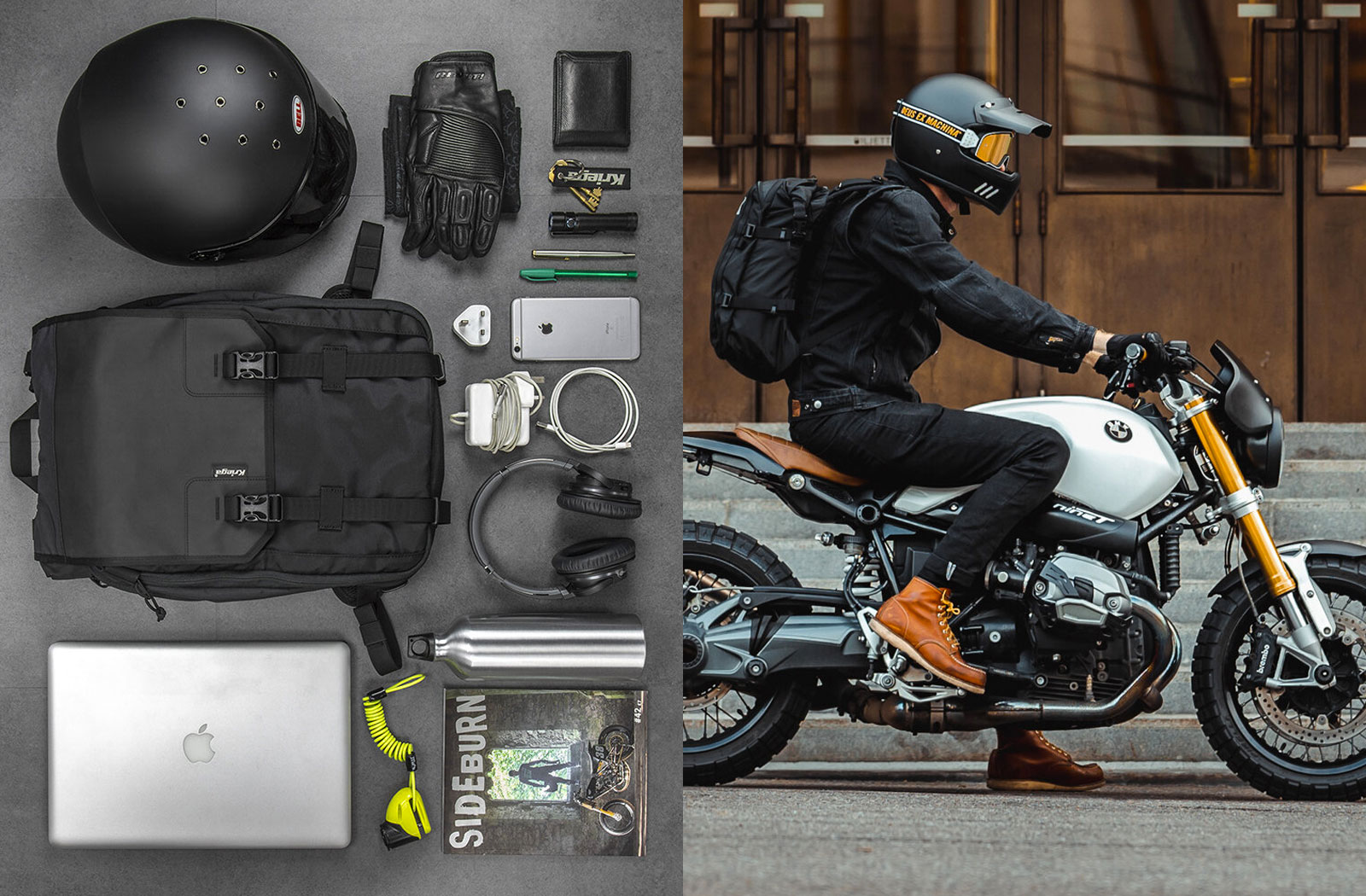 Kriega motorcycle luggage
Out of the brands on this list, Kriega is by far the most experienced motorcycle luggage manufacturer. The UK based company has been doing what they do since 2000.  As you'd expect this means they offer a wider range of motorcycle luggage options than these other brands. They also offer both universal and brand/model specific luggage solutions for a more tailored fit.
One of the newest additions to the Kriega range is the MAX28 expandable backpack. This bag is an ideal solution for everyday motorcycle commuting but can also work well for weekend getaways thanks to its expandable design. To increase the bags carrying capacity from 22 to 28 litres you simply open a zip that runs around the circumference of the front of the bag.
The MAX28 features many details that are common to other backpacks in the Kriega range. These include their fatigue-reducing QUADLOC-Lite carrying harness, durable Cordura and Hypalon construction, heavy-duty YKK zippers and a removable waist strap.
The largest backpack in the Kriega range is a 35-litre backpack aptly named the R35 backpack. The smallest is the Trail9 which has, you guessed it, 9 litres of storage. All the backpacks offer steadfast waterproofing and are compatible with the brands own hydration packs. Kriega also offers 100% waterproof dry bags, messenger bags, waist packs and saddlebags.
Kriega's latest range of universal motorcycle saddlebags are designed specifically to suit Modern Retro motorcycles. They call it "classic design – modern performance". The bags 'modern performance' is a result of the use of tech fabrics like Cordura and Hypalon which offer excellent levels of abrasion resistance and waterproofing. All fasteners are made from corrosion-resistant, lightweight aircraft-grade aluminium and each set comes with all the straps and hardware required to install them on your bike.
Kriega bags have an understated contemporary look that uses muted tones to reduce the visual impact on your ride. They feature subtle reflective details for added rider protection and branding is kept to a minimum. Neat details like aluminium adjusters, elasticated tensioners and excess strap retainers add to the bags premium feel. Of course, all this comes at a price. Thankfully you'll find that Kriega's gear receives excellent reviews online so your hard-earned dollars are being put to good use here. Kriega is a premium brand with a tried and tested premium product that's well worth a look.
Available from – Kriega / Revzilla