Pre-distressed clothing is nothing new. Jeans baring torn knees and patches of worn denim have been readily available from retailers since the 1970s. The trend has also extended to other forms of clothing like boots. In the world of motorcycle riding gear, the Rocket WP Boots by Stylmartin are a good example of this. Along with giving these motorcycle boots a unique finish, their pre-distressed appearance will only get better with age. And let's be honest if you're wearing a pair of boots while riding there's no delaying the inevitable first scratch, scuff or gear lever stain.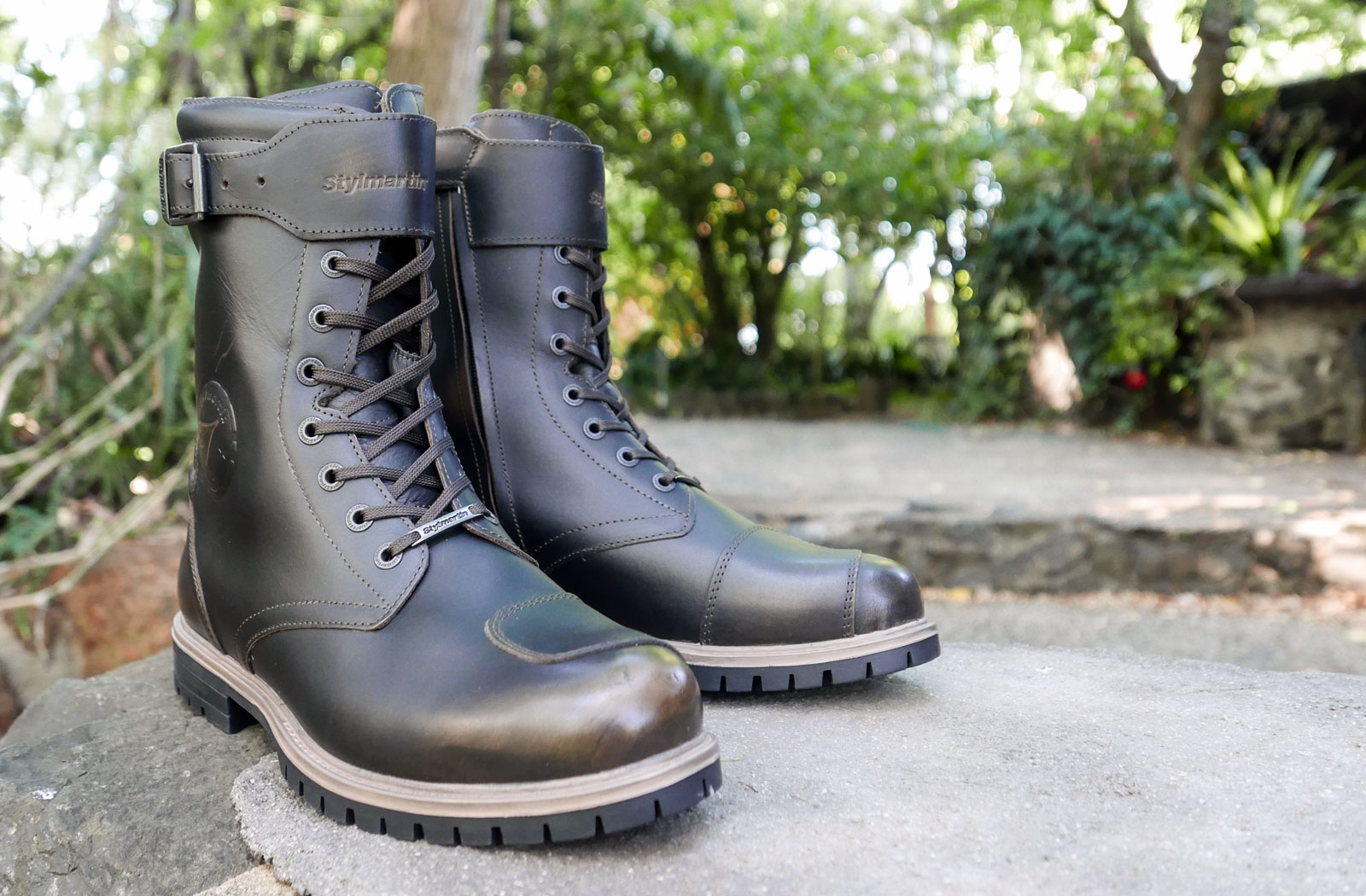 The Stylmartin Rocket WP Boots are mid-shin height boots inspired by military styles. They are available in either matte black or pre-distressed brown leather and come with colour coordinated waxed laces. In keeping with their military styling, the Rocket WP boots feature a purposeful chunky rubber sole that'll provide ample grip in most situations. Stylmartin branding is subtle and can be found in the form of a metal emblem on the laces, debossed wording and logos on the ankle and shin strap and on the single metal buckle found at the top of each boot.
The Rocket WP Boots are constructed from thick full-grain leather that's sure to stand the test of time. I've found the boots to be stiff, but after only a few rides they're already breaking in nicely. Stylmartin claims the chunky sole is formed from an anti-slip, anti-static and oil-resistant rubber.  From my experience, it's consistently delivered a solid foothold in the various conditions I've worn them in. The sole is stiff but it still offers enough flex for day-long walking comfort. Despite their pre-distressed styling Stylmartin has added functional toe patches to minimise wear from gear changes. They've been applied to both the left and right foot for styling symmetry.
Stylmartin has set out to improve the comfort of these boots by adding padding to the back of each ankle and around the top of the entry. These help to reduce pressure points while riding which can lead to blood restriction and fatigue. Additional concertina panels at the back of the ankle also help with movement. Inside the Rocket WP boots, you'll find an anatomic footbed that offers plenty of cushioning. For those with arch issues or flat feet (like me), these can be easily swapped out for an orthopaedic sole.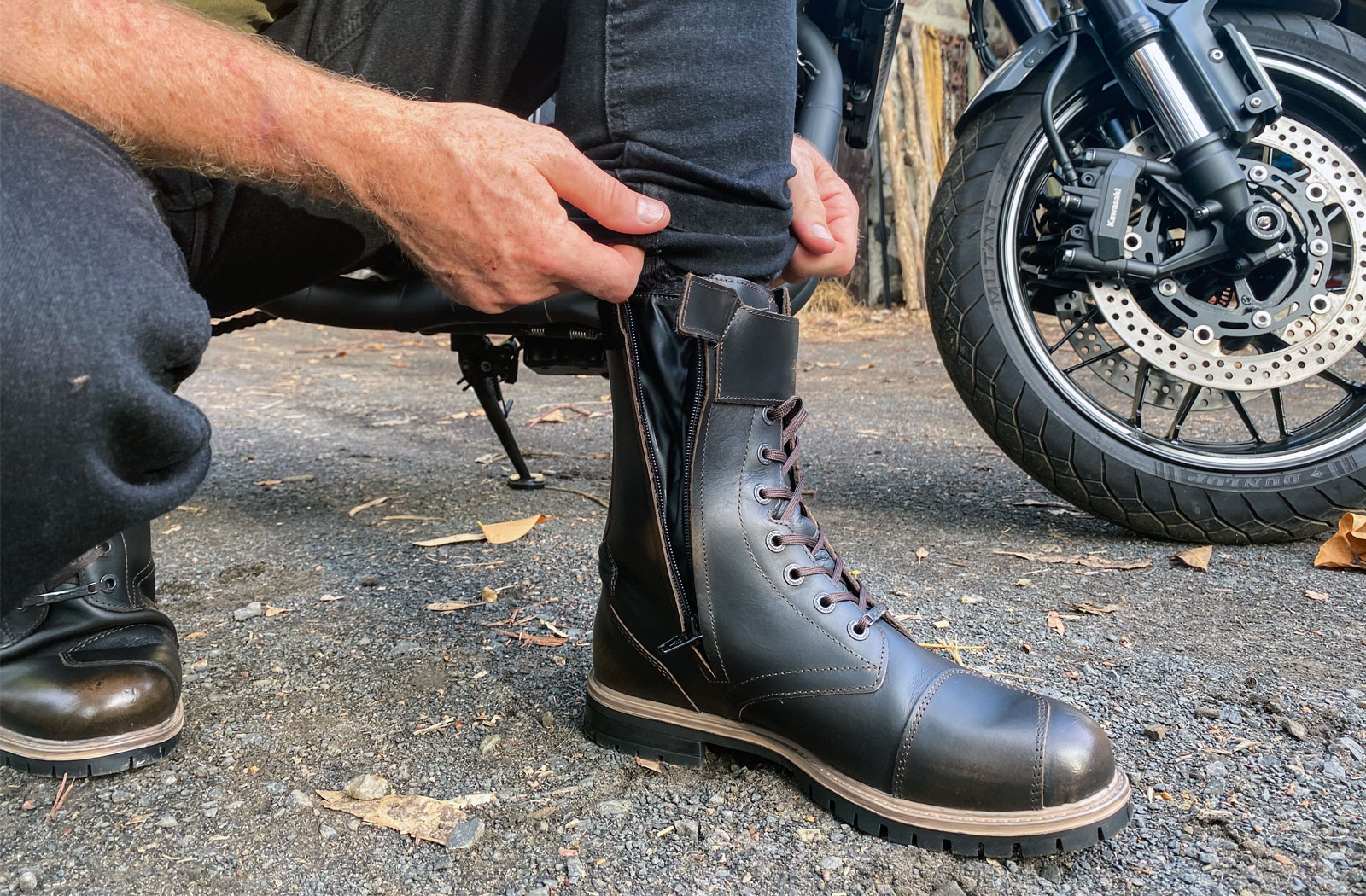 These days riding gear brands seem to be including side entry zips into all of their boots. I'm not quite sure why this has become a thing for motorcyclists, but it certainly does make getting taller boots like these on and off much easier. Once they're on the fit of the Rocket WP boots can be fine-tuned using the laces. A buckle at the top of the boot provides an additional adjustment location. This design feature is redundant for me since it's always covered by my jeans, but the extra layer of leather over the shin would undoubtedly provide additional protection against hard knocks.
One of the key features of the Rocket WP boots is their waterproofing. It's been made possible here by lining the entire inside of the boots with a waterproof membrane. The boots sole is sealed too and behind each zipper is a waterproof baffle. This feature makes the Rocket WP boots an ideal companion for year-round riding. I'm yet to wear the boots in the peak of an Australian summer and the lining is meant to be breathable but at temperatures over 30 degrees Celcius, I'd anticipate them struggling to dissipate that much heat.
Safety should always be a key consideration when purchasing your riding gear. The Rocket WP boots offer the standard set of safety features that are enough to satisfy my expectations. These include both inner and outer ankle protection in the form of malleolus armour pucks and reinforced heels and toes.
The Sylmartin Rocket WP boots are a smart-looking item of riding gear. They're well suited to urban riders wanting a pair of boots that will look at home both on and off the bike. If you're not into the distressed look go for the black.
The Stylmartin Rocket WP boots are available in EU sizes of 39 to 47 and retail for $299.95 USD.
Available from: Revzilla / Stylmartin