Riding Gear
Let us help take the guesswork out of buying your motorcycle riding gear. We frequently feature the latest riding gear that's designed to appeal to riders of cafe racer, classic and custom motorcycles. From motorcycle jackets to helmets, gloves, boots, jeans & accessories, you can read all our riding gear reviews here.
For most of my riding life I've been wearing a Shoei on my head, but I've always wanted to give...
I don't know about you, but I treat my motorcycle helmet like a newborn. I spent a small fortune purchasing...
There are so many things to consider when buying new jeans for the bike. Cut, colour, style… but hang on...
Making a great product doesn't always mean reinventing the wheel. Lithuanian riding gear manufacturer Pando Moto sell the customary range...
For those who like their riding gear to mimic their street style as much as possible, it's a good time...
Using headsets to stay connected in a group ride can make things a lot easier, or a lot more frustrating...
The safety level of riding gear available to motorcyclists has come a long way in the last 10 years. Manufacturers...
"We've spent years researching and improving every single feature on the Alpha Jacket. Put simply, the new Alpha 3.0 is...
When it's hot enough outside to fry an egg on your tank the last thing you want to do is...
The Dutch have a rich history in Motocross racing that has produced a long line of champions. Inspired by their...
Just like your favourite pair of indigo blue jeans each denim panel on the Veloce jacket has been sewn together...
Every time I hop on my bike I have to mentally remind myself that I am playing with fire. One...
The Bell Eliminator Helmet hit shelves a couple of years ago and has been a huge success for the brand....
Someone once said, "Perfection is not attainable, but if we chase perfection we can catch excellence." For any brand, releasing...
There's been a steady growth in the number of retro motorcycle helmets on the market over the past few years....
Wind chill is enough to stop anyone from venturing outside on cold days. To help keep the chill out the...
Riding gear featuring military-inspired designs is nothing new. Unfortunately, it tends to be limited to garish full camo garments. Rather...
Sometimes we forget that riding gear goes beyond what we use to cover our skin. The Nixon Landlock GT backpack...
The Box Hill Jacket features top-grain, abrasion-resistant leather construction that's designed using a slim, modern cut. Quilted and horizontal accent stitching and...
If you're chasing retro-styled motorcycle gloves but want the protection of modern sportbike gear, look no further. Performance riding gear...
If you're a fan of Moc toe boots but want footwear that'll keep your paws properly protected then consider these...
As the temperatures rise in Summer it's not unusual to see motorcyclists neglecting their safety in favour of staying cool....
Serious motorcycle boots with serious motorcycle style. The Elsinore boots have been a stand out in the Icon range for...
Riding a motorcycle is as much about the journey as the destination. But what if you can't find your destination?...
Introducing the new Return of the Cafe Racers Victory motorcycle gloves. Created in conjunction with premiere riding gear manufacturer Fuel...
The subscription box business model has been around for a few years now. The basic concept is that for a...
The Velomacchi 40L Roll-Top Backpack's main compartment features a magnetic closure roll top that keeps even the harshest downpour from getting through....
Dean loved his old DT175. It was held together with electrical tape and orcish ingenuity. He mostly rode it from...
For years I've been toying with the idea of releasing a Cafe Racer themed clothing. A few months ago I...
Named after the untamed mountains and wilderness of the Canadian northwest, these are the Rev'It! Yukon motorcycle boots. Inspired by...
A short while ago we caught up with the founders of the Australian motorcycle helmet manufacturer, Forcite. In our exclusive...
When two greats come together to launch some new motorcycle gear, like the 100% Barstow Deus Ex Machina goggles, people...
Riding a motorcycle can be a dangerous business. There's plenty of riding gear out there to keep your head, hands,...
Deus Ex Machina has been instrumental in the growth of the custom motorcycle scene. They opened their first location in...
We motorcyclists sure are a bit weird sometimes. We spend countless hours searching for the perfect riding gear, only to...
Motorcyclist airbag suits are compulsory for MotoGP riders and are soon to be required for American Flat Track racers as...
These are the Rev'it! Volcano gloves. They are part of the brand's latest ADV collection of riding gear. Despite that...
At it's simplest, the bivouac is a cleverly tailored tarpaulin designed to use your motorcycle for support. Now that the...
For the upcoming 9th Edition of Wheels & Waves, the French moto lifestyle festival will be heading home to its...
I just stumbled across this video interview with Roland Sands discussing his 2013 RSD line of apparel. In the video...
Never in the history of rubber production has there been a tire that is more controversial than the Firestone Champion Deluxe. Over...
On average it rains 164 days a year in Portland, Oregon. Not what you'd call the ideal climate for motorcyclists....
When it comes to riding gear every motorcyclist should own a good leather jacket. Historically leather has played a huge...
Italian motorcycle apparel manufacturers Spidi have been producing riding gear since 1977. The new Spidi Clubber jacket dips into that...
Pre-distressed clothing is nothing new. Jeans baring torn knees and patches of worn denim have been readily available from retailers...
We applaud moto brands that continually step up their game. One such brand that earned our kudos a long time...
If you're the kind of motorcyclist who rides rain, hail or shine you know how important purpose-built riding gear can...
For the last few weeks, I've been belting through a freezing Melbourne winter in the 'post retro' Gibson – prime...
In the past, despite retro bikes and cafe racers existing, gear manufacturers have pushed ever onward to newer materials and...
We've seen a lot of great new riding gear from Pando Moto in 2020. With each new addition, they've refined...
I sink a lot of time and money into buying the right motorcycle helmet. And I don't know about you,...
At what point do you have enough helmets? Some might say one will do. Others might have a full garage...
Anyone who has ever emerged from a sticky situation unscathed and had someone tell them how "lucky" they were, will...
"What I found was frustrating. Most riding gear falls into two categories: unflattering, inconvenient, high visibility gear that just doesn't...
Every so often you come across a product that's so good you find it hard to part with it, even...
If you're the kind of rider who spends their weekdays on asphalt and their weekends on dirt these new riding...
Photographer Horst A. Friedrichs who shot the photography book Or Glory: 21st Centry Rockers has released another photographic study of the global...
All images courtesy of Black Pup Moto & Machines That Dream. Next time you're at a formal function, try this...
When you're on to a good thing stick to it! The third generation of the Rev'it! Fly Gloves takes everything...
Having good feedback and feel between you and your motorcycle is an essential part of riding. It allows you to...
The fit is modern, with slightly pre-curved arms — what Icon 1000 refers to as their sport fit: mobility without...
If you're looking to add a touch of Steve McQueen style to your riding clobber then Fuel Motorcycles have just...
REV'IT! has continued to еxраnd their Urban Lіnе of motorcycle jackets with the addition of the Stealth Hoody. Designed to...
You can spend as much or as little as you want on your riding gear. There's a school of thought...
Denim Jeans with a Protective Punch Riding pants are often overlooked when taking the bike out for a quick ride...
HUCKBERRY ESSENTIAL EDC KIT The ultimate keyring accessory. This handy little set of tools includes basic items to help you fix...
Is it just me or is it getting hot in here? Down here in the southern hemisphere we're having one...
As a kid, the image of the highway patrolman will always be linked to my first memories of motorcycle riding....
Inspired by the design of the iconic 'Perfecto' leather jacket, the RSD Clash features a double breasted, lancer style...
Bell Helmets set the benchmark in open-face helmet design with their Custom 500 helmet. The latest addition to the 500...
One of the greatest things about riding motorcycles is how they allow you to disconnect. Whether it's by disconnecting from...
This is the new Rev'it! Element Motorcycle Jacket a lightweight, versatile jacket offering all-weather compatibility and CE certified protection. The...
Quad-Lock is the name given to the clever 4 point attachment system used across the company's product range. It's a...
True addicts of the two-wheeled persuasion don't let their rides sit idle an entire season simply because it's cold. All...
Simply sign up to our newsletter list before December 25th, 2017 and you will automatically go into the draw. Want more...
During the past decade, there has been some great riding gear designed and manufactured by resourceful Australians. One such Aussie...
Economical, compromising, austere — these are not words you'll hear in relation to Ruby Helmets. Top-of-the-line, luxury, opulent? That's more...
"The SEVENTYFIVE helmet is a tribute to a style icon of the 70's. DMD has introduced a new replica of...
Opportunity theft happens when a less-than-upstanding member of society sees something valuable and decides to make it their own. Your...
"Obsessed with the mission of creating the perfect pair of jeans for on and off the bike, our Unbreakable fabric...
You may not have heard of them, but UK riding gear outfit 'Merlin' has been on the scene since 2011....
Living in Malaysia and working as a colourist on projects like Hasbro's animated Transformers series, Hafidz is an accomplished fine...
If you don't already have Le Container in your bookmarks or on your Blog roll you soon will. This is...
The Karl Desert motorcycle jeans leverage the abrasion resistance of both Kevlar and Cordura to keep your skin safe. Despite...
EngineHawk is the newest company on the motorcycle gear market, launching in Q2 of 2021, with a mission statement of...
In my signature footwear colour scheme of brown leather, the Forma Naxos boots are certainly very lovely to look at, but...
Over the years I've tried and tested a lot of Saint's riding gear. Today, I can confidently say these Unbreakable...
…oh, you're still here? Well, I guess I should elaborate.   Jarrod Stillman is a man on a mission. His...
Pin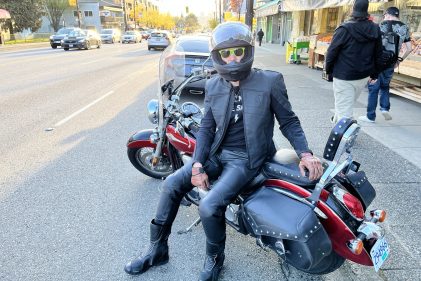 I love jackets, and I love motorcycling. I was also raised vegetarian. So when forward-thinking Spanish gear brand Andromeda Moto...
Australian riding gear manufacturer Saint has succeeded in creating motorcycle riding gear that works well and looks great, but their...
"Leather is the oldest continuously used material known to man. Its use pre-dates recorded history and though the processes used...
The cafe racer scene has a rich history dating back to the 1950s and there are very few brands left...
Simpson has been producing helmets for motorcyclists and motorsports for over 60 years. You probably recognize them as the manufacturer...
A classic silhouette, everyday versatility and modern safety. The Merlin Trance Jacket fuses 3 styles into one to create a...
A good set of motorcycle luggage will literally go a long way. Whether you're looking for a storage solution for...
Hooded motorcycle jackets are a point of contention for some riders. Due to their design, they can generate a substantial...
Roland Sands Designs are continuing to expand on their range of riding gear in 2013 with a handful of new...
While Mik was left "exposed" (pardon the pun) in his bivouac that consisted of nothing more than a top sheet/motorcycle...