Riding Gear
Let us help take the guesswork out of buying your motorcycle riding gear. We frequently feature the latest riding gear that's designed to appeal to riders of cafe racer, classic and custom motorcycles. From motorcycle jackets to helmets, gloves, boots, jeans & accessories, you can read all our riding gear reviews here.
Never shall I ride cold again! In a recent article, I reviewed a set of Oxford premium heated grips. Since...
As the temperatures rise in Summer it's not unusual to see motorcyclists neglecting their safety in favour of staying cool....
The Stylmartin Ace Boot features a classic plain toe design with a 7 hole combat boot style upper. The tan...
So what is it exactly that makes the 1SELF Genesys jacket so safe? For starters, the jacket's outer shell is...
A spontaneous retro helmet party ignited and all the manufacturers were invited. Bell, like someone who arrives two hours early,...
Riz & Kate from Moto Femmes here, bringing you our pick of the Best Women's Motorcycle Gear for 2020. We...
The reason the Schott Perfecto jacket looks like the original leather motorcycle jacket is because it IS the original leather...
Deus Ex Machina has been instrumental in the growth of the custom motorcycle scene. They opened their first location in...
Roland Sands Designs continue to reshape the look of motorcycle riding gear with their 2012 apparel range. This time round...
If you're the kind of rider who spends their weekdays on asphalt and their weekends on dirt these new riding...
Riding gear brand Icon are, without a doubt, experts at what they do. Their motorcycle apparel has proven its ability...
Italian riding gear manufacturer Stylmartin has made a pair of motorcycle boots that wouldn't look out of place on a...
Extreme sports headwear experts Ruroc entered the world of motorcycle riding gear back in 2017. Their ATLAS helmet boasted an...
I was going about my morning routine, perusing motorcycle blogs with a coffee in hand. As I skimmed through my...
Sometimes a bit of extra storage space can make a huge difference. Motorcycle luggage experts Kriega have set out to...
Not only do the Iron & Resin crew know how to design some pretty cool threads they also build slick...
The cafe racer scene has a rich history dating back to the 1950s and there are very few brands left...
I sink a lot of time and money into buying the right motorcycle helmet. And I don't know about you,...
Dean loved his old DT175. It was held together with electrical tape and orcish ingenuity. He mostly rode it from...
You go to the trouble of picking out your riding gear, yet when the rain comes, you're stuck covering it...
A helmet for any occasion. Whether you ride a cruiser, a cafe racer or an adventure bike the new AGV...
First the Bell Moto 3 backstory… American racecar driver Roy Richter was obsessed with speed. After seeing firsthand how poor...
It's a beautiful day. You're free from work, the road is calling, and all you want is to feel your...
Before we take a closer look at the new Merlin Outlaw Explorer Smock we first need to understand what a...
Designed and manufactured in Brooklyn, the home of Jane motorcycles, the Driggs motorcycle jacket is available in 3 colour-ways of...
For the upcoming 9th Edition of Wheels & Waves, the French moto lifestyle festival will be heading home to its...
The crew at Velomacchi certainly know how to make a good looking bit of luggage, but what they really excel...
Vests haven't previously played a role in my wardrobe of motorcycle gear. The fact that I spent most of my...
If you ride a classic motorcycle or a Cafe Racer and you want a leather jacket that matches the look...
If you're a fan of Moc toe boots but want footwear that'll keep your paws properly protected then consider these...
When Dimitri Coste isn't out photographing beautiful fashion models on Parisian catwalks he's probably blasting his way around the countryside...
"The SEVENTYFIVE helmet is a tribute to a style icon of the 70's. DMD has introduced a new replica of...
For his incredible feat out on the salt flats of Bonneville Rollie was inducted into the motorcycle hall of fame....
REV'IT! has continued to еxраnd their Urban Lіnе of motorcycle jackets with the addition of the Stealth Hoody. Designed to...
The CORTECH Skipper bomber jacket is as much a piece of fashion to behold as it is a functional addition...
The Boss 105 jeans utilise a classic 5 pocket design with sturdy YKK zippers just like your favourite pair of...
Introducing the Navajo WP touring motorcycle boots, designed using equal parts form and function by Italian motorcyclist footwear experts Stylmartin....
The Velomacchi 40L Roll-Top Backpack's main compartment features a magnetic closure roll top that keeps even the harshest downpour from getting through....
The exterior of the Scorpion Covert Pro jeans is made of Cordura 373 GSM (85% cotton, 15% nylon) fabric which...
Along with passing strict ECE safety requirements, the Lane Splitter was designed to suit the Biltwell teams own helmet needs....
The fit is modern, with slightly pre-curved arms — what Icon 1000 refers to as their sport fit: mobility without...
The Copperheads quilted microsuede liner offers great comfort and is anti-bacterial to ensure longevity. The helmet secures using a padded...
If you're looking for a non-leather motorcycle jacket with timeless style, waxed cotton is the answer. The most iconic waxed...
If you're anything like me you're always looking for ways to spend more time on or around motorcycles. It doesn't...
There are times when every motorcyclist considers riding in their regular clothes. It may be due to the weather or...
You might spend a few months (or years) customizing your motorcycle, but most helmets go on your head straight off-the-shelf....
It's winter down here in Australia and the first-morning ride I did wearing the Marauders was brisk, to say the...
Motorcycle jackets have come a long way since the ton-up boys' heyday. Back in the '50s, it was all black...
If you're the kind of motorcyclist who rides rain, hail or shine you know how important purpose-built riding gear can...
It's not often we veer away from our retro riding gear theme, but every so often there's an exception to...
The current popularity of the café and custom scene has seen a proliferation of quality riding gear at the high...
As a kid, the image of the highway patrolman will always be linked to my first memories of motorcycle riding....
You may not have heard of them, but UK riding gear outfit 'Merlin' has been on the scene since 2011....
Living in Malaysia and working as a colourist on projects like Hasbro's animated Transformers series, Hafidz is an accomplished fine...
The compact, lightweight carbon fiber shell surrounds an EPS liner with an interior that features premium leather and an embroidered...
If you have ever delved into the chopper scene you're sure to have heard of the brand Biltwell. Based in...
Having good feedback and feel between you and your motorcycle is an essential part of riding. It allows you to...
Do you have to carry a backpack that's specifically designed for motorcycle riding? Perhaps not. Just like you could wear...
When there are too many choices, it becomes impossible to narrow down what riding gear best suits your situation. That's...
Every so often you come across a product that's so good you find it hard to part with it, even...
The Borrego motorcycle gloves are the work of American born and bred riding gear manufacturer Biltwell. First launched in 2006...
There was a time when we wouldn't touch camo riding gear with a ten-foot pole. During the nineties, camo was...
Is it just me or is it getting hot in here? Down here in the southern hemisphere we're having one...
Stars Wars associations aside, the Scorpion Covert helmet is ready to battle the real world with its DOT approved Polycarbonate...
Camo gear was never meant to make you stand out. But, if you spend most of your time navigating the...
There's been a steady growth in the number of retro motorcycle helmets on the market over the past few years....
Over the last few days the Wrenchmonkees have released a 3 part video series based on a trip they completed...
Ewan McGregor and Charley Boorman are at it again with their epic cross-continental motorcycle adventures. This time in the new...
If you're looking for a classically styled motorcycle jacket but don't want the bulk or weight associated with leather, waxed...
With a design influenced directly by the first racing suit Dainese ever produced, the Toga, the Settantadue Toga72 jacket oozes 1970s...
When you choose to travel on two wheels, you accept the fact you'll get a little wet on occasion. Waterproof...
Labelling a product as 'premium' tells customers you're offering something that's superior to other alternatives. Italian motorcycle riding gear manufacturer...
Hooded motorcycle jackets are a point of contention for some riders. Due to their design, they can generate a substantial...
If you're a fan of Bavarian airheads, oilheads, water-cooled boxers or flying bricks you can now fly the BMW flag...
   In layman's terms, UHMWPE is an ultra tough, abrasion resistant material that can be woven into other materials to...
Leather has long dominated as the material of choice for motorcycle jackets. And denim jackets have been style icons for...
Launched by a former founder of Ateliers-Ruby, Jean-EtiennePrach, Veldt has set up operations at the mecca of motorcycle racing, the Isle of...
For this review, I'm going to break things down into first impressions and ride impressions because there's nothing worse than...
Australian brand Liberta Moto has established itself as a force to be reckoned in the women's riding gear market. They...
Clutch Moto is a 100% Australian made purpose-built riding gear brand based out of Sydney. It was established by 3...
The Merlin Chase jacket is an all leather motorcycle jacket from the UK based riding gear manufacturer. Sporting timeless tracker-inspired...
If you're looking for retro riding gear with genuine heritage you can't go past AGV helmets. The Italian manufacturer has...
The Box Hill Jacket features top-grain, abrasion-resistant leather construction that's designed using a slim, modern cut. Quilted and horizontal accent stitching and...
Pin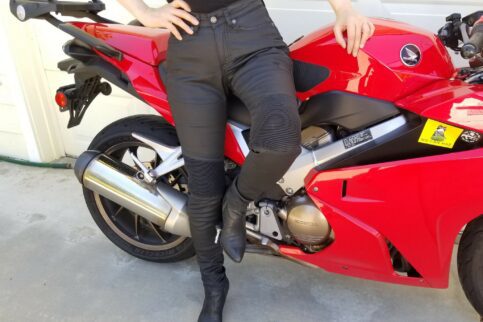 How many of us started riding because it looked cool to be on a motorcycle? You dreamed of being like...
I felt pretty spiffy in my fancy new boots, a little Nancy Sinatra even. Strolling through the airport the boots...
Introducing the latest addition to our go-to riding gear, the Dainese Tan-Tan boots. Dainese has been making protective motorcycle riding...
For most of my riding life I've been wearing a Shoei on my head, but I've always wanted to give...
When you're laying down your hard earned cash on an item of riding gear it's always nice if it suits...
These are the Oxford Kickback Air motorcycle boots inspired by hi-top style sneakers. These purposeful casually styled riding boots feature...
There are so many things to consider when buying new jeans for the bike. Cut, colour, style… but hang on...
In recent years flat track racing has taken the custom motorcycle world by storm. Sideburn magazine paved the way with...
Pin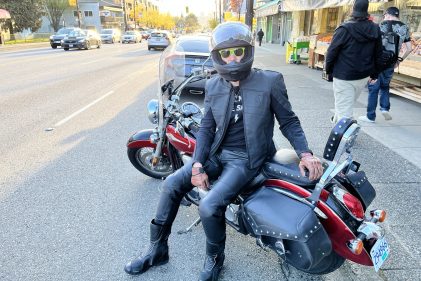 I love jackets, and I love motorcycling. I was also raised vegetarian. So when forward-thinking Spanish gear brand Andromeda Moto...
I feel the need… the need to go camping! I don't know about you, but the idea of heading out...
You don't have to put out a poll to know which colour riding gear wins out over all others. It's...
Naming something after a Greek God is a bold move. But looking at the way REV'IT!'s Prometheus jacket can hold...
Sometimes we forget that riding gear goes beyond what we use to cover our skin. The Nixon Landlock GT backpack...
If you don't already have Le Container in your bookmarks or on your Blog roll you soon will. This is...
Riding gear featuring military-inspired designs is nothing new. Unfortunately, it tends to be limited to garish full camo garments. Rather...
Nothing says bad-ass like a leather motorcycle jacket. But aside from its appearance, there are several other benefits that leather...