Riding Gear
Let us help take the guesswork out of buying your motorcycle riding gear. We frequently feature the latest riding gear that's designed to appeal to riders of cafe racer, classic and custom motorcycles. From motorcycle jackets to helmets, gloves, boots, jeans & accessories, you can read all our riding gear reviews here.
For this review, I'm going to break things down into first impressions and ride impressions because there's nothing worse than...
There was a time when we wouldn't touch camo riding gear with a ten-foot pole. During the nineties, camo was...
Riding a motorcycle can be a dangerous business. There's plenty of riding gear out there to keep your head, hands,...
Overshirts have become commonplace in motorcycle riding gear catalogs. They can't promise the same level of protection as a full...
Australian brand Liberta Moto has established itself as a force to be reckoned in the women's riding gear market. They...
It's a beautiful day. You're free from work, the road is calling, and all you want is to feel your...
HUCKBERRY ESSENTIAL EDC KIT The ultimate keyring accessory. This handy little set of tools includes basic items to help you fix...
Wearing motorcyclist ear plugs while riding is something I wish I'd made a habit of earlier in my life. I...
Goldtop England first emerged on the riding gear scene way back in 1951. With that much history and experience behind...
Sometimes we forget that riding gear goes beyond what we use to cover our skin. The Nixon Landlock GT backpack...
For those who like their riding gear to mimic their street style as much as possible, it's a good time...
For the upcoming 9th Edition of Wheels & Waves, the French moto lifestyle festival will be heading home to its...
If you're a fan of Bavarian airheads, oilheads, water-cooled boxers or flying bricks you can now fly the BMW flag...
Simpson has been producing helmets for motorcyclists and motorsports for over 60 years. You probably recognize them as the manufacturer...
Available in a range of different checkered flannel patterns and colours the Crave shirts easily pass as everyday streetwear so you...
Belstaff doesn't have the race-bred reputation of their competitors in the motorcycle apparel category.  What they do have is the...
The Bell Eliminator Helmet hit shelves a couple of years ago and has been a huge success for the brand....
Riding a motorcycle requires a basic set of skills, but building them takes knowledge, know-how and most importantly, passion. Similar...
The Stylmartin Ace Boot features a classic plain toe design with a 7 hole combat boot style upper. The tan...
The CORTECH Skipper bomber jacket is as much a piece of fashion to behold as it is a functional addition...
This is the new Rev'it! Element Motorcycle Jacket a lightweight, versatile jacket offering all-weather compatibility and CE certified protection. The...
The current popularity of the café and custom scene has seen a proliferation of quality riding gear at the high...
Instead of the usual fold-down visor, the Husqvarna Pilen helmet features a goggle visor that secures with a rear latch—...
If you're looking to add a touch of Steve McQueen style to your riding clobber then Fuel Motorcycles have just...
…oh, you're still here? Well, I guess I should elaborate.   Jarrod Stillman is a man on a mission. His...
The Bomber jacket style has been around since the 1950's and was worn by US Air force and Navy pilots....
When I lived in the city, cruise control was something I'd have never considered for my motorcycles. However, now that...
Stars Wars associations aside, the Scorpion Covert helmet is ready to battle the real world with its DOT approved Polycarbonate...
Woven using a double layer blend of 220gsm Merino wool and abrasion resistant Kevlar the Saint Gauntlets offer protection against...
Since 2009 Aether apparel has been producing outdoor-ready urban apparel for discerning city dwellers and weekend adventurers. Their design philosophy...
That effort got me through daily commutes for about a year with tinny, distorted renditions of whatever garbage 22-year-old-me thought...
It's not often we find riding gear in the sportbike sector that appeals. To us, most of it looks a...
At it's simplest, the bivouac is a cleverly tailored tarpaulin designed to use your motorcycle for support. Now that the...
Back in the 1960s and 70s Alpinestars made a huge impact on the motorcycle scene with their award-winning Oscar motocross...
Economical, compromising, austere — these are not words you'll hear in relation to Ruby Helmets. Top-of-the-line, luxury, opulent? That's more...
Naming something after a Greek God is a bold move. But looking at the way REV'IT!'s Prometheus jacket can hold...
EngineHawk is the newest company on the motorcycle gear market, launching in Q2 of 2021, with a mission statement of...
If you have ever delved into the chopper scene you're sure to have heard of the brand Biltwell. Based in...
Having good feedback and feel between you and your motorcycle is an essential part of riding. It allows you to...
Serious motorcycle boots with serious motorcycle style. The Elsinore boots have been a stand out in the Icon range for...
As a kid, the image of the highway patrolman will always be linked to my first memories of motorcycle riding....
A backpack for any occasion. San Fransisco based Mission Workshop have been producing weatherproof bags and technical gear for some...
The crew at Velomacchi certainly know how to make a good looking bit of luggage, but what they really excel...
Unlike other style-focused gloves on the market, the Abel Brown/Speed Merchant Collab Gloves offer a degree of protection that satisfies...
The Nexx XG100 Carbon tips the scales at a measly 1250 grammes including the helmets removable peak. The outer shell is...
I sink a lot of time and money into buying the right motorcycle helmet. And I don't know about you,...
The Boss 105 jeans utilise a classic 5 pocket design with sturdy YKK zippers just like your favourite pair of...
Riz & Kate from Moto Femmes here, bringing you our pick of the Best Women's Motorcycle Gear for 2020. We...
Let me introduce to you the Cortech Voodoo Riding Shirt. It's not quite a fully-fledged motorcycle jacket but it is...
Every year my family struggles to find me the right Christmas gifts. They know I'm obsessed with motorcycles but have...
The new 2021 Rev'it! Dirt Series riding gear collection is aimed squarely at the adventure rider segment. However, amongst the...
Layering is a great way to insulate yourself against the cold, but adding too much bulk can be impractical. The...
As a motorcyclist keeping my belongings safe generally means carrying them at all times. A backpack offers the easiest solution,...
Never in the history of rubber production has there been a tire that is more controversial than the Firestone Champion Deluxe. Over...
Pando Moto proved from the very early on that they are capable of making great looking riding gear. For 2020...
The vintage inspired Rayburn riding boots are styled after a classic work boot cut. Outer construction consists of a 1.6mm...
When I got the plastic and foam bags off the helmet, that Gloss Blood Red hit me square in the...
Introducing the new Return of the Cafe Racers Victory motorcycle gloves. Created in conjunction with premiere riding gear manufacturer Fuel...
Biltwell has been upping its helmet game over the past few years. Improved features, more widely recognized safety ratings and...
The Icon 1000 Prep gloves are constructed using tough as nails, abrasion resistant Kangaroo leather. The natural heat retention properties...
If you're familiar with the MOMO brand it's most likely because of their steering wheels and gear knobs. The MOMO...
If we're being completely honest, the style of a helmet matters almost as much as its protection capabilities. That's a...
Along with passing strict ECE safety requirements, the Lane Splitter was designed to suit the Biltwell teams own helmet needs....
Blending streetwear style with riding gear functionality has become a specialty of Icon's 1000 series and this is particularly evident...
If you're looking for a classically styled motorcycle jacket but don't want the bulk or weight associated with leather, waxed...
Pin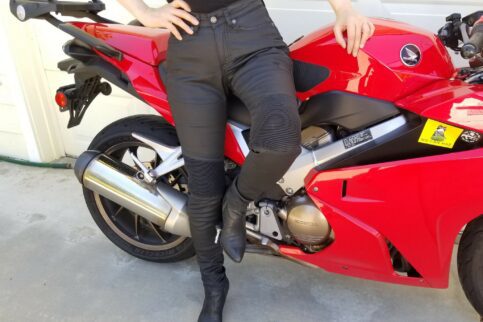 How many of us started riding because it looked cool to be on a motorcycle? You dreamed of being like...
When facing the decision of which motorcycle backpack you should buy there are many factors to take into account. From...
With a design influenced directly by the first racing suit Dainese ever produced, the Toga, the Settantadue Toga72 jacket oozes 1970s...
For the last few weeks, I've been belting through a freezing Melbourne winter in the 'post retro' Gibson – prime...
You might spend a few months (or years) customizing your motorcycle, but most helmets go on your head straight off-the-shelf....
Since John Bloor resurrected Triumph Motorcycles in 1983 it's been nothing but success after success. Triumph has, of course, been...
When it comes to riding gear every motorcyclist should own a good leather jacket. Historically leather has played a huge...
We have to admit that seeing riders getting around on their motorcycles wearing trainers makes us cringe. But now, Alpinestars...
While Mik was left "exposed" (pardon the pun) in his bivouac that consisted of nothing more than a top sheet/motorcycle...
The Hedon Heroine helmet is firmly targeted at the custom and classic crowd, especially those with a taste for high-end...
Using headsets to stay connected in a group ride can make things a lot easier, or a lot more frustrating...
Deus Ex Machina has been instrumental in the growth of the custom motorcycle scene. They opened their first location in...
Brushed alloy is the new chrome. There are zero performance benefits from its use, but boy does it look good....
Let's be honest. There aren't many things you can do in public that are as pleasurable as riding a motorcycle....
The TCX X-Blend boots merge vintage looks with modern safety and steadfast waterproofing for year-round, any occasion wearability. They may...
Riding gear featuring military-inspired designs is nothing new. Unfortunately, it tends to be limited to garish full camo garments. Rather...
The Downtown jacket is the perfect addition to every motorcyclist summer riding gear wardrobe. Constructed from 12.5 oz indigo denim...
If you're looking to protect your iPhone 6 with a case that professes your love of classic custom motorcycles and...
Bell Helmets set the benchmark in open-face helmet design with their Custom 500 helmet. The latest addition to the 500...
There's been a steady growth in the number of retro motorcycle helmets on the market over the past few years....
I feel the need… the need to go camping! I don't know about you, but the idea of heading out...
If you're looking for a non-leather motorcycle jacket with timeless style, waxed cotton is the answer. The most iconic waxed...
Some motorcycle boots try really hard to not look like motorcycle boots. Others, like these Retrograde boots from Icon 1000,...
It's getting almost impossible to distinguish between motorcycle gear and regular streetwear. One brand who are experts at disguising their...
If you're anything like me you're always looking for ways to spend more time on or around motorcycles. It doesn't...
As the temperatures rise in Summer it's not unusual to see motorcyclists neglecting their safety in favour of staying cool....
Continuing their six-decade mission of properly protecting a rider's most valuable piece of equipment (that's your head), Bell Helmets has...
When Dimitri Coste isn't out photographing beautiful fashion models on Parisian catwalks he's probably blasting his way around the countryside...
I've been riding in an Icon 1000 Basehawk for the past 4 years and can honestly say it's one of...
Riding gear brand Icon are, without a doubt, experts at what they do. Their motorcycle apparel has proven its ability...
A helmet for any occasion. Whether you ride a cruiser, a cafe racer or an adventure bike the new AGV...
Sands own experience as a GP racer and an everyday street rider is evident in the products he develops and...
The crew at Tobacco Motorwear have been producing riding gear since 2014. Their jeans feature a great balance of style...
At what point do you have enough helmets? Some might say one will do. Others might have a full garage...