Riding Gear
Let us help take the guesswork out of buying your motorcycle riding gear. We frequently feature the latest riding gear that's designed to appeal to riders of cafe racer, classic and custom motorcycles. From motorcycle jackets to helmets, gloves, boots, jeans & accessories, you can read all our riding gear reviews here.
The crew at Velomacchi certainly know how to make a good looking bit of luggage, but what they really excel...
Specs Manufacturer: Pando Moto Price (When Tested): $375.00 (USD) €339.00 (EU) Made In: Lithuania Alternative models & colors: Black Sizes:...
You may be the kind of motorcyclist who laughs in the face of winter, but nothing's funny about riding with...
The TCX X-Blend boots merge vintage looks with modern safety and steadfast waterproofing for year-round, any occasion wearability. They may...
Labelling a product as 'premium' tells customers you're offering something that's superior to other alternatives. Italian motorcycle riding gear manufacturer...
It's a perfect collaboration. In 2016, renowned helmet brand Bell Helmets brought back their iconic full face Moto 3 after...
Japanese helmet manufacturer Arai has a history dating back to the turn of the century. Their story began with manufacturing...
A backpack for any occasion. San Fransisco based Mission Workshop have been producing weatherproof bags and technical gear for some...
The Roland Sands Ridgeline CE Jacket is one of the newest additions to the brand's 2021 range of riding gear....
I felt pretty spiffy in my fancy new boots, a little Nancy Sinatra even. Strolling through the airport the boots...
Knowing the gear I wear is designed and manufactured by riders is a big plus for me. Spain's Fuel Motorcycles...
I've always fancied MX style road helmets. I felt they were well suited to the retro style bikes I like...
The Icon 1000 Prep gloves are constructed using tough as nails, abrasion resistant Kangaroo leather. The natural heat retention properties...
Available in a range of different checkered flannel patterns and colours the Crave shirts easily pass as everyday streetwear so you...
For a motorcyclist, nothing beats a clear blue sky, warm breeze and the open road. But one of the biggest...
The Downtown jacket is the perfect addition to every motorcyclist summer riding gear wardrobe. Constructed from 12.5 oz indigo denim...
Living in Malaysia and working as a colourist on projects like Hasbro's animated Transformers series, Hafidz is an accomplished fine...
When you choose to travel on two wheels, you accept the fact you'll get a little wet on occasion. Waterproof...
"What I found was frustrating. Most riding gear falls into two categories: unflattering, inconvenient, high visibility gear that just doesn't...
Instead of the usual fold-down visor, the Husqvarna Pilen helmet features a goggle visor that secures with a rear latch—...
Opportunity theft happens when a less-than-upstanding member of society sees something valuable and decides to make it their own. Your...
Never shall I ride cold again! In a recent article, I reviewed a set of Oxford premium heated grips. Since...
Thanks to the pandemic the world's going crazy for face masks, but if you ride a motorcycle, there's another really...
A good set of motorcycle luggage will literally go a long way. Whether you're looking for a storage solution for...
If you're already familiar with Sena, it's probably through their lineup of Bluetooth riding accessories. They've long been supplying riders...
Brushed alloy is the new chrome. There are zero performance benefits from its use, but boy does it look good....
Deus Ex Machina has been instrumental in the growth of the custom motorcycle scene. They opened their first location in...
Extreme sports headwear experts Ruroc entered the world of motorcycle riding gear back in 2017. Their ATLAS helmet boasted an...
It's not often we find riding gear in the sportbike sector that appeals. To us, most of it looks a...
During the past decade, there has been some great riding gear designed and manufactured by resourceful Australians. One such Aussie...
Icon 1000 have given us a glimpse of what the future of riding gear may look like with their new...
If the third times a charm the fifth must be downright glorious! These Icon Superduty 5 motorcycle boots are the...
We've seen a lot of great new riding gear from Pando Moto in 2020. With each new addition, they've refined...
When facing the decision of which motorcycle backpack you should buy there are many factors to take into account. From...
When you're laying down your hard earned cash on an item of riding gear it's always nice if it suits...
Pin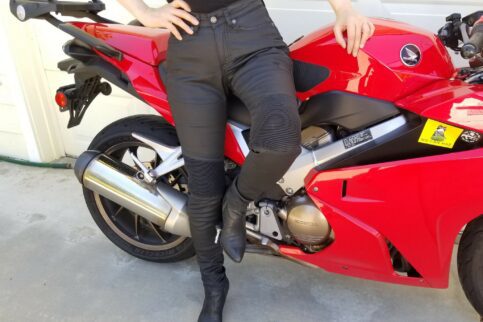 How many of us started riding because it looked cool to be on a motorcycle? You dreamed of being like...
Since I started riding I've been all about full faced helmets. While I'm the first to admit I don't have...
It's great to see another well known motorcycle gear brand recognising riders desire for good looking riding gear but I...
Motorcycles are involved in rear-end collisions more often than you'd like to think. Infact in the USA, as many as...
Never in the history of rubber production has there been a tire that is more controversial than the Firestone Champion Deluxe. Over...
Sometimes a bit of extra storage space can make a huge difference. Motorcycle luggage experts Kriega have set out to...
A classic silhouette, everyday versatility and modern safety. The Merlin Trance Jacket fuses 3 styles into one to create a...
The cafe racer scene has a rich history dating back to the 1950s and there are very few brands left...
Leather has long dominated as the material of choice for motorcycle jackets. And denim jackets have been style icons for...
Ewan McGregor and Charley Boorman are at it again with their epic cross-continental motorcycle adventures. This time in the new...
The subscription box business model has been around for a few years now. The basic concept is that for a...
So you've decided it's time to build a cafe racer of your own. Although you may be planning on fabricating...
The main body of the Icon 1000 Axys Gloves are French cowhide with a palm overlay of 'Battlehide' goatskin — a softer,...
Quad-Lock is the name given to the clever 4 point attachment system used across the company's product range. It's a...
Finding an urban motorcycle jacket isn't hard; seems everyone has one on offer. Finding a good one — one that's...
Roland Sands Designs continue to reshape the look of motorcycle riding gear with their 2012 apparel range. This time round...
Since John Bloor resurrected Triumph Motorcycles in 1983 it's been nothing but success after success. Triumph has, of course, been...
UK helmet manufacturer Ruroc has released the third edition of their Atlas motorcycle helmet. The aptly named Ruroc Atlas 3.0...
For years I've been toying with the idea of releasing a Cafe Racer themed clothing. A few months ago I...
As I said the Mojave boot is Roland Sands Designs first foray into footwear and they've done a commendable job...
Hooded motorcycle jackets are a point of contention for some riders. Due to their design, they can generate a substantial...
There's been a steady growth in the number of retro motorcycle helmets on the market over the past few years....
If you ride a classic motorcycle or a Cafe Racer and you want a leather jacket that matches the look...
Camo gear was never meant to make you stand out. But, if you spend most of your time navigating the...
The Nexx Speedking incorporates all the same design features you'll find across their entire X.G100 series. The outer X-MATRIX design...
Unlike the many negative opinions that surround the tires they were inspired by, the DELUXE iPhone case promises to provide you...
Blending streetwear style with riding gear functionality has become a specialty of Icon's 1000 series and this is particularly evident...
Shoes and boots designed for motorcyclists often battle with finding a balance between form and function. They tend to offer...
Riding a motorcycle requires a basic set of skills, but building them takes knowledge, know-how and most importantly, passion. Similar...
Let's be honest. Being cold and wet isn't anyone's idea of a good time. So if you're planning to ride...
Since 1970 Dainese have been producing exceptional quality and top performing protective riding gear. Now, some 40 years later, they...
We regularly feature motorcycle gear that appeals to those who are partial to custom, classic and cafe racer style motorcycles....
You would think that after ten years of hearing rider feedback on every kind of riding gear imaginable a company...
Spanish motorcycle jacket manufacturer '55Collection' are offering customers the ability to order their current range of leather motorcycle jackets tailored...
It's getting almost impossible to distinguish between motorcycle gear and regular streetwear. One brand who are experts at disguising their...
The Nexx XG100 Carbon tips the scales at a measly 1250 grammes including the helmets removable peak. The outer shell is...
Clutch Moto is a 100% Australian made purpose-built riding gear brand based out of Sydney. It was established by 3...
Now despite the price tag, when it comes to storage there's not much that the Speedway can offer over a...
Let's be honest. There aren't many things you can do in public that are as pleasurable as riding a motorcycle....
Brushed alloy is the new chrome. There are zero performance benefits from its use, but boy does it look good. ...
   In layman's terms, UHMWPE is an ultra tough, abrasion resistant material that can be woven into other materials to...
If your search for the perfect motorcycle backpack is coming up trumps, perhaps it's time to change tack.  This cross-body, single strap...
There are so many things to consider when buying new jeans for the bike. Cut, colour, style… but hang on...
The Boss 105 jeans utilise a classic 5 pocket design with sturdy YKK zippers just like your favourite pair of...
The Bell Eliminator Helmet hit shelves a couple of years ago and has been a huge success for the brand....
The vintage inspired Rayburn riding boots are styled after a classic work boot cut. Outer construction consists of a 1.6mm...
Riding gear featuring military-inspired designs is nothing new. Unfortunately, it tends to be limited to garish full camo garments. Rather...
The CORTECH Skipper bomber jacket is as much a piece of fashion to behold as it is a functional addition...
When creating the Sakura gloves Anthony and the 78 Motor Co. team took an 'haute couture' approach, which for those...
The crew at Tobacco Motorwear have been producing riding gear since 2014. Their jeans feature a great balance of style...
For the last few weeks, I've been belting through a freezing Melbourne winter in the 'post retro' Gibson – prime...
The reason the Schott Perfecto jacket looks like the original leather motorcycle jacket is because it IS the original leather...
If you're in Melbourne this Sunday (1st of July) and you're on the look out for a Cafe Racer or...
You can spend as much or as little as you want on your riding gear. There's a school of thought...
HUCKBERRY ESSENTIAL EDC KIT The ultimate keyring accessory. This handy little set of tools includes basic items to help you fix...
It's winter down here in Australia and the first-morning ride I did wearing the Marauders was brisk, to say the...
All images courtesy of Black Pup Moto & Machines That Dream. Next time you're at a formal function, try this...
I just stumbled across this video interview with Roland Sands discussing his 2013 RSD line of apparel. In the video...
In the world of motorcycle helmets original Moto 3s had reached cult status. Despite brittle outer shells and decaying...
Motorcyclist airbag suits are compulsory for MotoGP riders and are soon to be required for American Flat Track racers as...
When you ride, you adapt — to the conditions on the road, to the weather, to the day. If you...
The Borrego motorcycle gloves are the work of American born and bred riding gear manufacturer Biltwell. First launched in 2006...
Unlike other style-focused gloves on the market, the Abel Brown/Speed Merchant Collab Gloves offer a degree of protection that satisfies...