Quad-Lock is the name given to the clever 4 point attachment system used across the company's product range. It's a quick attach/release system that holds your smartphone in place using a simple yet strong snap lock. The quad lock itself is built into a sturdy iPhone cover compatible with 5/5s, 6/6s, 6+/6+s, or can be attached to any brand of phone using a 'Universal Kit'. Once the lock is engaged the mechanism holds your device firmly in place and no amount of shaking or bumping will dislodge it from its seat. To undo the Quad Lock you simply push the locking mechanism down and twist your phone off again. It takes seconds to perform and provides great peace of mind knowing that your expensive smartphone isn't going to end up skidding along the asphalt behind you.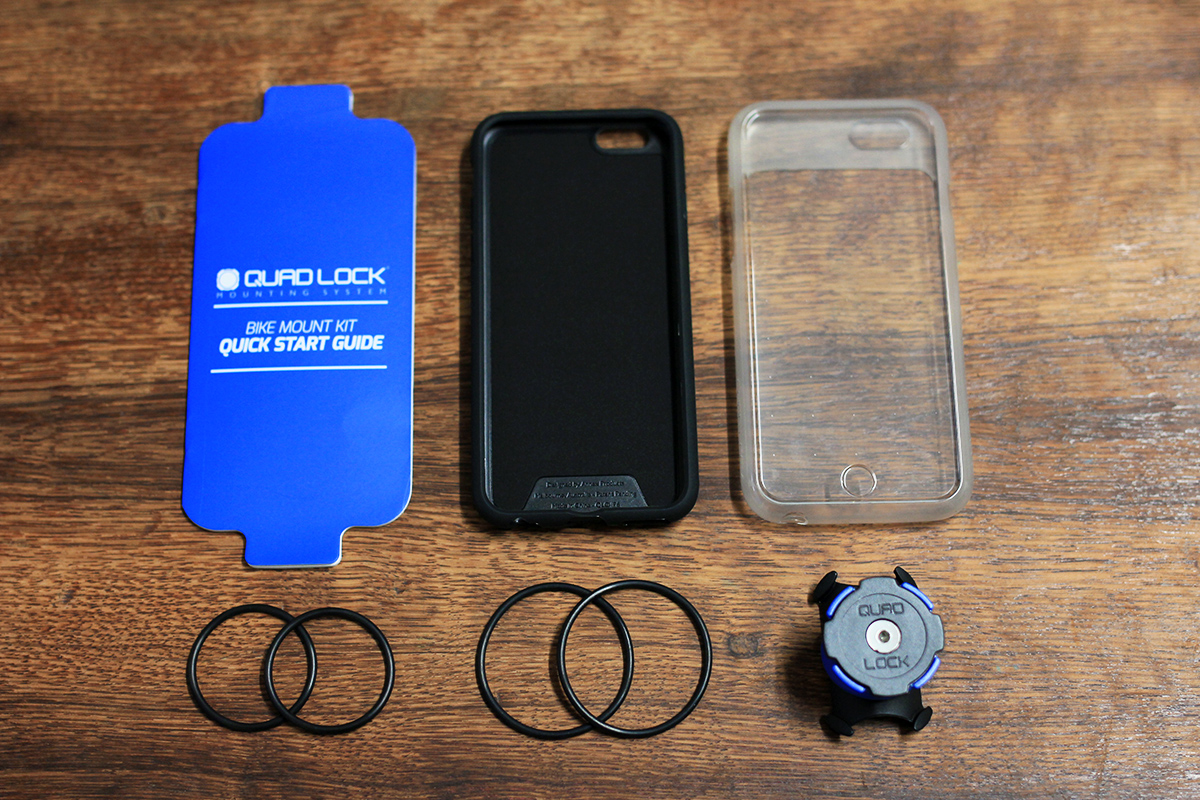 After seeing the 'Bike Kit', a mounting system originally designed for cyclists, on the Quad Lock website I thought I'd give it a go. The handlebar dimensions required for installing the Bike Kit are 25-40mm making it suitable for both 1 inch and 7/8 bars, like those found on most motorcycles. I ordered the iPhone 6 compatible kit that comes complete with a quick start guide, impact-resistant iPhone 6 cover with built-in Quad Lock, weather-resistant poncho, handlebar stem mount and a variety of zip ties and rubber fasteners.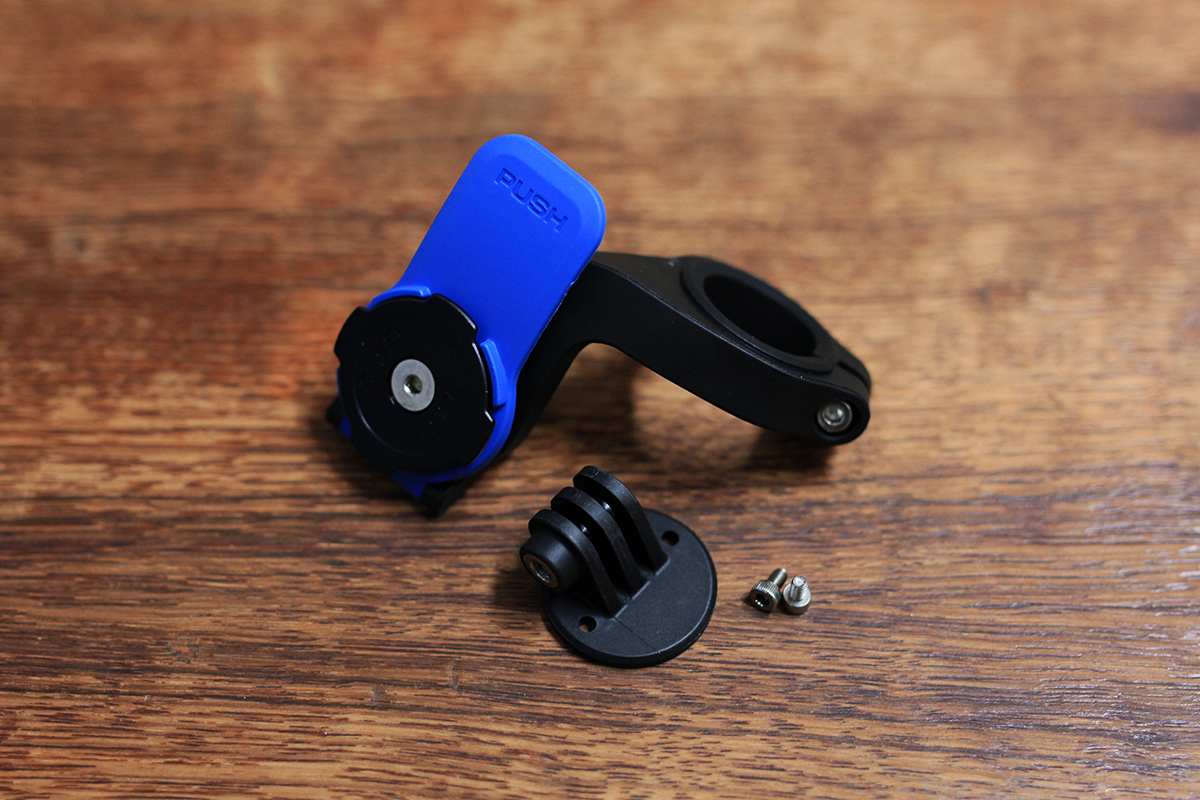 Along with the standard kit I also ordered an 'Out Front Mount' kit and additional GoPro mount. The Out Front kit offers a more permanent fixing method that requires an Allen key to install and is designed to position your device higher and more forward. The GoPro adapter is a simple bracket that screws on to the bottom of the Out Front Mount. Both kits are ultra-lightweight and constructed using durable plastic and stainless steel fasteners to withstand the elements.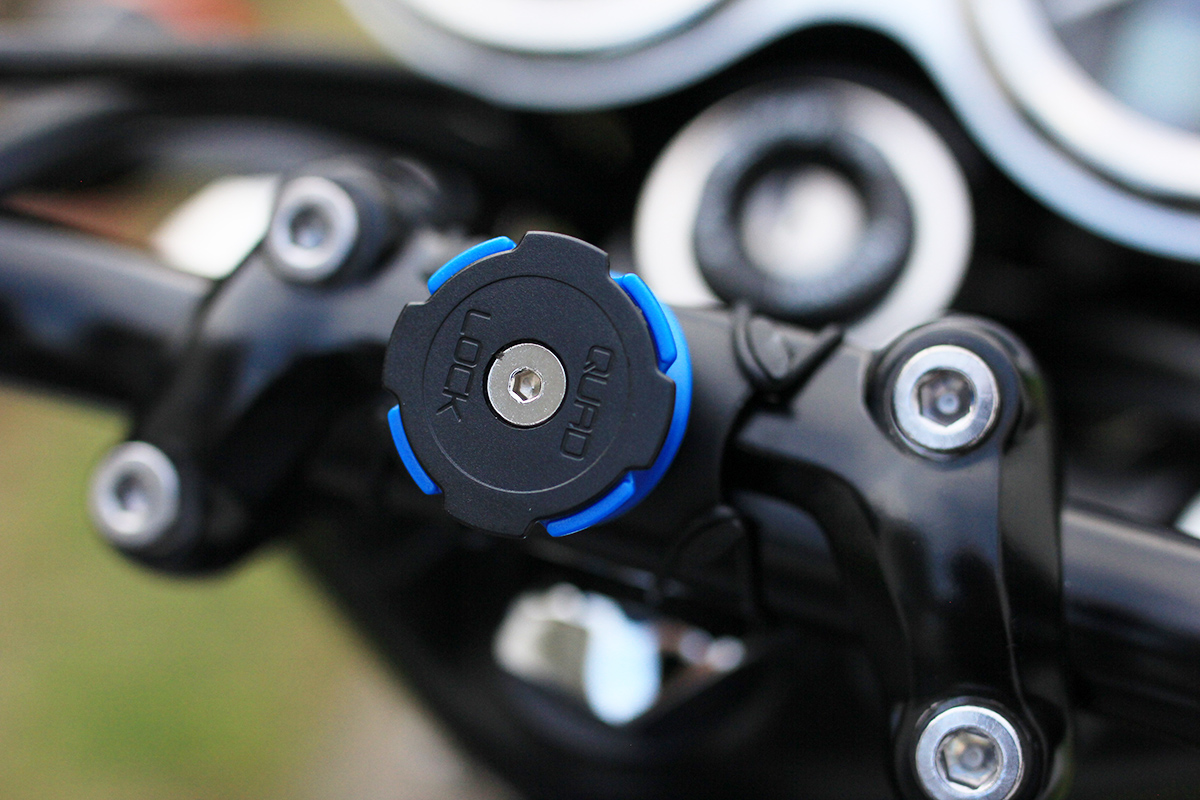 Installing the Bike Kit took less than a minute once I'd decided where to fit it to my motorcycle. I have a couple of bikes and wanted to be able to use the Quad Lock on all of them so I opted for the removable rubber o-rings rather than the more permanent zip ties. On the bottom of the Quad Lock stem, mount are small feet that the bands hook in to and although I was a bit doubtful about how secure this method actually was, it hasn't budged in well over 100km of use.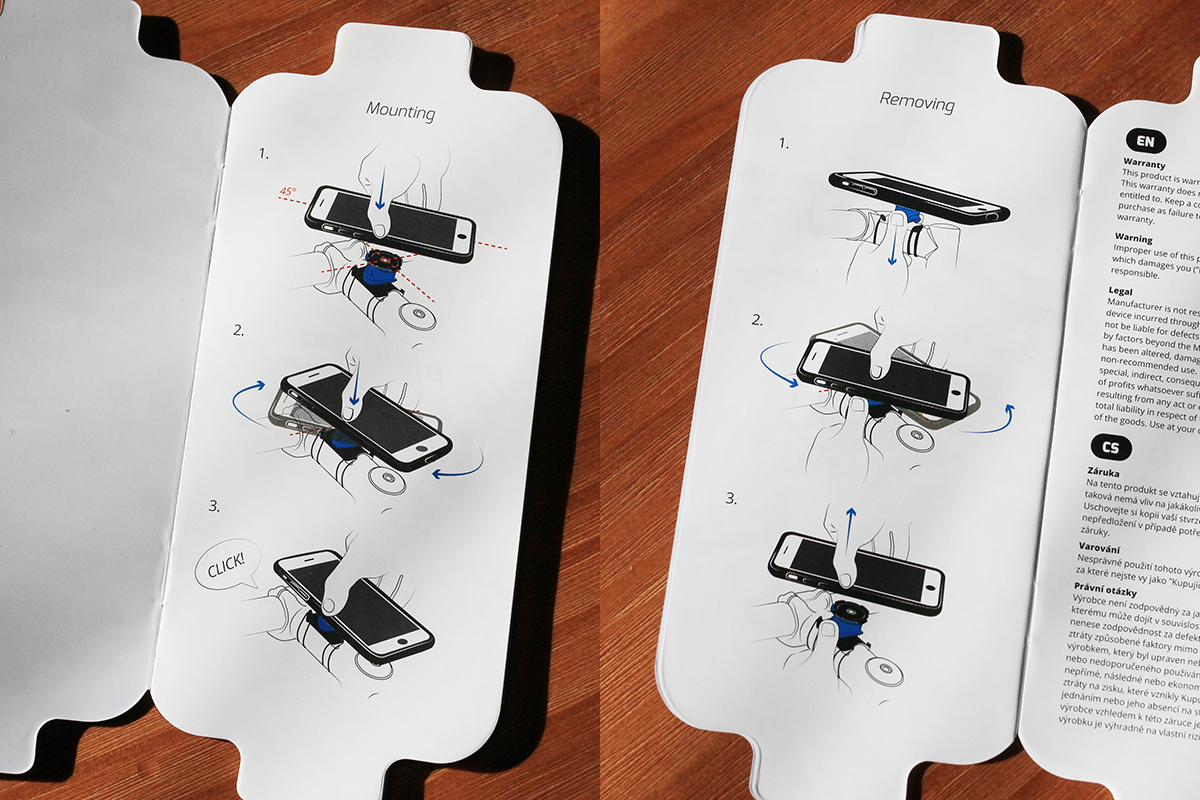 As per the diagrams above once the stem is on your motorcycle it's simply a matter of twisting your phone (with the Quad Lock case on it) down onto the stem until you hear a click. You can mount your phone in either landscape or portrait position and to remove it you simply slide the blue lockdown with one hand and twist your phone off with the other…it couldn't be any simpler!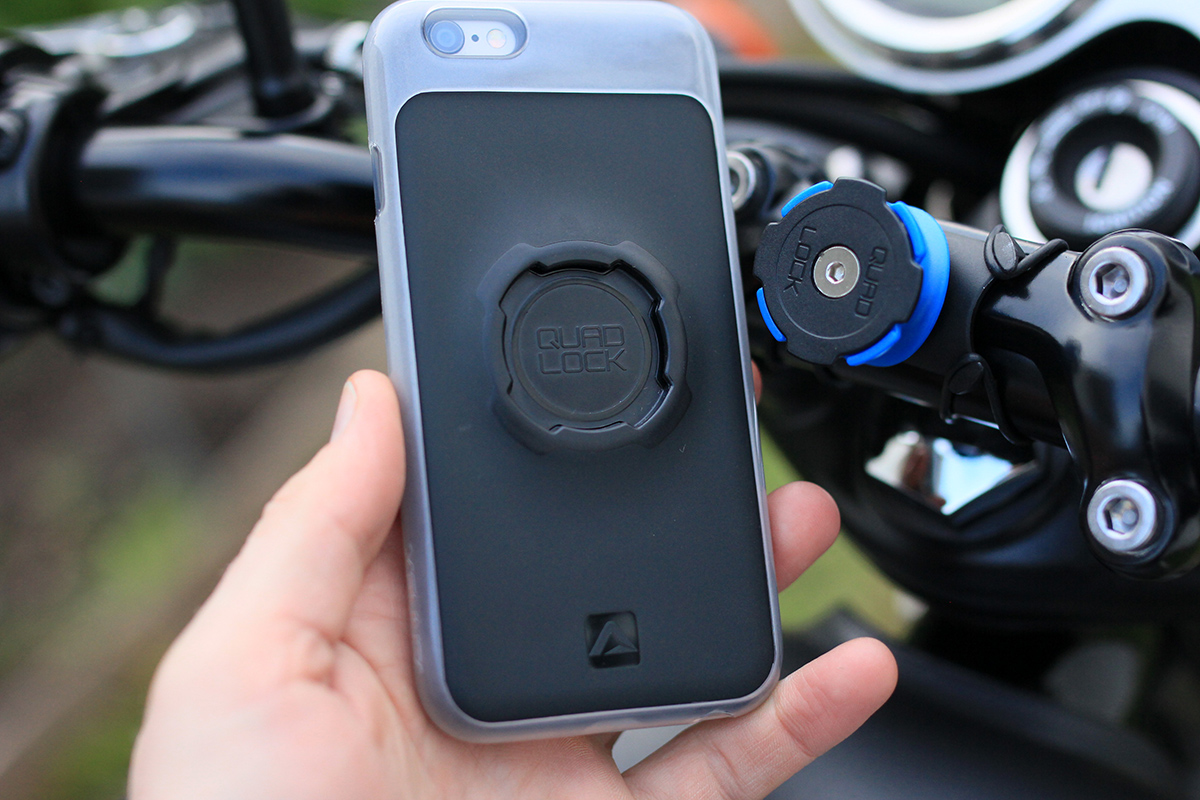 To fit the weather shield poncho you slip it over the whole case like a jacket, covering the entire top surface and side edges to prevent any water, mud or bug guts for getting in. I've had no issues with rain getting up inside the cover, but if you happened to be attempting deep water river crossings you may discover its limitations. The ability to use your touchscreen while the weather shield is installed isn't impeded with bare fingers, but if you have gloves on you'll face the usual touch screen problems. I also tested the poncho with touchscreen reactive gloves and they weren't able to get a response either. On the Quad Lock website, they also state that screen protectors may cause touchscreen issues with the weather shield poncho. These limitations aside the ability to have your phone and maps available during wet weather riding is certainly a big plus for me.
The phone case itself fits perfectly and has a slightly textured outer surface for improved grip and on the inside is a soft felt-like material to keep your phone looking its best. You can easily access all of the buttons and ports on the phone and it doesn't impede on the camera function in any way. Quad Lock claims that the case is impact resistant, but I'm not game enough to really put that claim to the test.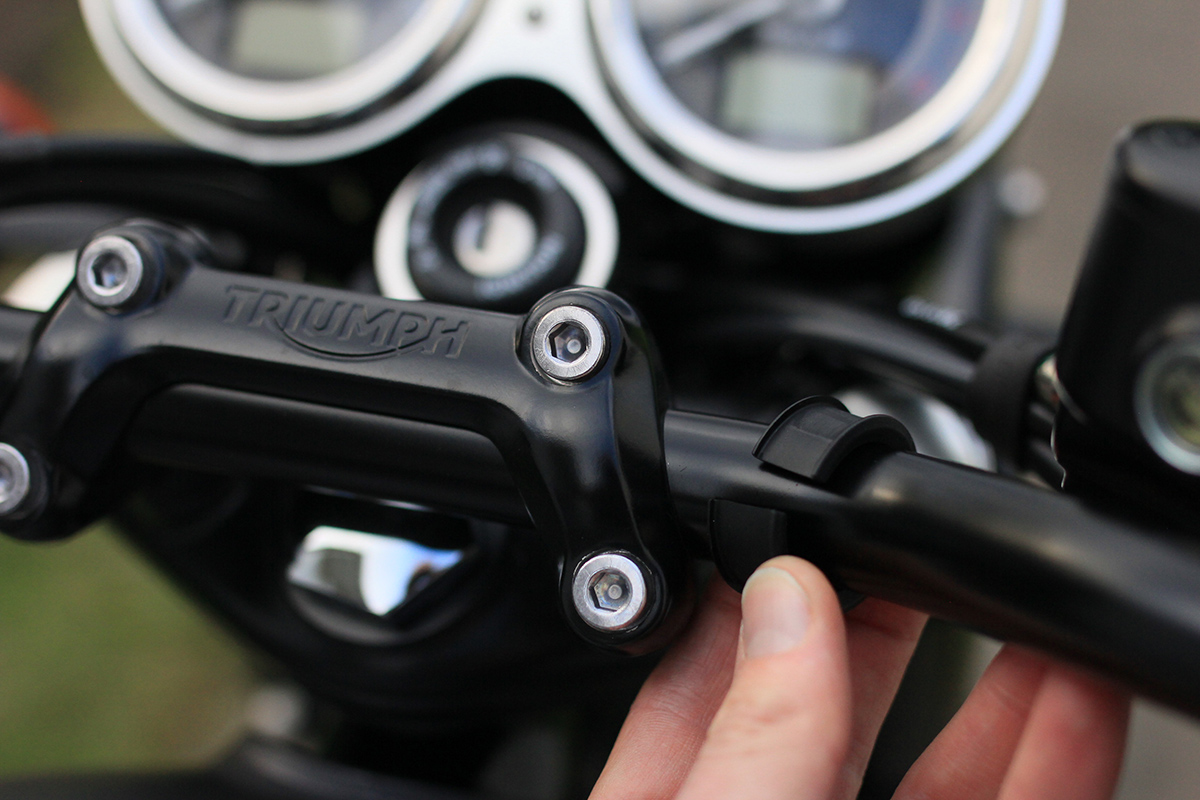 After giving the Bike Kit stem mount a go I decided to also try the 'Out Front Mount'. Finding a place to mount the bracket proved a little more difficult on my cluttered handlebars, but it ended up fitting rather snugly next to the riser clamp. To protect your bars from being scratched the kit comes with a rubber spacer ring that slips over the handlebar tube. You then use an Allen/hex key to open the clamp so you can fit it over the spacer before securing it in place using the same Allen key. This method is a more permanent option and is also a more secure one. With the clamp tightened up I couldn't see any way it would come loose other than in a big spill… and I do not advise giving that a go.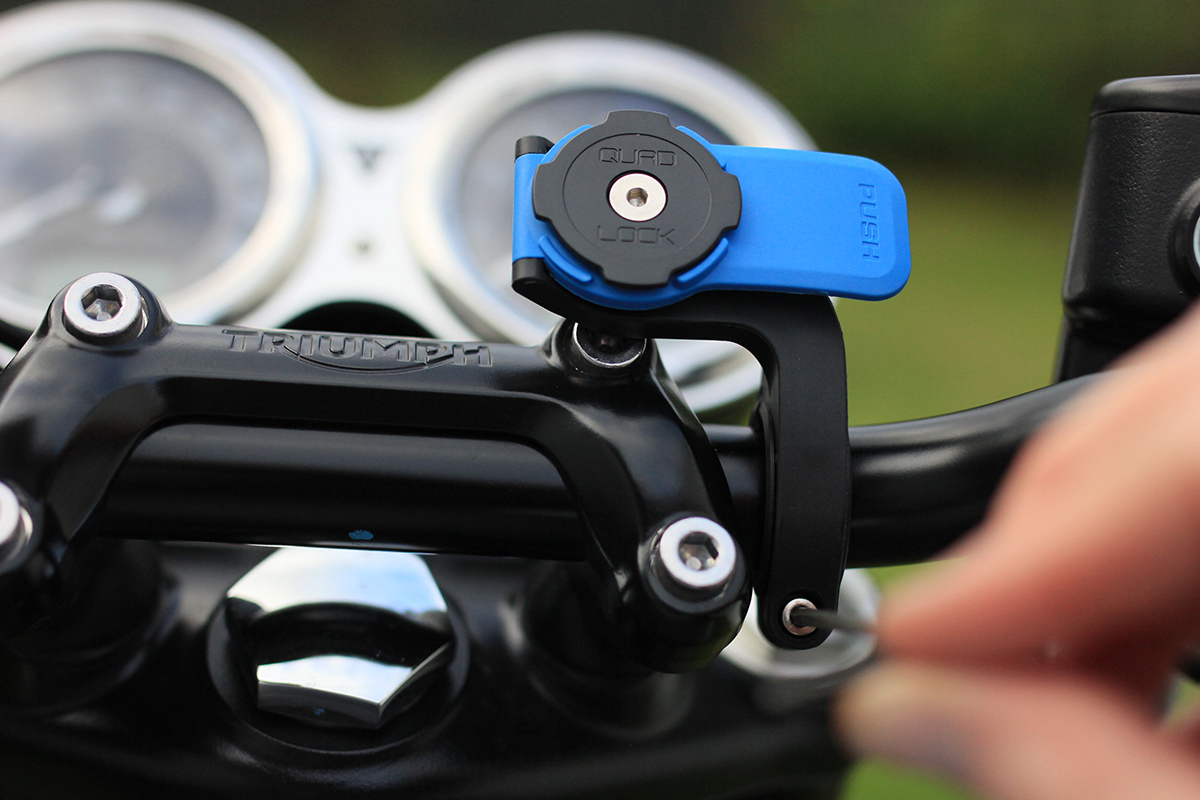 The locking system on the Out Front Mount also proved to be more accessible than on the Stem Mount allowing for even quicker removal of your phone from the lock. By screwing the GoPro adaptor to the mount you can also affix your camera to capture some cool riding footage during your next road adventure.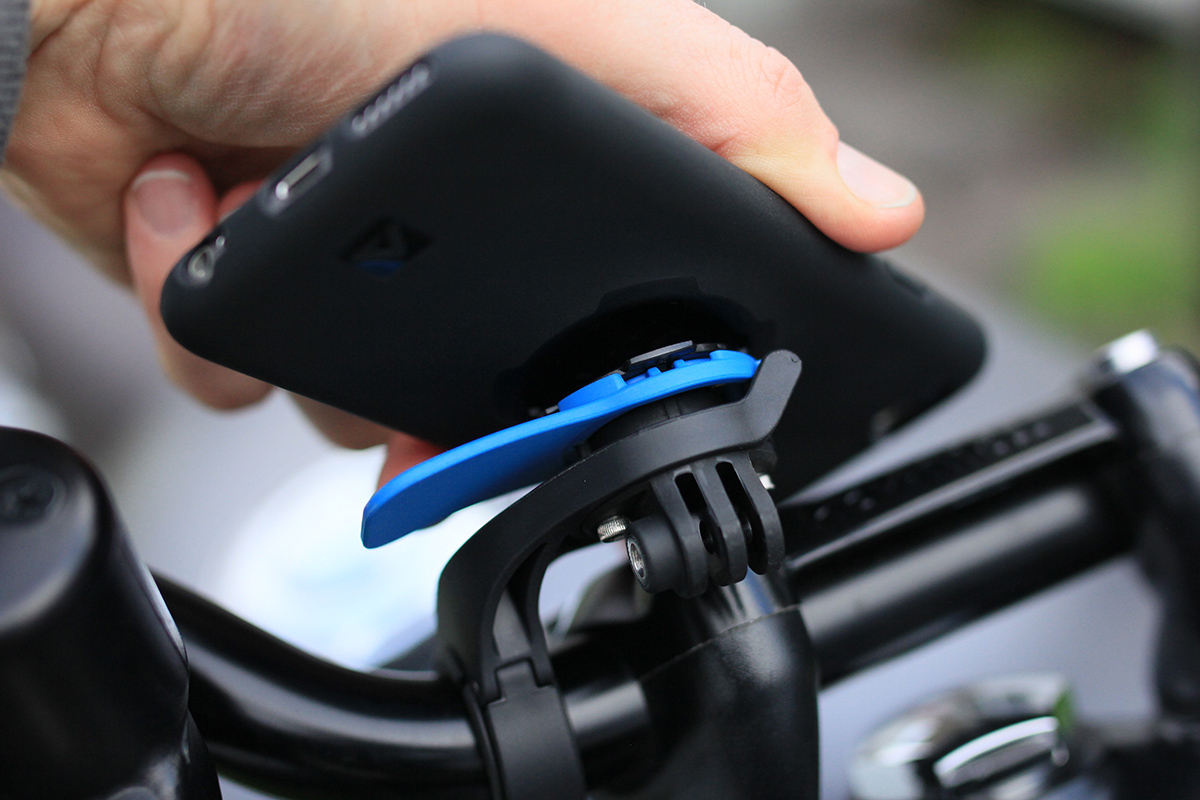 Thankfully, not having an iPhone doesn't eliminate you from being able to use a Quad Lock. The Quad Lock Universal Bike Kit comes with the same stem mount system as the iPhone Bike Kit but uses a 3M VHB adhesive pad to semi-permanently attach the quad lock to your device.
After using the Quad Lock system for a while now I've been very happy with its function and durability. In the coming weeks, I'm looking forward to putting it to the test during a long road trip and to not having to double back or pull over when I (inevitably) take a wrong turn. On the Quad Lock website over 850 people have rated their kits an average of 4.5 out of 5 stars and I'd happily give them a 5 myself.
THE BAD:
Only comes with full case and weather shield for iPhone models
Universal 3M sticker is only single-use
THE GOOD:
Ultra-strong securing method
Offers permanent and removable mounting options
Well priced for what you get
The case functions great on and off the bike
Super quick fitment and removal system
Getting lost on your motorcycle sucks. There's nothing worse than having to pull over to fish your phone out of your pocket so you can figure out where the hell you are. I know, I know, this is the digital age and GPS has been around for years, but I've been searching for the right solution to mount my phone to my motorcycle for some time and up until now hadn't found anything that met all of my requirements. I wanted a well priced phone mount that allowed quick fitment and removal of my phone, was weatherproof,  added very little bulk to my handlebars and could be swapped from one bike to another with minimal effort. Thankfully a clever Aussie brand called Quad Lock has come to the rescue and never shall I be lost again…