As a motorcyclist keeping my belongings safe generally means carrying them at all times. A backpack offers the easiest solution, but what about those times when carrying a backpack and helmet isn't an option? This was the problem Hong Kong workshop Angry Lane wanted to overcome. So they contacted the folks at Pacsafe. Together they have developed a unique anti theft backpack for motorcyclists that will ensure your belongings are safe when you need to step away from them.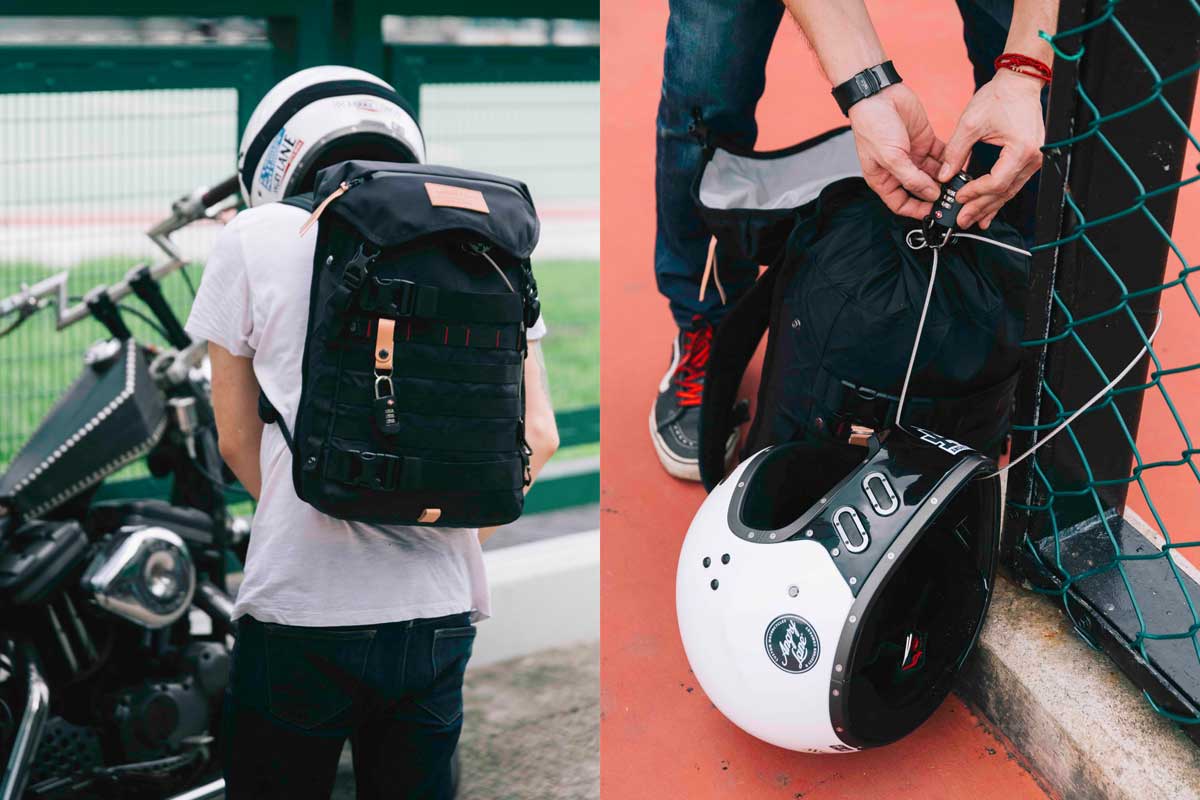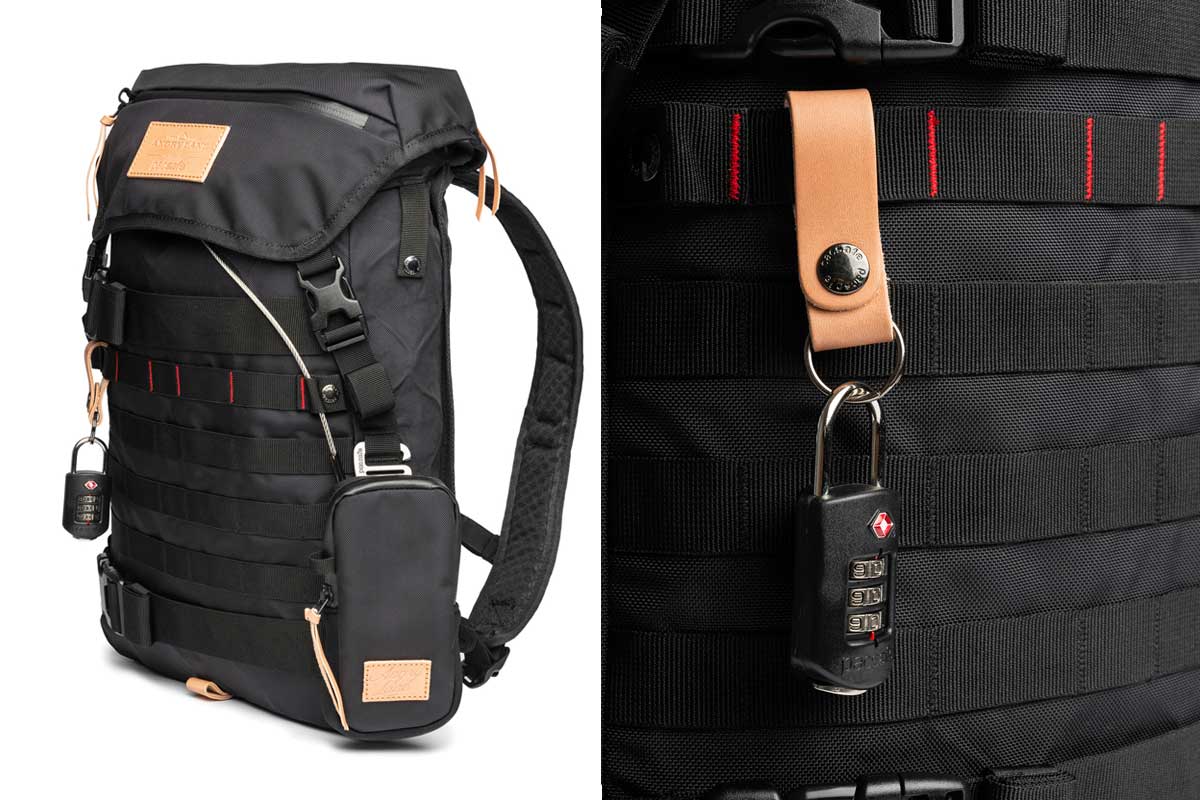 The Angry Lane Rider Backpack offers a modest 15-litre storage capacity. That's enough to hold most riders everyday carry items. It also looks great with its stylish black exterior and tan leather details. What makes this motorcycle backpack really special though is the increased security it offers. Angry Lane has teamed up with luggage safety experts Pacsafe to develop a theft and tamper-proof solution for your helmet and valuables.
They've done this with the use of a military-grade 840 D Cordura. The Cordura exterior is the backpacks first line of defence offering both abrasion and slash resistance. Then, to stop curious hands from making their way inside, the bags main opening is secured using Pacsafe's patented cable locking system. The system utilises a stainless steel cable and 3 digit lock that can be fastened in seconds. Then as a final line of defence, Angry Lane has lined the interior of their anti theft backpack with Pacsafe's 360 eXomesh stainless steel netting. This prevents the removal of any larger items should a would-be thief manage to perforate the Cordura shell.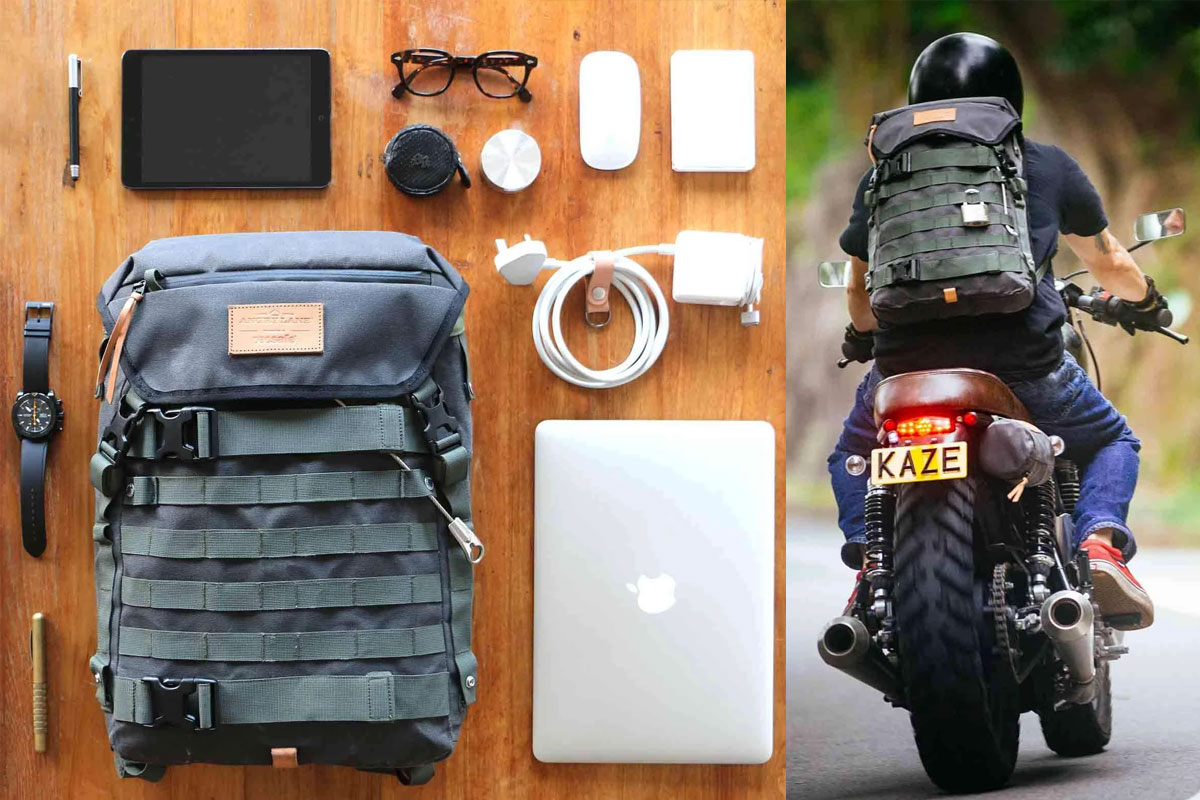 With all your belongings safely locked inside, you can fasten the backpack to any secure anchor such as a park bench or light pole. The cable can also be passed through the opening of a helmet to safely secure it with the backpack. Without the aid of some serious cutting equipment, this makes the Angylane anti theft backpack virtually impossible to steal. That leaves you to go about your business knowing your belongings will be exactly where you left them when you return. Inside you'll also find an RFID safe pocket so your bank cards can't be scanned while you're not looking.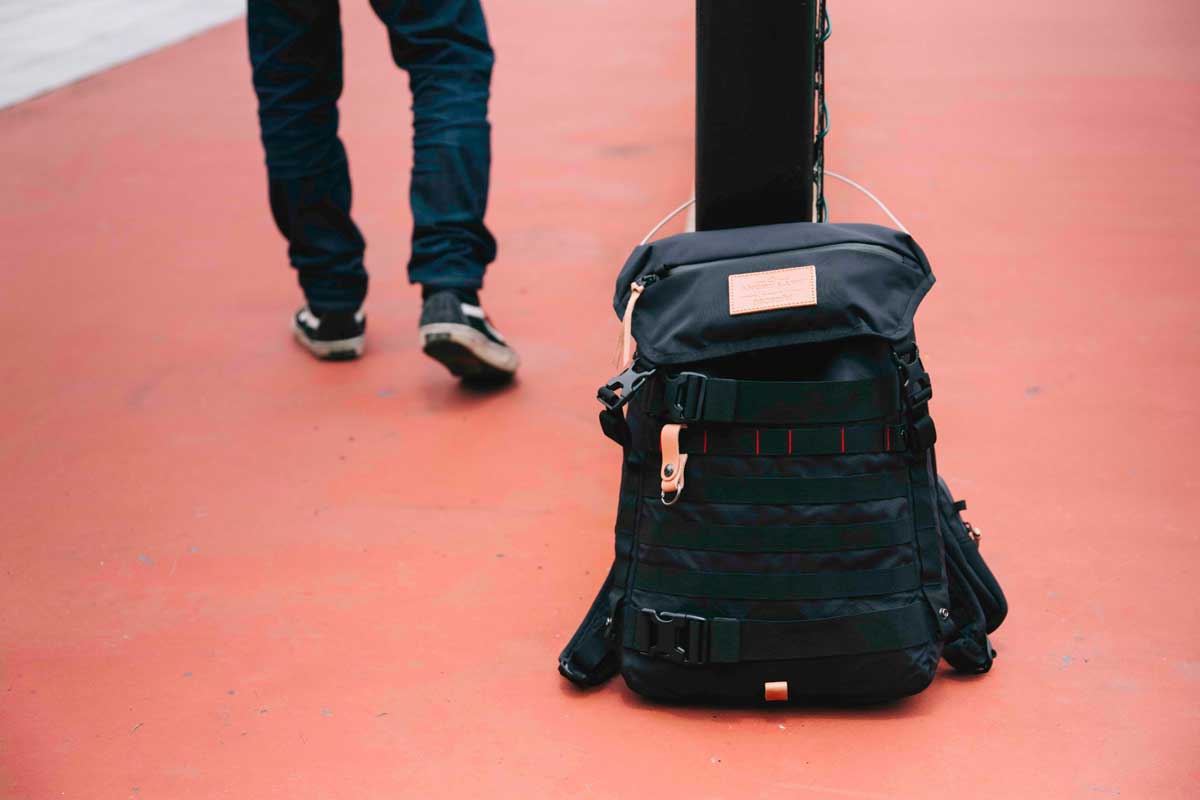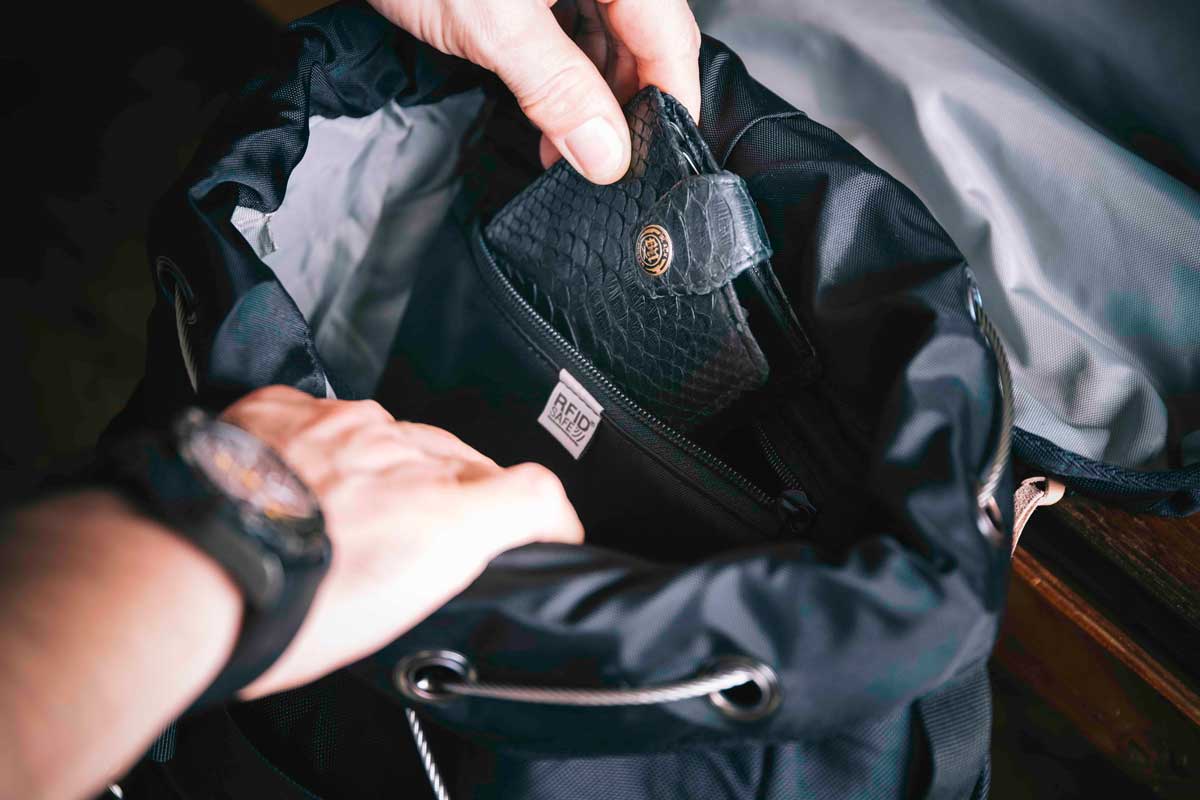 Angry Lane ensured the Rider Backpack will last the test of time with the use of premium materials. All of the zippers are water-resistant YKK items and the buckles are Duraflex anti-break units. Being motorcyclists themselves Angry Lane has also addressed excess straps that can whip your torso (ouch) when travelling at high speeds. This is done using a clever velcro system which secures the straps in place and gives the backpack a much tidier finish. A MOLLE strap system on the exterior also offers extra space to secure items like a skateboard or camera stand. The rear of the backpack is padded for comfort and to also allow air to pass through on warmer days.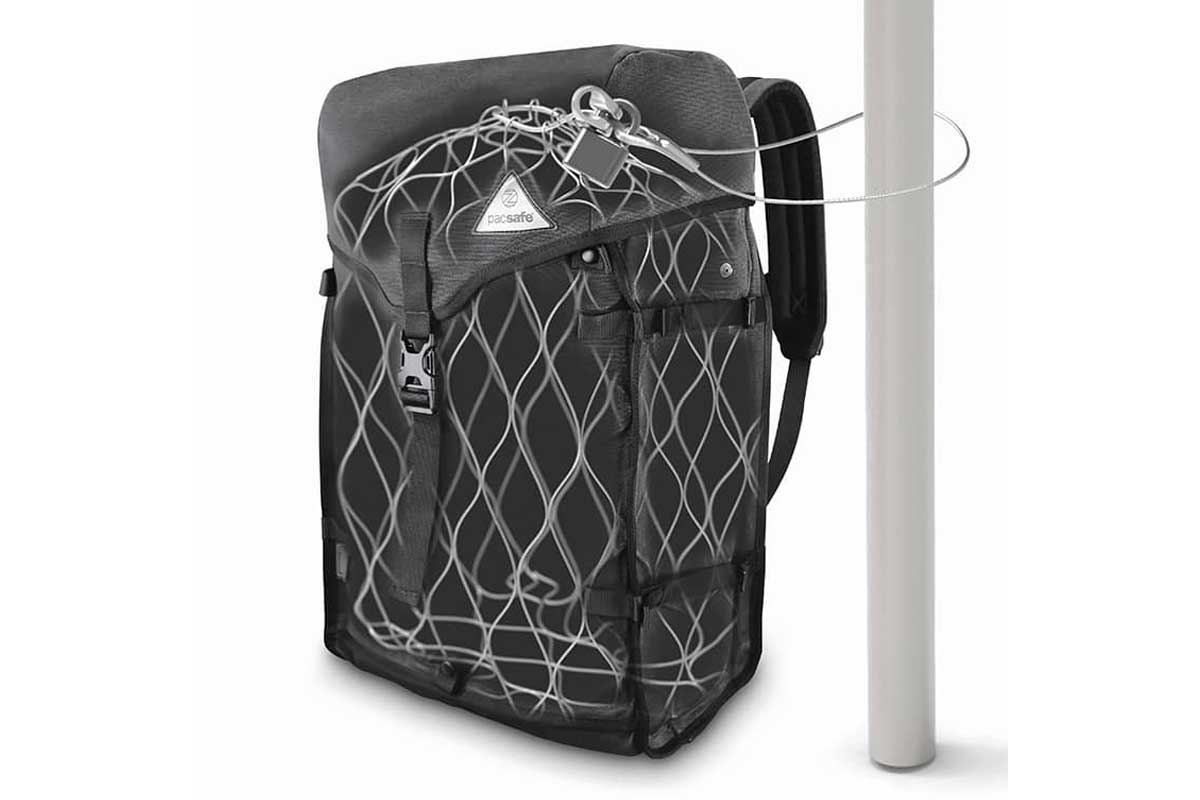 The Angry Lane Rider Backpack was made by motorcyclists for motorcyclists, but its design offers features everyone can benefit from. The Angry Lane Rider Backpack is great for travellers staying in hostels or shared accommodation. It's also ideal for those who frequent skate parks, gyms or the beach where leaving belongings unattended is common practice.
Included in the $250 USD price tag of the Angry Lane anti theft backpack is a 3 digit TSA approved lock, a waterproof poncho and an extra detachable mobile phone carry pouch. The black Rider Backpack is limited to 250 units and they're selling fast over on the Angry Lane website. They're also offering free shipping to most countries when you enter the code FREESHIPPING50 during checkout.